A unique project located on the most tourist street in Canggu - Batu Bolong. A complex combining apartments and one- and two-bedroom villas. The complex is equipped with a rooftop where you can have a snack at the bar or watch a movie on an open-air projector. Villa area 80 m2, plot area 100 m2, fully furnished, interest-free installments.

Location

Batu Bolong Beach 5 minutes
Finns Beach Club 7 minutes
Morabito Art Villa 7 minutes
Miss Fish Bali 7 minutes

Property features

Villa size 80 sqm
Land size 100 sqm
2 floors
Interest-free installments
Fully furnished
Private area
Cinema under the stars
Our database contains more than 500 units in all areas of the island. We will definitely find the option exactly for your request!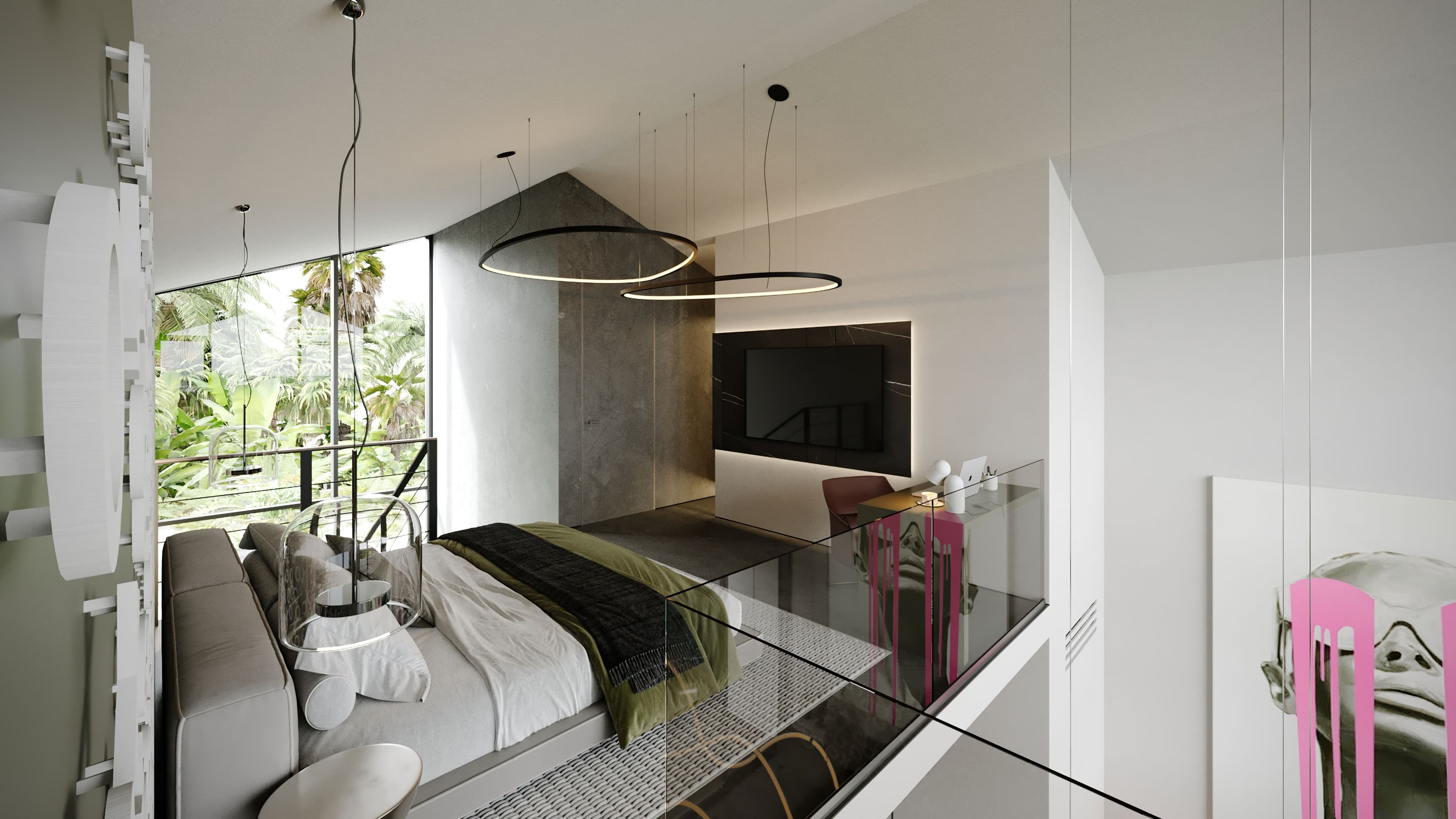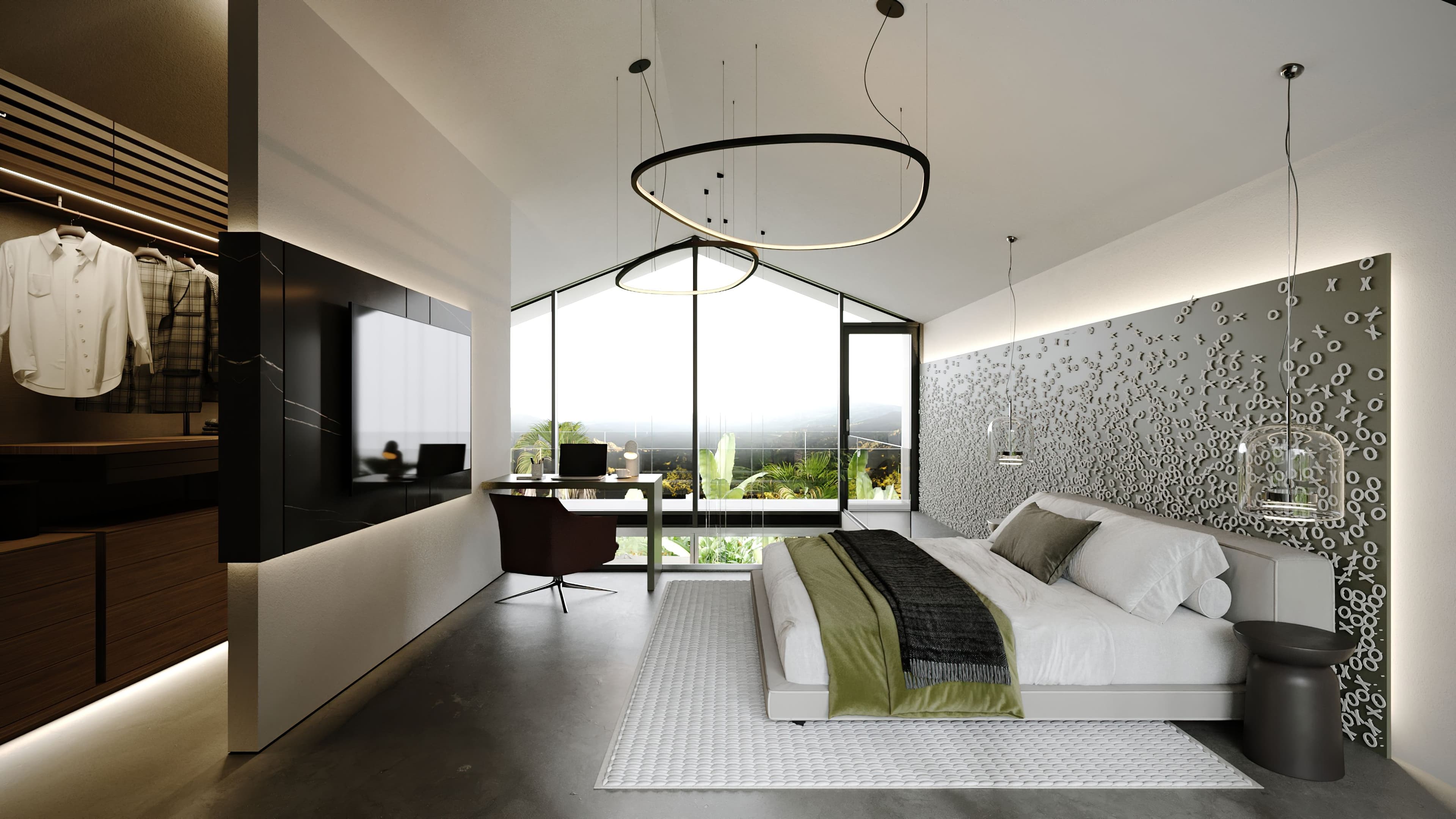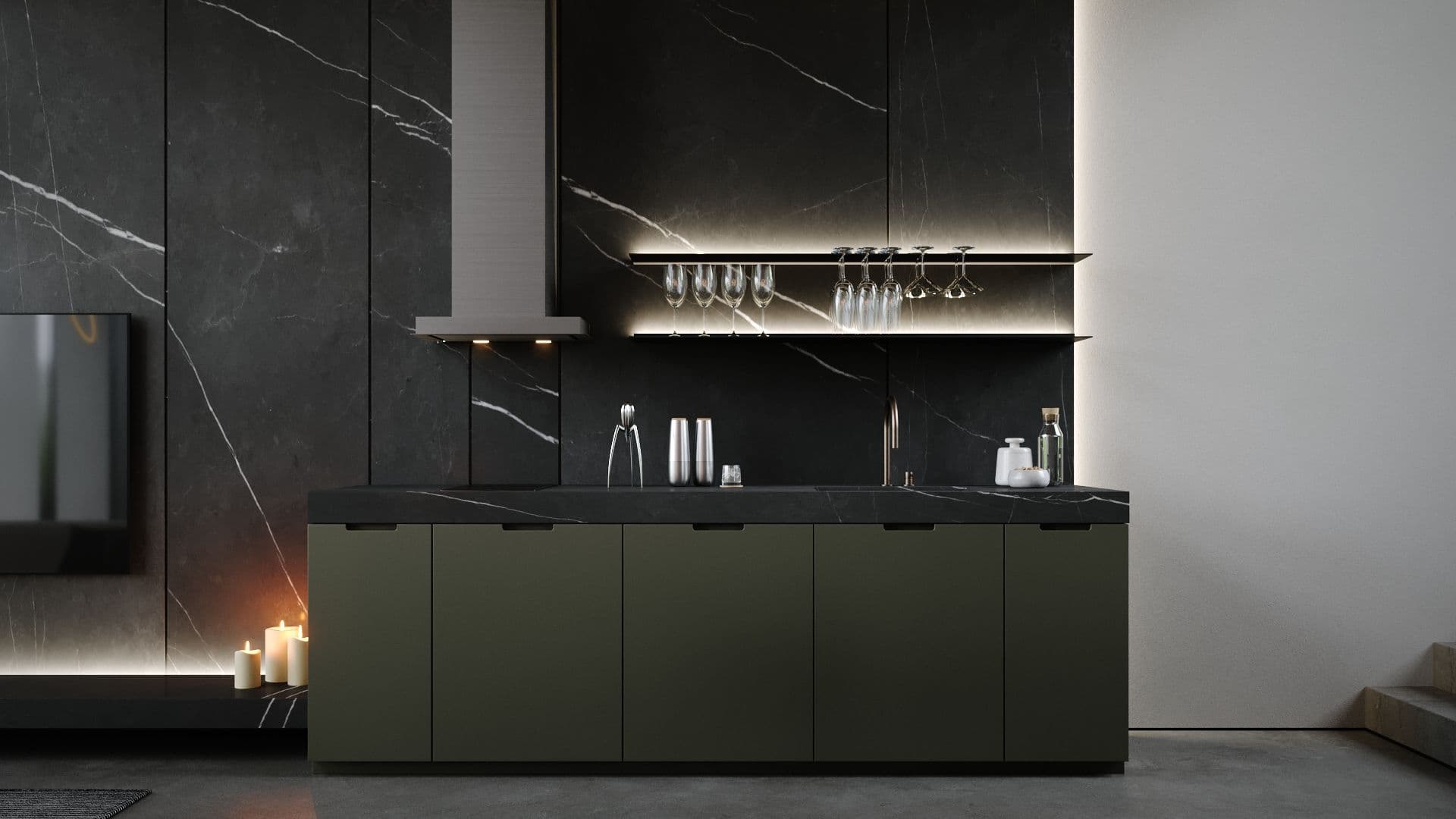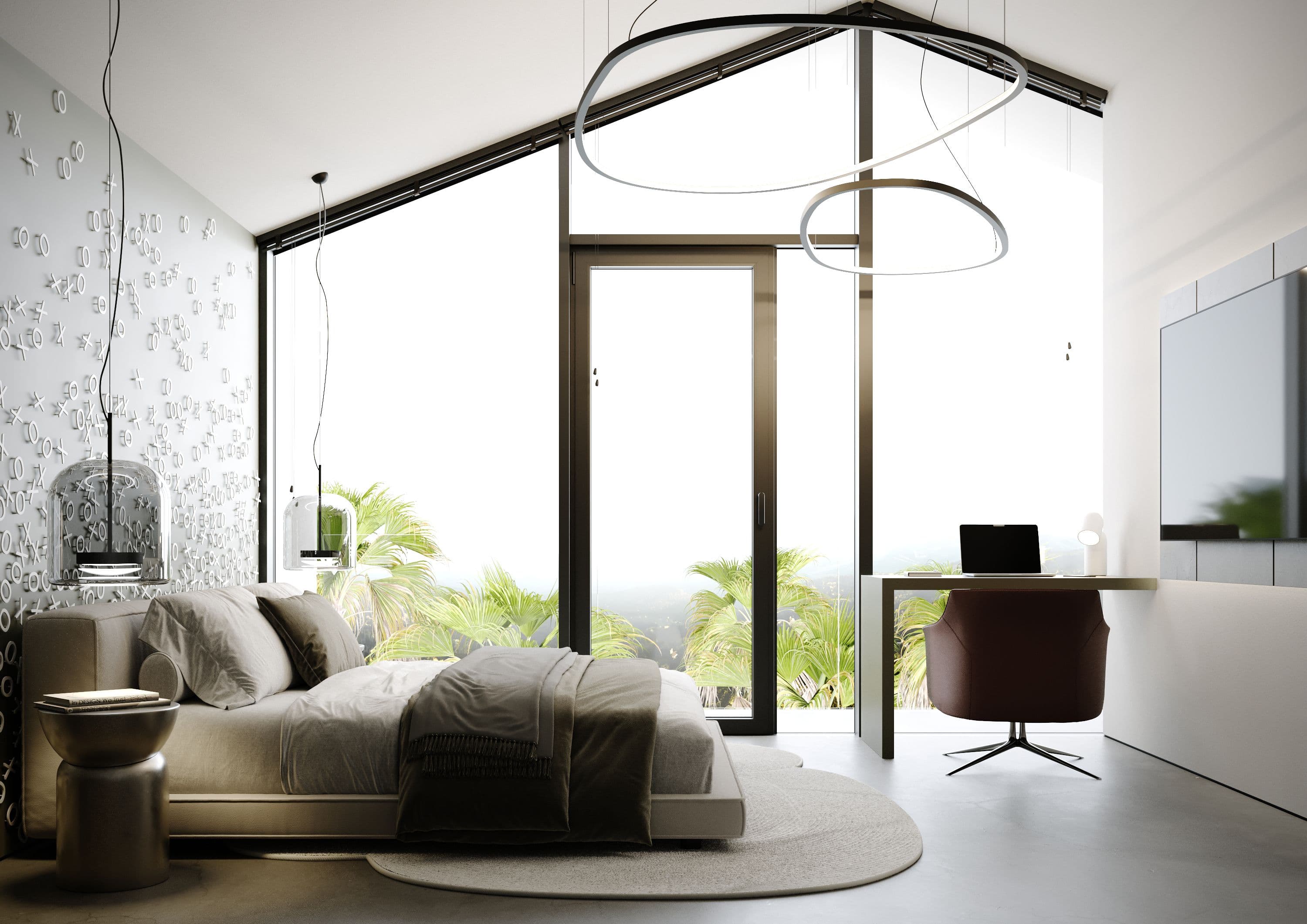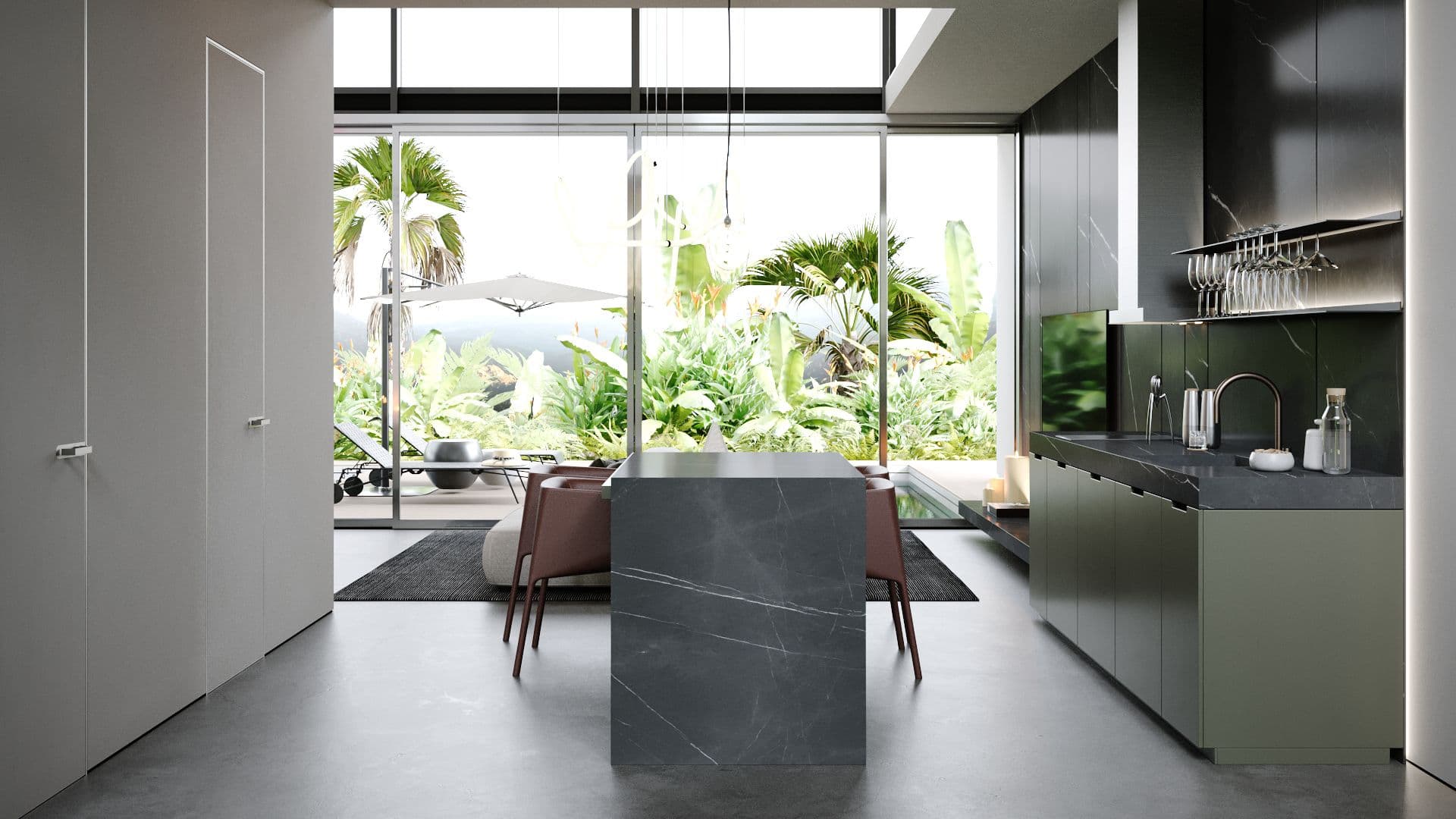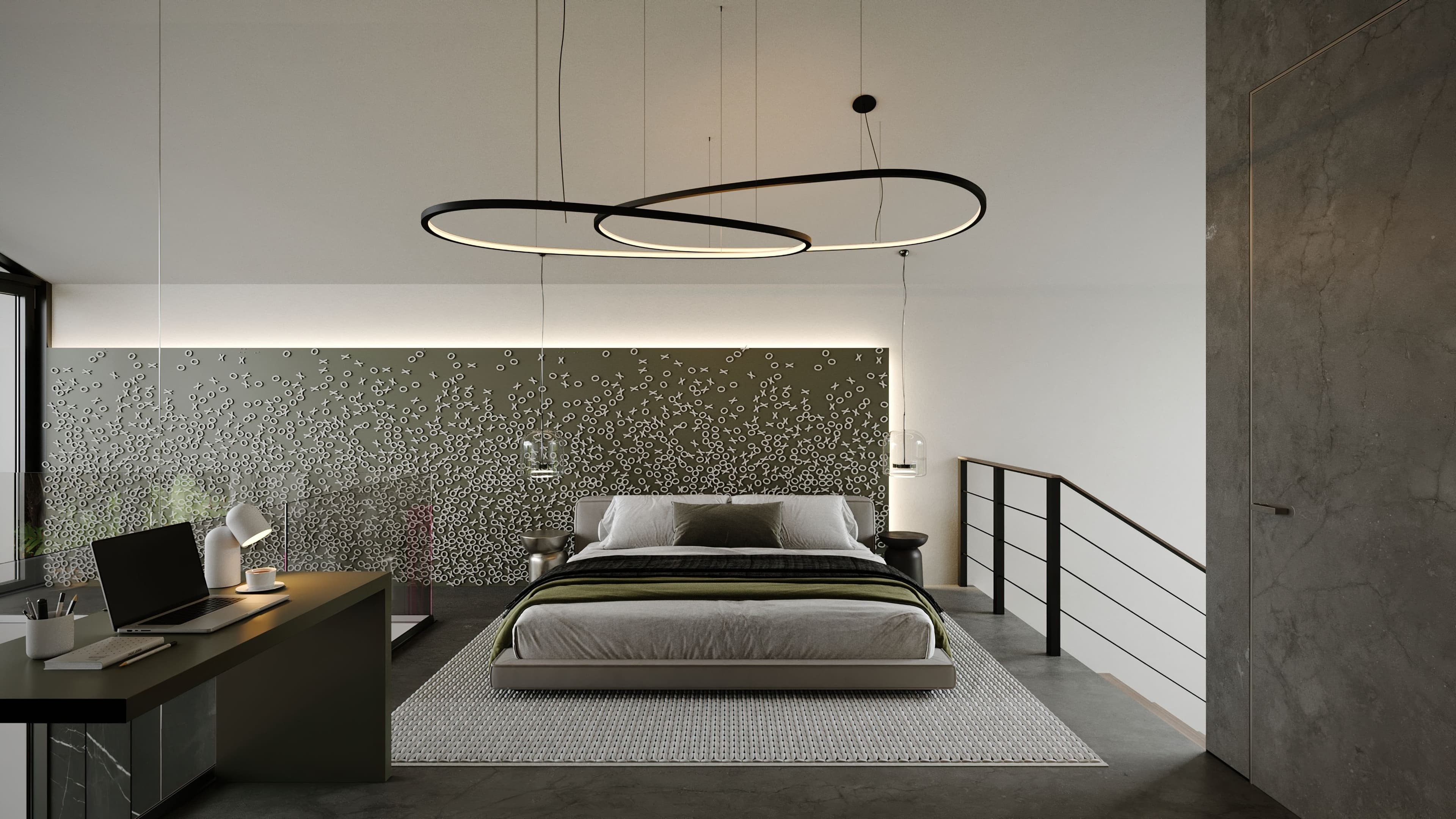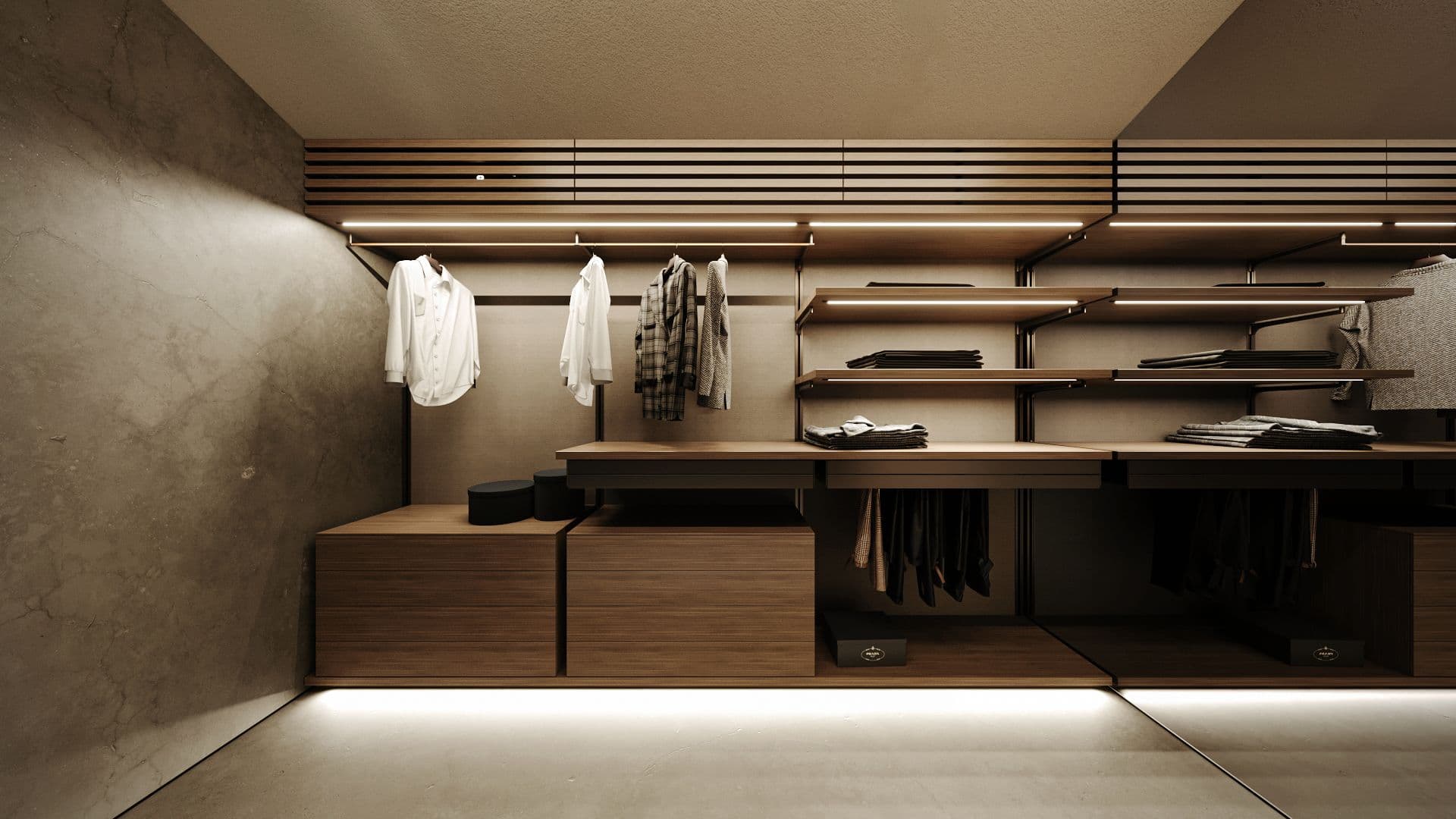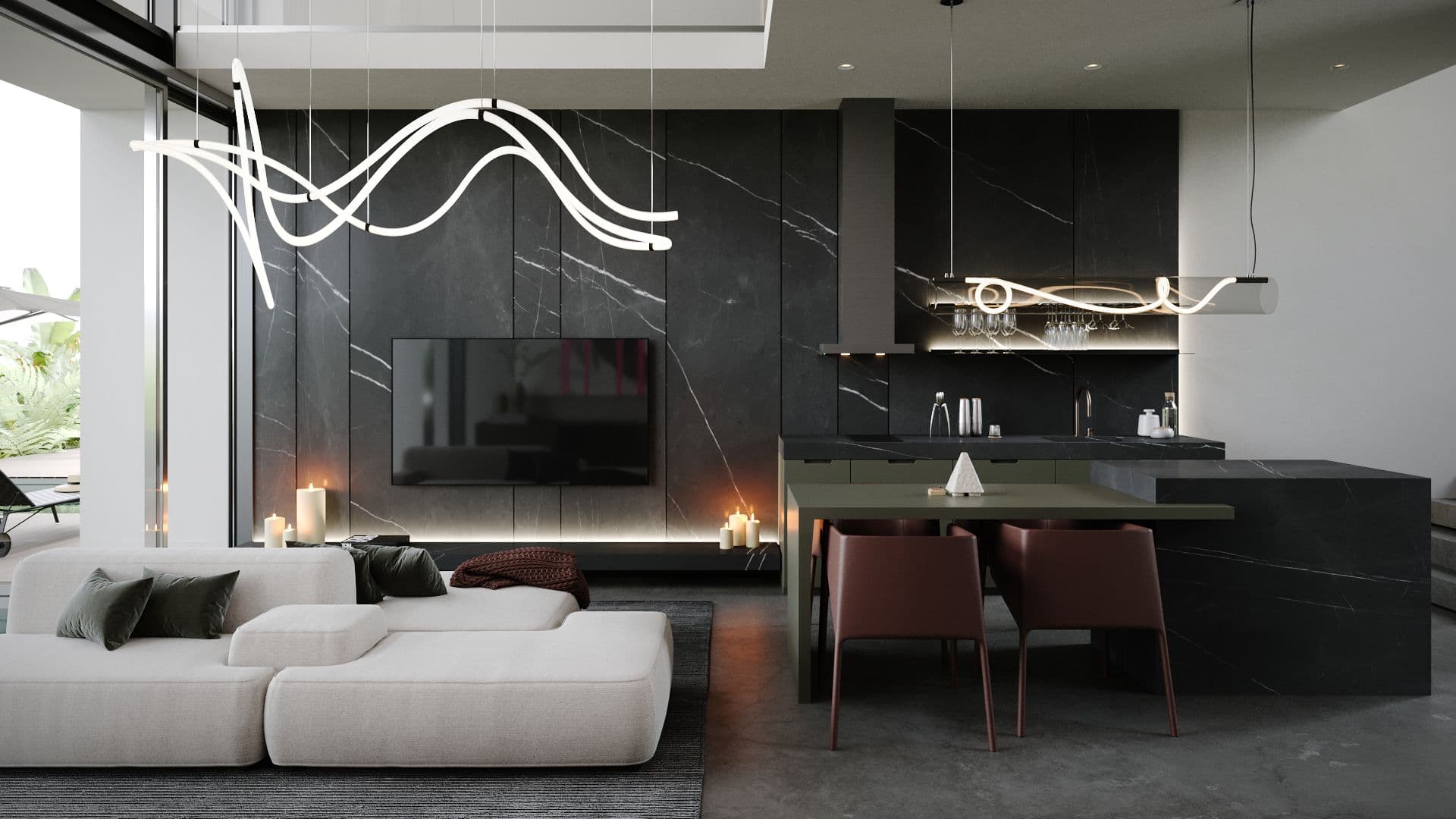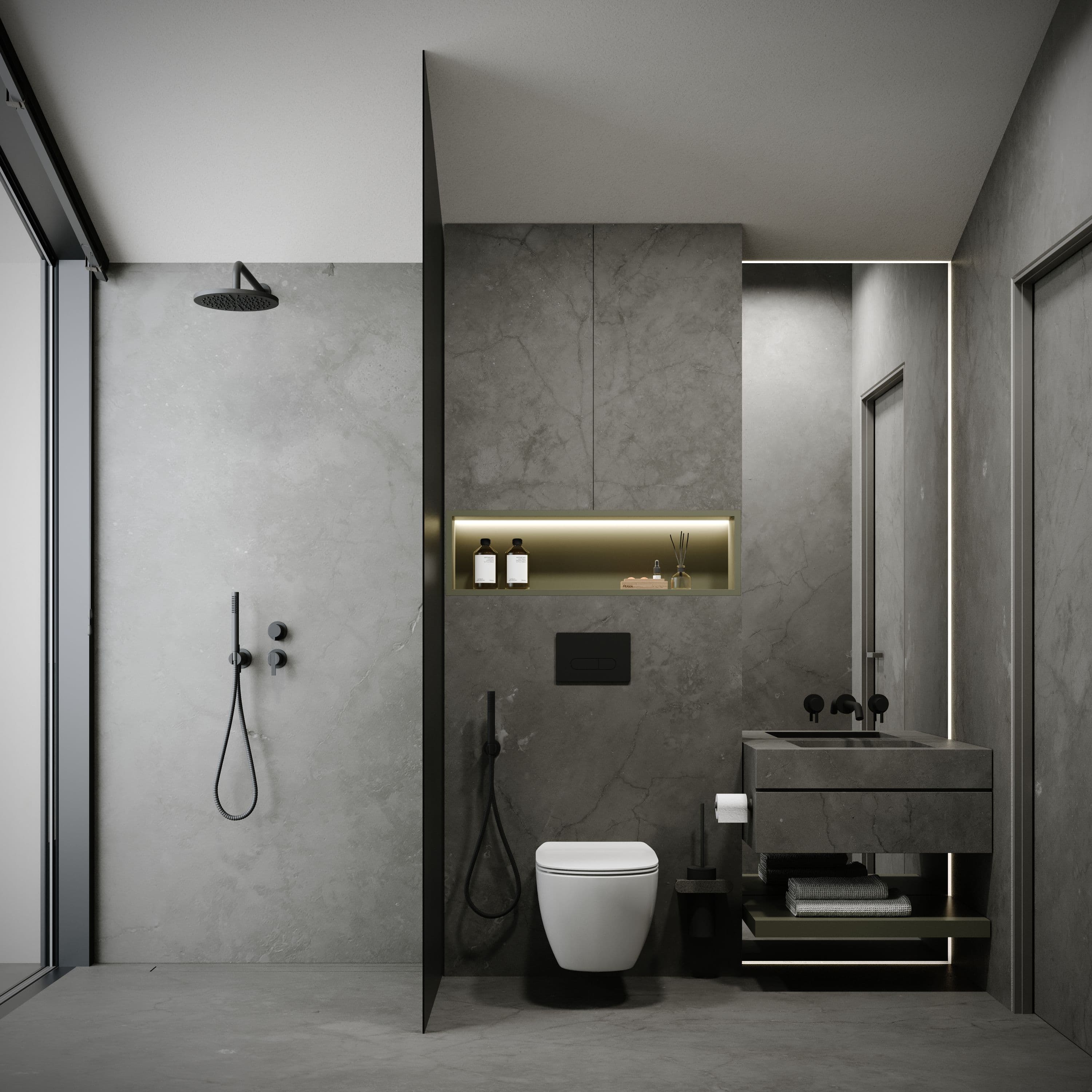 Location on the map and objects nearby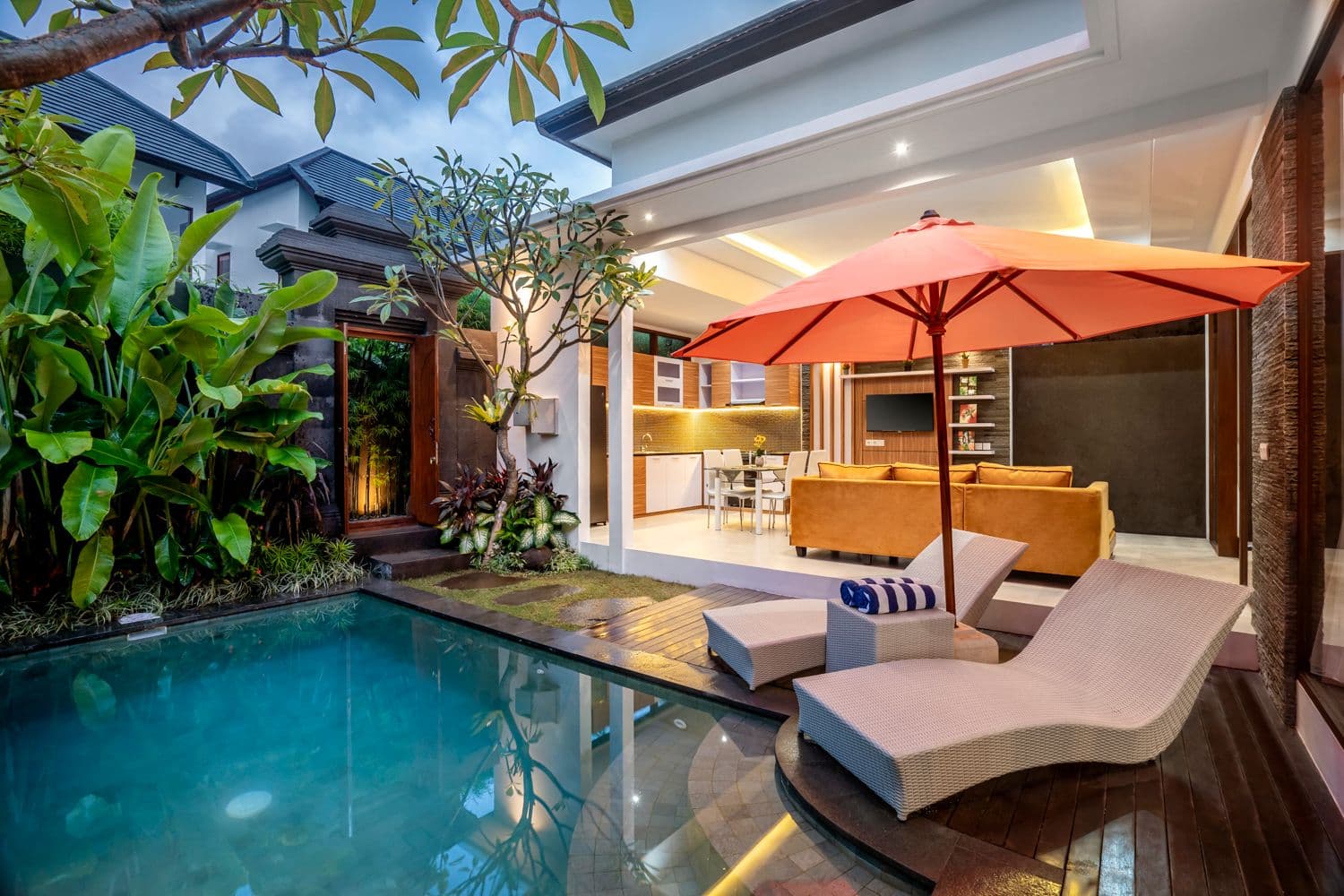 $310,999
Charming two bedroom villa in Seminyak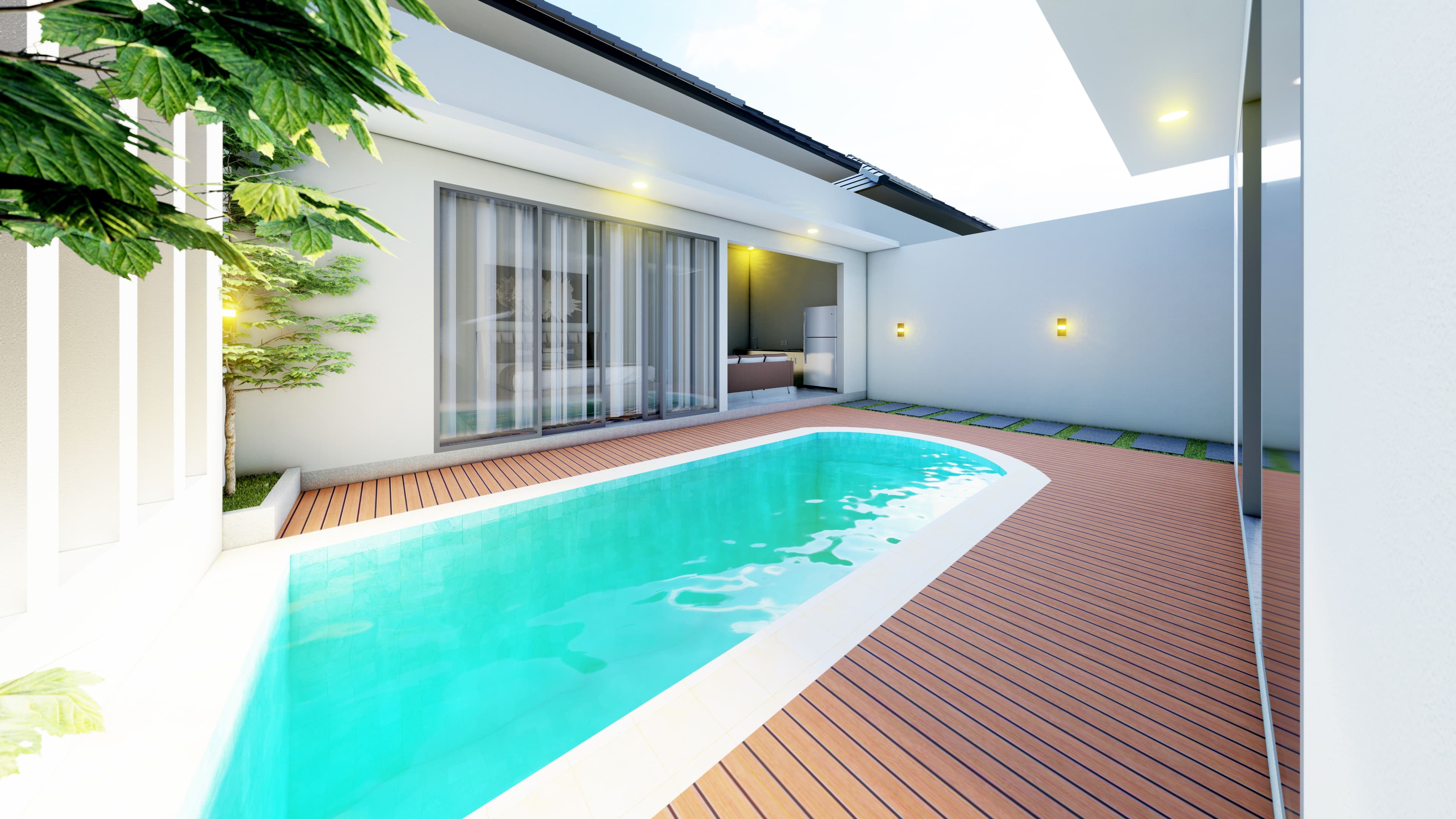 $110,000
A brand-new 2 bedroom villa in the heart of Seminyak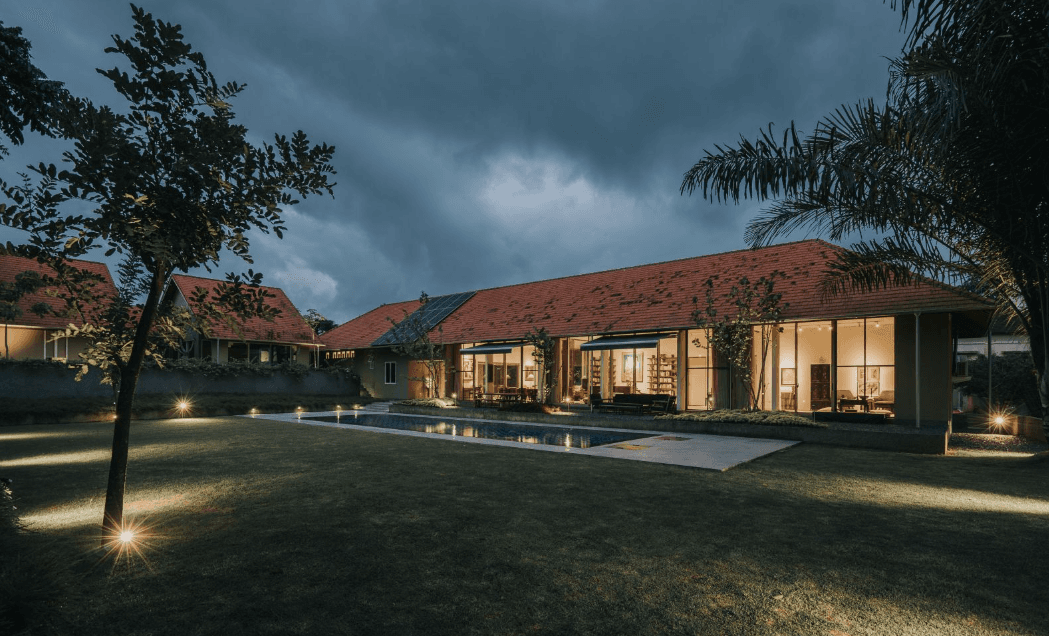 $1,299,000
Brand new villa near Monkey forest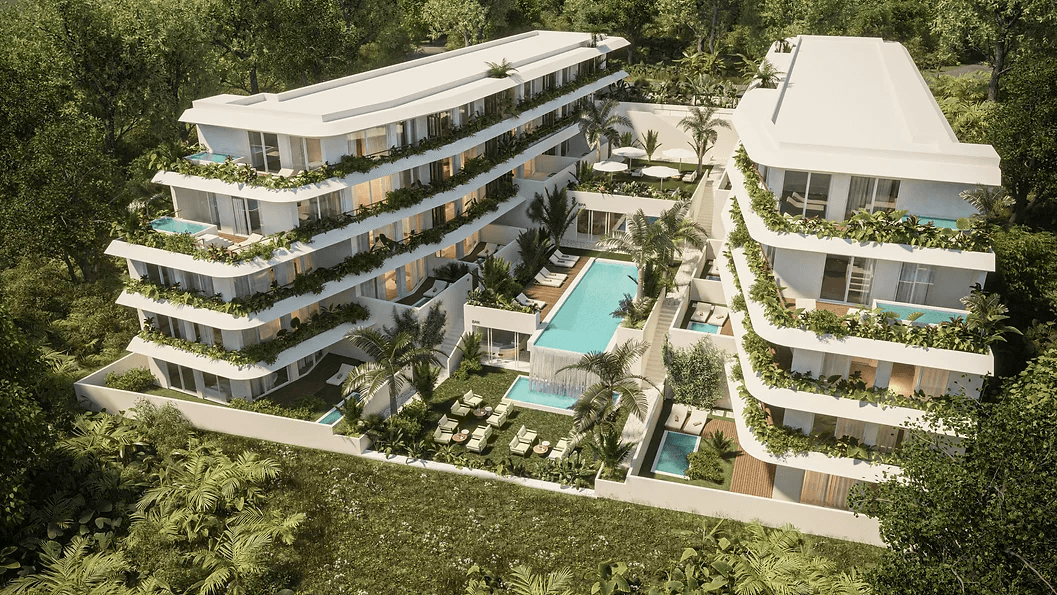 $153,000
Apartments in a luxury complex in Uluwatu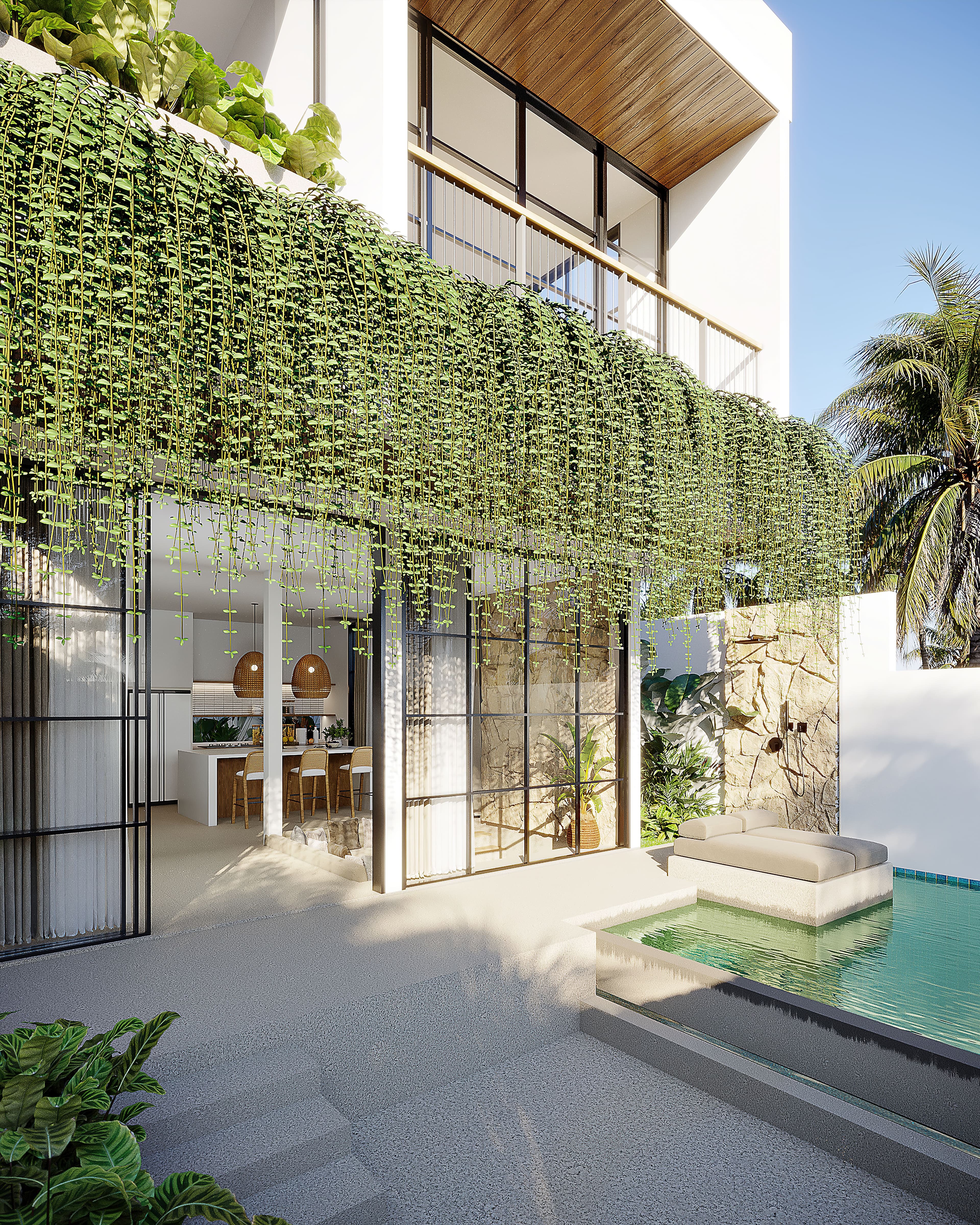 $229,000
Modern 2 bedroom villa in Pererenan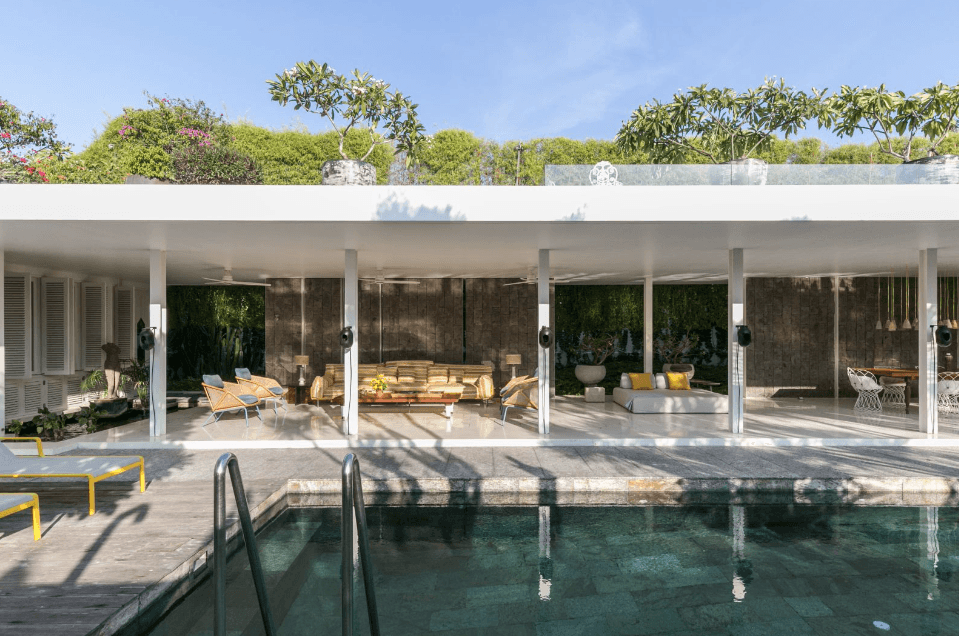 $1,799,000
Three-level colonial style villa in Canggu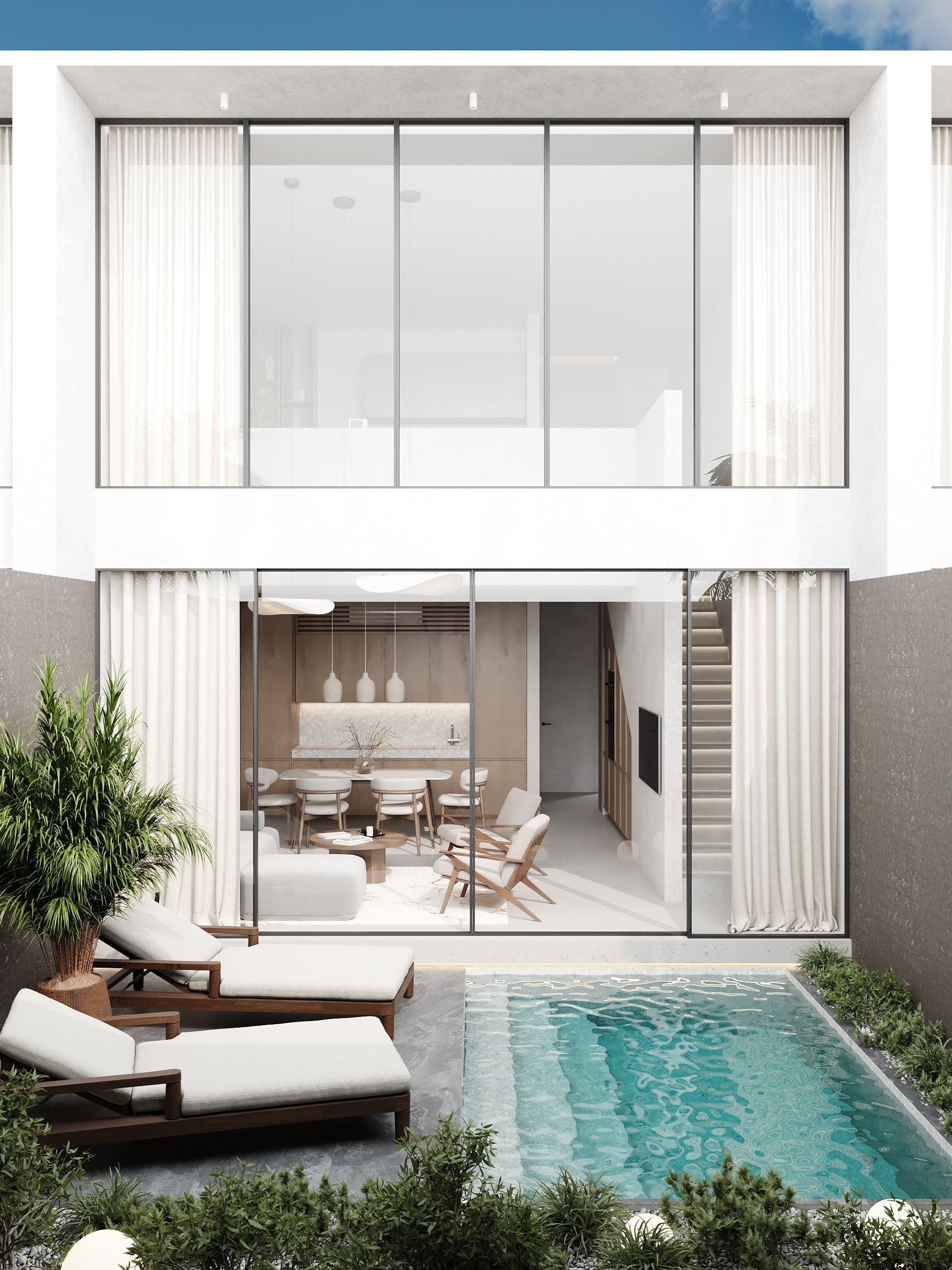 $195,000
Cozy 2 bedroom villa in Ubud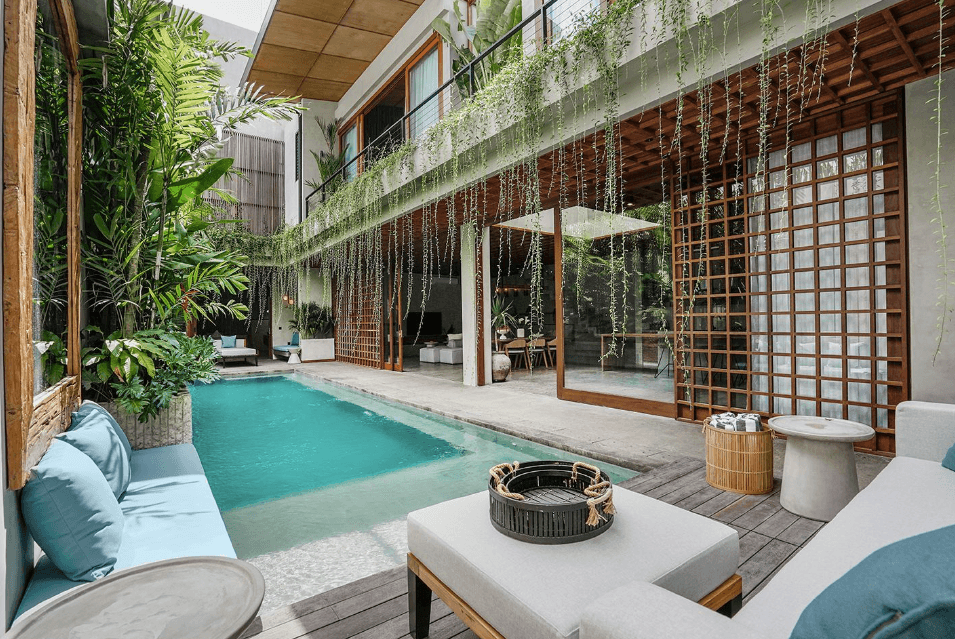 $1,150,000
Sunny villa with terrace in Canggu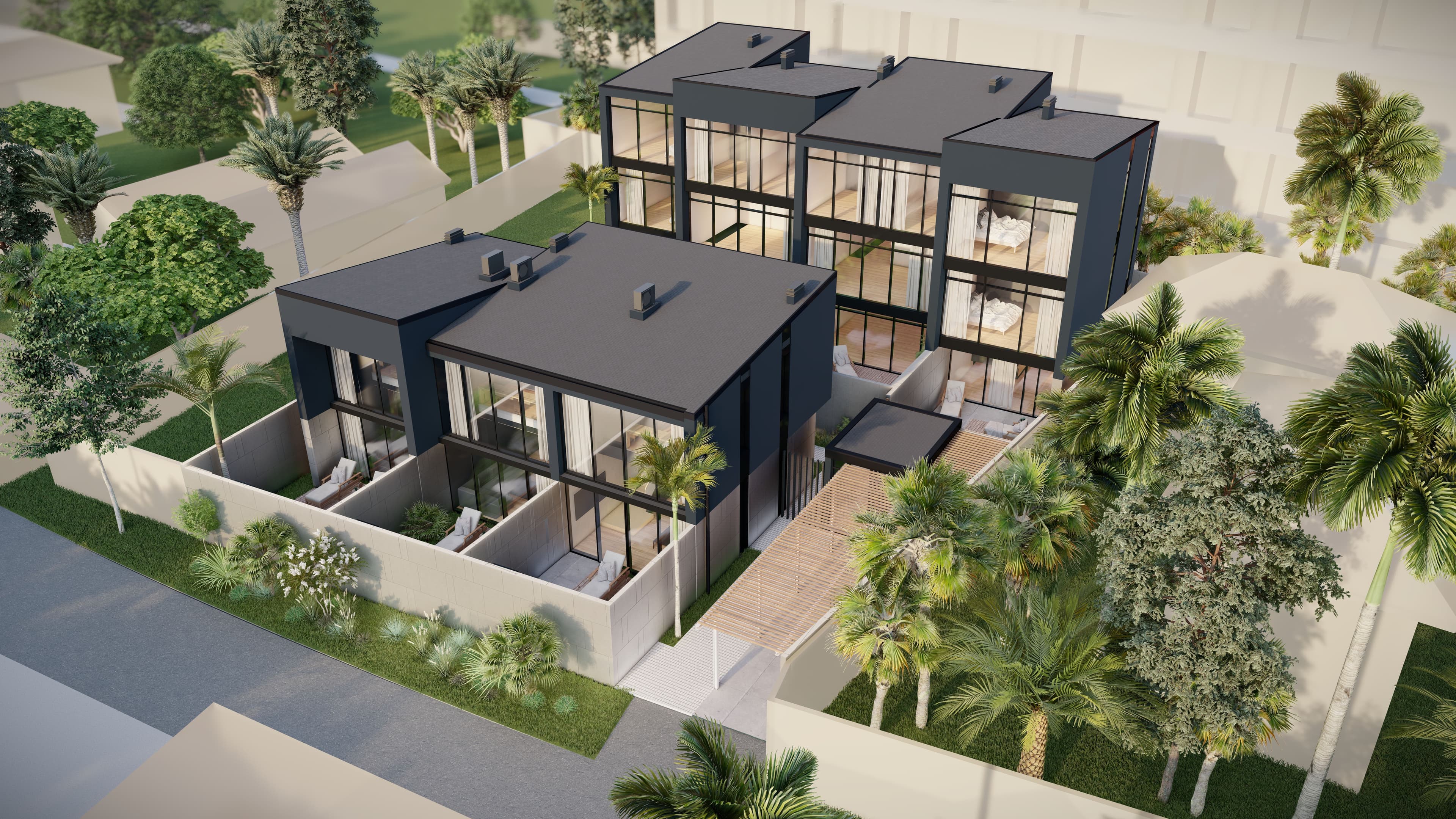 $319,999
2 bedrooms villas 300 meters from Berawa beach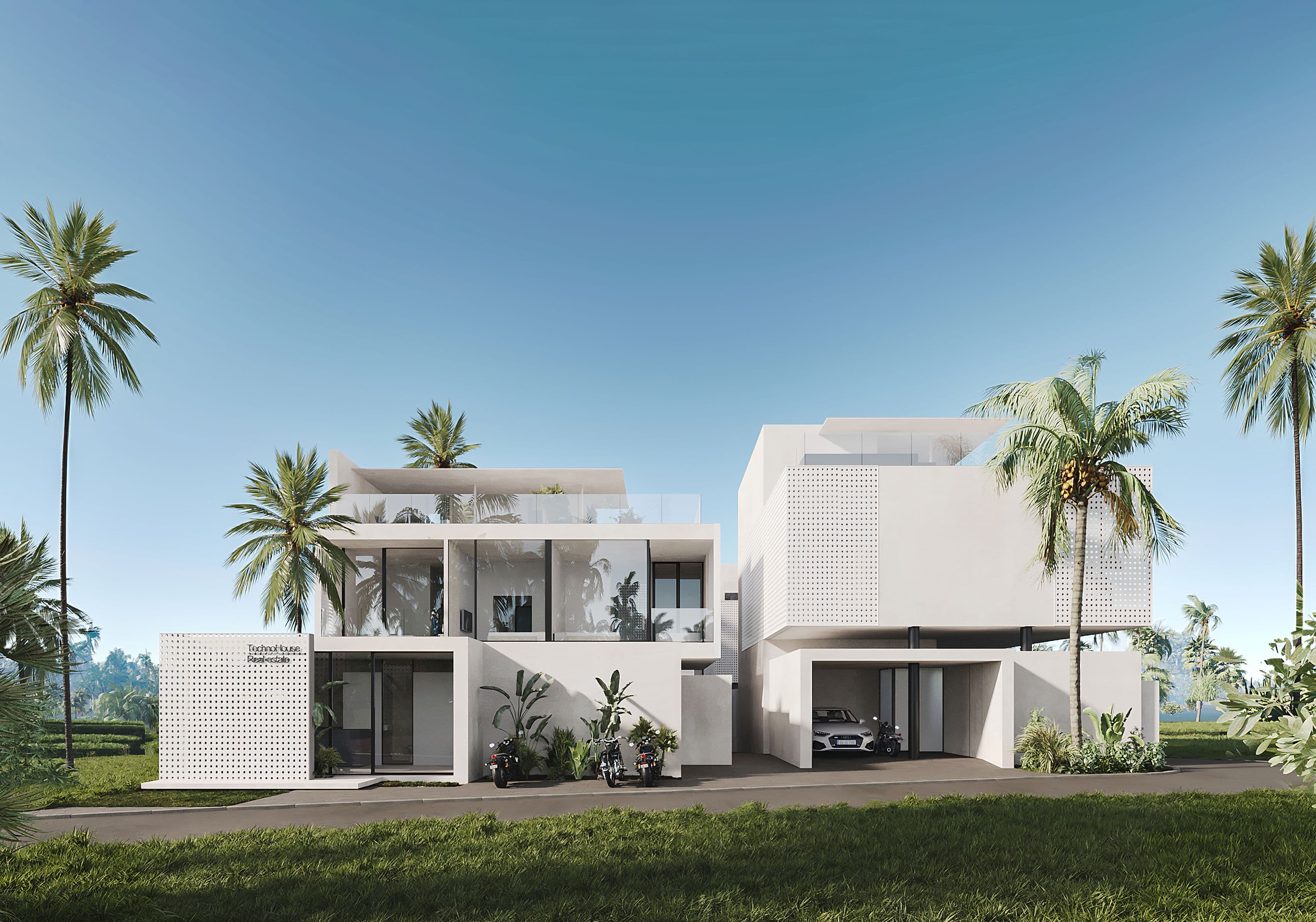 $500,000
Premium three-bedroom villa in Changu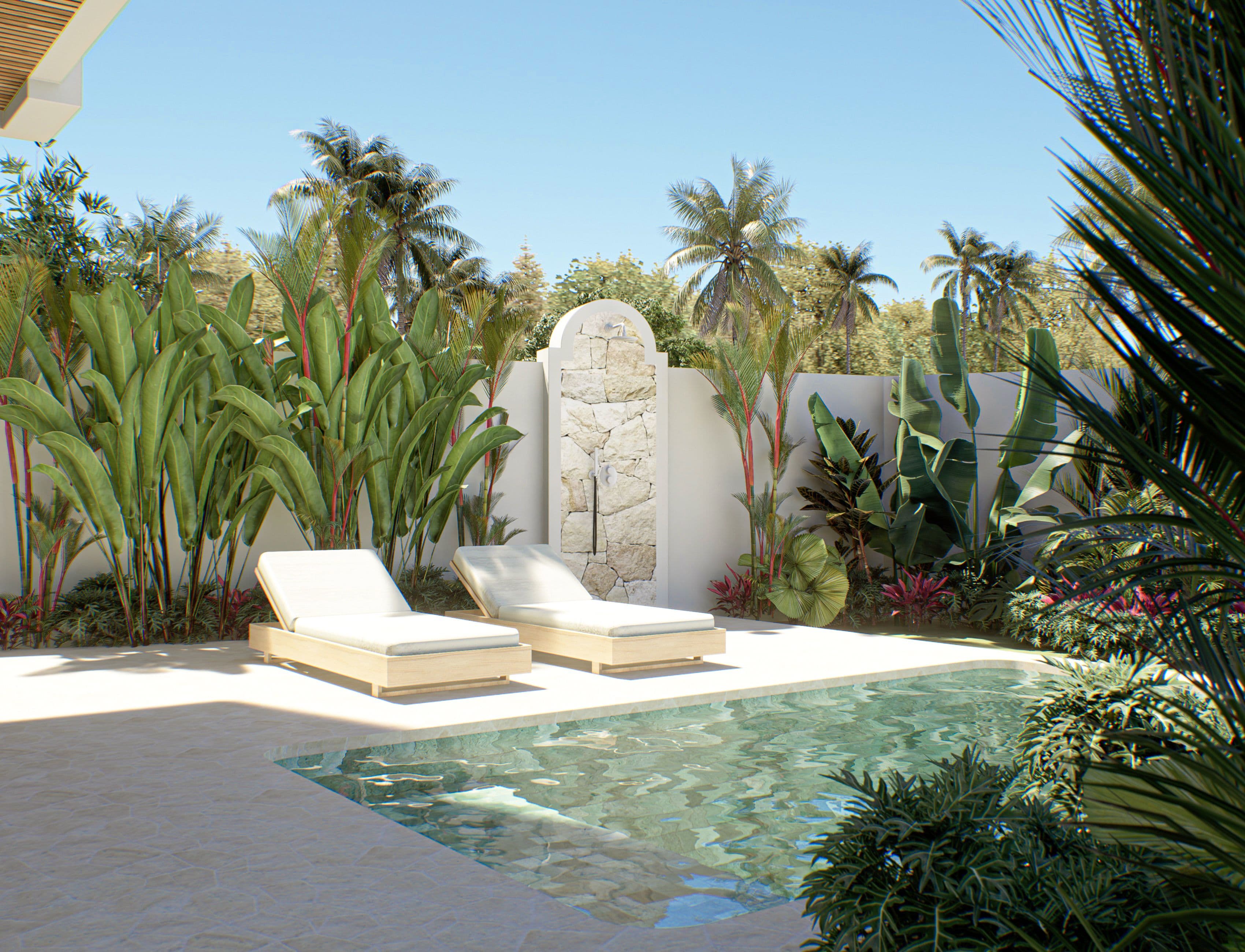 $254,000
2 bedroom Villa 4 minutes from Seseh Beach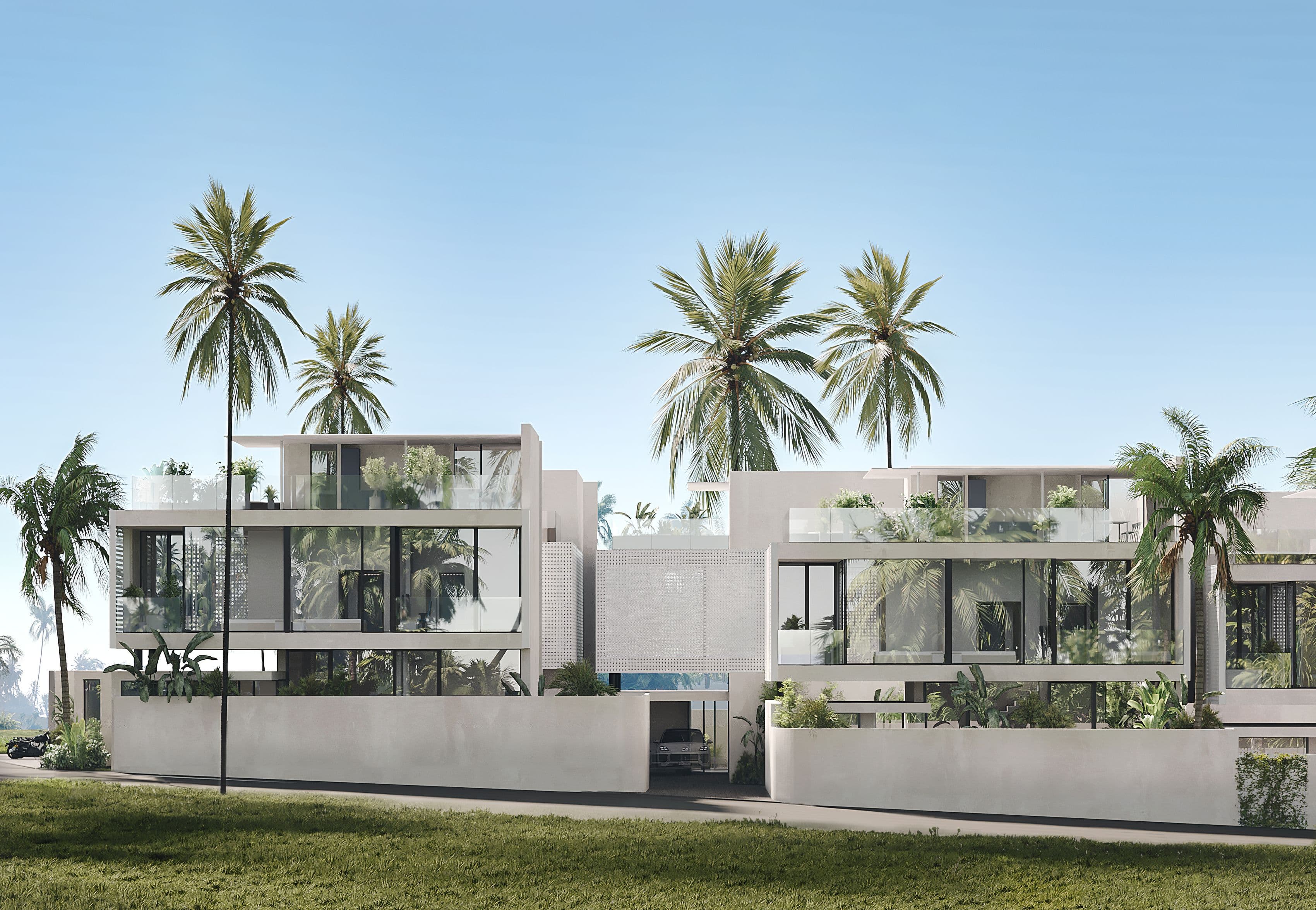 $700,000
Premium 4 bedroom villa in Canggu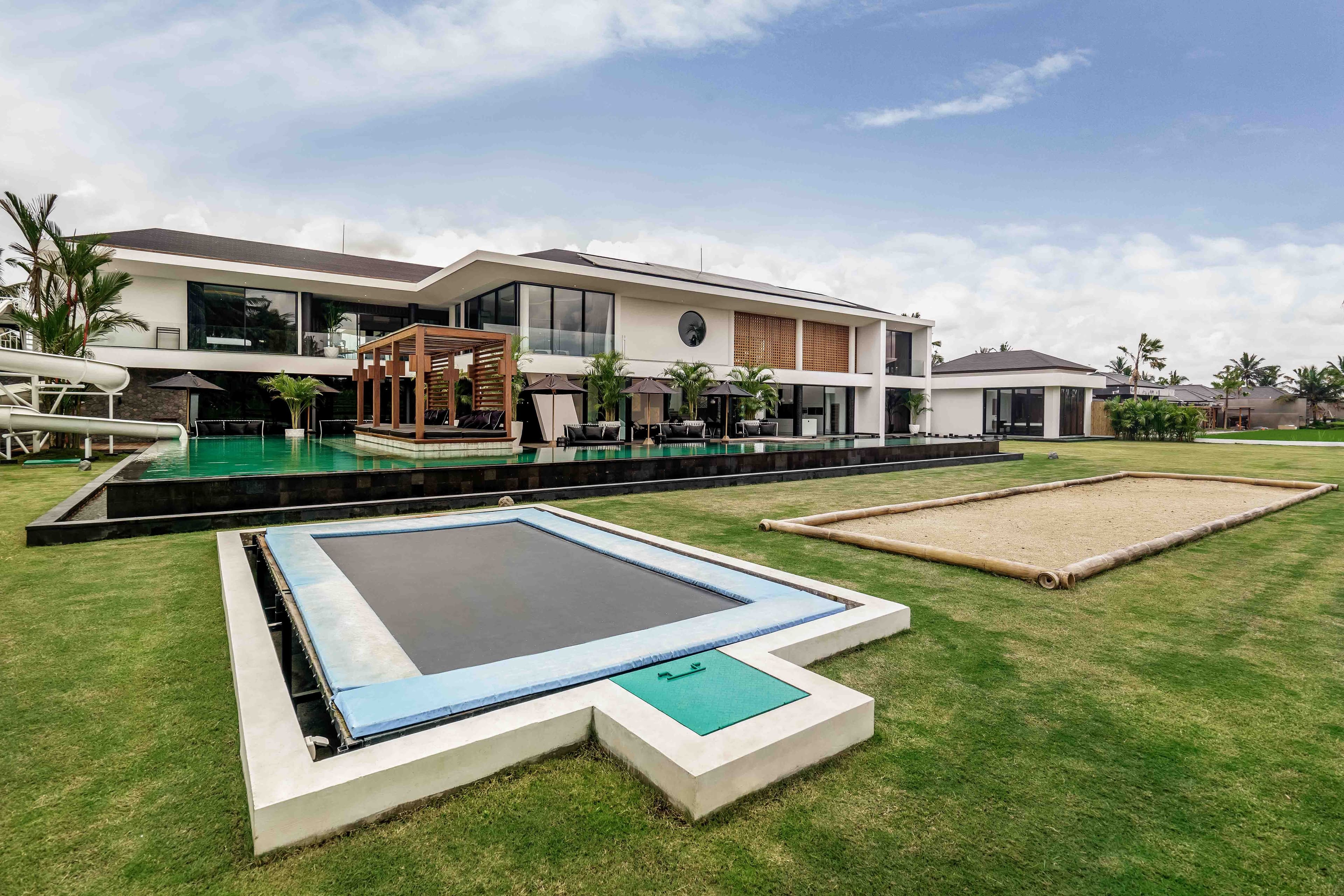 $3,400,000
Luxury 6 bedroom villa in Ubud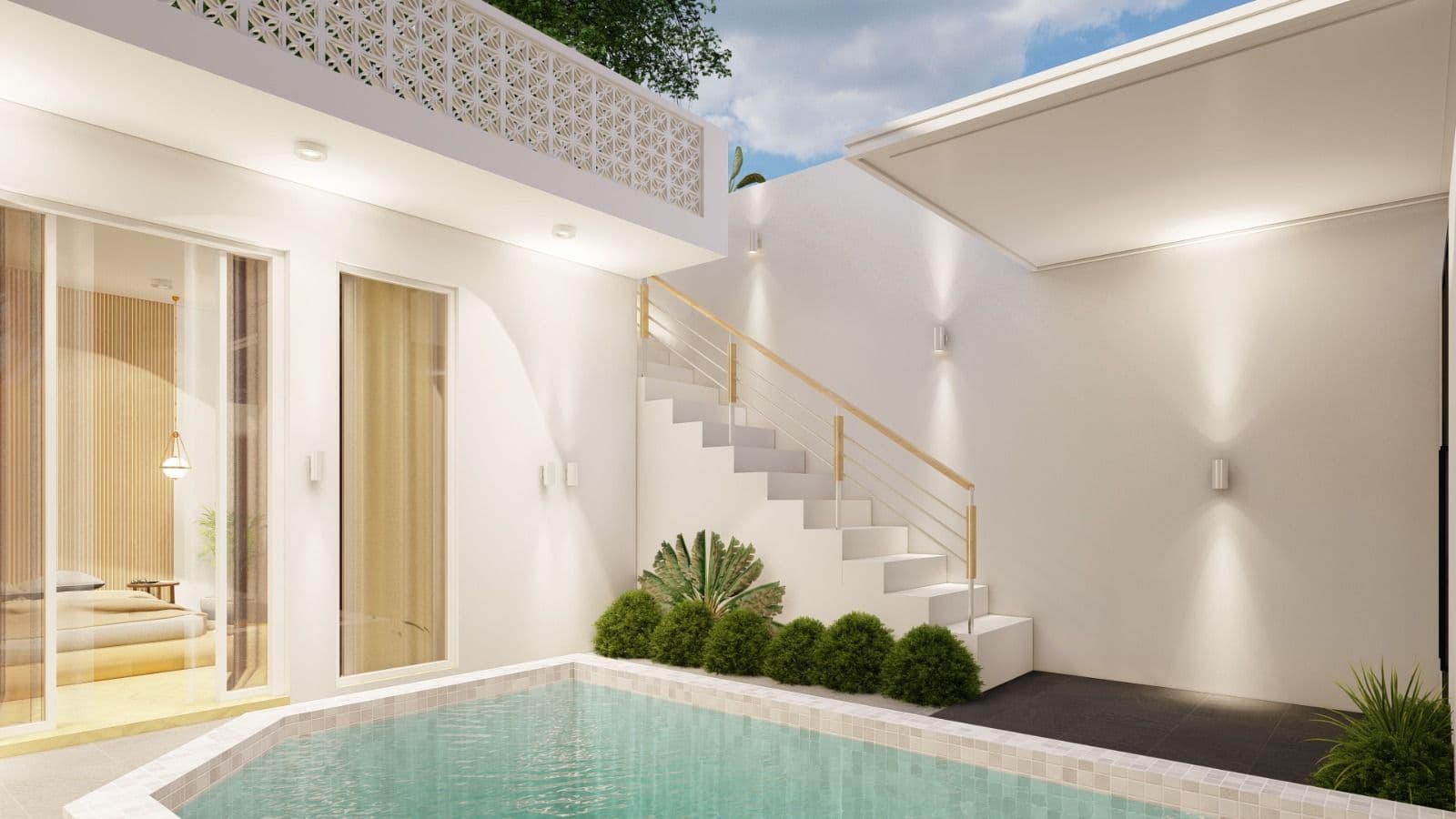 $139,000
One bedroom cozy villa in Changu with a terrace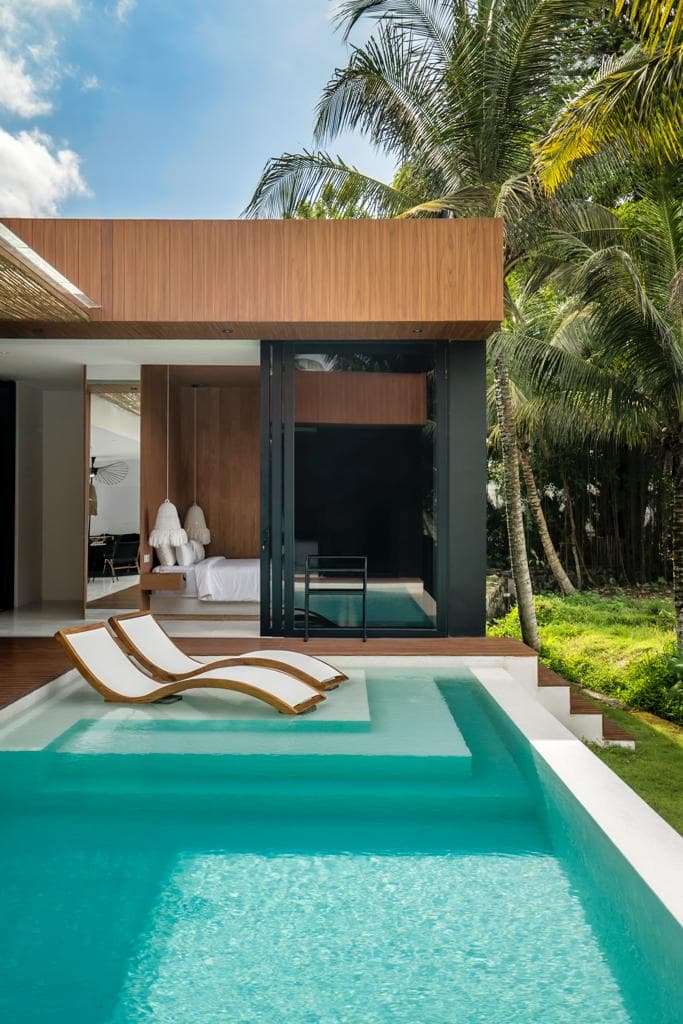 $329,000
Luxury 3 bedroom villa in Ubud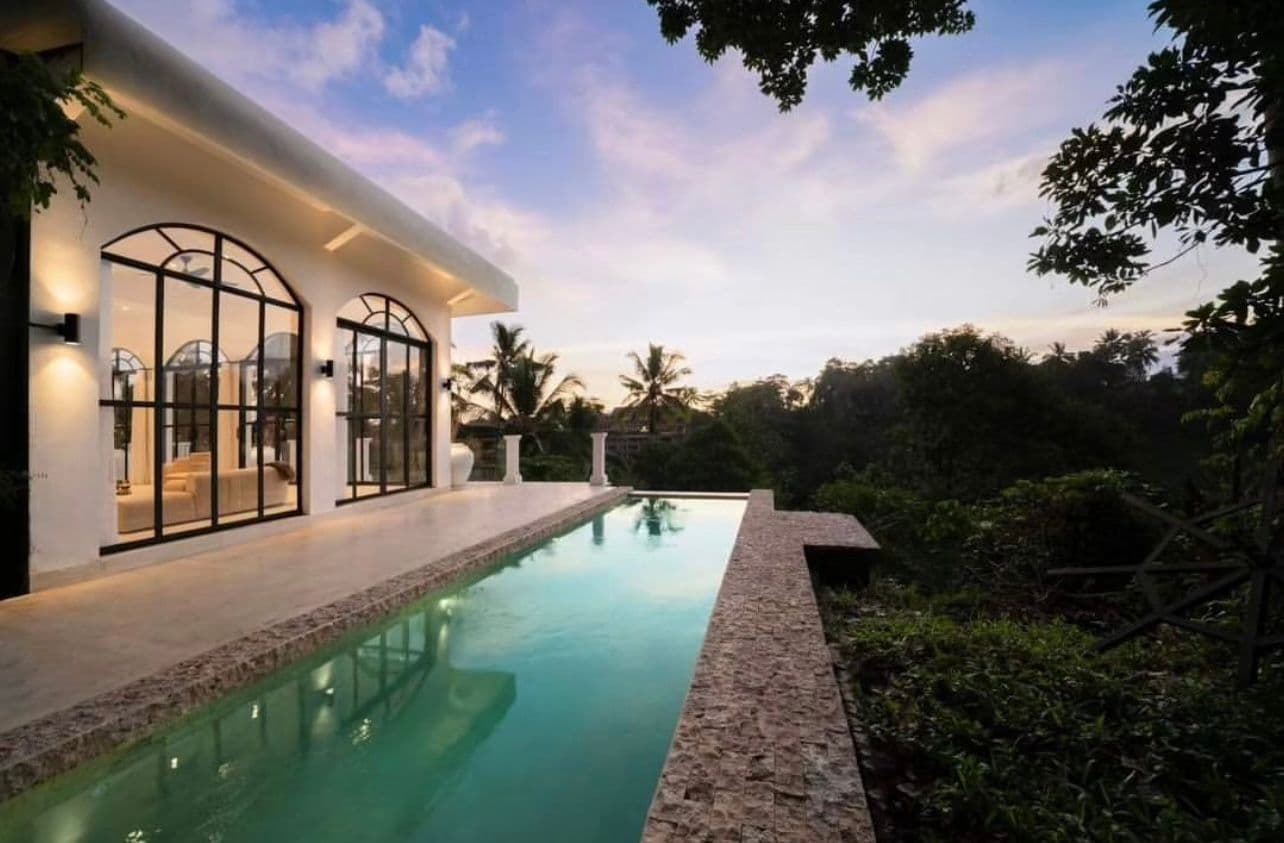 $430,000
2 Bedroom Villa in the Ubud Jungle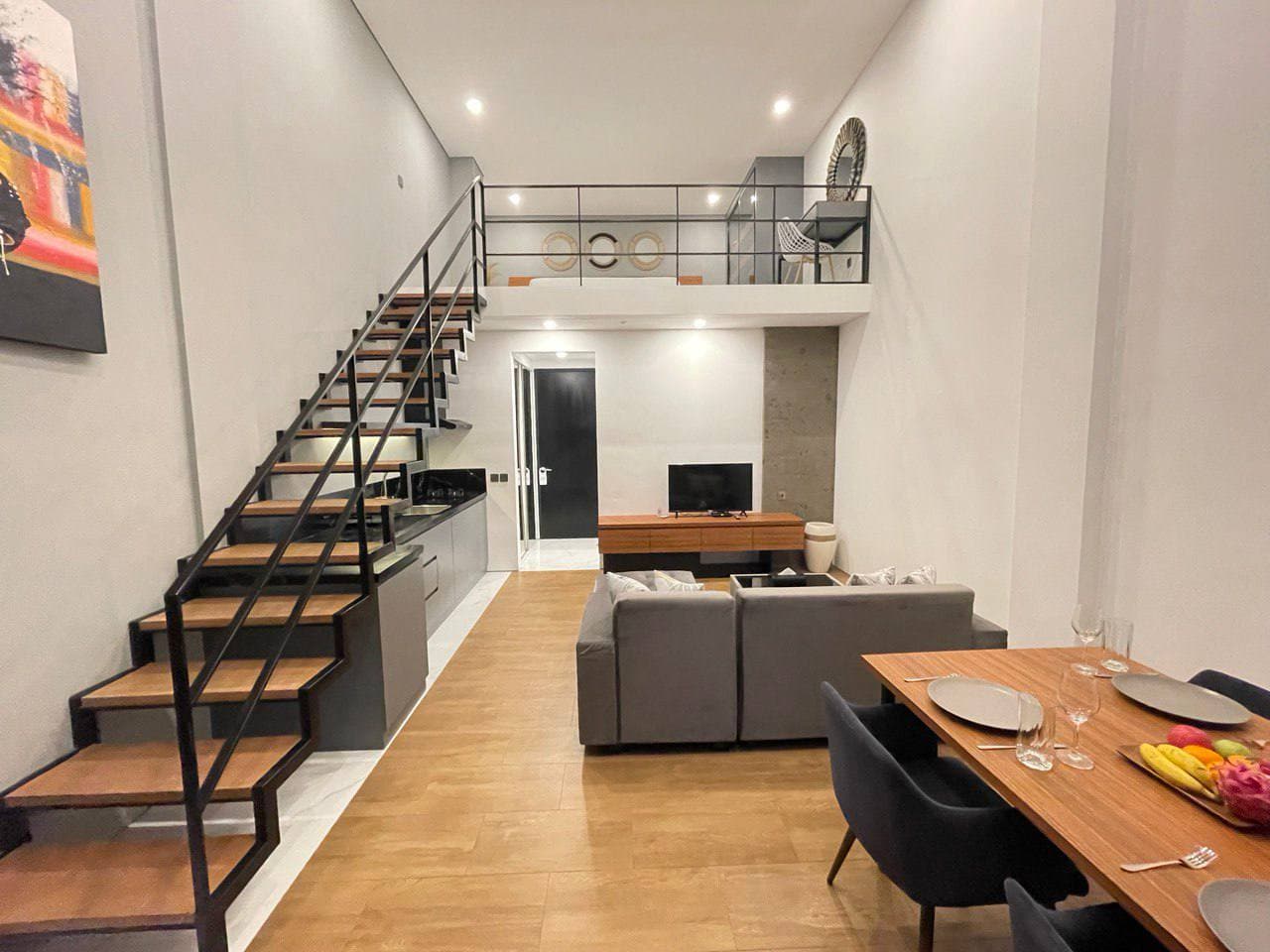 $150,000
Cozy apartments in a newly built complex in Canggu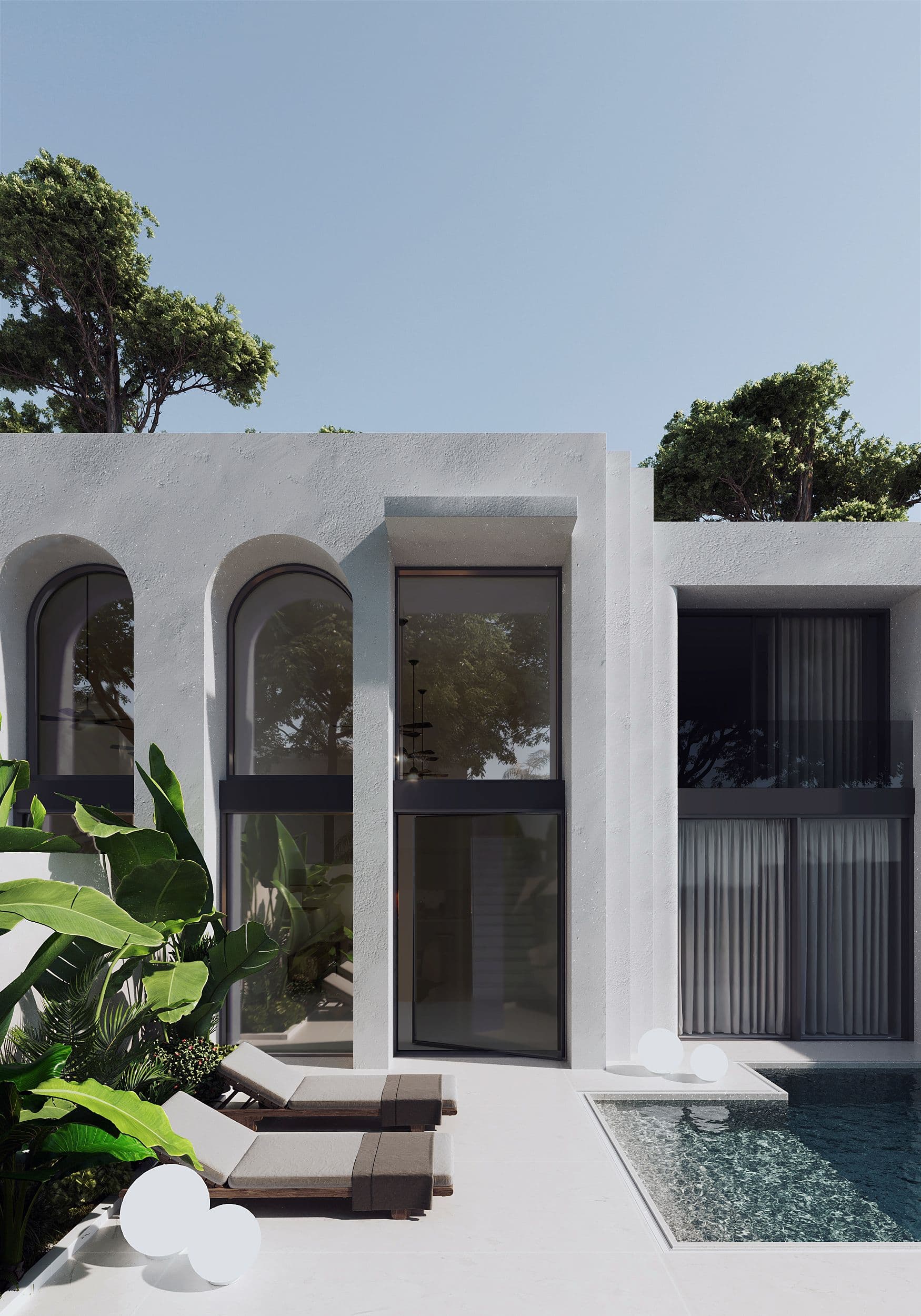 $220,000
Villa in Pererenan in the style of soft minimalism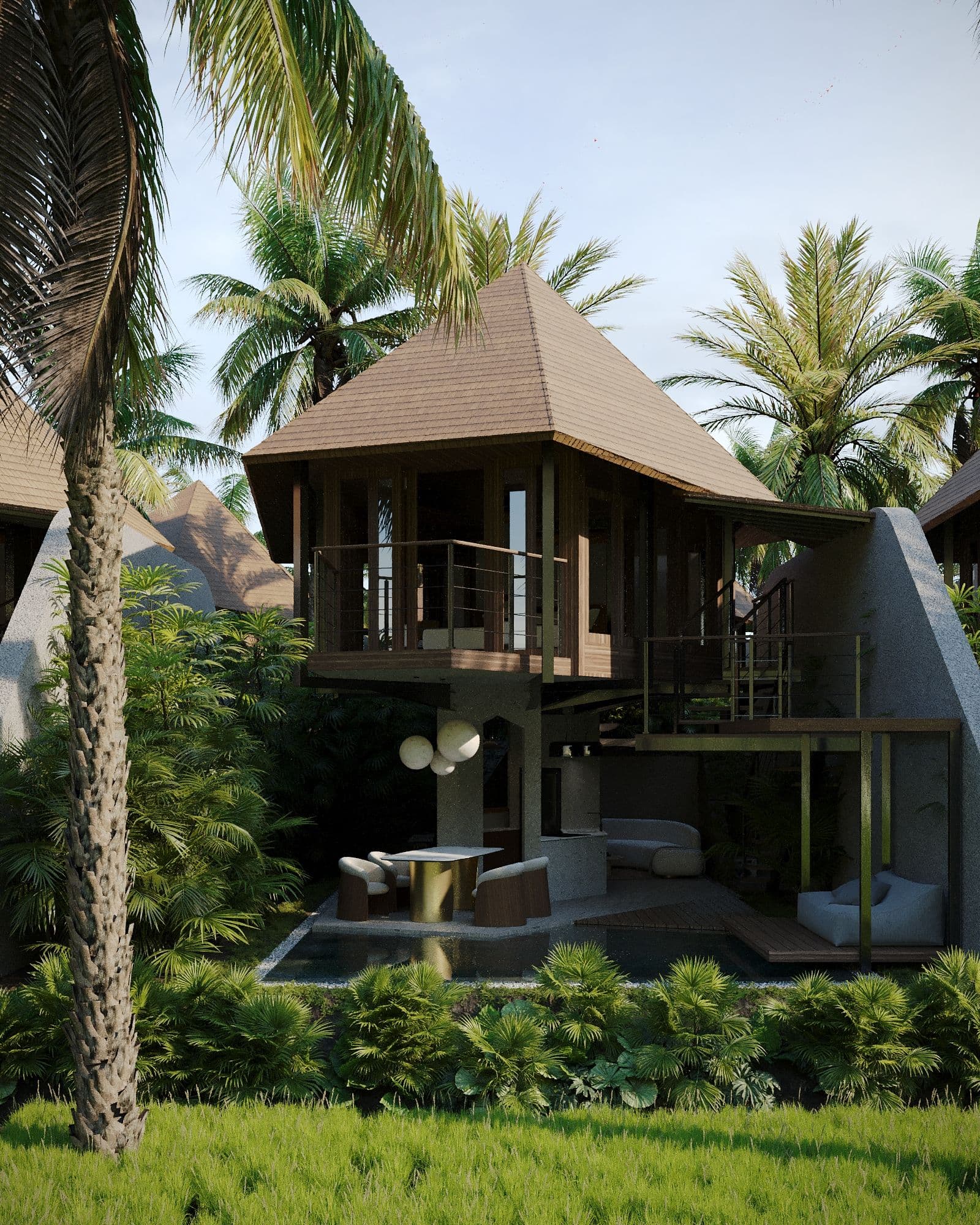 $250,000
Affordable 2 bedroom villa in Ubud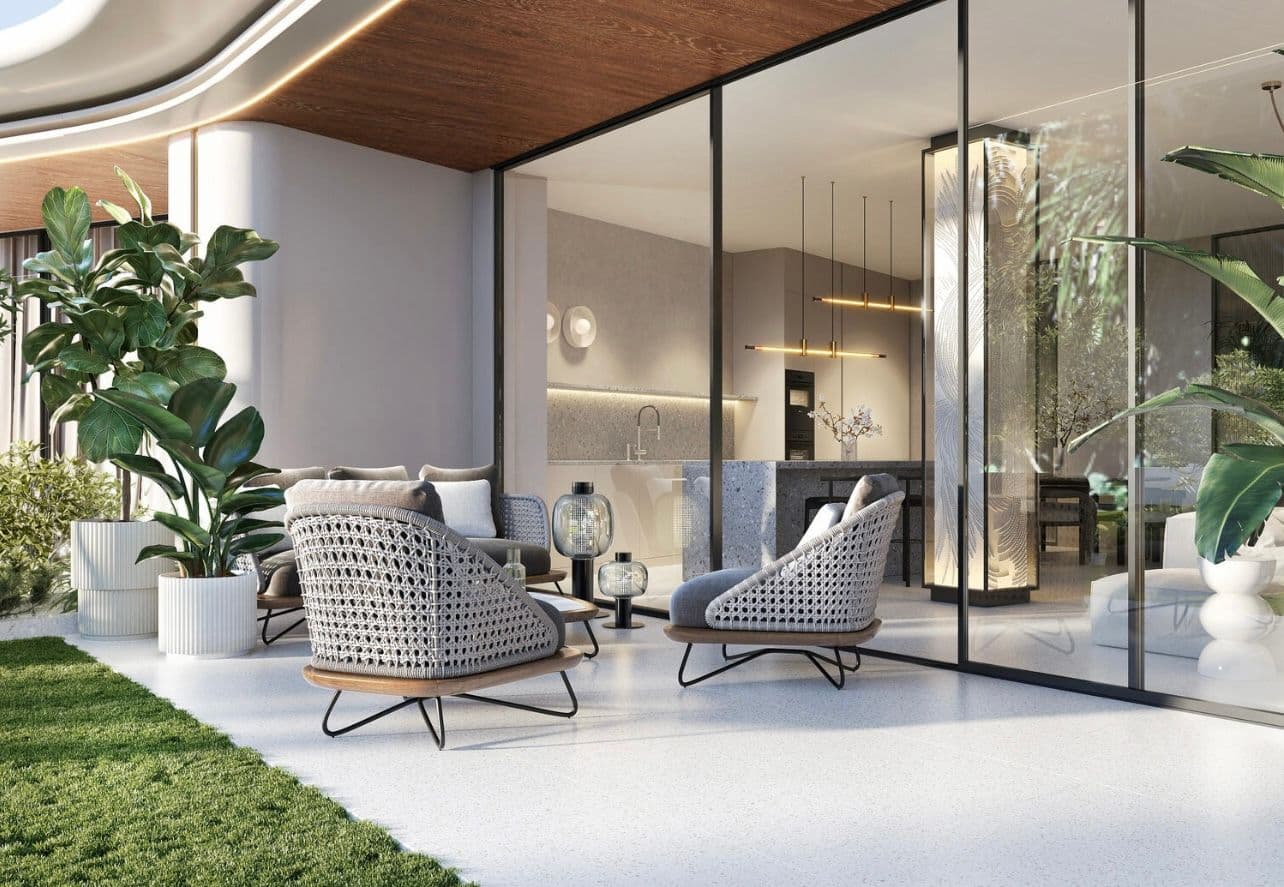 $174,000
Ocean style apartment in Uluwatu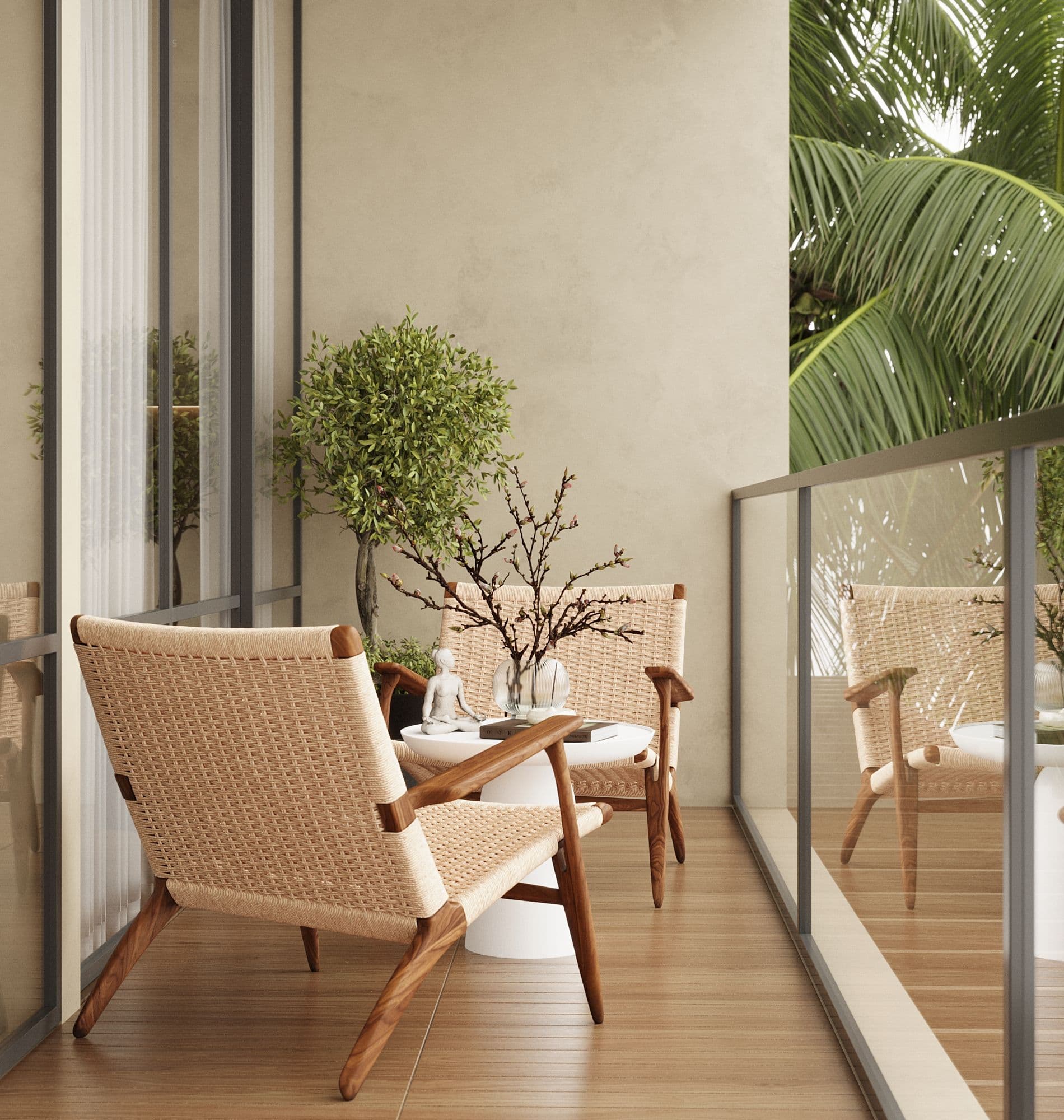 $290,000
2 bedroom villa 3 minutes from the ocean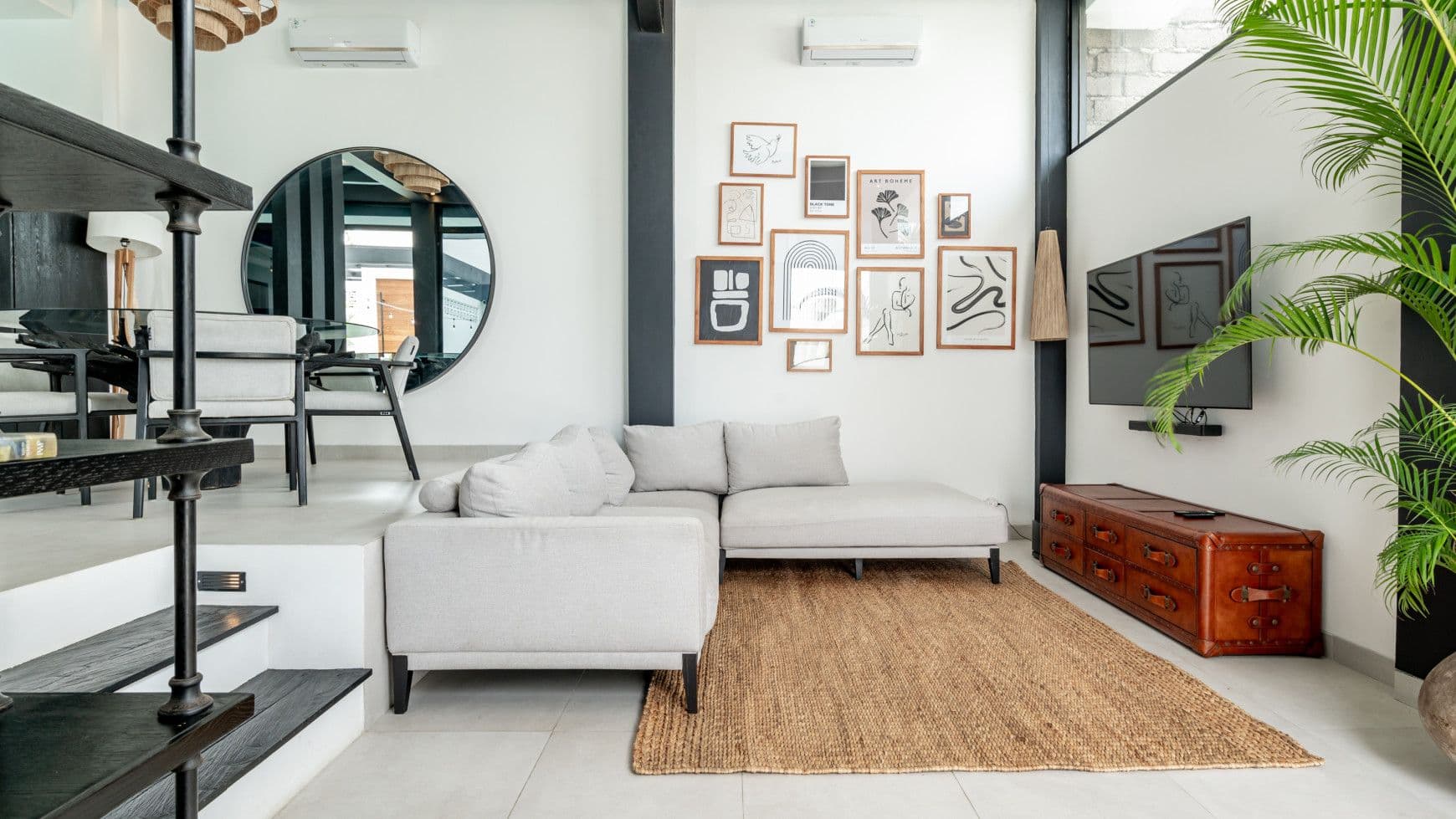 $589,000
Spacious 3 bedroom Villa in Canggu with Rice fields view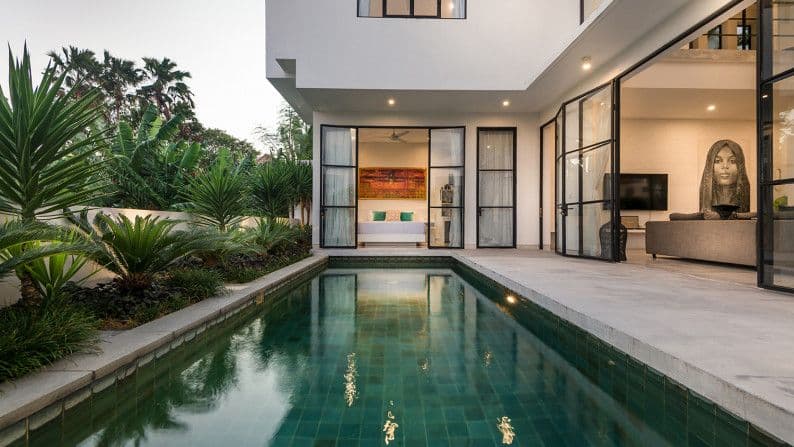 $400,000
4 bedroom villa in the heart of Humalas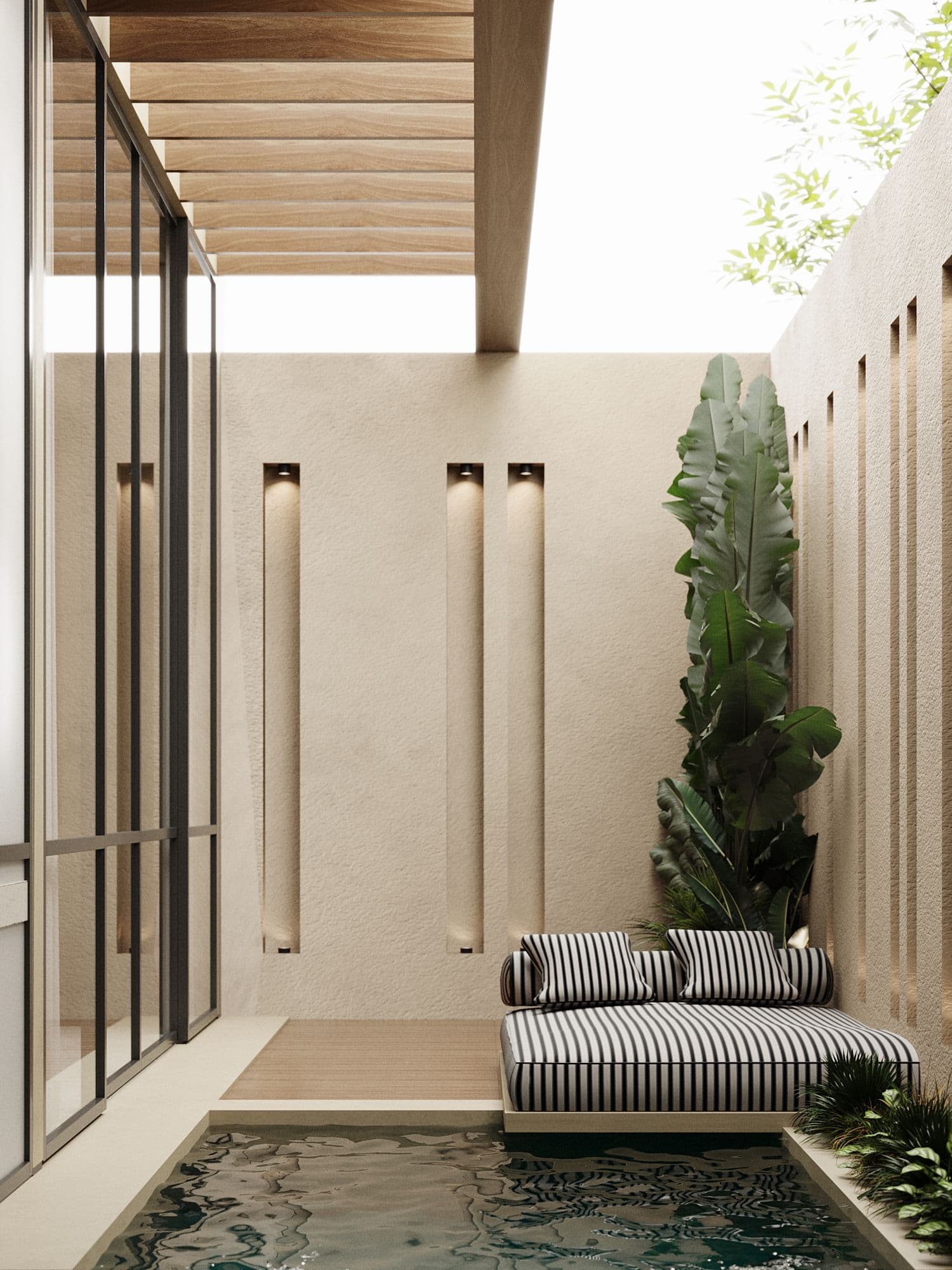 $240,000
1 bedroom villa in a modern complex in Changu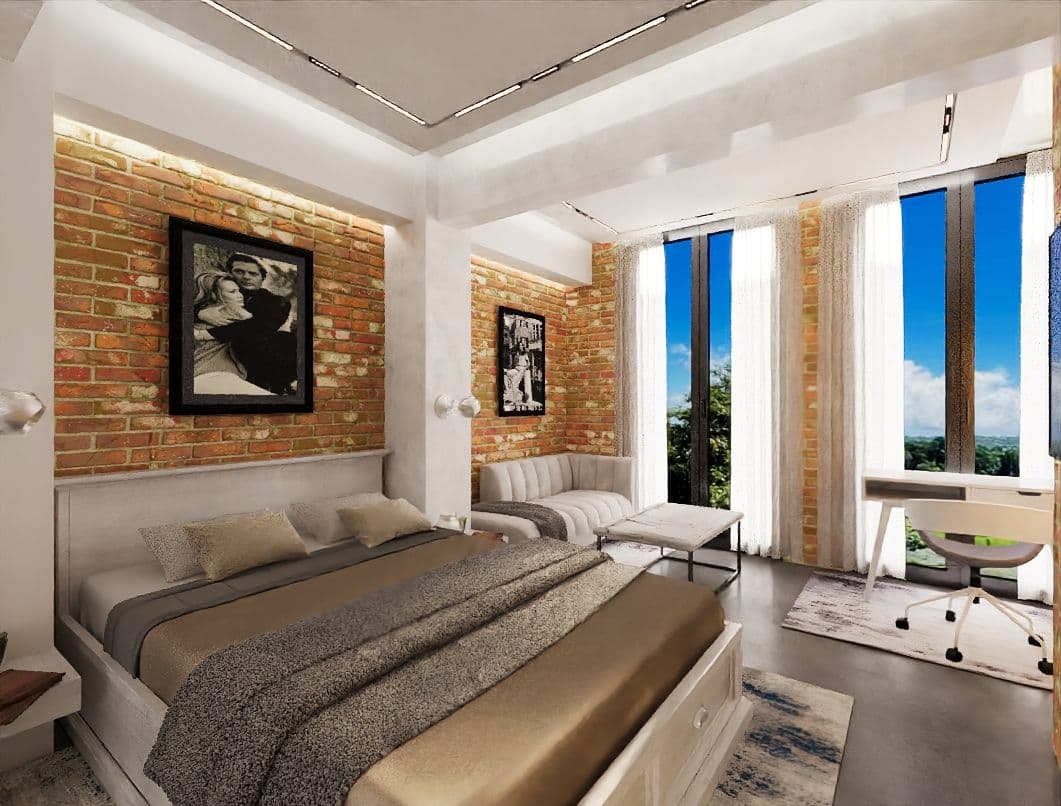 $84,000
Cozy apartment 5 minutes from Melasti beach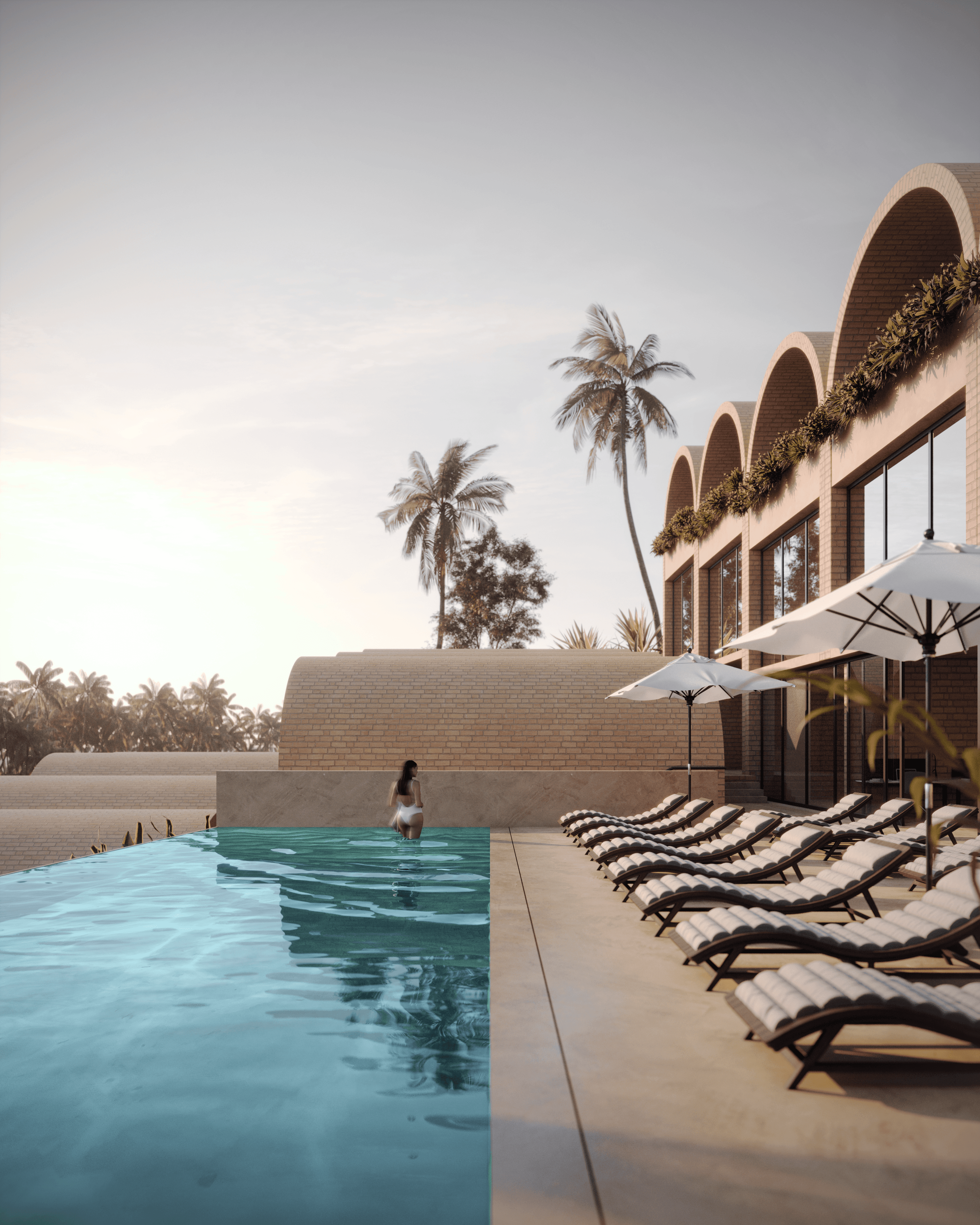 $250,000
Premium Ocean View Apartments in Uluwatu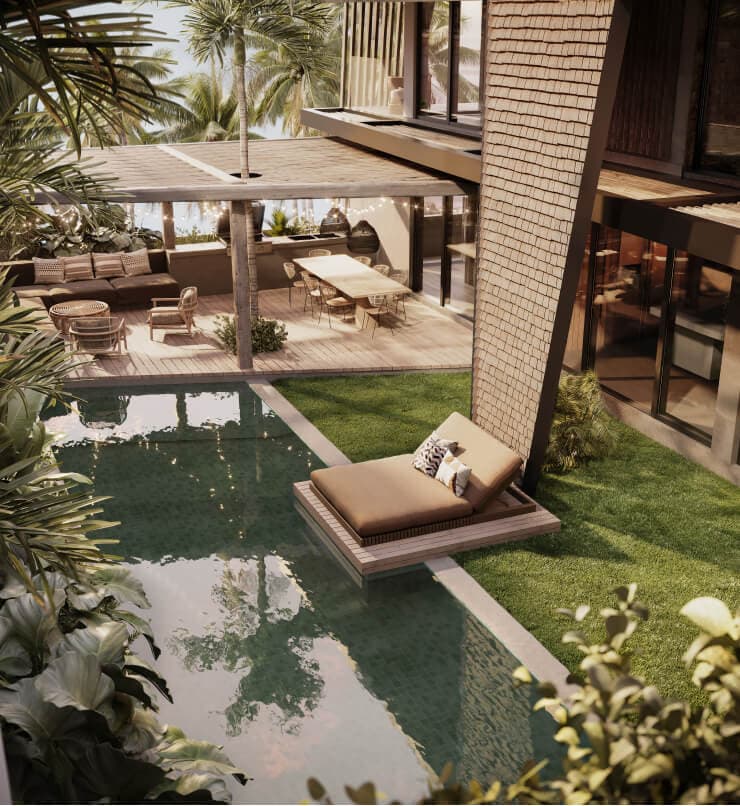 $851,000
4 Bedroom tropical style villa on Berawa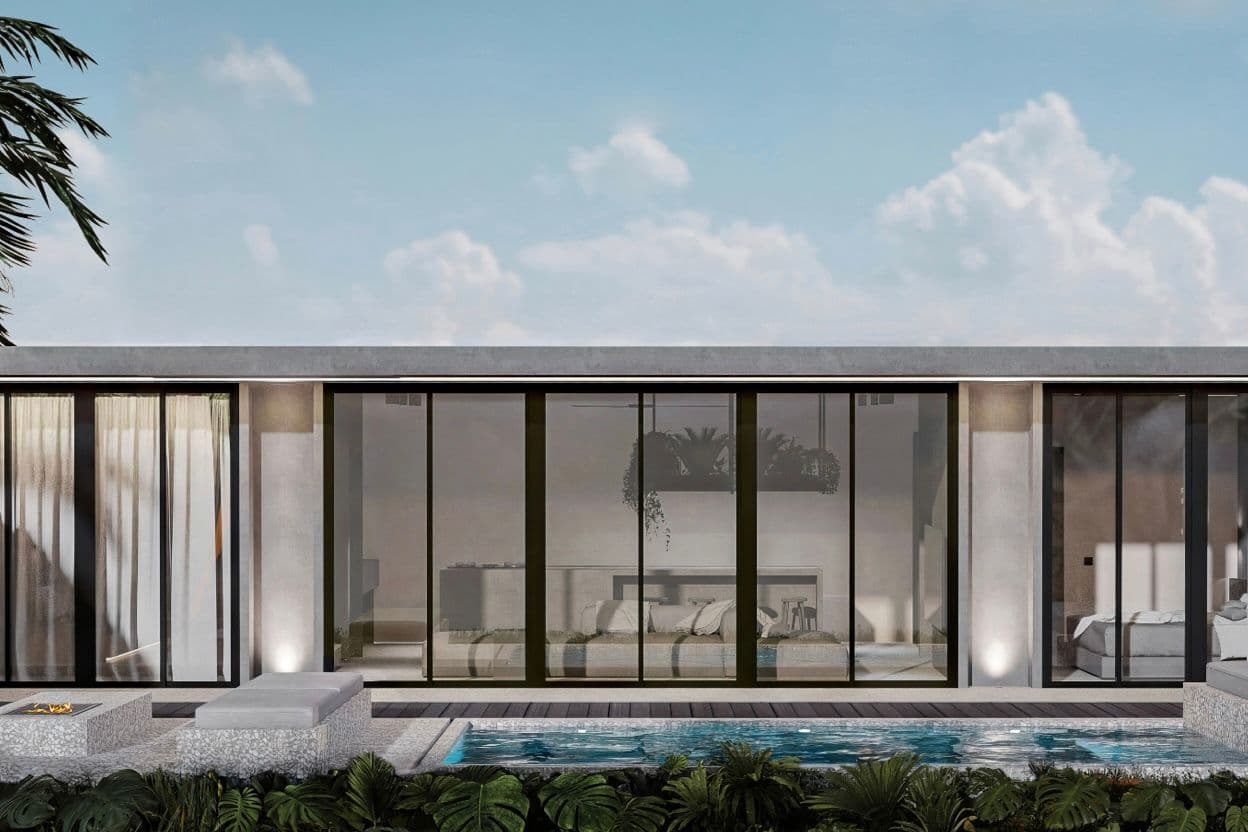 $145,000
Spacious 2 bedroom villa in Seseh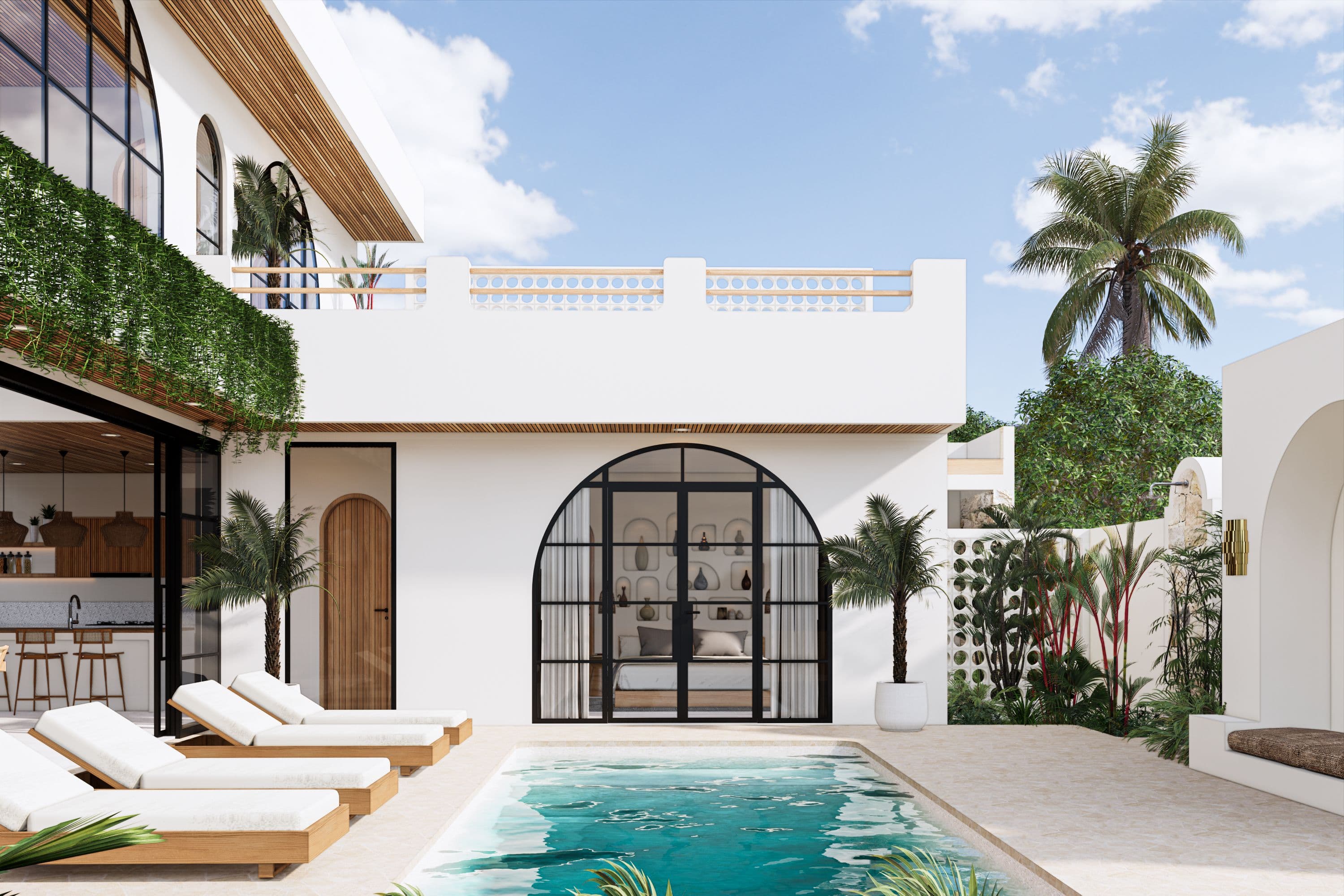 $410,000
3 Bedroom villa with swimming pool 4 minutes from Seseh Beach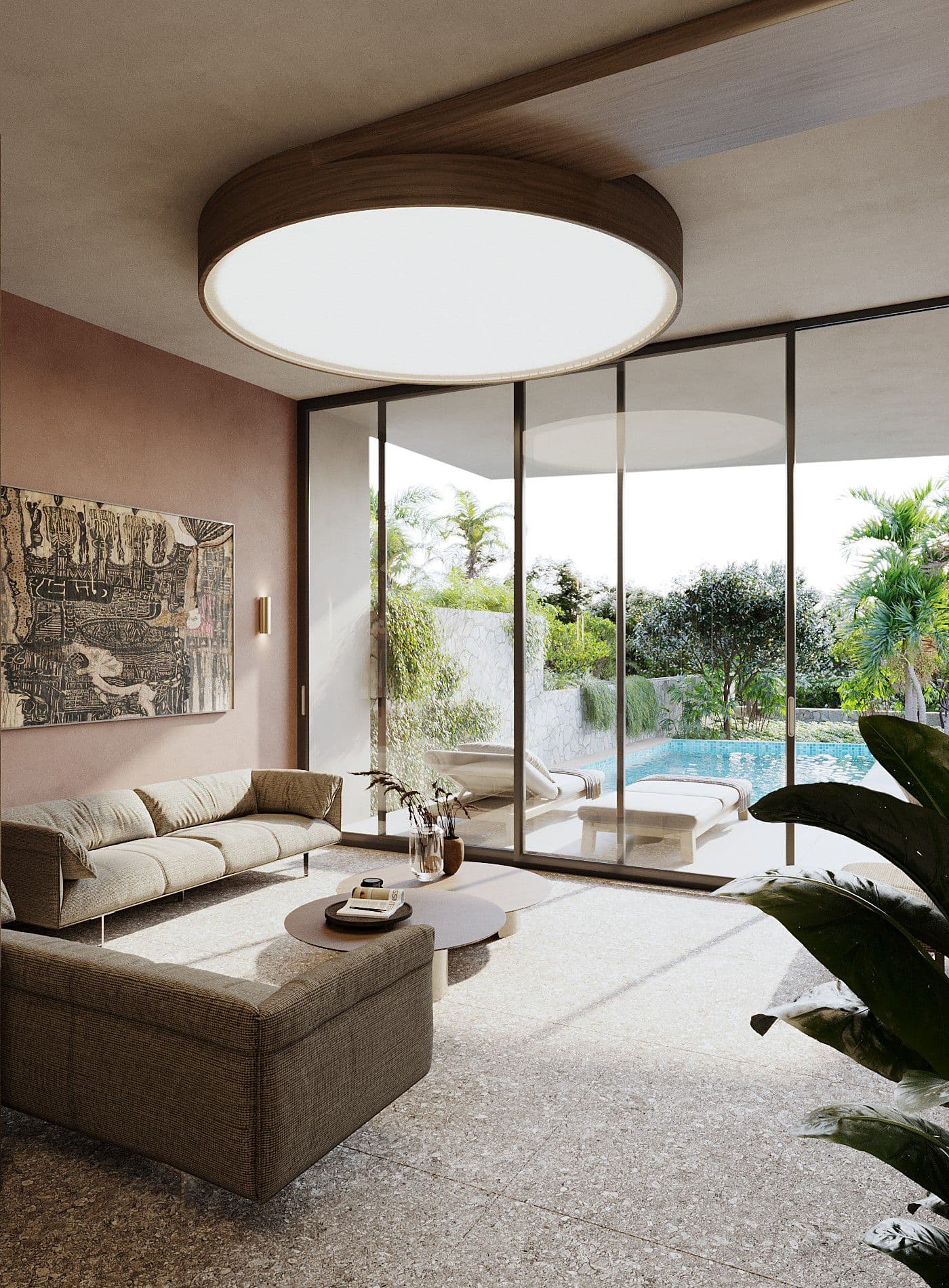 $268,000
1 bedroom Villa in Balangan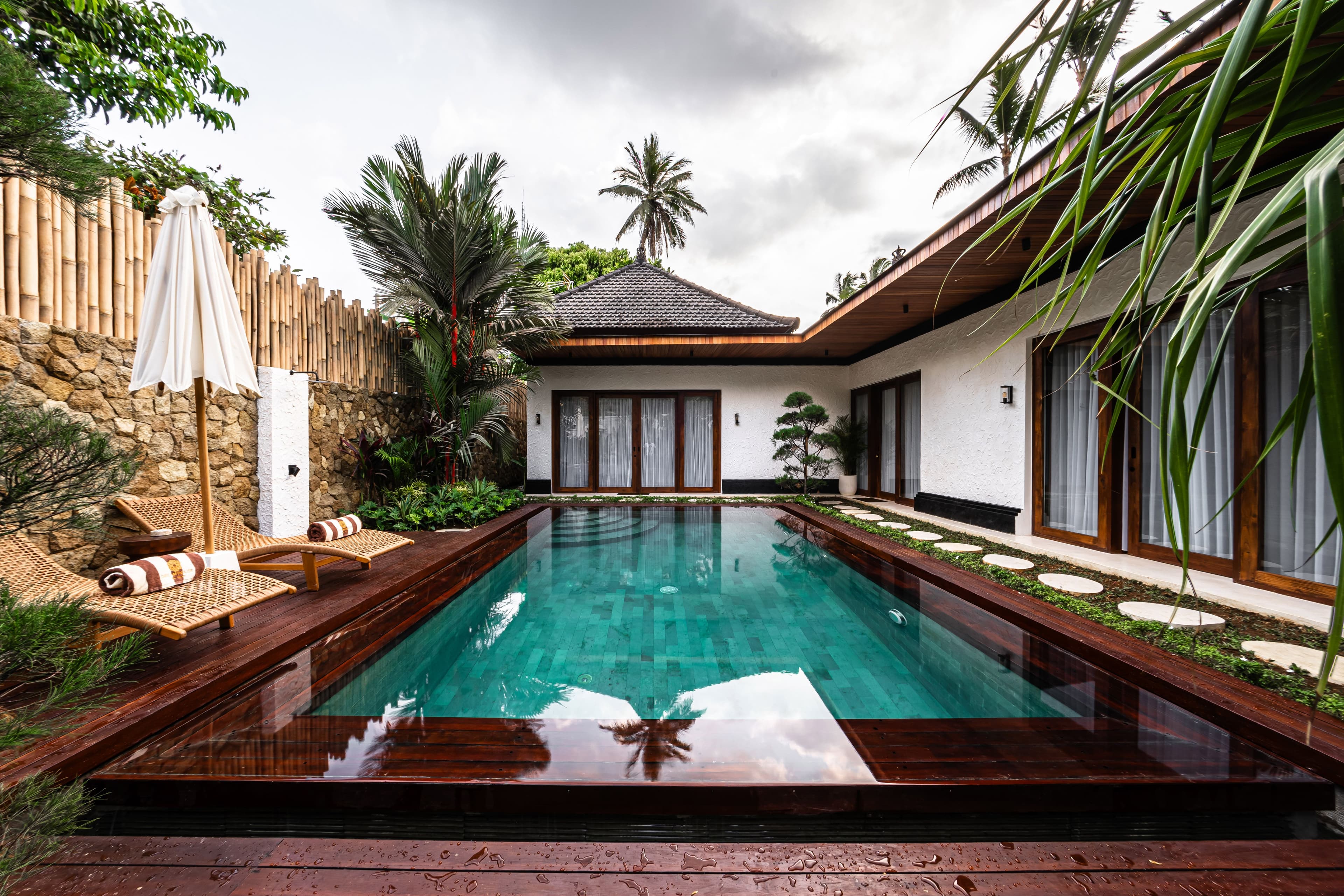 $395,000
Ready to move in 3 bedroom villa in Ubud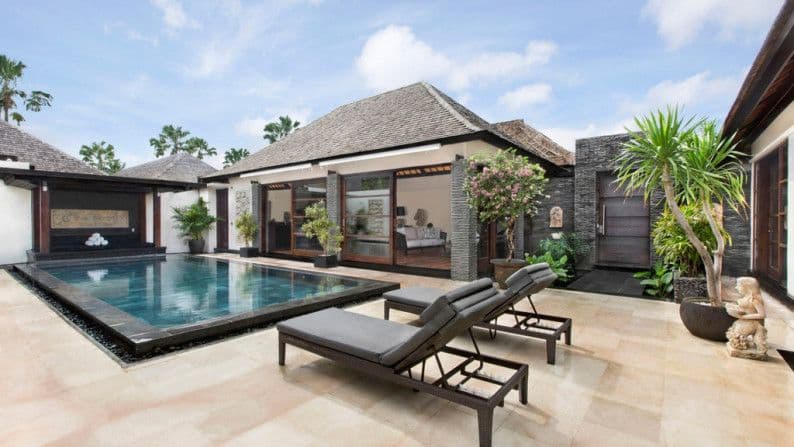 $485,000
Luxury Villa 3 bedroom in Seminyak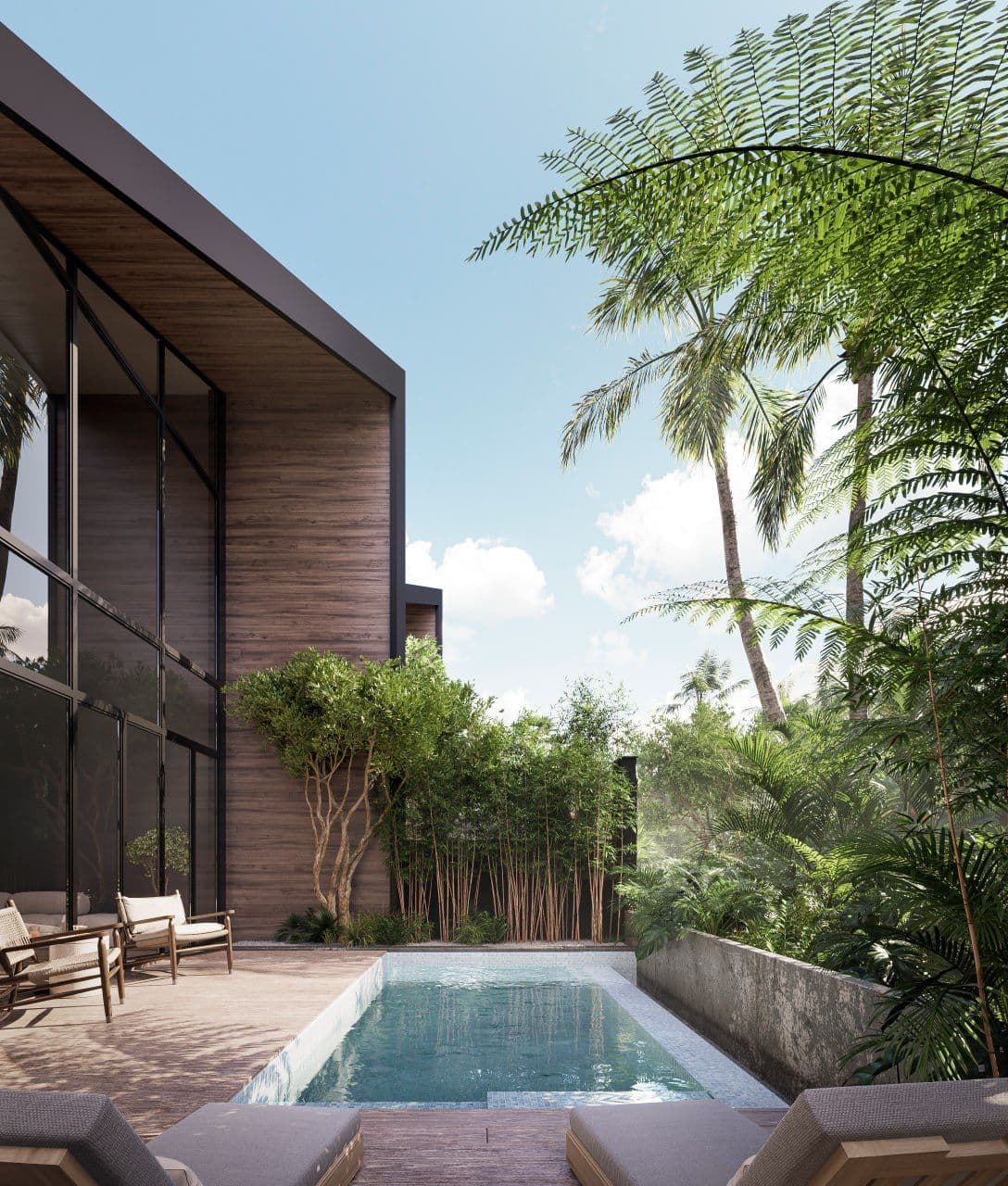 $280,000
Technological 2-bedroom villa in Ungasan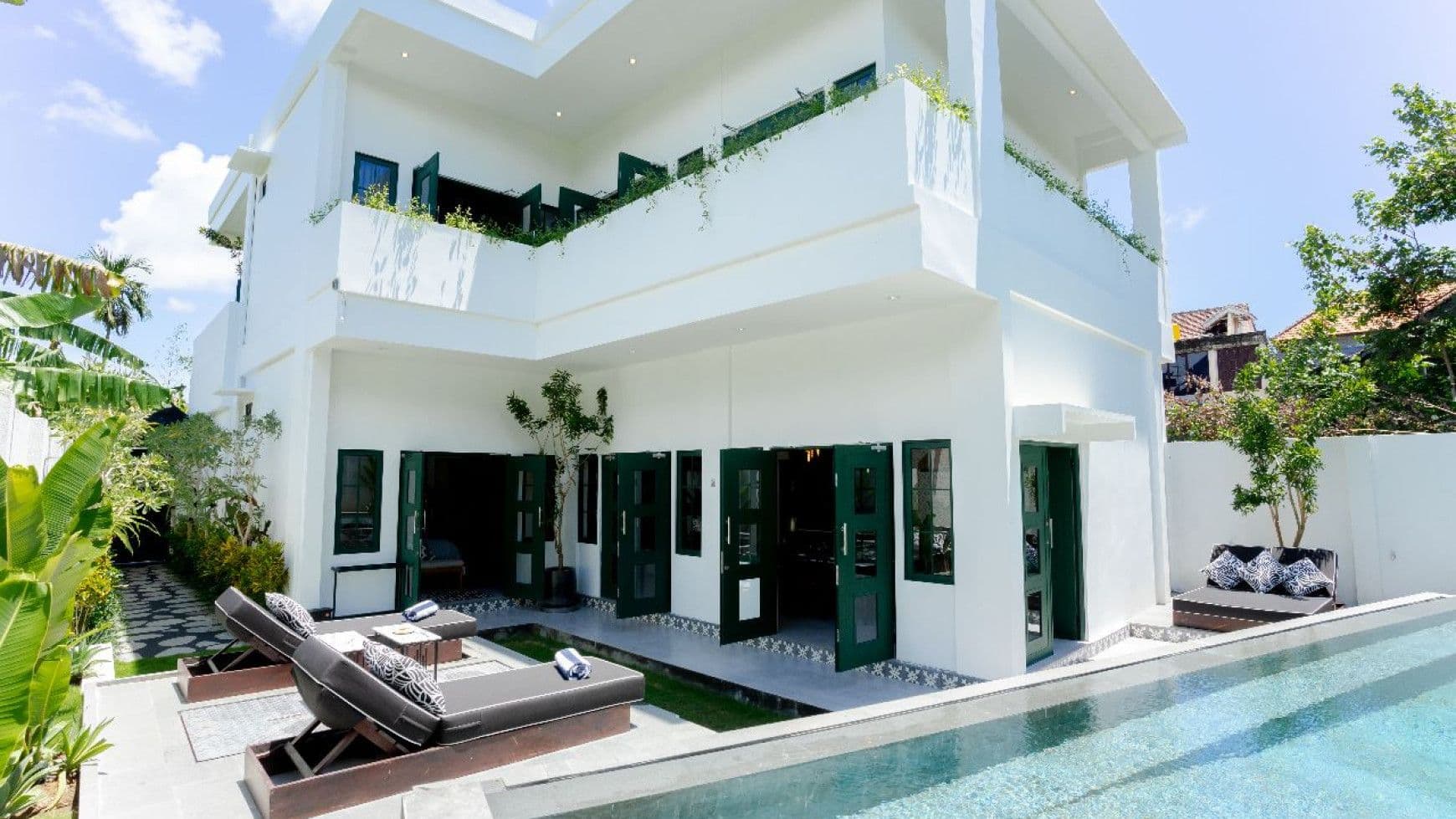 $725,000
Large 4 Bedroom Tropical Style Villa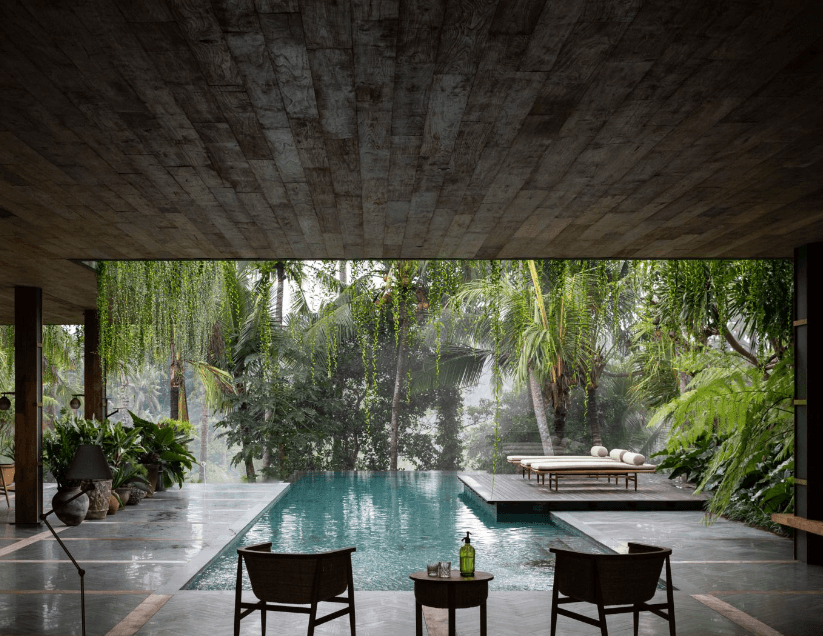 $2,800,000
Stunning designer villa in the Ubud jungle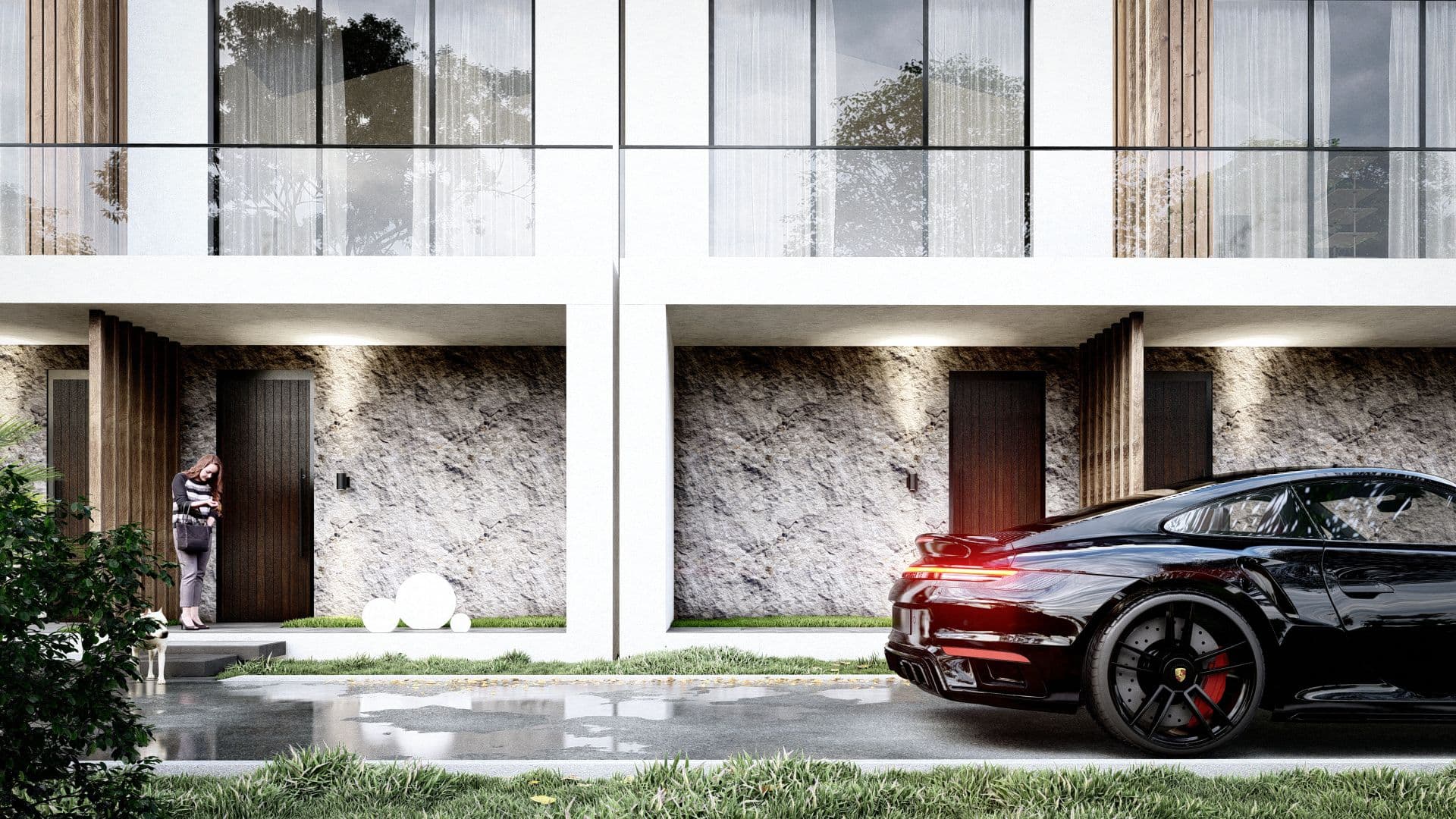 $320,000
2 bedrooms villa on Batu Bolong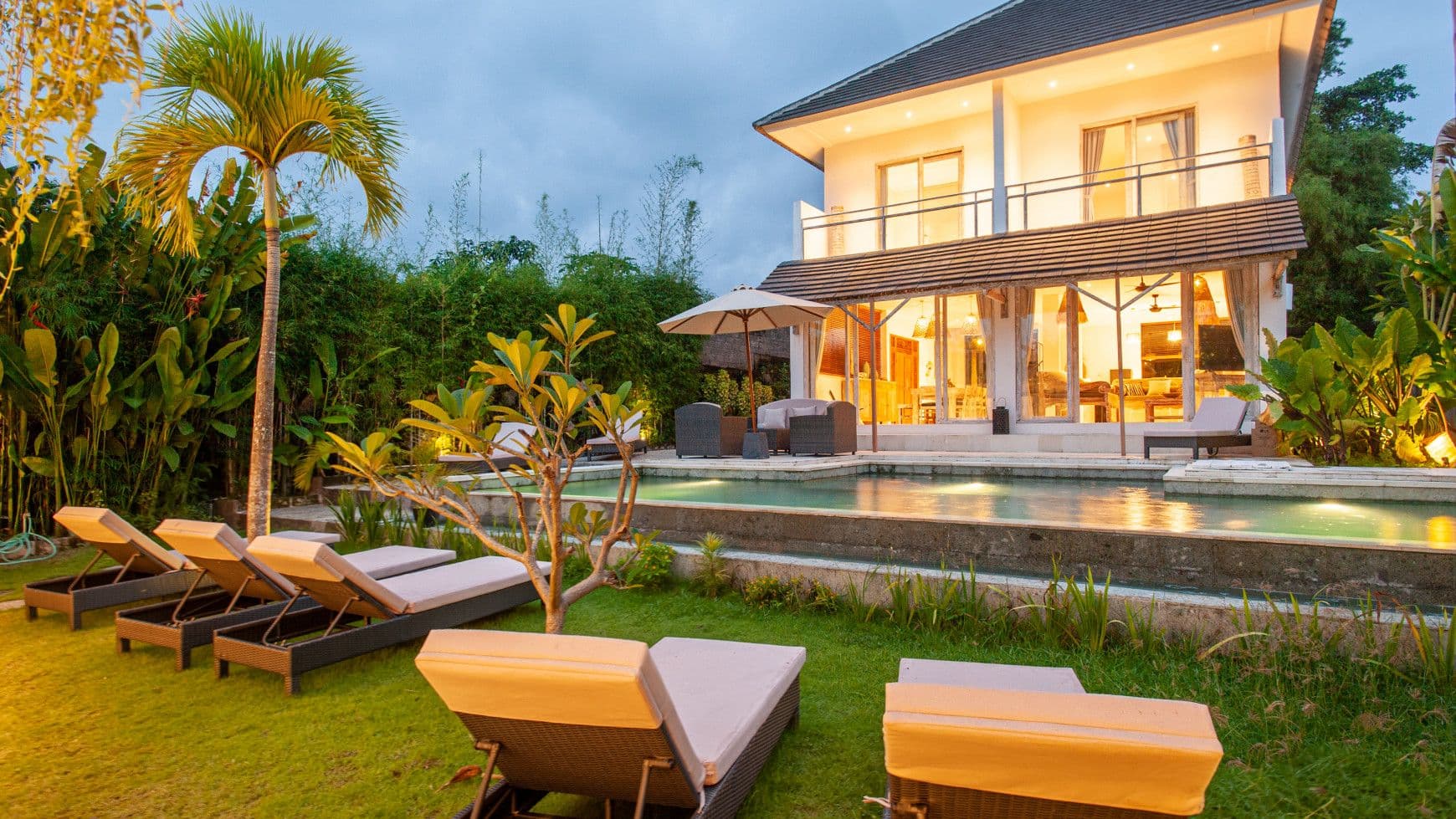 $494,500
Paradise Villa 4 Bedrooms in Umalas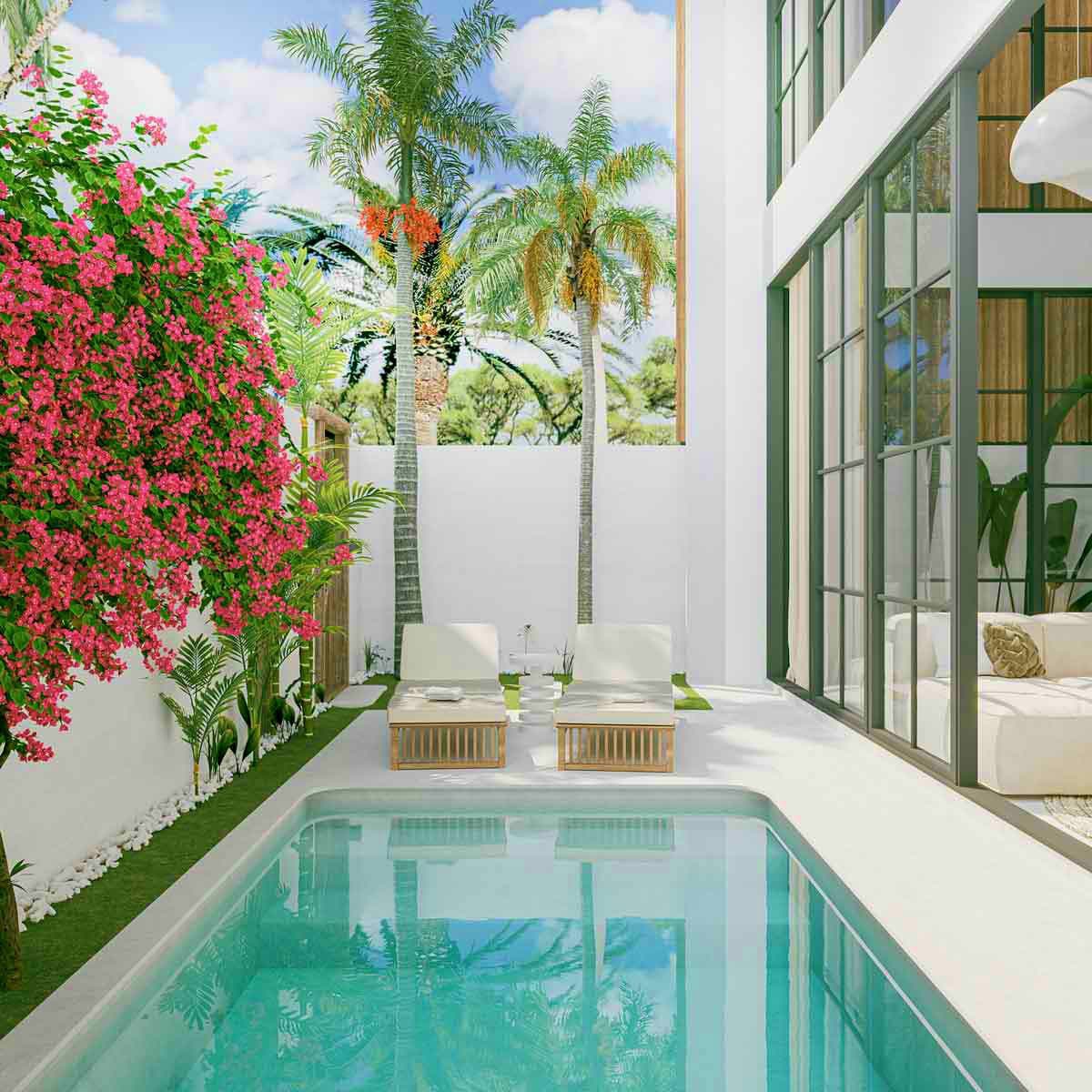 $325,000
2 bedroom villa in bright colors in Uluwatu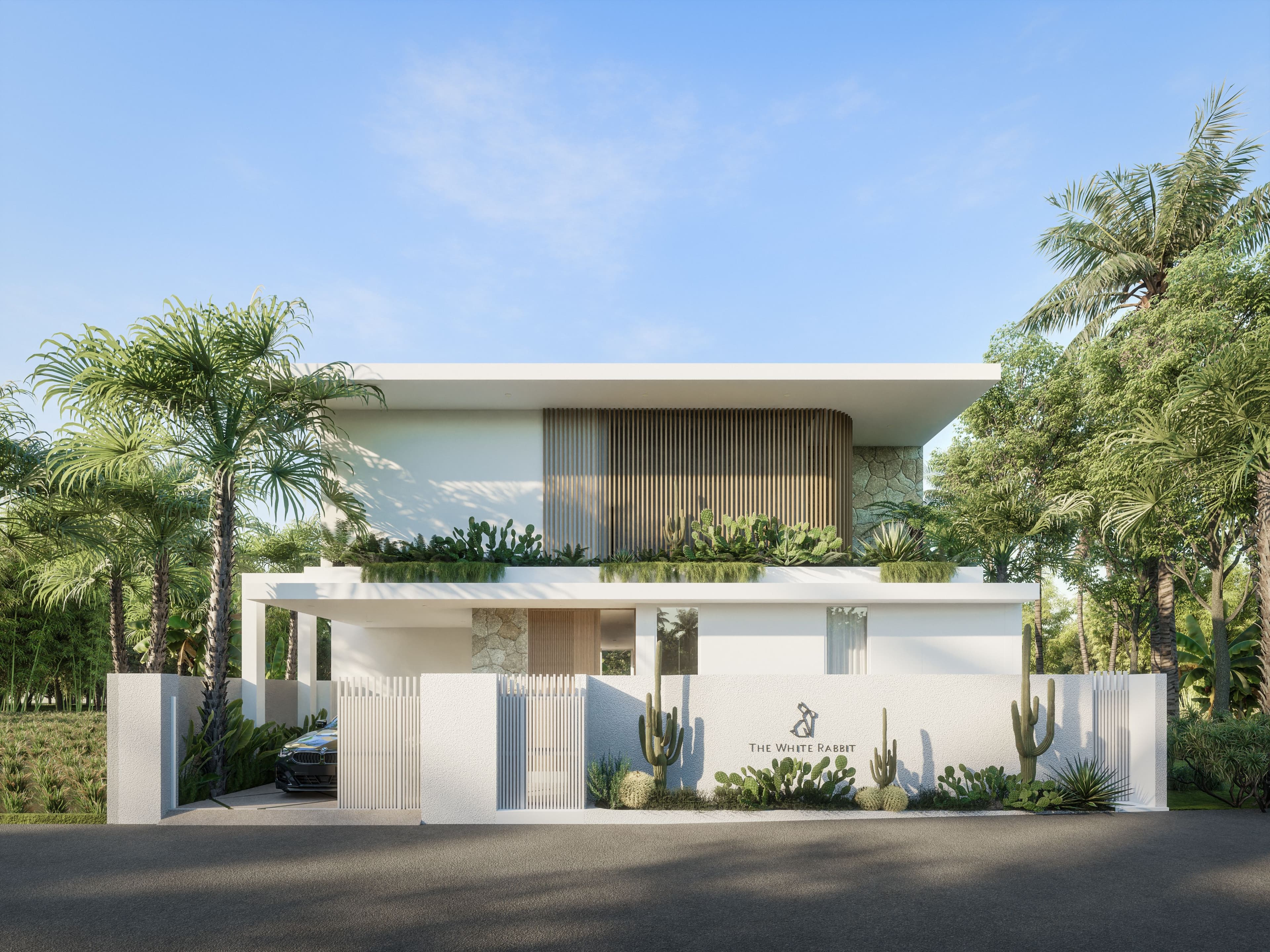 $504,000
3 bedroom villa 100 meters from Seseh Beach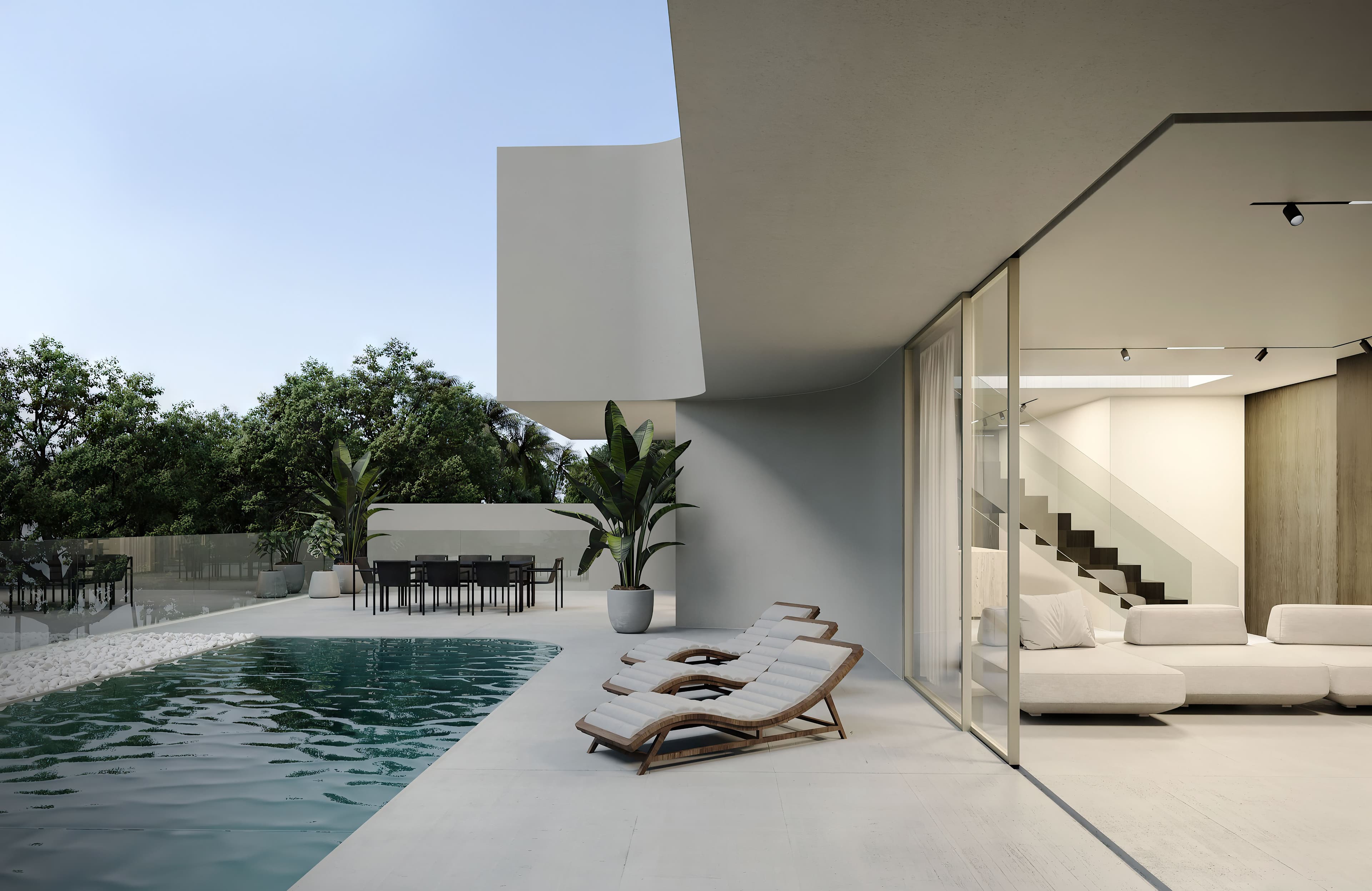 $780,000
Luxury 4 bedroom villa 7 minutes from Melasti Beach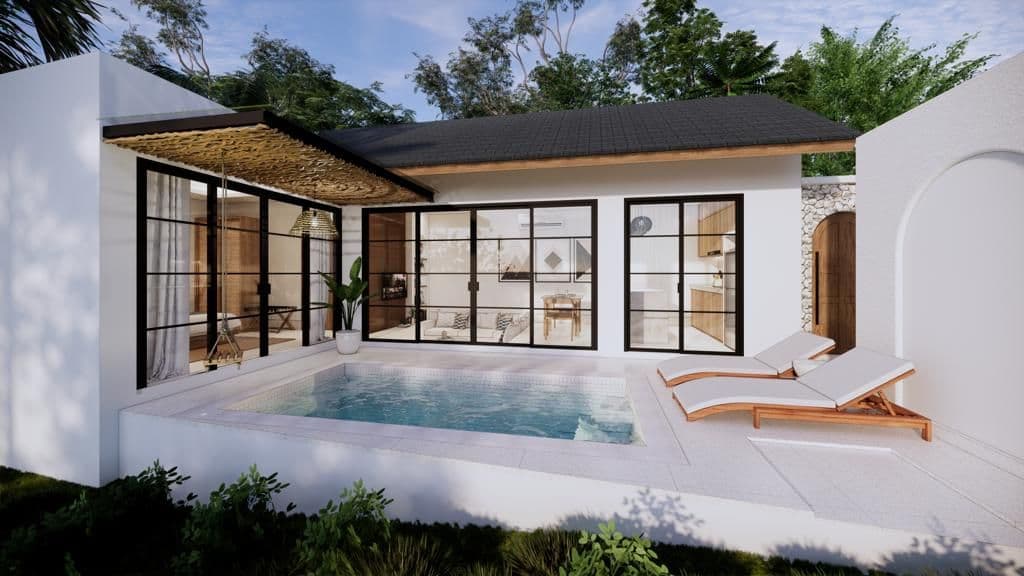 $178,000
Magnificent villa in rice fields in Pererenan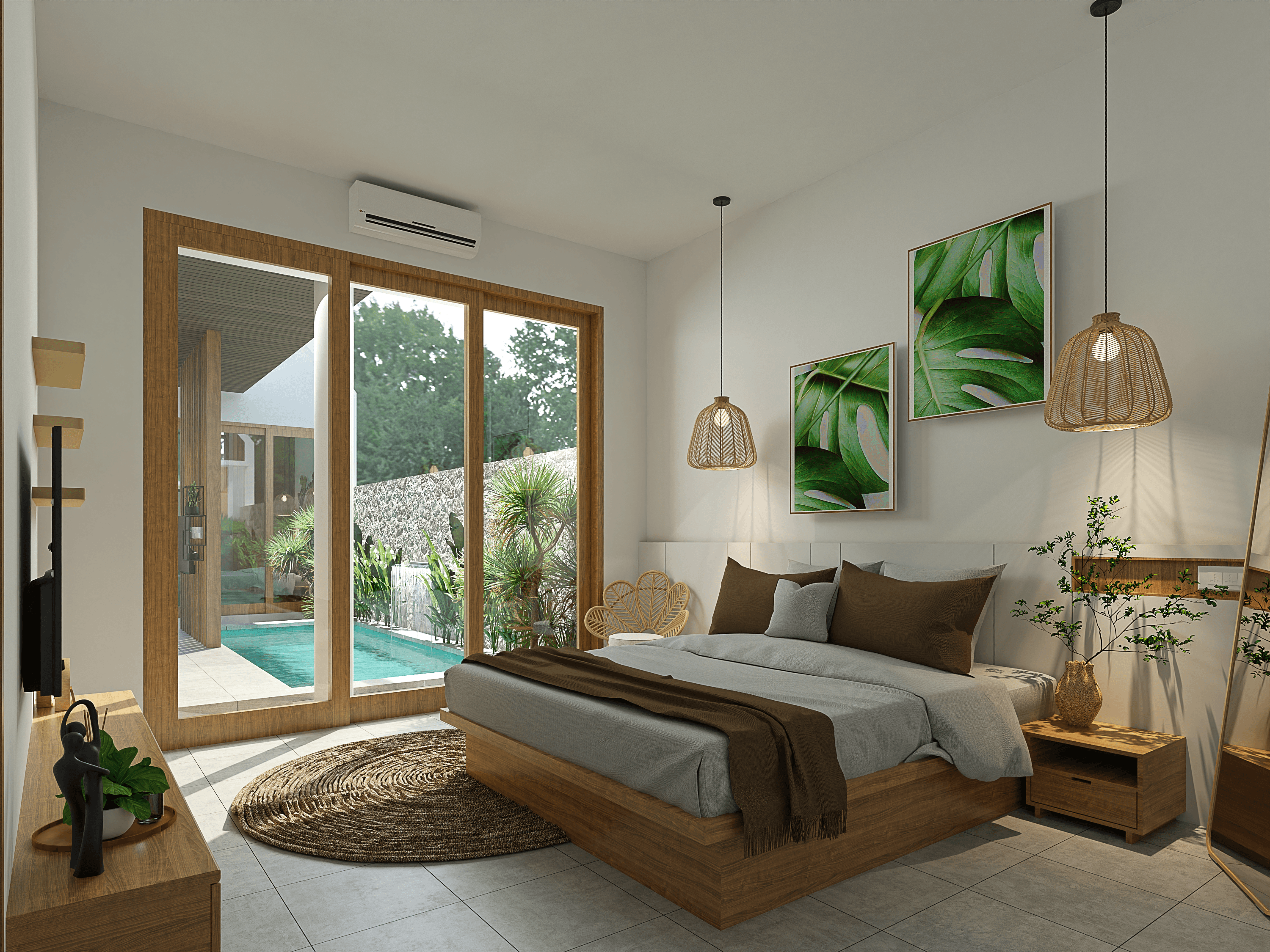 $92,000
2 bedroom tropical style villa in Seminyak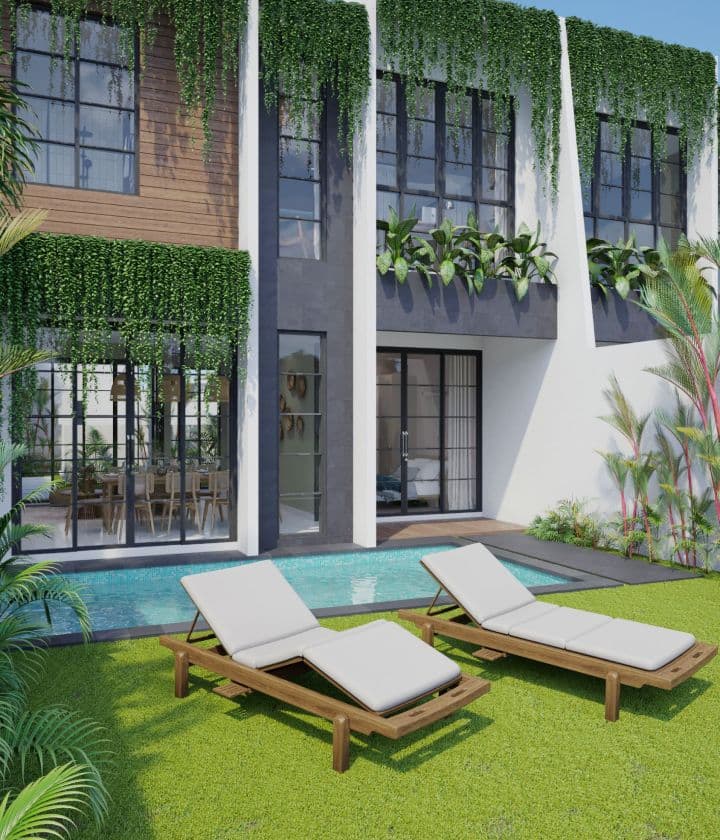 $170,000
Three Bedroom Mediterranean style Villa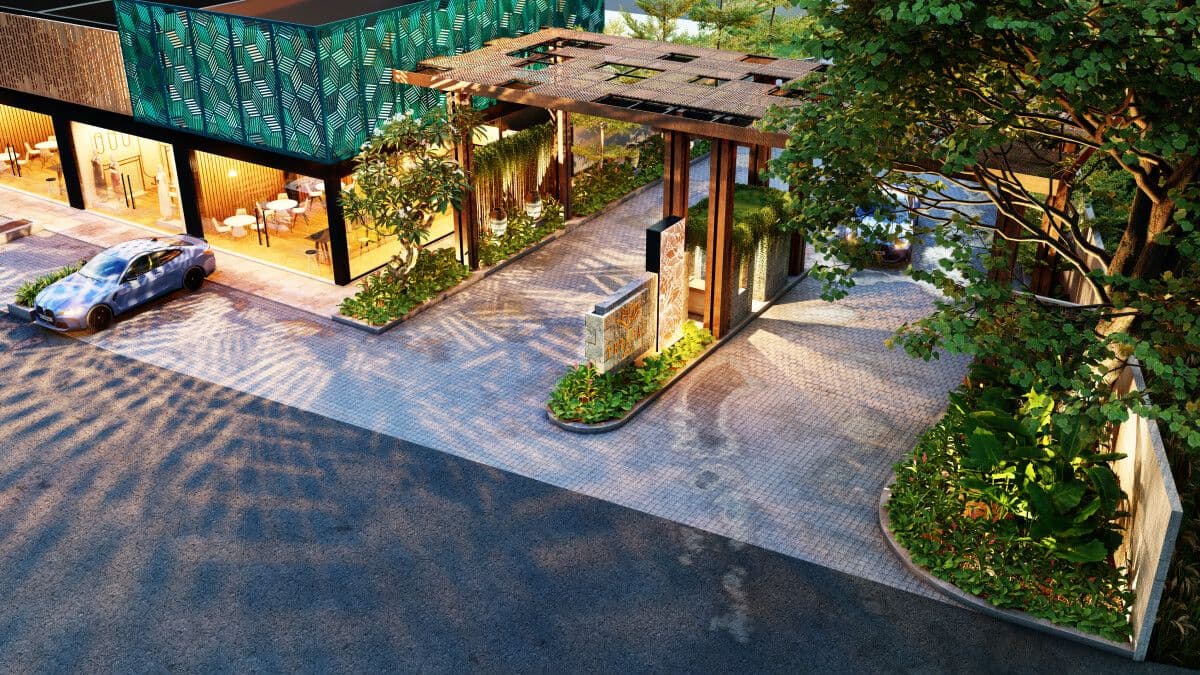 $320,000
Comfortable villa 5 minutes from Batu Bolong Beach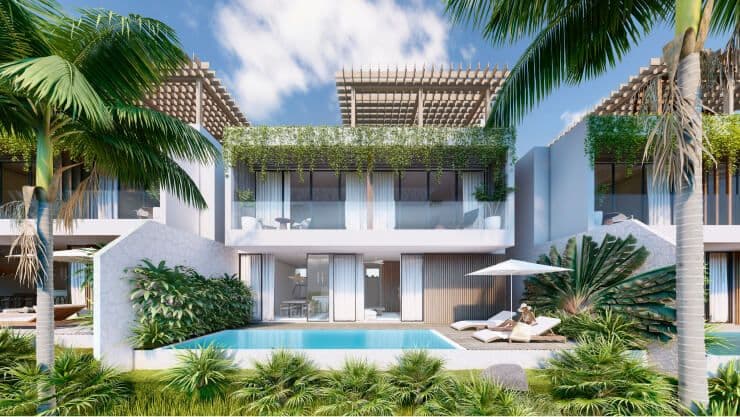 $390,000
2 Bedroom villa in rice fields in Cemagi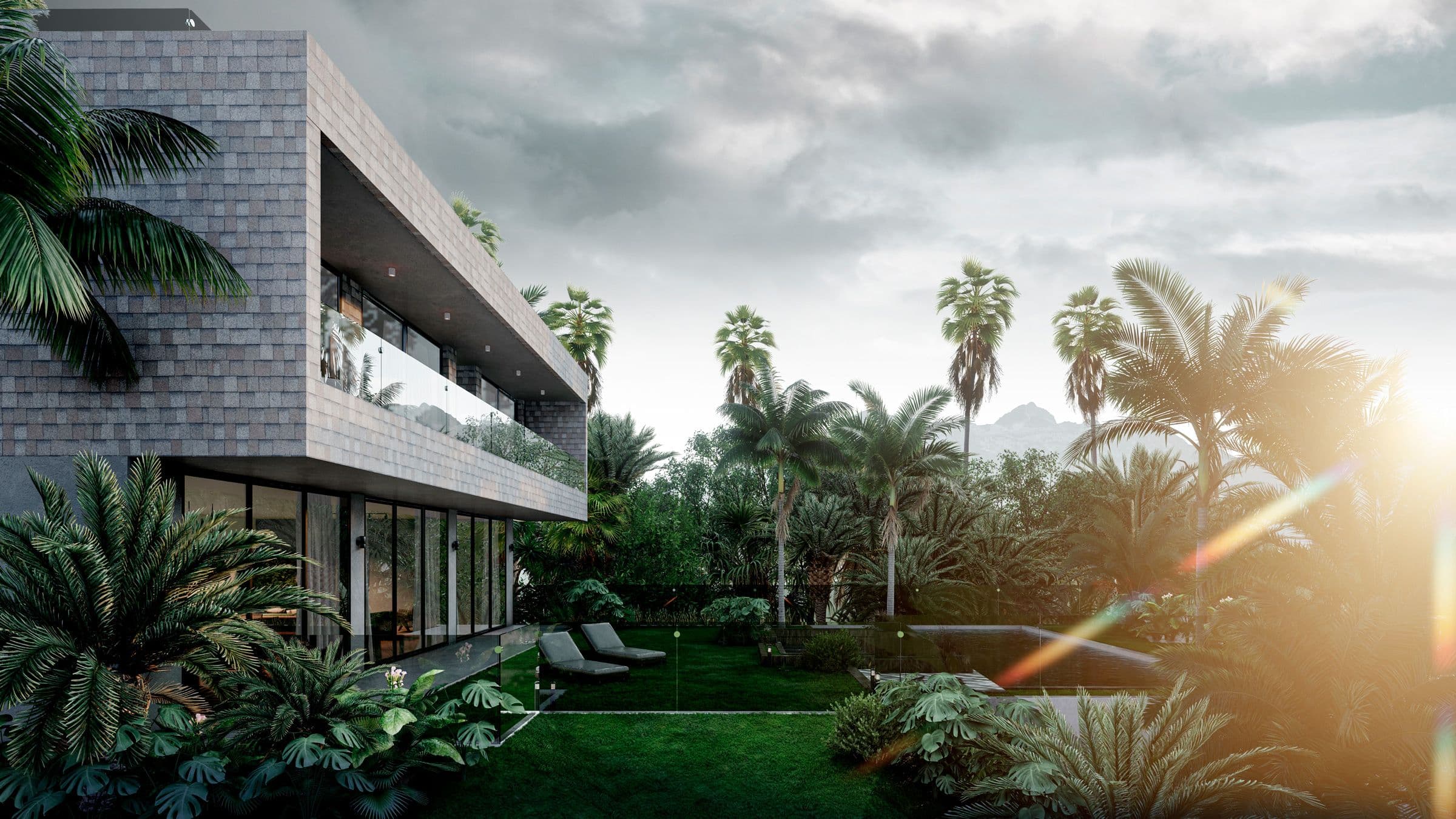 $649,000
4-bedroom villa with a 50-year leasehold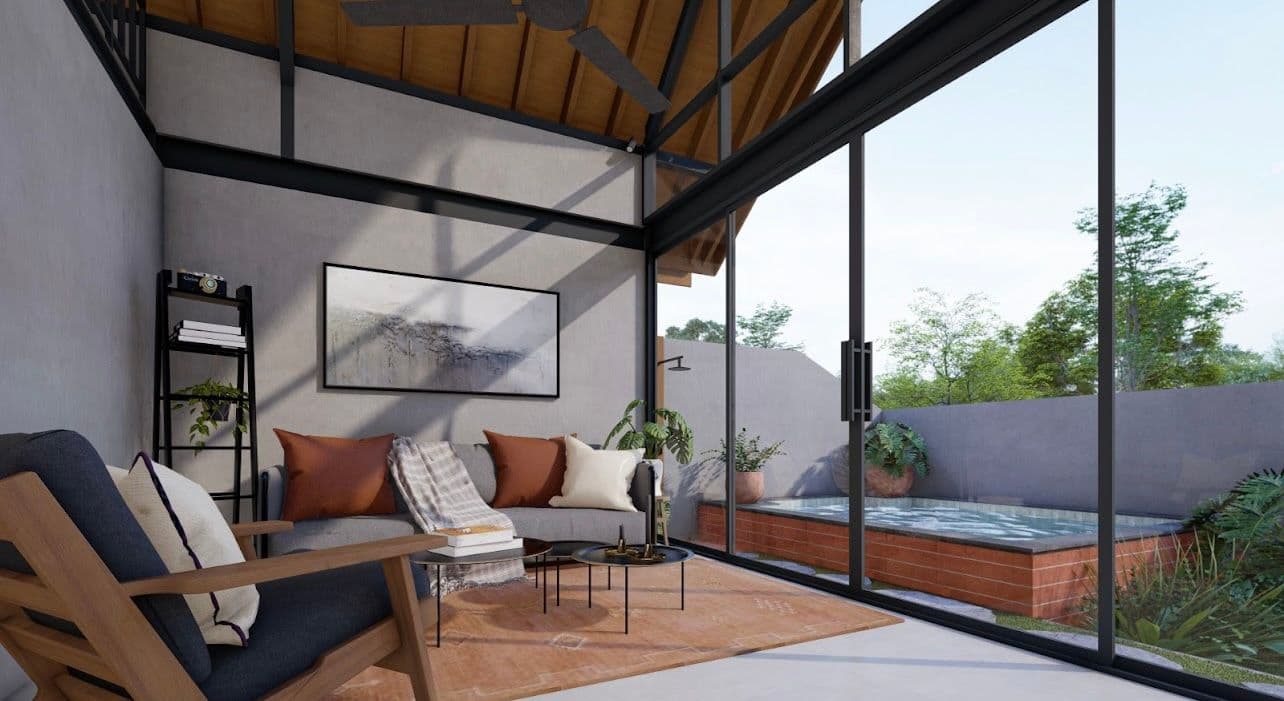 $150,000
Ready to move in loft style villa in Uluwatu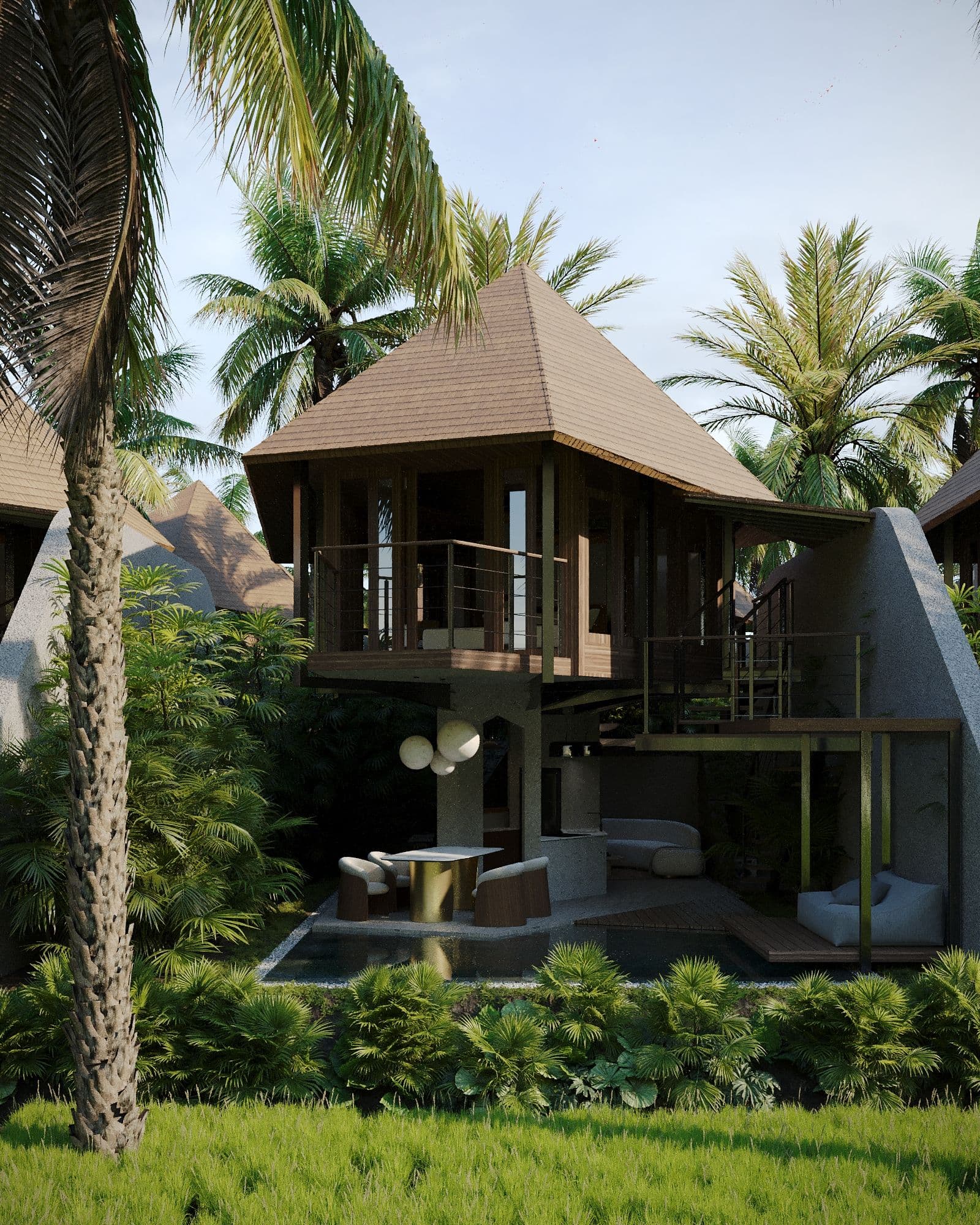 $150,000
Affordable 1 bedroom villa in Ubud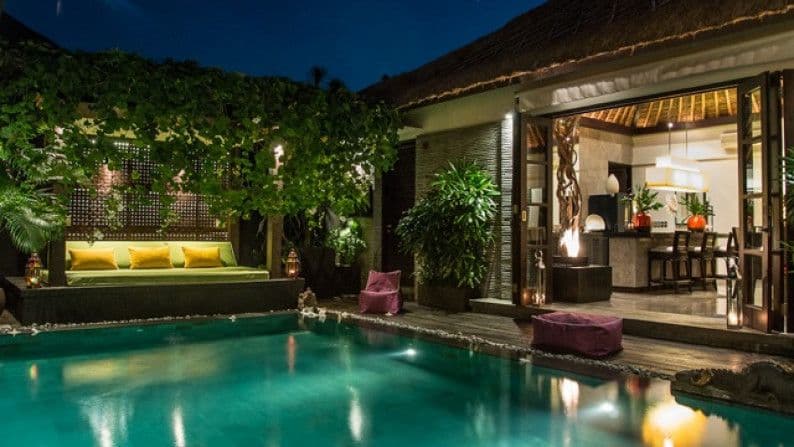 $525,000
Three bedroom villa in a luxury complex in Seminyak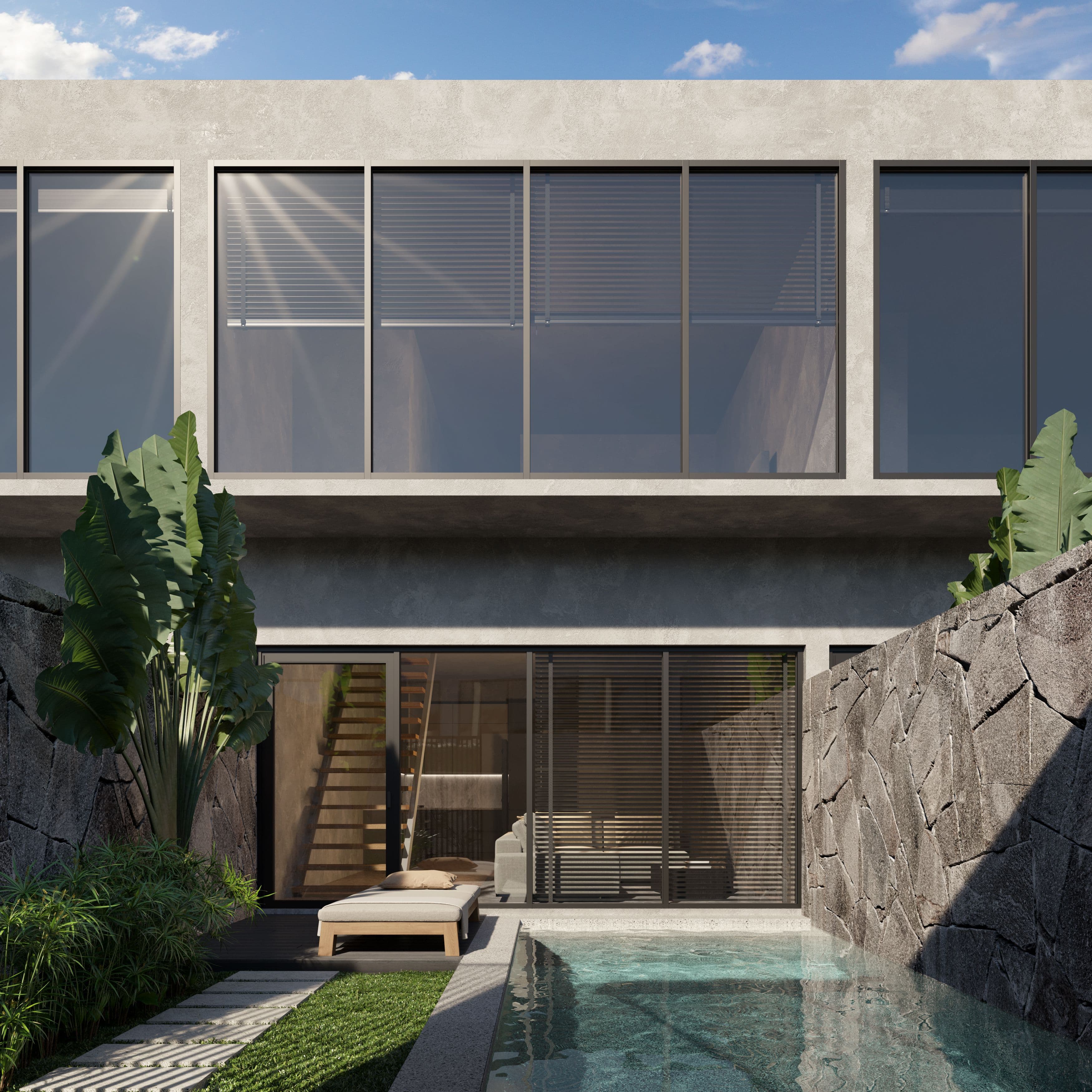 $297,000
4 bedroom villa in a private complex in Changgu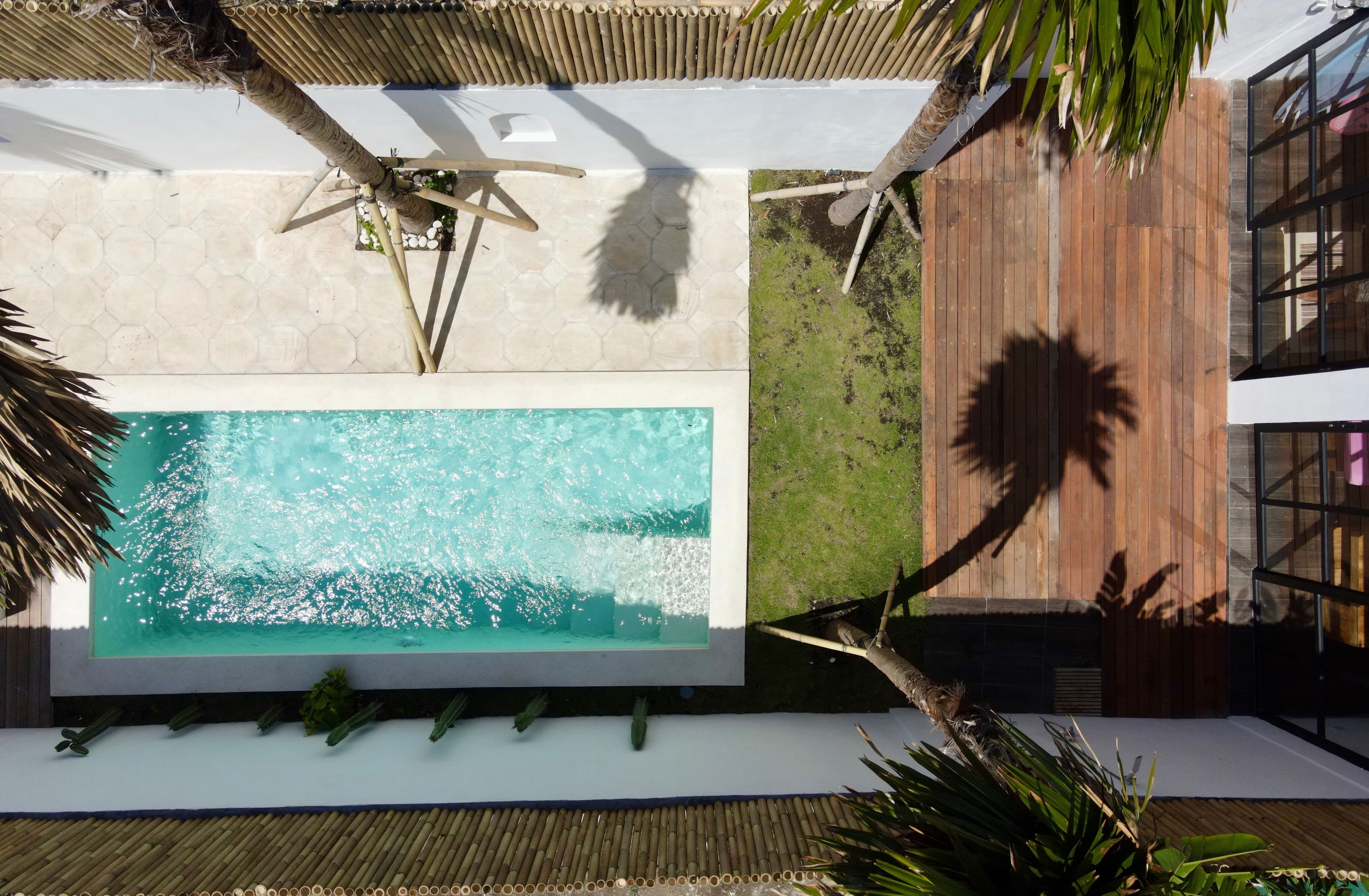 $240,000
New two bedroom villa in the picturesque Bukit area
$890,000
Luxury villa two minutes walk from Pererenan beach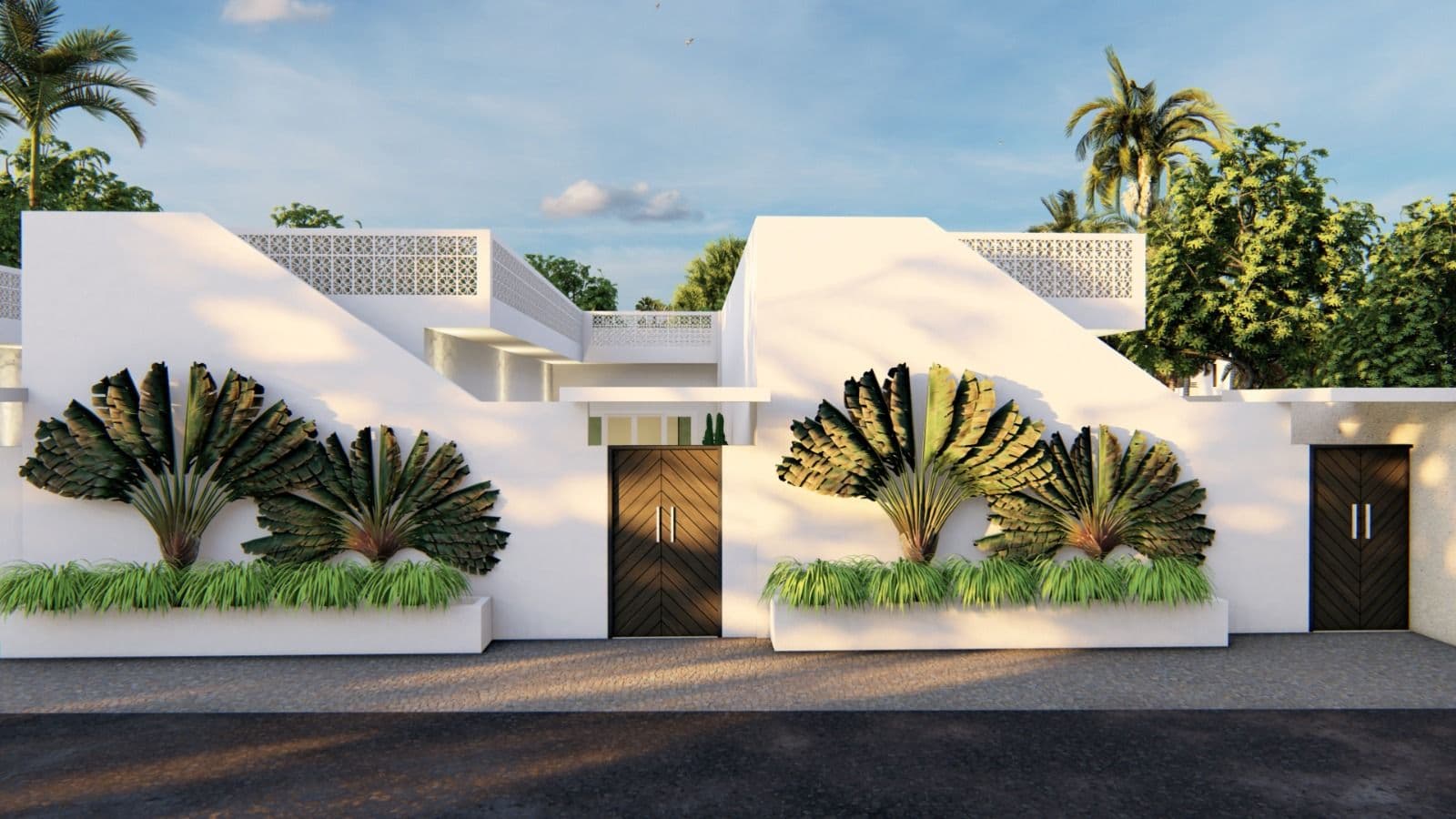 $129,000
Two bedroom Villa on Uluwatu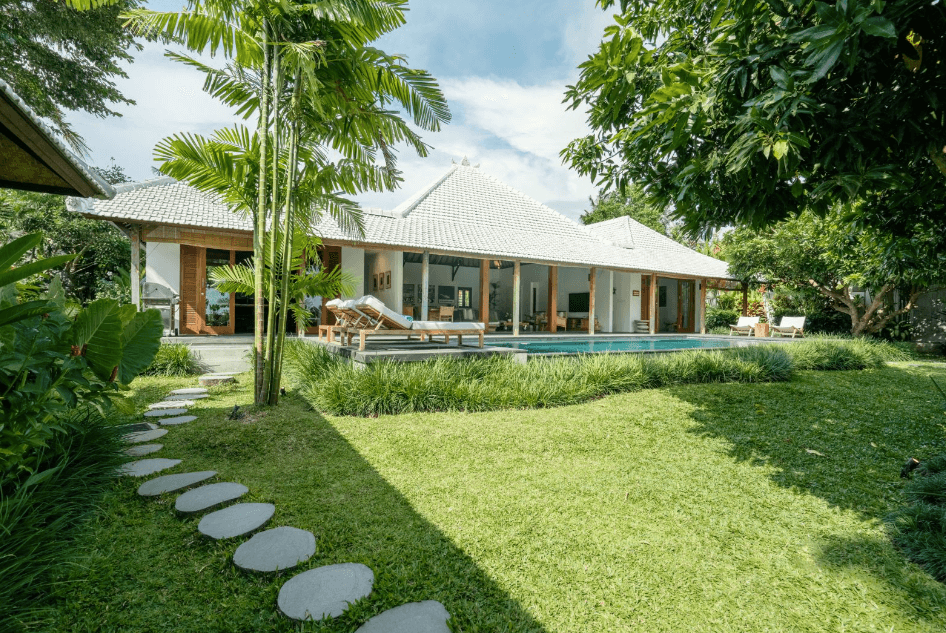 $495,000
Charming 3 bedroom family villa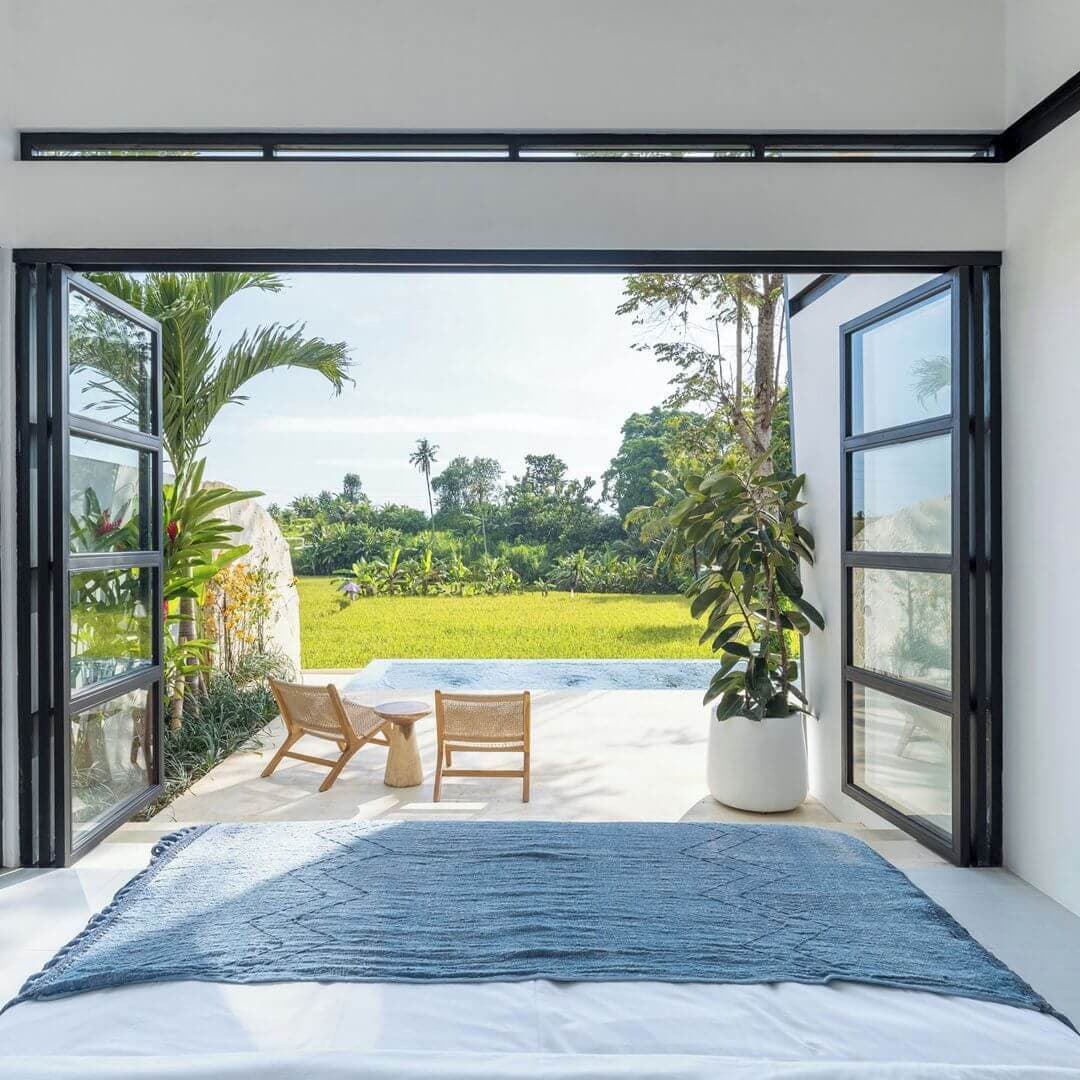 $550,000
Two bedroom villa with irresistible greenbelt views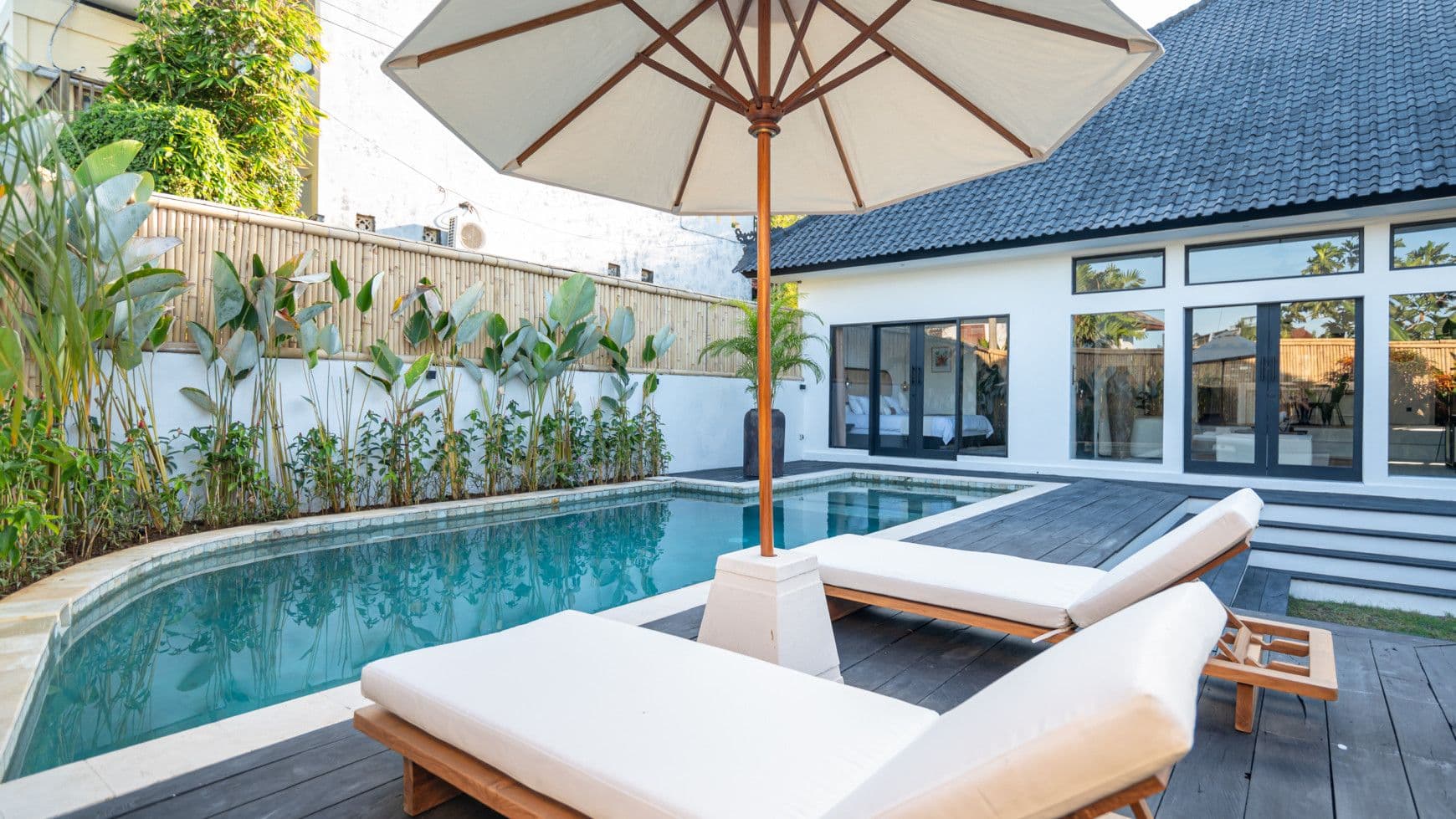 $390,000
Modern 3 Bedroom Villa in Berawa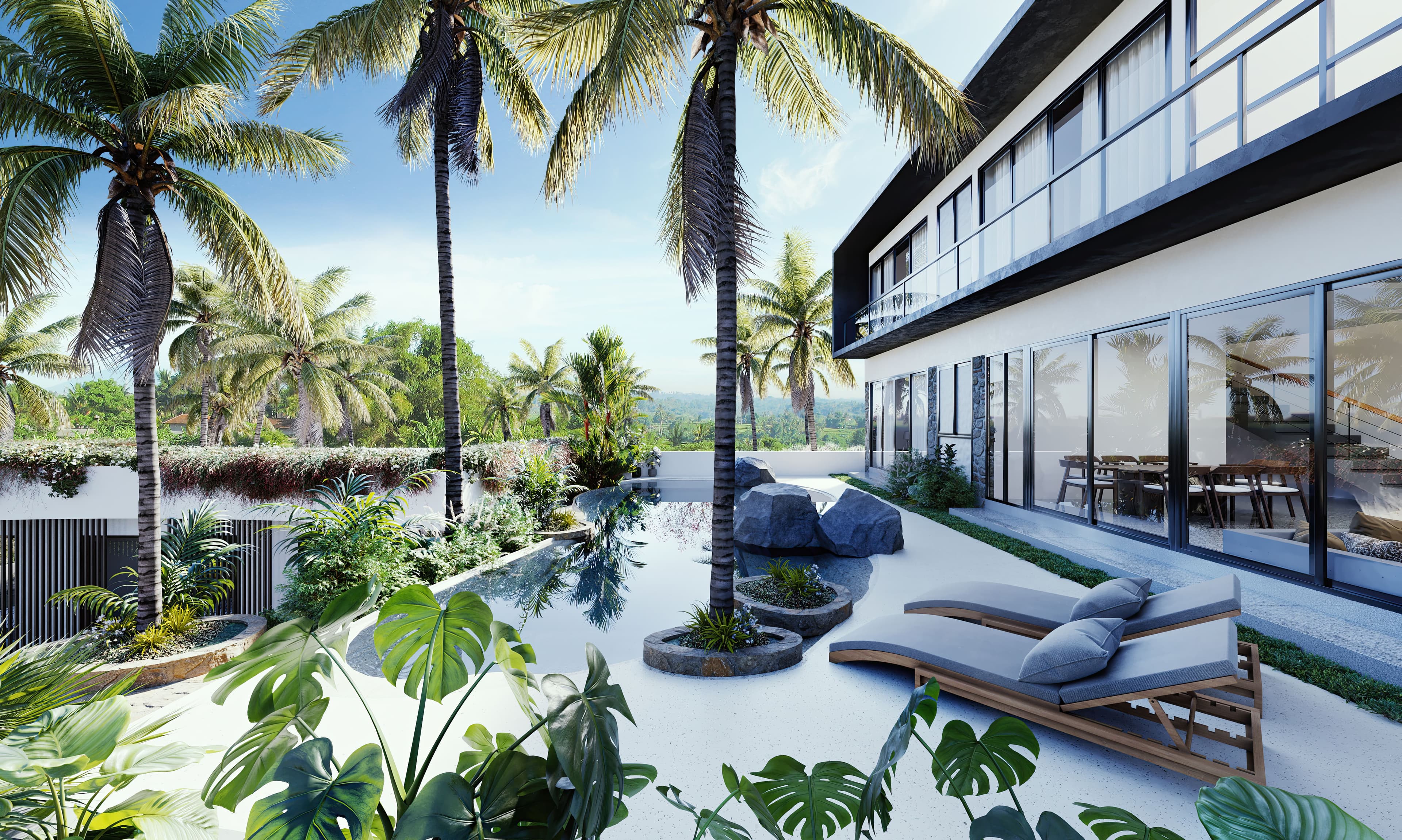 $950,000
Luxury 6 bedroom villa in Pererenan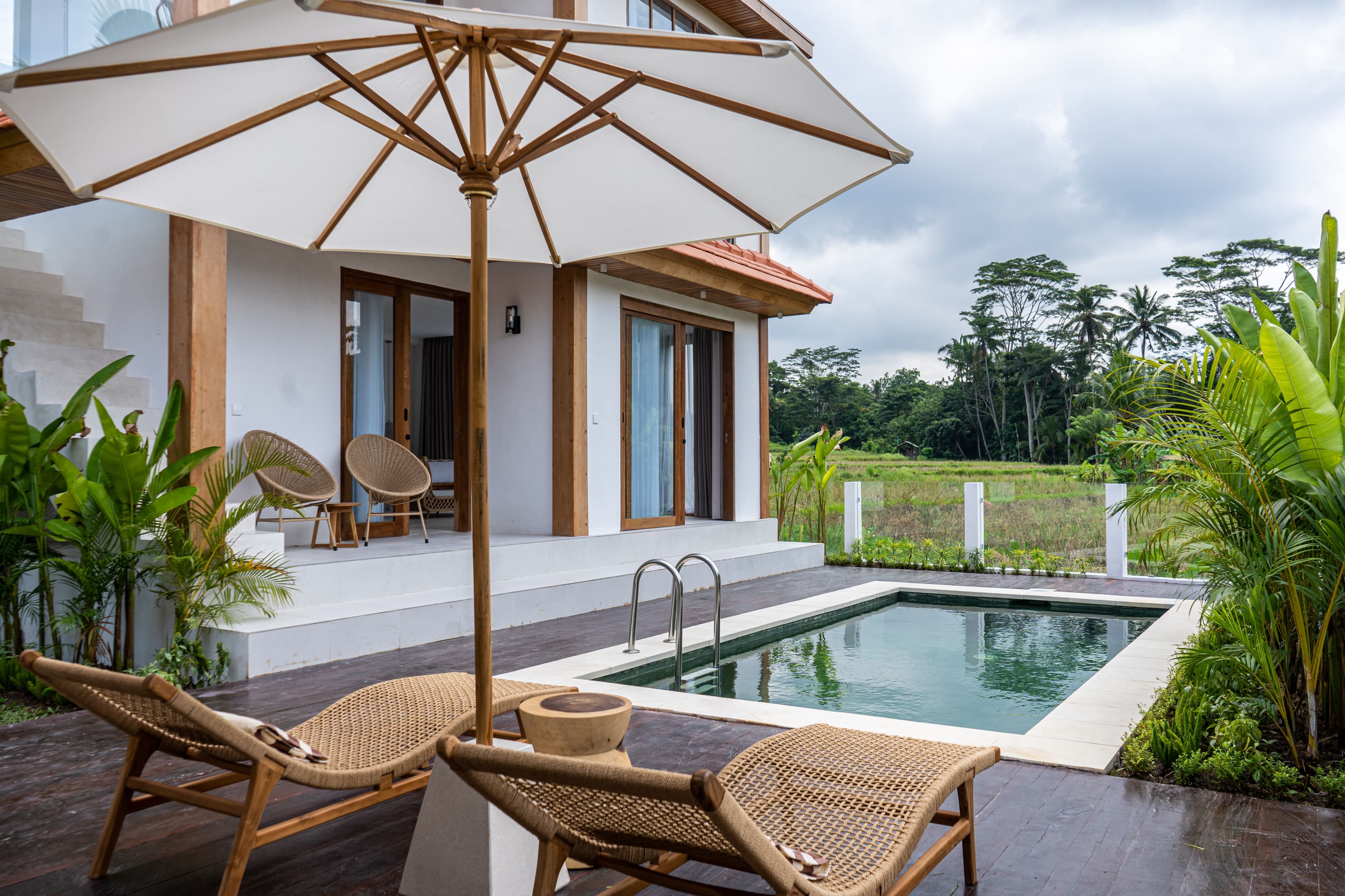 $280,000
Ready to move in 2 bedroom villa in Ubud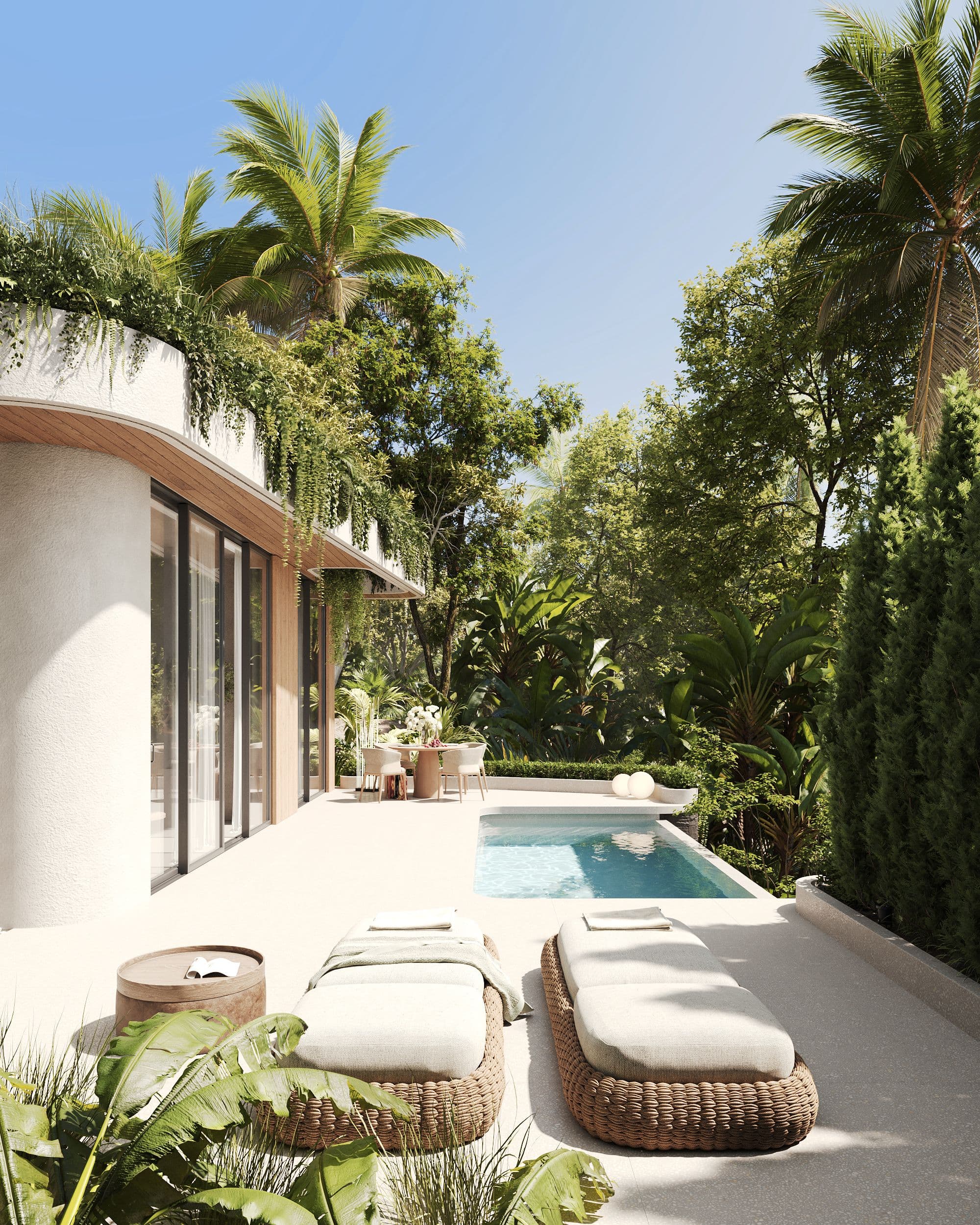 $191,000
Japanese fusion style villa in Bukit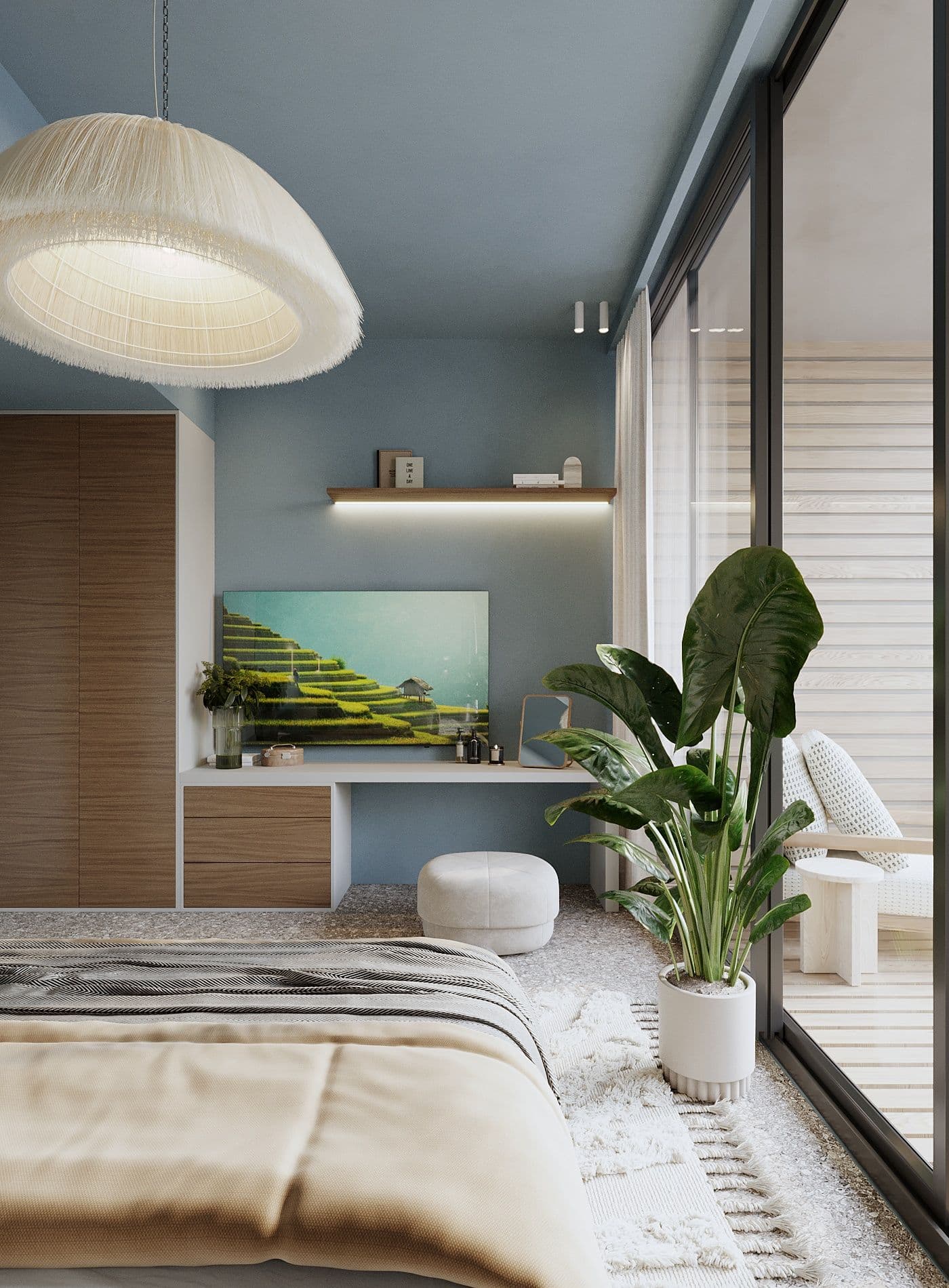 $378,000
Luxury 2 bedroom villa in Balangan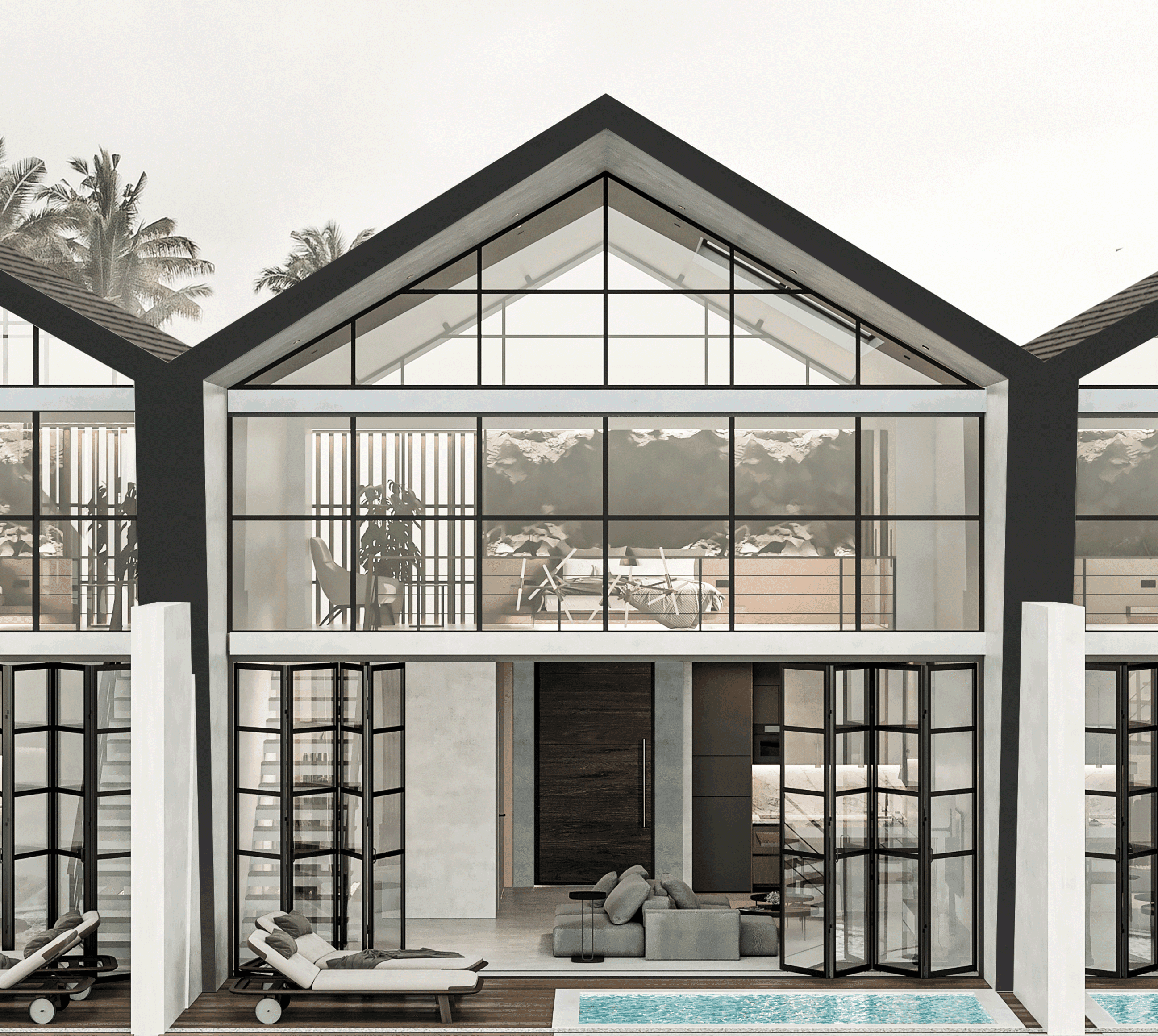 $250,000
Villa 10 minutes from Batu Belig beach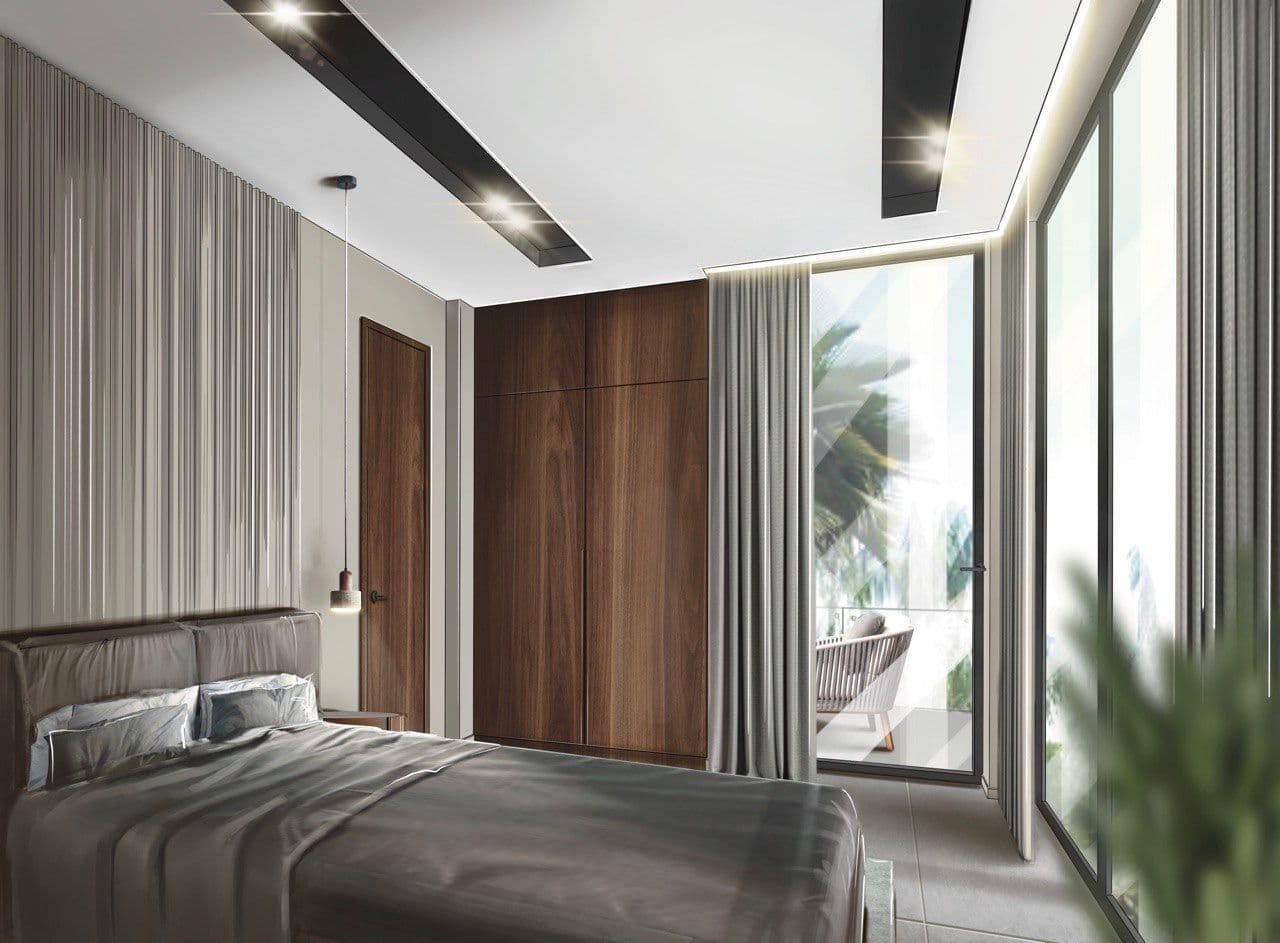 $260,000
Four bedroom villas with ocean view in Nusa Dua
$210,000
1 Bedroom Villa 600 meters from Dreamland Beach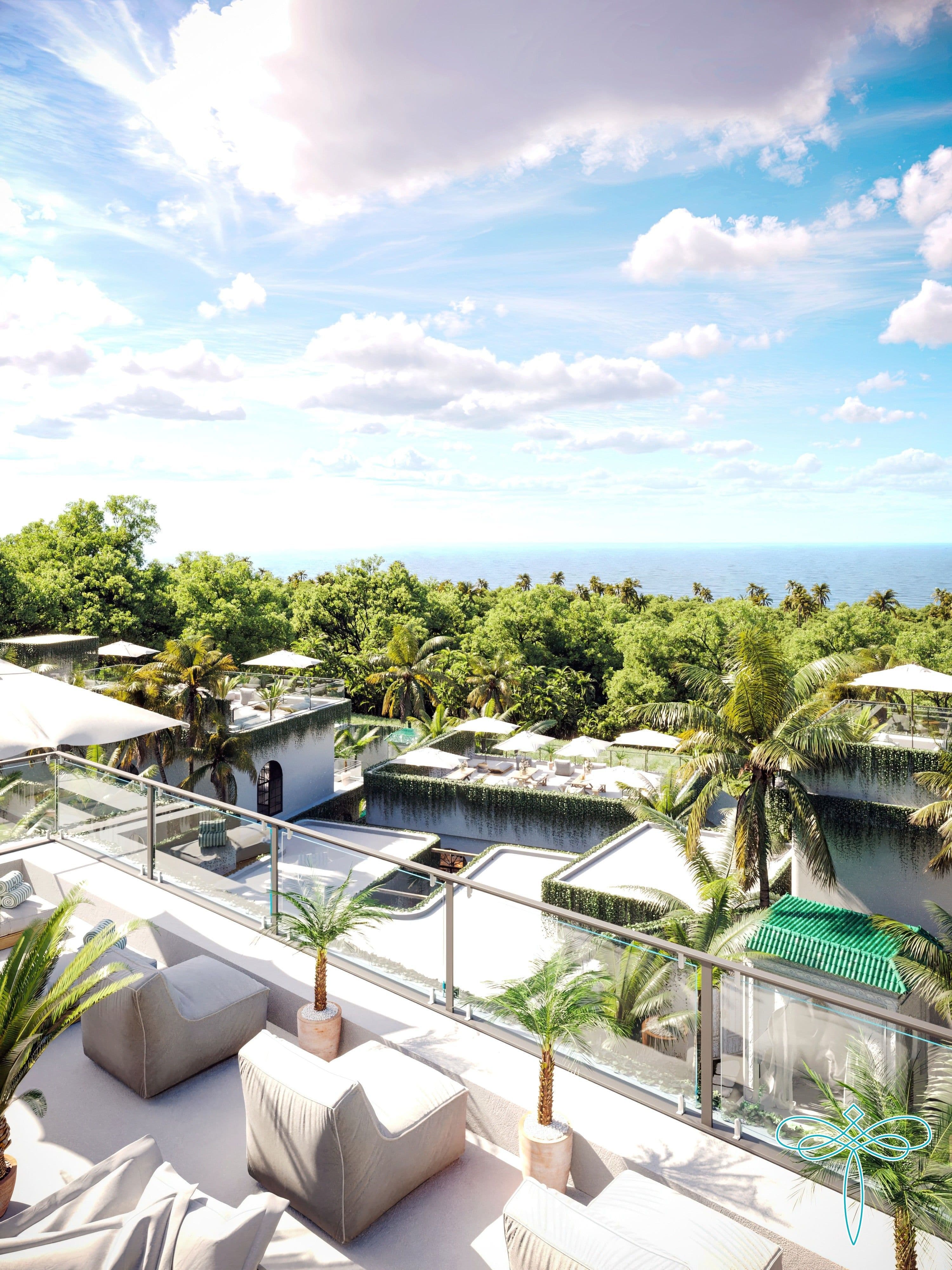 $546,000
Fantastic rooftop villa with ocean views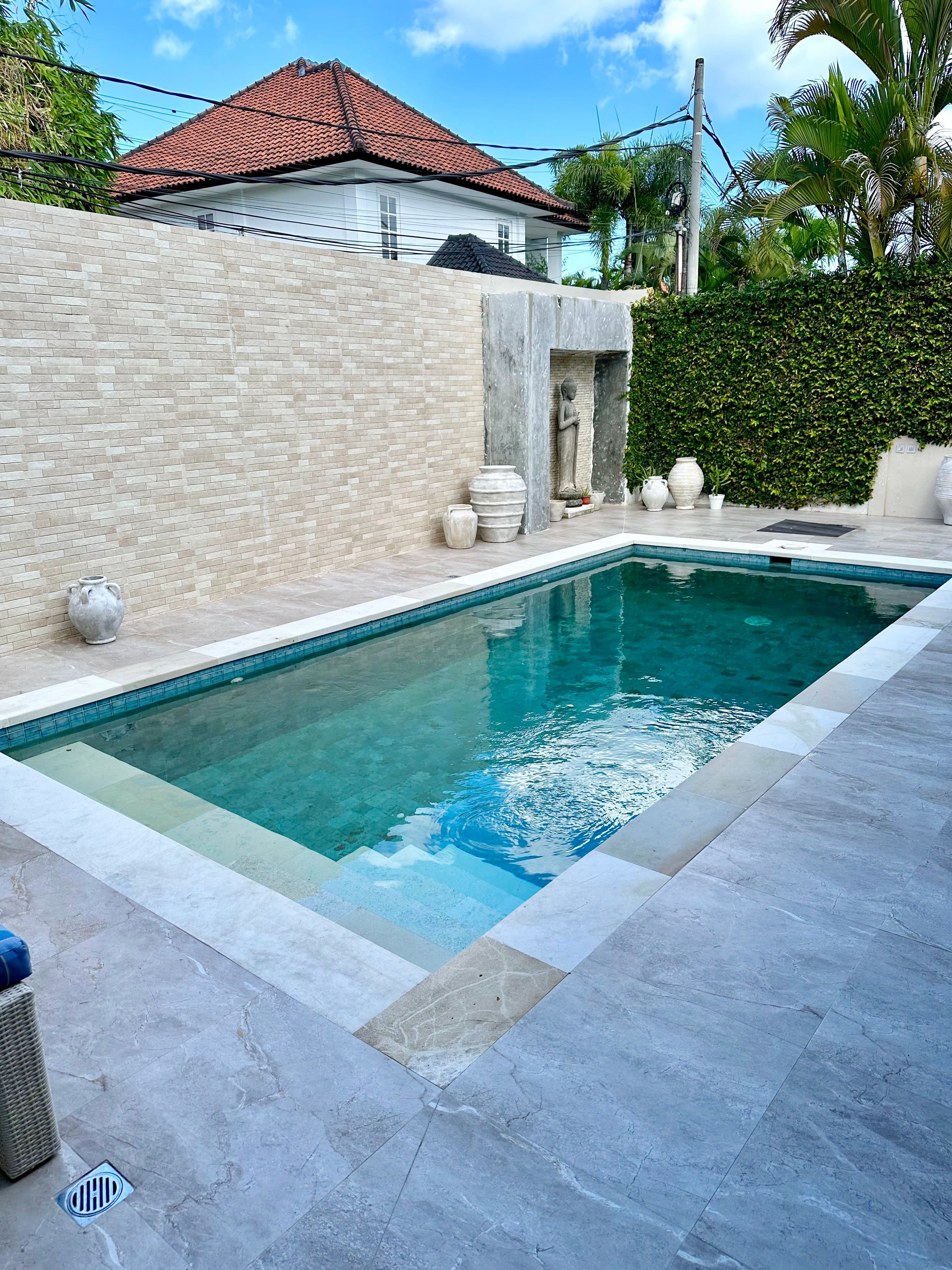 $200,000
4 bedroom Villa in Seminyak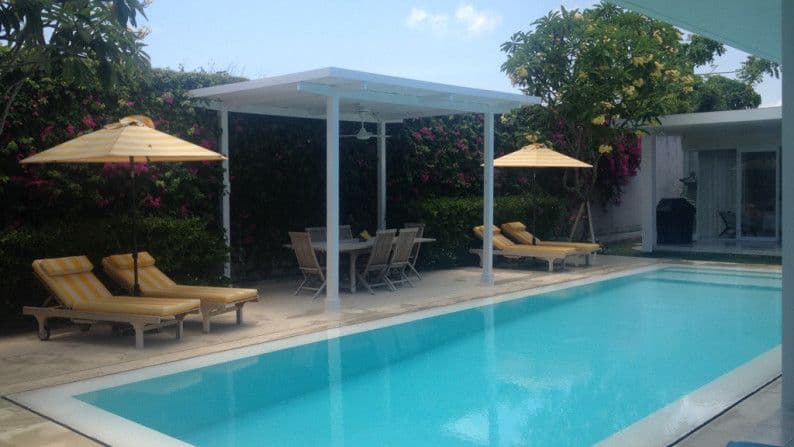 $485,000
Four bedroom villa in Seminyak with an excellent swimming pool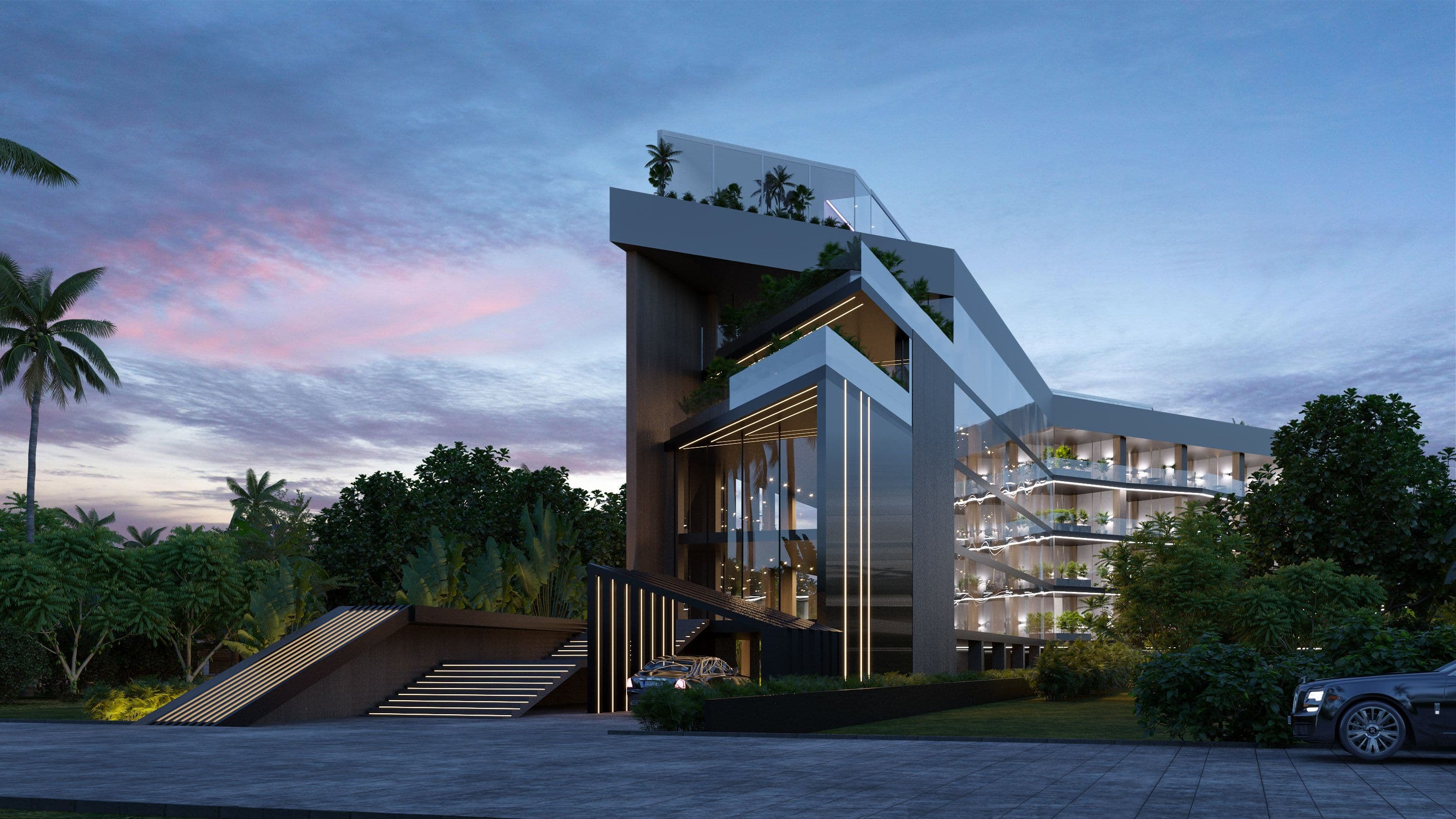 $340,000
Apartment on Berawa 500 meters from the beach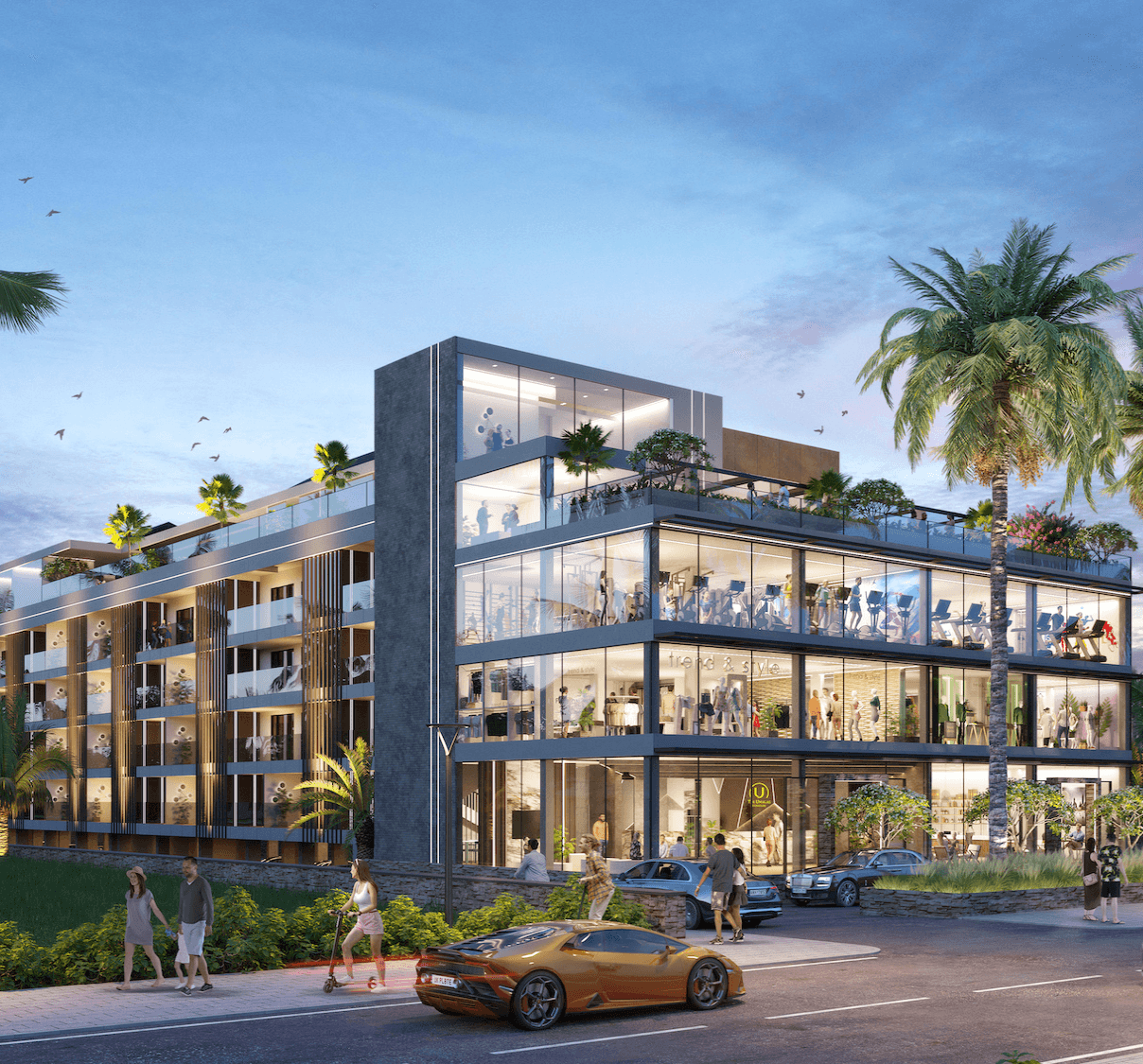 $255,000
Apartments in a fashionable complex in Umalas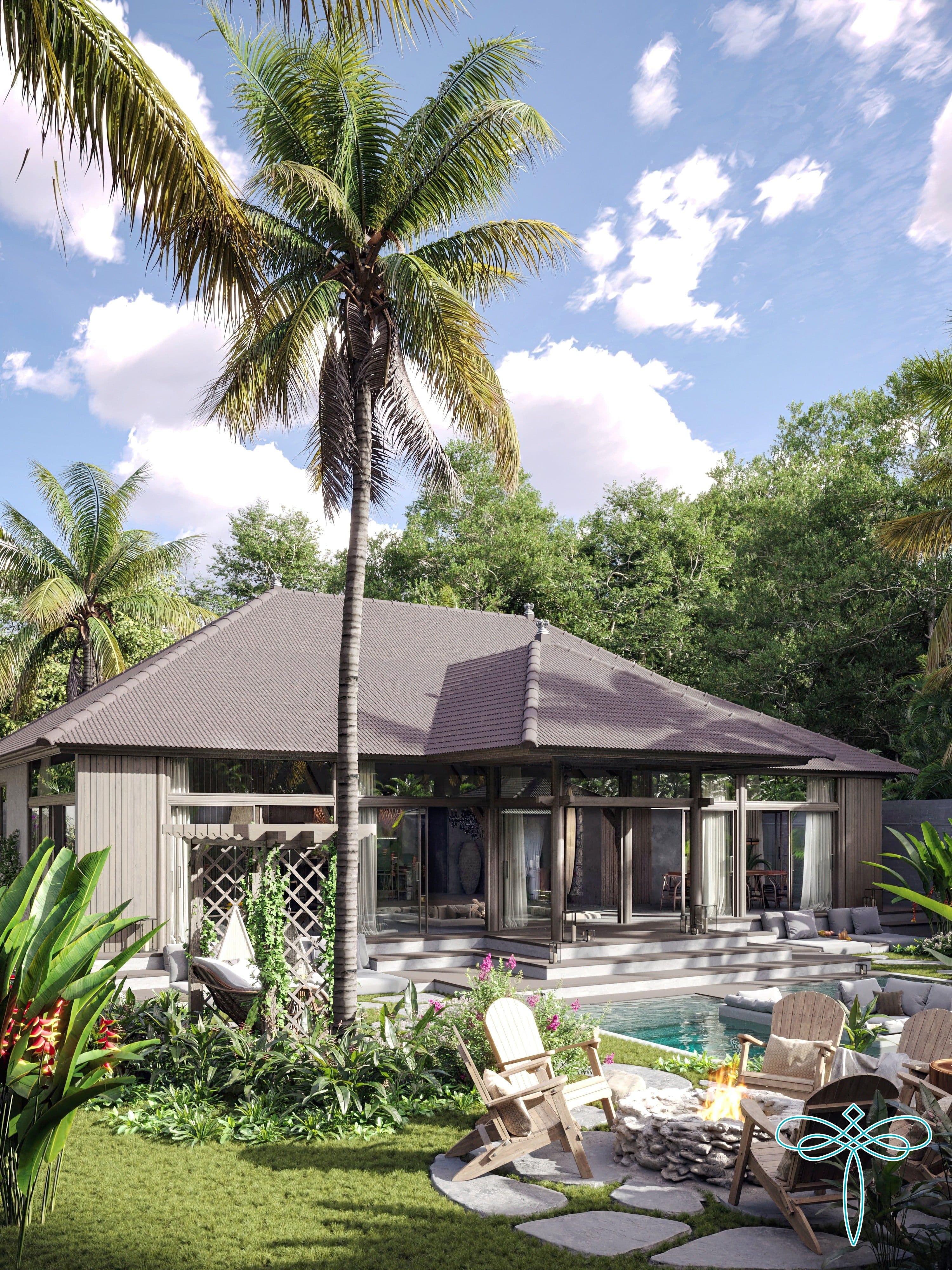 $517,000
Stunning 4 bedroom villa on a plot of 6 acres near the Garuda statue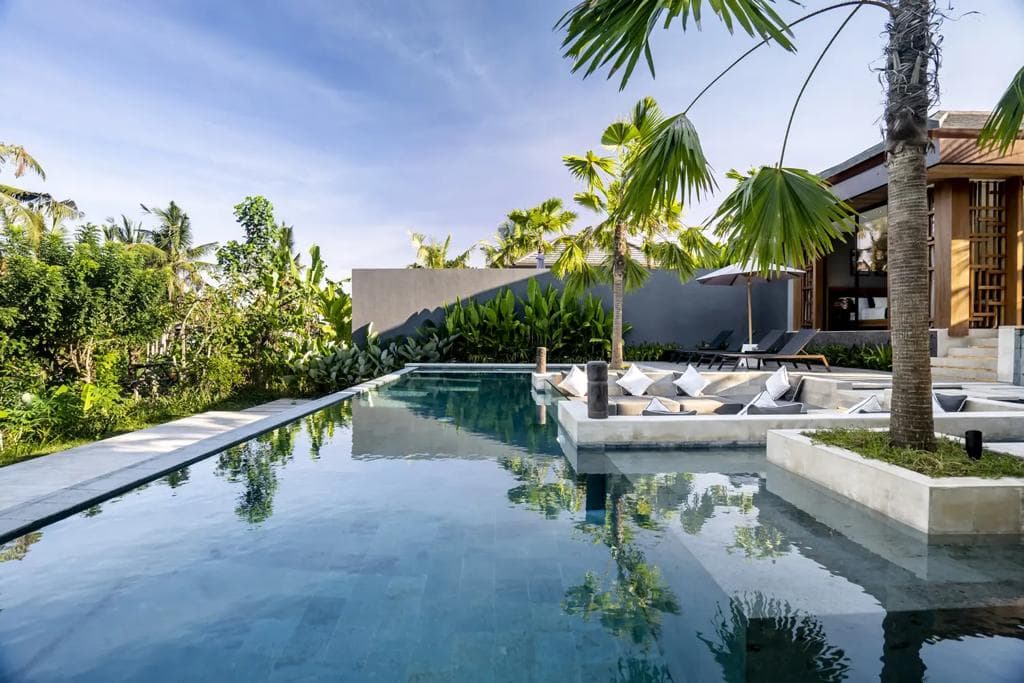 $586,000
Luxury 4 Bedroom Villa in Ubud Jungle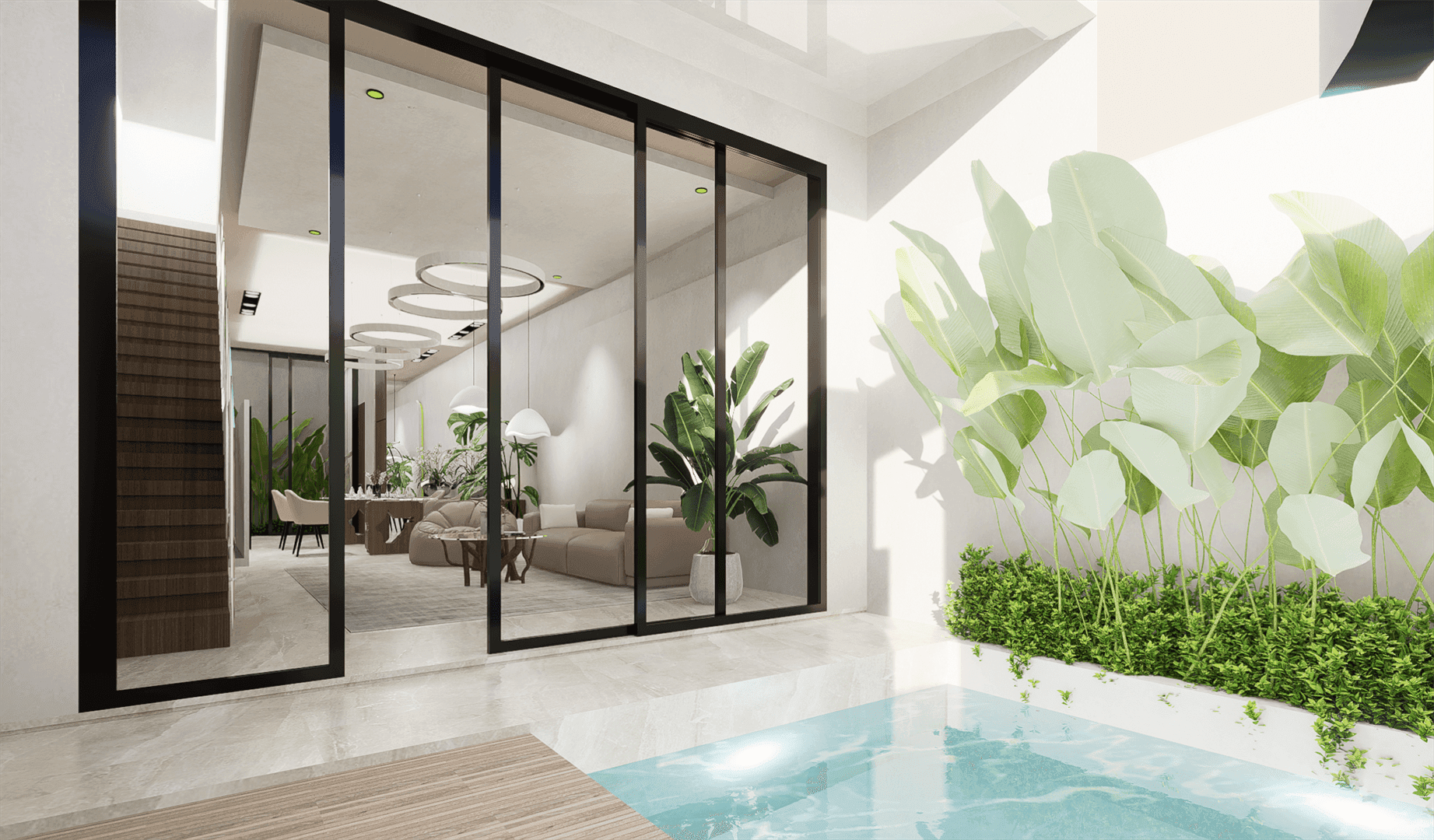 $243,000
Two bedroom villa in Umalas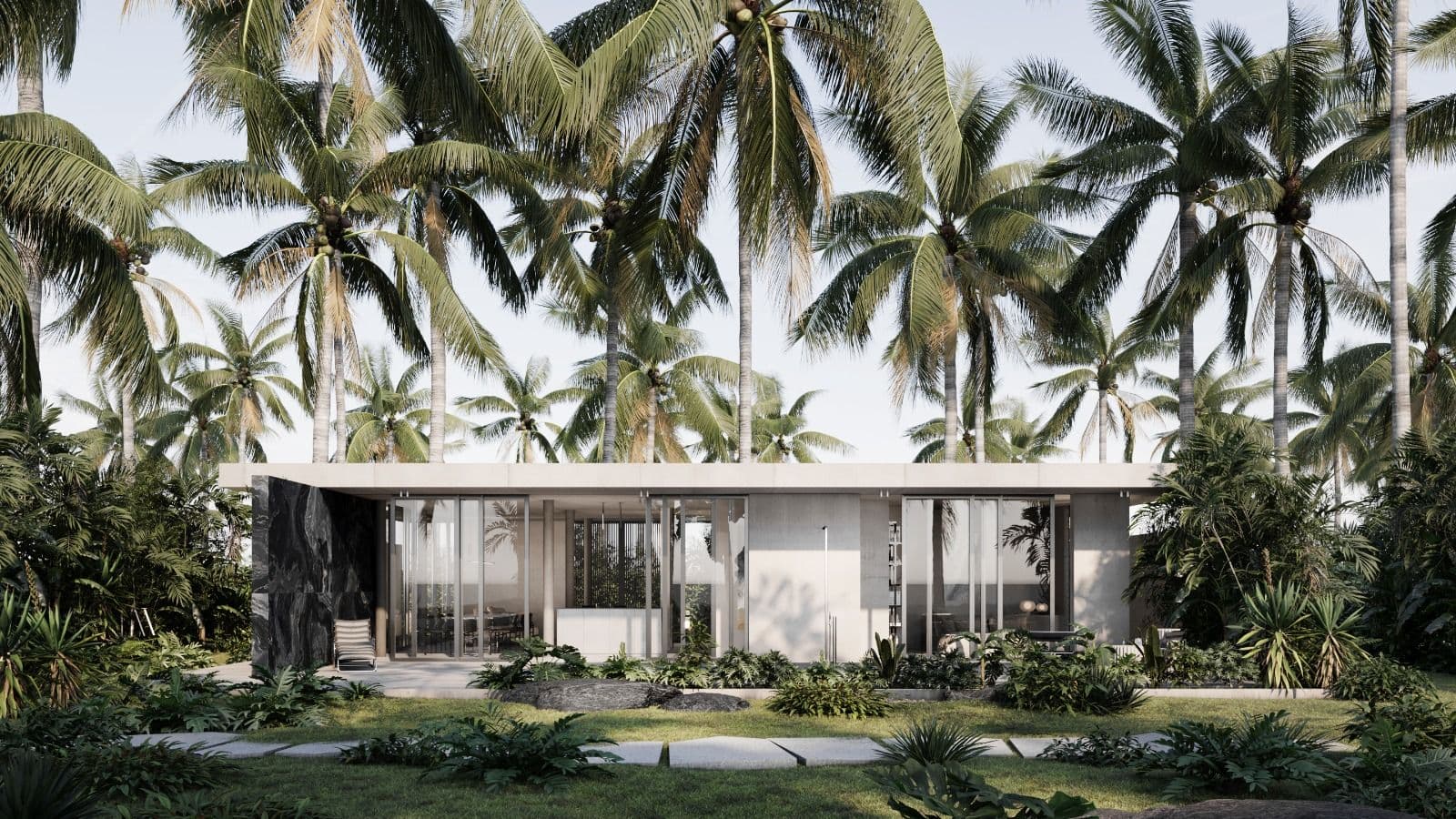 $225,000
1 bedroom villa in the club village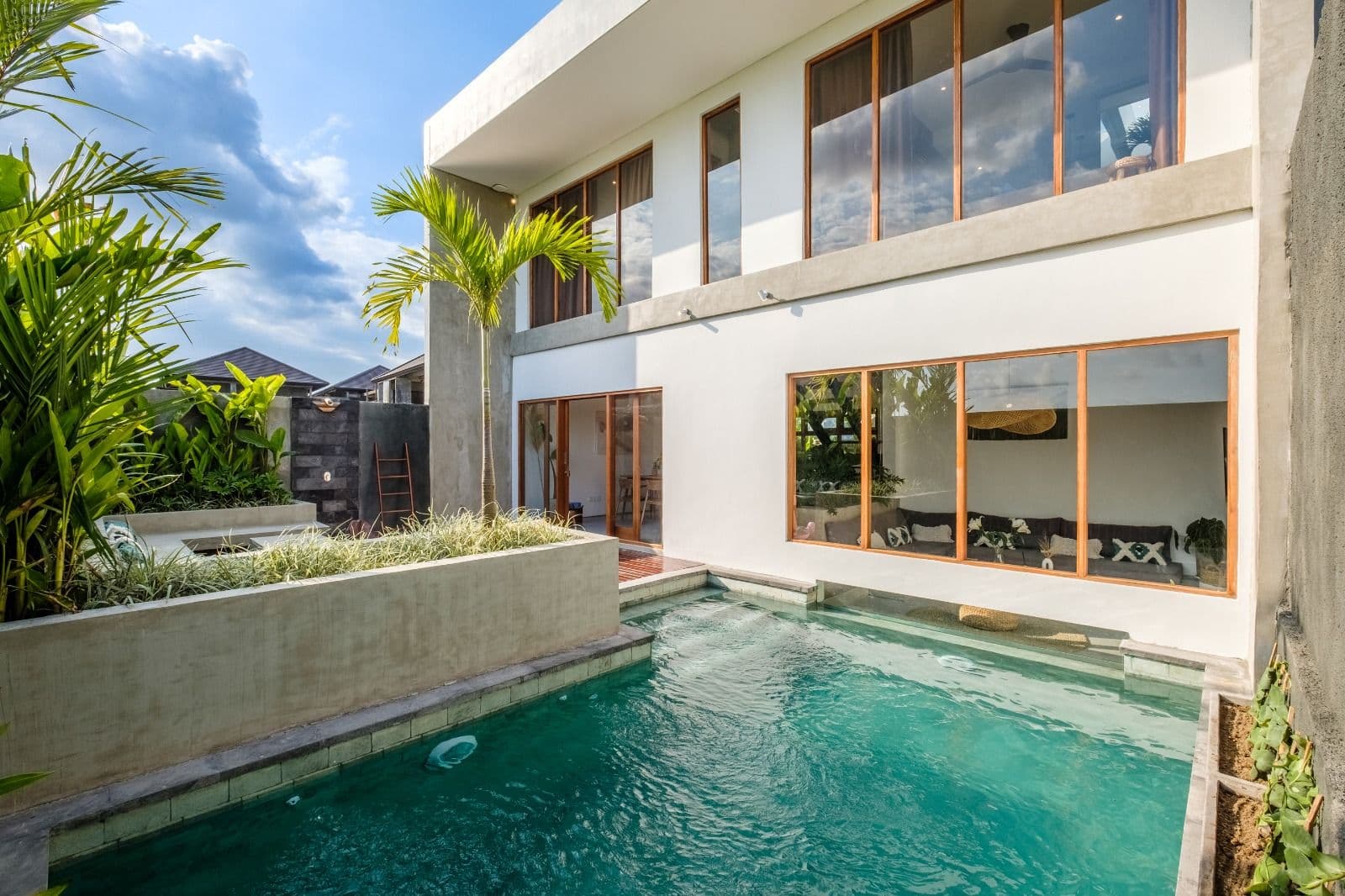 $293,000
Two-storey Villa with Rice Fields View in Berawa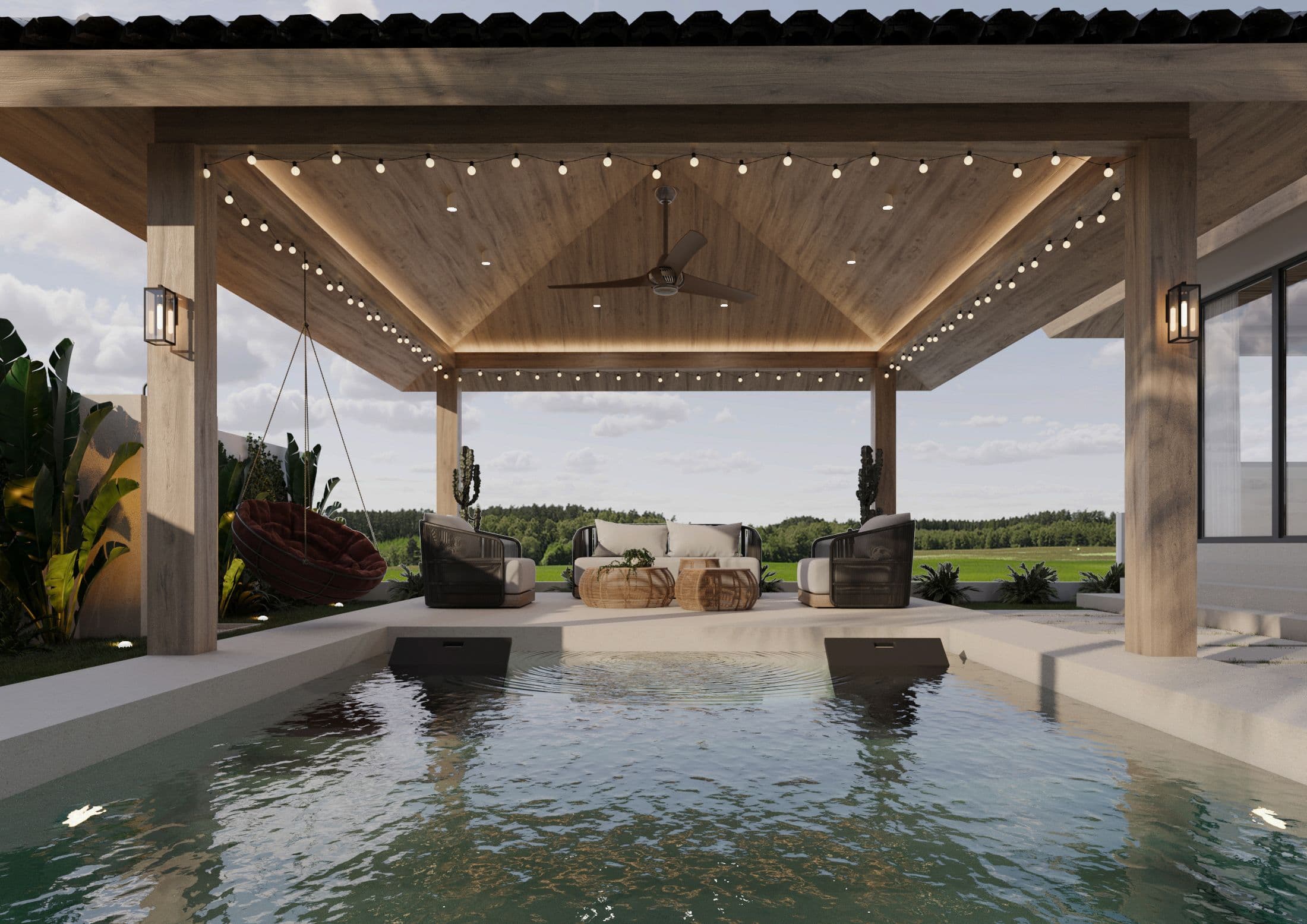 $420,000
3 Bedroom Villa overlooking rice fields in Ubud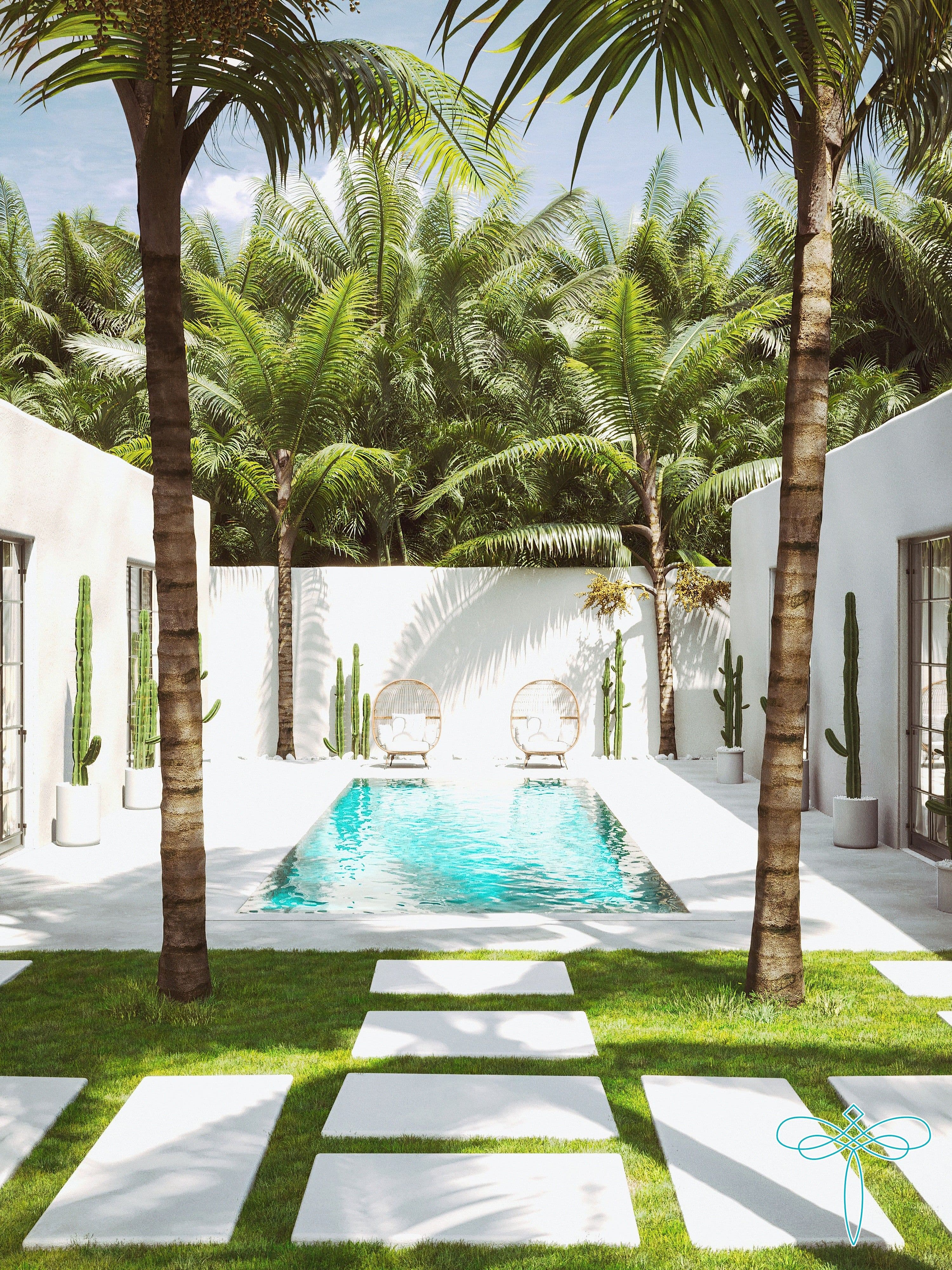 $346,000
Luxury 3 bedroom villa near Garuda statue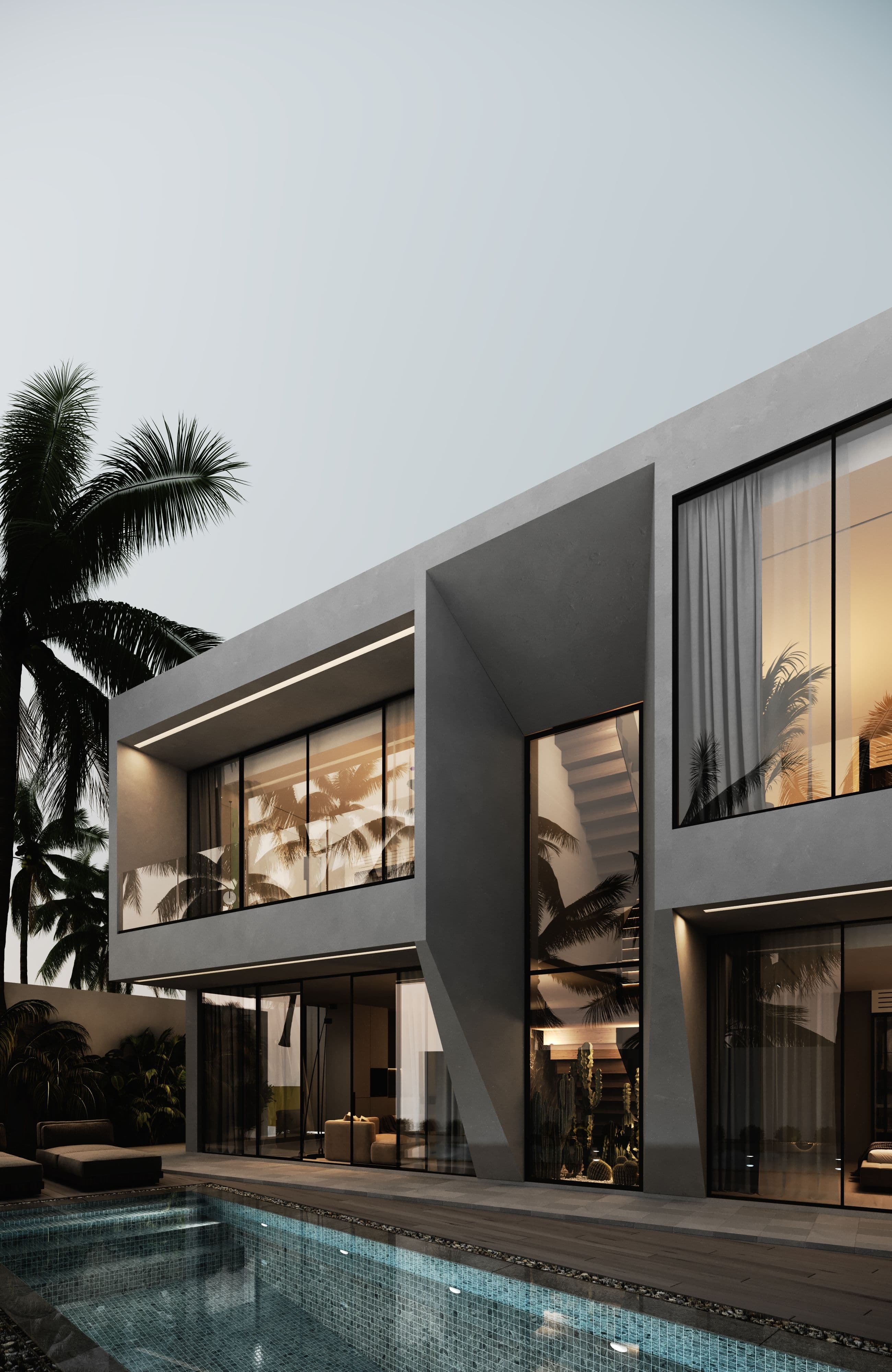 $480,000
Spacious 3 bedroom villa in Humalas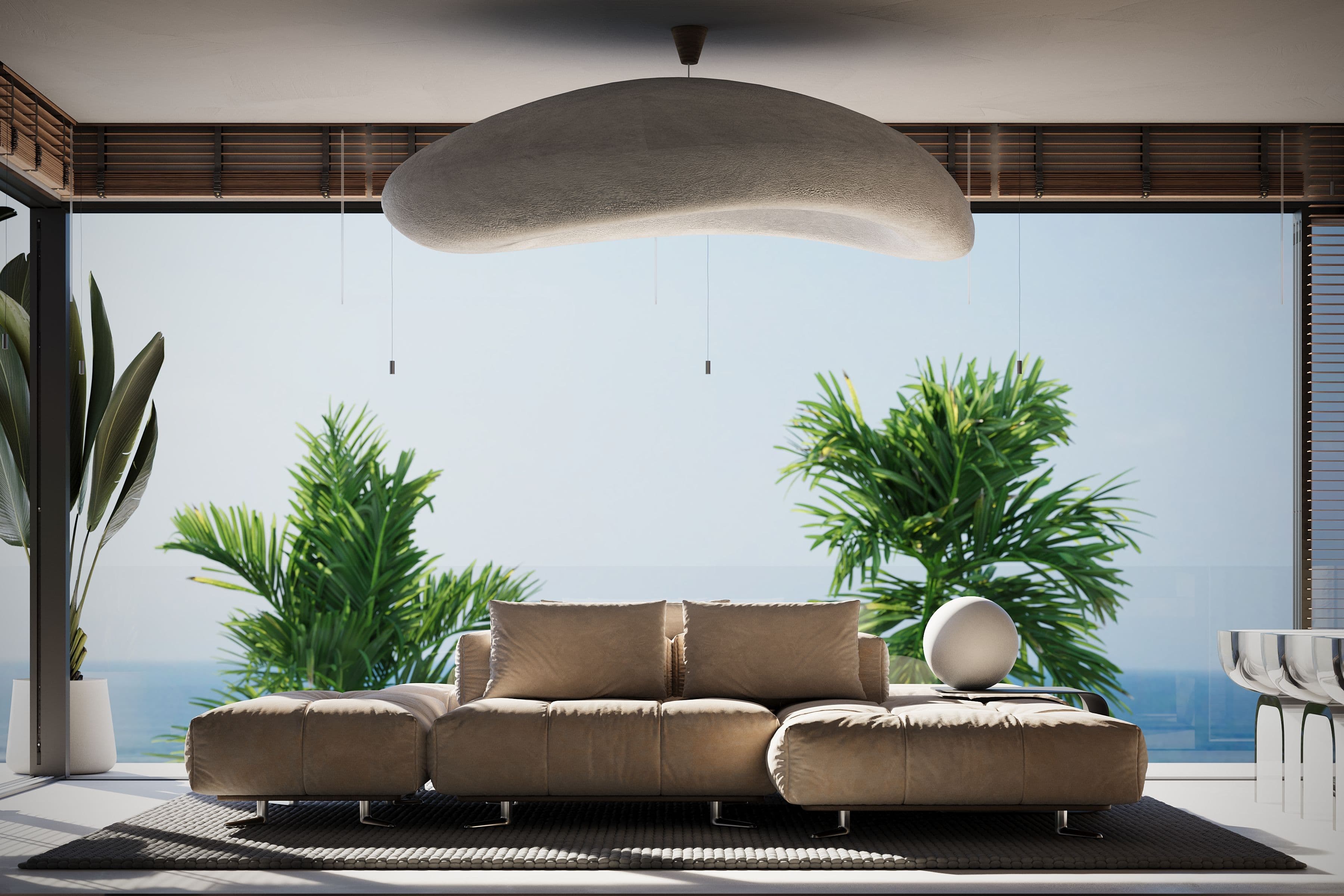 $179,000
Spacious apartment in a boutique hotel in Seseh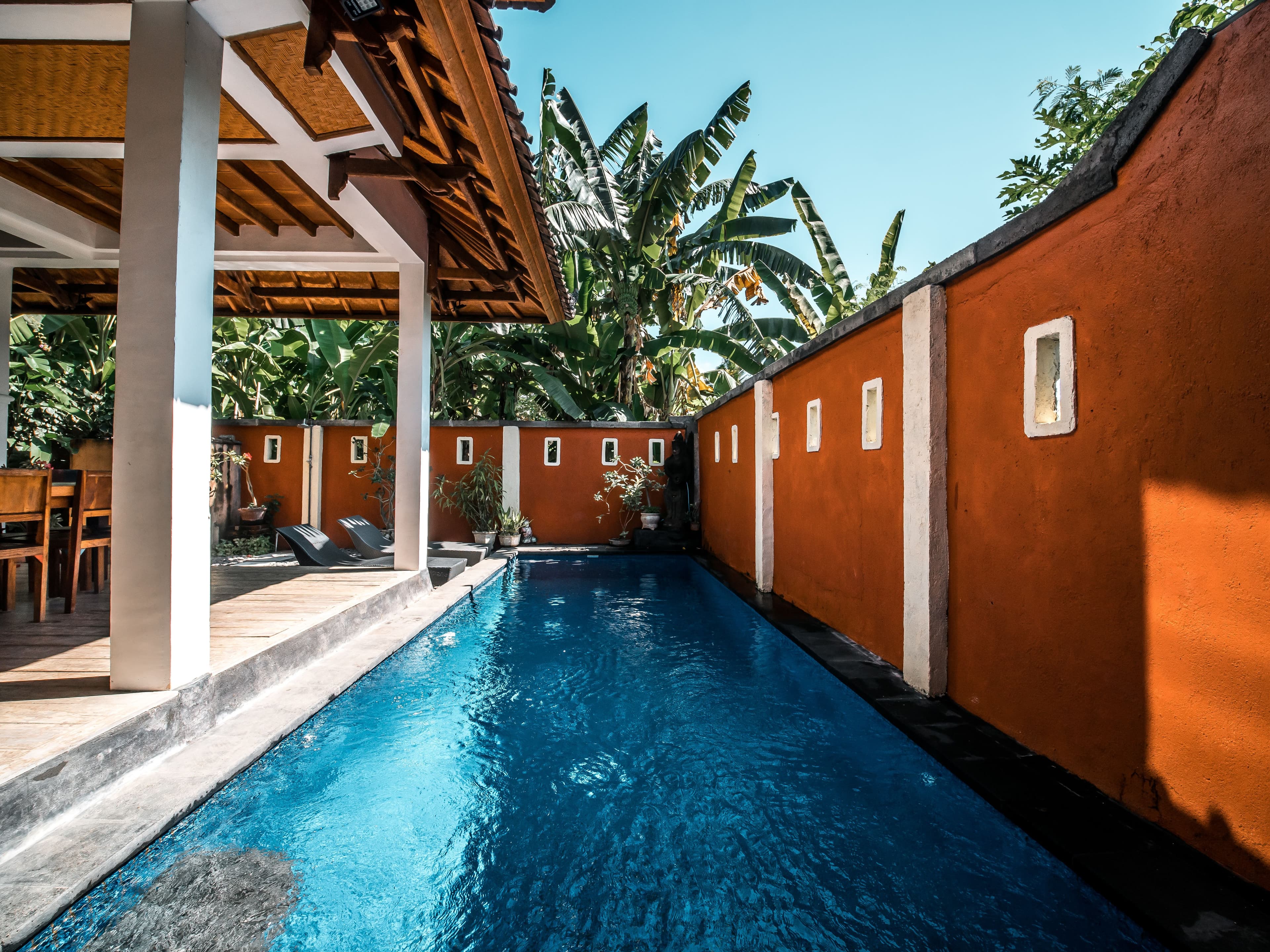 $450,000
Freehold complex of 2 and 3 bedroom villas in Lovina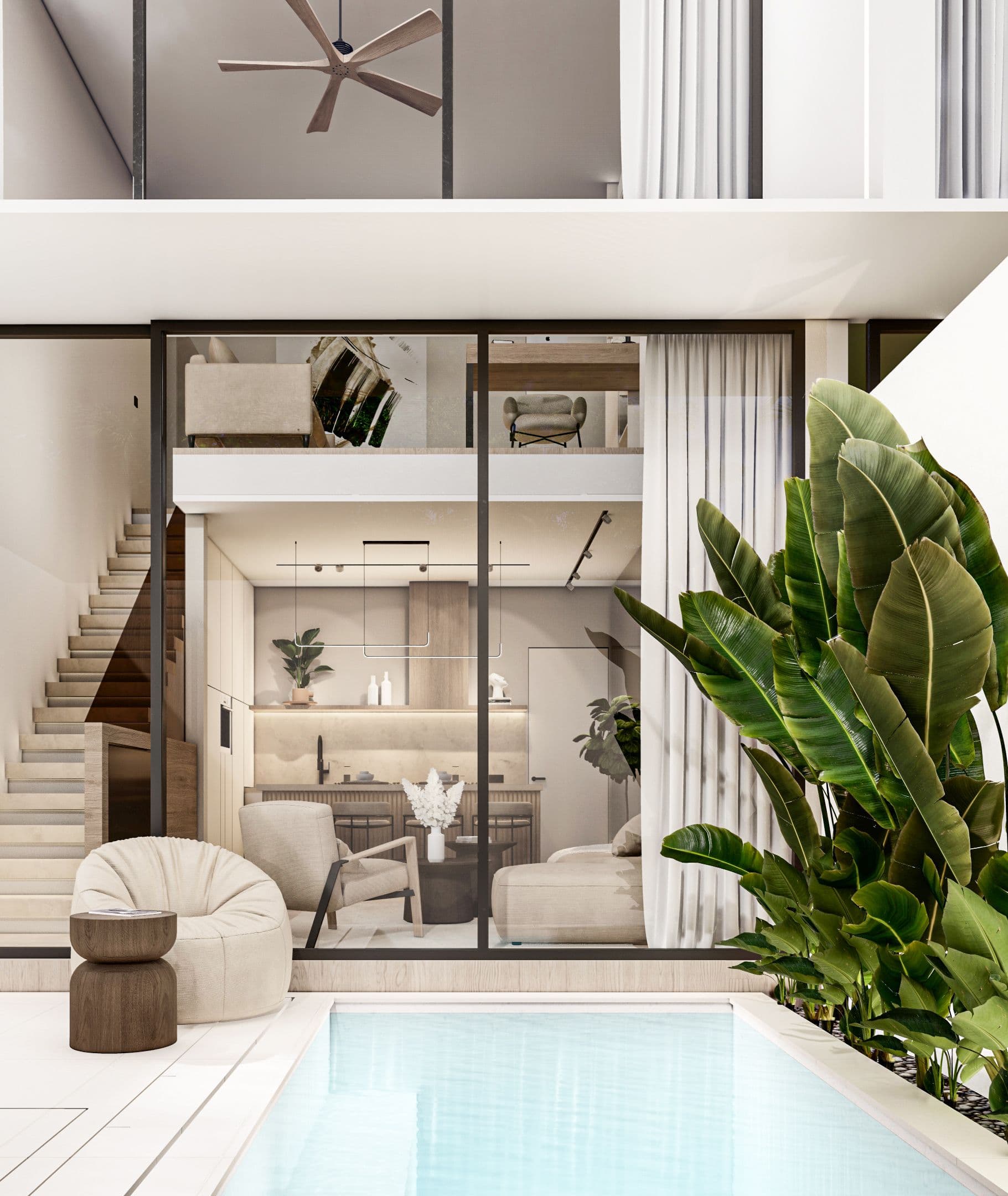 $360,000
Modern 2 Bedroom Off Plan Villa in Batu Bolong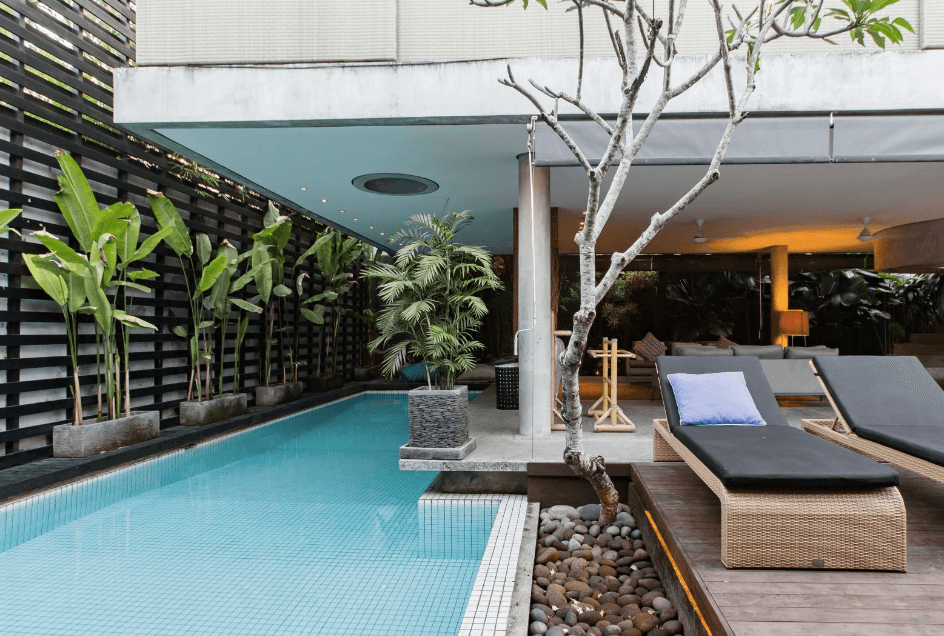 $650,000
Luxury villa in the best location of Seminyak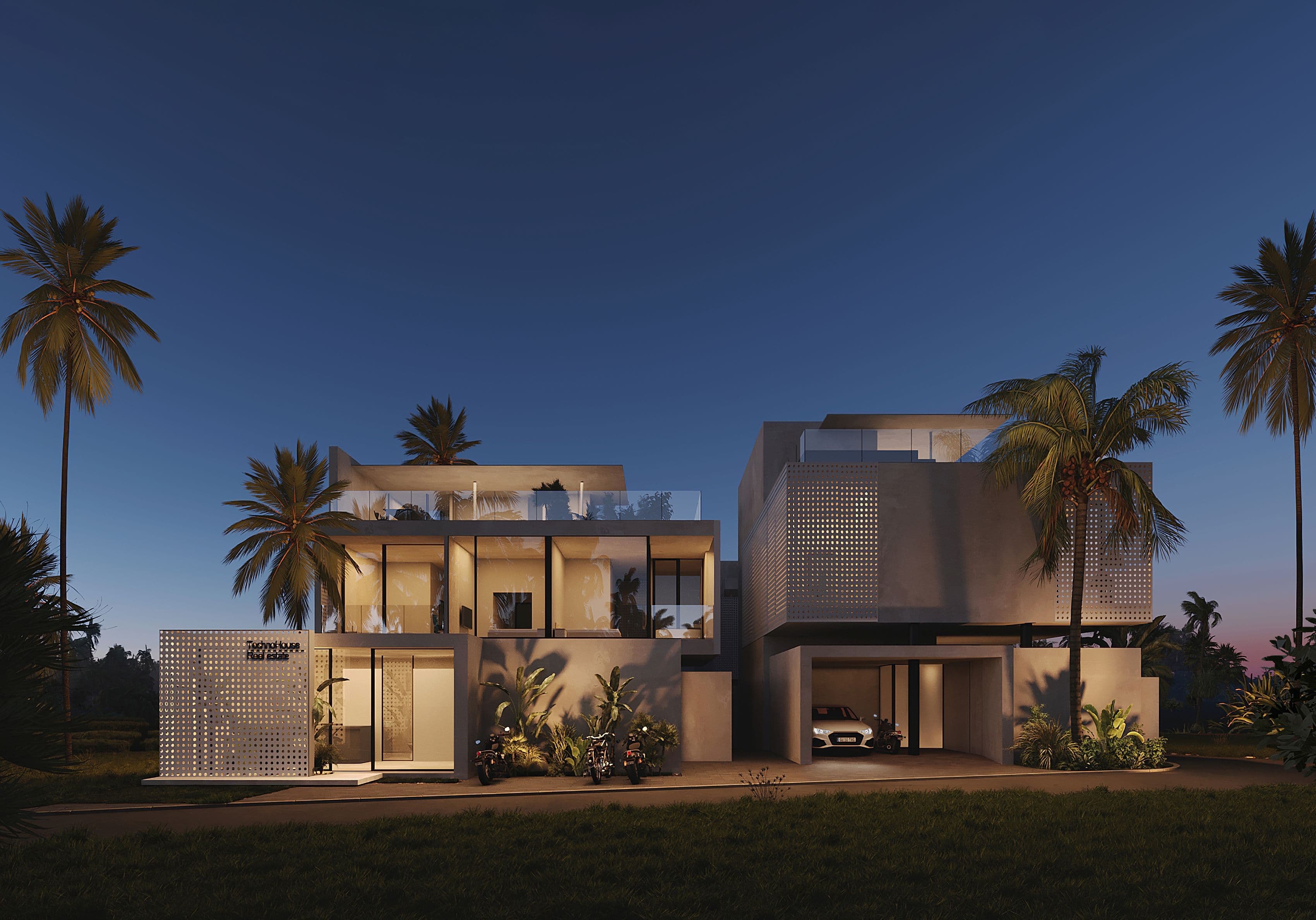 $780,000
Premium four-bedroom villa in Changu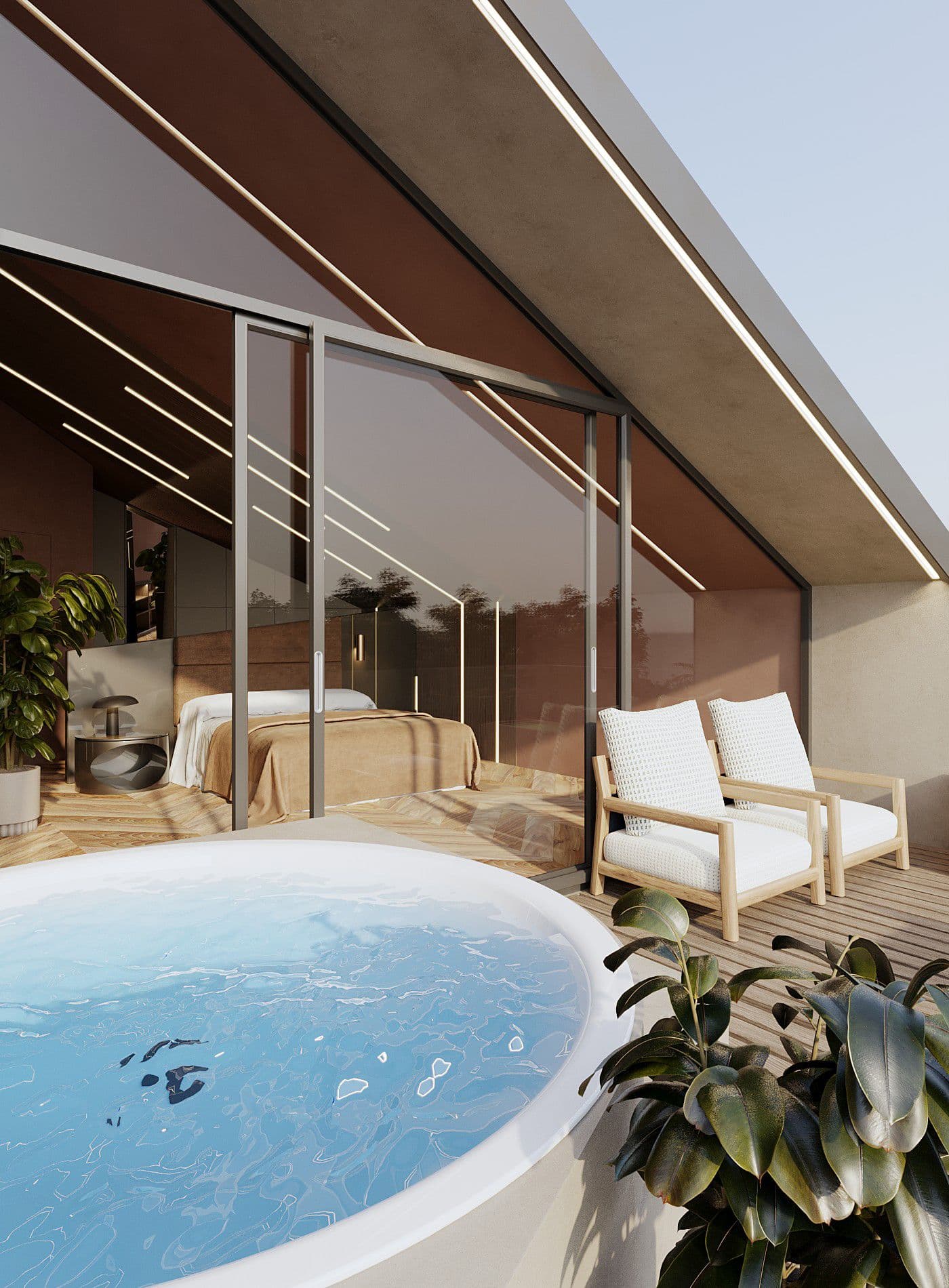 $378,000
2 bedroom Villa in Balangan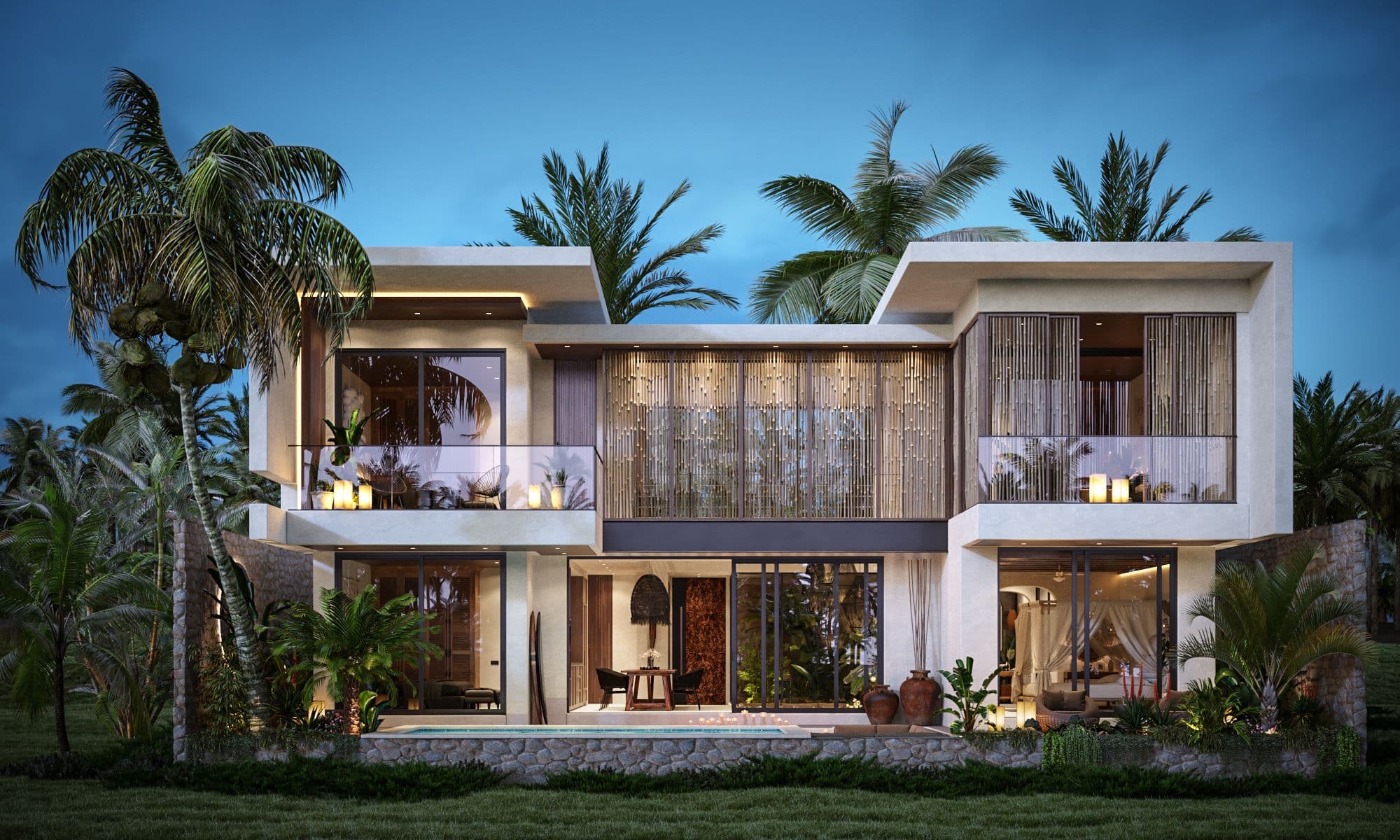 $500,000
Luxury 4 bedroom villa 500 meters from Pandava Beach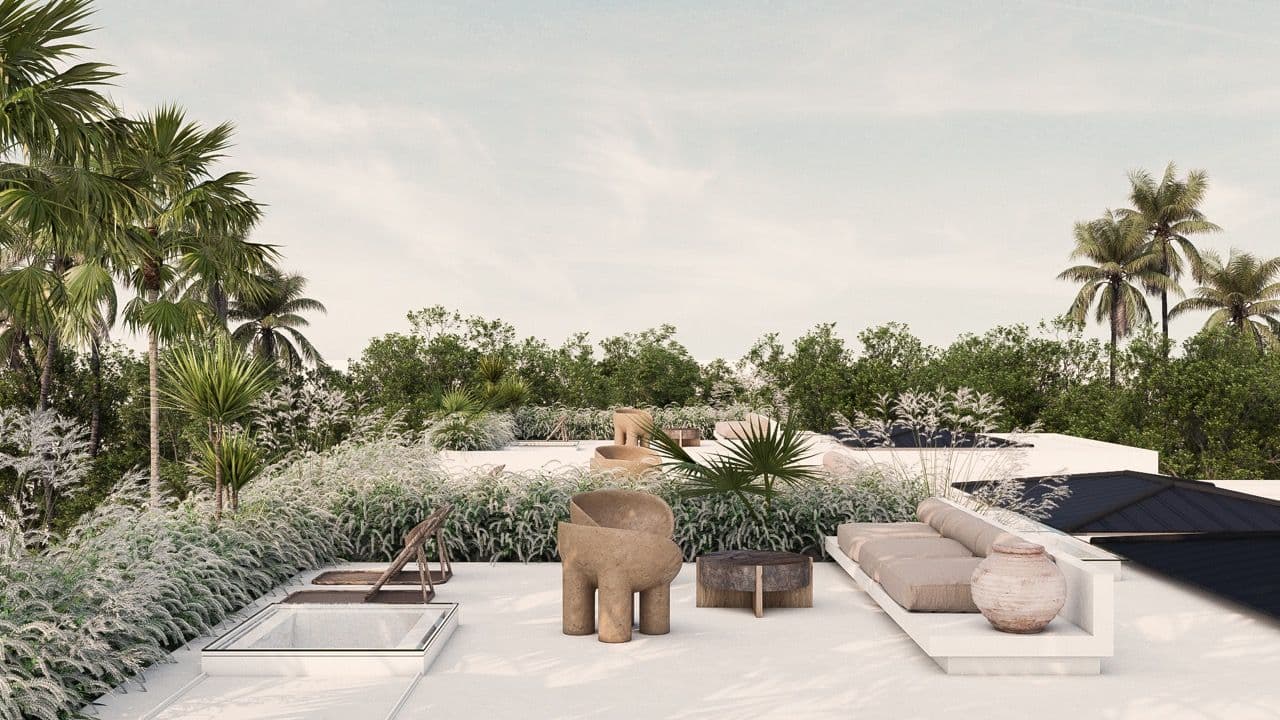 $139,000
2 Bedroom Villa by GWK Statue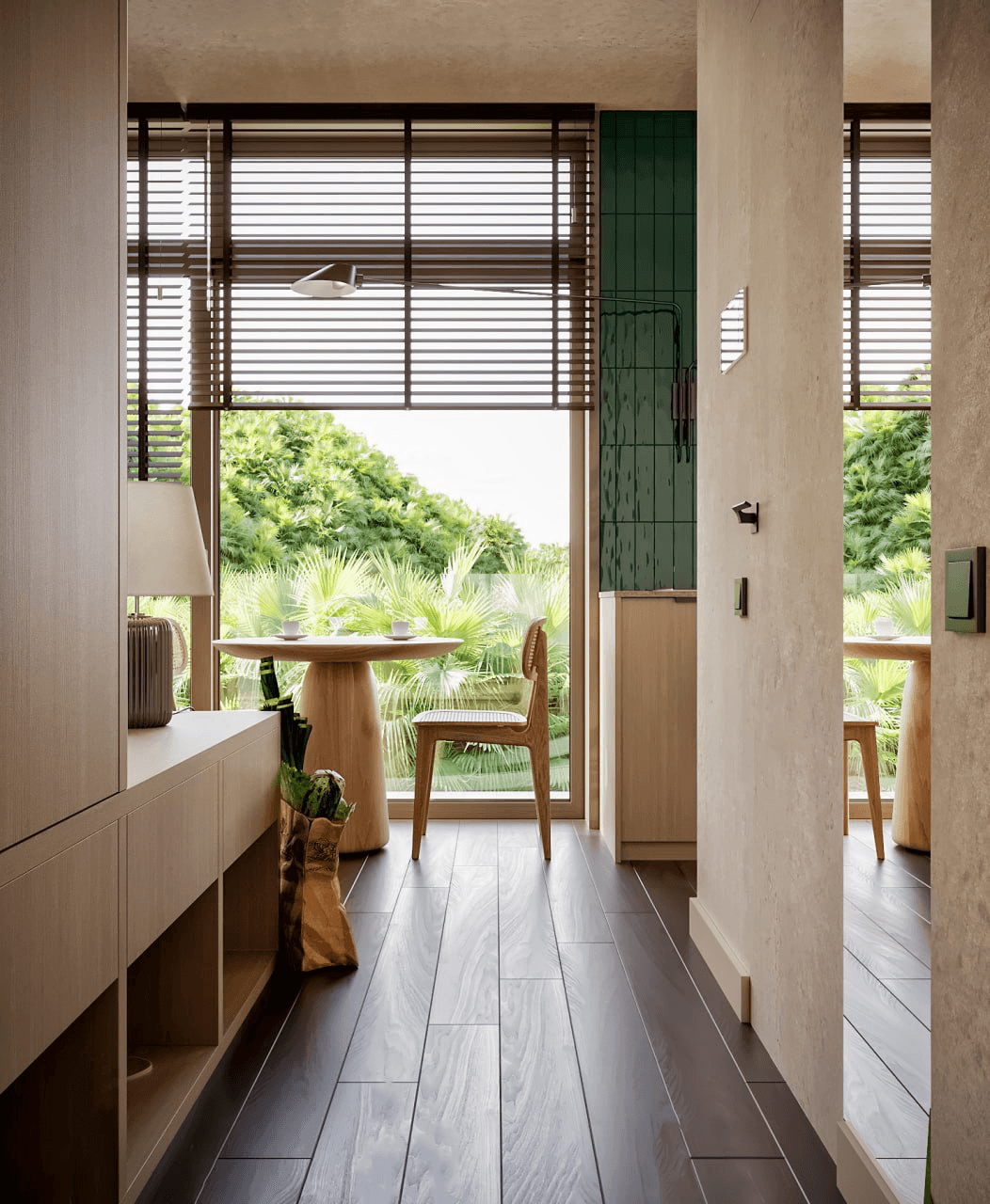 $127,000
Modern apartments in an excellent location in Canggu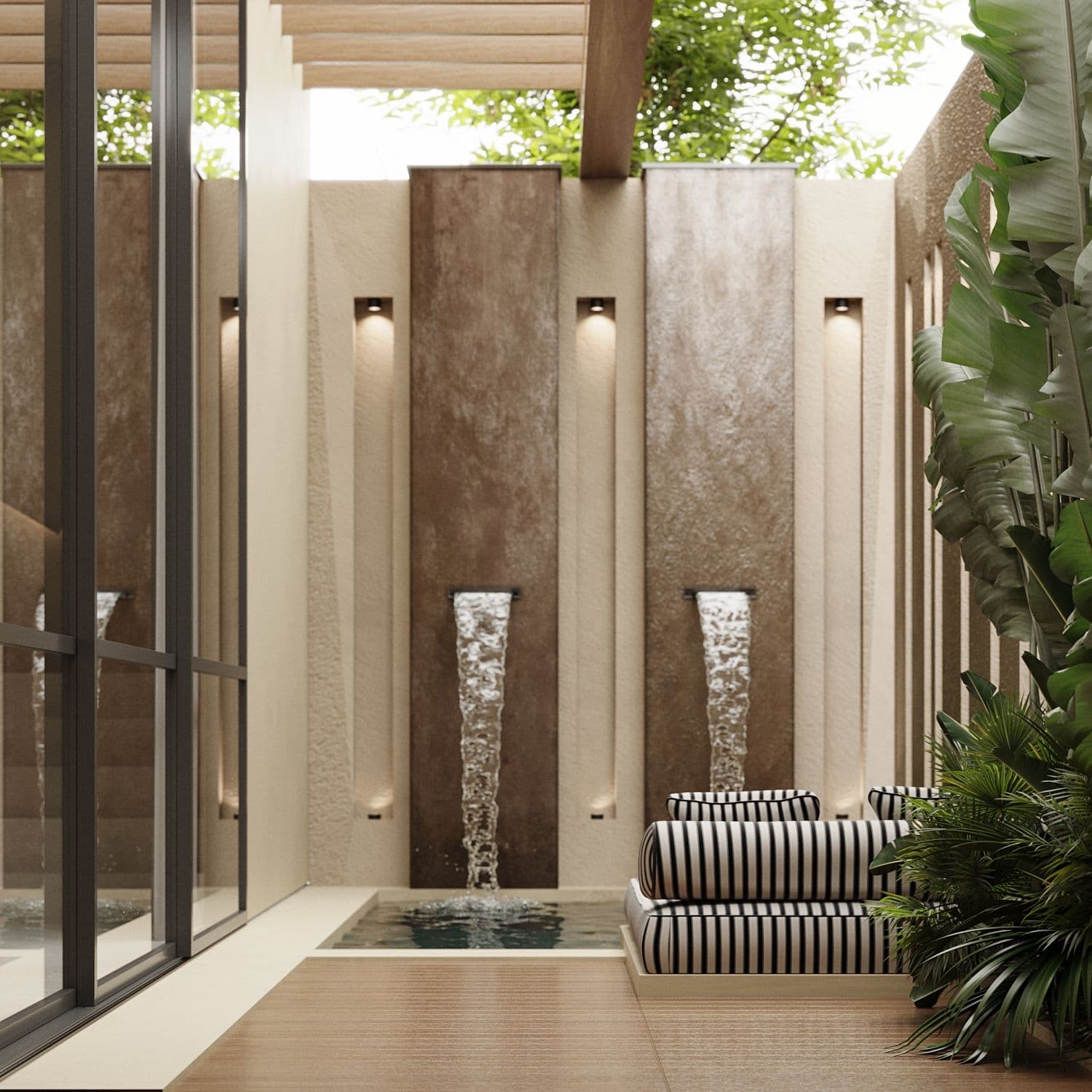 $260,000
Deluxe villa 3 minutes from the ocean in Changu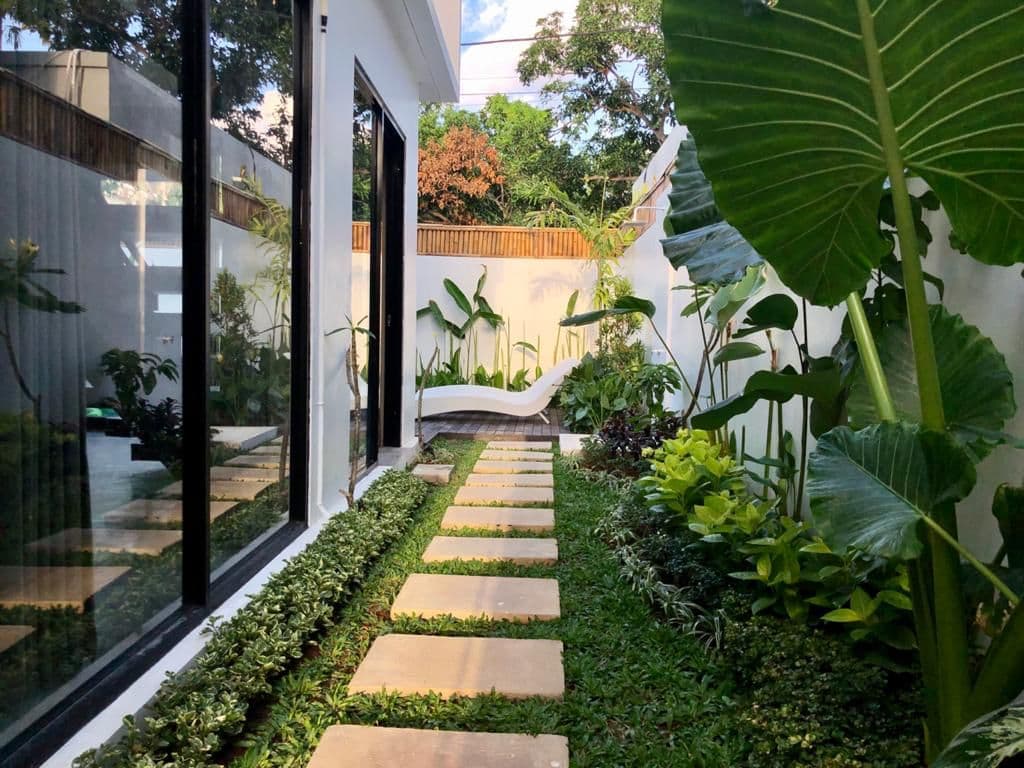 $250,000
Industrial Designer Villa in North of Canggu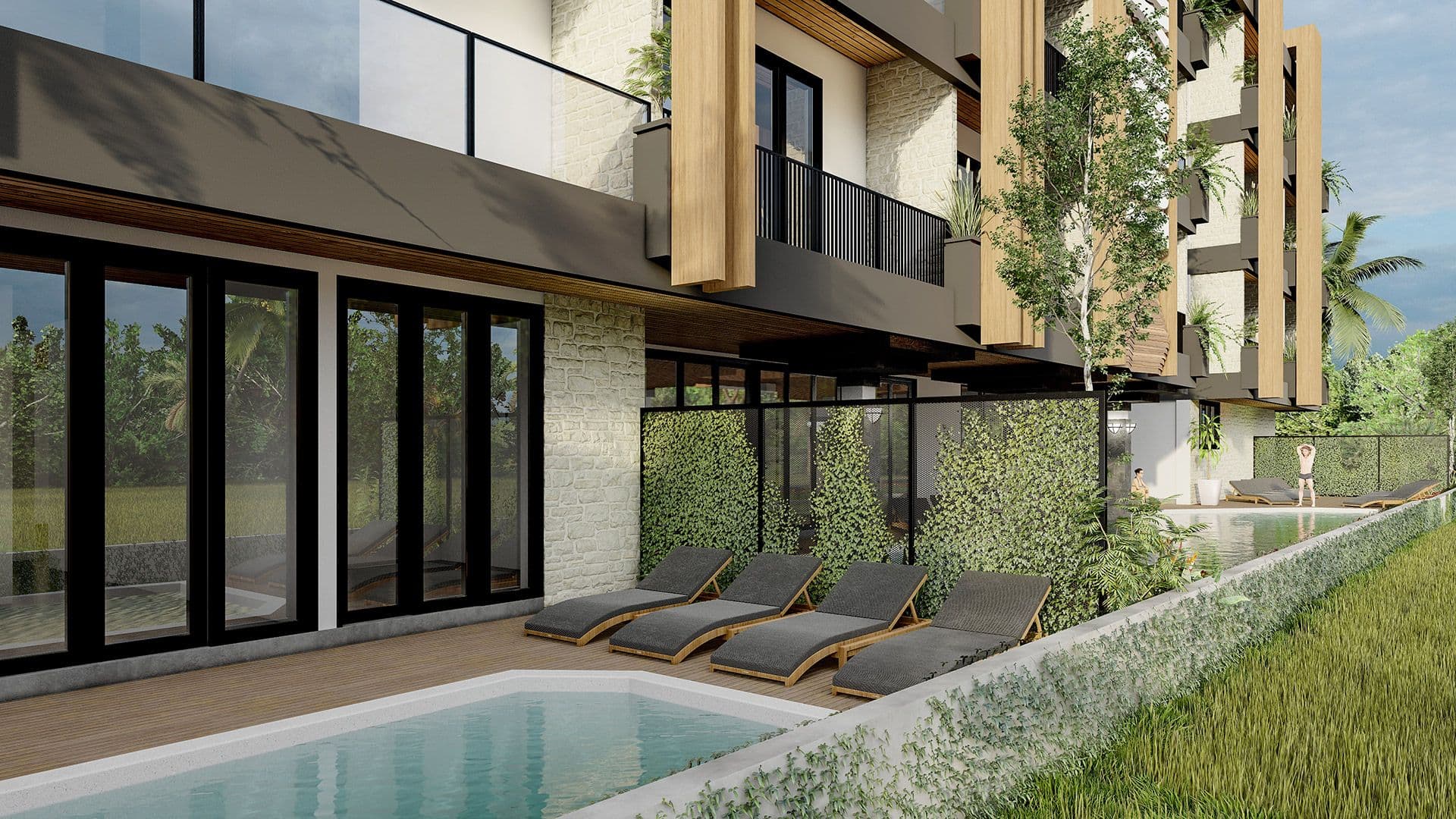 $180,000
Apartments in a modern complex on Berawa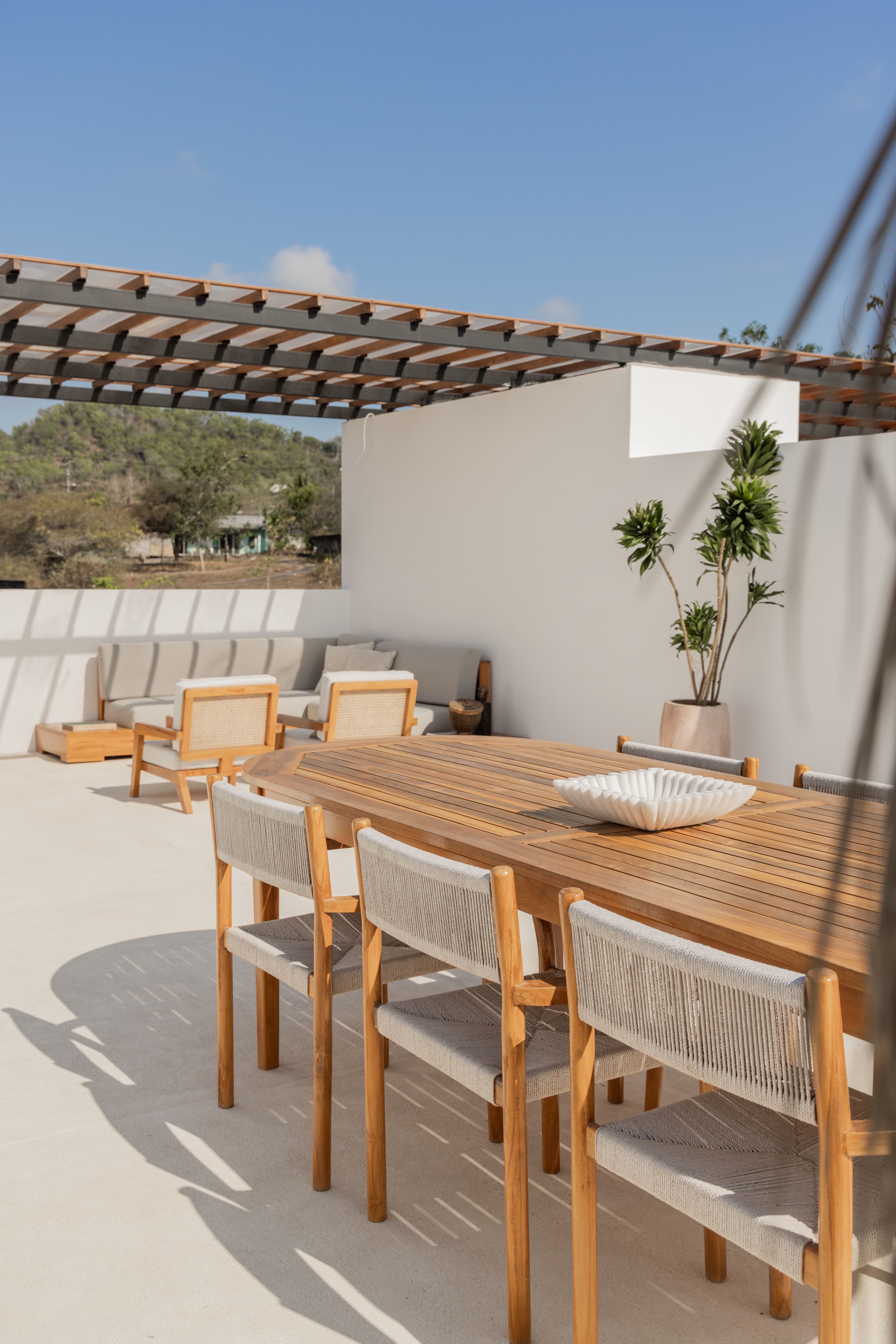 $199,000
2 Bedroom Villa with Terrace in Uluwatu
$289,000
Villa in a private complex with a rooftop in Seseh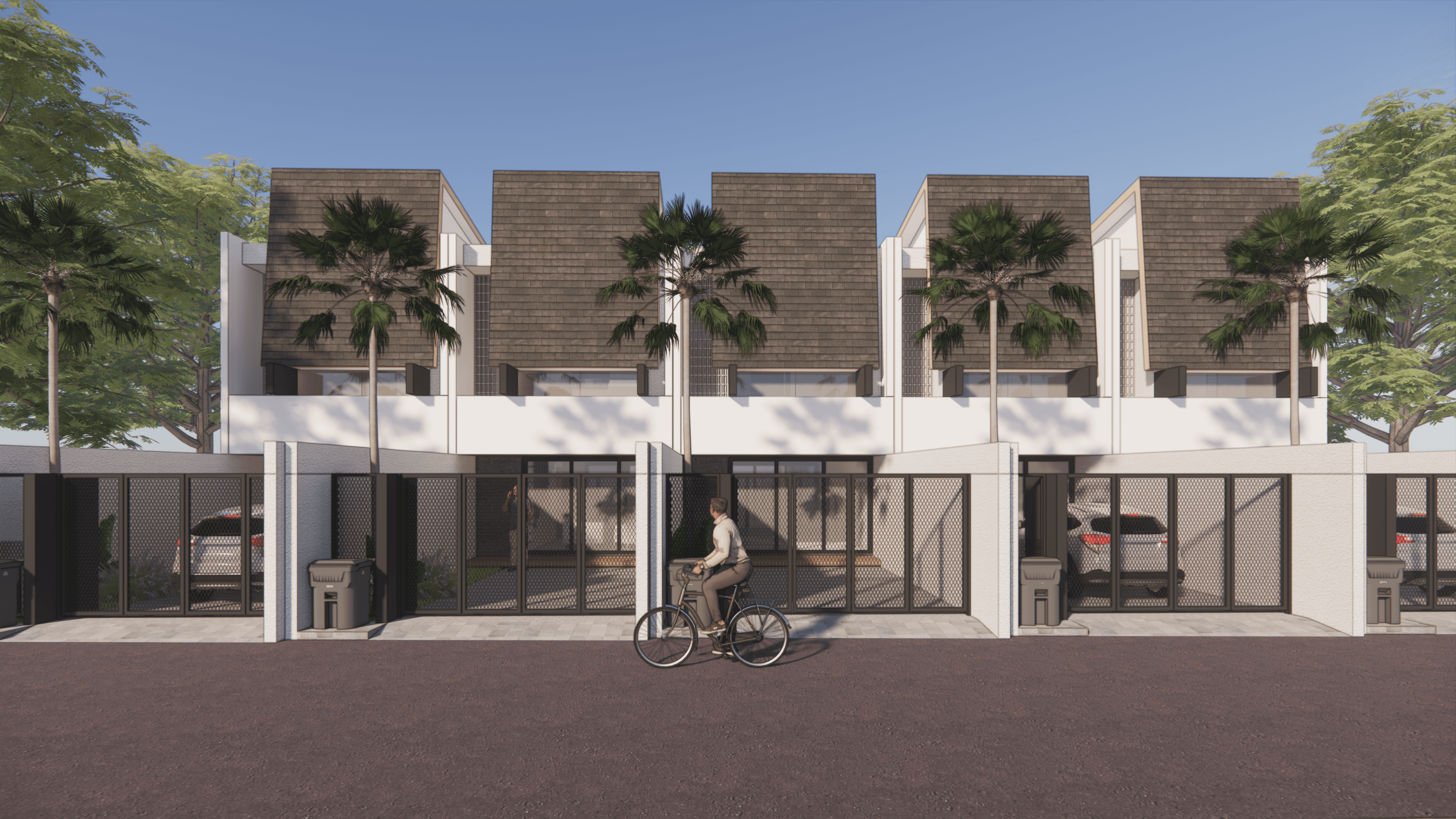 $130,000
Affordable 2 bedroom villa with excellent ROI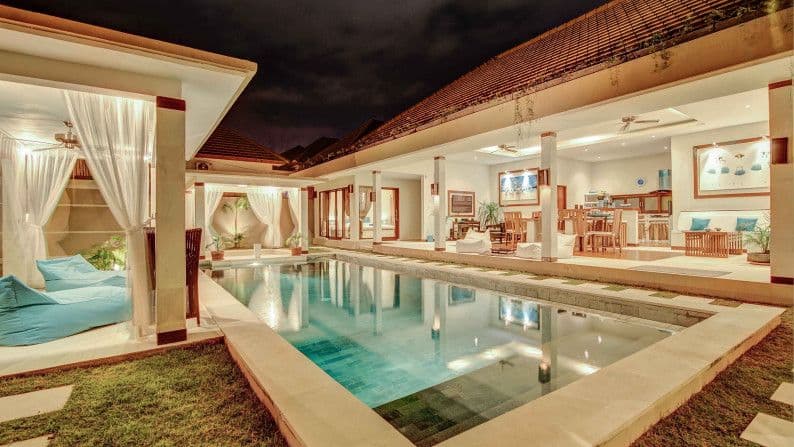 $360,000
Luxury three bedroom villa in Kerobokan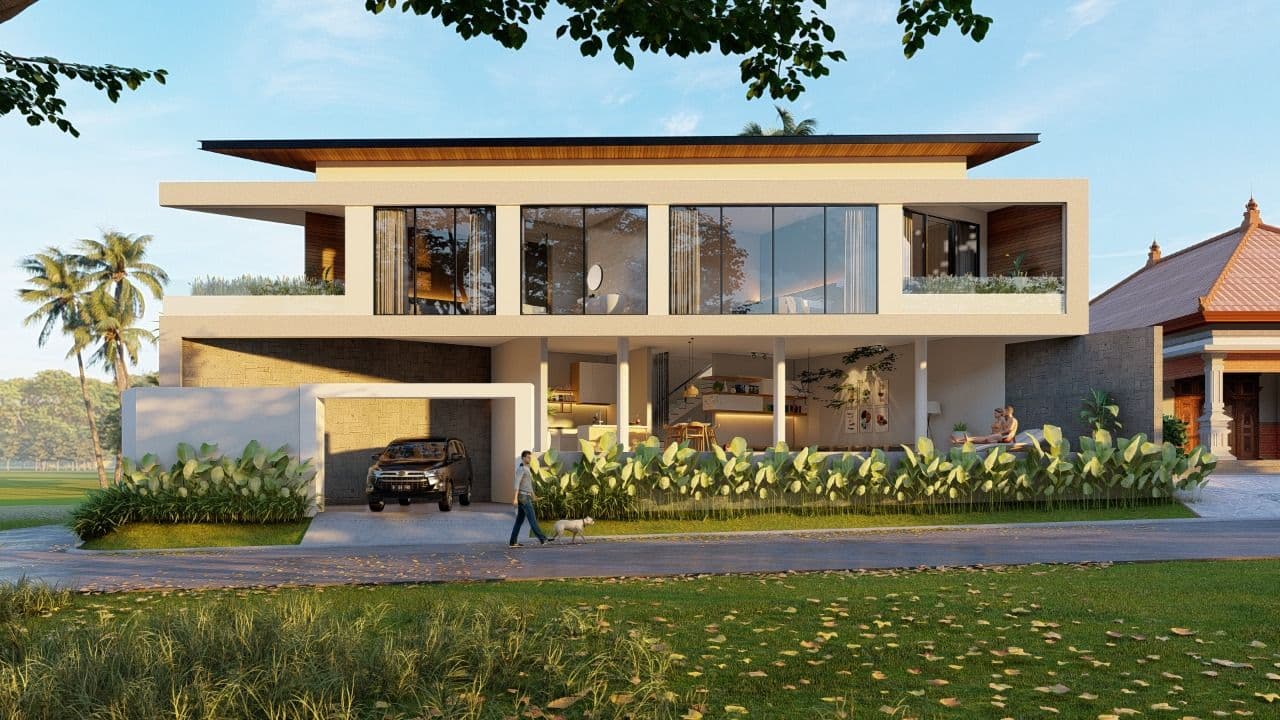 $190,000
Spacious 3 bedroom villa in Ungasan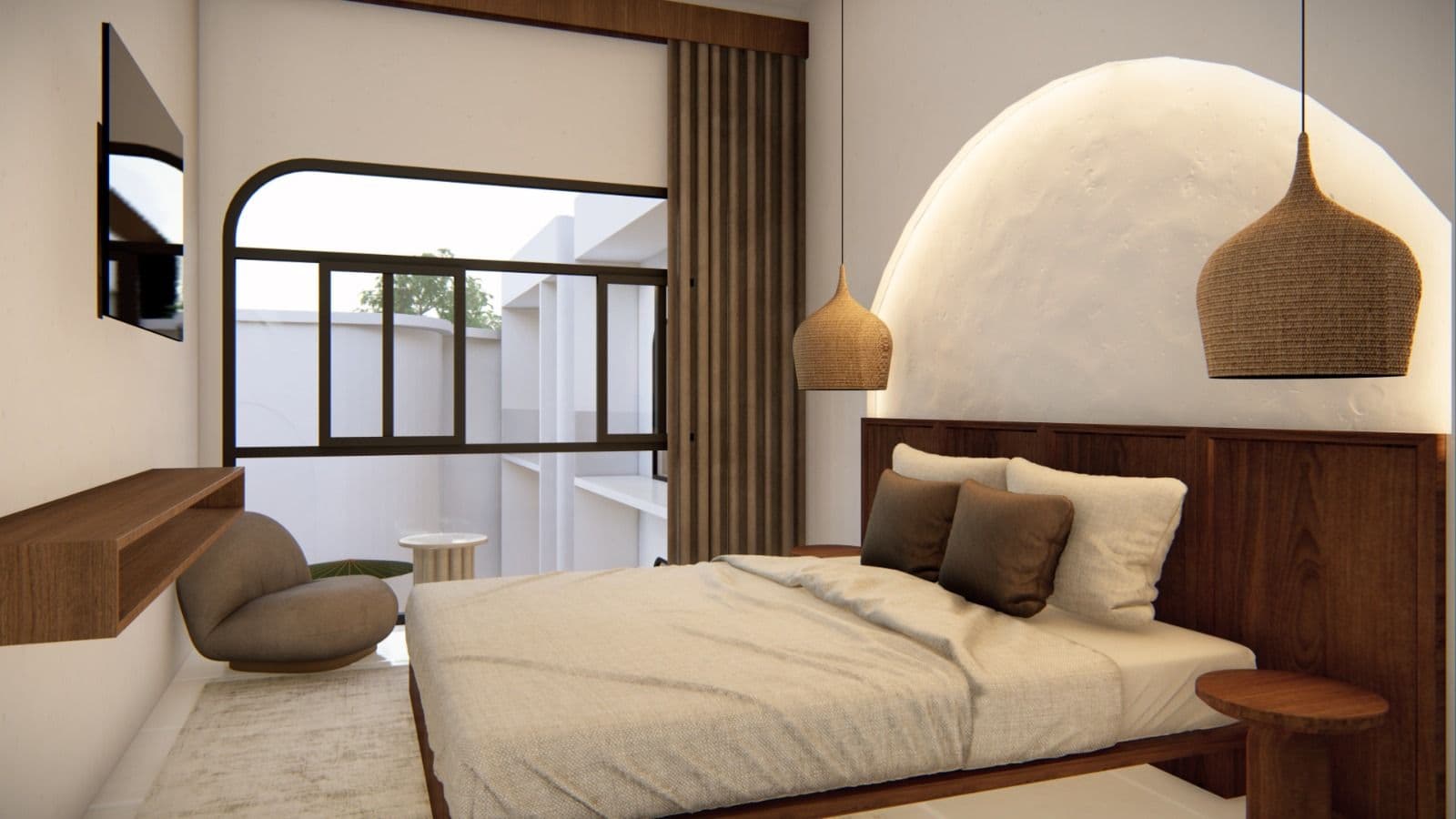 $90,000
One Bedroom Apartment in Uluwatu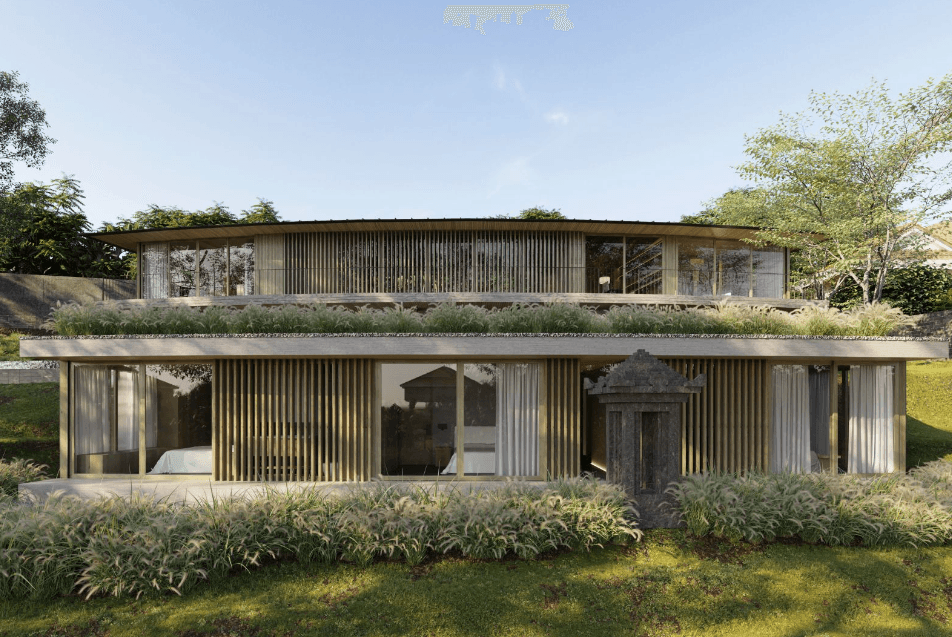 $1,800,000
Minimalist villa in the heart of Canggu
$170,000
Spacious apartments on Berawa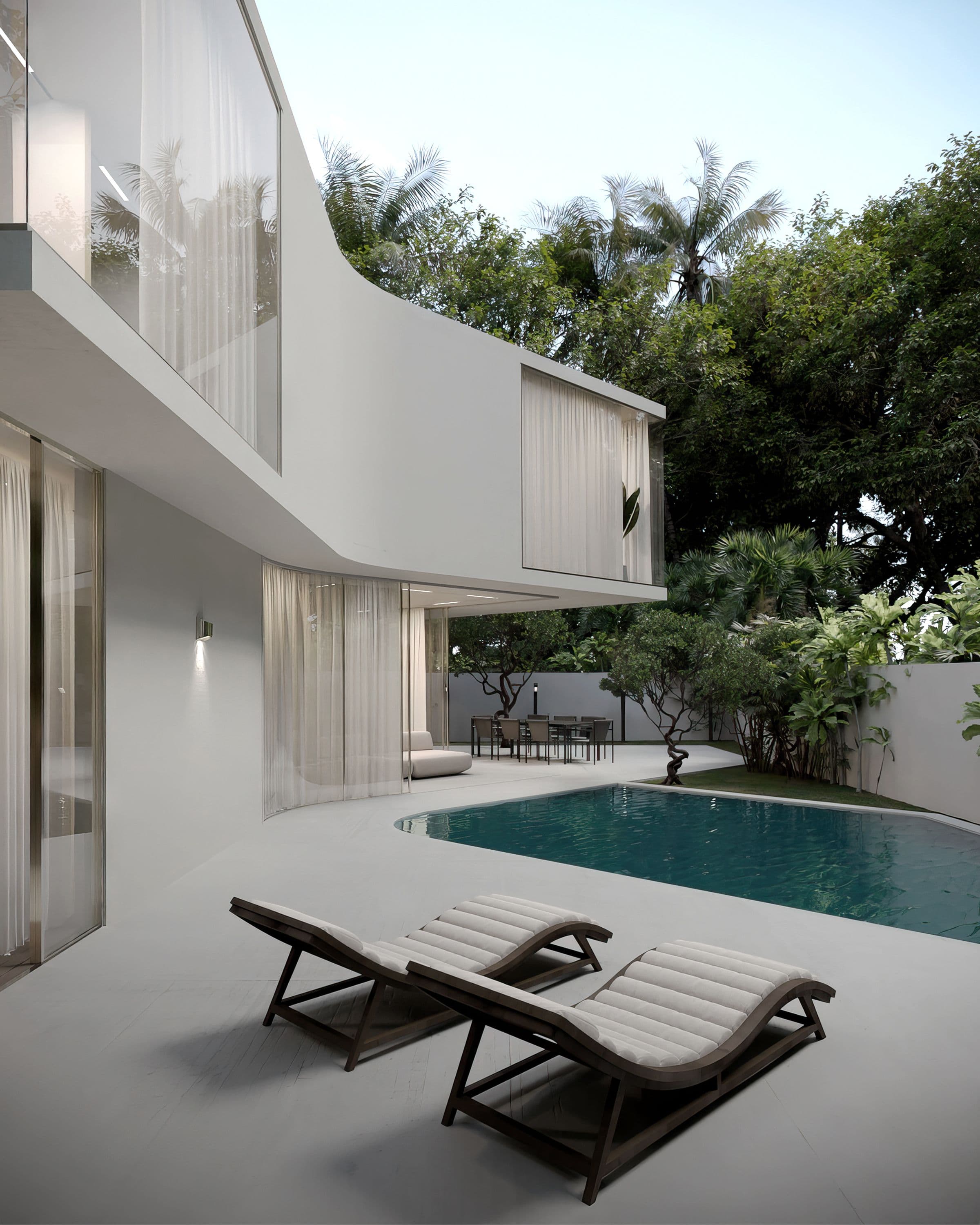 $520,000
Luxury 3 bedroom villa 7 minutes from Melasti Beach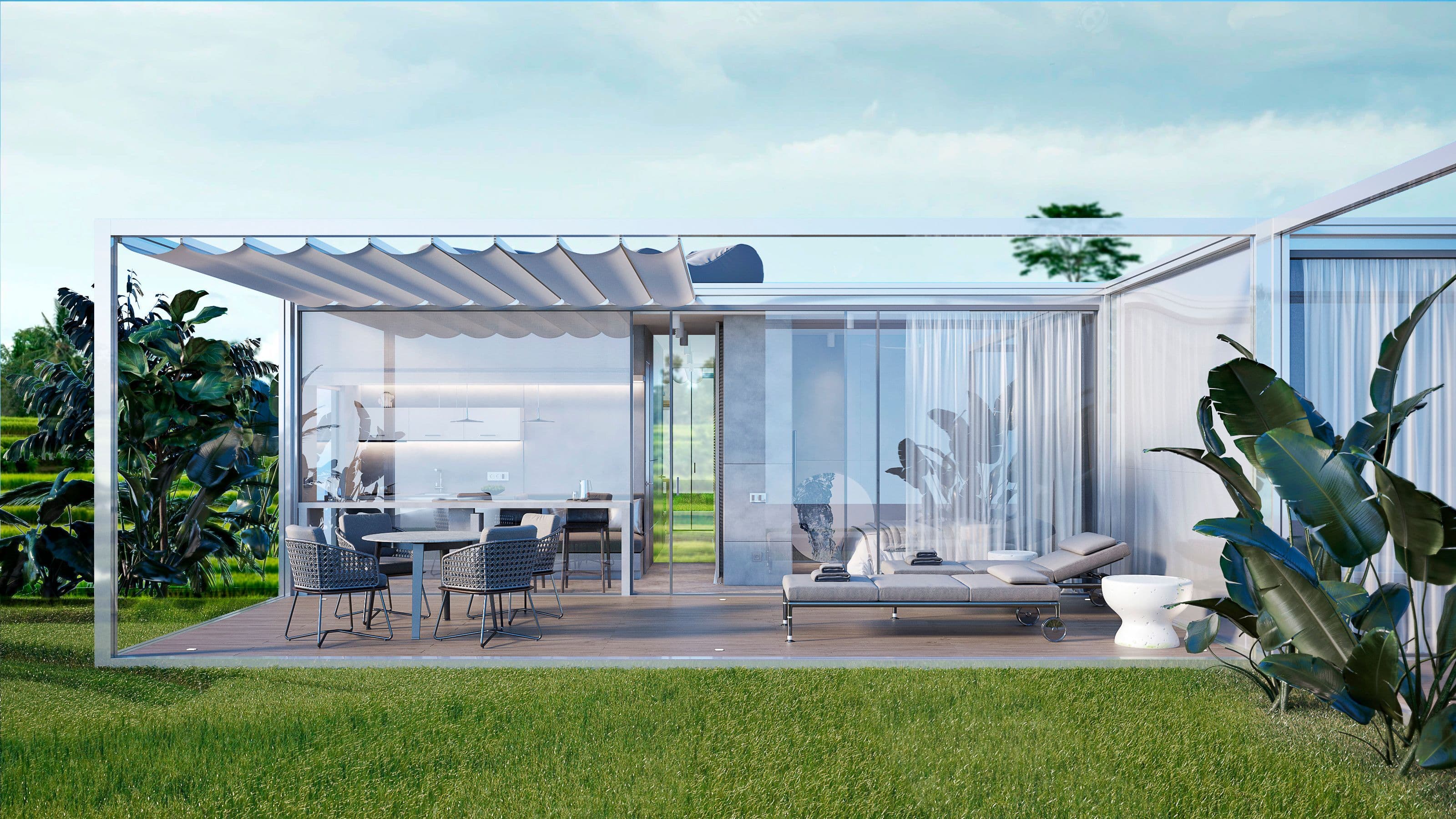 $106,000
High-tech villa in a private village with a delivery in 3 months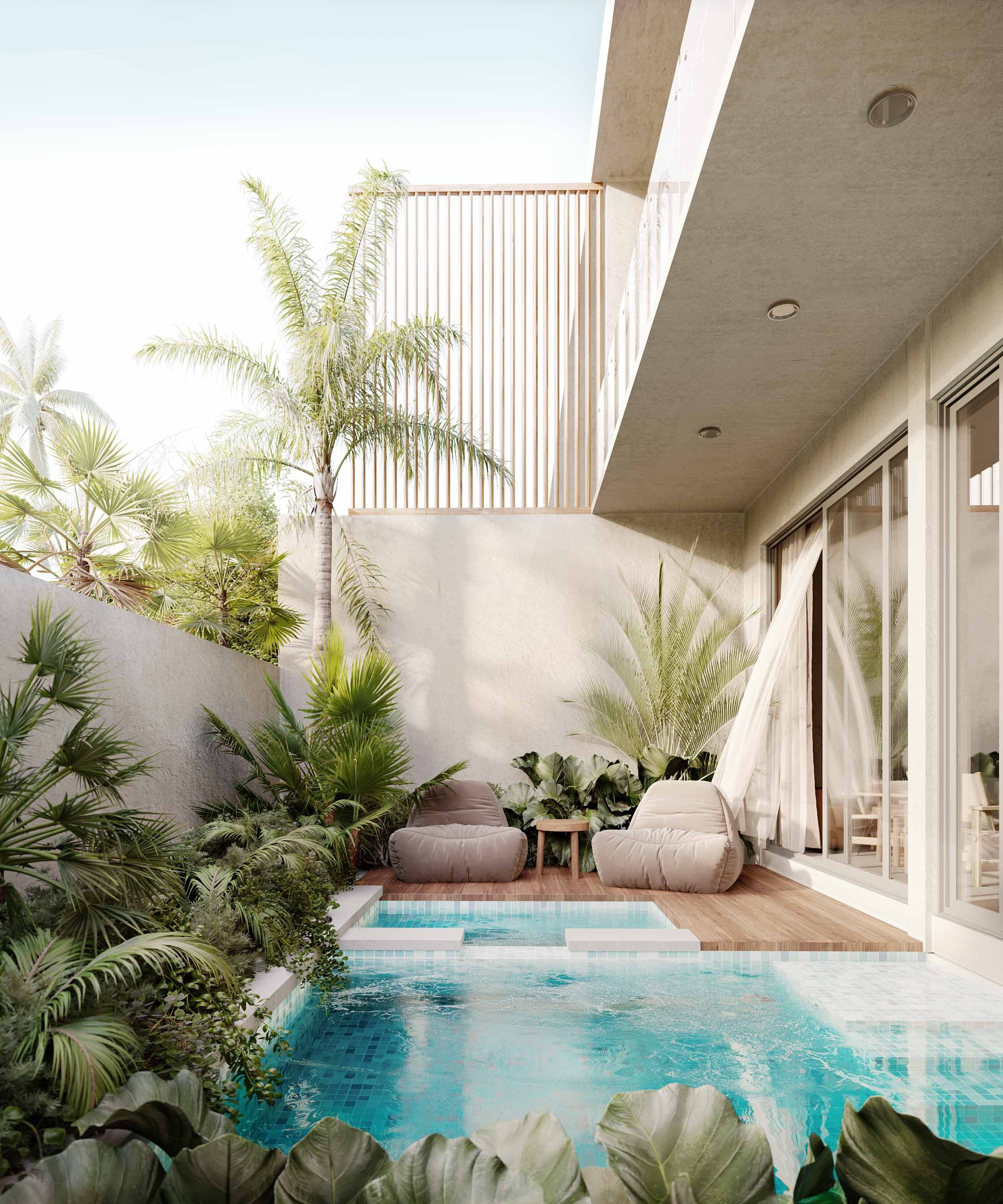 $302,000
California-style villa with 2 bedrooms in Umalas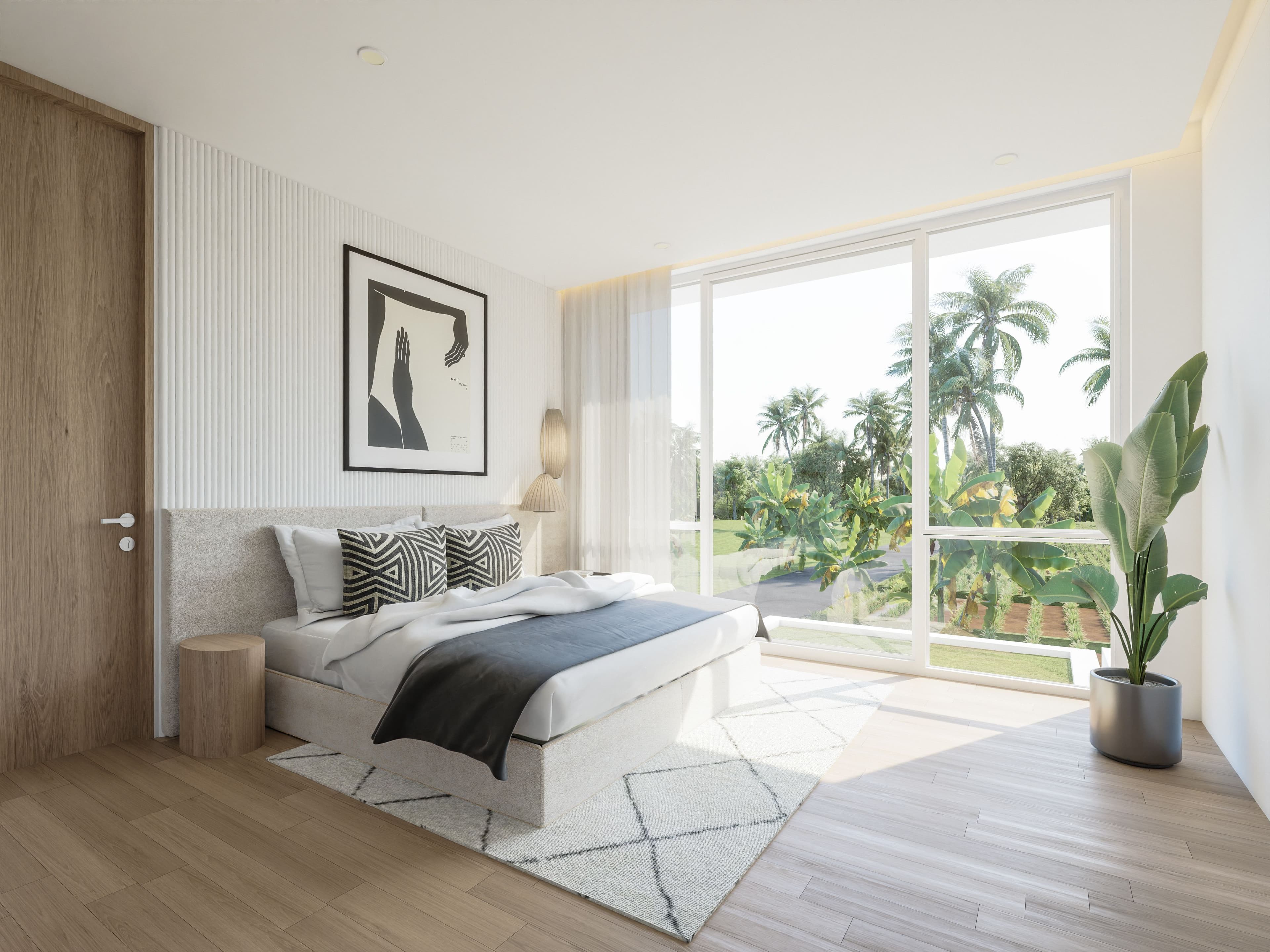 $514,000
4 bedroom villa 100 meters from Seseh Beach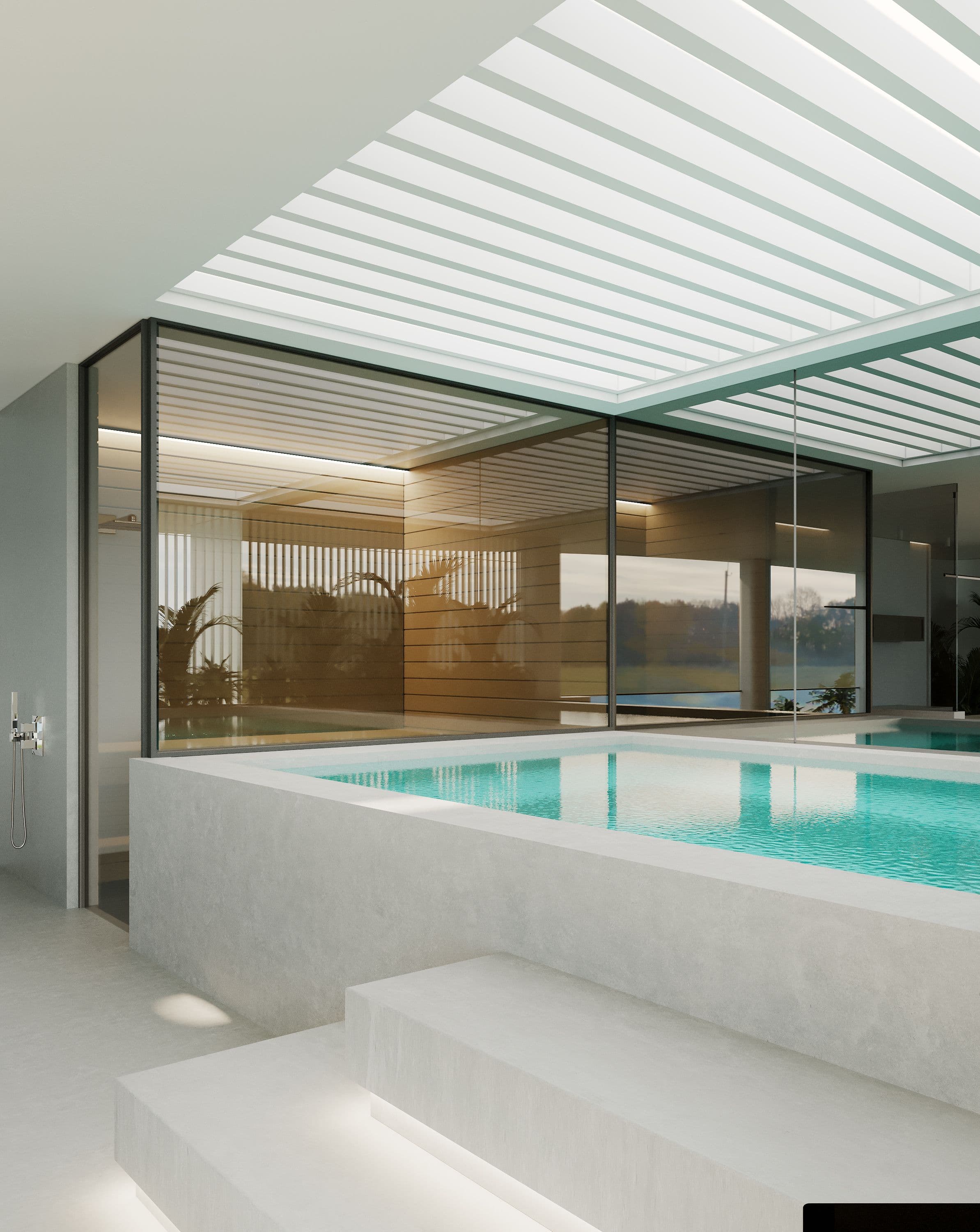 $570,000
Deluxe apartment with a rooftop and a swimming pool in Canggu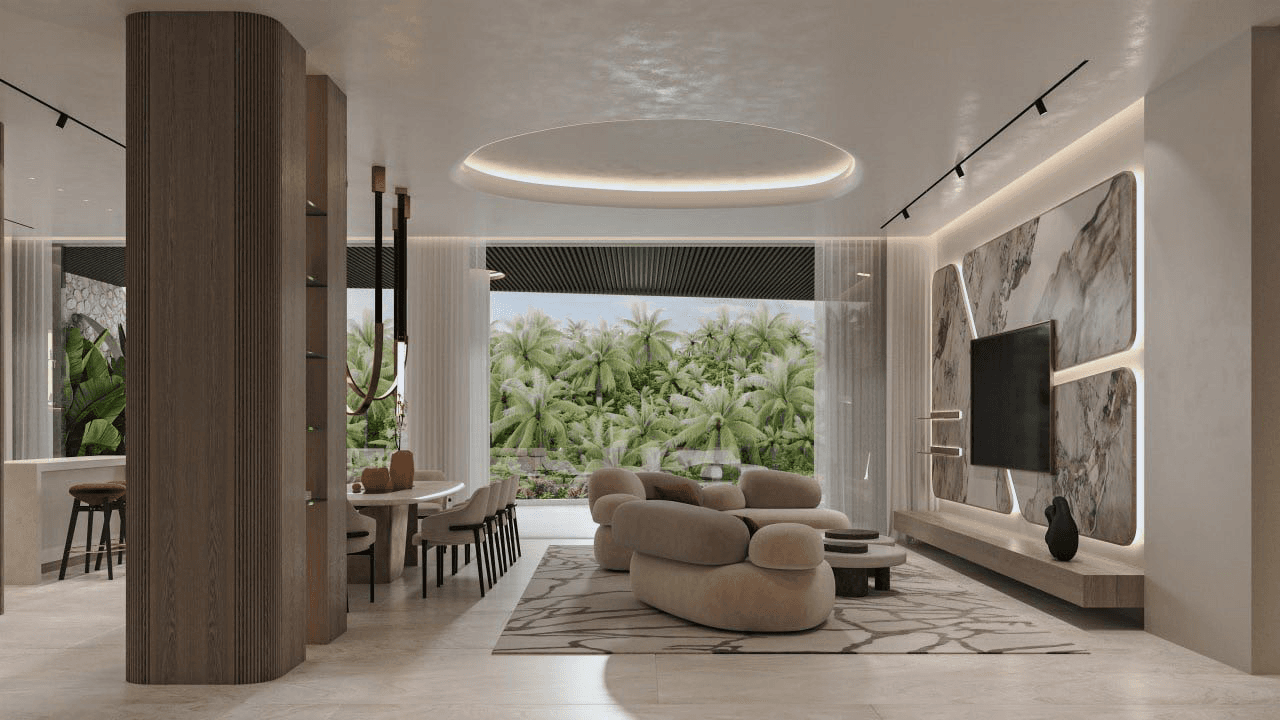 $720,000
Luxury 3 bedroom apartment with pool in Ubud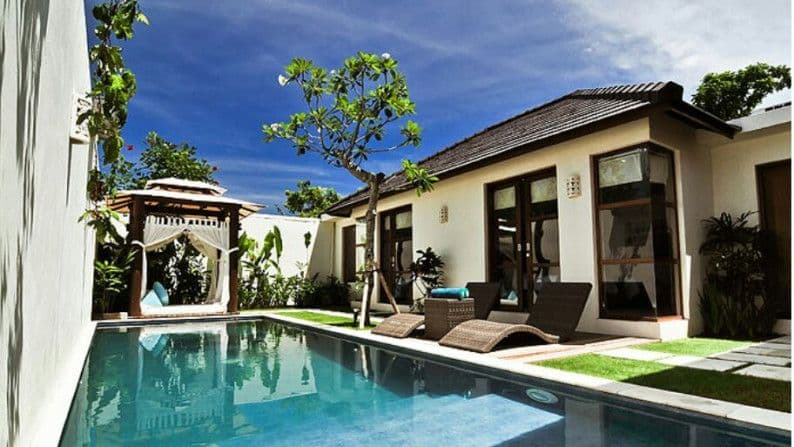 $220,000
Two bedroom villa in Seminyak 10 minutes from the beach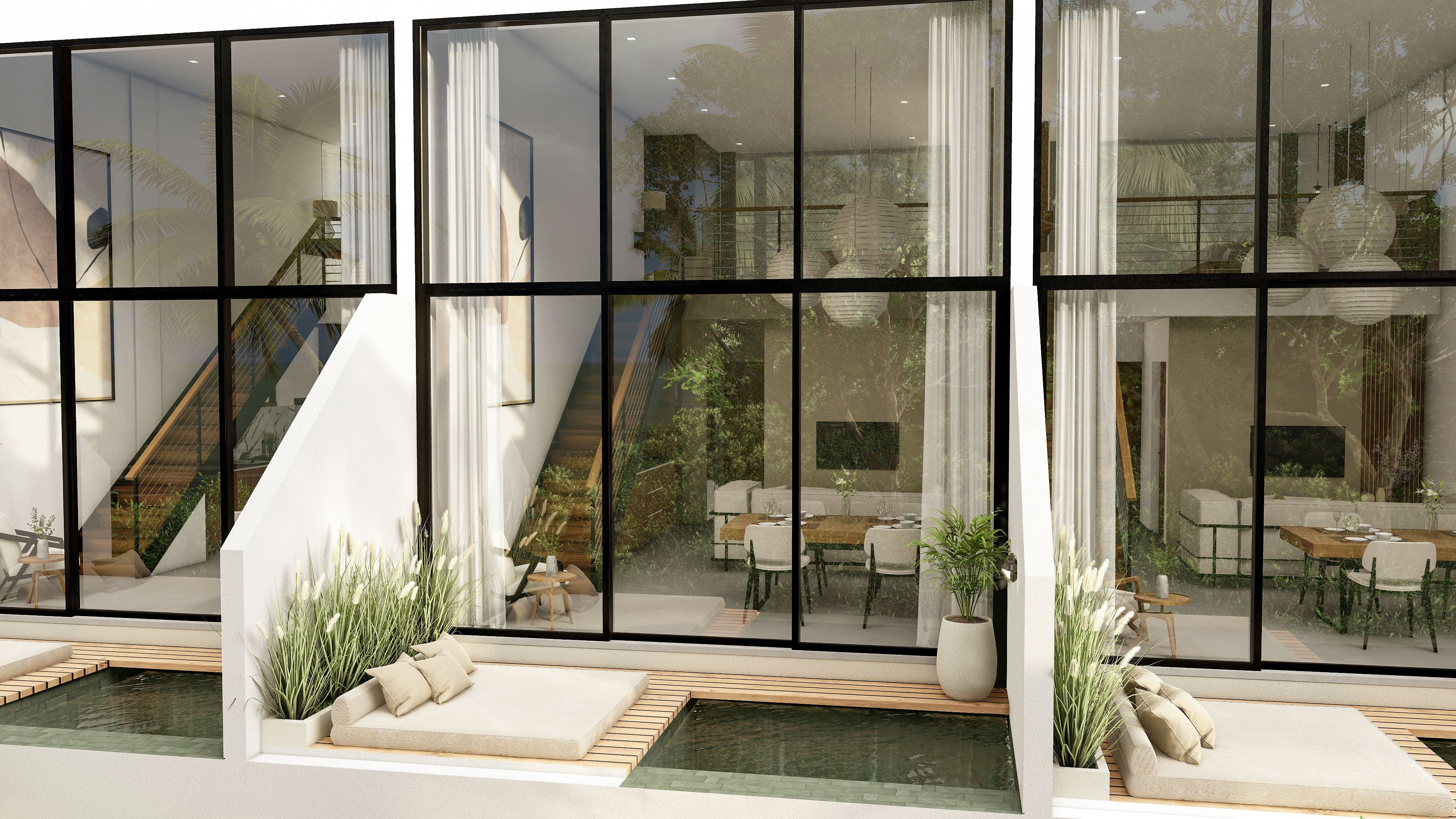 $175,000
Apartment with private pool in Chemagi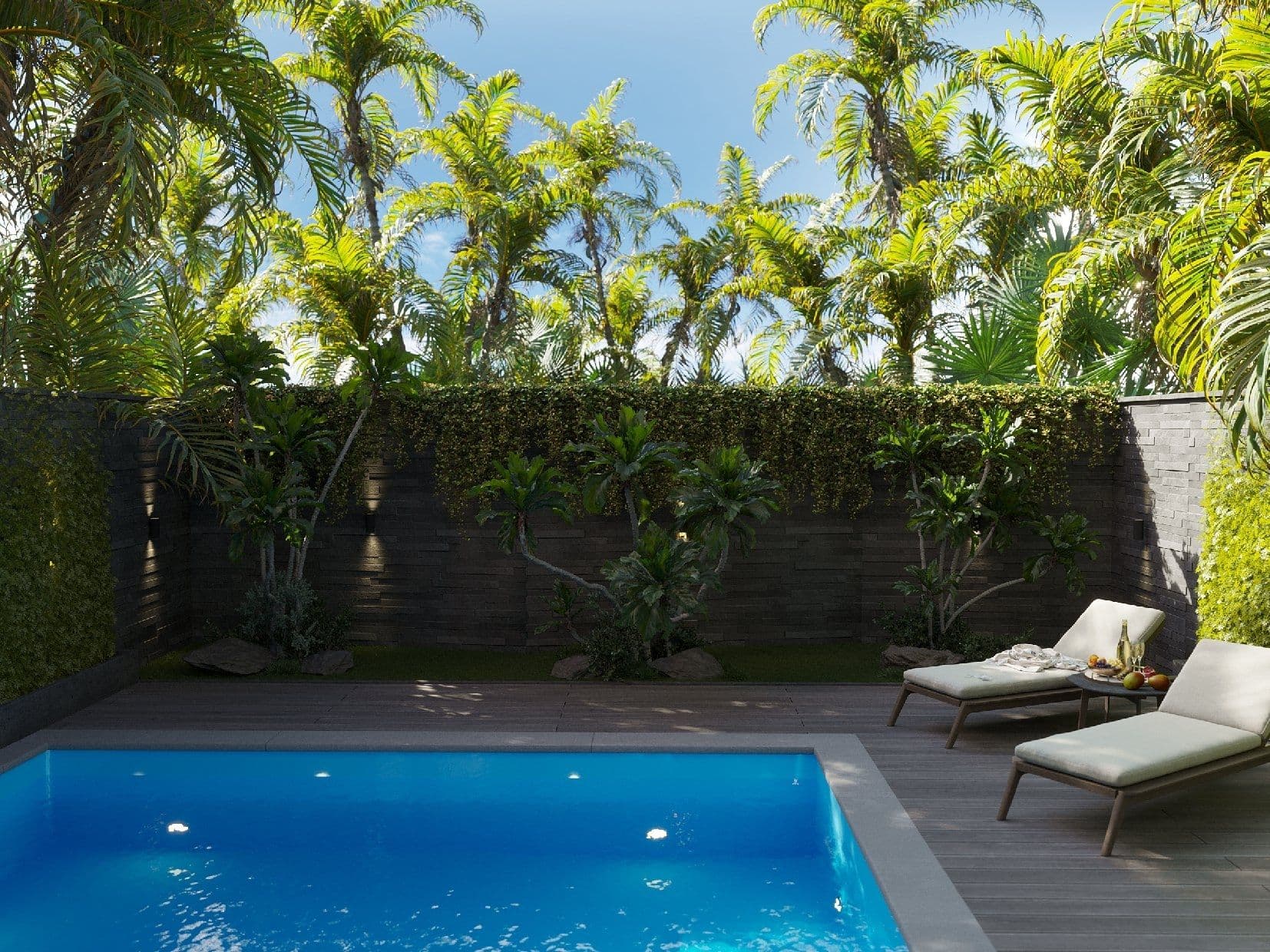 $550,000
Villa in Cemagi with a private path to the beach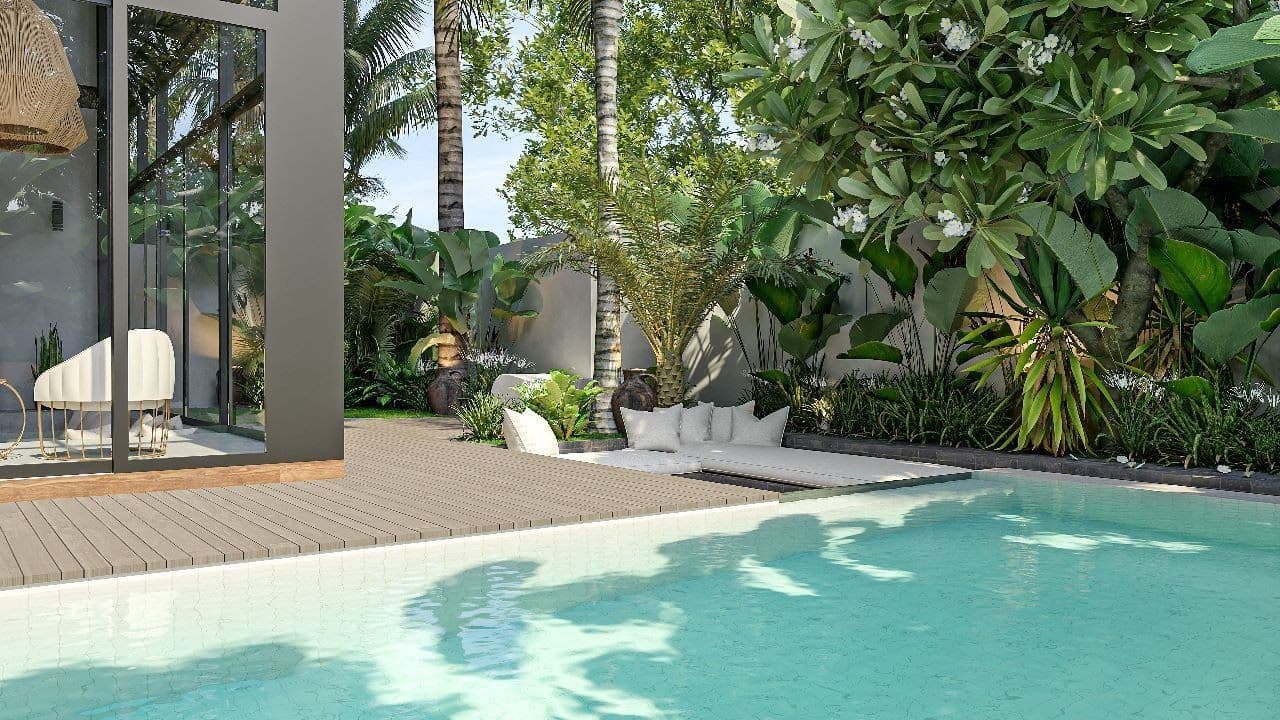 $650,000
3 bedroom villa within walking distance of the beach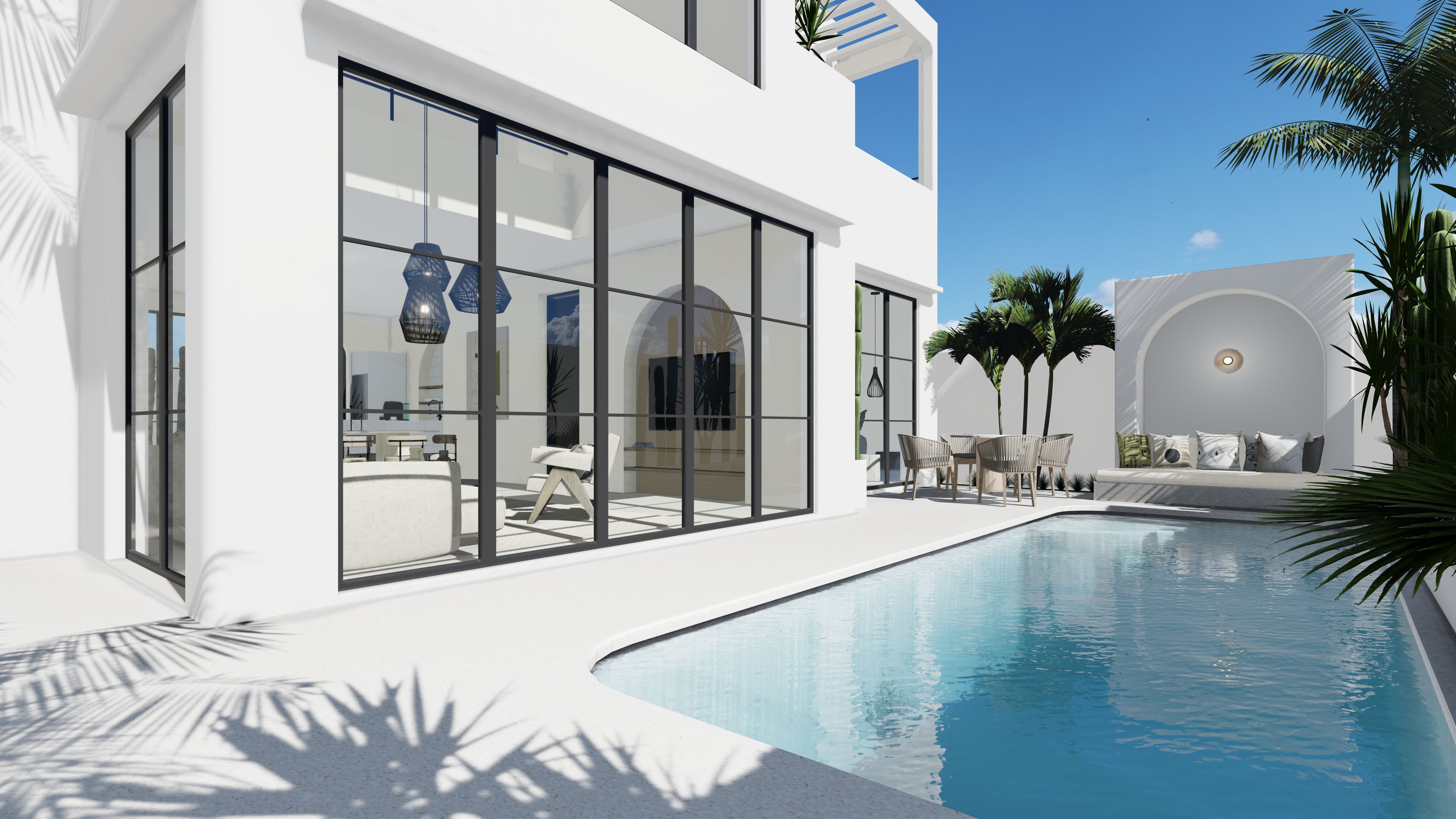 $330,000
Luxurious Villa 3 Bedroom in Umalas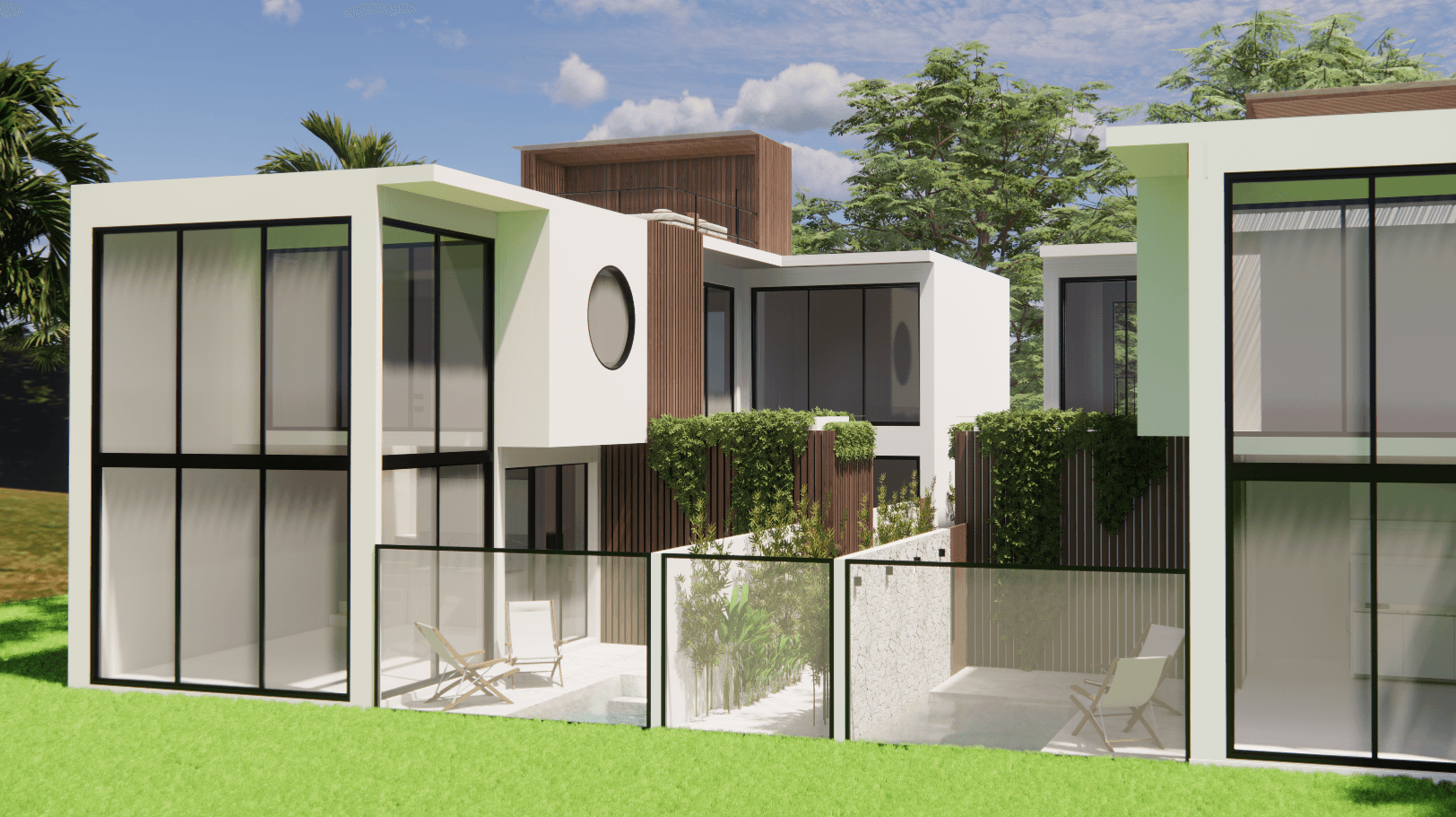 $175,000
Cozy 1 bedroom villa in Changu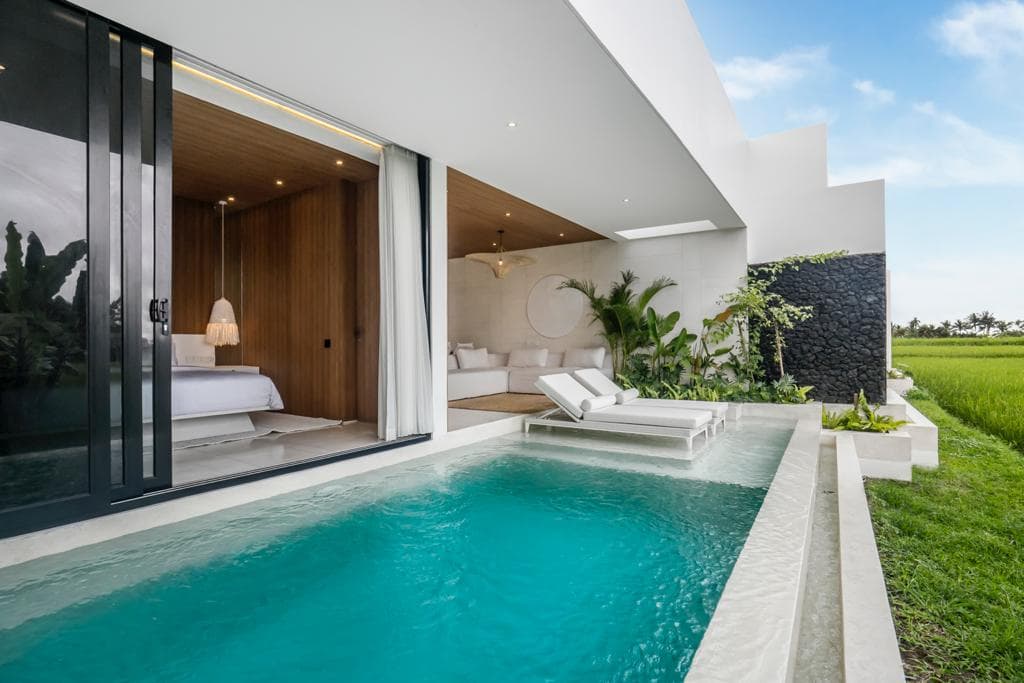 $199,000
Charming 1 bedroom villa in Ubud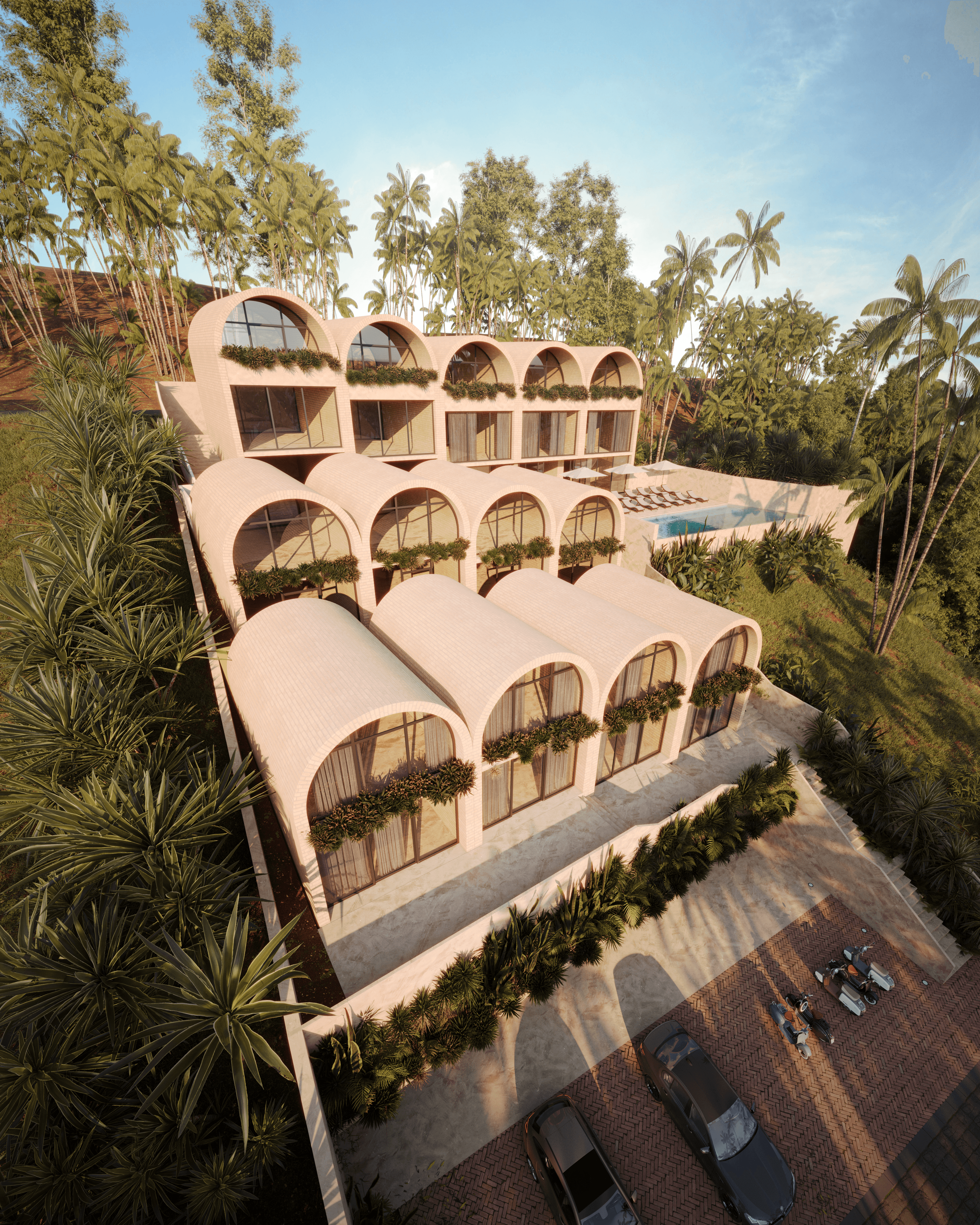 $320,000
2 Bedroom villa with ocean view in Uluwatu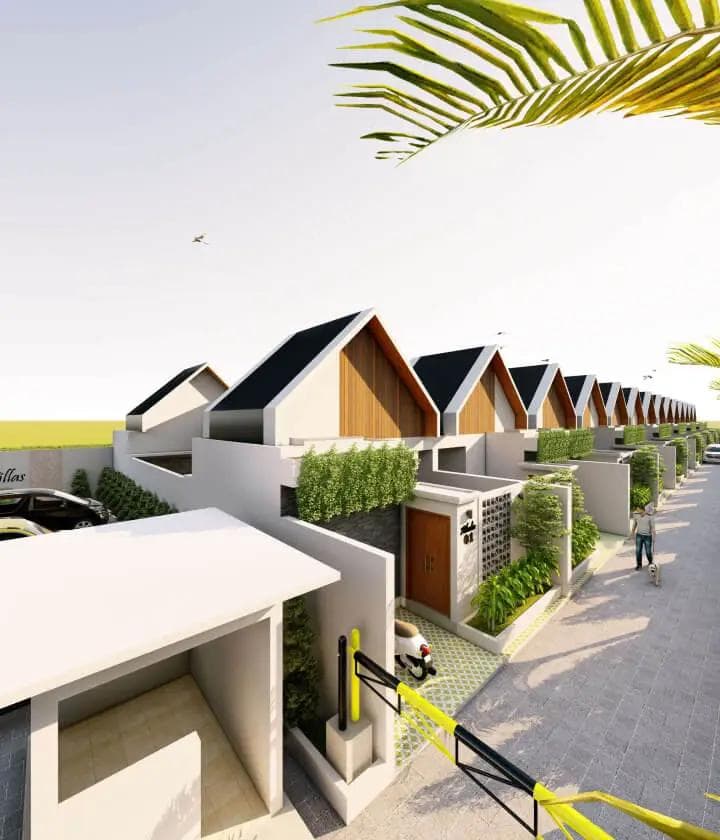 $88,000
Cozy 2 bedroom villa in Seminyak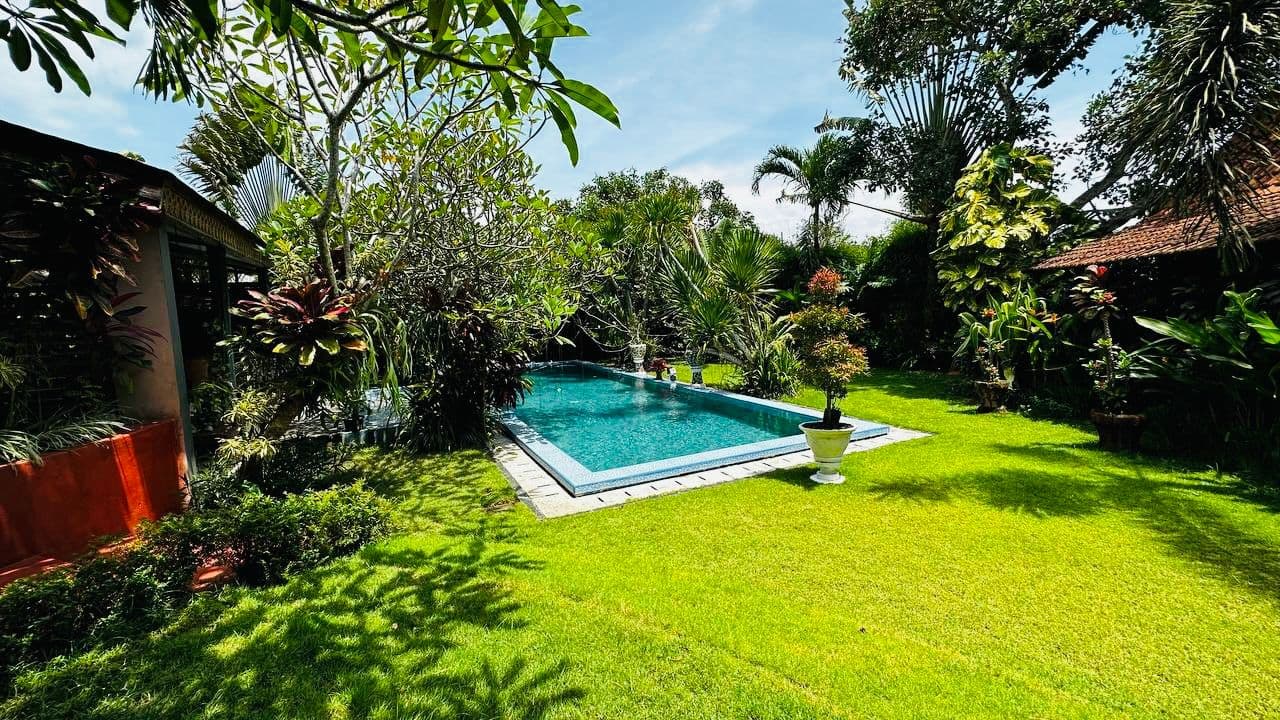 $450,000
Hospitable villa in a quiet location of Pererenan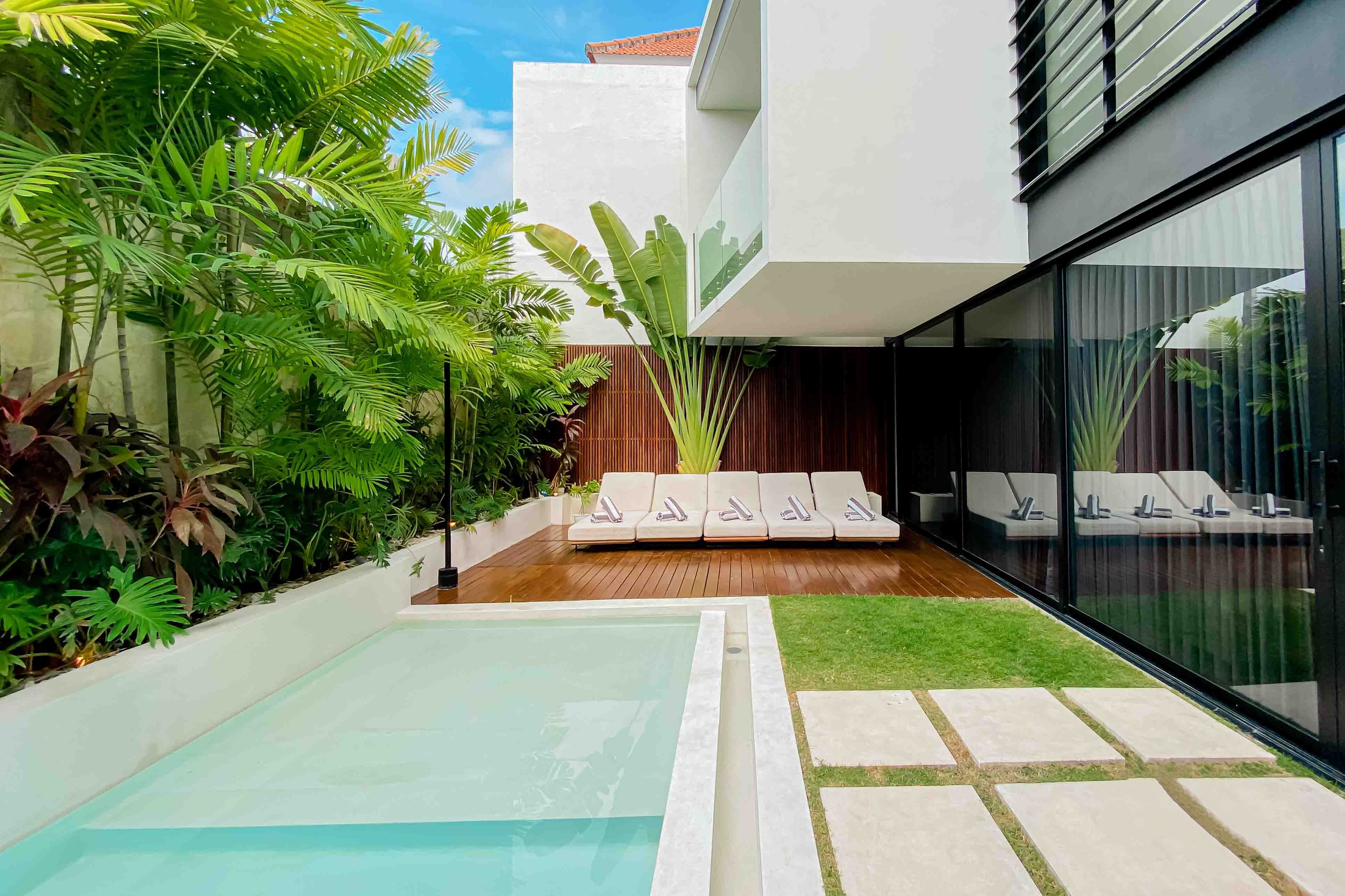 $1,150,000
4 Bedroom Villa in Canggu Superlocation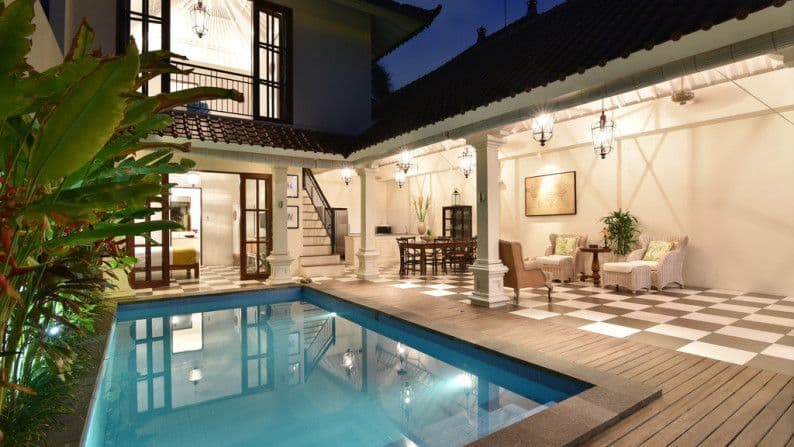 $298,000
Two bedroom villa in classic design in Seminyak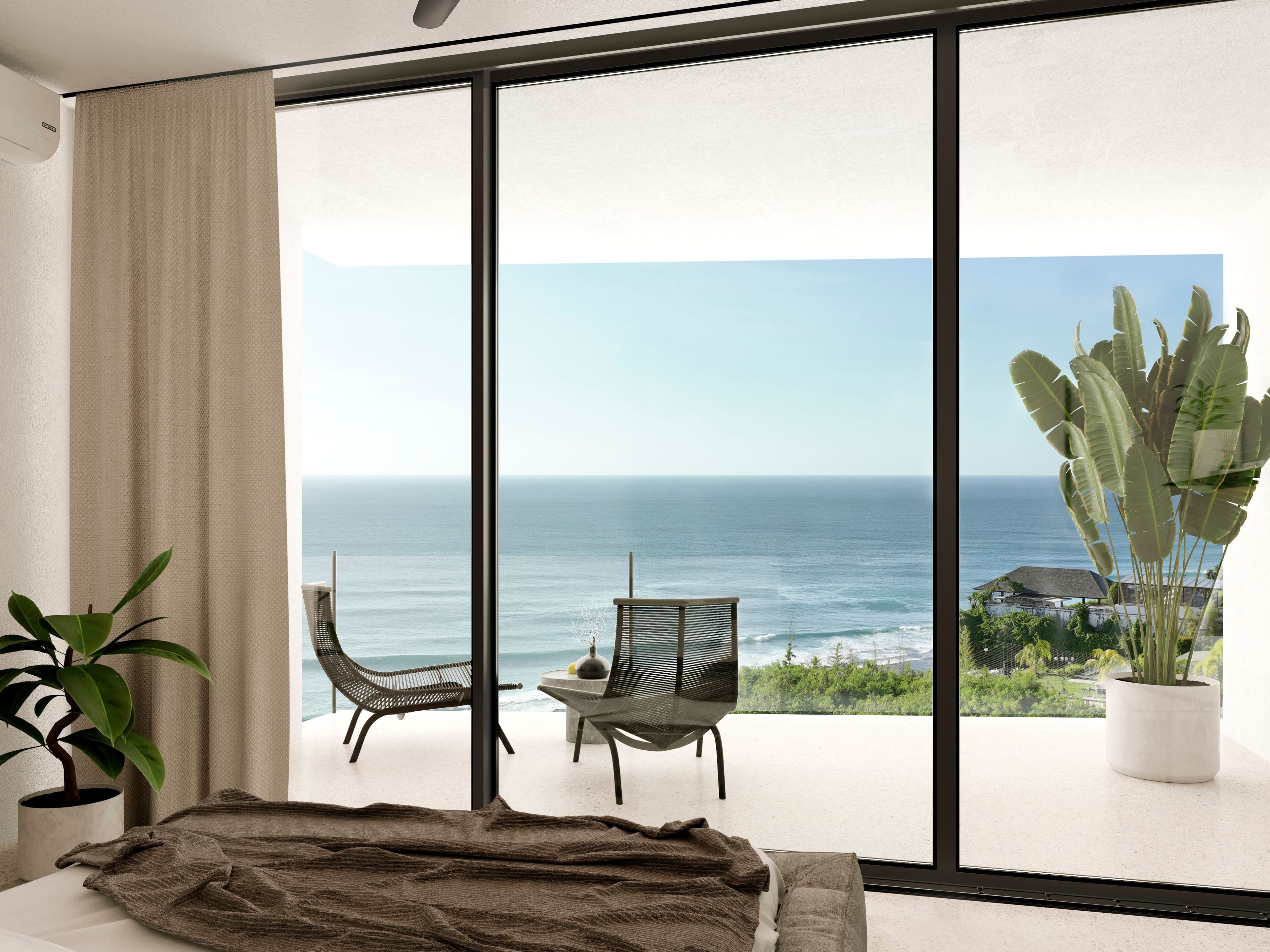 $138,998
Ocean View Apartments in Uluwatu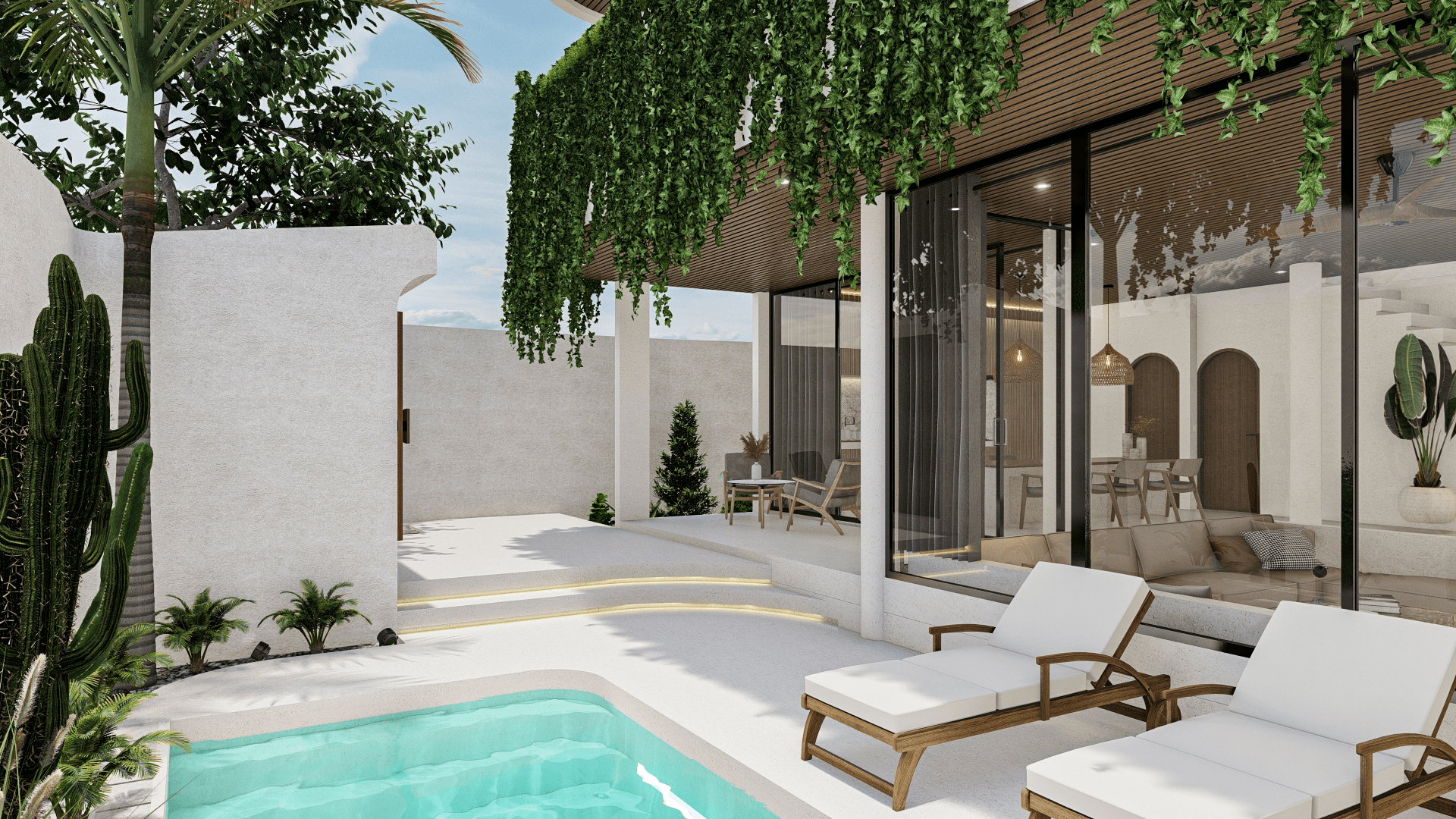 $349,000
Mediterranean style villa with 2 bedrooms in Cemagi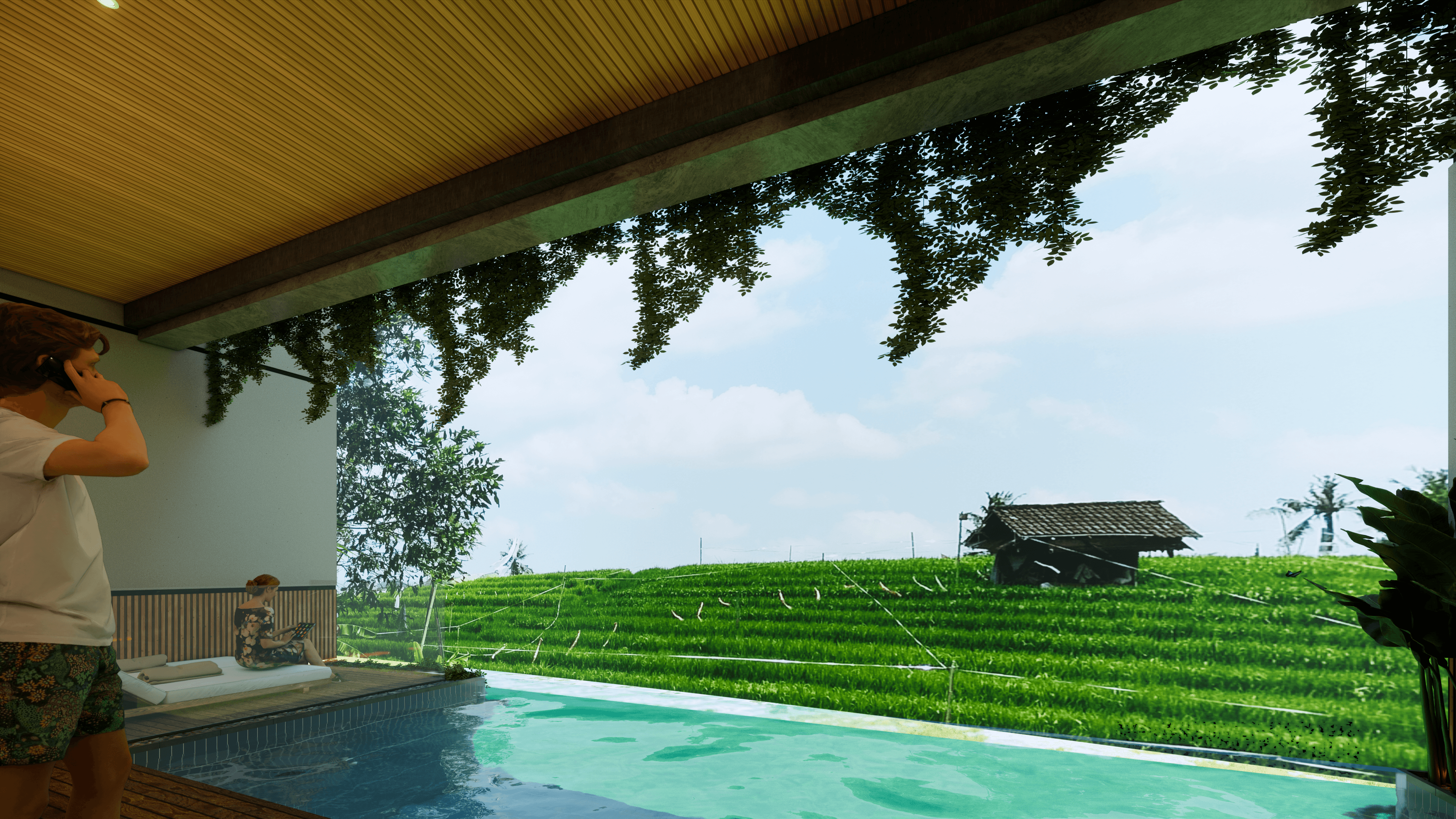 $320,000
3 Bedroom Villa with Rice Field View in Canggu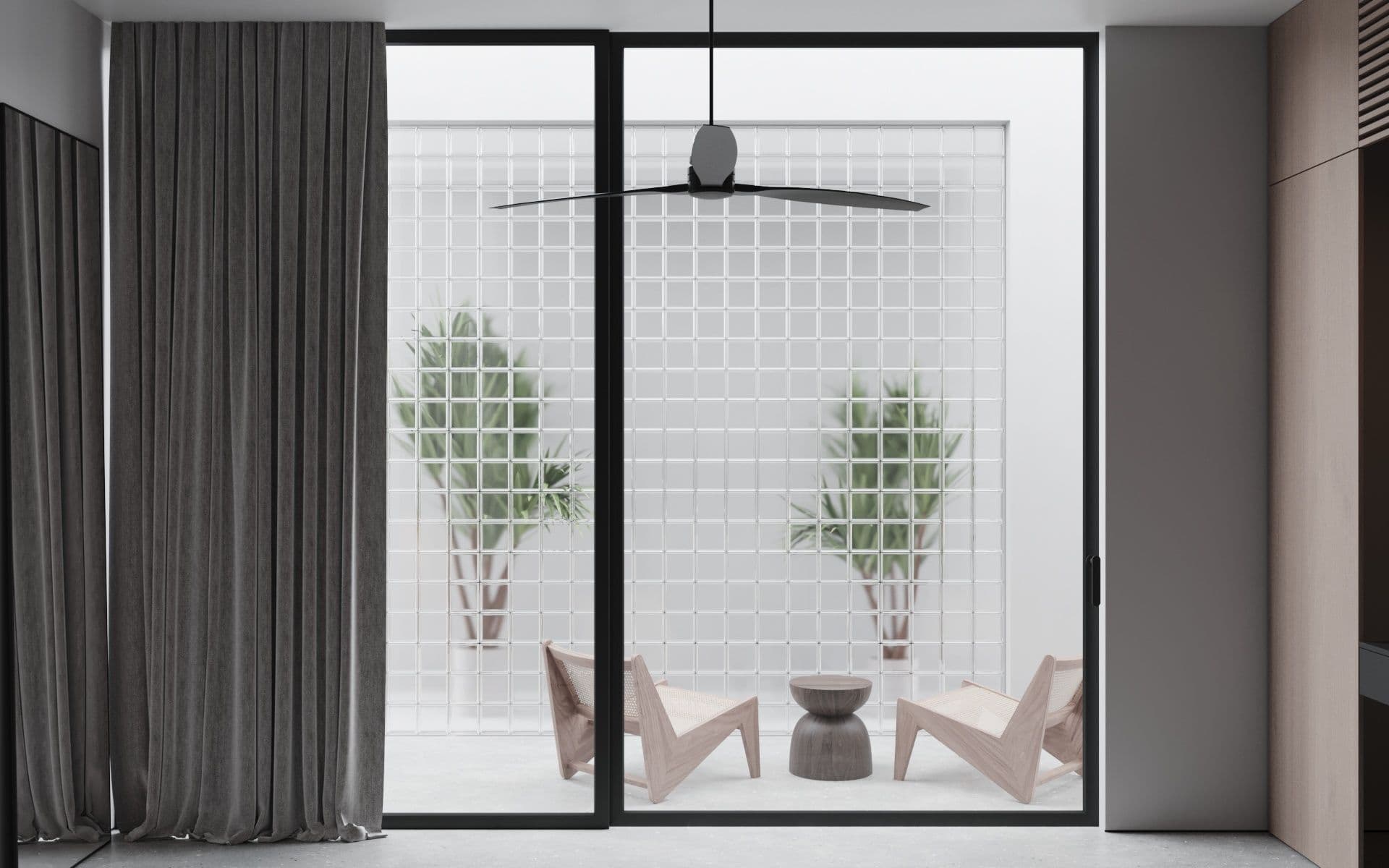 $250,000
High tech 2 bedroom villa in Uluwatu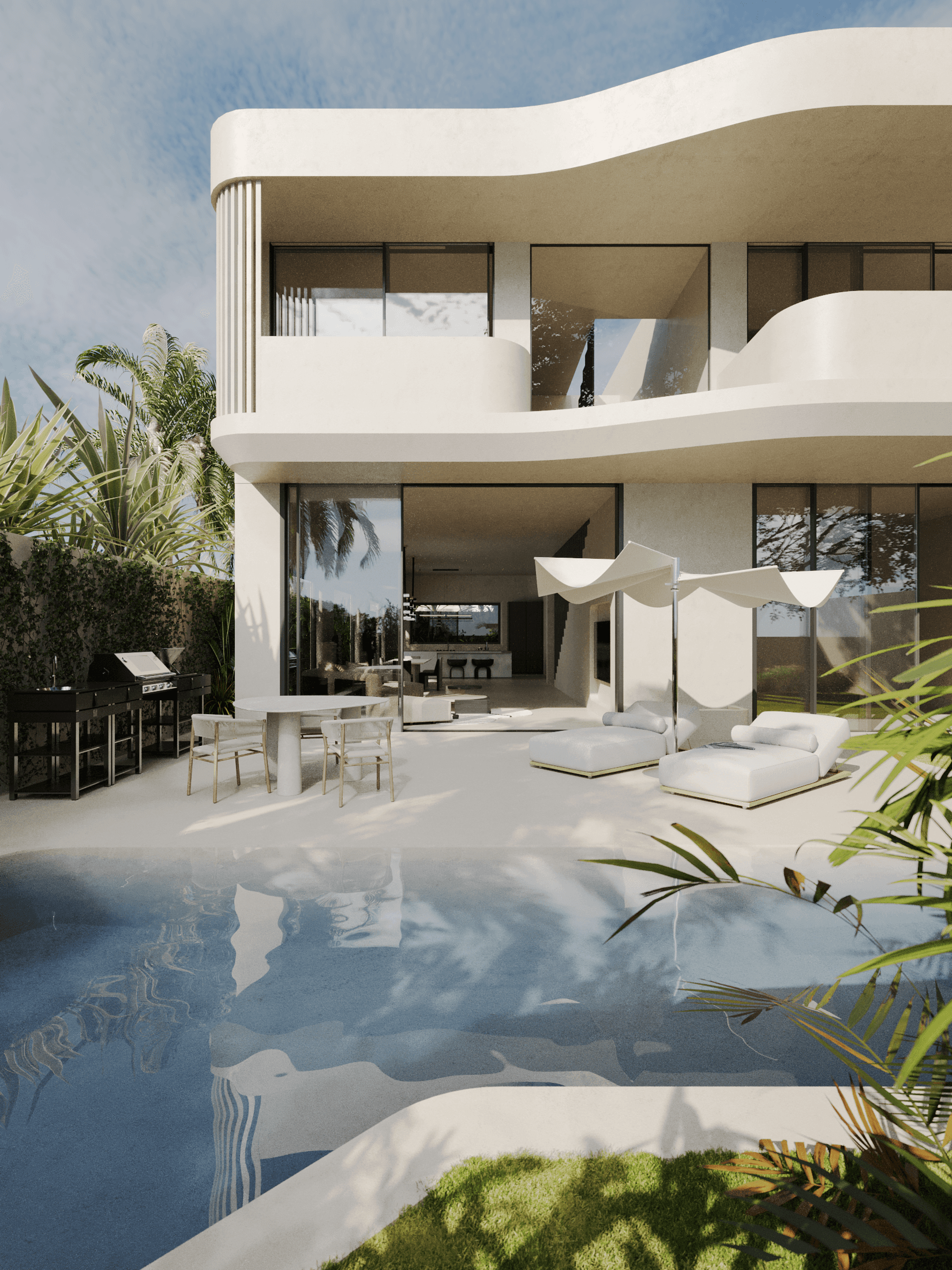 $1,150,000
Luxury 4 bedroom villa in Pererenan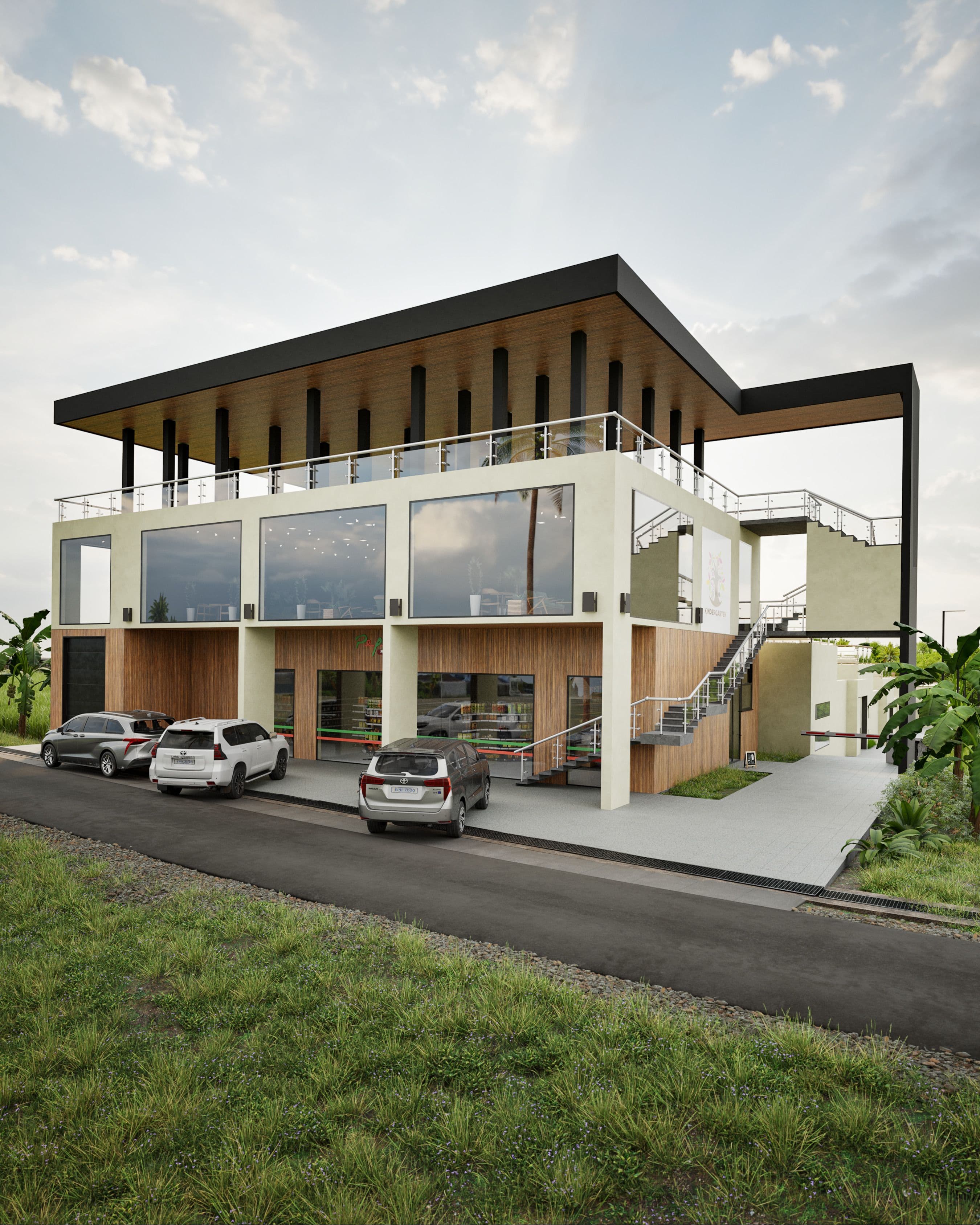 $300,000
3 Bedroom villa in rice fields in Pererenan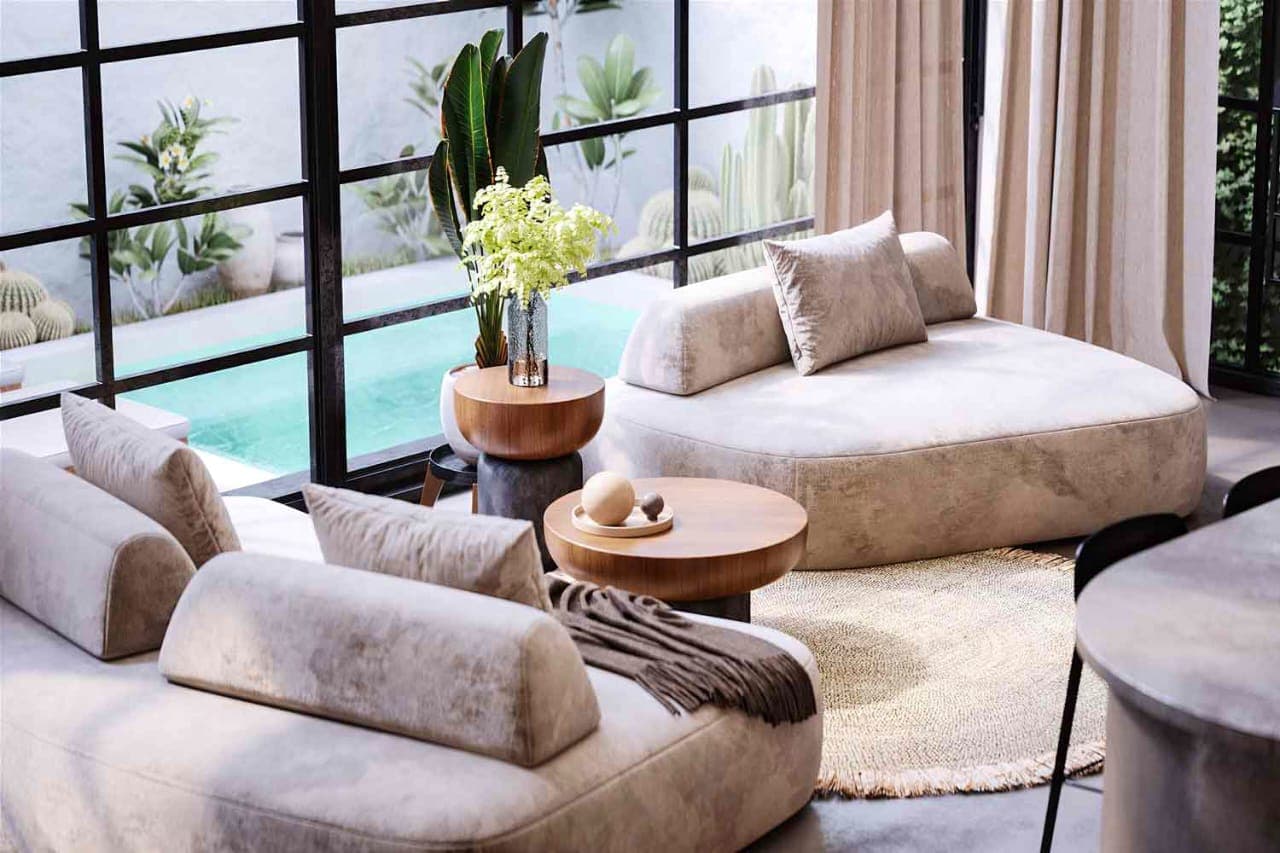 $327,500
Villa with 41 years leasehold in Uluwatu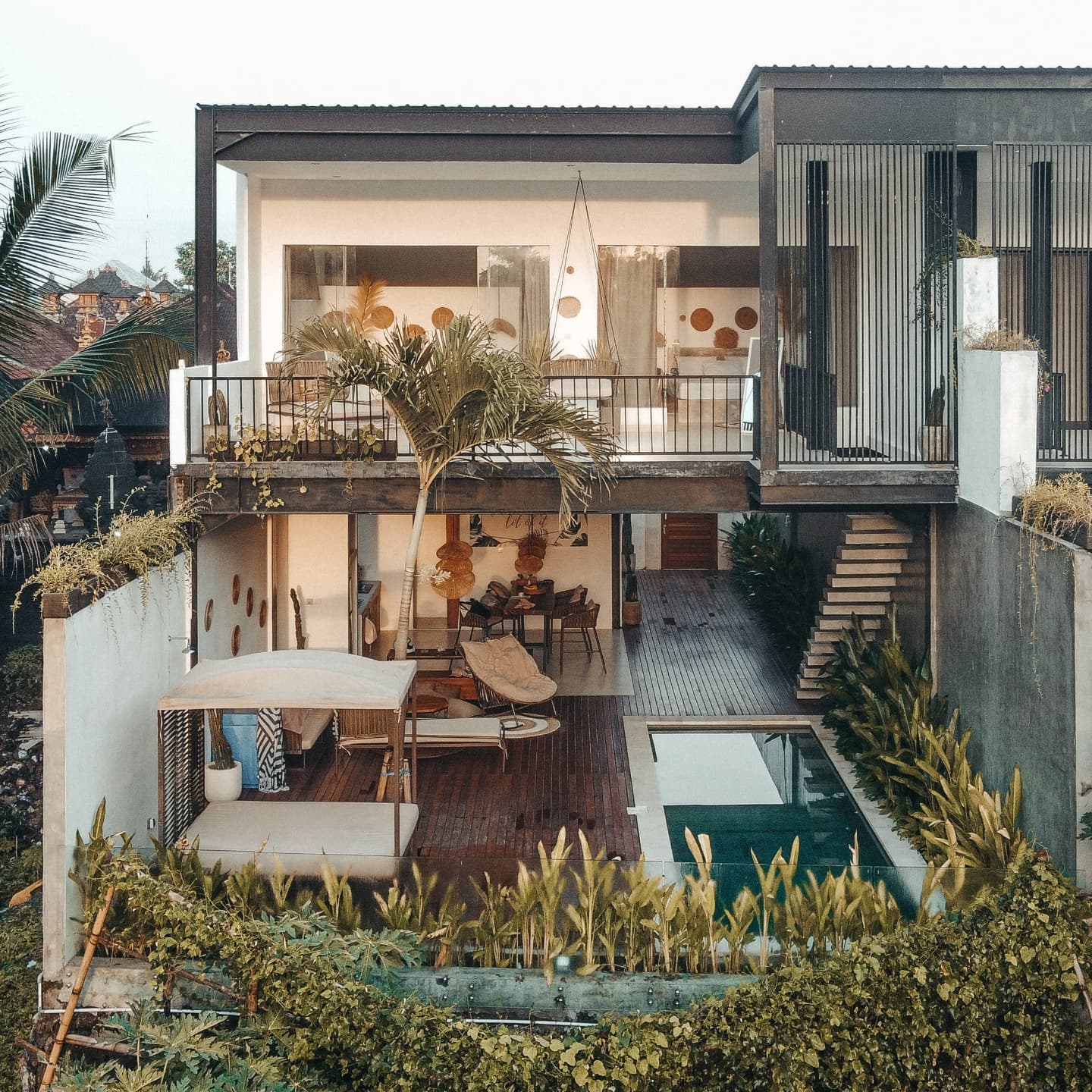 $290,000
Tropical Riverside Villa in Tumbak Bayuh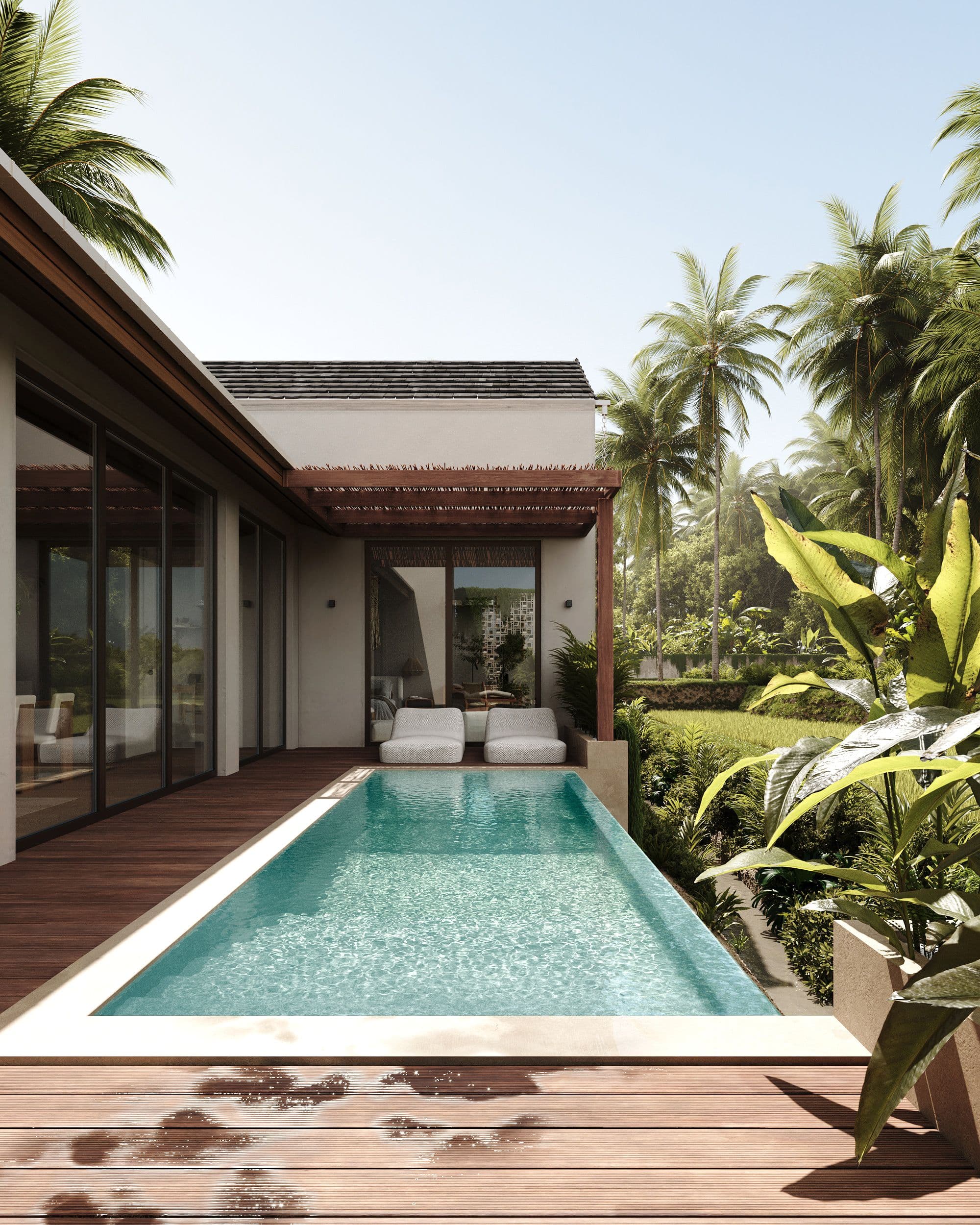 $310,000
2 bedroom villa in harmonious design in Ubud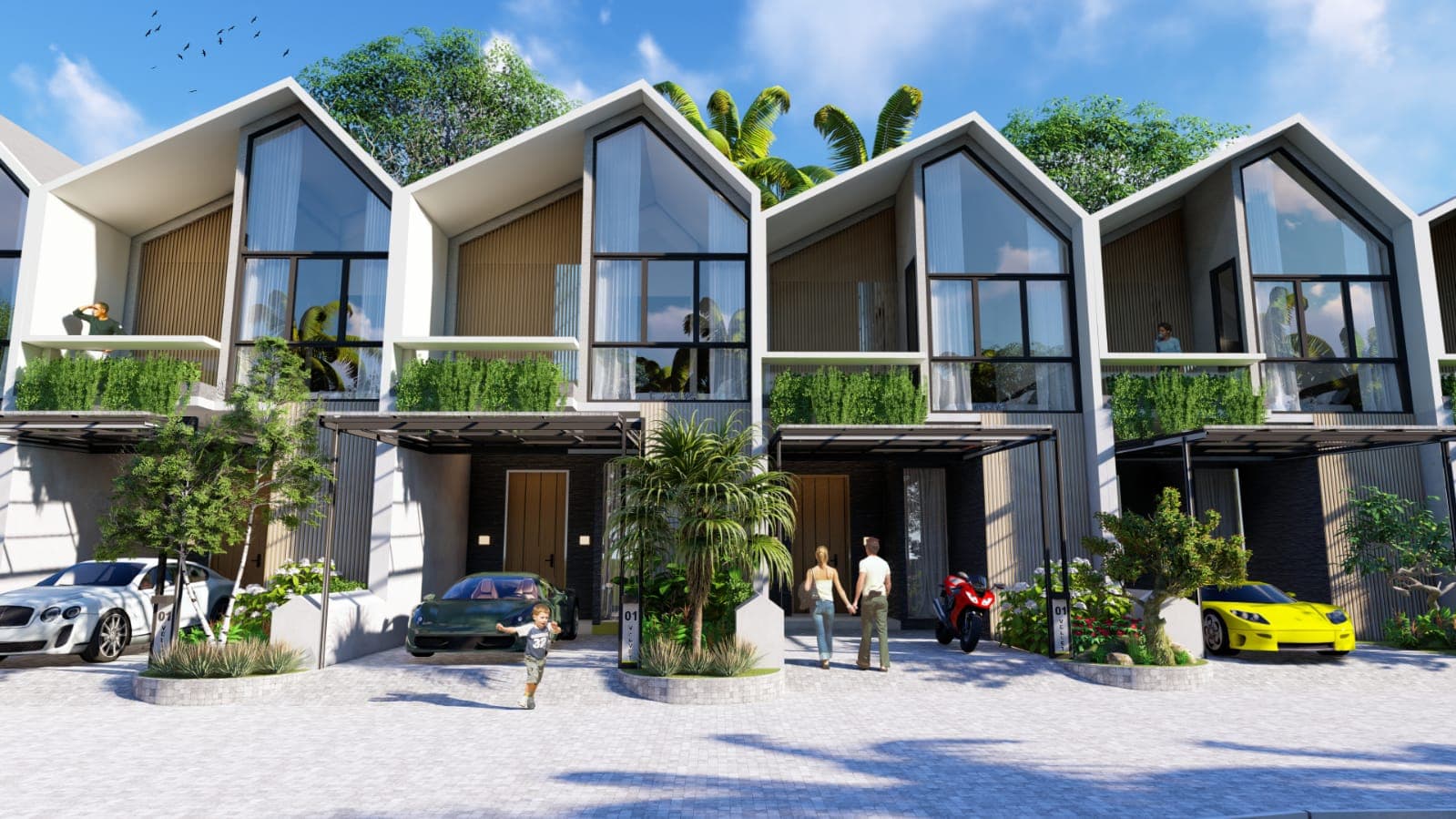 $184,000
3 bedroom villa in Seminyak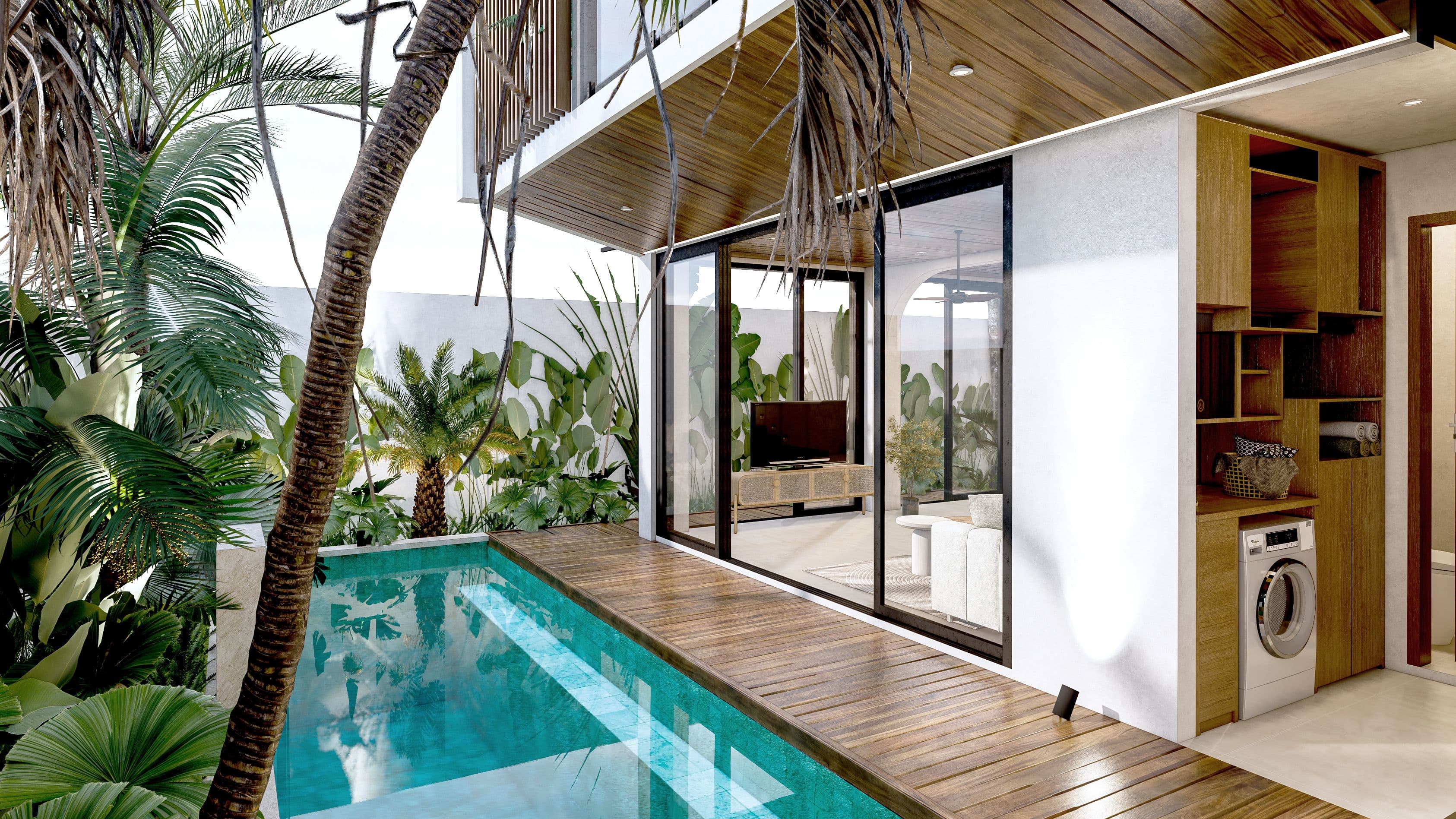 $126,000
Cozy 2 bedroom villa in Umalas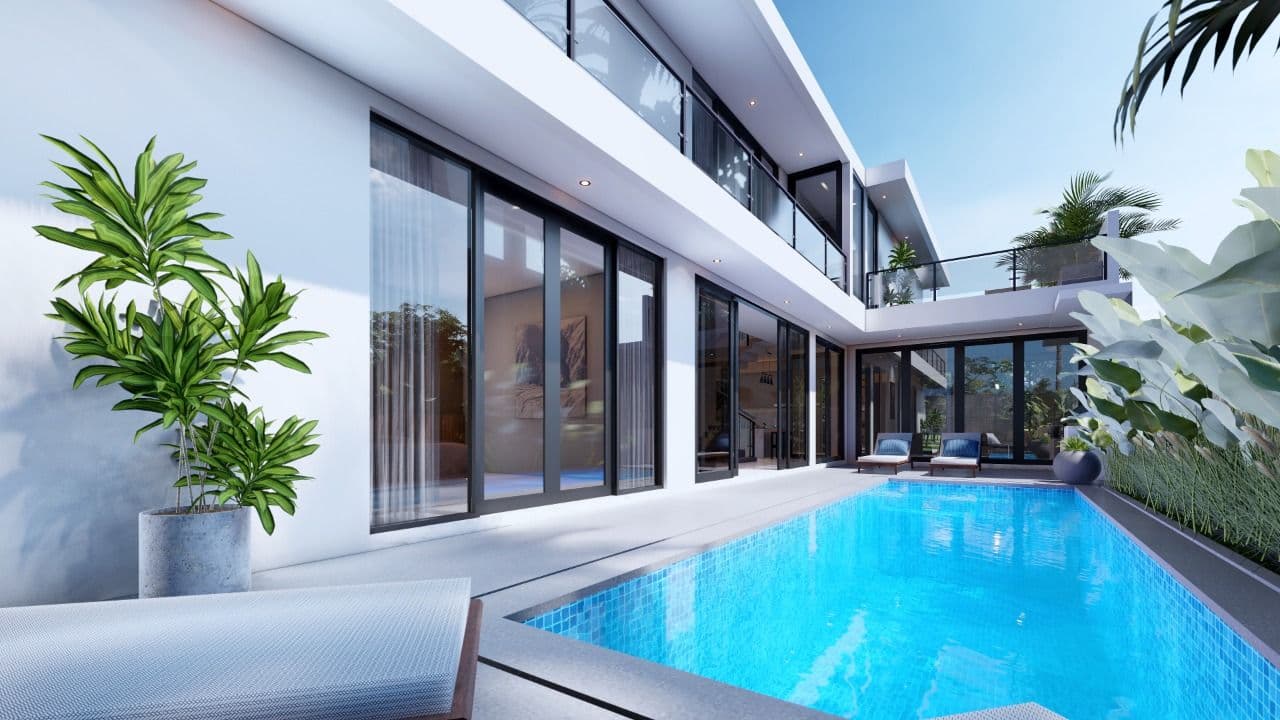 $240,000
3 Bedroom Villa by Balangan Beach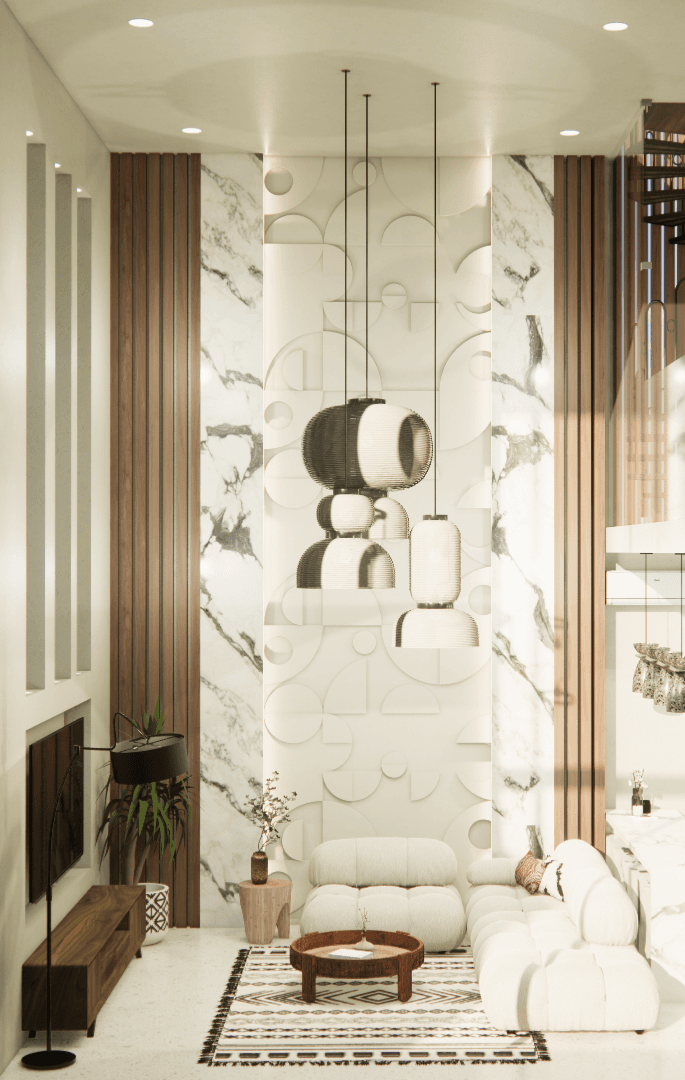 $269,000
2 bedroom villa with a rooftop in Changu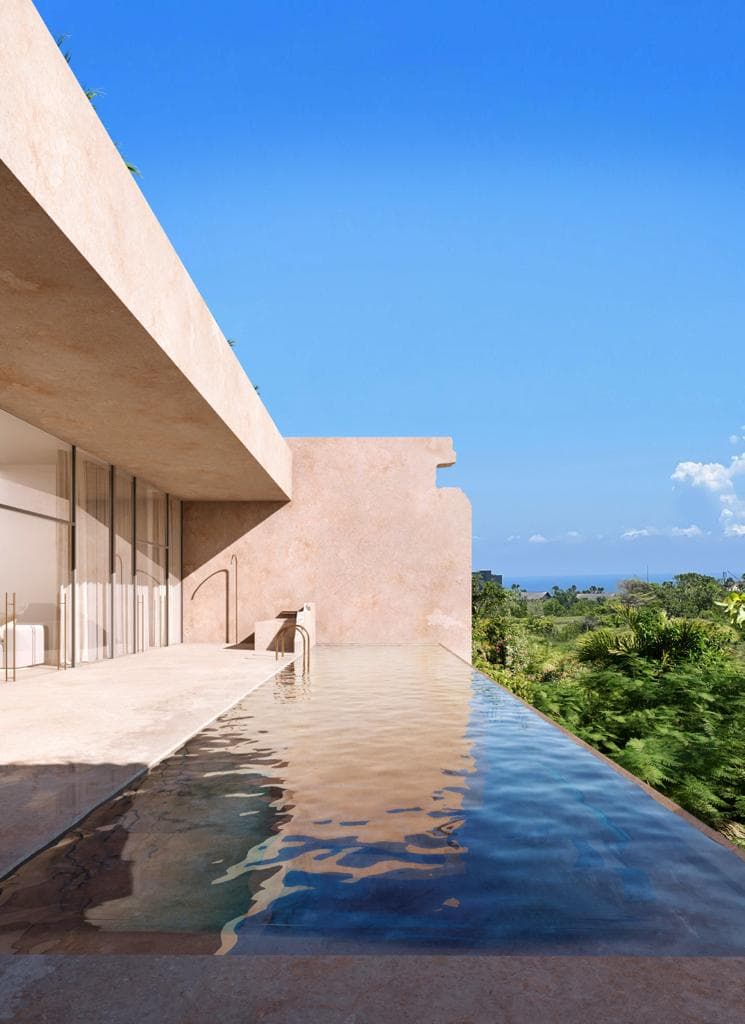 $397,000
Panoramic villa on the most instagram coast of Bali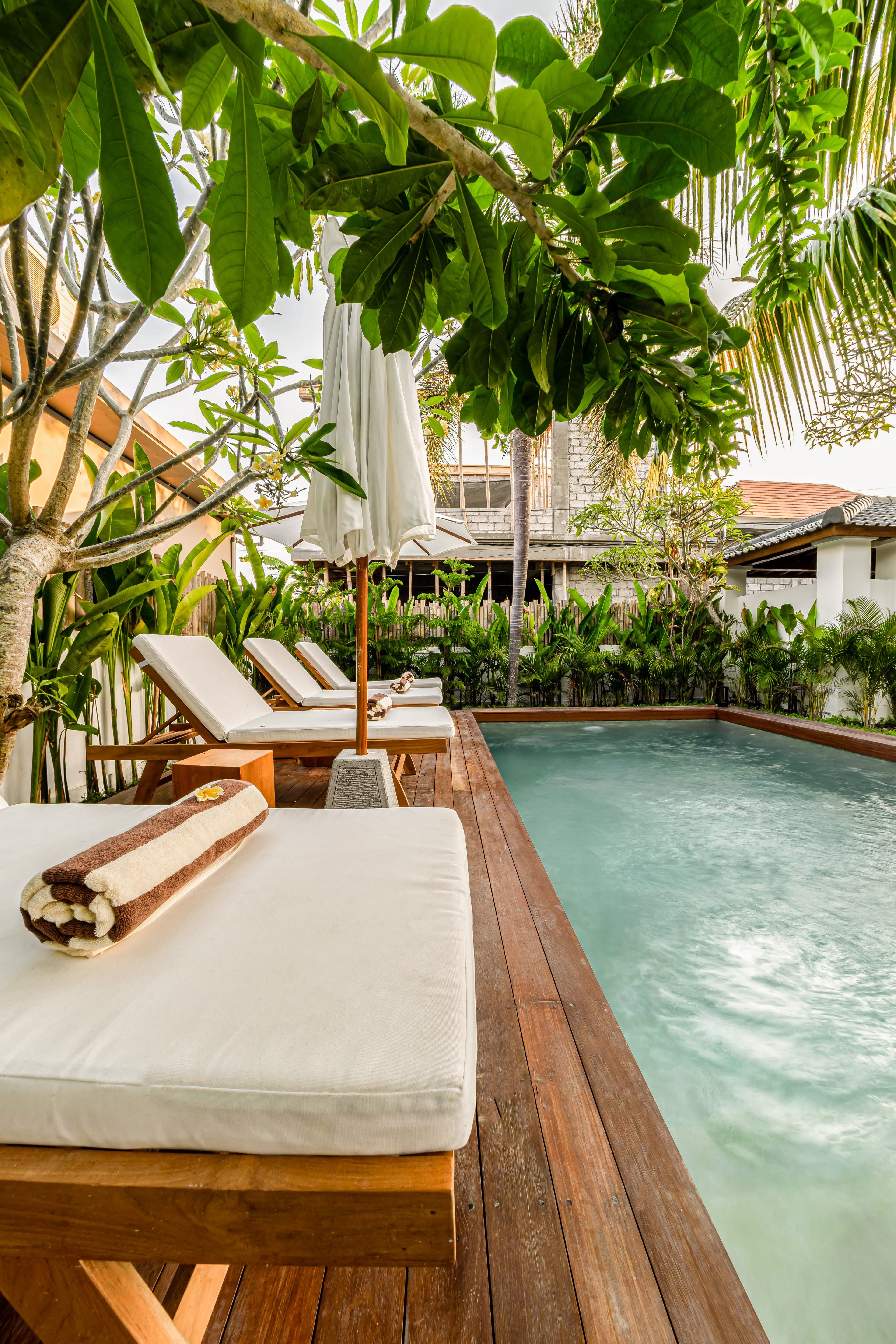 $265,000
Cozy ready-to-live villa in Ubud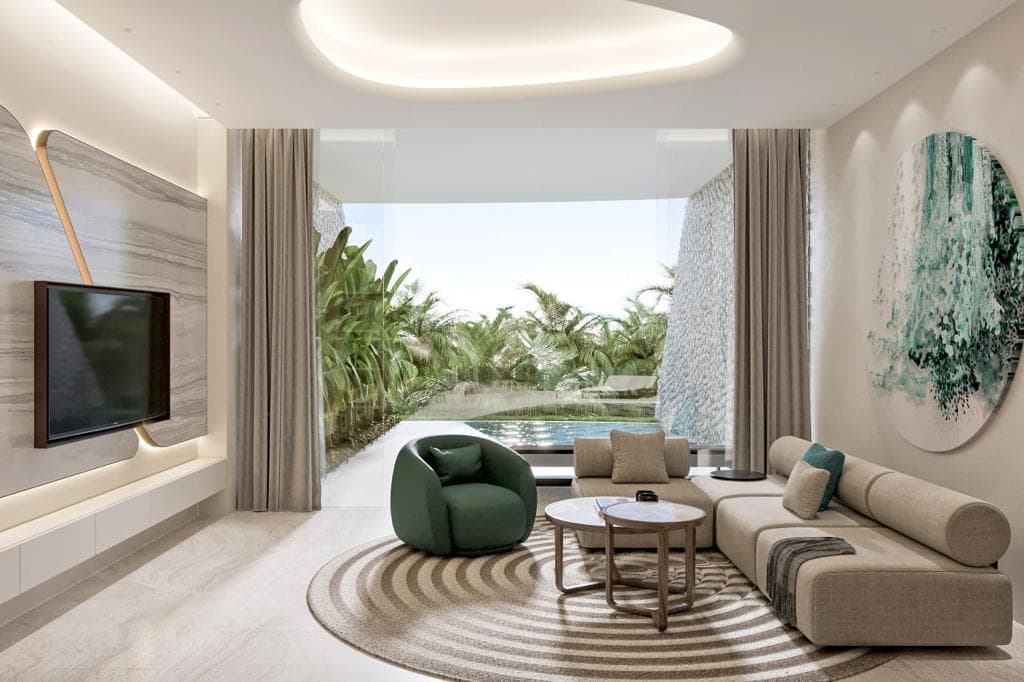 $380,000
Cozy apartment with private pool in Ubud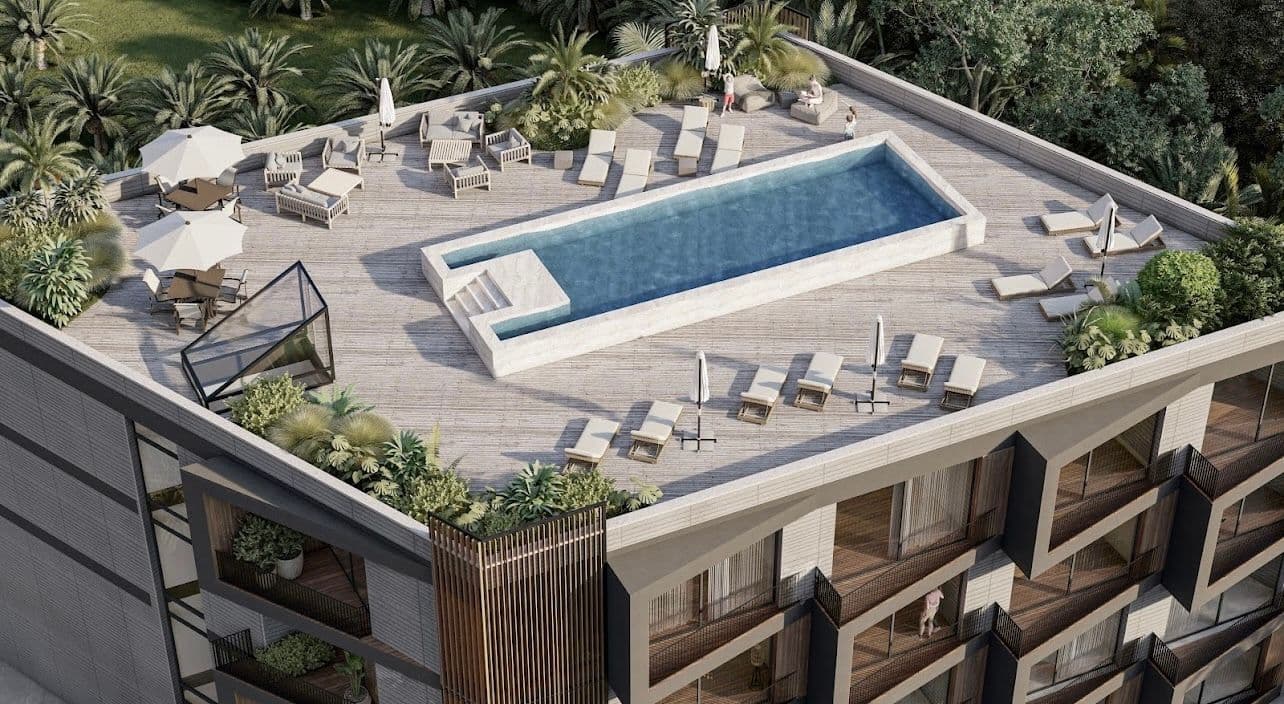 $130,000
Ultra-modern apartments in Canggu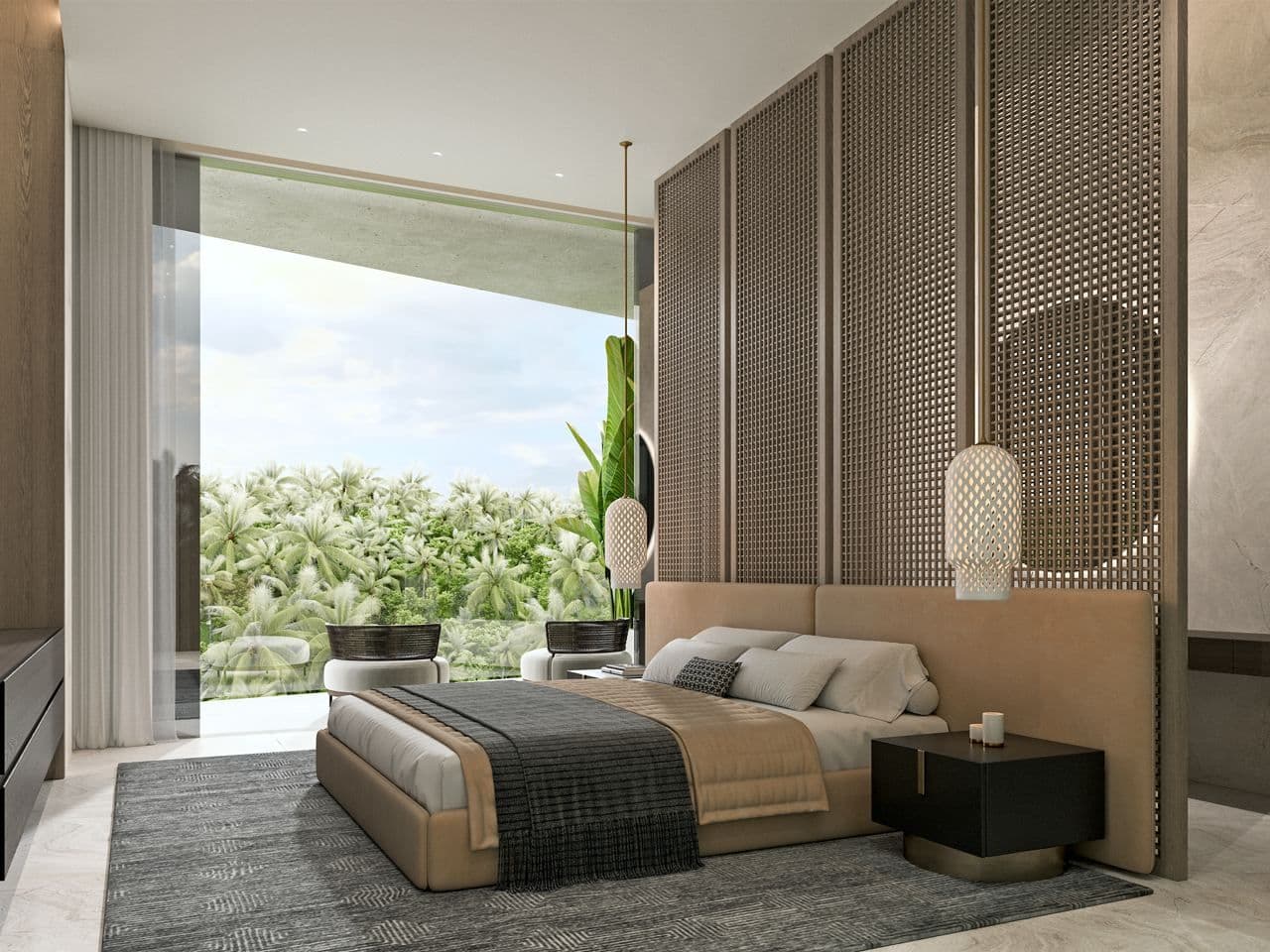 $560,000
Cozy 2 bedroom apartment with pool in Ubud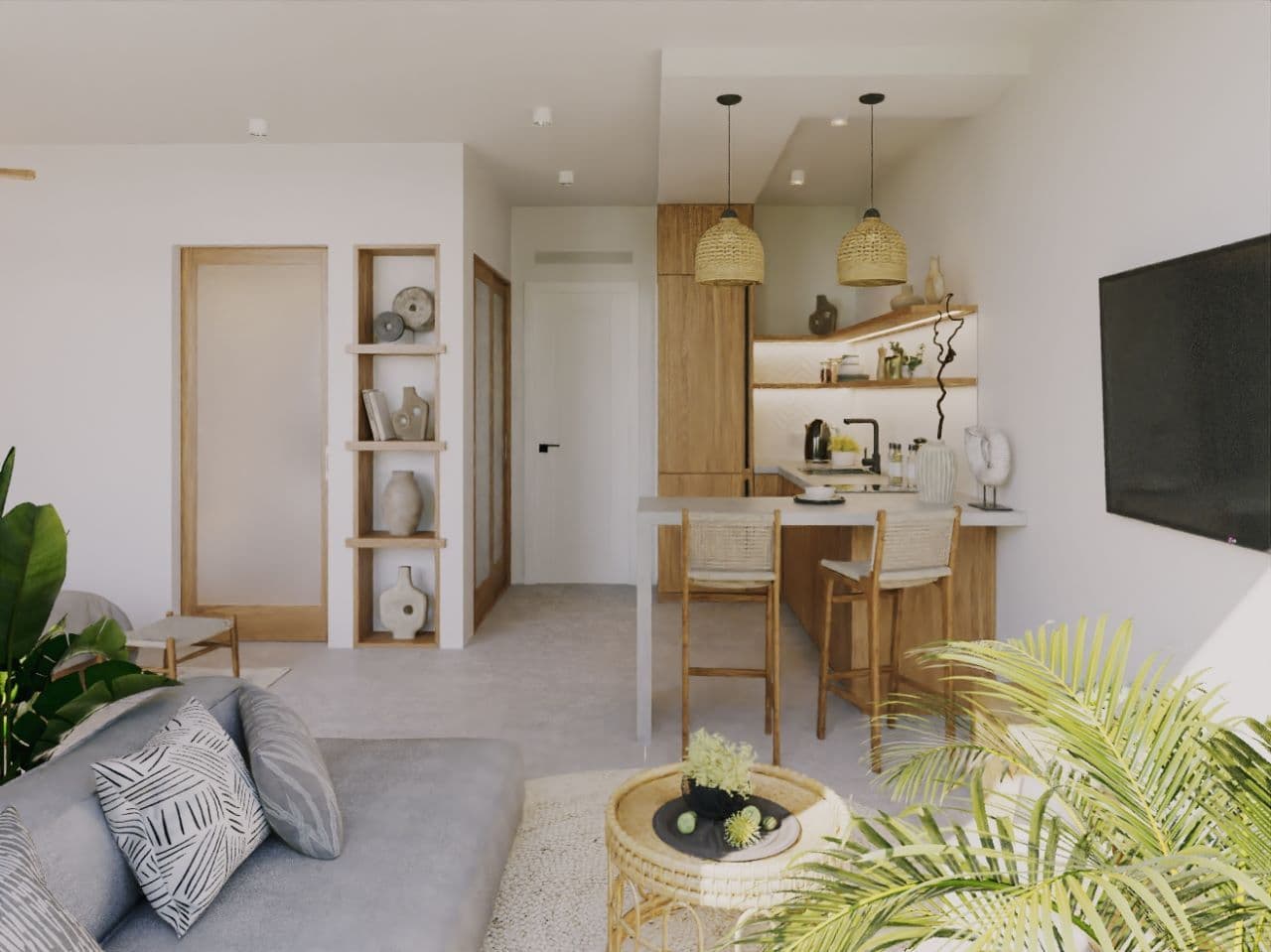 $180,000
Apartment 4 minutes from Batu Bolong Beach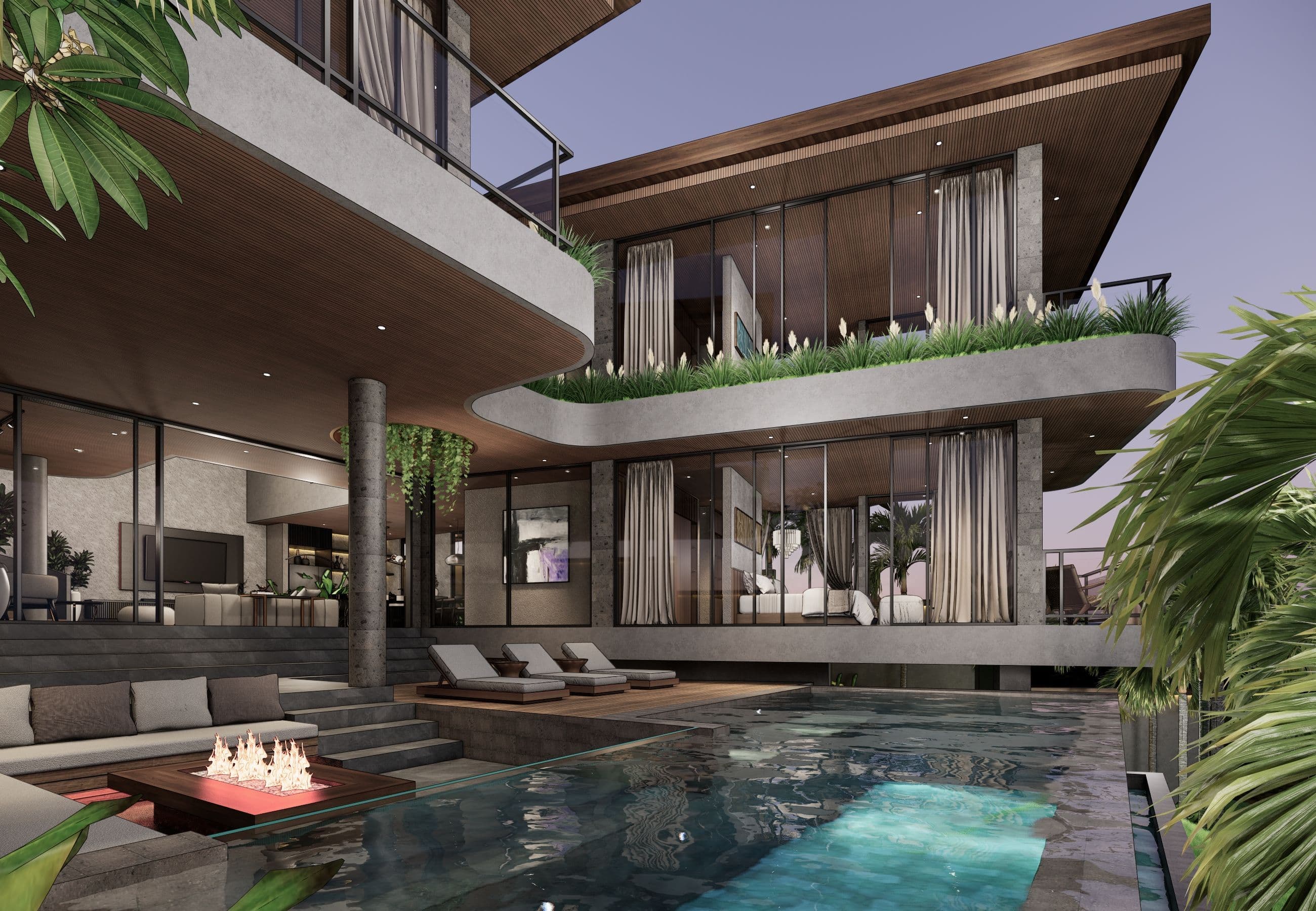 $535,000
3 bedroom luxury villa 5 minutes from the center of Ubud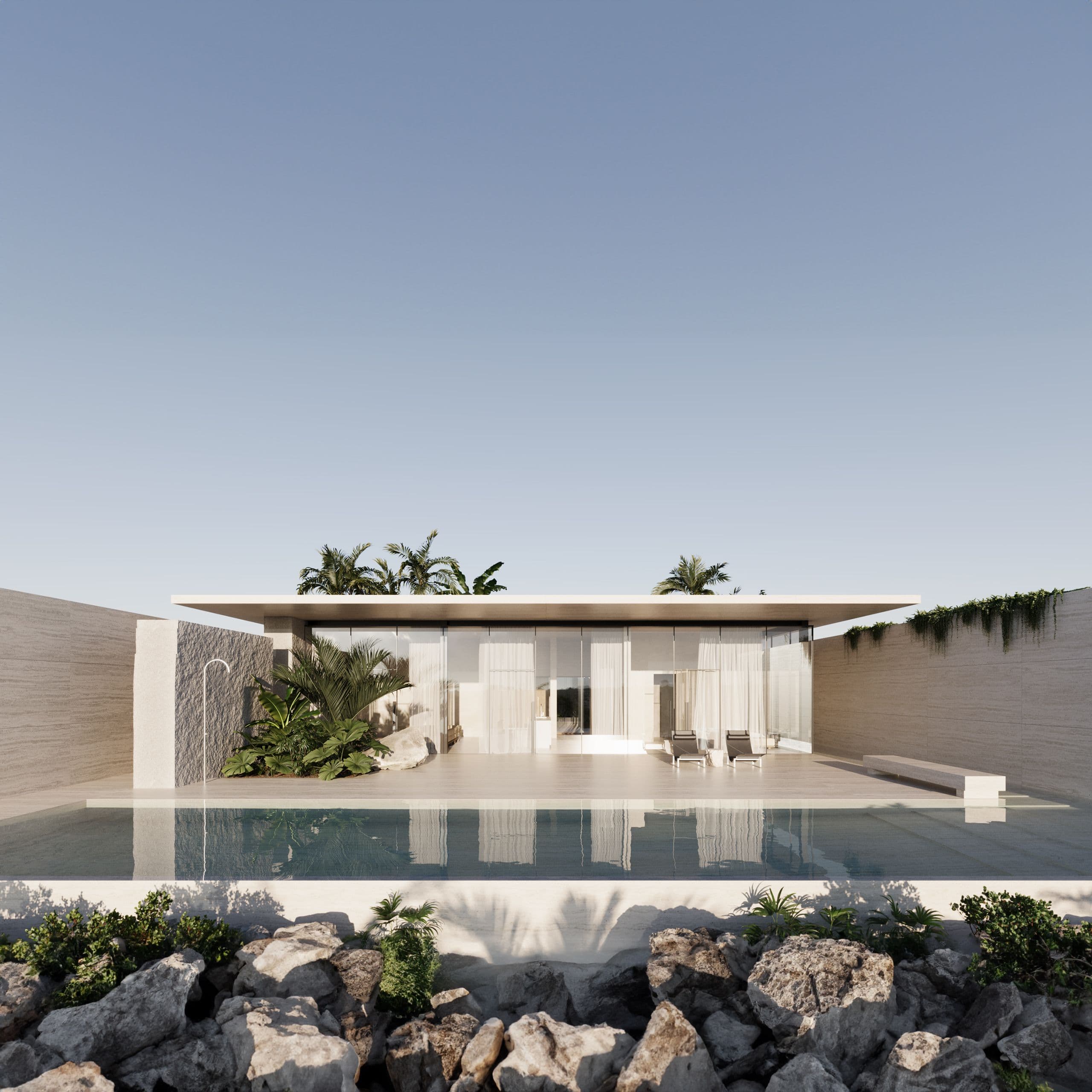 $612,000
Luxury villas with pool and ocean view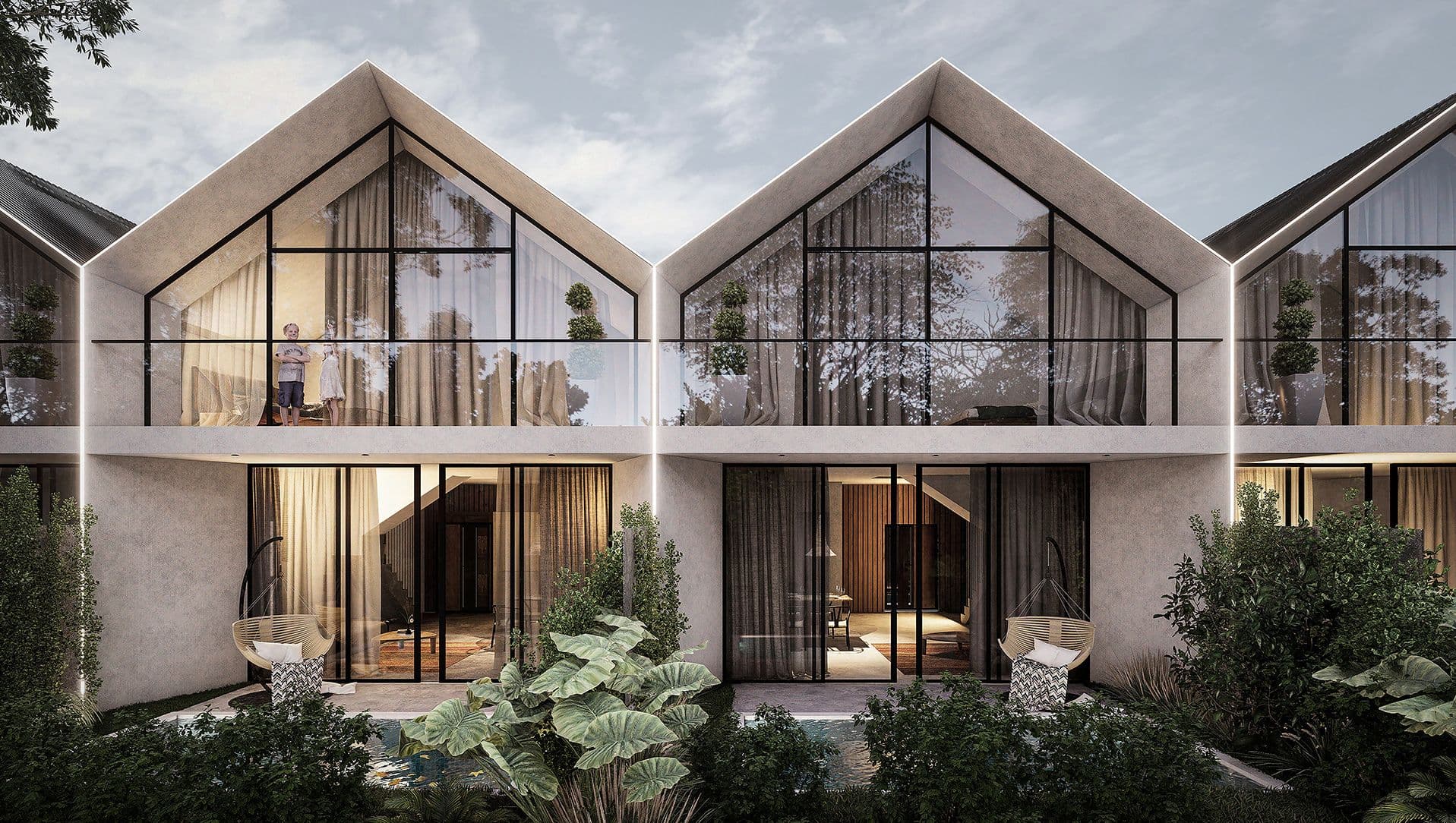 $260,000
Stylish villa in quiet location of Umalas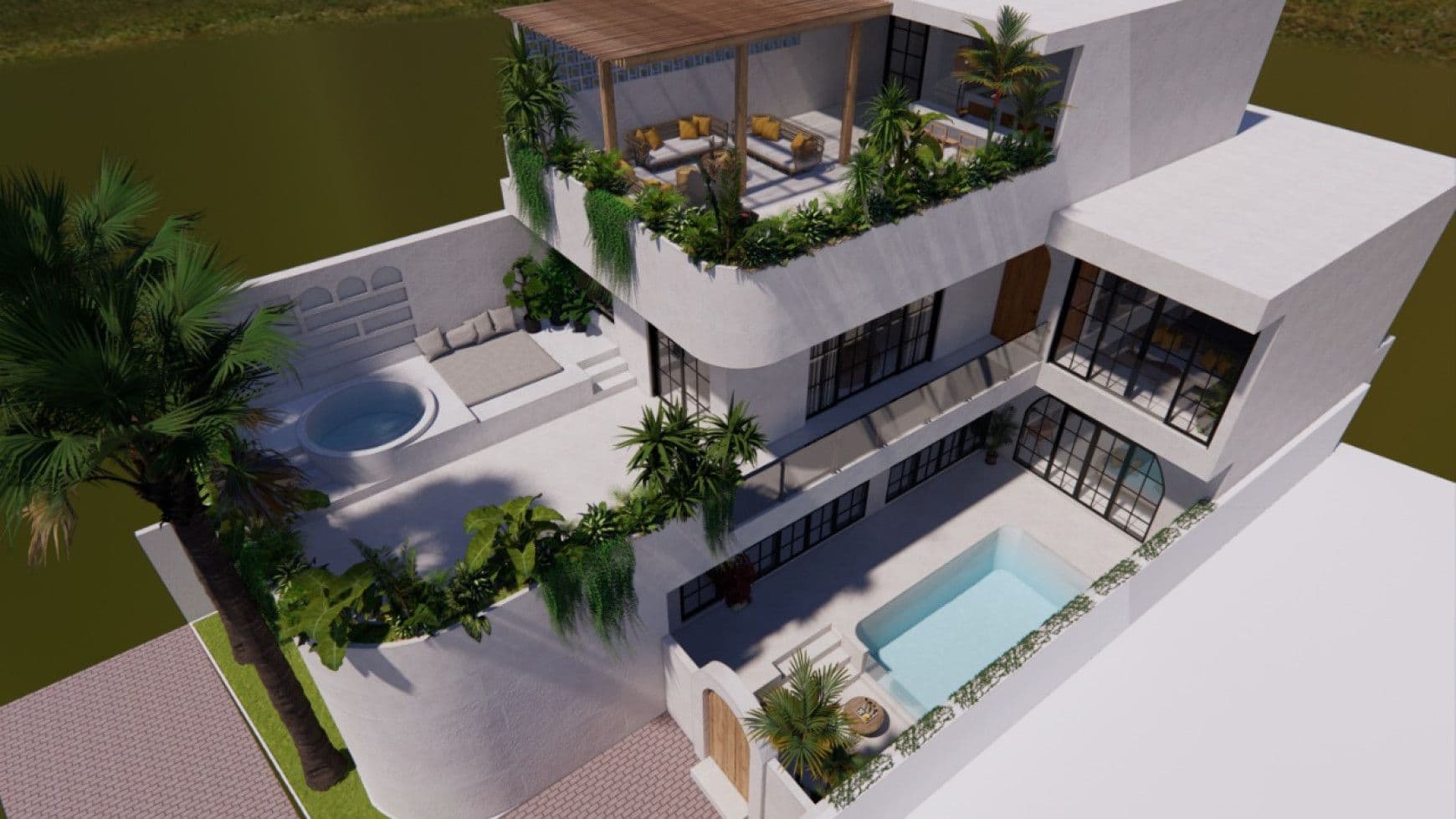 $485,000
Terrace Villa with Rice Field View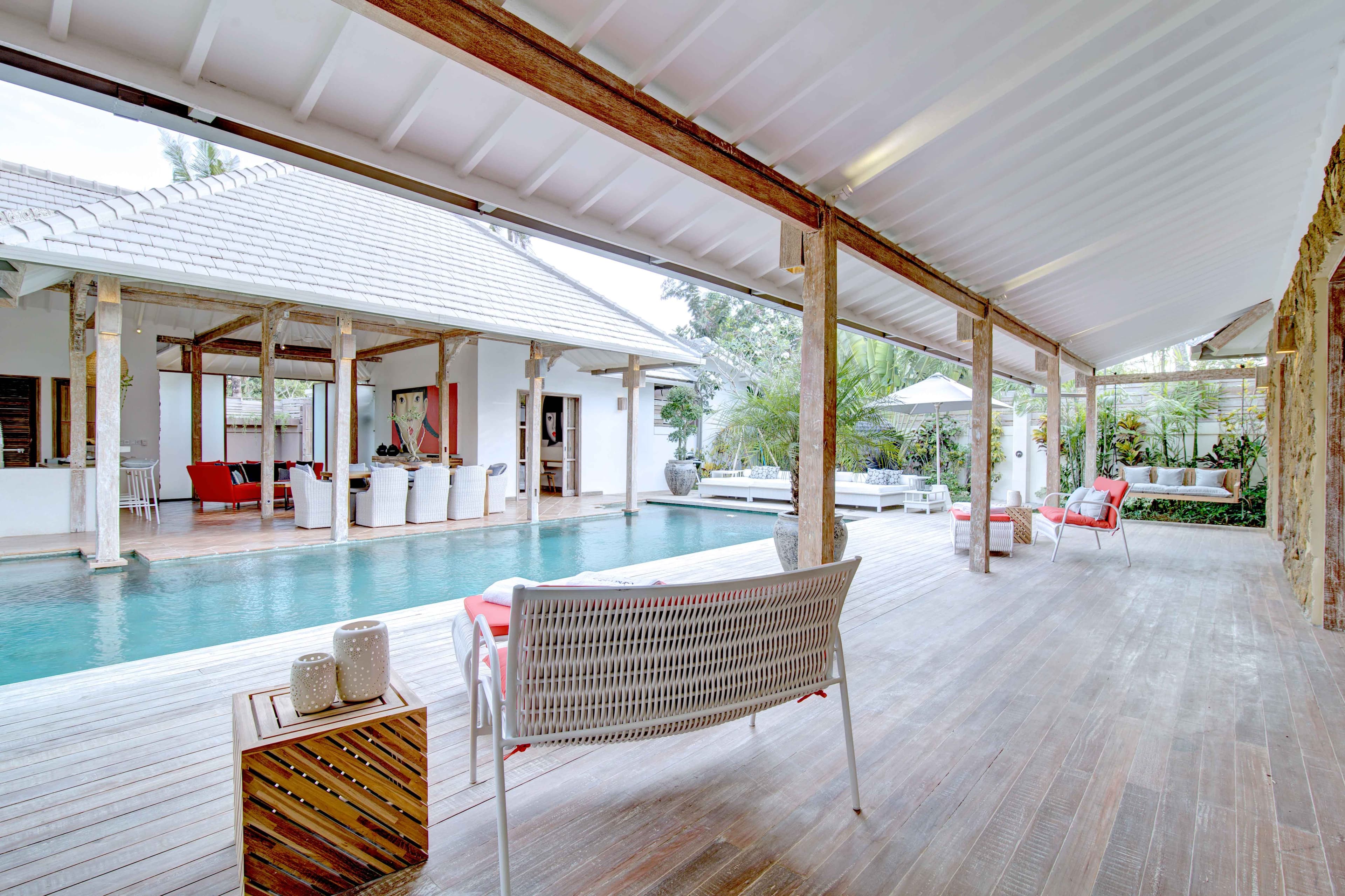 $300,000
Magnificent bright villa in Seminyak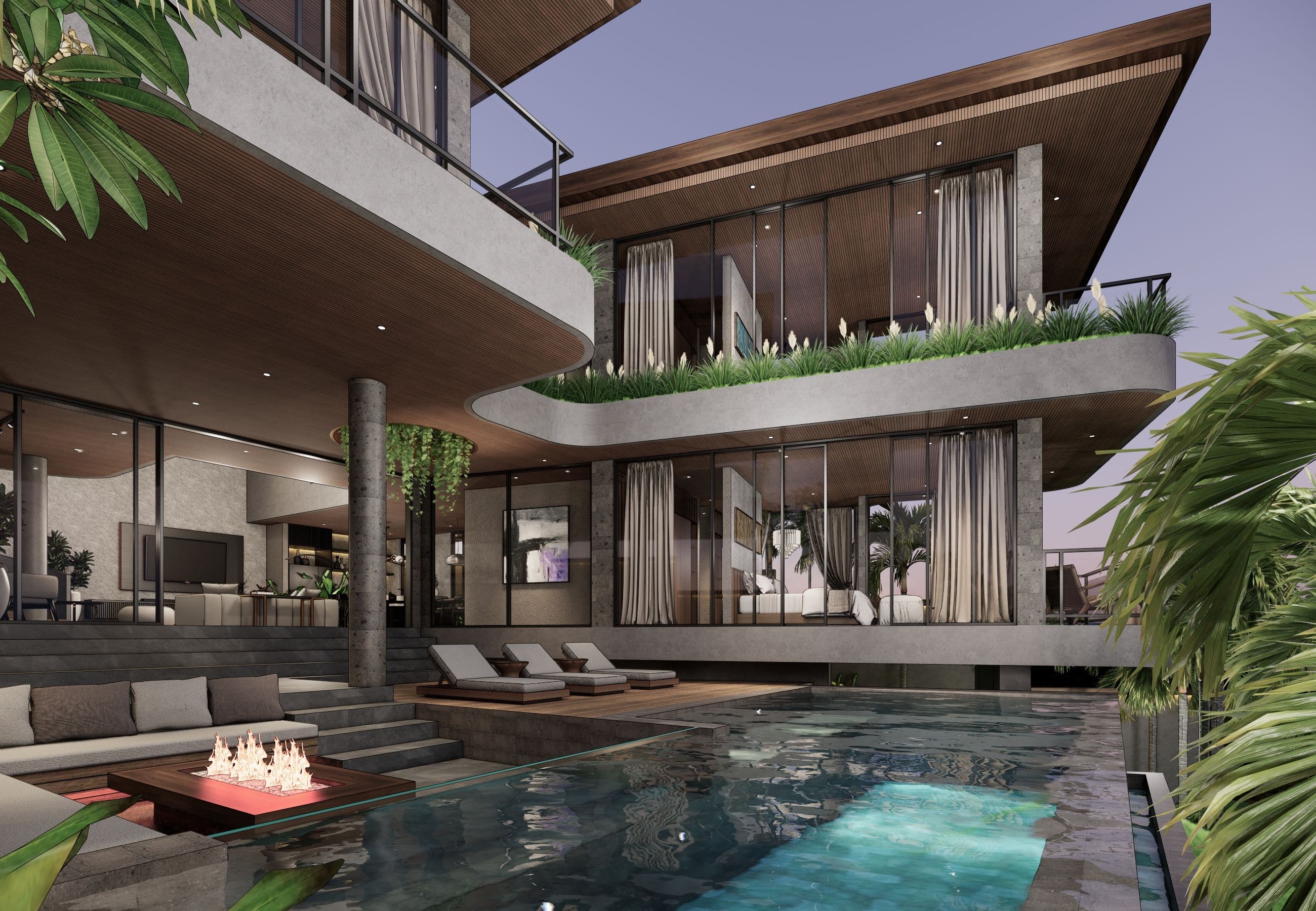 $699,000
4 bedroom luxury villa 5 minutes from the center of Ubud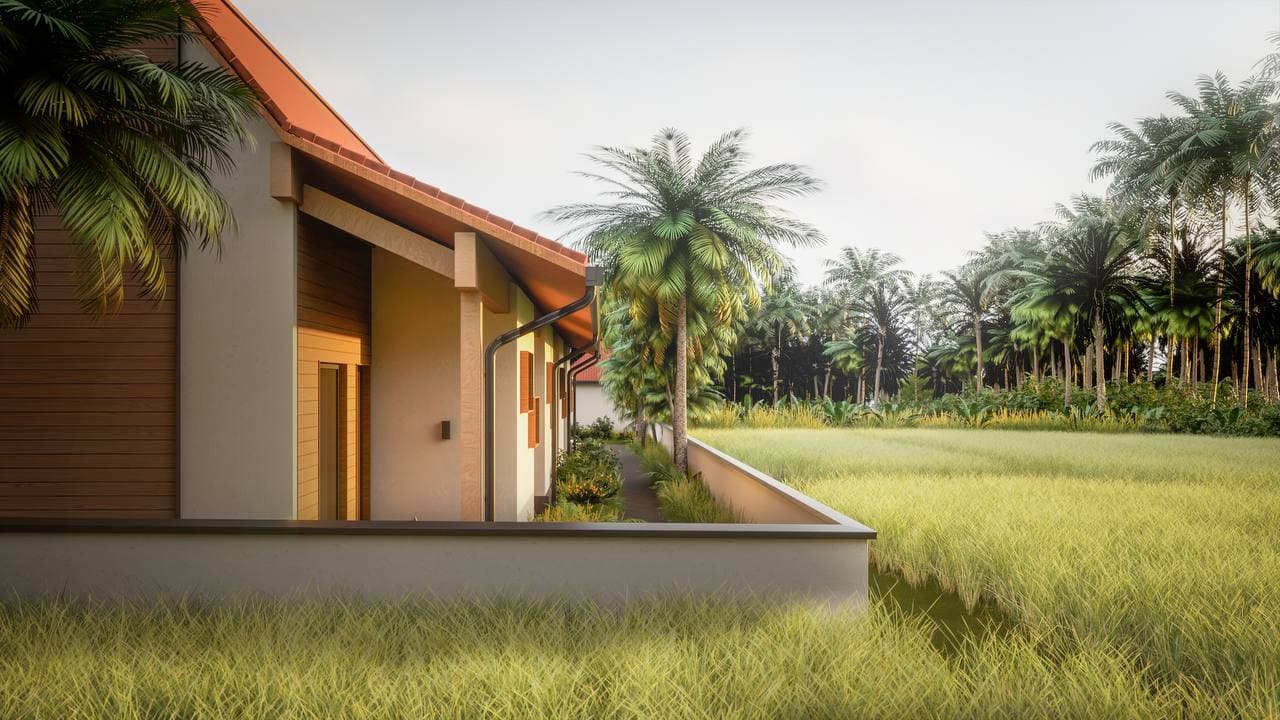 $39,000
Profitable apartments in rice fields of Ubud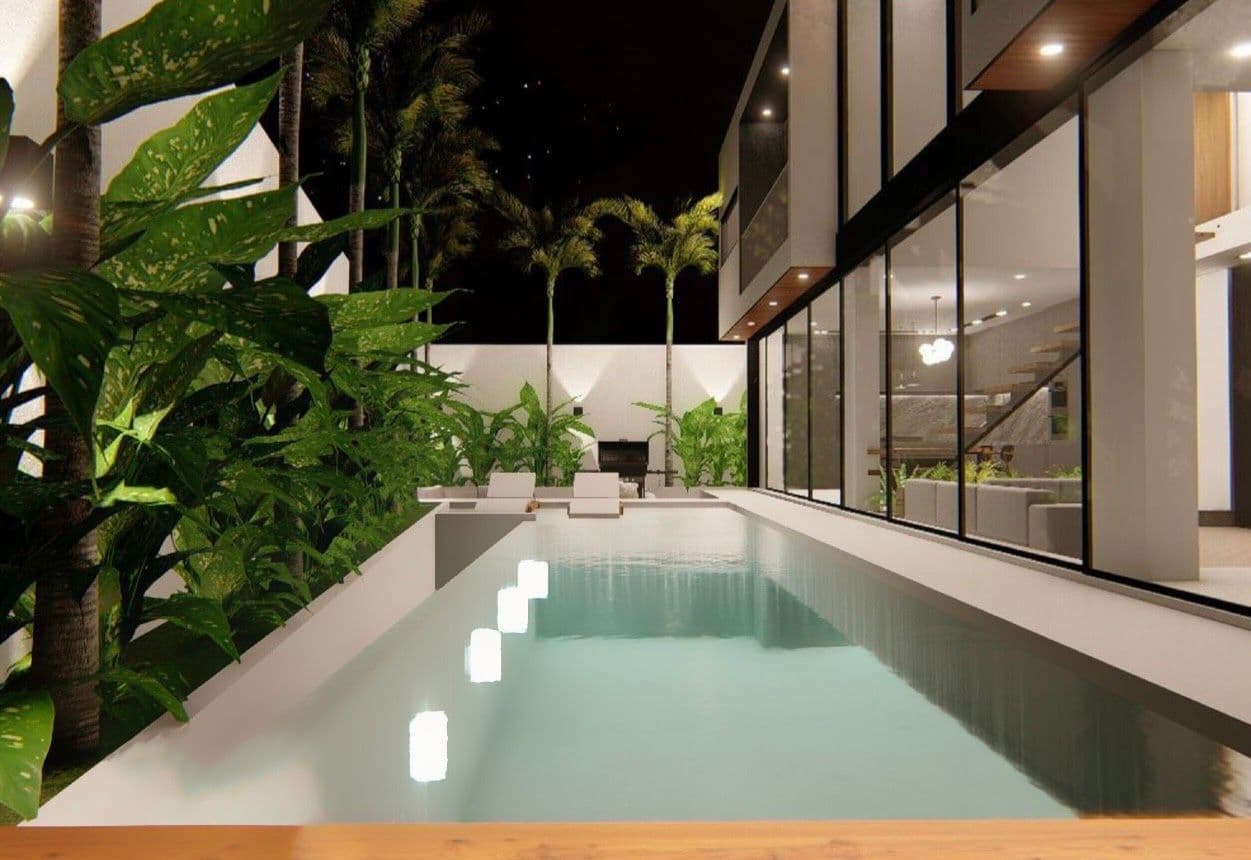 $229,000
2 bedroom villa in a quiet location of Canggu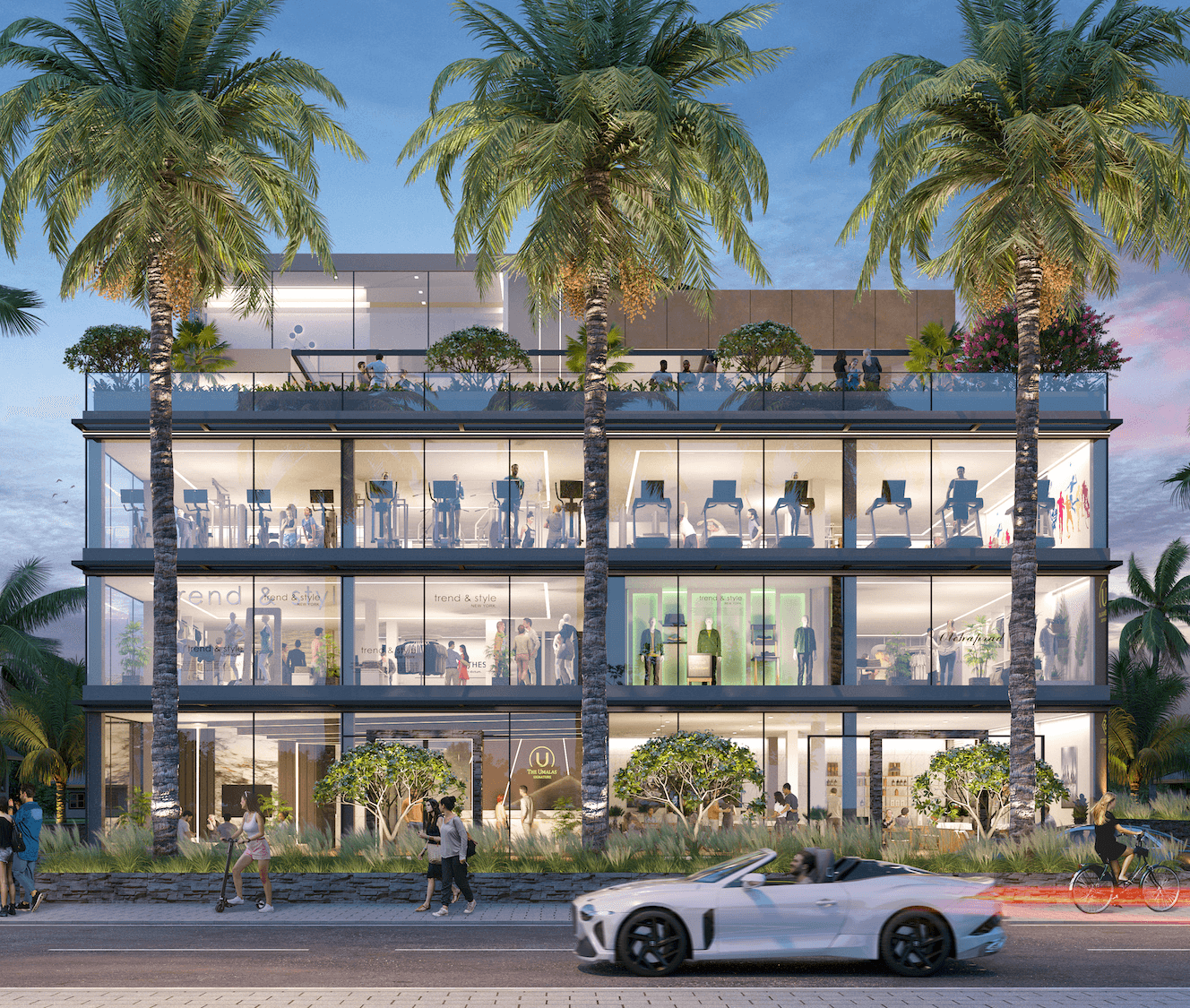 $355,000
Two bedroom apartments in upcoming complex in Umalas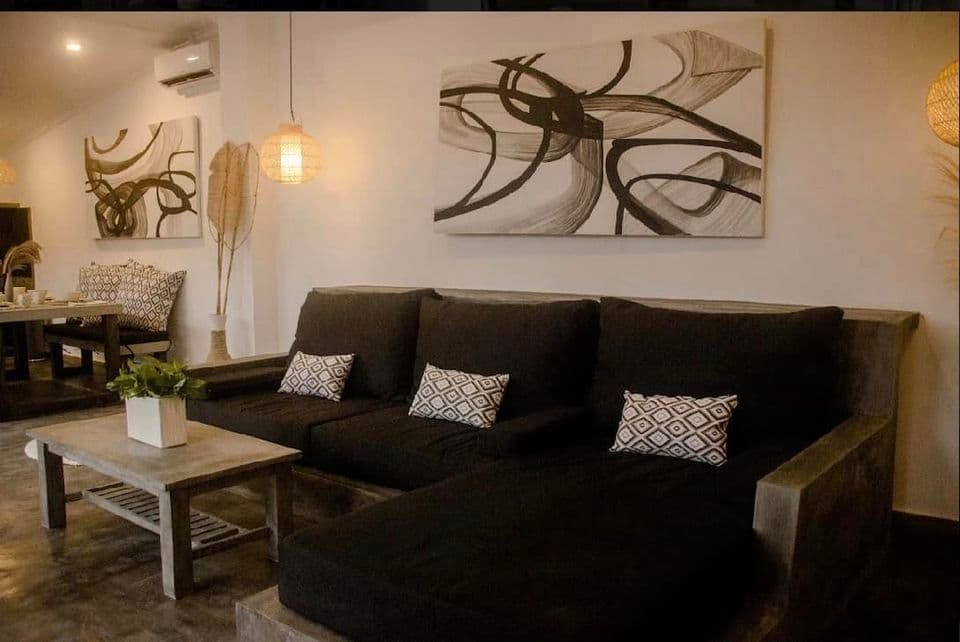 $275,000
Industrial Design Villa in Berawa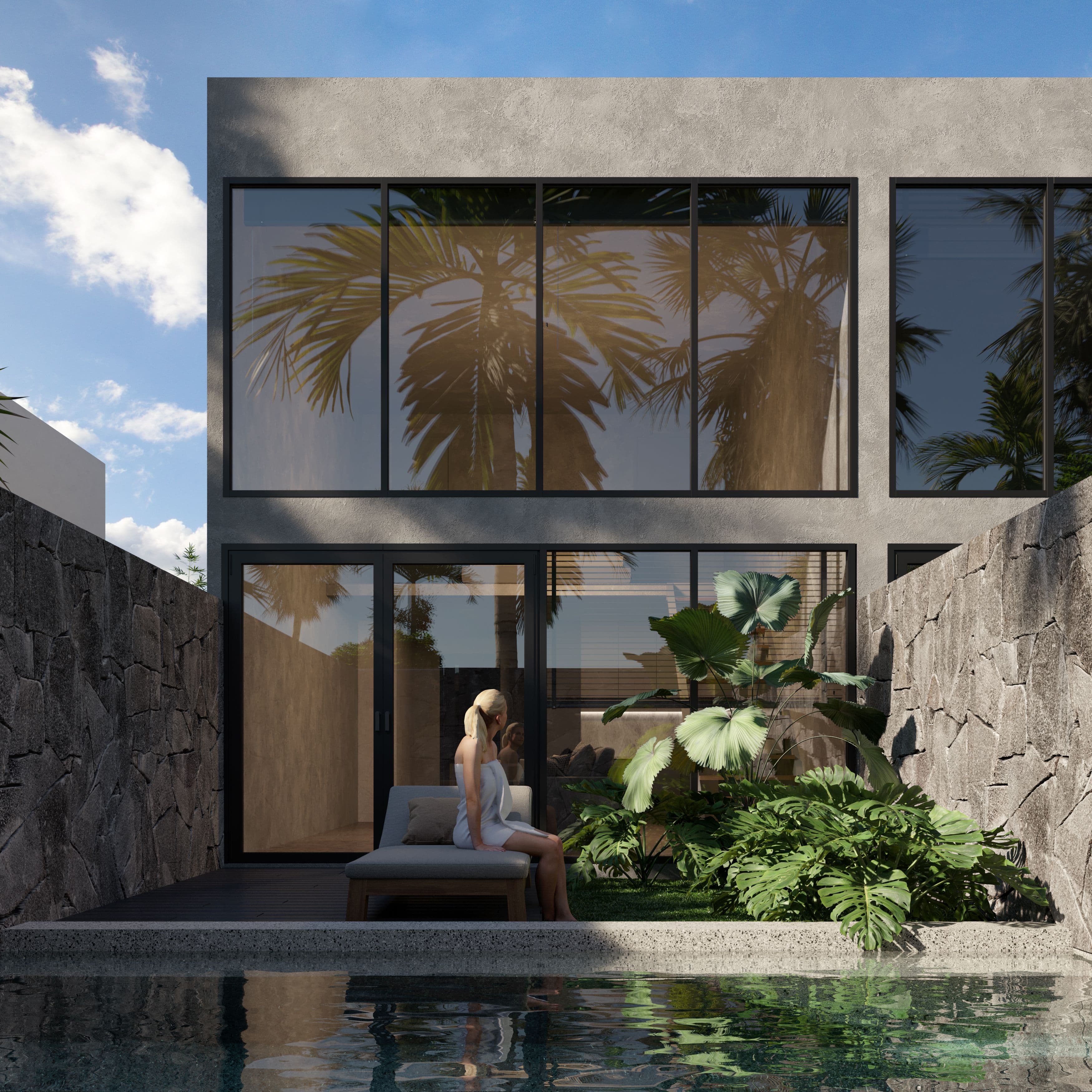 $183,000
1 bedroom villa in a private complex in Changgu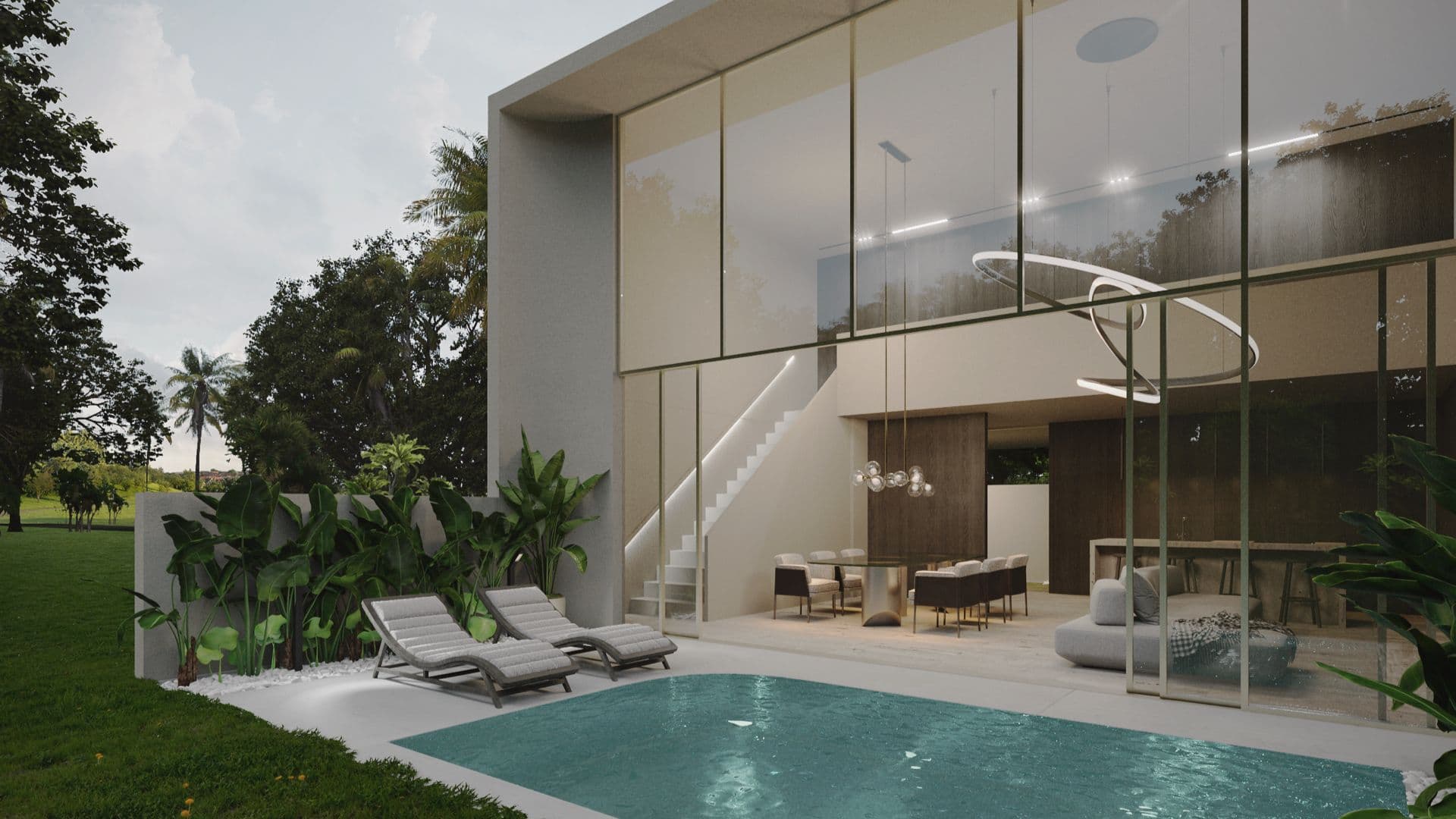 $360,000
Luxury 2 bedroom villa 7 minutes from Melasti Beach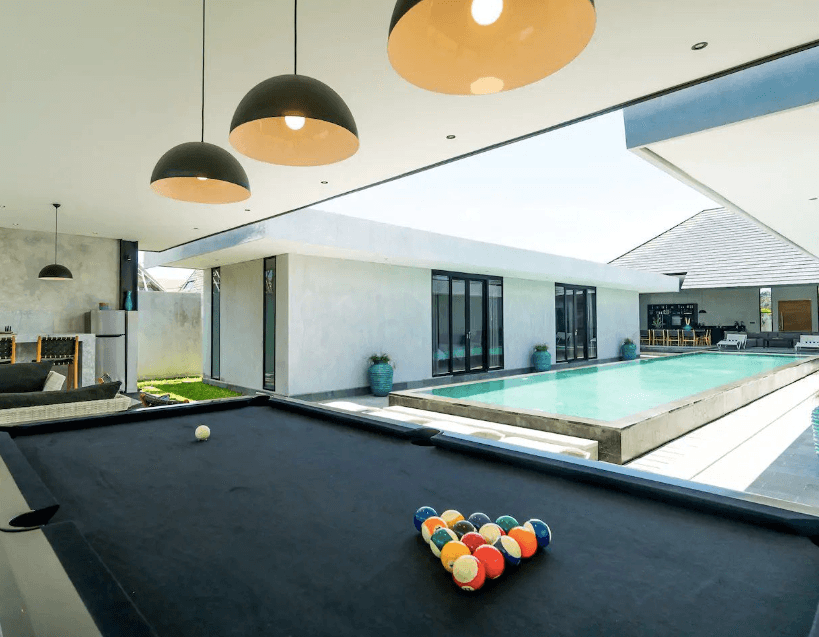 $799,000
Modern 4 bedroom villa in a safe and quiet area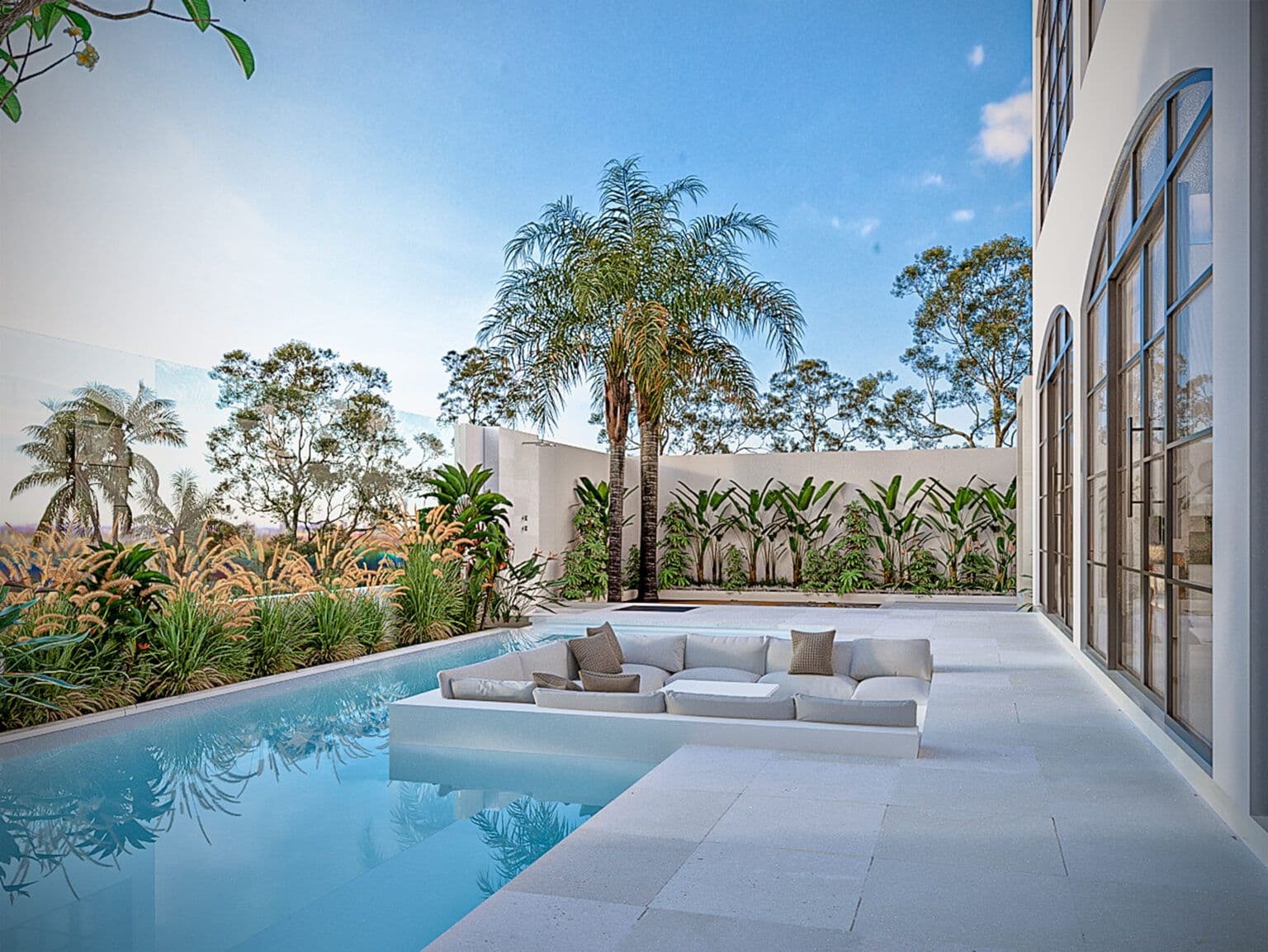 $645,000
Luxury 3 bedroom villa in Seseh 5 minutes from the beach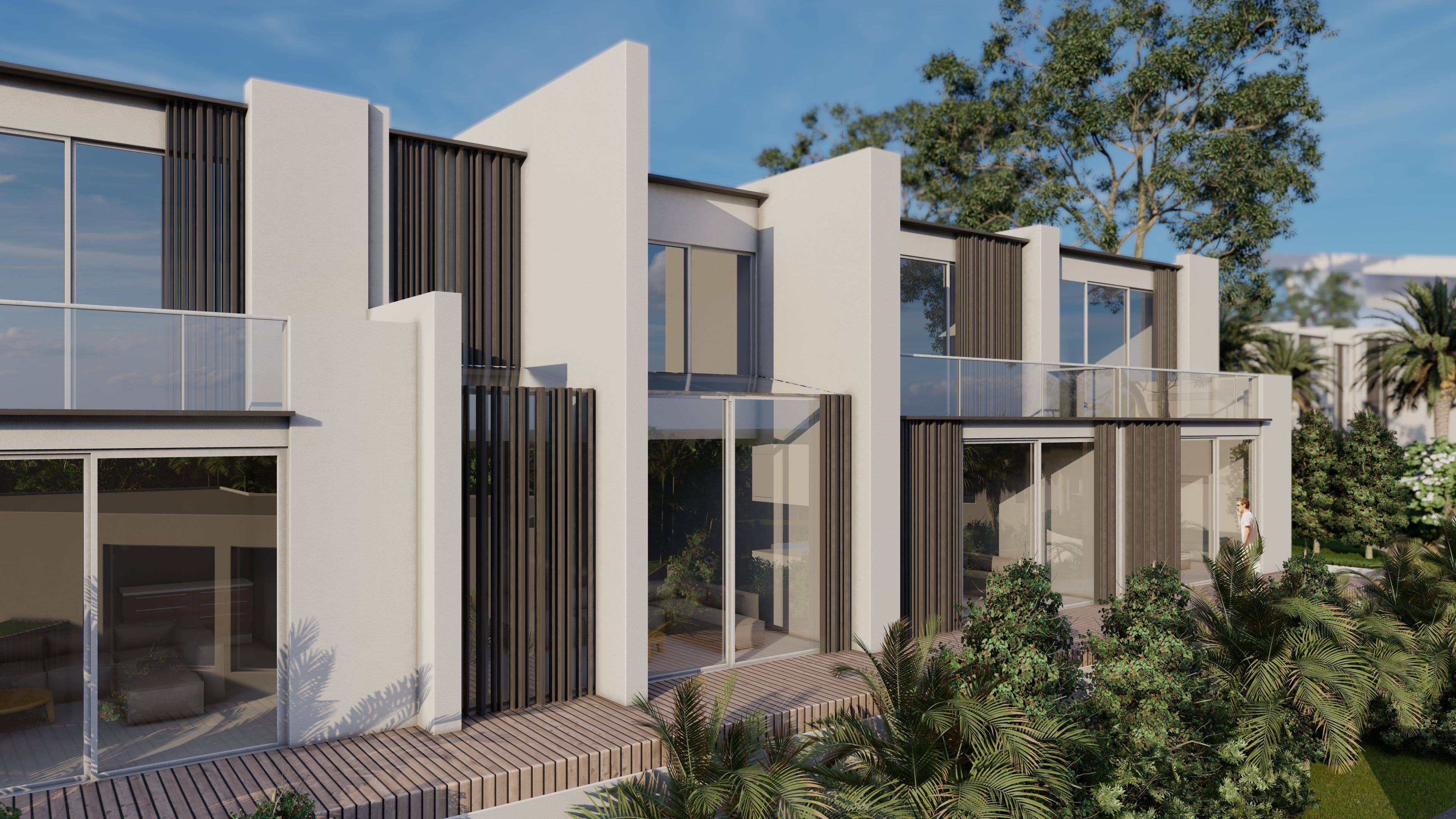 $270,000
Premium villas in the center of Ubud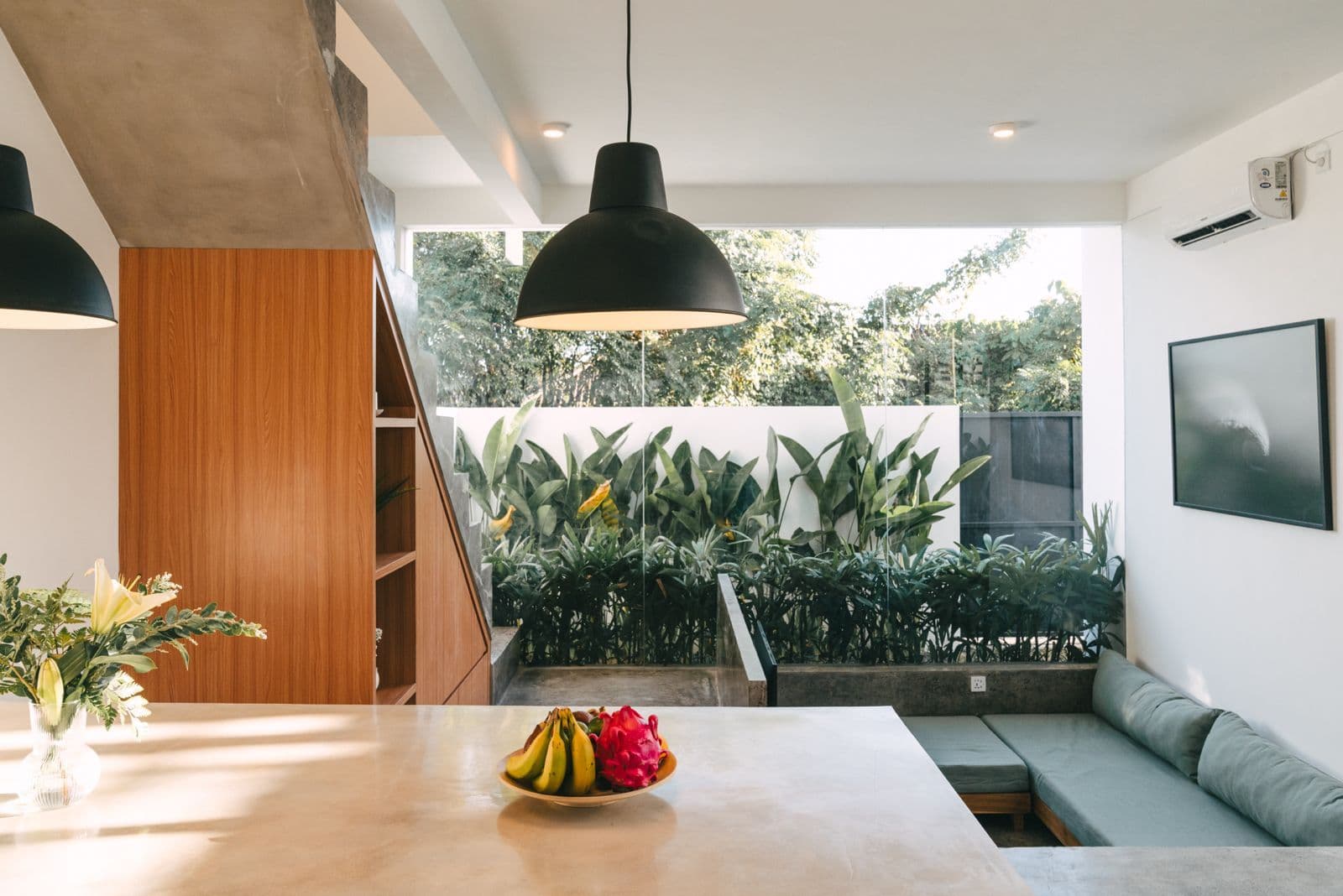 $150,000
Affordable 1 bedroom villa in Changgu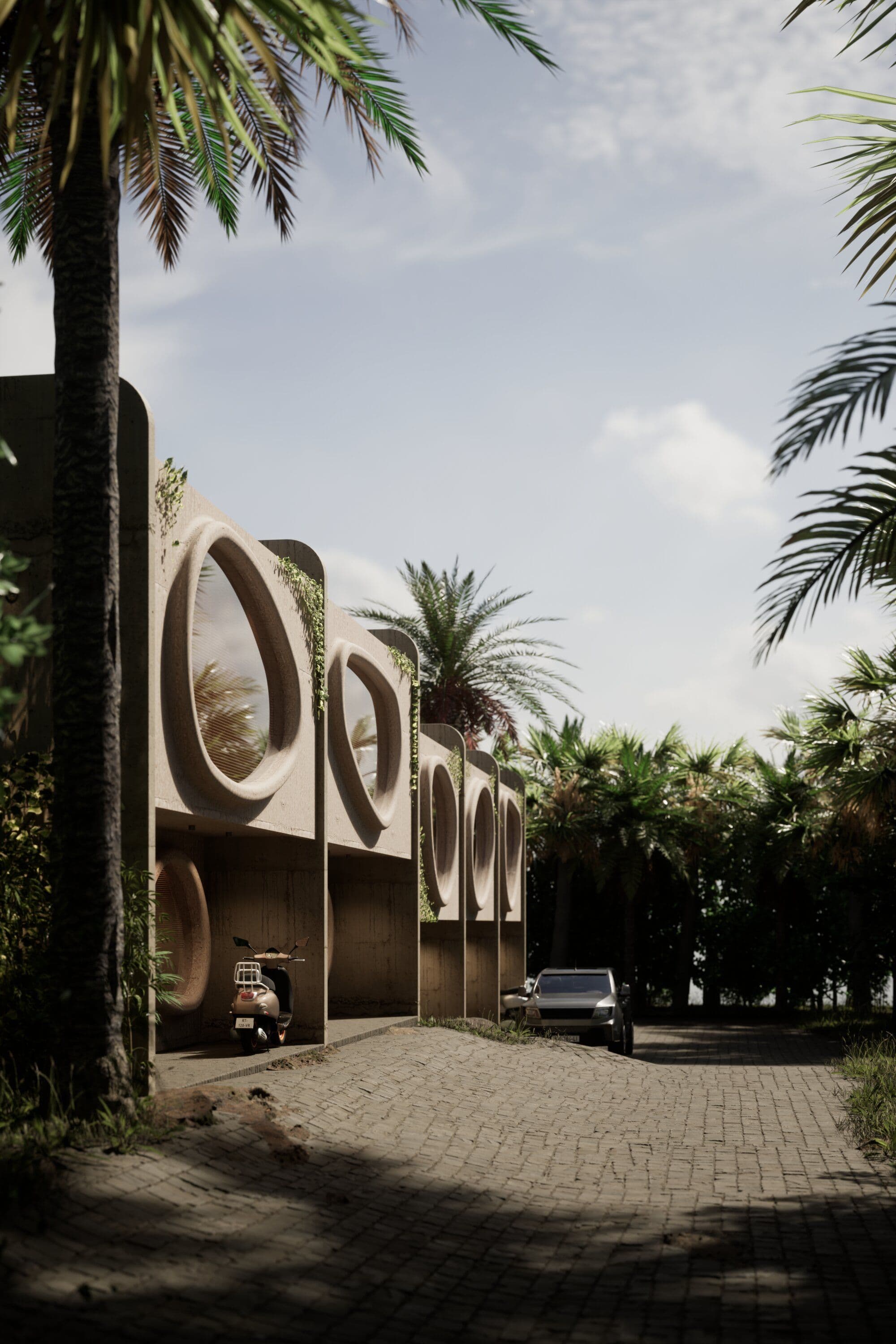 $195,000
Villa with exclusive design 8 minutes from Pererenan Beach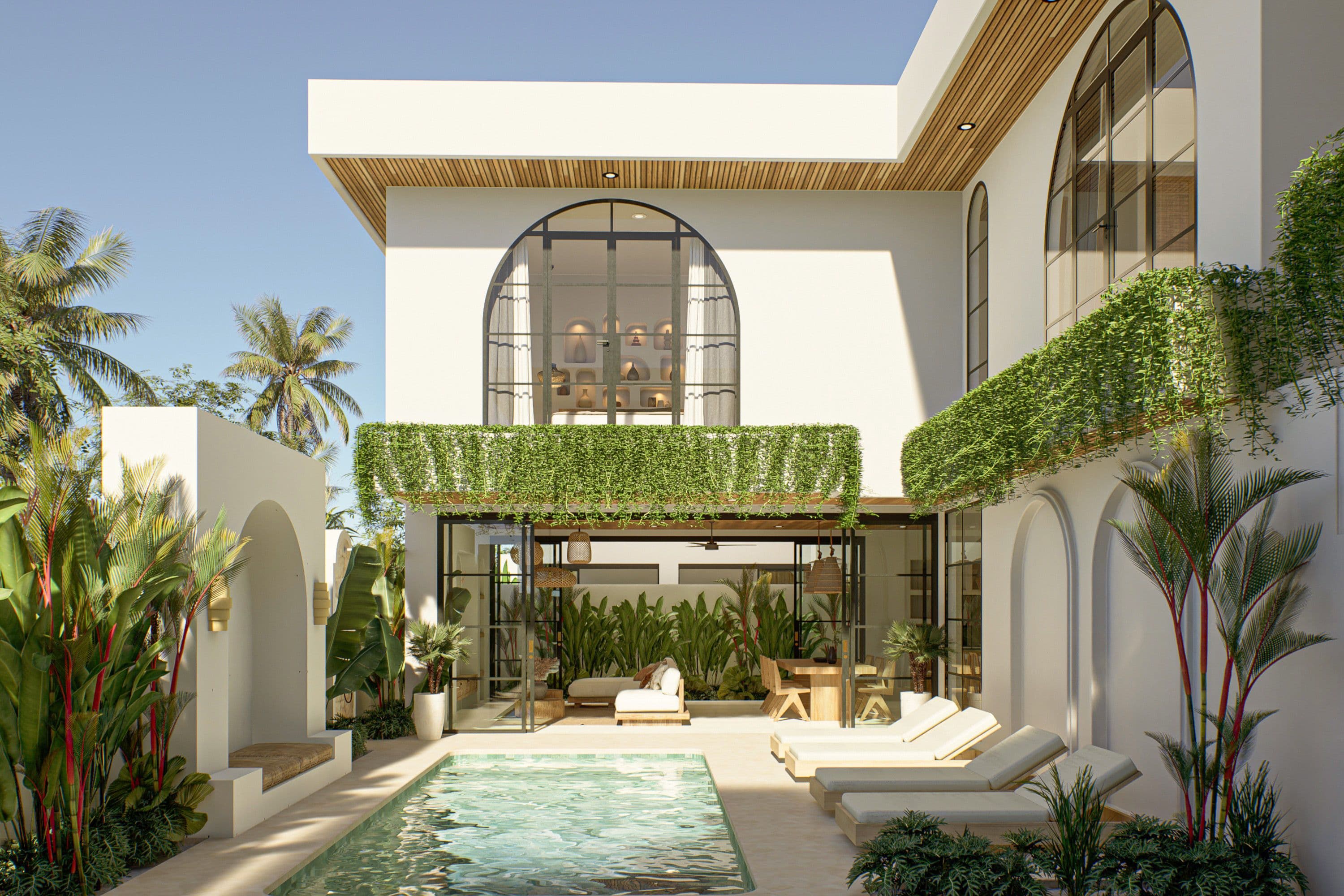 $380,000
3 bedroom Villa 4 minutes from Seseh Beach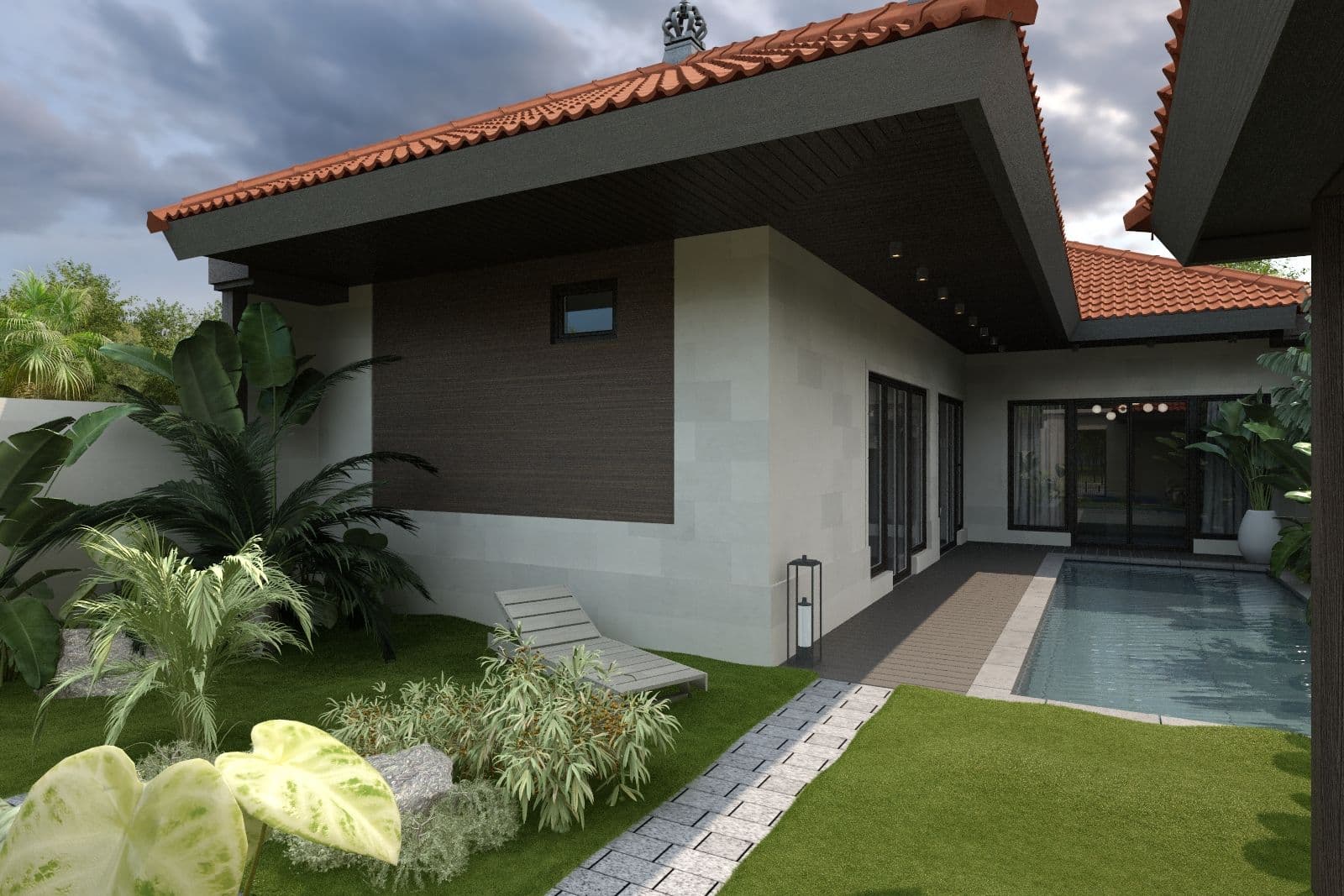 $380,000
Private 2 bedroom villa in Sanur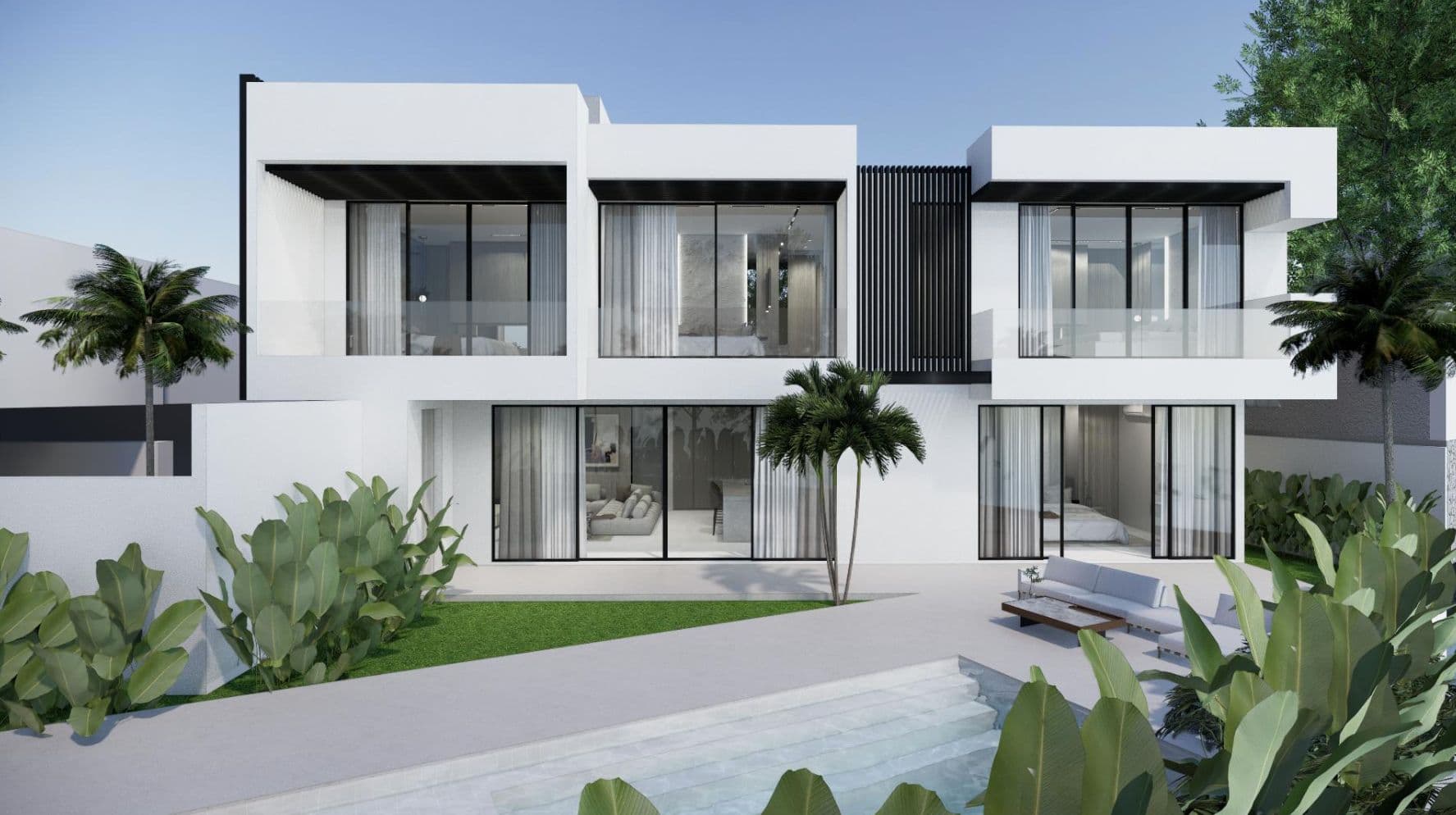 $705,000
4 bedroom villa in bright colors in Perenenan
$129,000
Two bedroom villa with swimming pool 5 minutes from Balangan Beach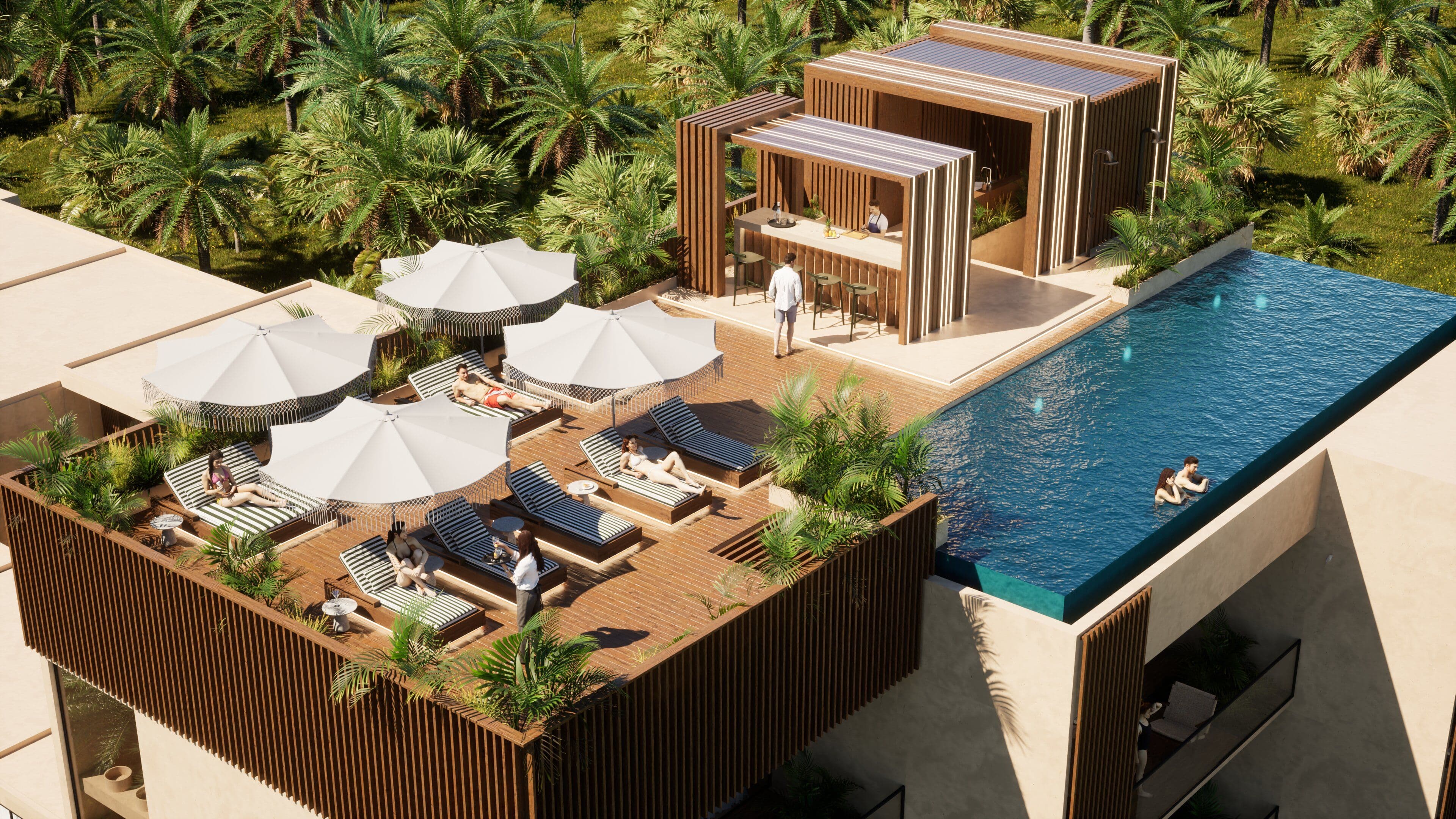 $200,000
Apartment 3 minutes from the ocean in Changu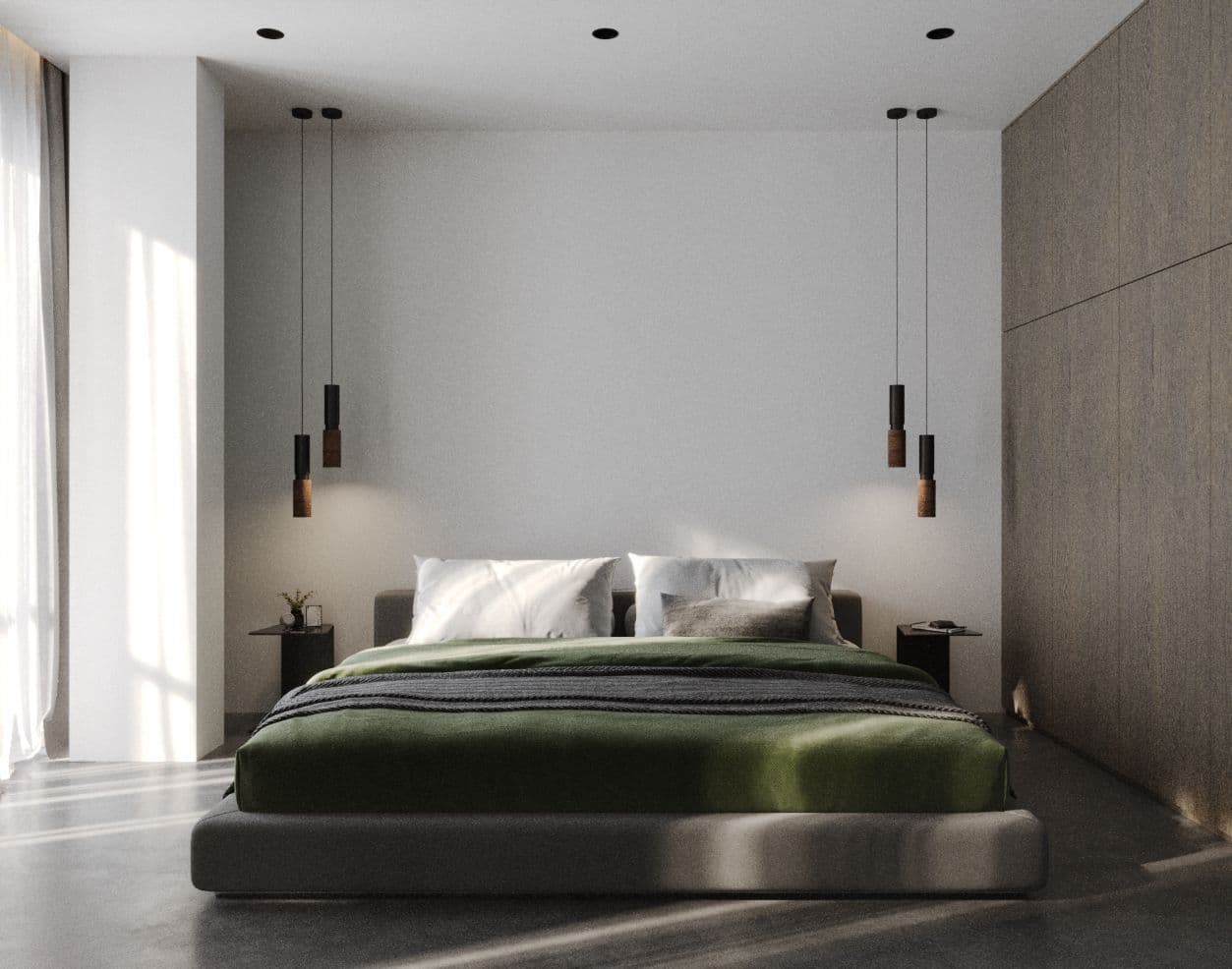 $190,000
Apartment 300 meters from Berawa Beach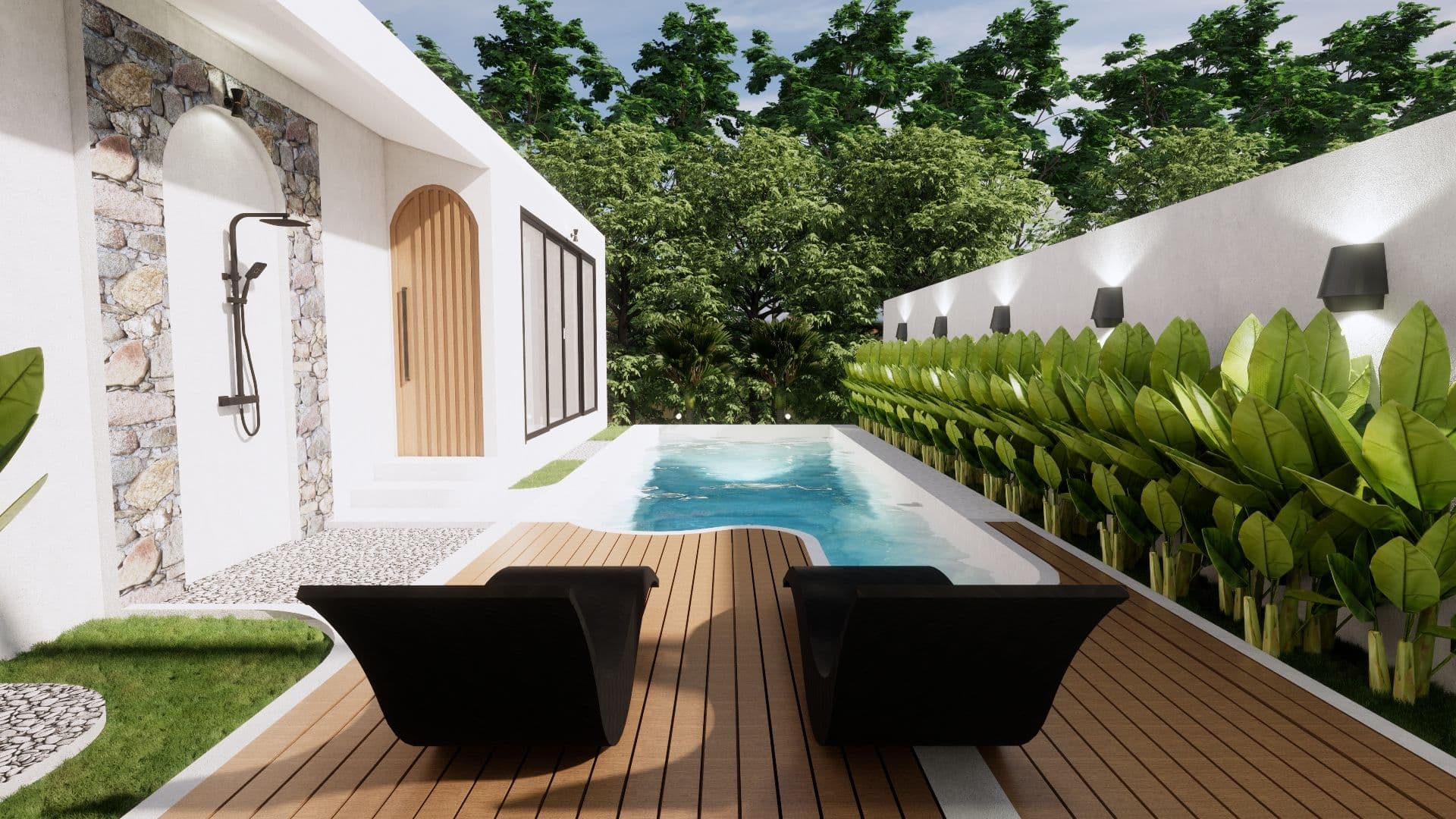 $300,000
Villa with 2 panoramic bedrooms in Uluwatu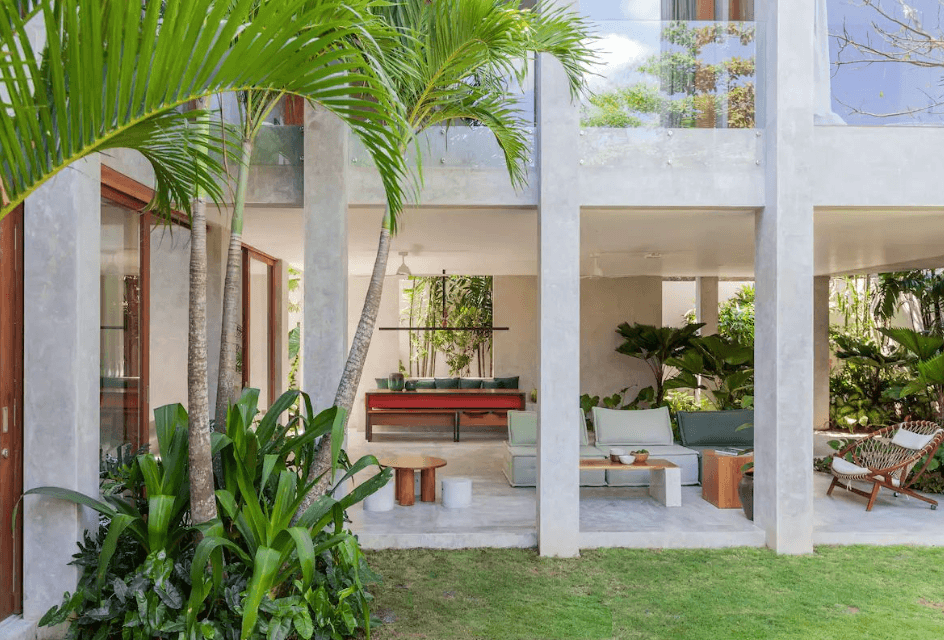 $899,000
Family villa in tropical style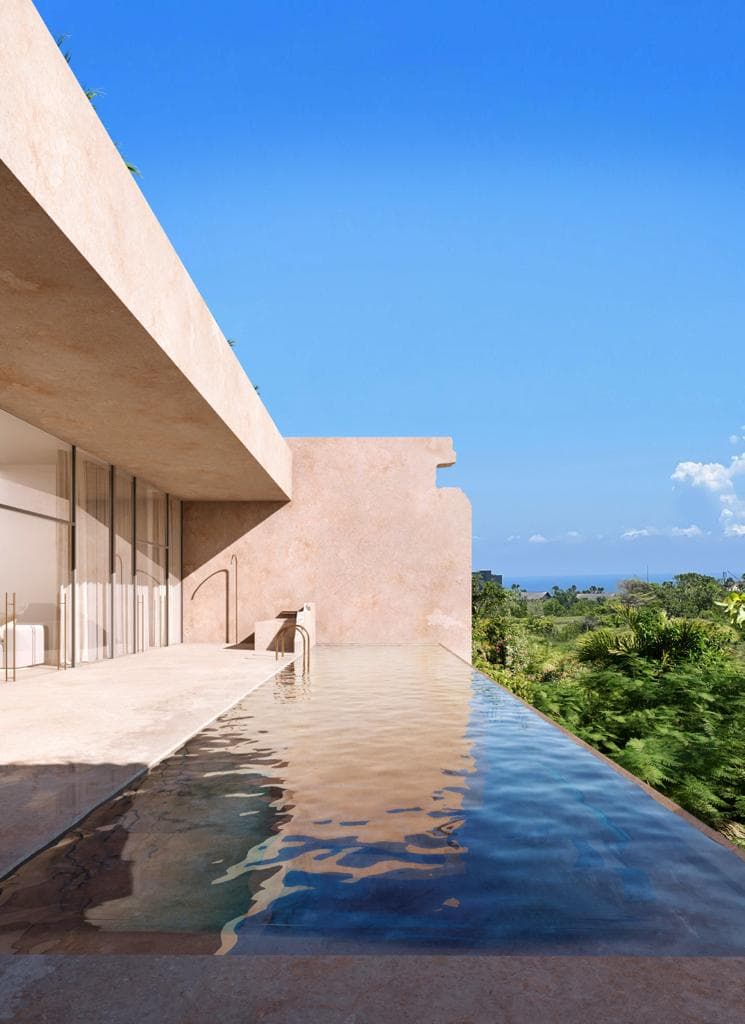 $493,000
Panoramic villa with ocean view on the most instagram coast of Bali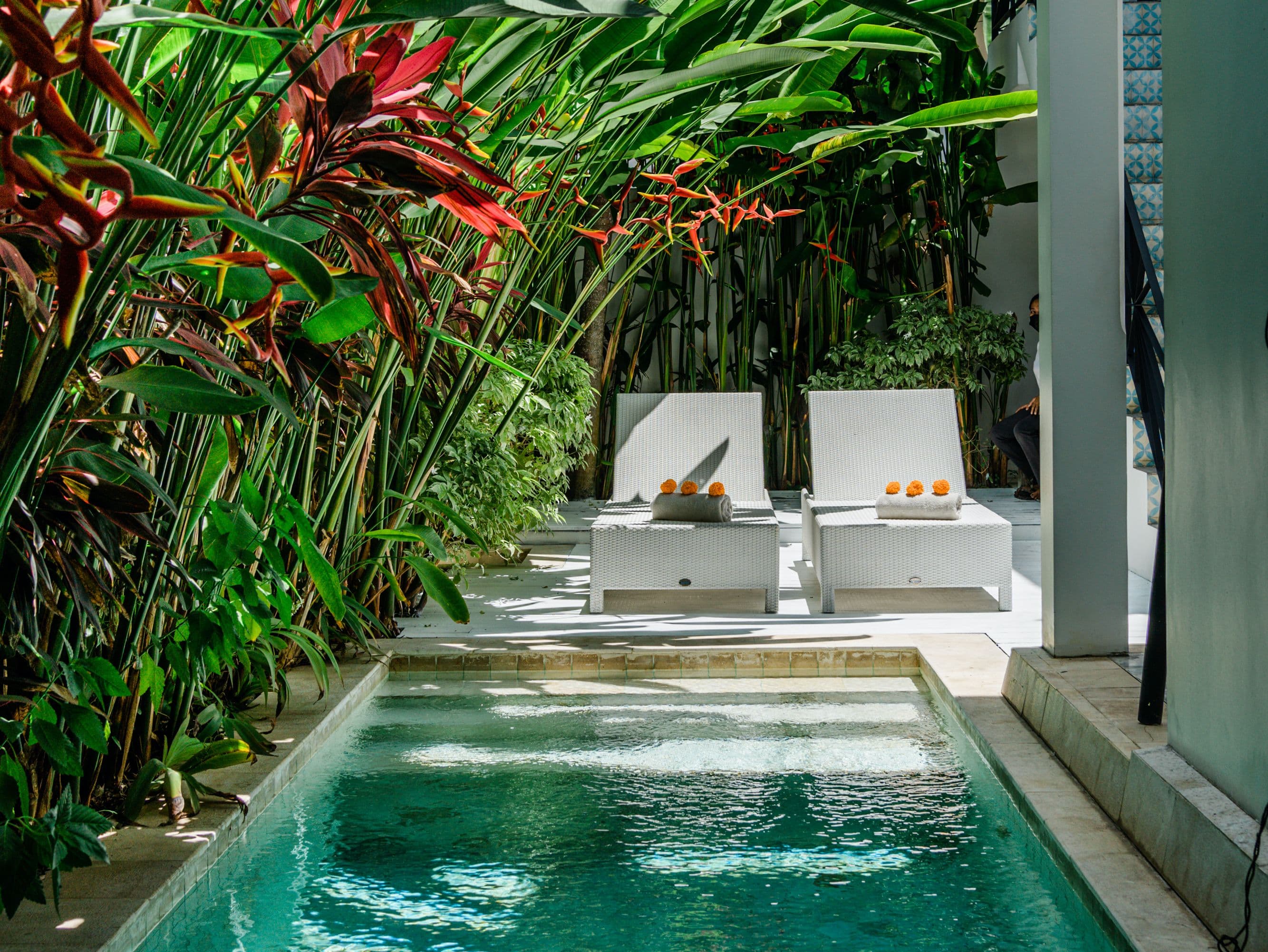 $298,000
Charming 3 Bedroom Villa near Pererenan Beach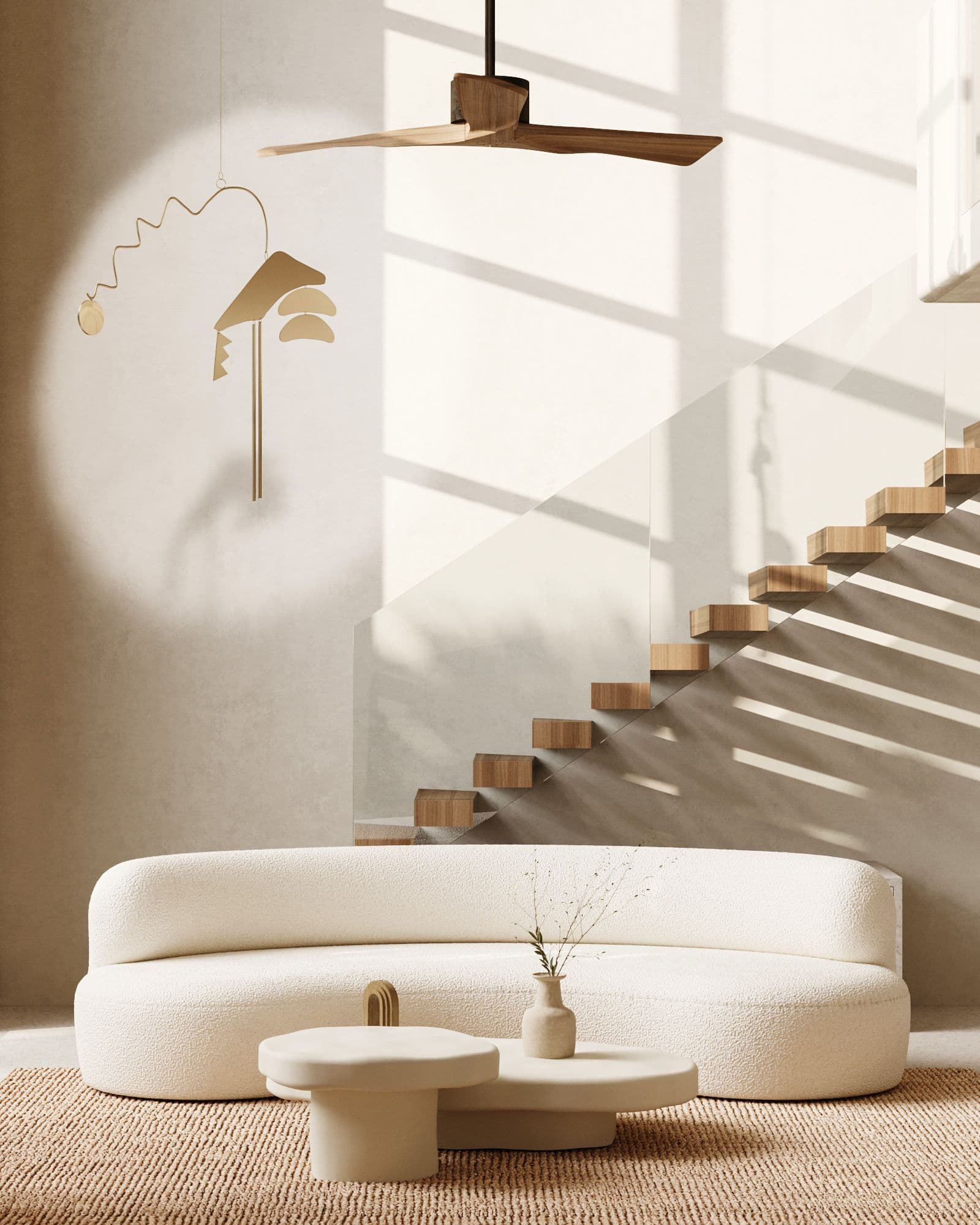 $240,000
2 bedrooms villas on the Berawa in the architectural style of wabi Sabi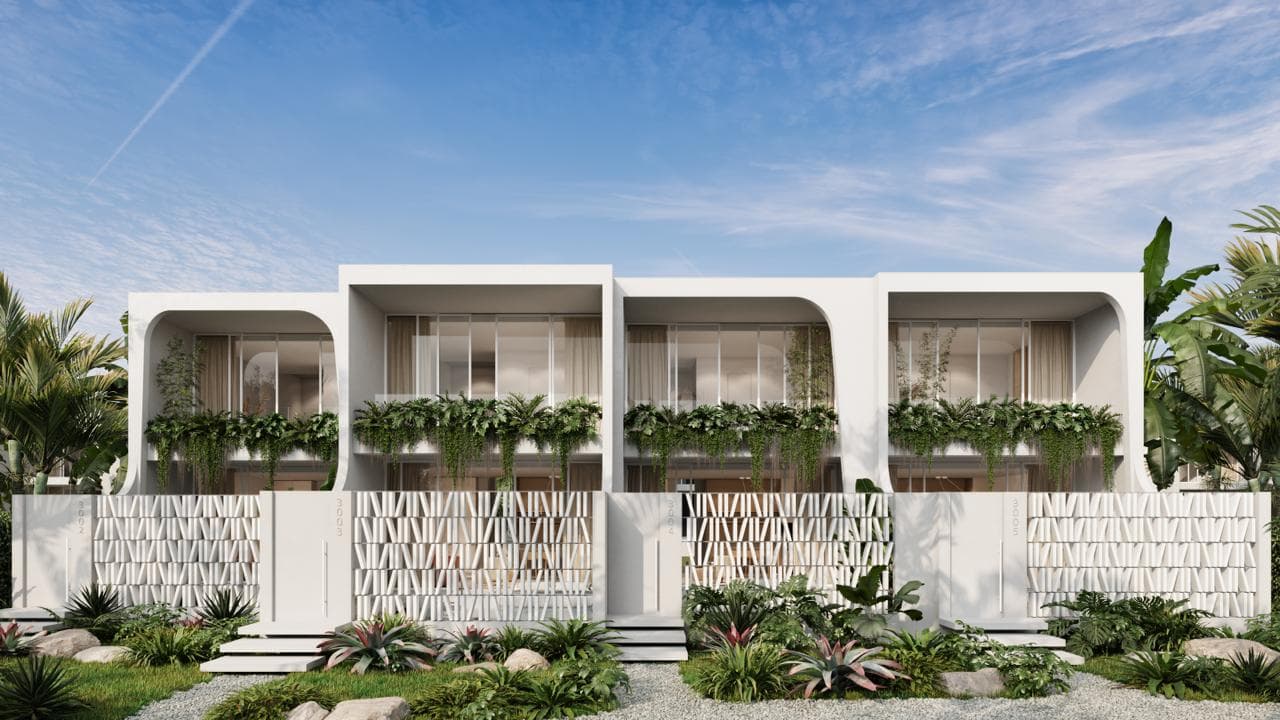 $298,000
Villas on the most instagram beach in Bali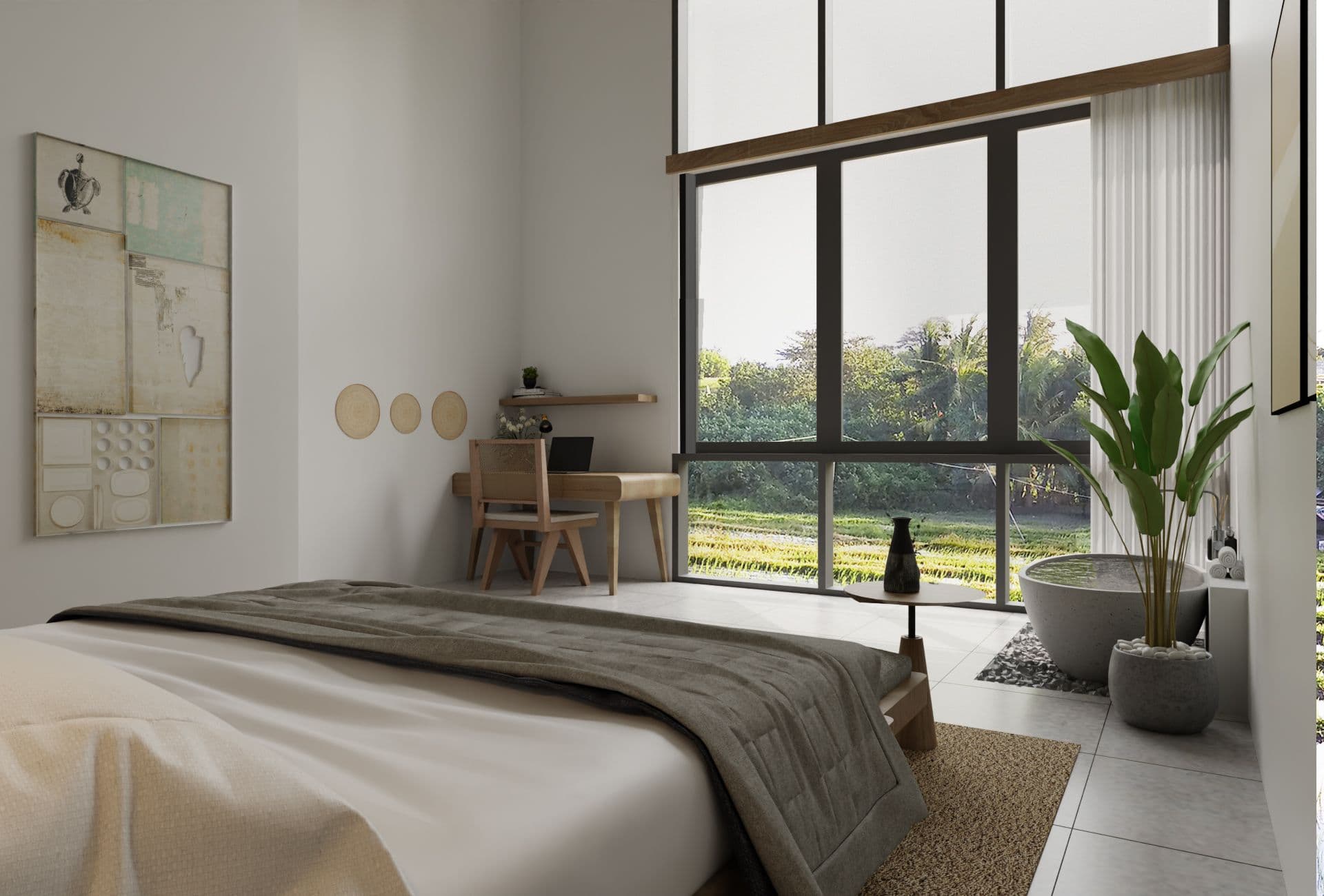 $174,000
Modern 1 or 2 bedroom villa in Canggu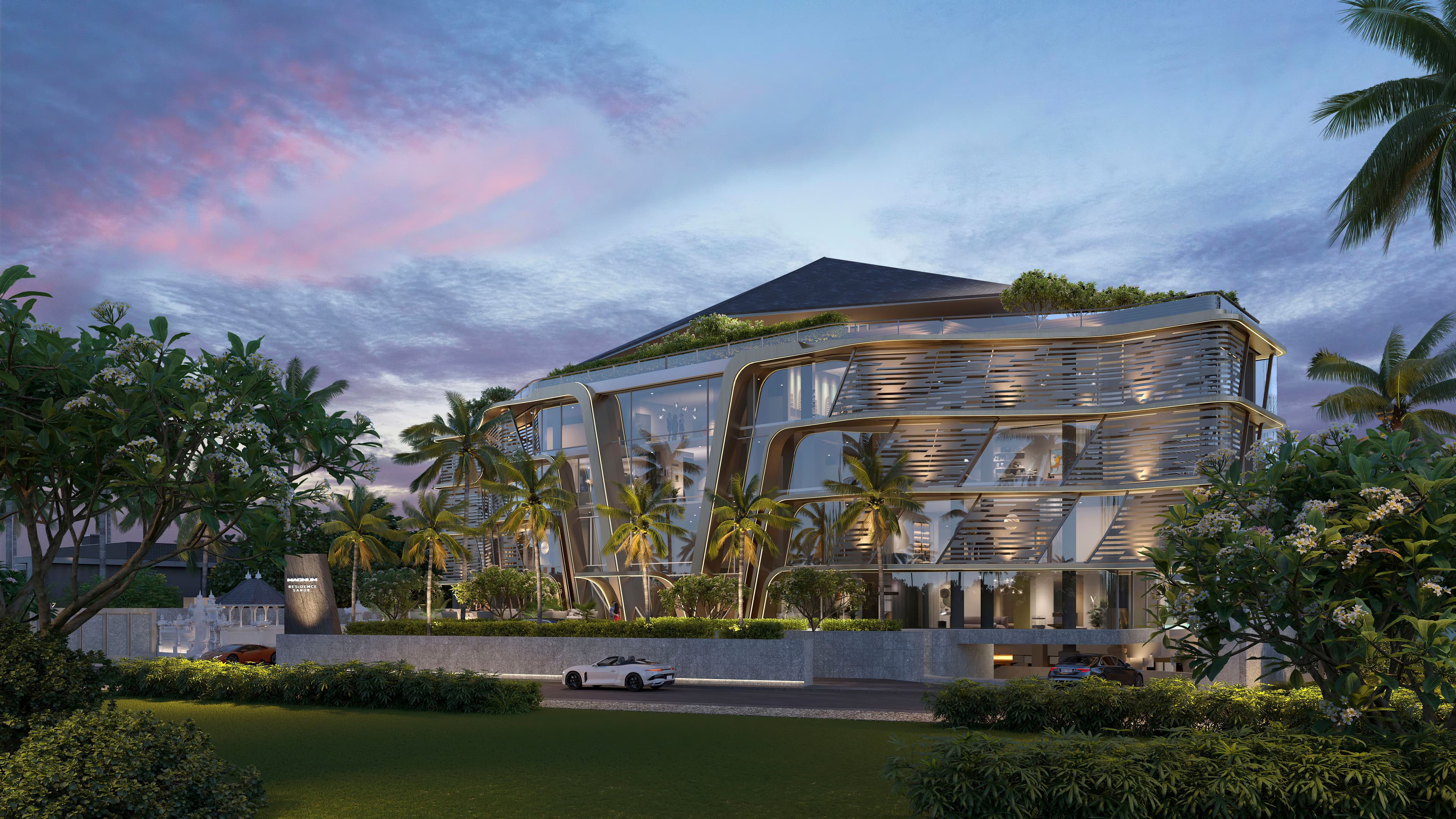 $730,000
Stunning 2 bedroom oceanfront apartment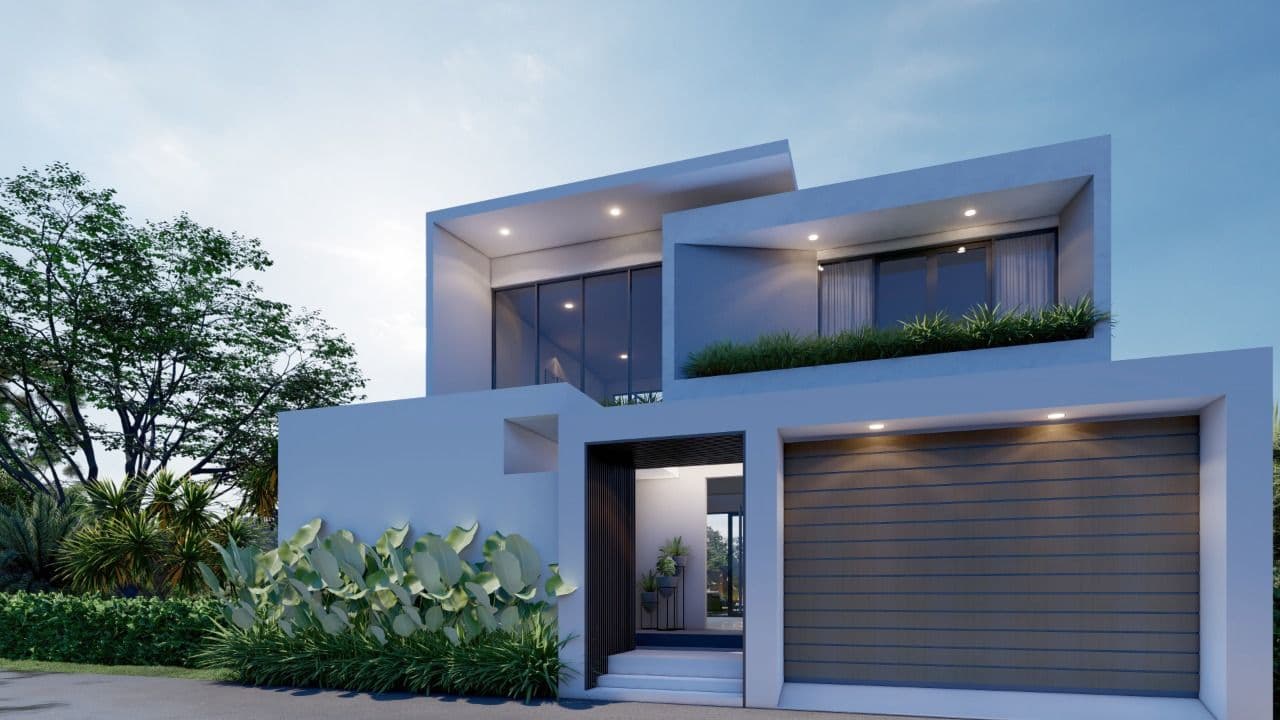 $239,998
4 Bedroom Villa by Balangan Beach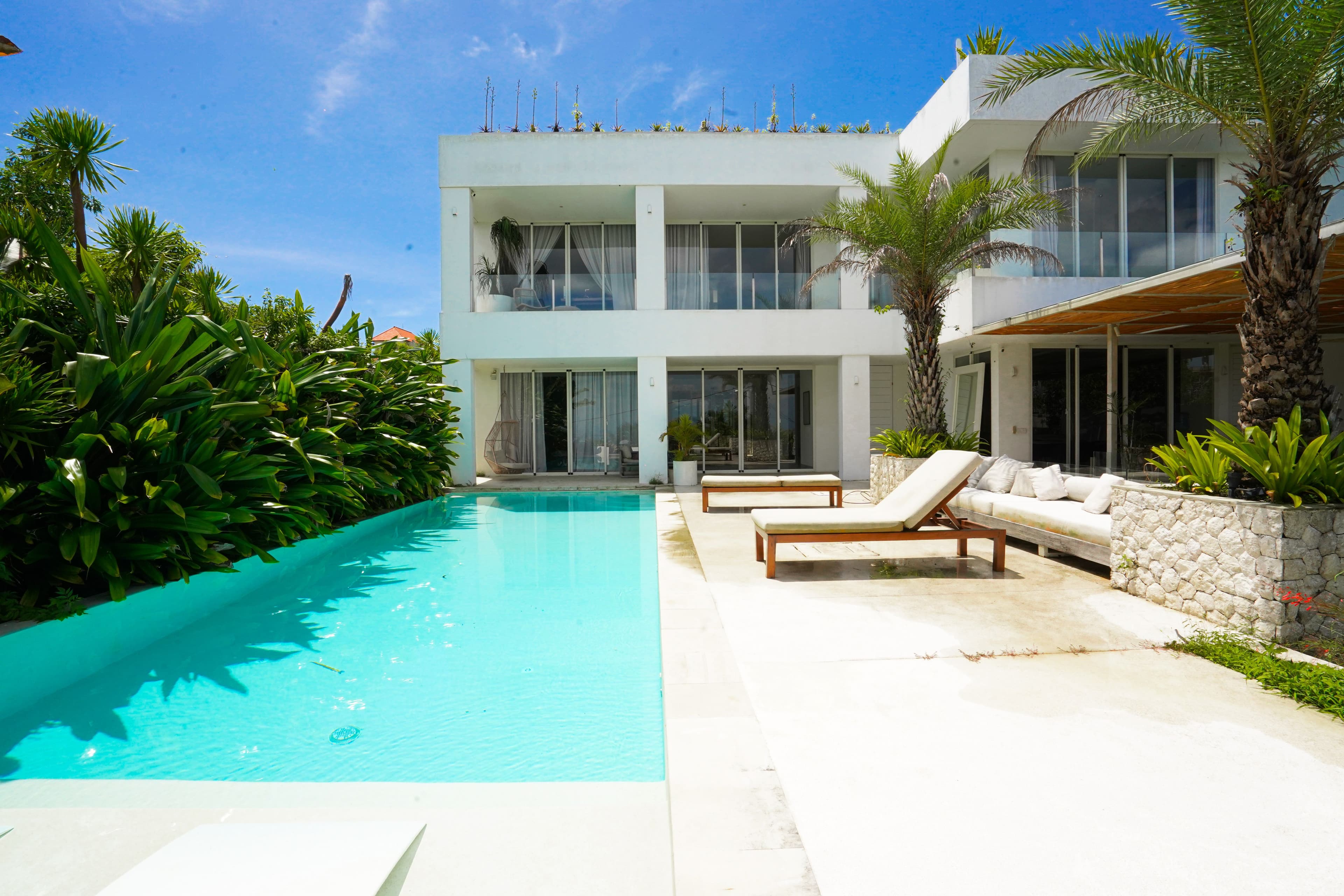 $1,500,000
Freehold villa in Ungasan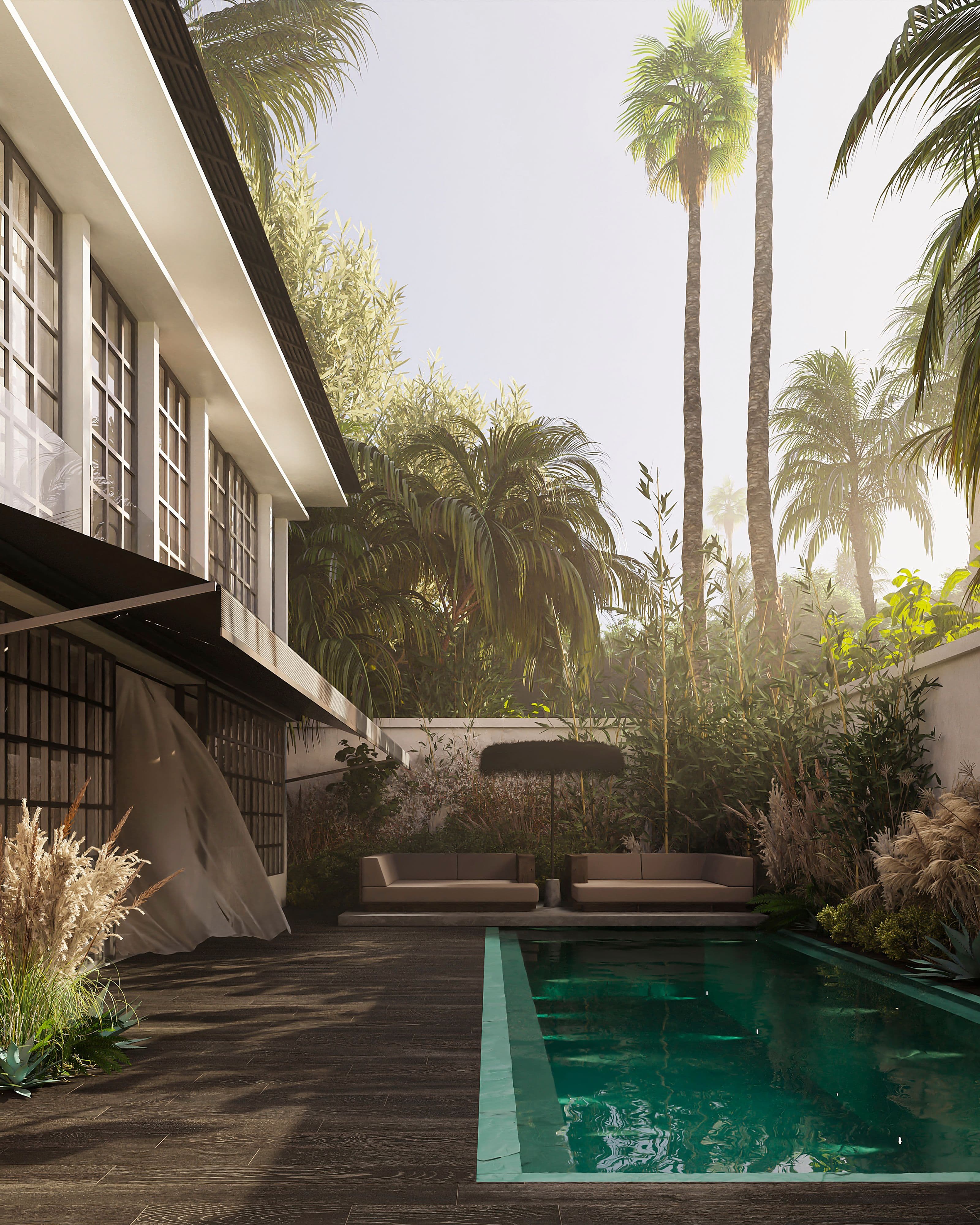 $590,000
3 bedroom villa in Umalas in the style of American classicism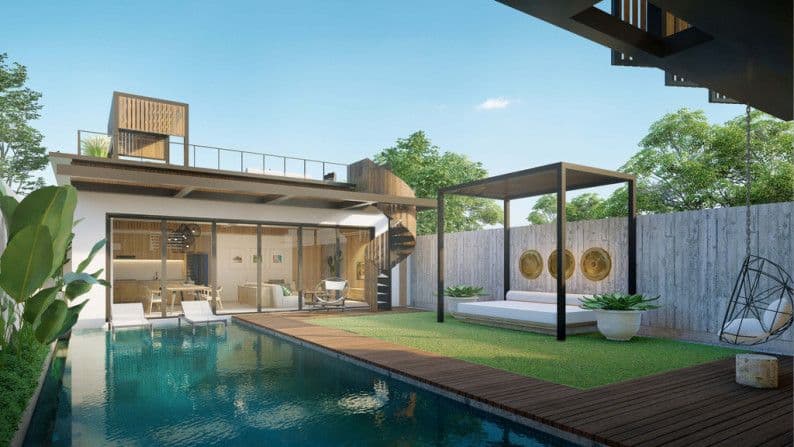 $392,000
Sunny 4 bedroom villa near Berawa beach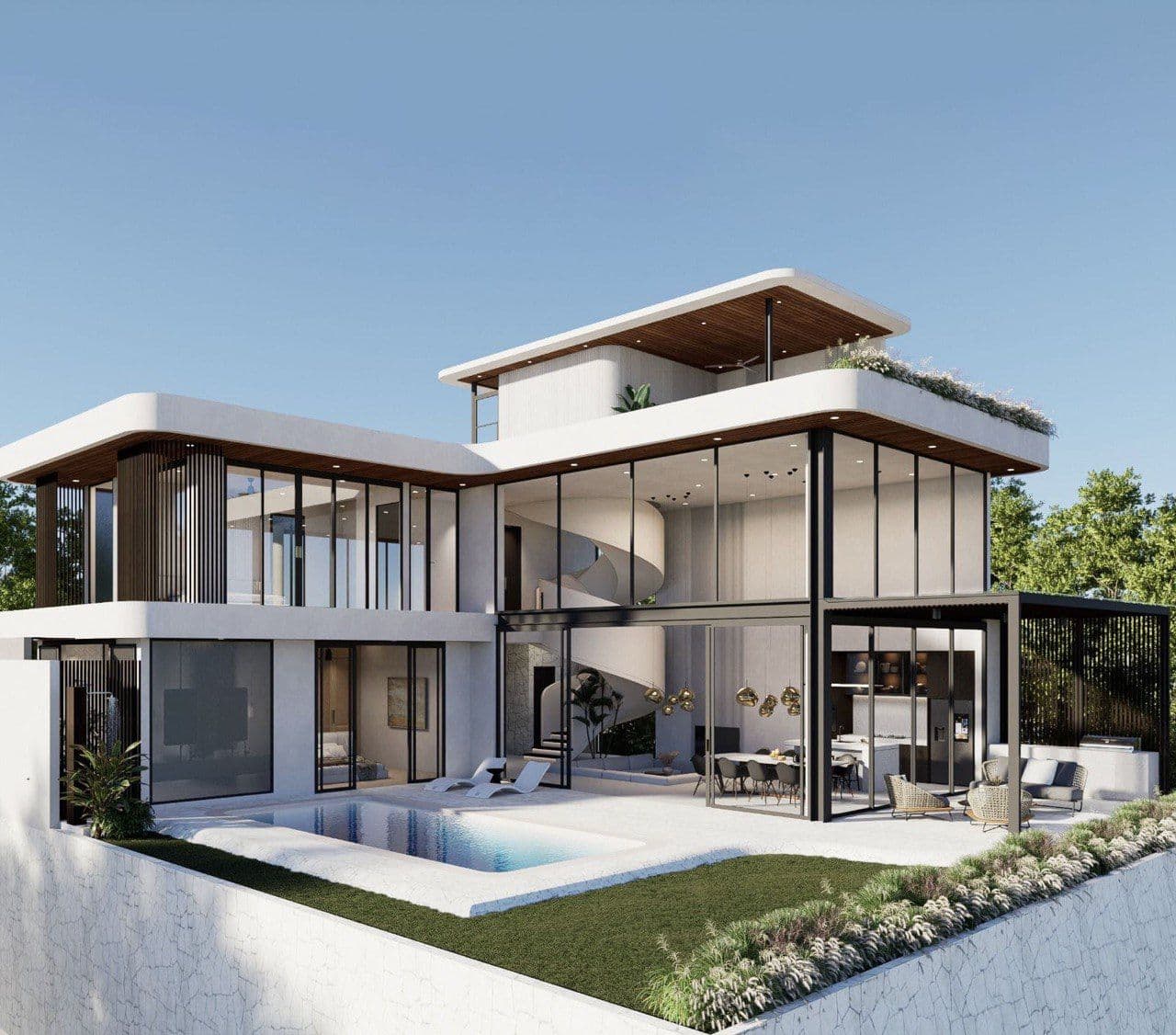 $599,000
Three-bedroom villa 50 meters from the ocean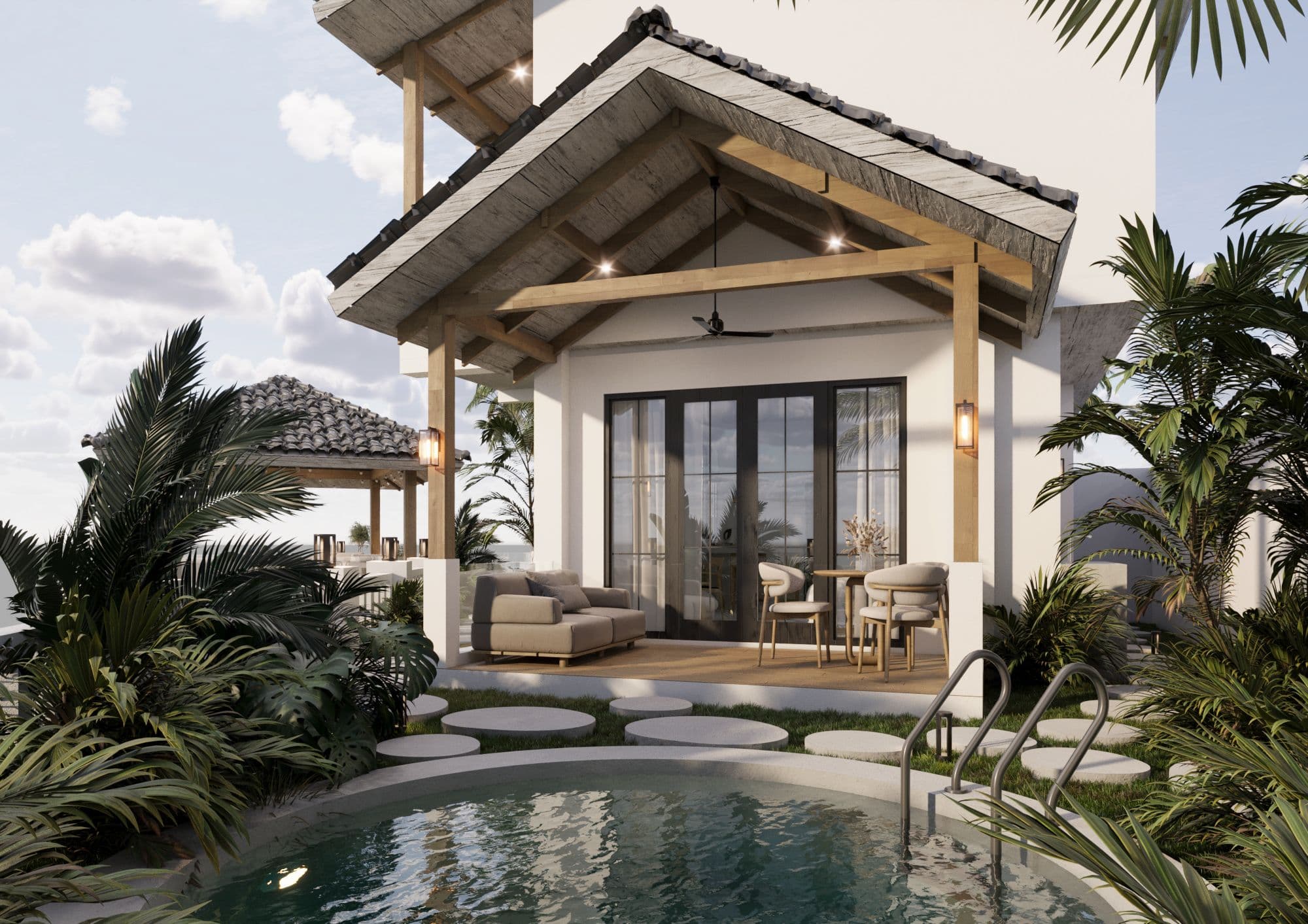 $111,000
Apartments with excellent infrastructure in Ubud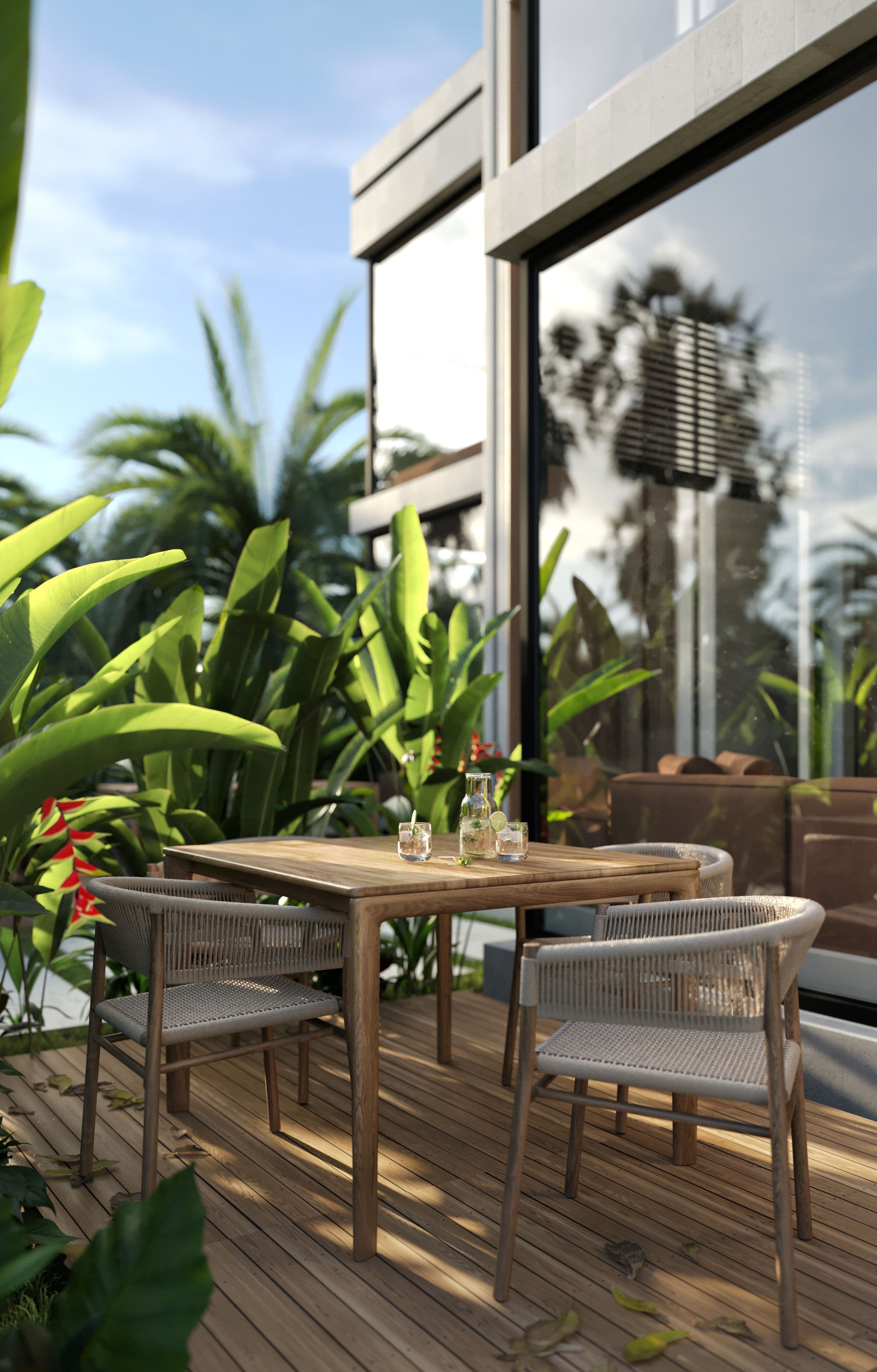 $185,000
Villa with terrace in Ubud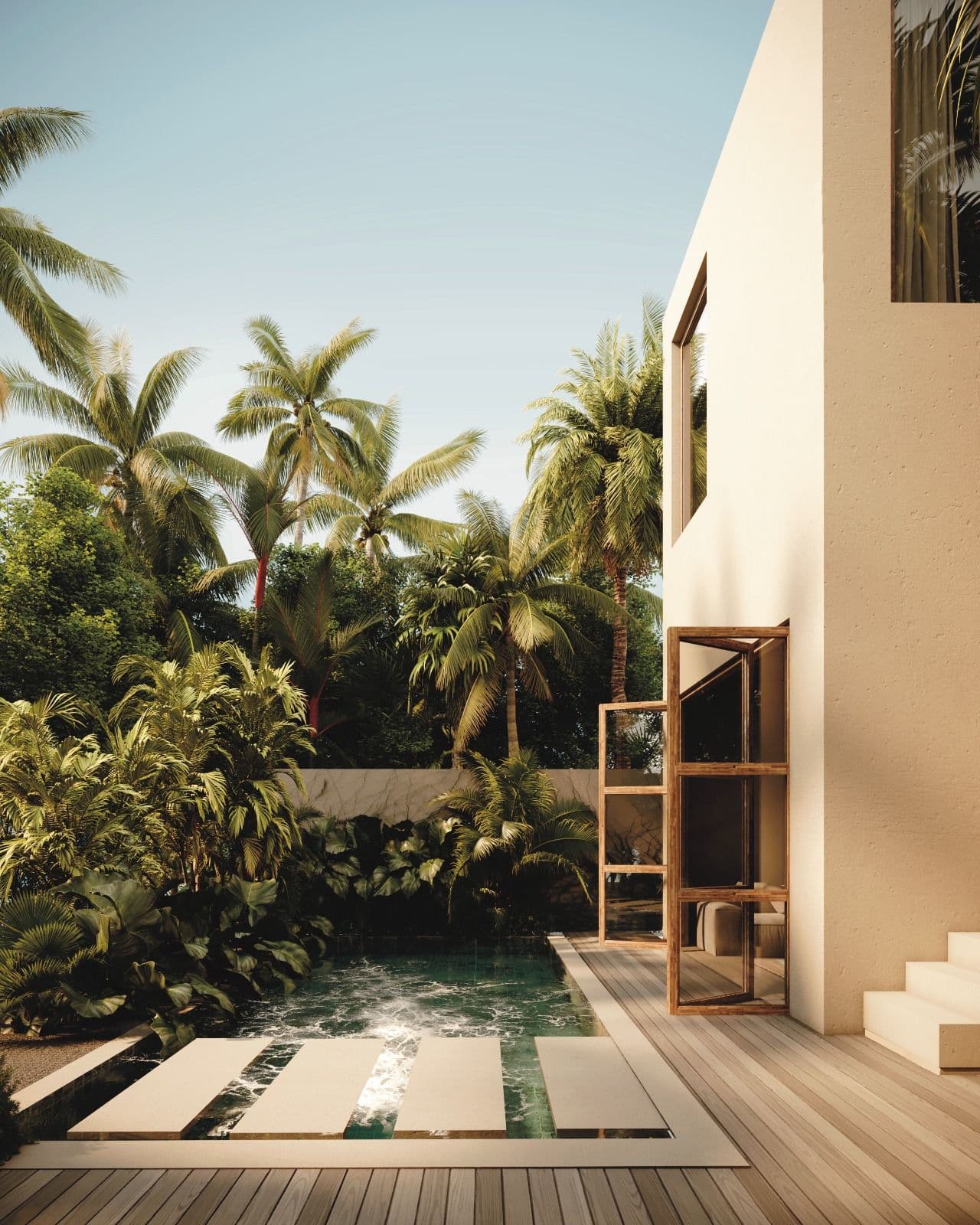 $270,000
Cozy 3 Bedroom Villa with Terrace in Uluwatu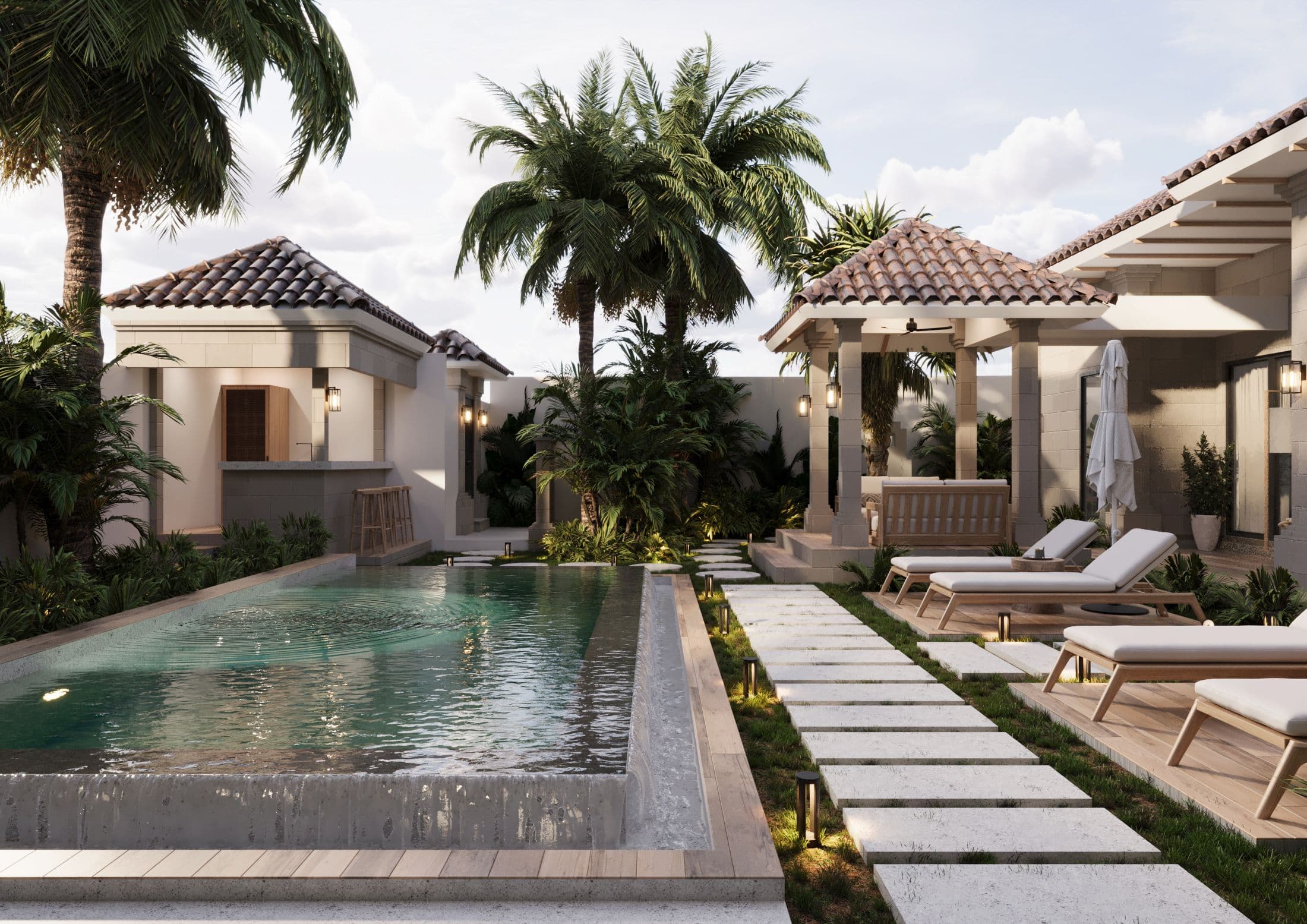 $385,000
Spacious 3 bedroom villa with pool in Ubud
$129,000
Charming two bedroom villa in Chemagi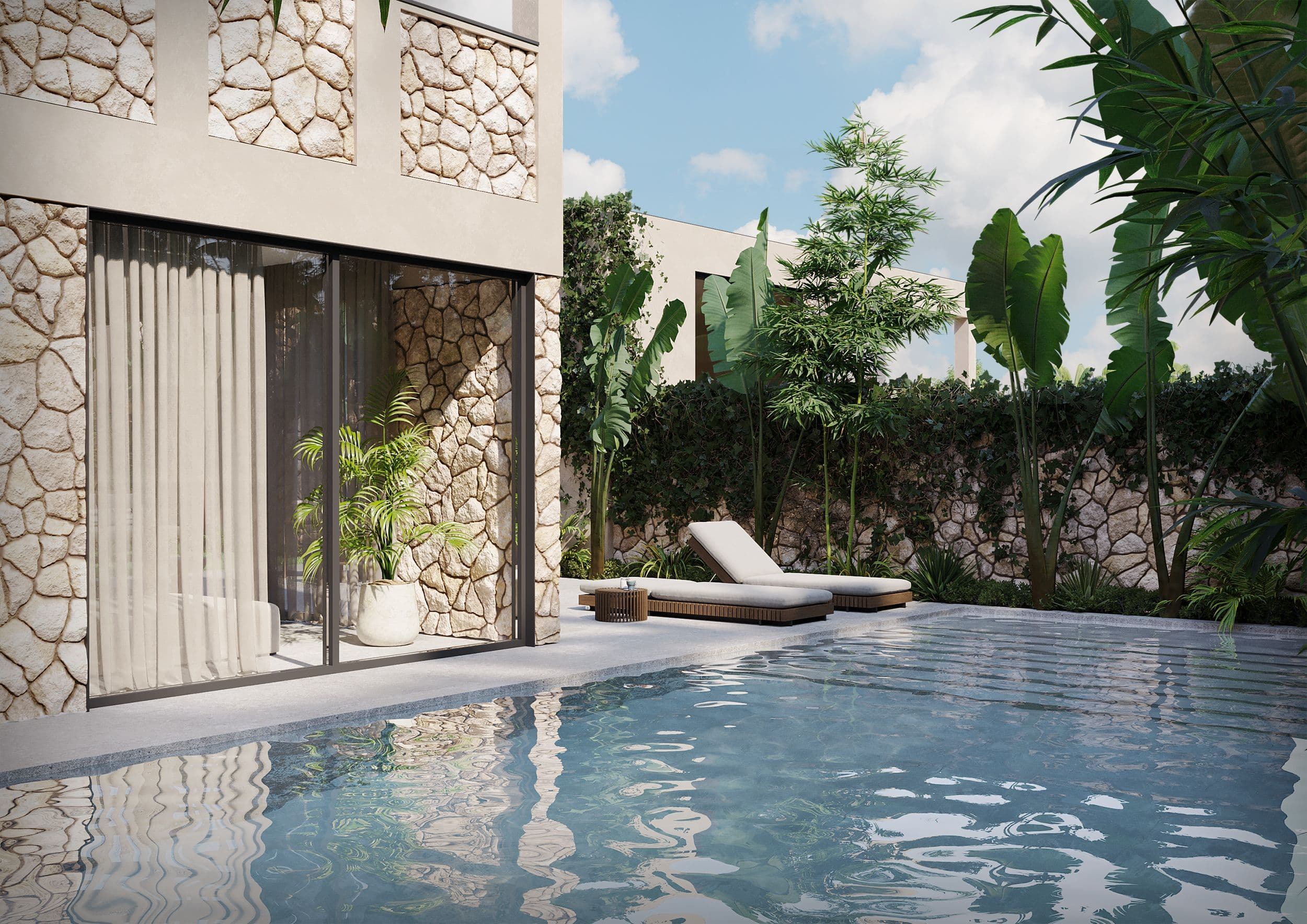 $500,000
3 bedroom residence in Bukit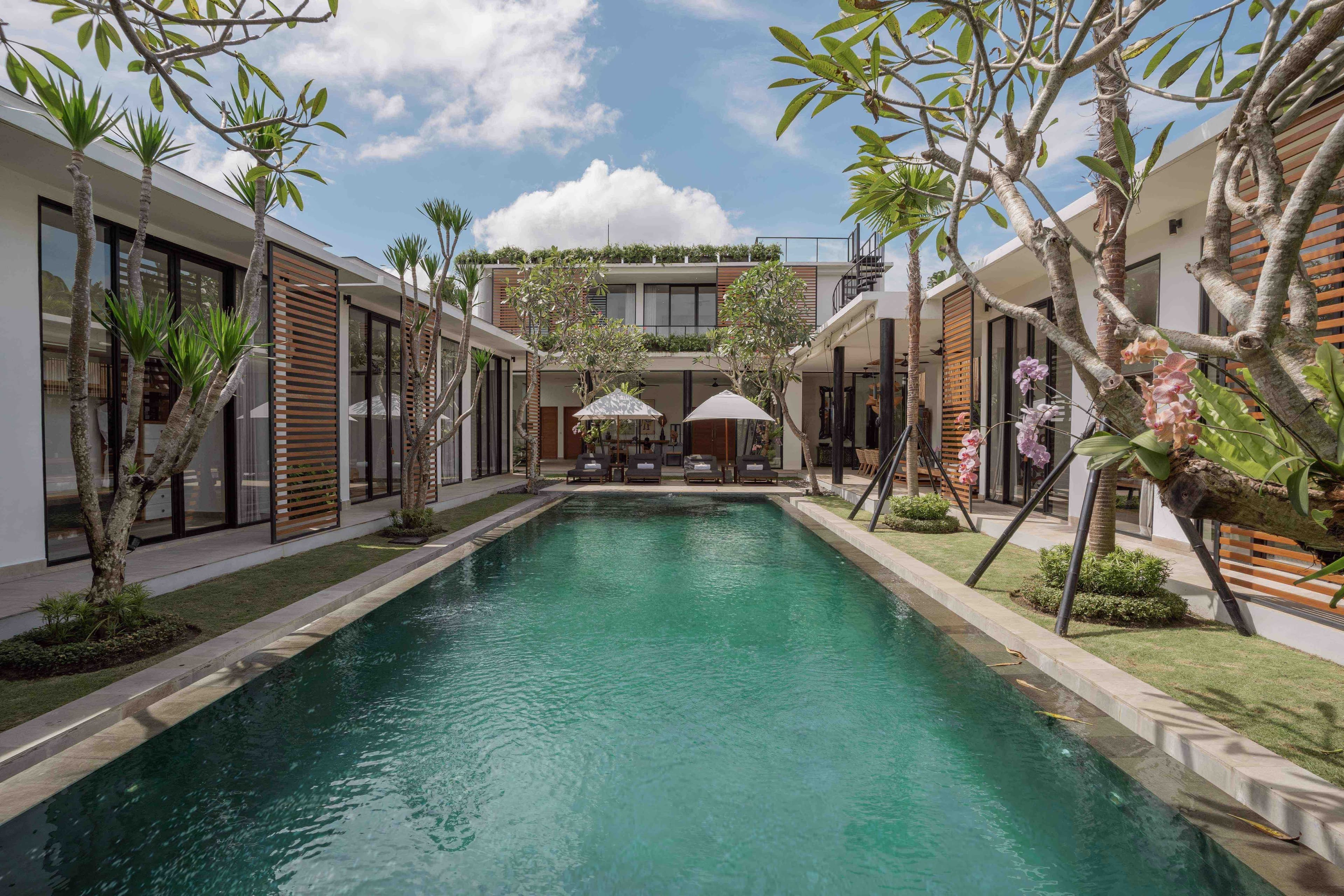 $850,000
Exclusive 4 bedroom villa on Berawa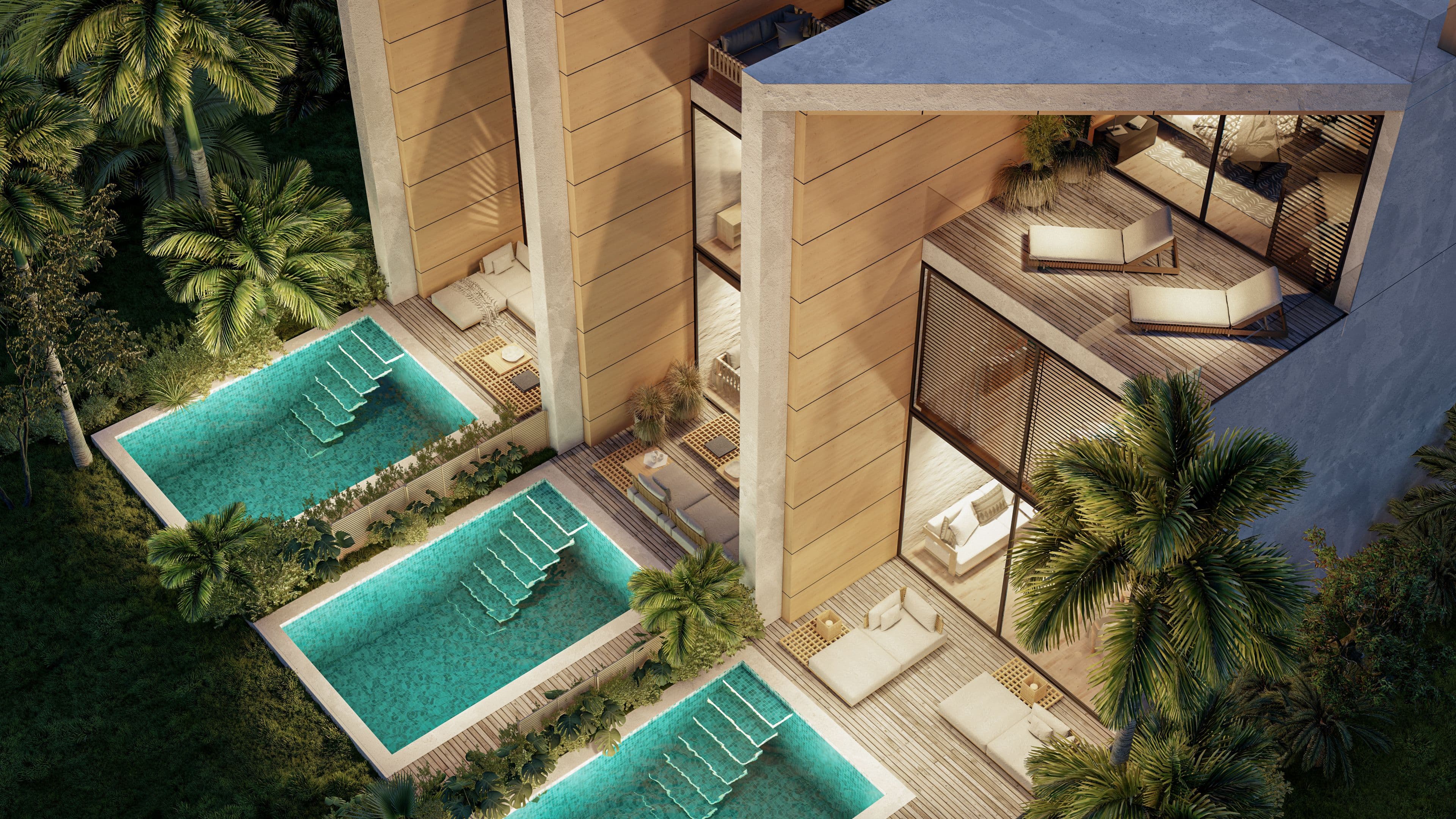 $300,000
3 bedroom rooftop Villa with 90 years leashold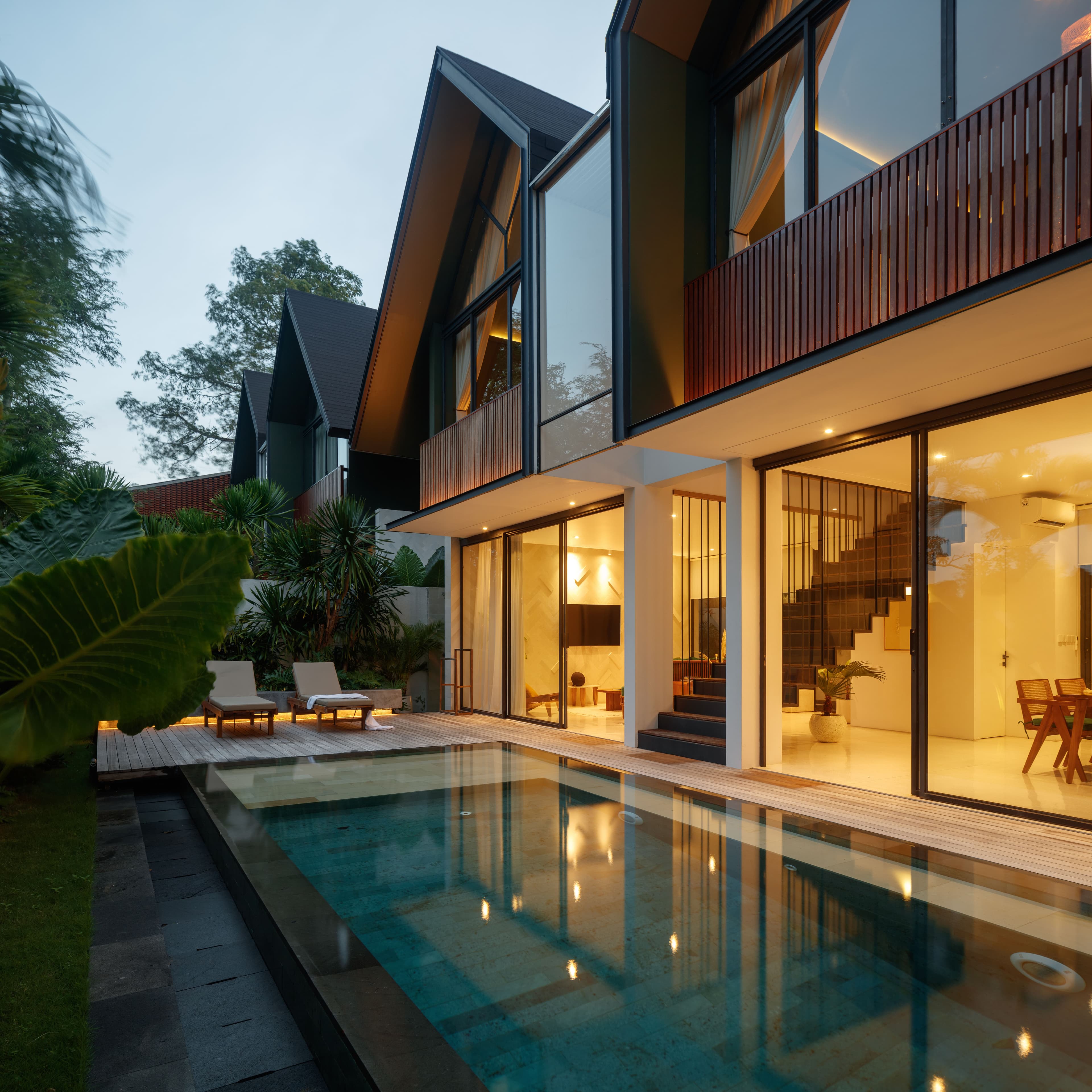 $540,000
Villa on Bukit with 45 years leashold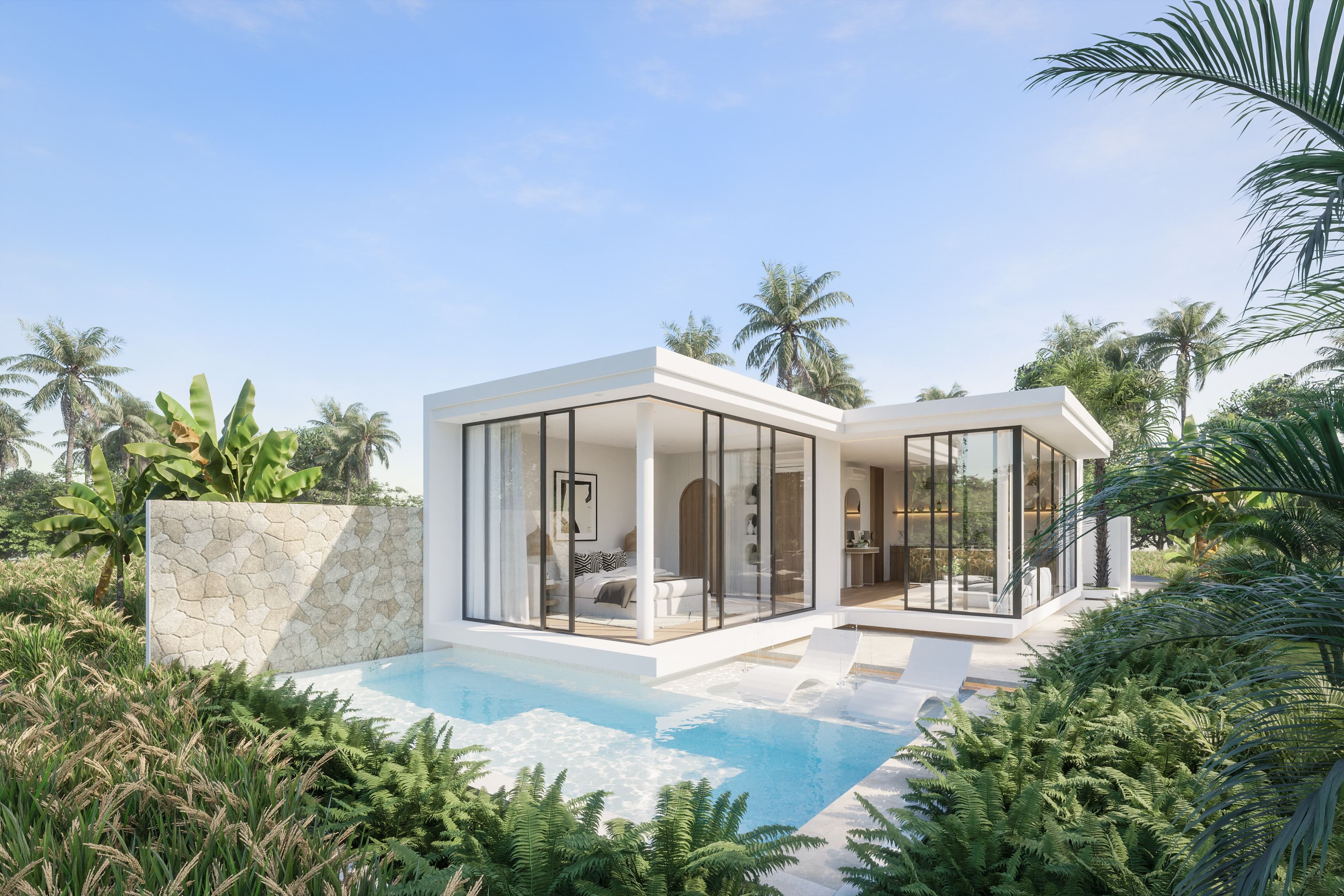 $221,000
1 bedroom villa 100 meters from Seseh Beach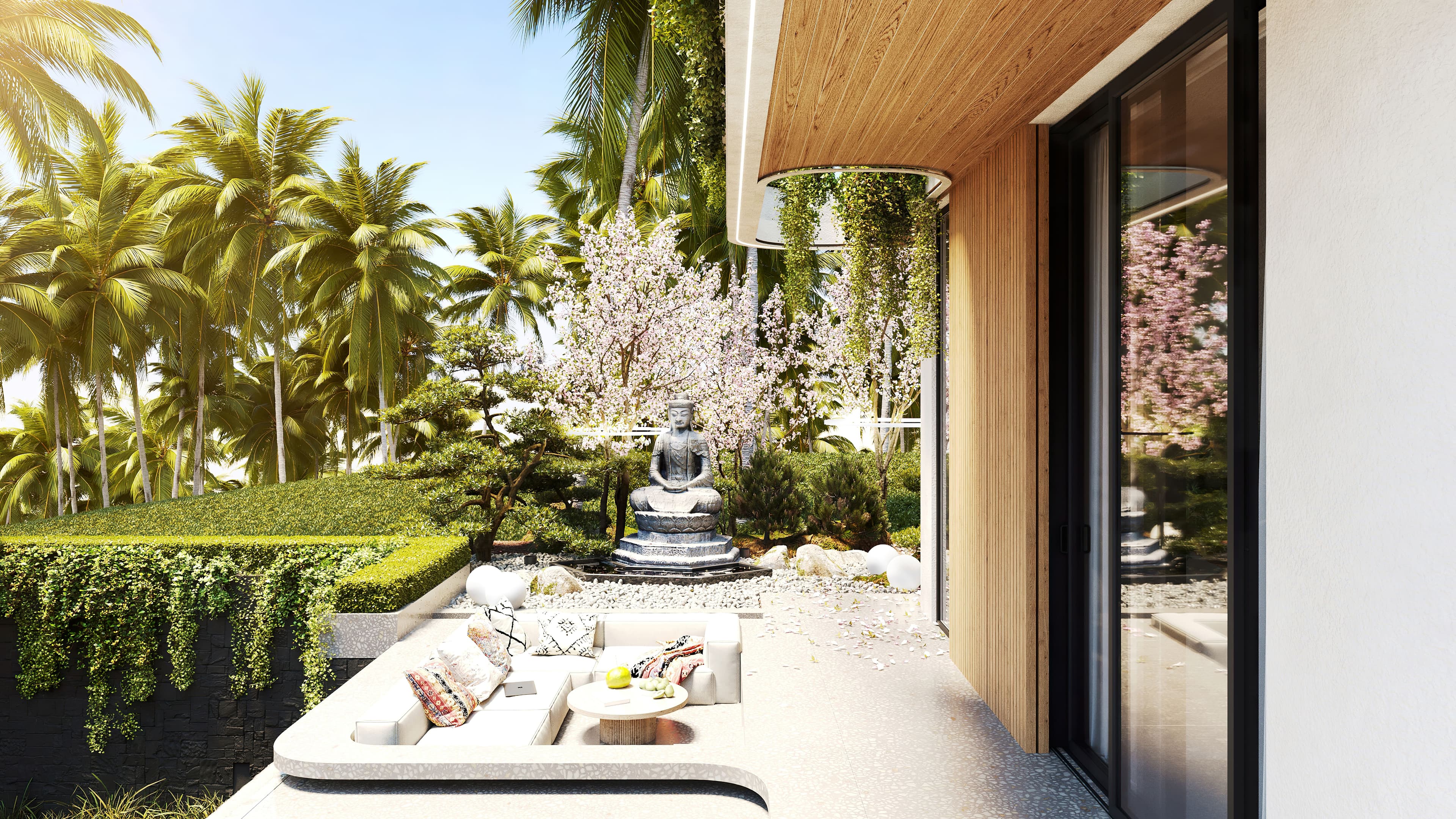 $350,000
3 Bedroom fusion villa in Bukit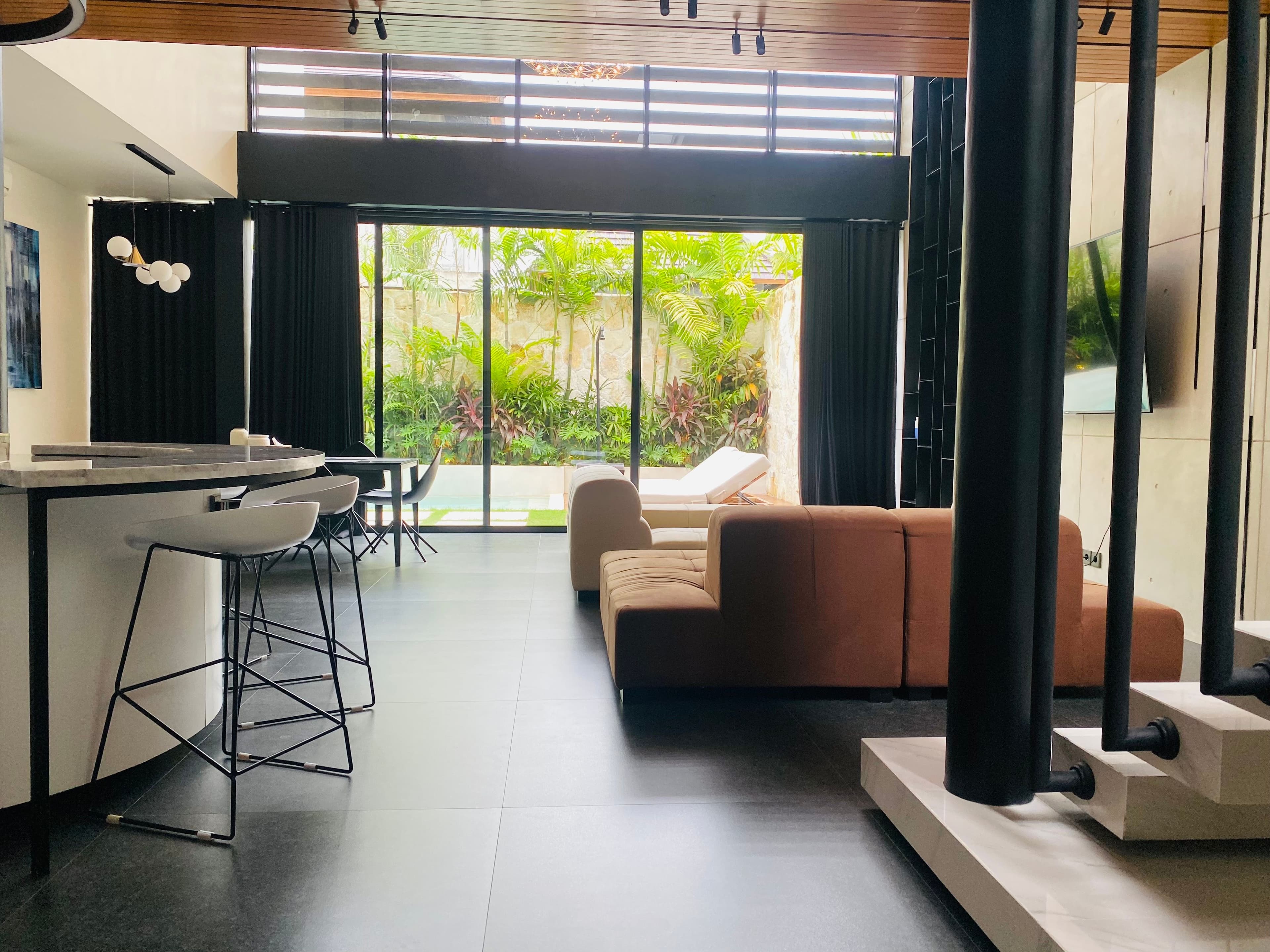 $429,999
Modern 3 bedroom villa in the heart of Canggu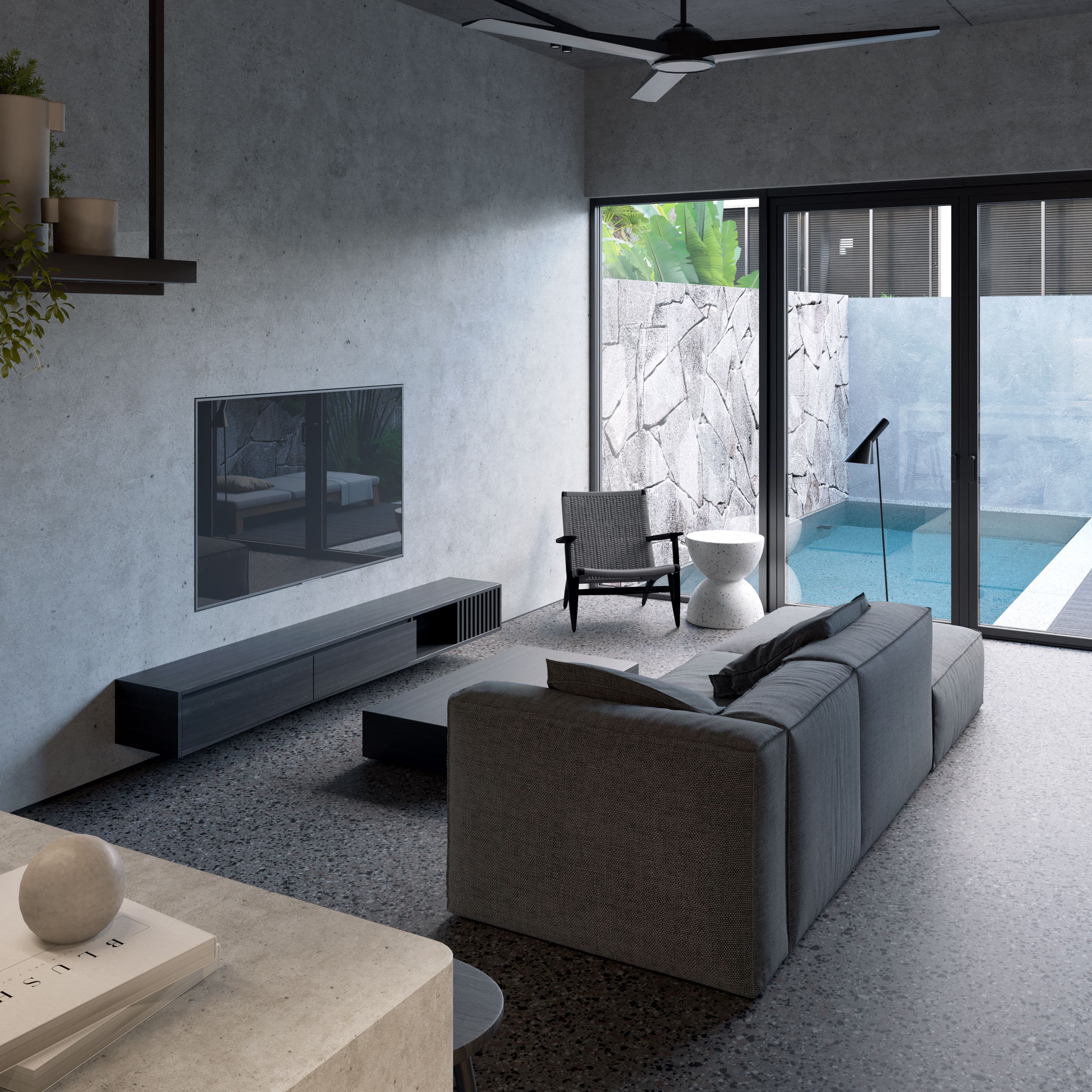 $238,000
2 bedroom villa in a private complex in Changgu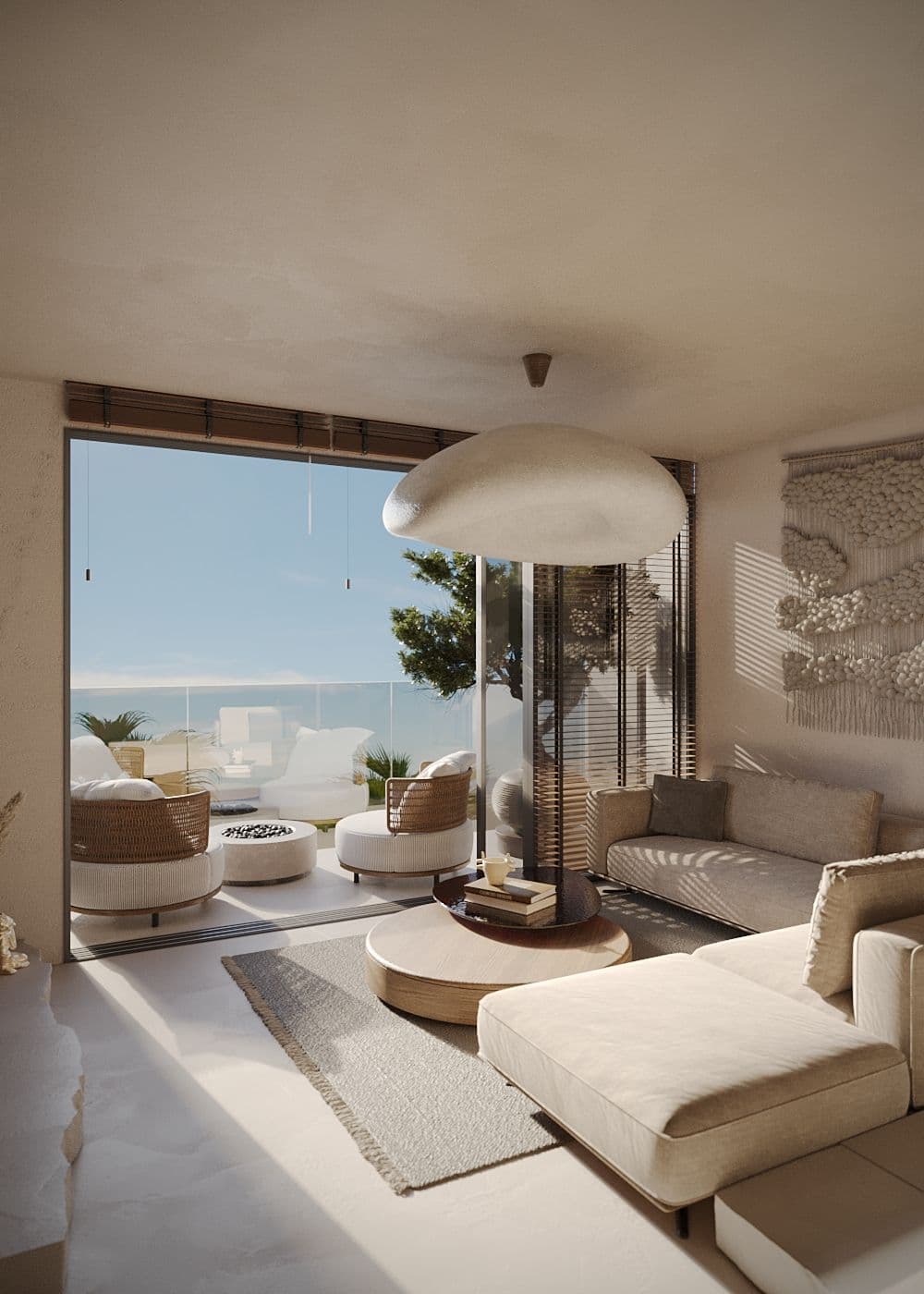 $119,000
Apartment in a boutique hotel 200 meters from the ocean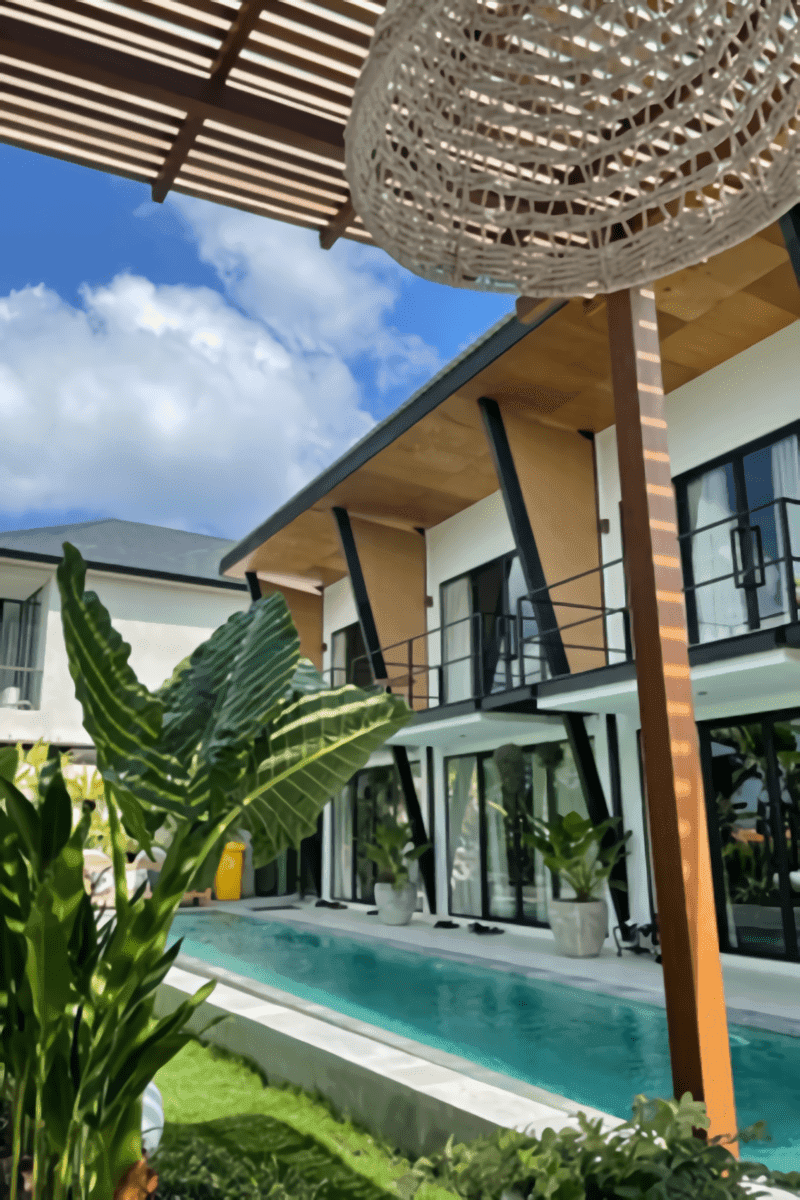 $203,000
Loft with shared pool in Batu Bolong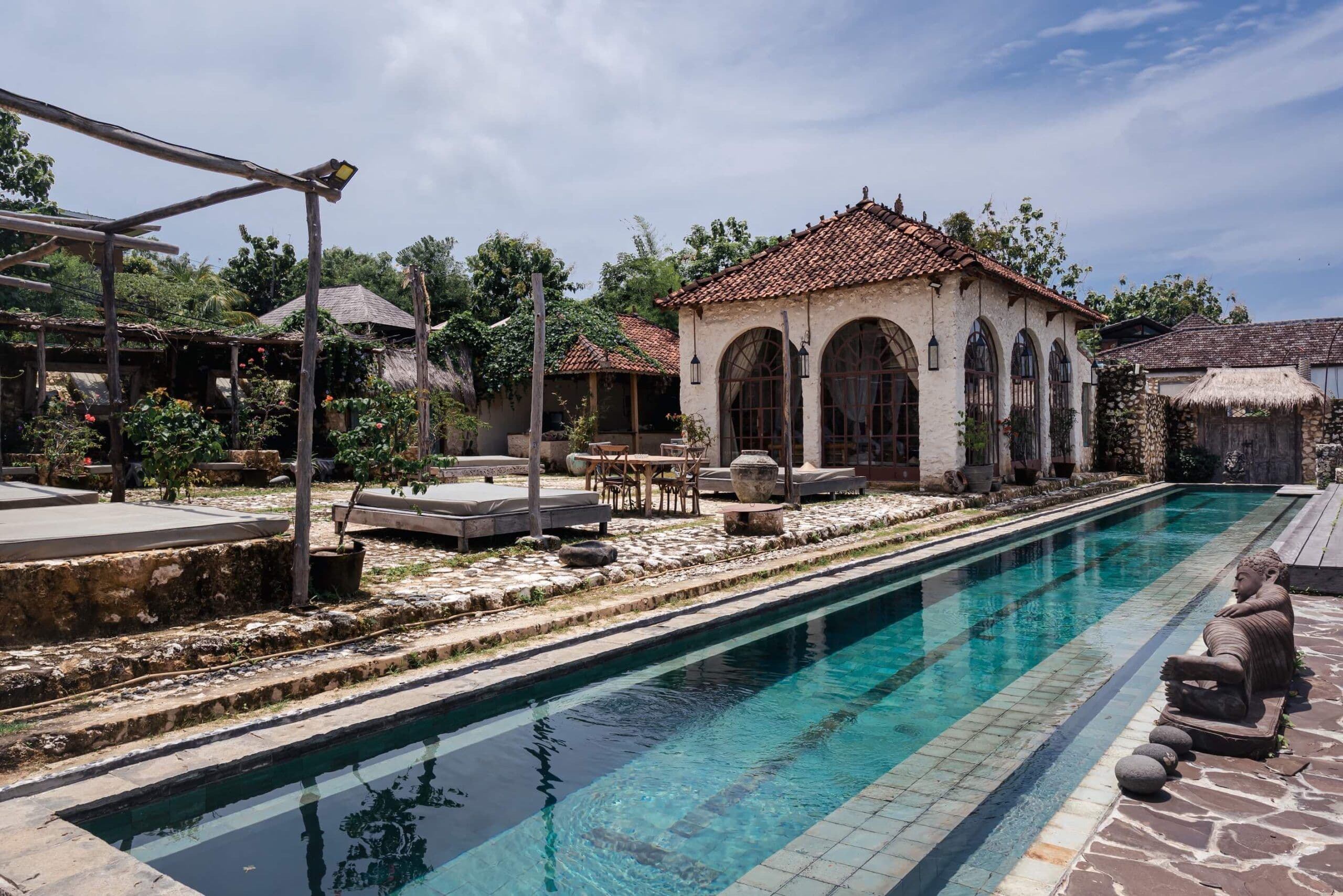 $1,500,000
A complex of 4 charming villas with ocean views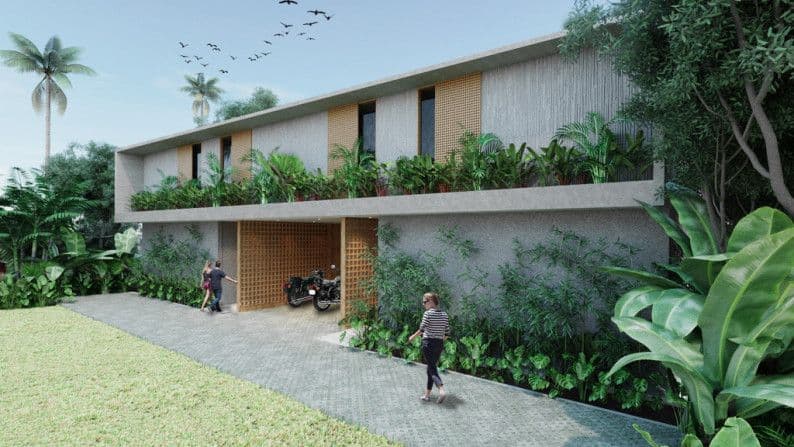 $490,000
Modern 4 bedroom villa near Berawa beach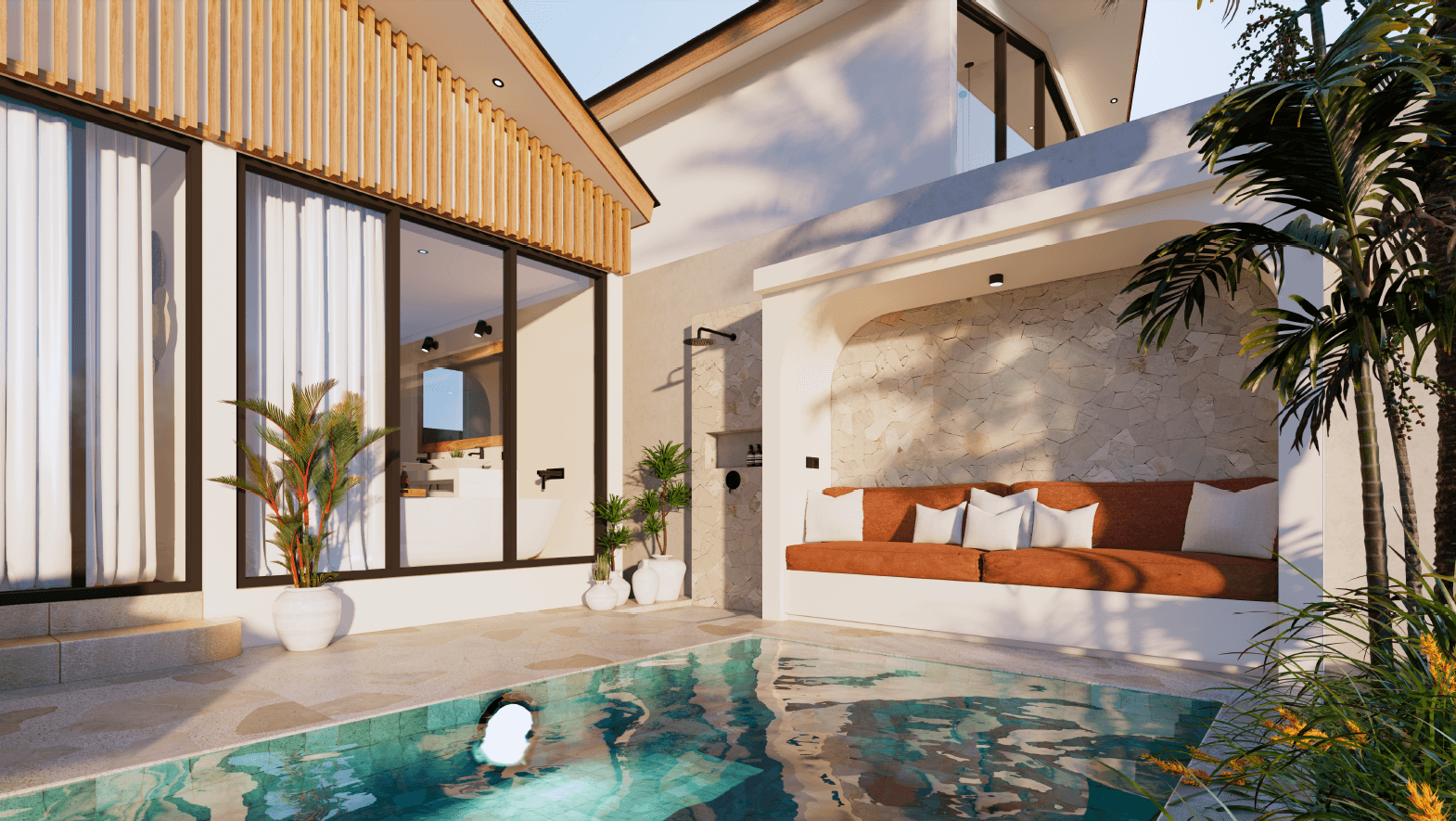 $199,000
Villa 400 meters from the beach in Seseh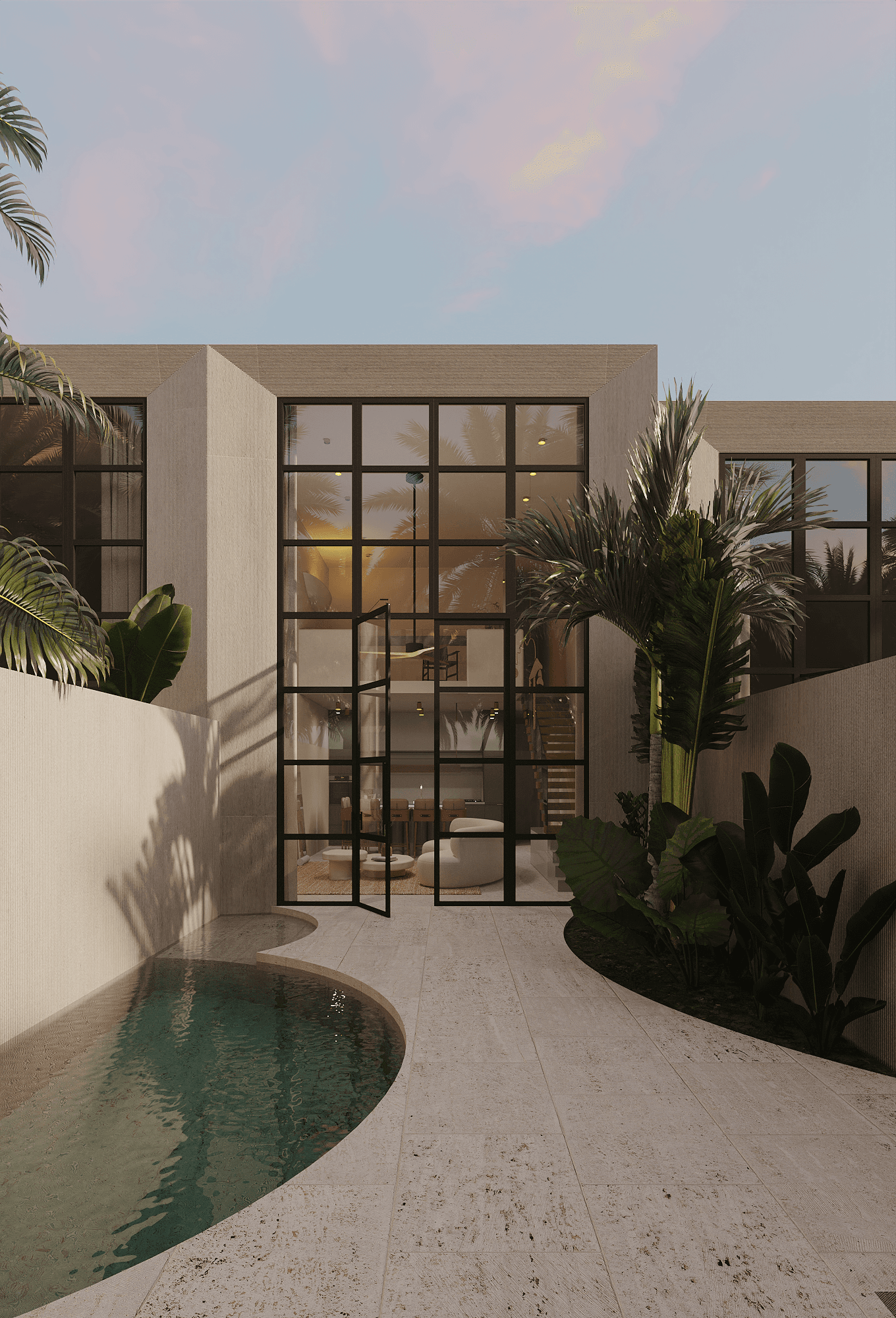 $180,000
Villas on Berawa in the architectural style of Wabi sabi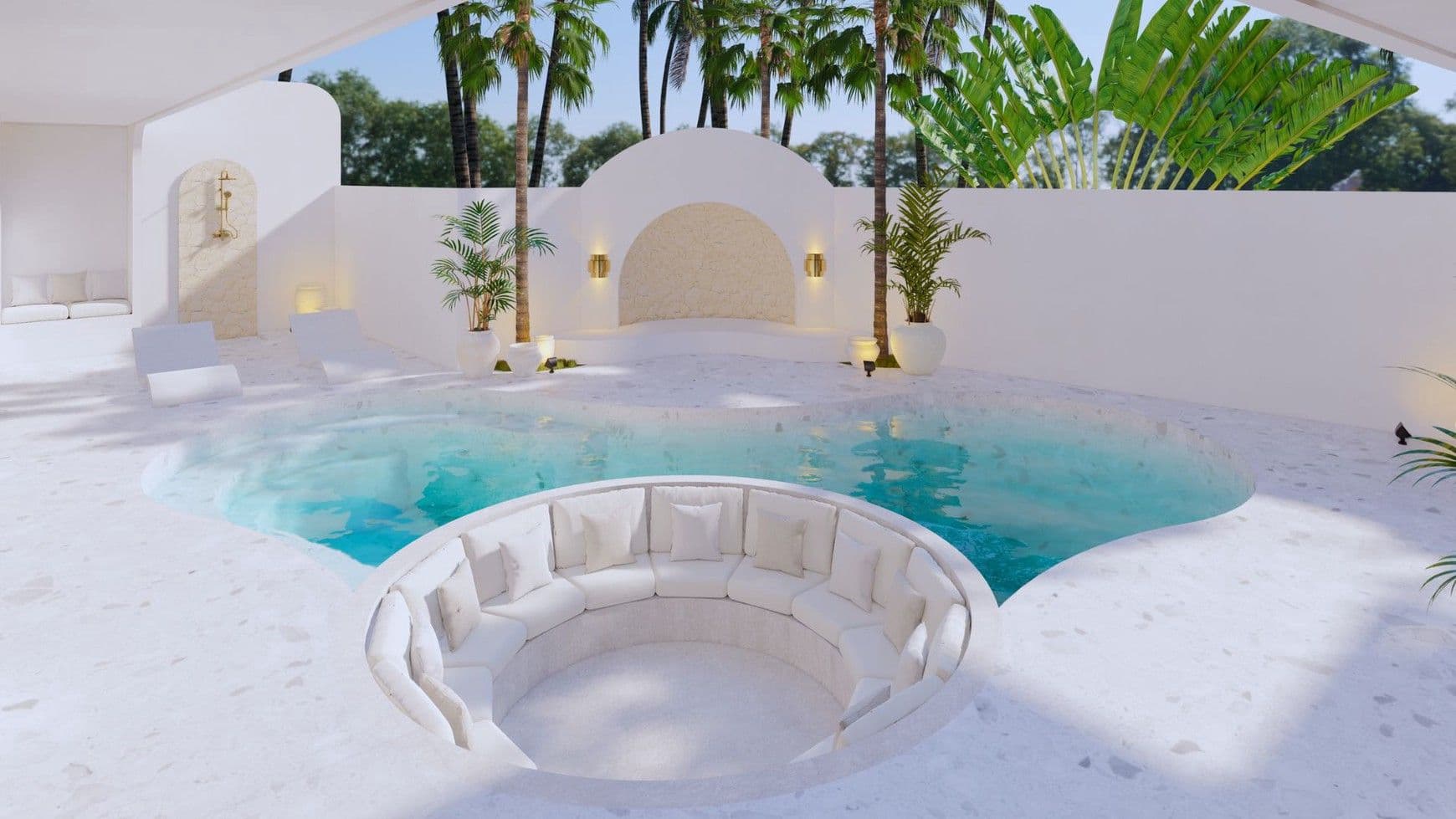 $520,000
Luxury villa in bright colors with 4 bedrooms and a rooftop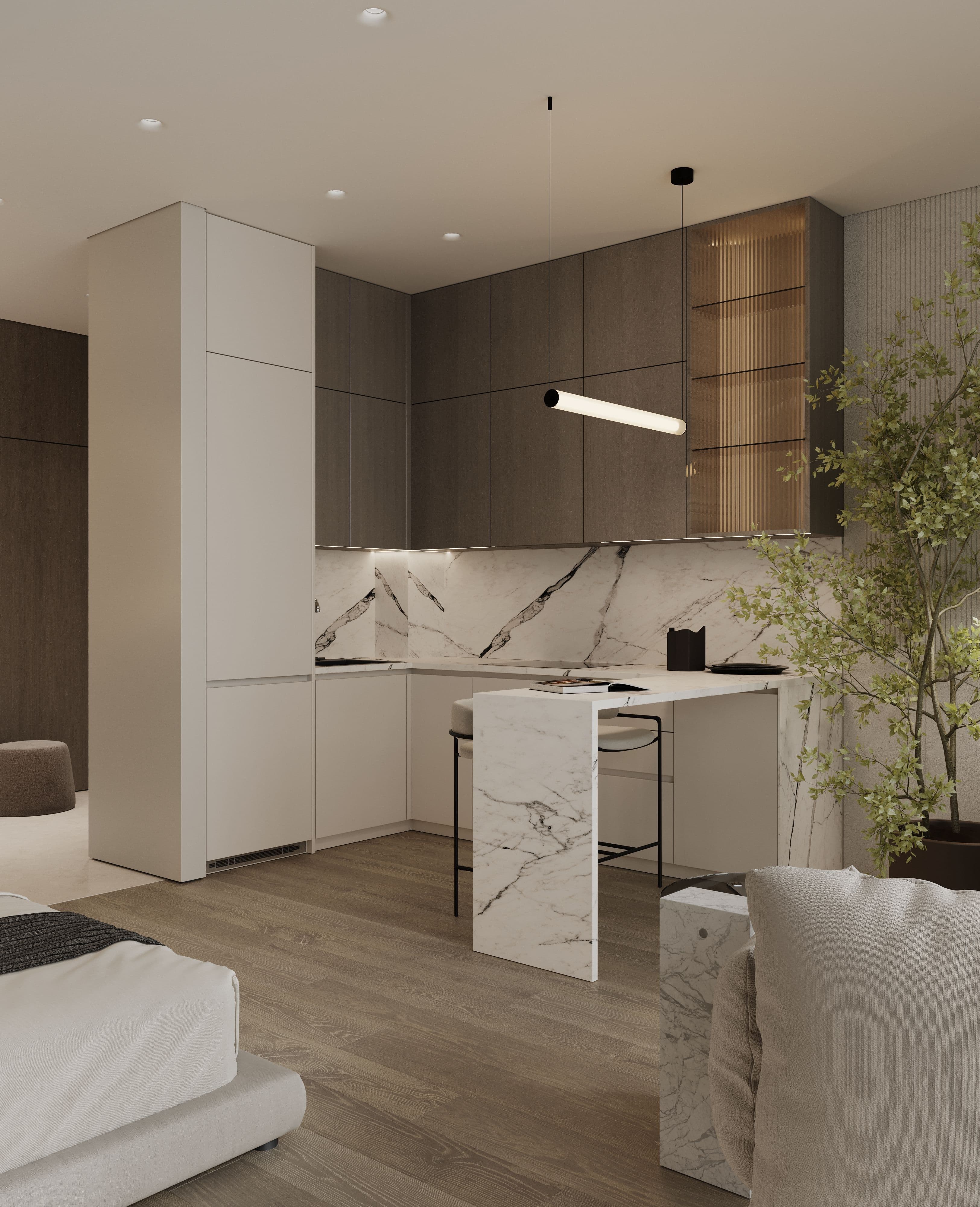 $110,000
Cozy apartments in Pererenan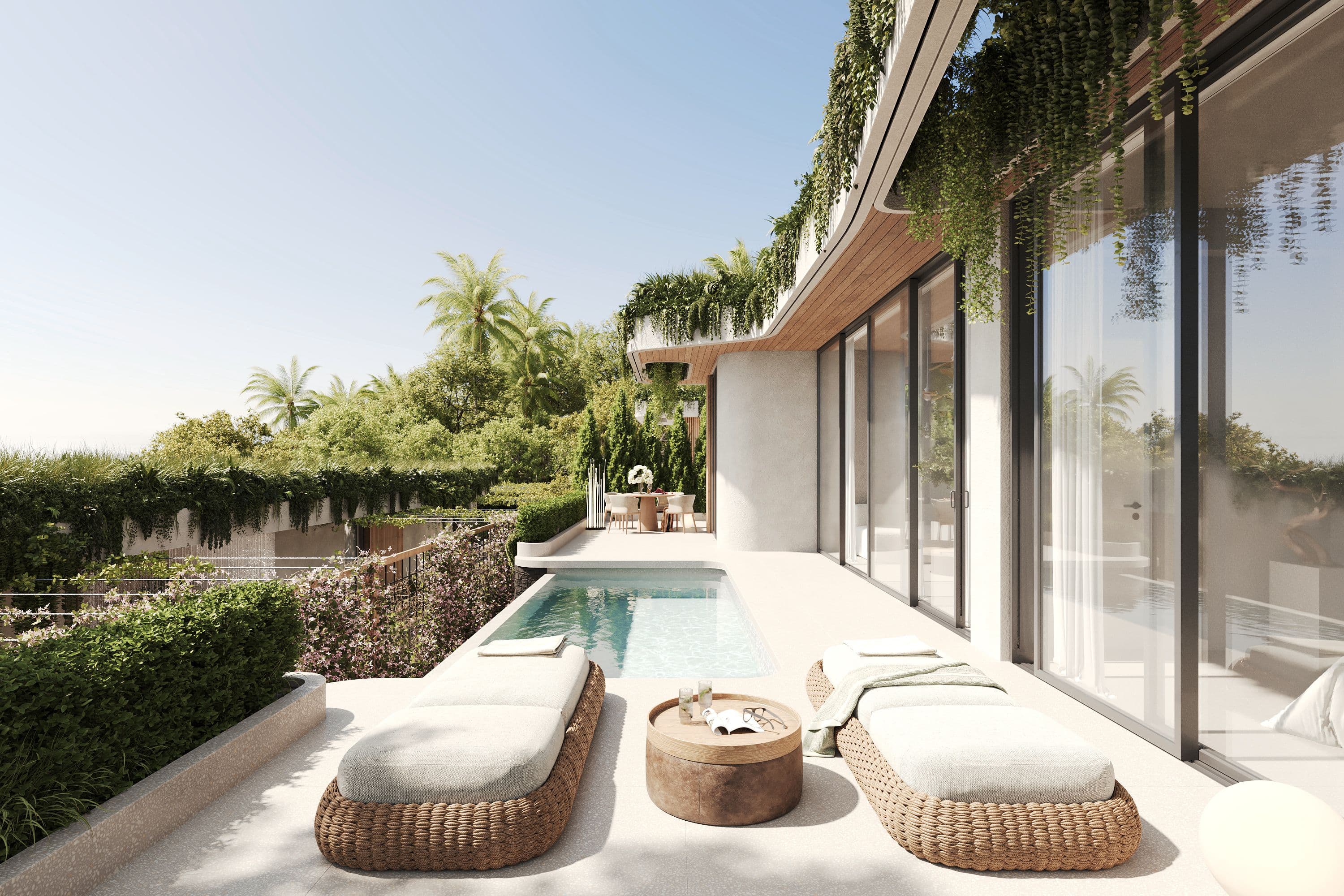 $308,000
2 Bedroom fusion villa in Bukit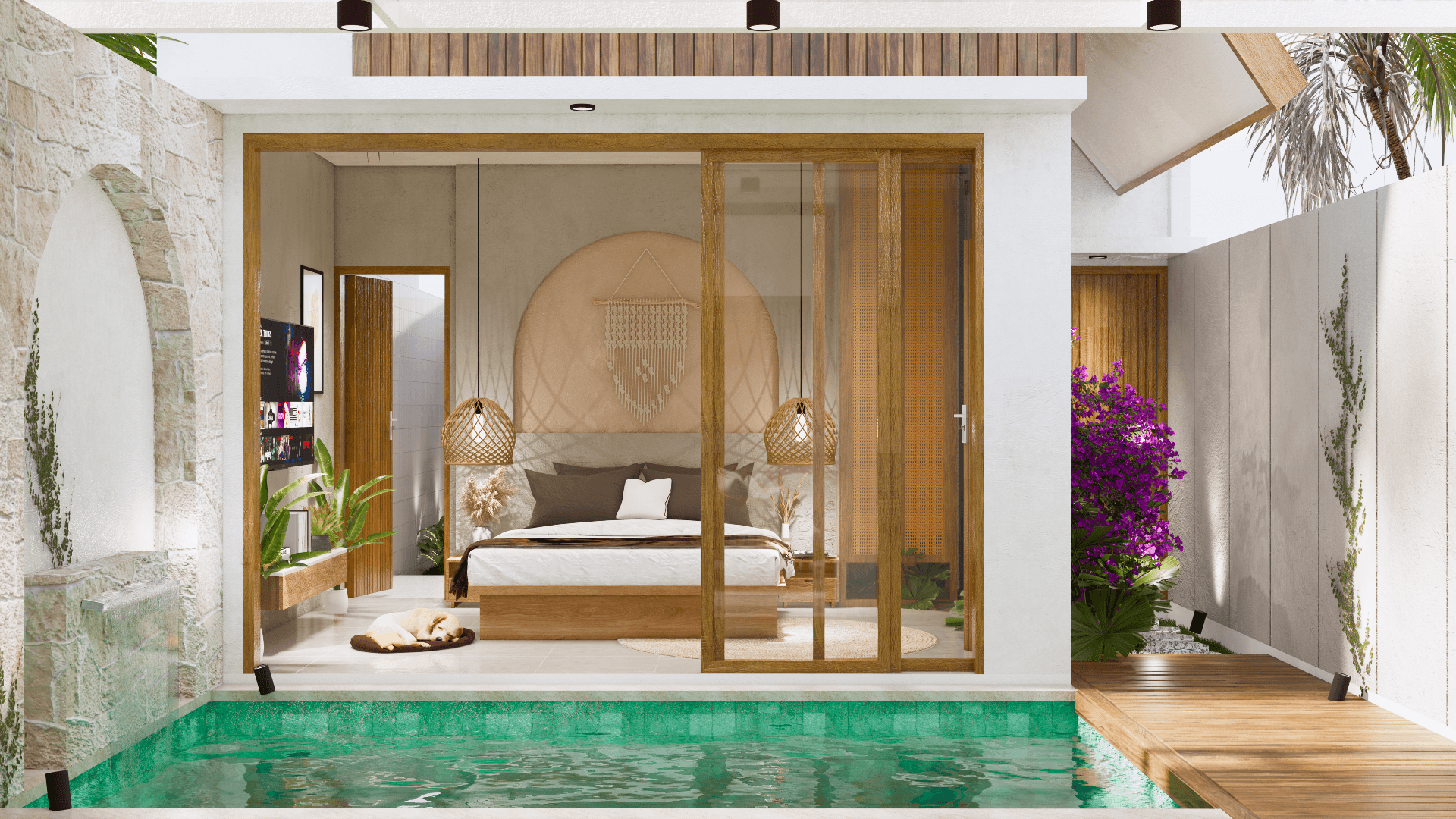 $92,000
2 Bedroom Villa with magnificent ROI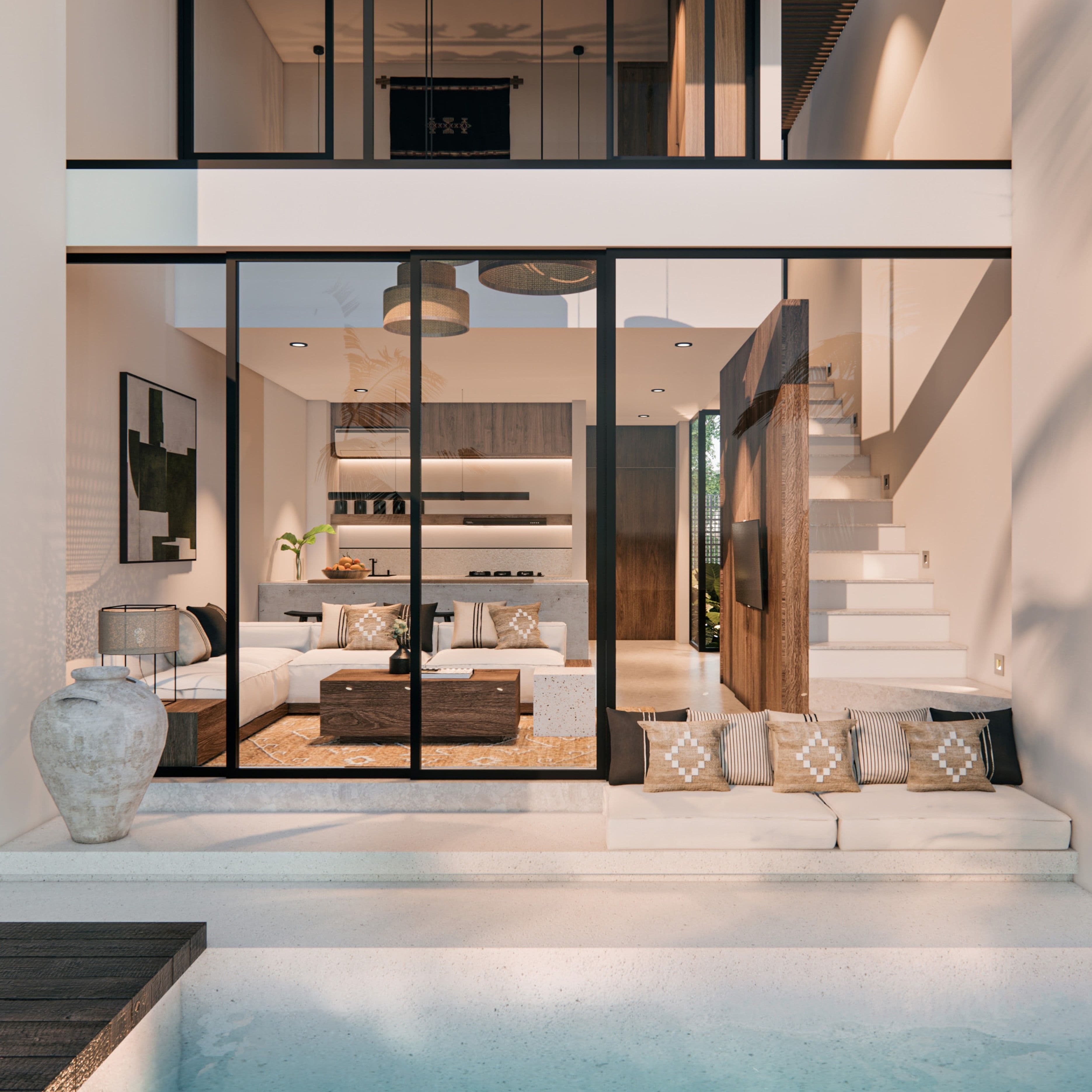 $191,000
Compact 2 bedroom villa in Canggu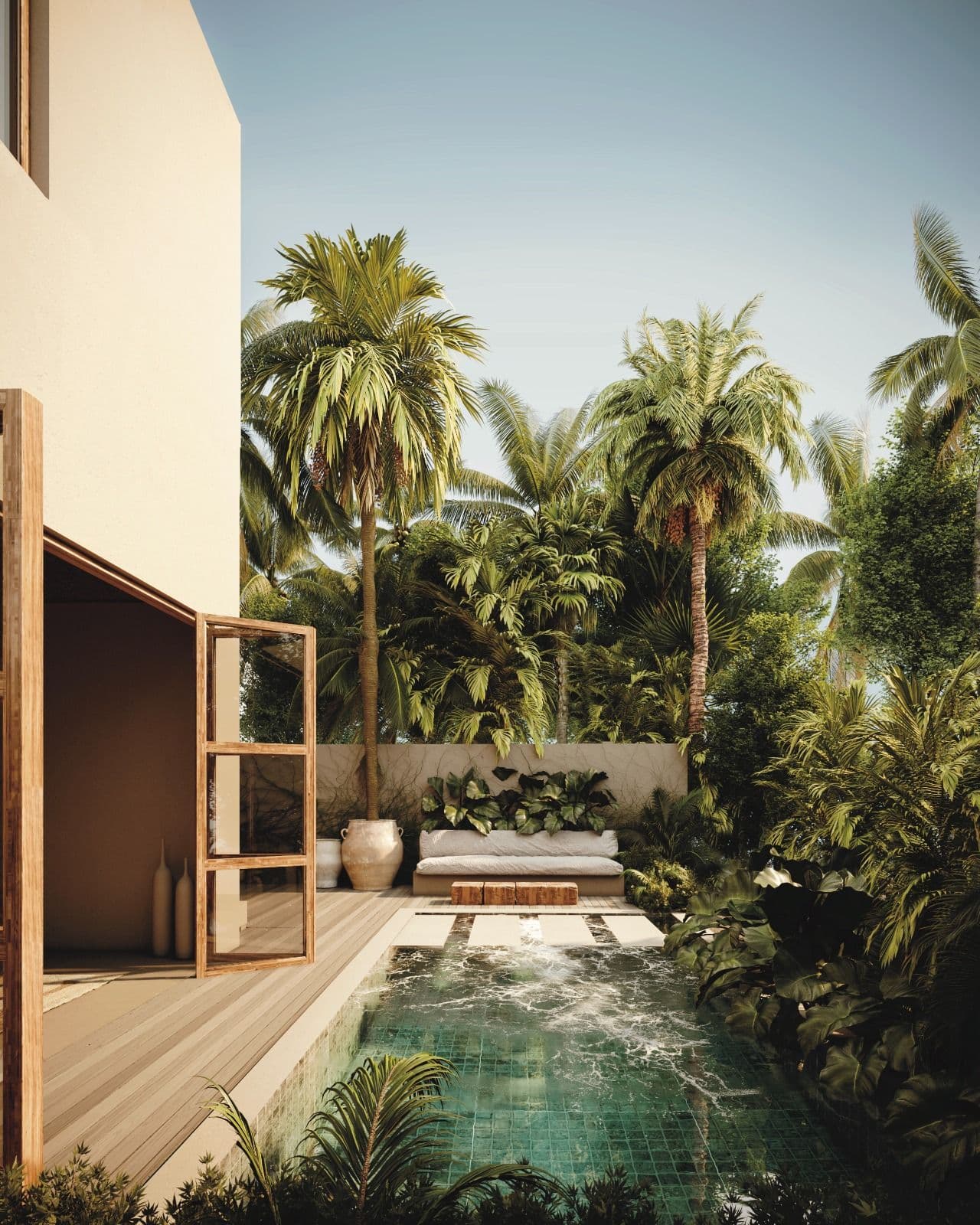 $164,000
Cozy 1 bedroom villa in Uluwatu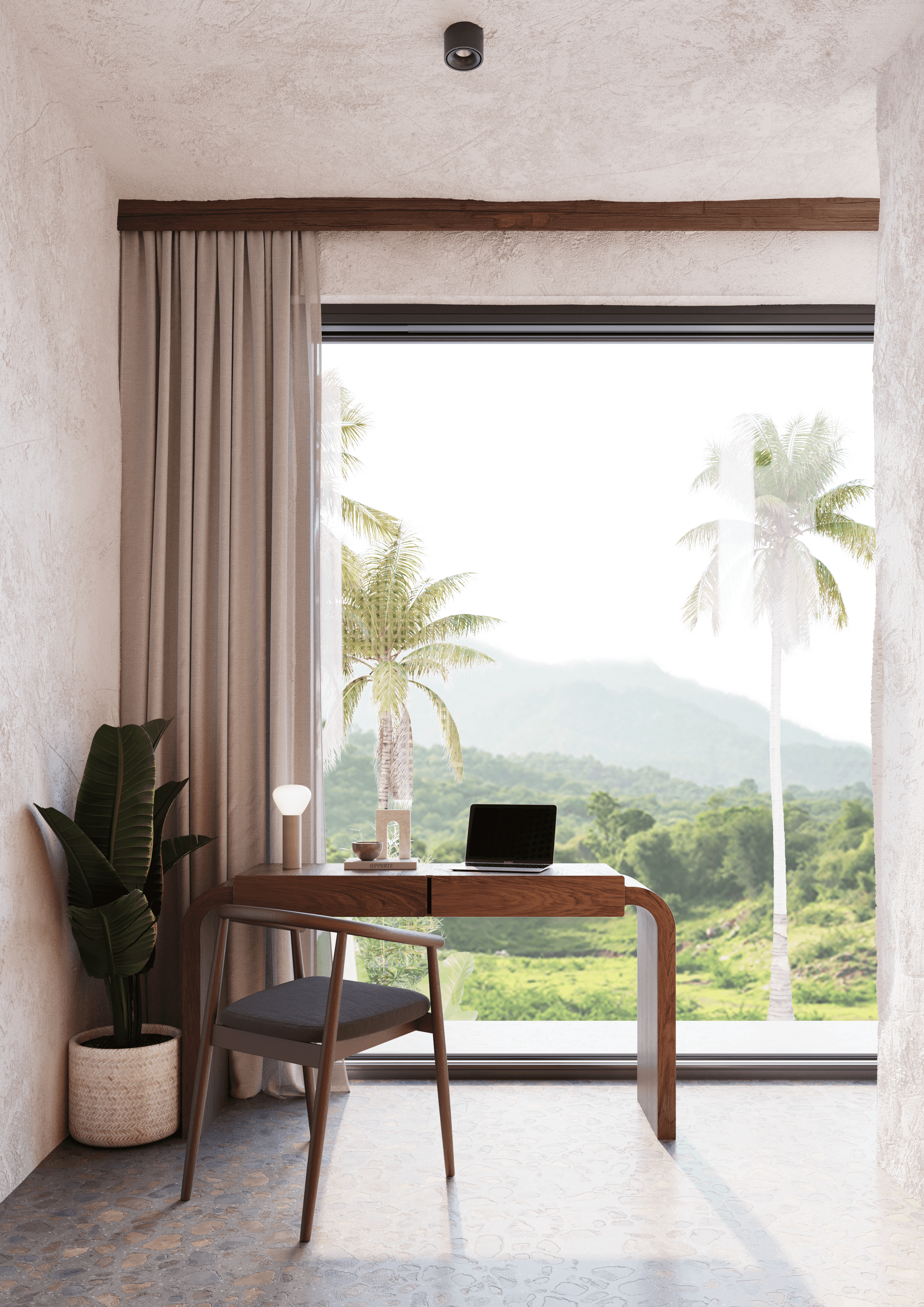 $250,000
One bedroom villa 7 minutes from Berawa Beach
$580,000
Two bedroom Melasti beach villa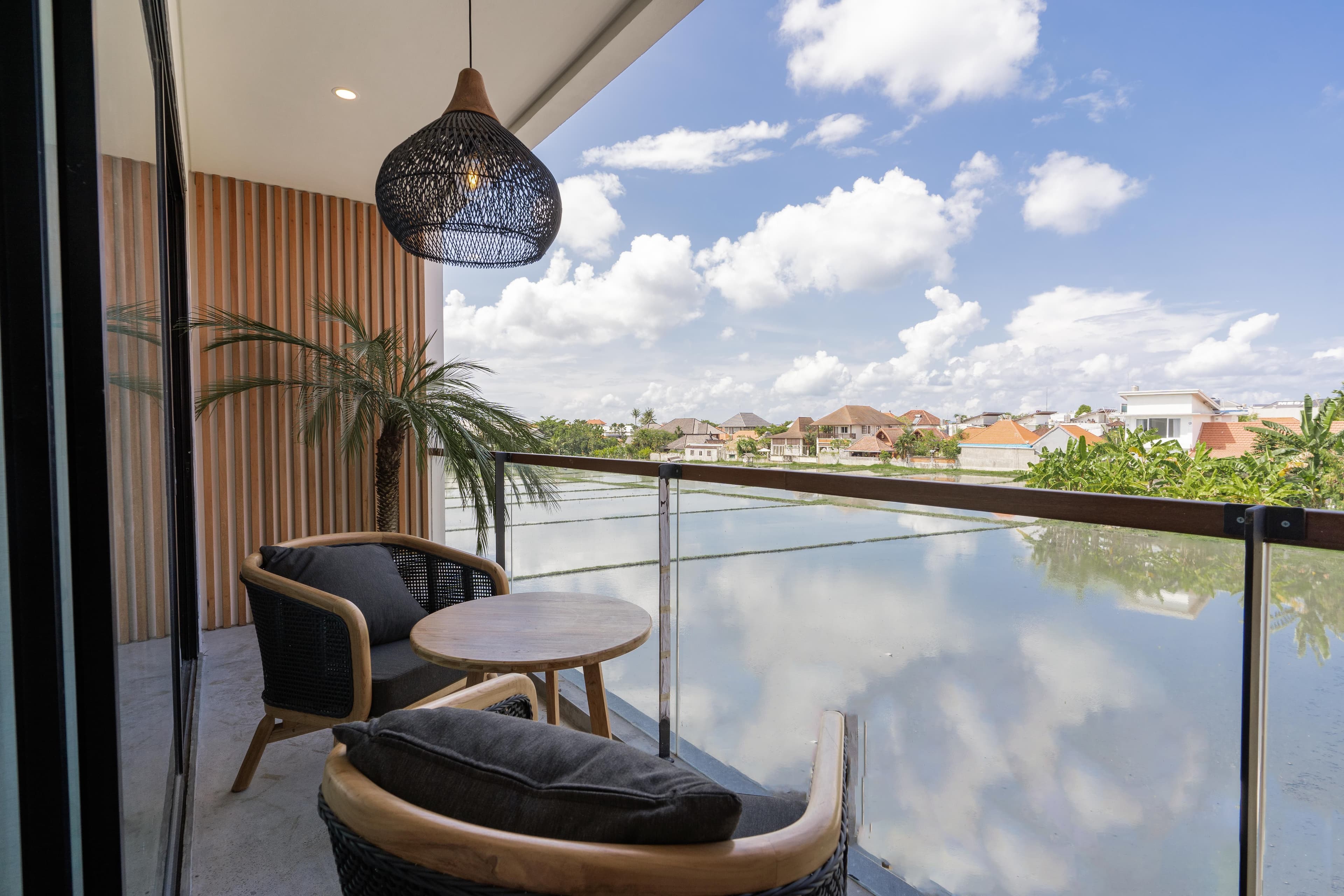 $325,000
2 Bedroom villa overlooking rice fields in Canggu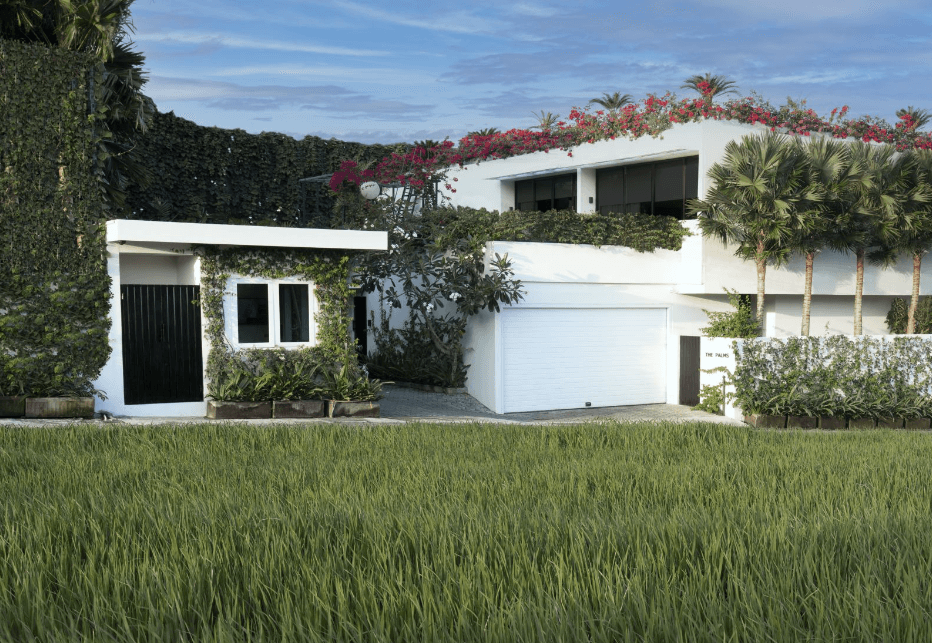 $995,000
Duplex villa in California style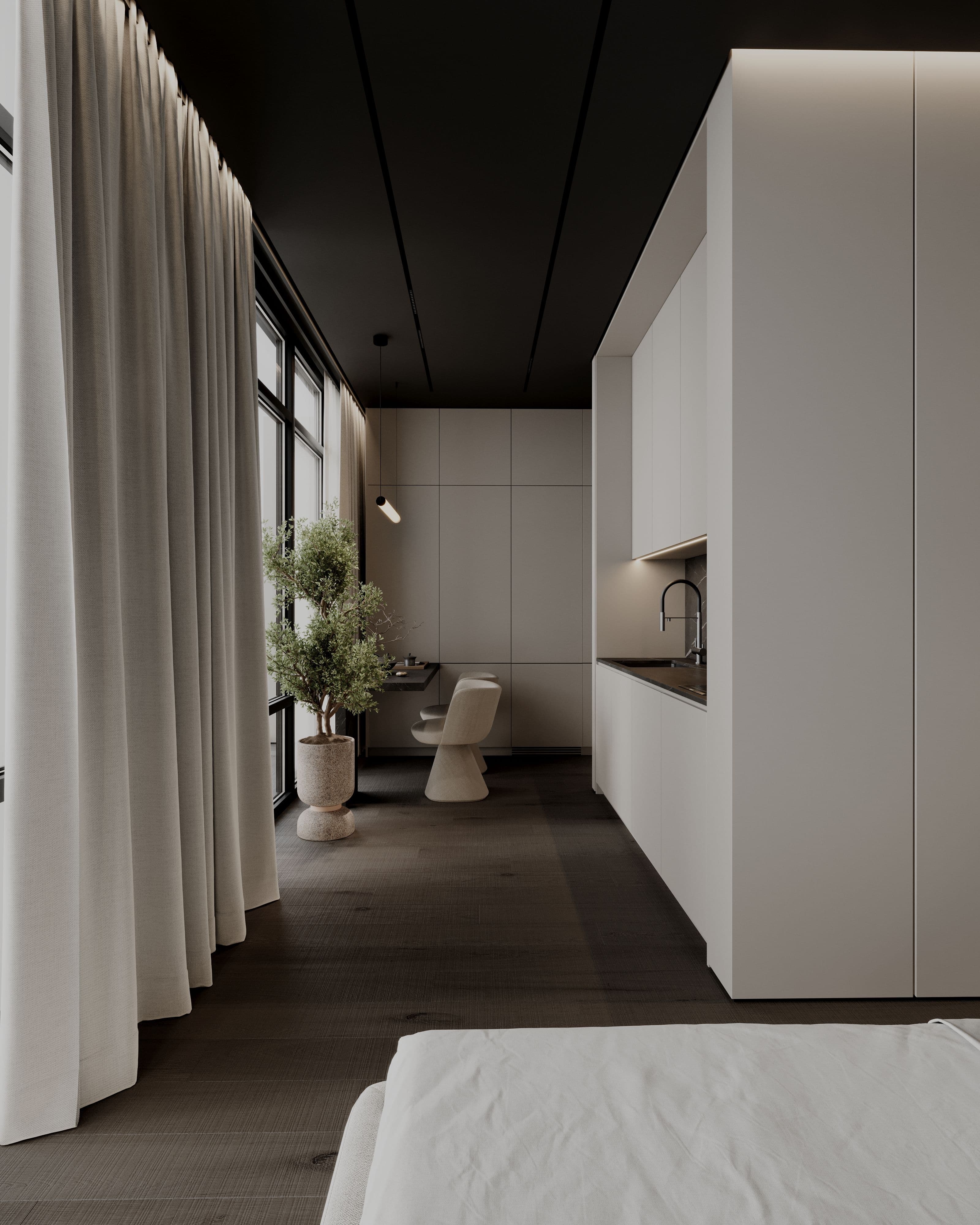 $120,000
Modern apartments in Pererenan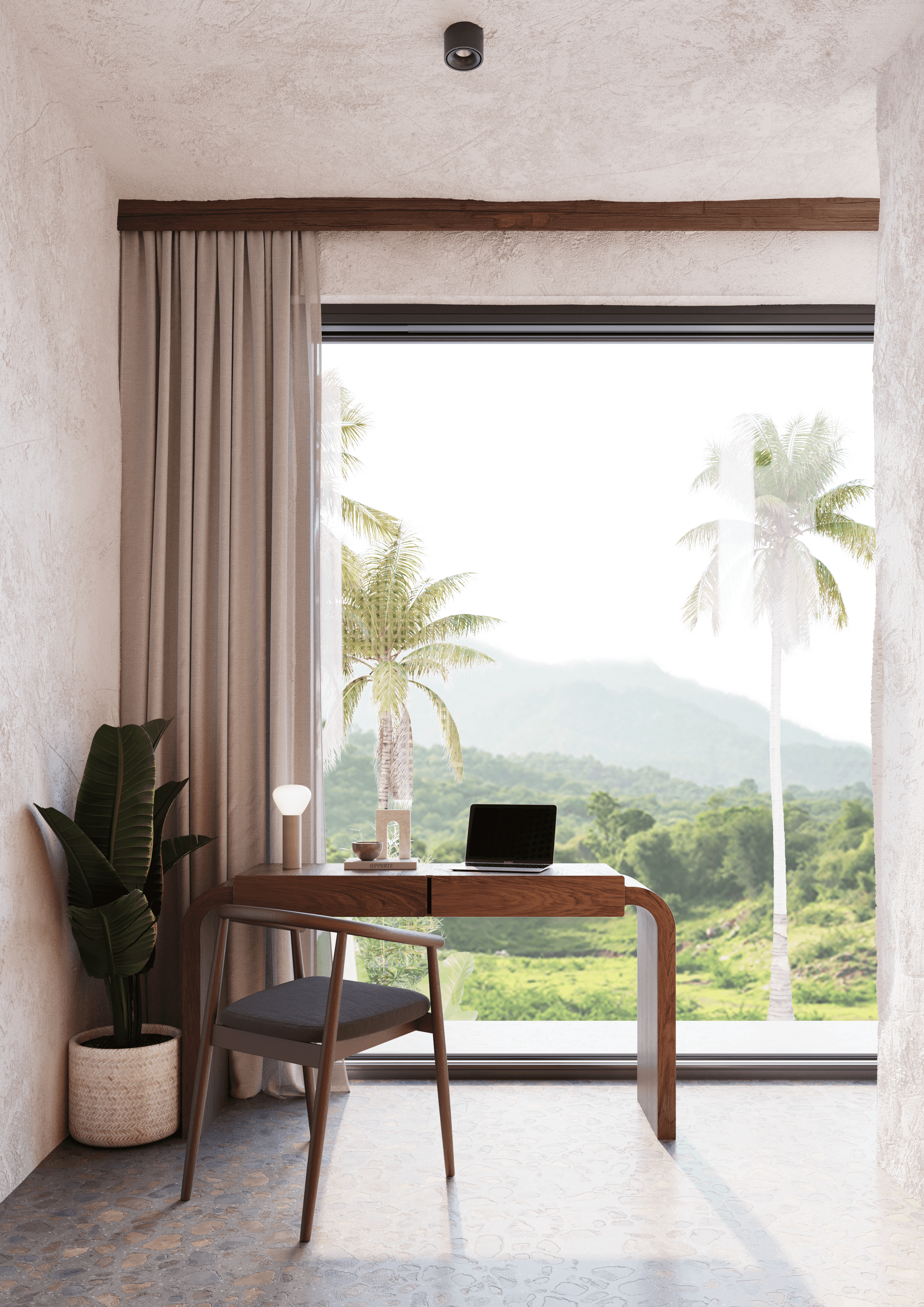 $320,000
Two bedroom villa 7 minutes from Berawa Beach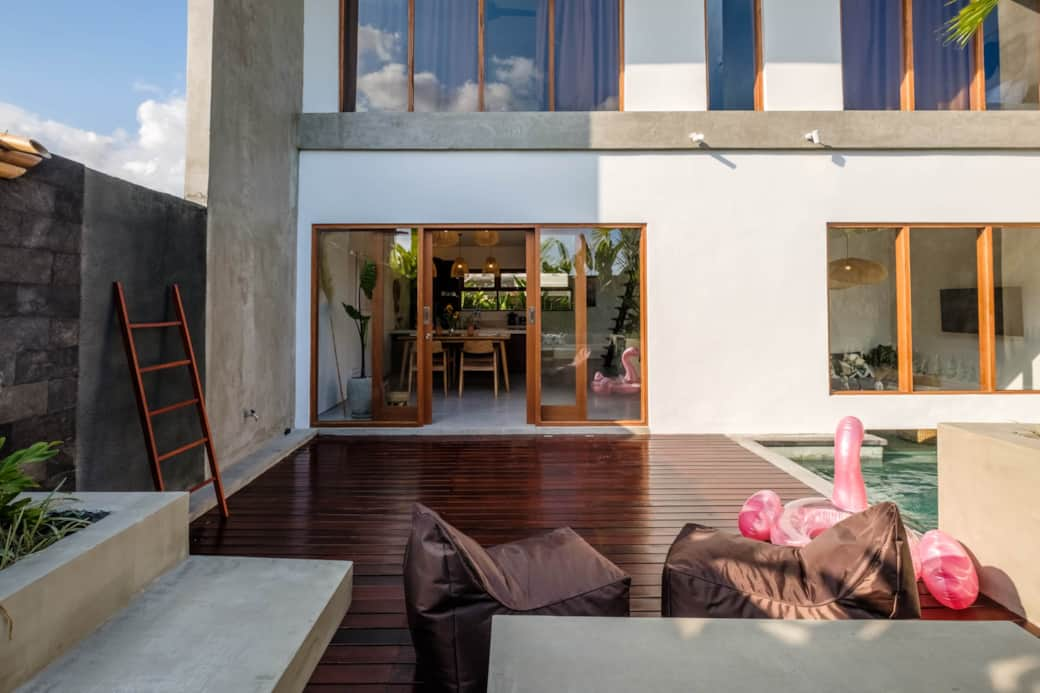 $282,500
Two-storey Villa in Berawa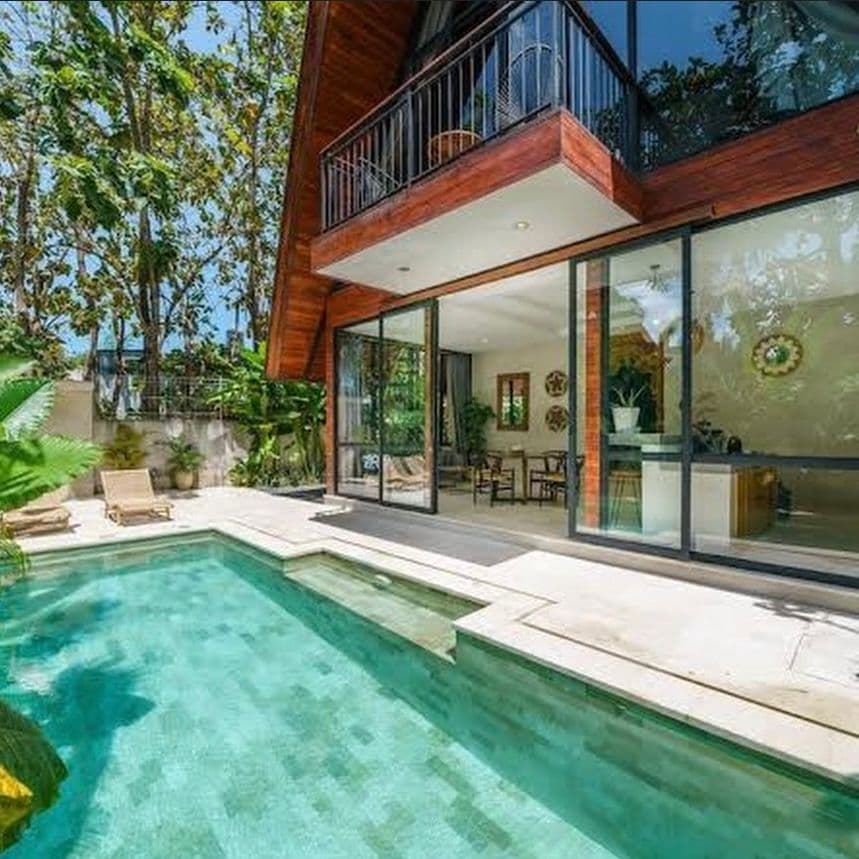 $300,000
Ready to move in 2 bedroom villa in Pererenan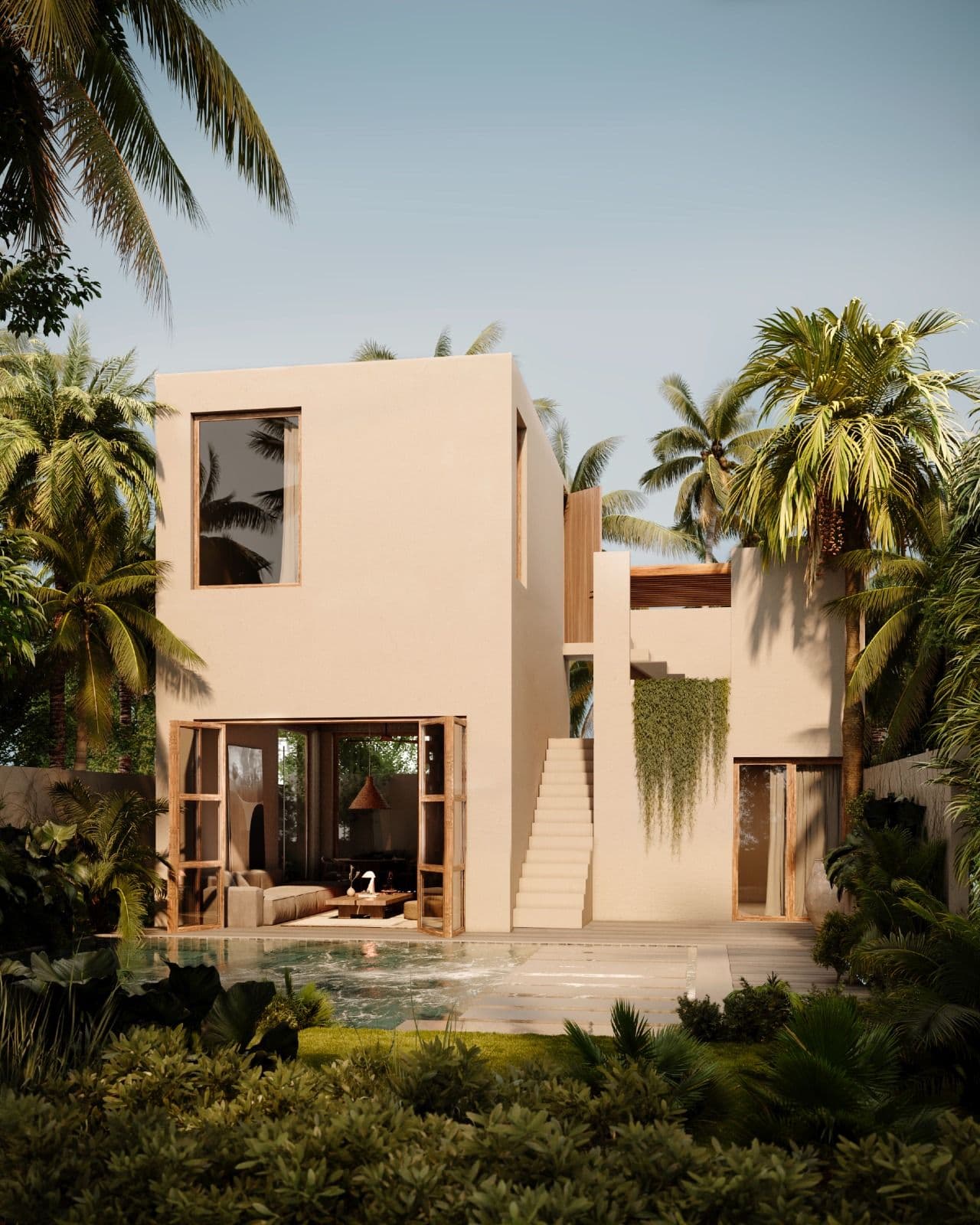 $206,000
Cozy 2 Bedroom Villa with Terrace in Uluwatu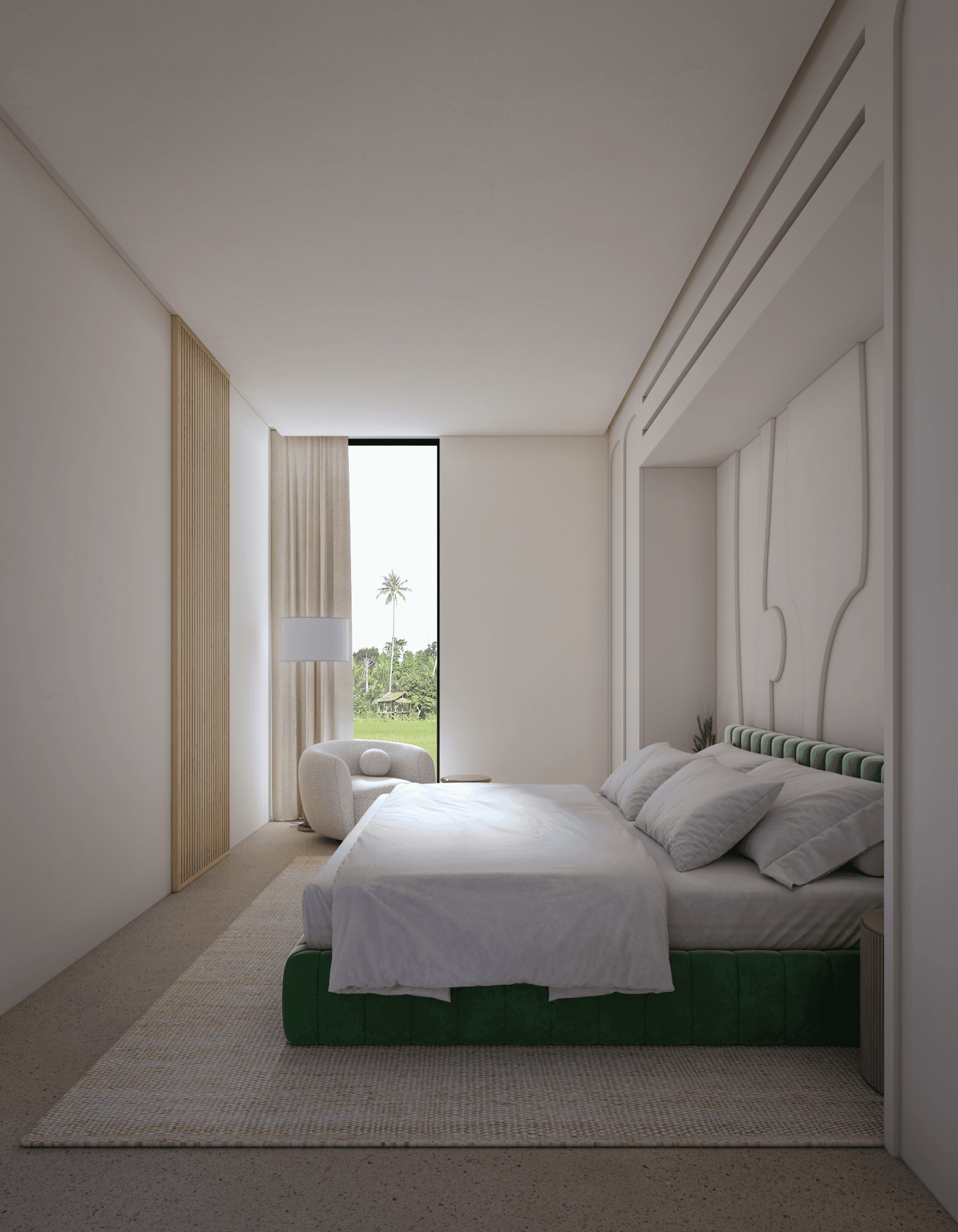 $425,000
Sustainable private pool villa in Ubud area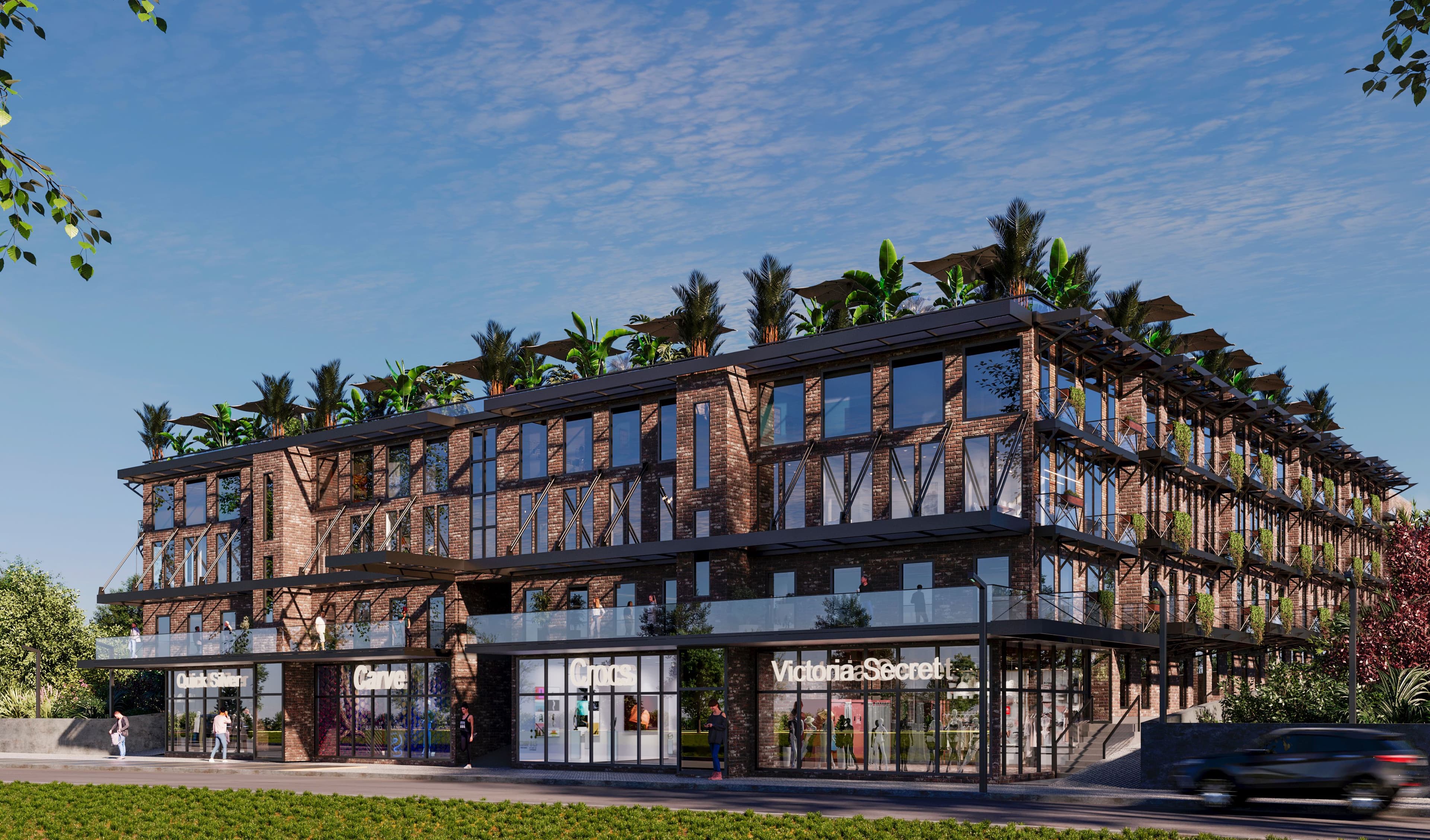 $62,400
Loft style apartment 5 minutes from Melasti beach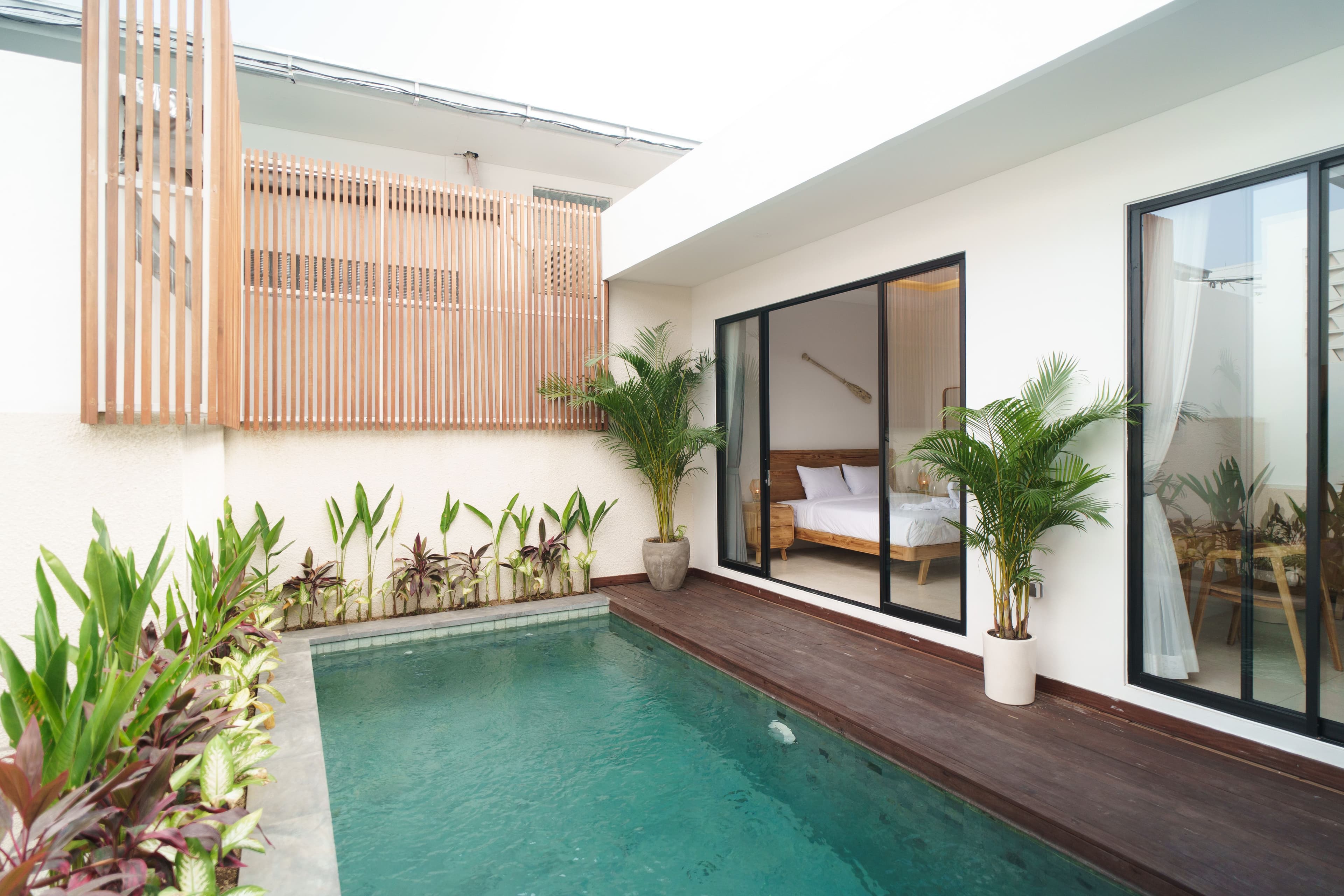 $240,000
Cozy two bedroom villa in the center of Umalas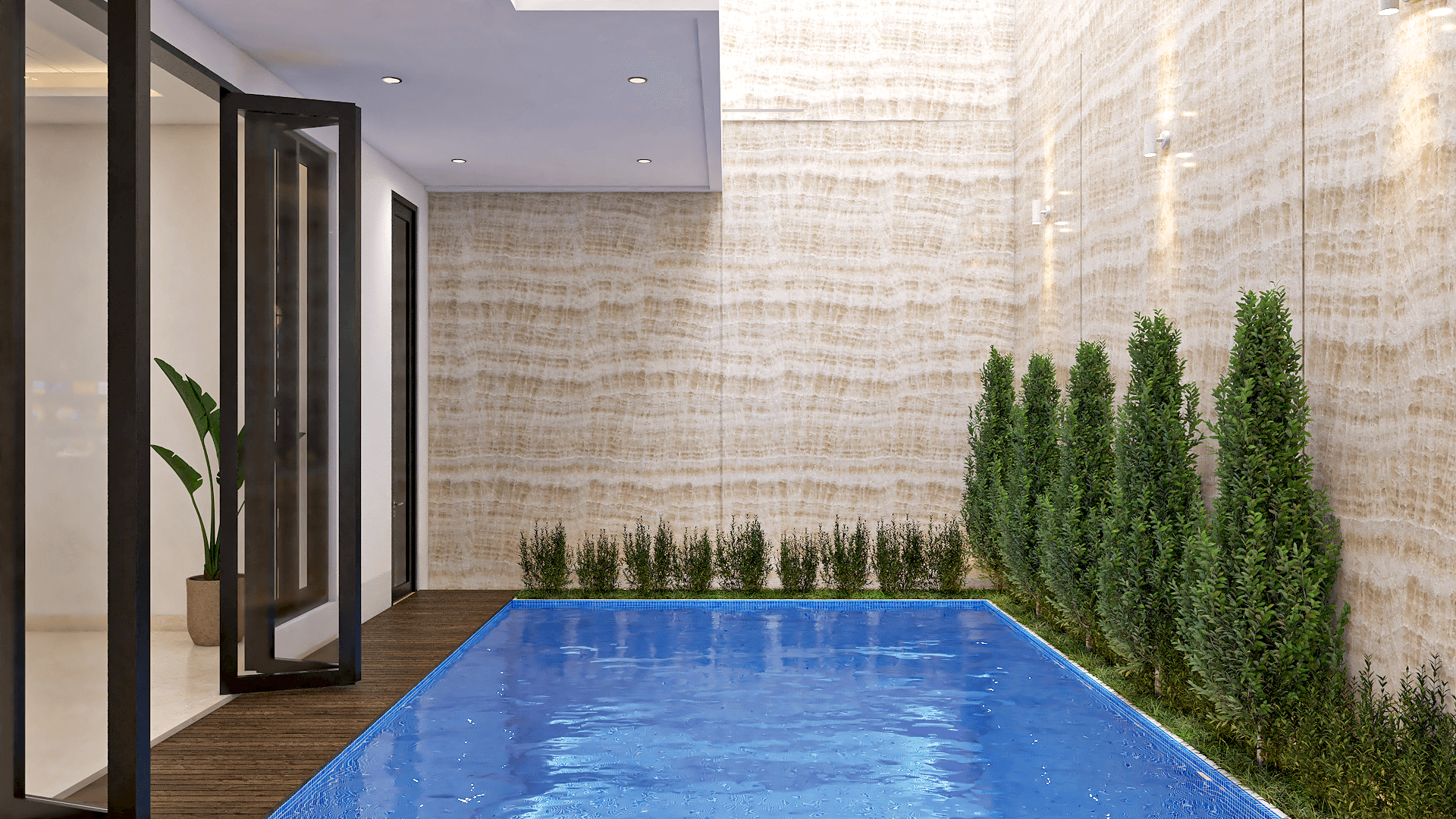 $285,000
2 Bedroom Villa with Rice Field View in Canggu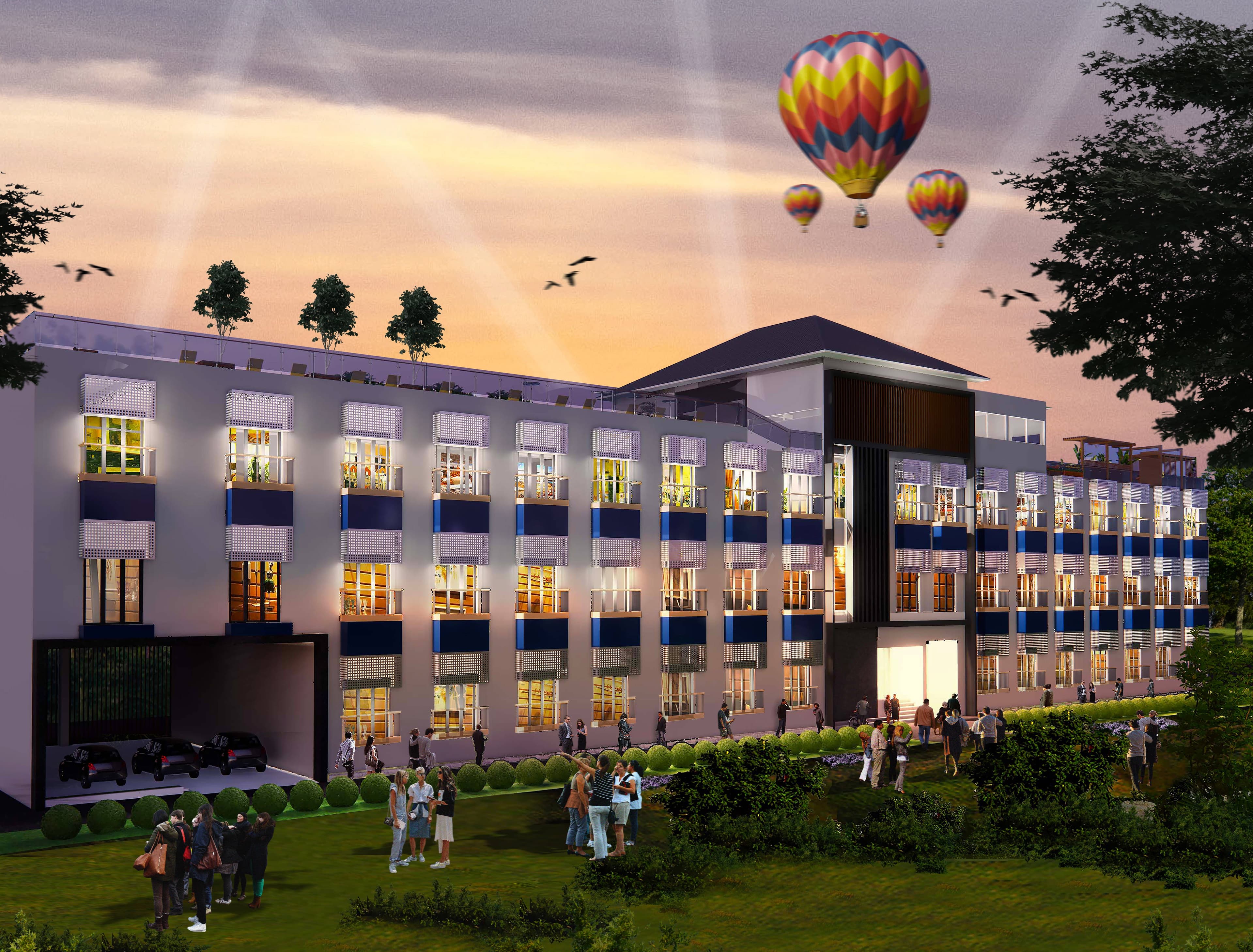 $126,000
Two-storey apartments in the center of Canggu
$320,000
Two bedroom villa five minutes from Berava beach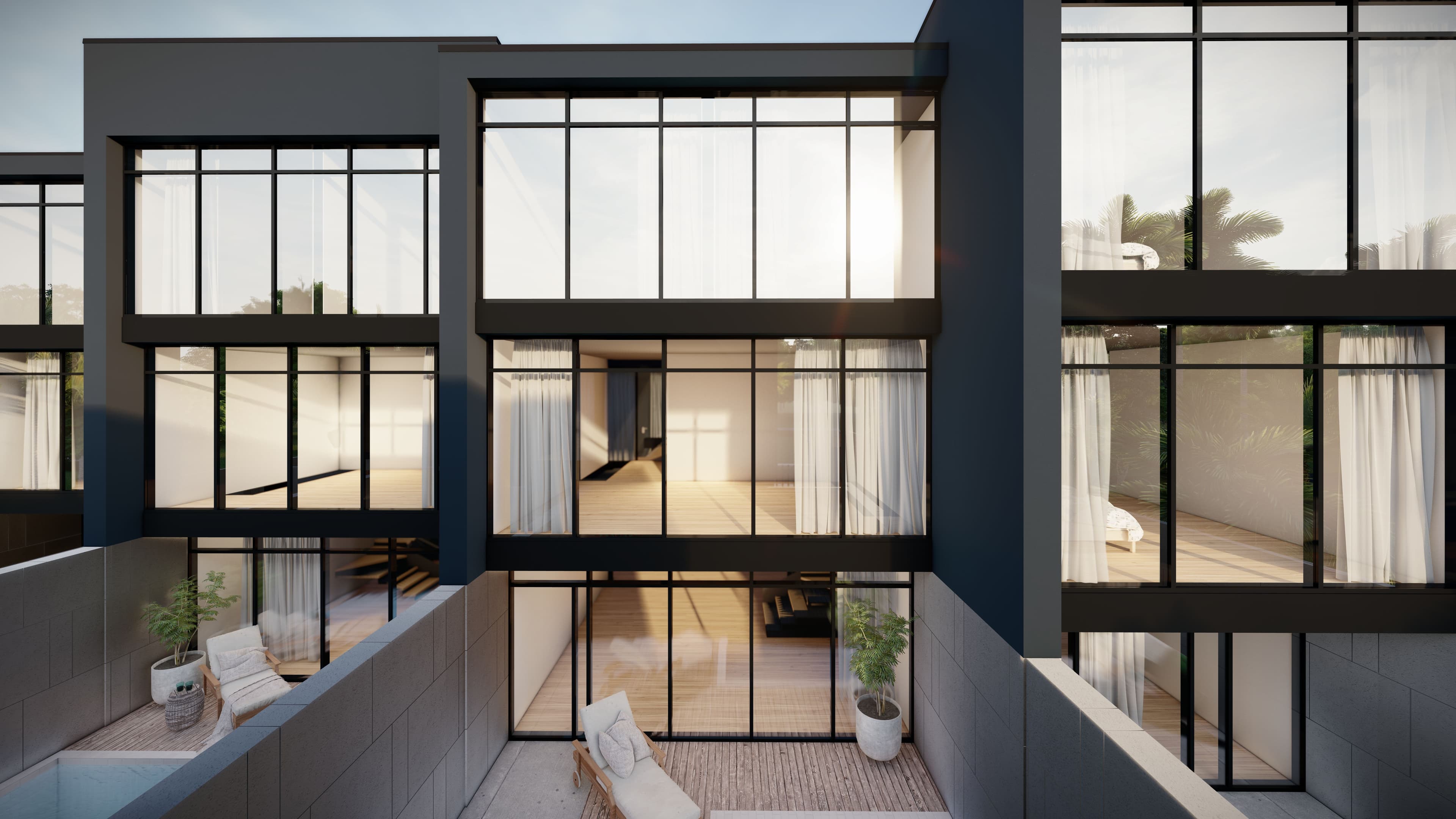 $230,000
Villa 300 meters from Berawa beach
$1,175,000
Brand new 4 Bedroom Villa with Ocean and Rice Field Views in Cemagi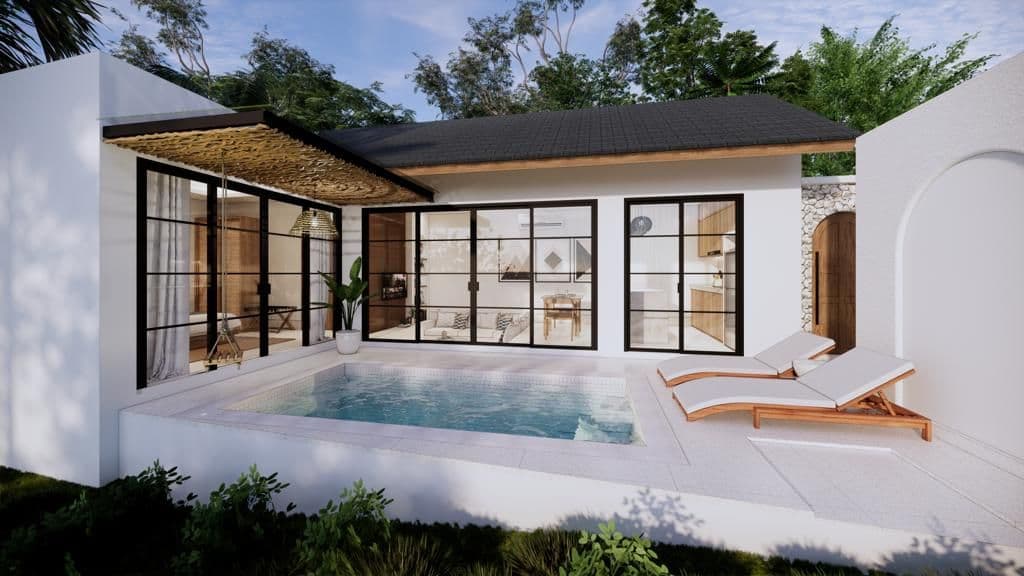 $178,000
Magnificent villa in rice fields in Pererenan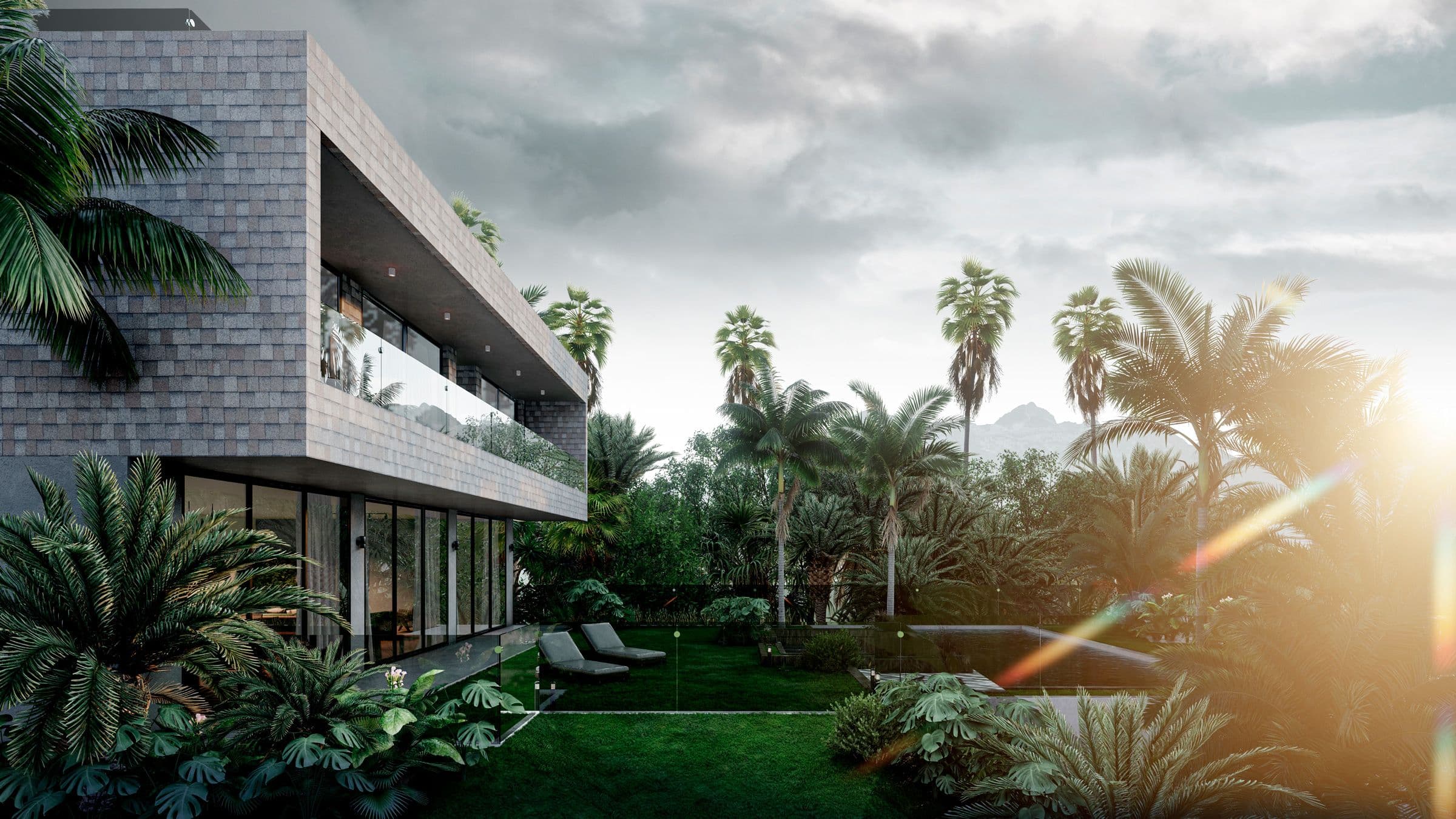 $649,000
4-bedroom villa with a 50-year leasehold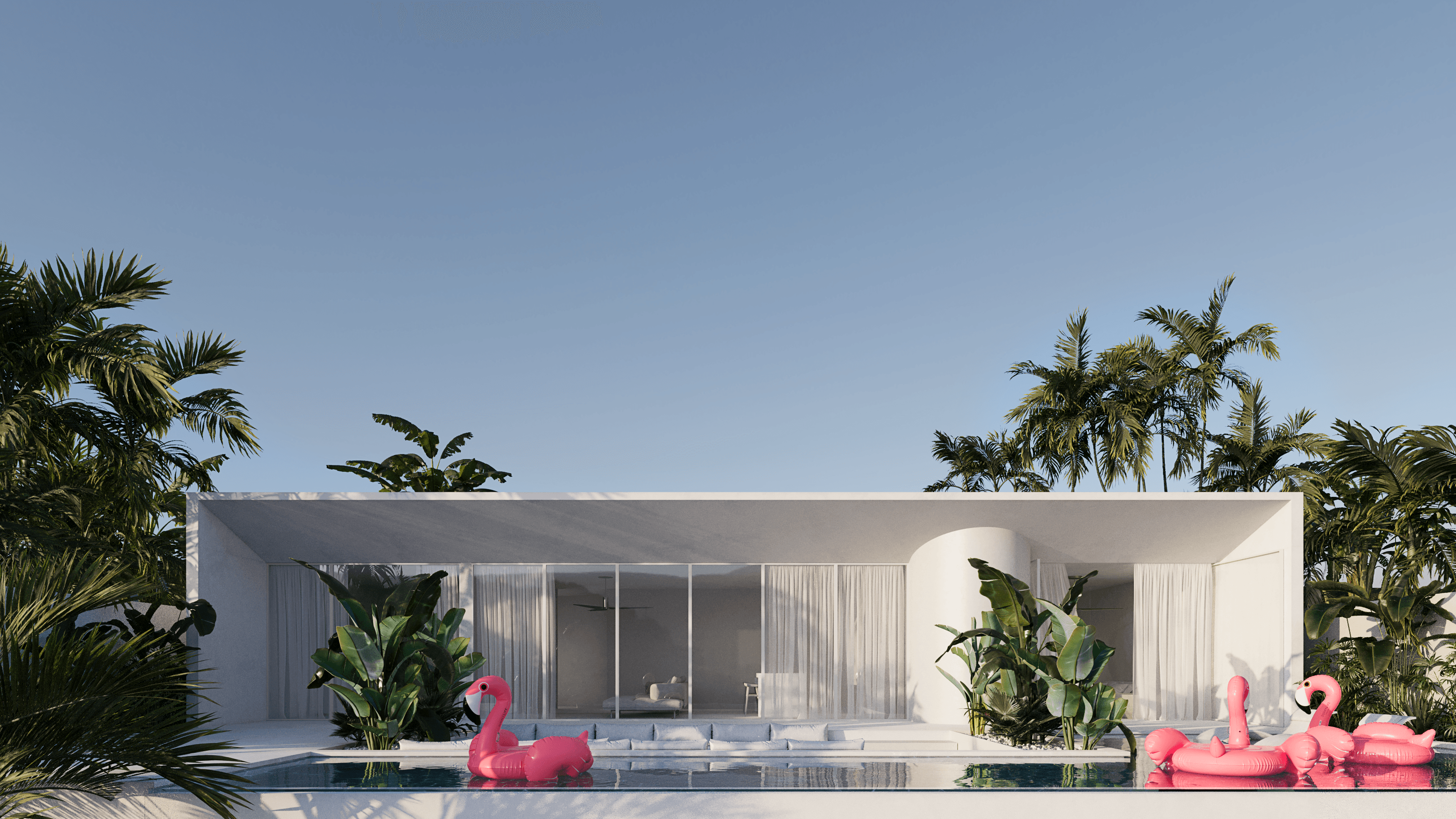 $288,750
Greek-style villa on Bali's most instagrammable beach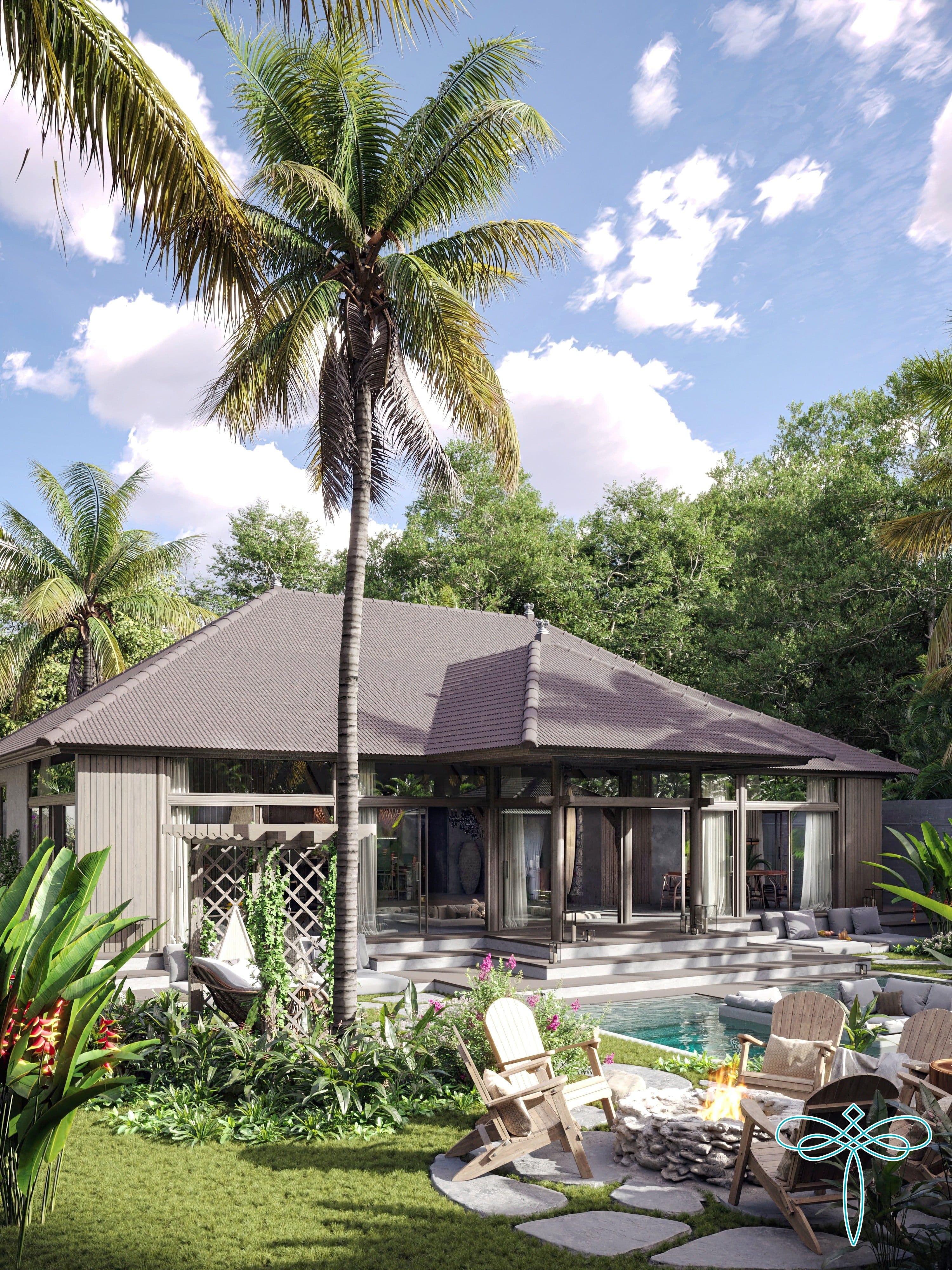 $517,000
Stunning 4 bedroom villa on a plot of 6 acres near the Garuda statue
$289,000
Villa in a private complex with a rooftop in Seseh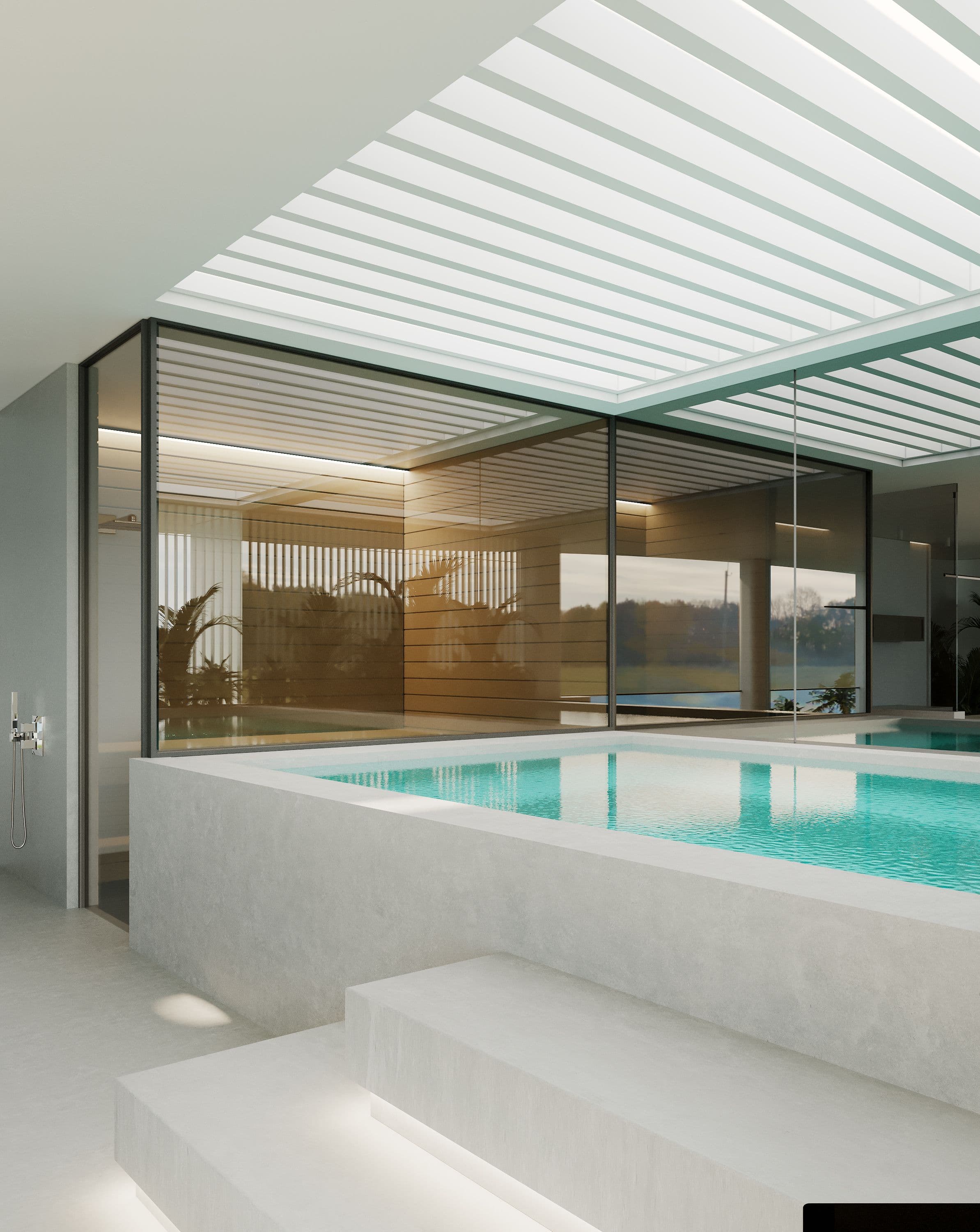 $570,000
Deluxe apartment with a rooftop and a swimming pool in Canggu
$861,000
Spacious 4 bedroom villa on Berawa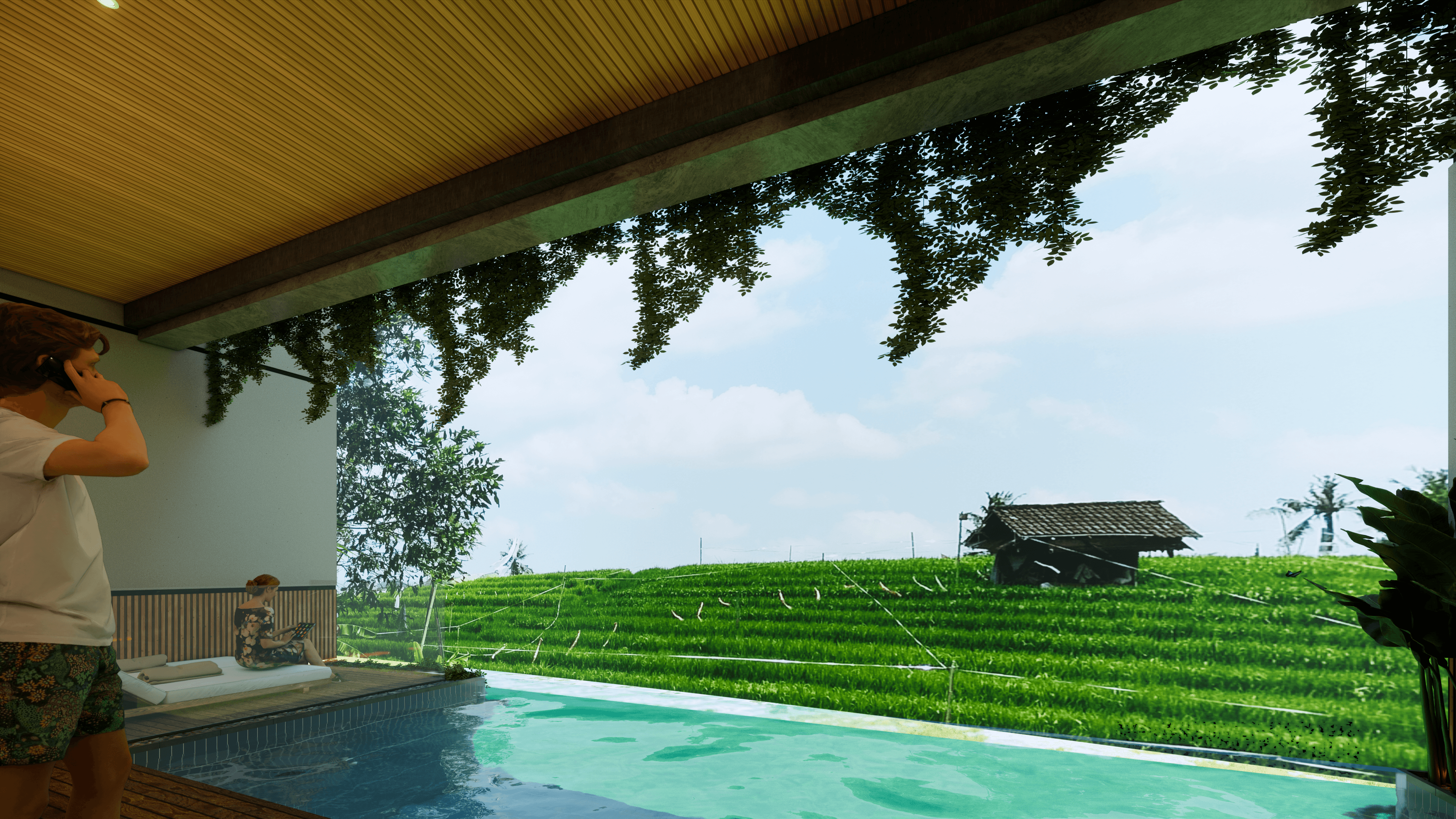 $320,000
3 Bedroom Villa with Rice Field View in Canggu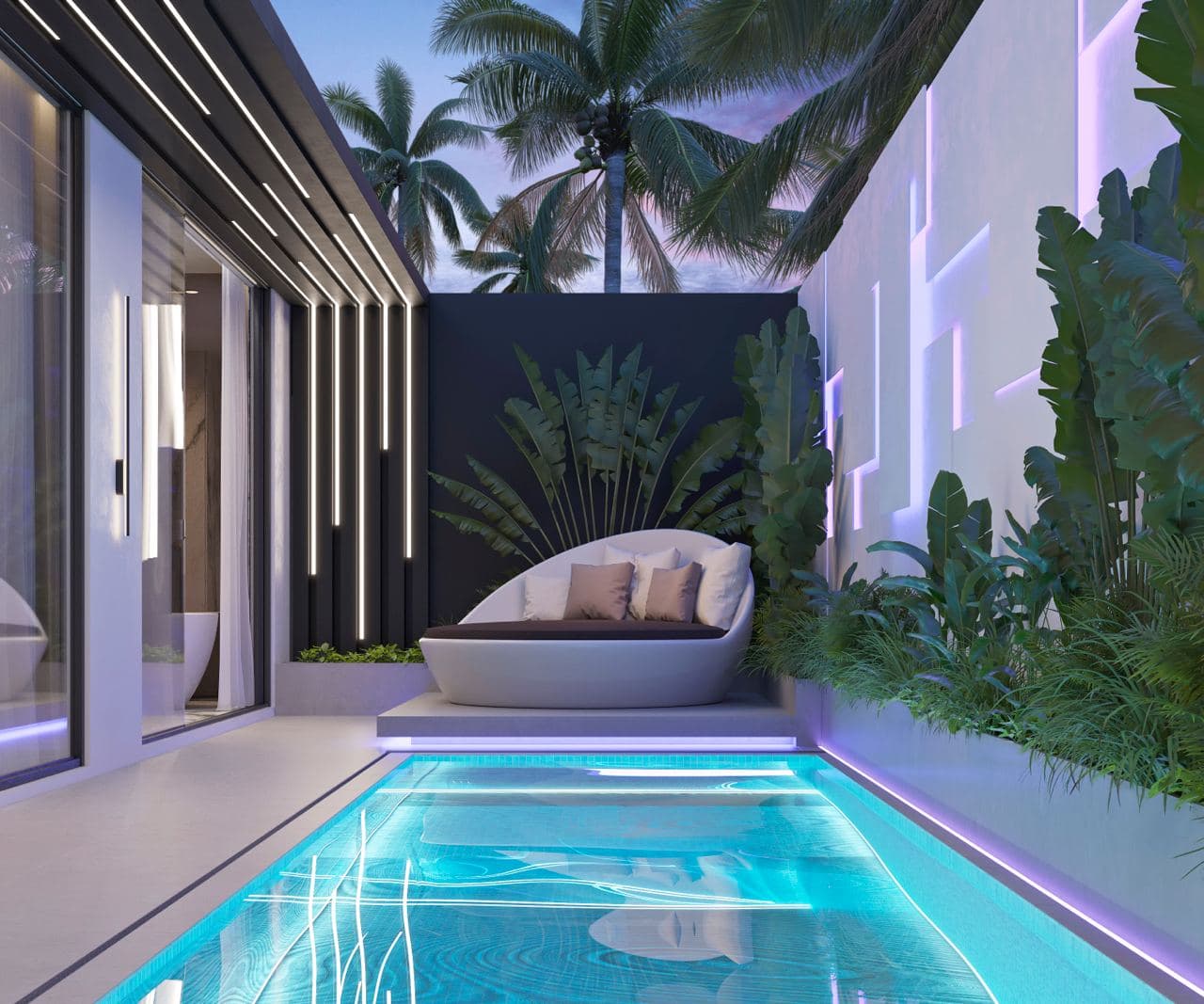 $400,000
One bedroom villa 200 meters from the ocean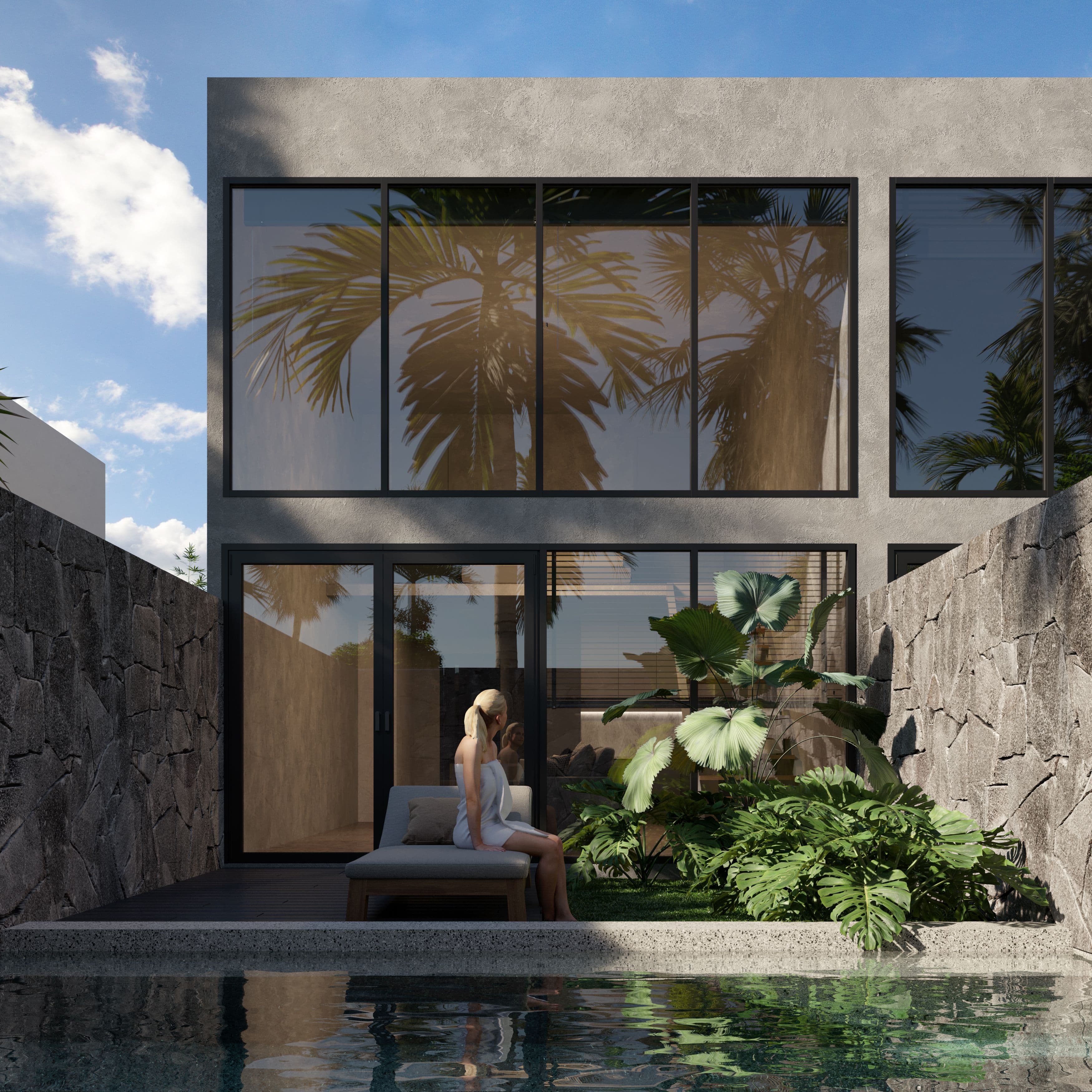 $183,000
1 bedroom villa in a private complex in Changgu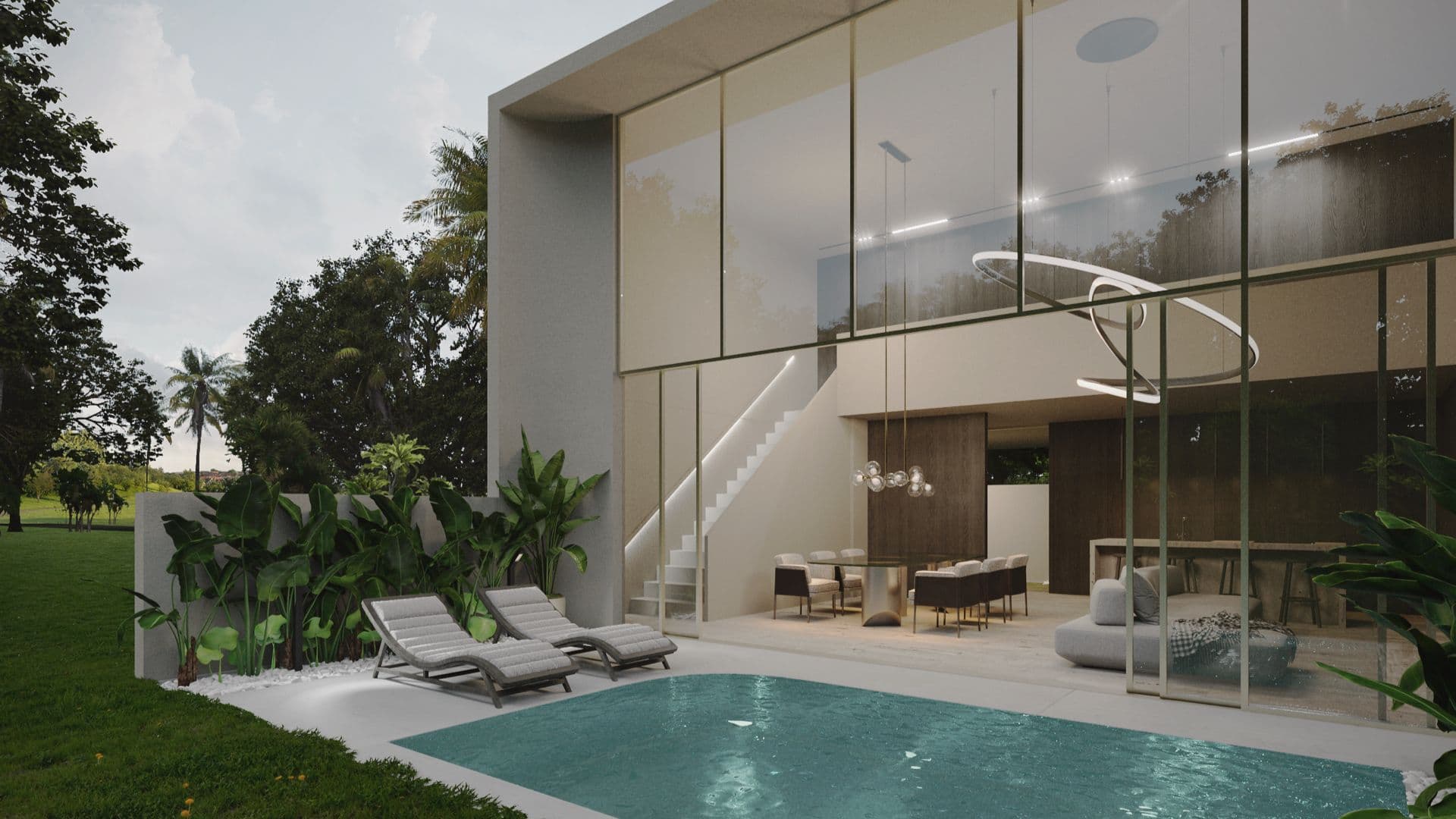 $360,000
Luxury 2 bedroom villa 7 minutes from Melasti Beach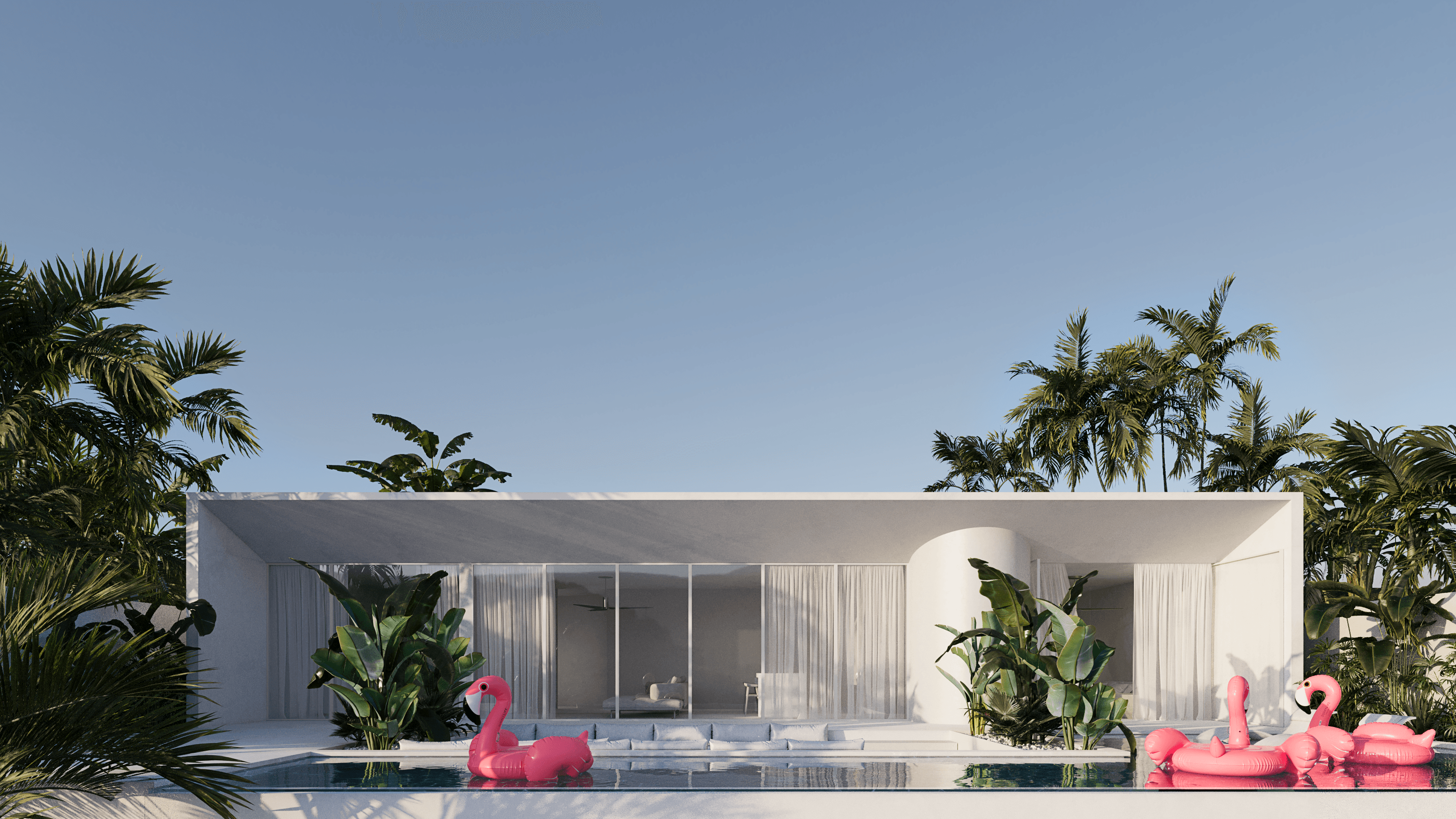 $456,000
Greek-style villa with panoramic ocean views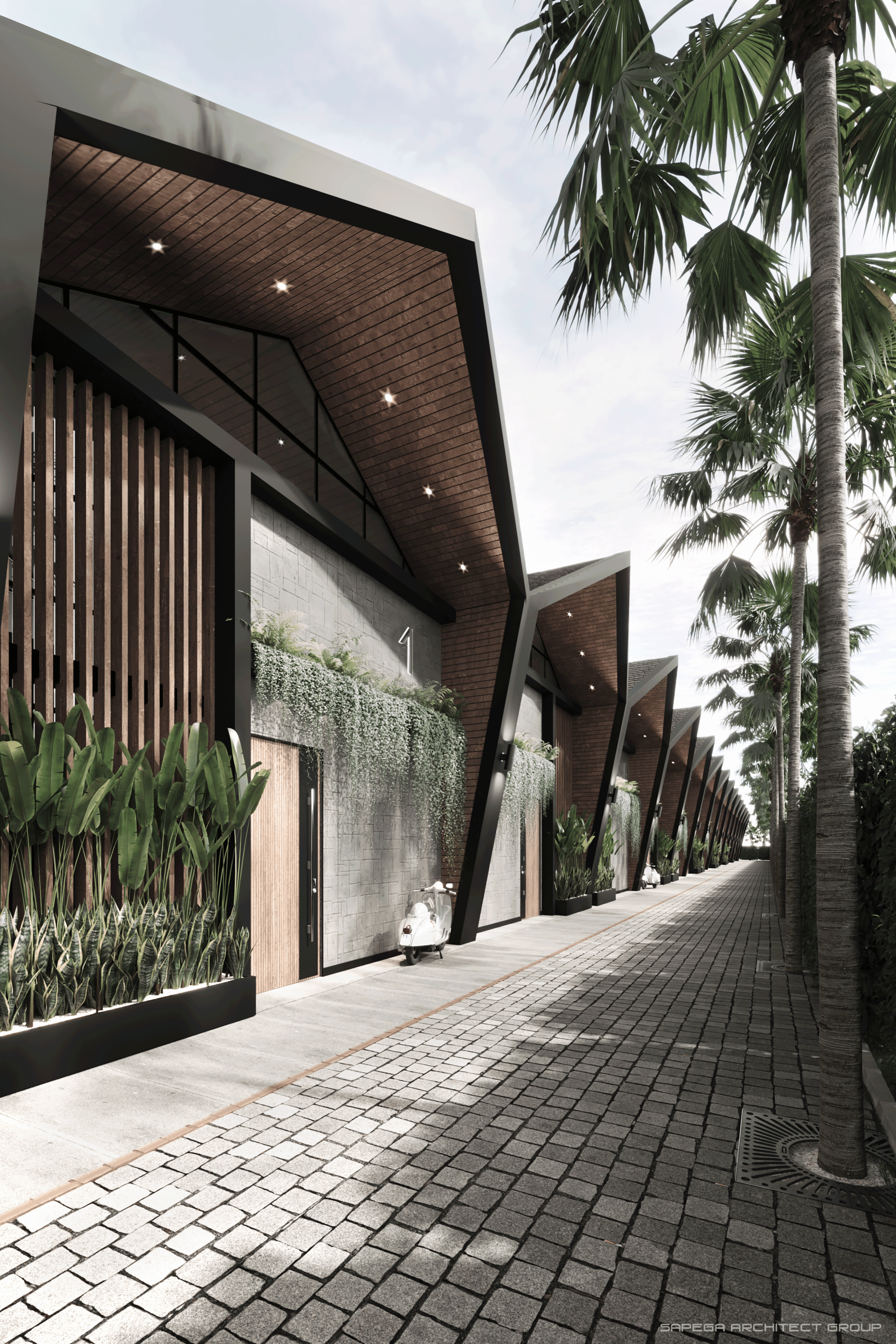 $350,000
Modern 2 bedroom townhouses 300 meters from Berawa beach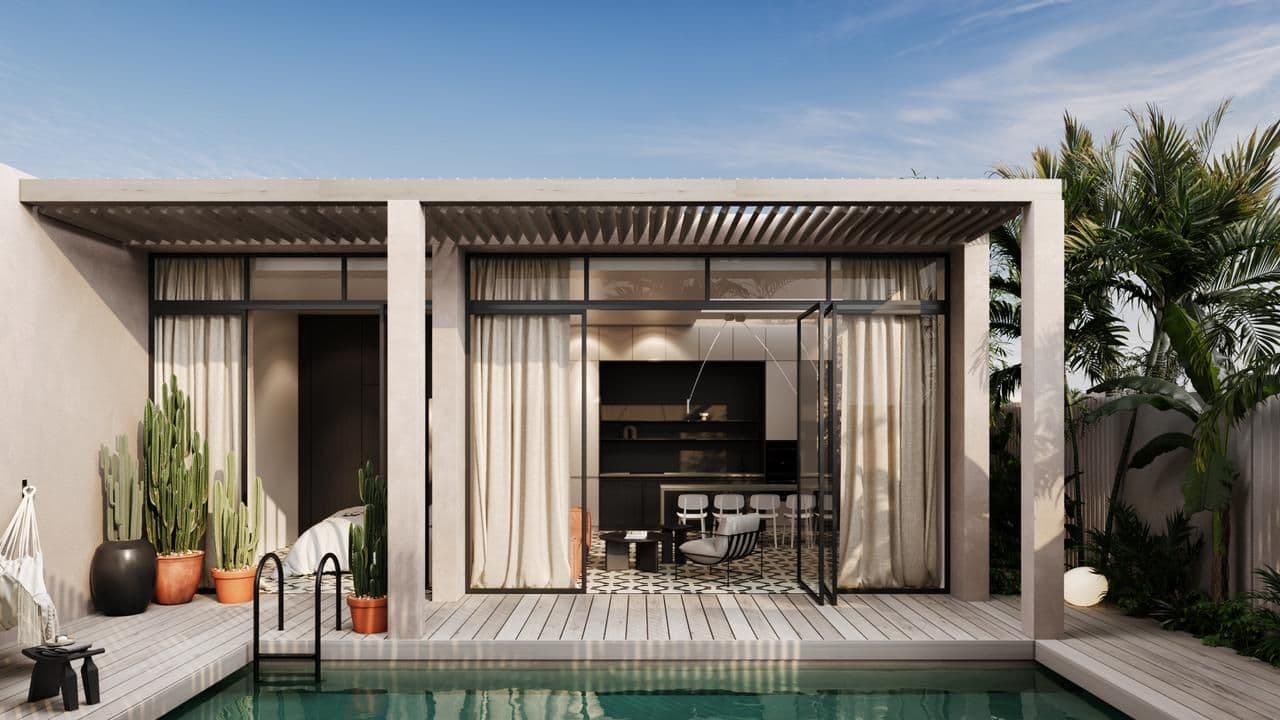 $195,000
Apartments in a luxury complex on the most instagrammable beach in Bali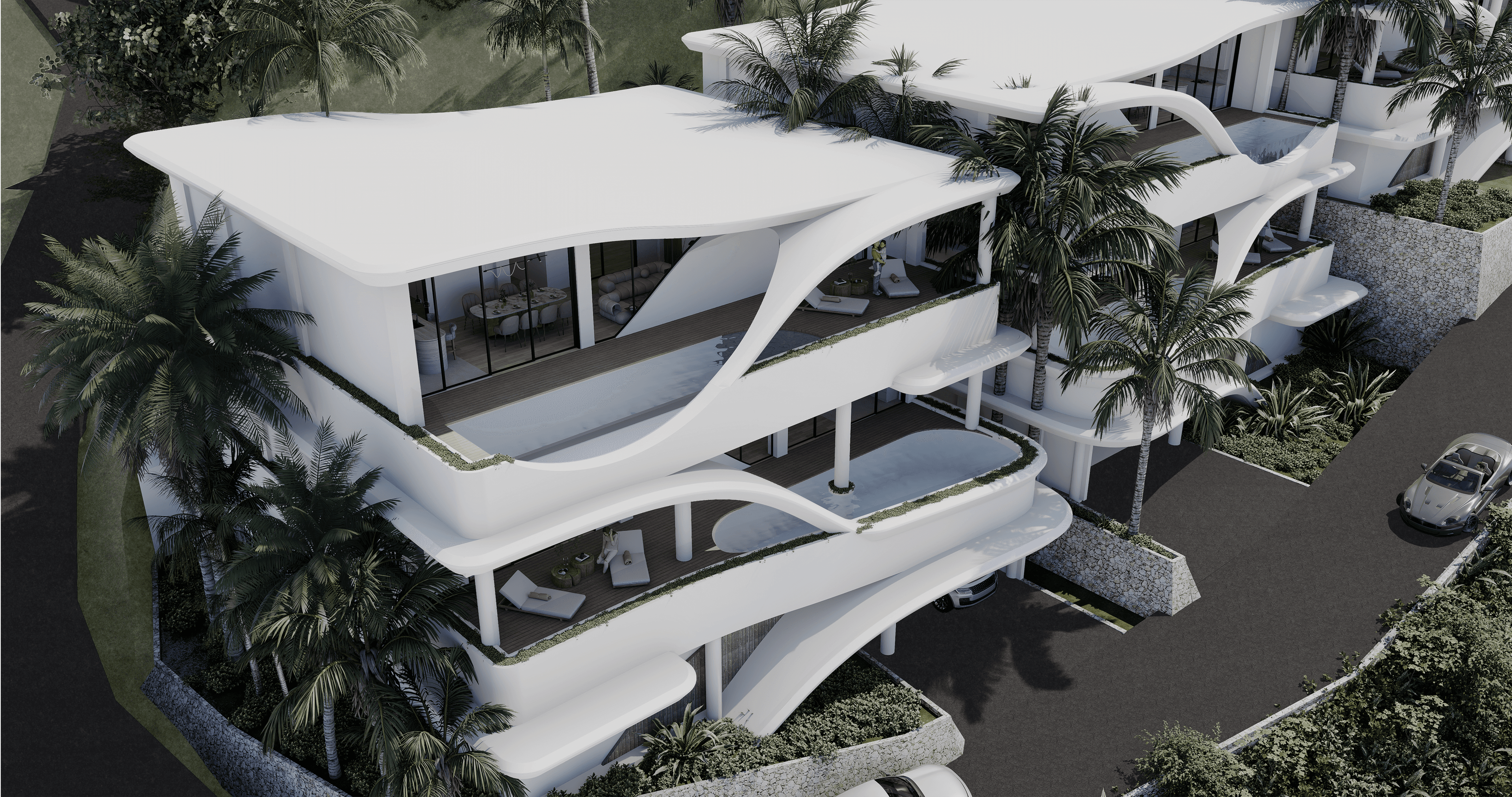 $945,000
Ultra luxury residences in Uluwatu with ocean view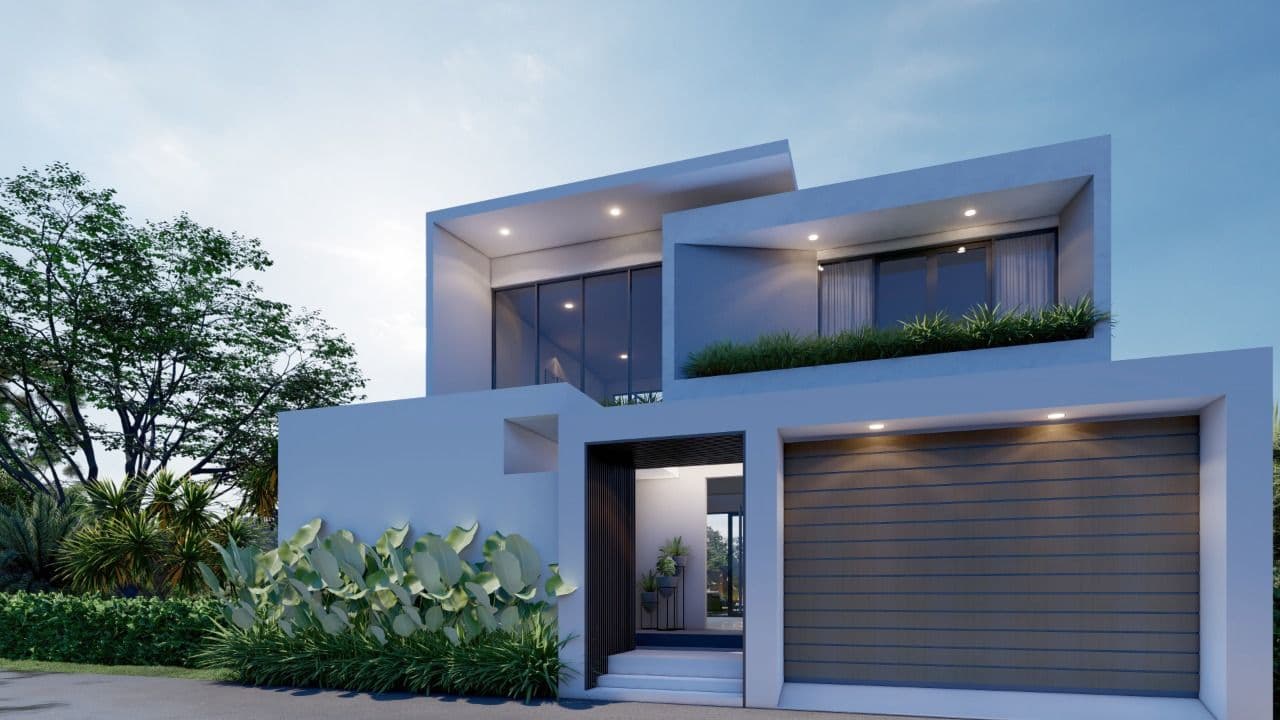 $284,000
4 Bedroom Villa by Balangan Beach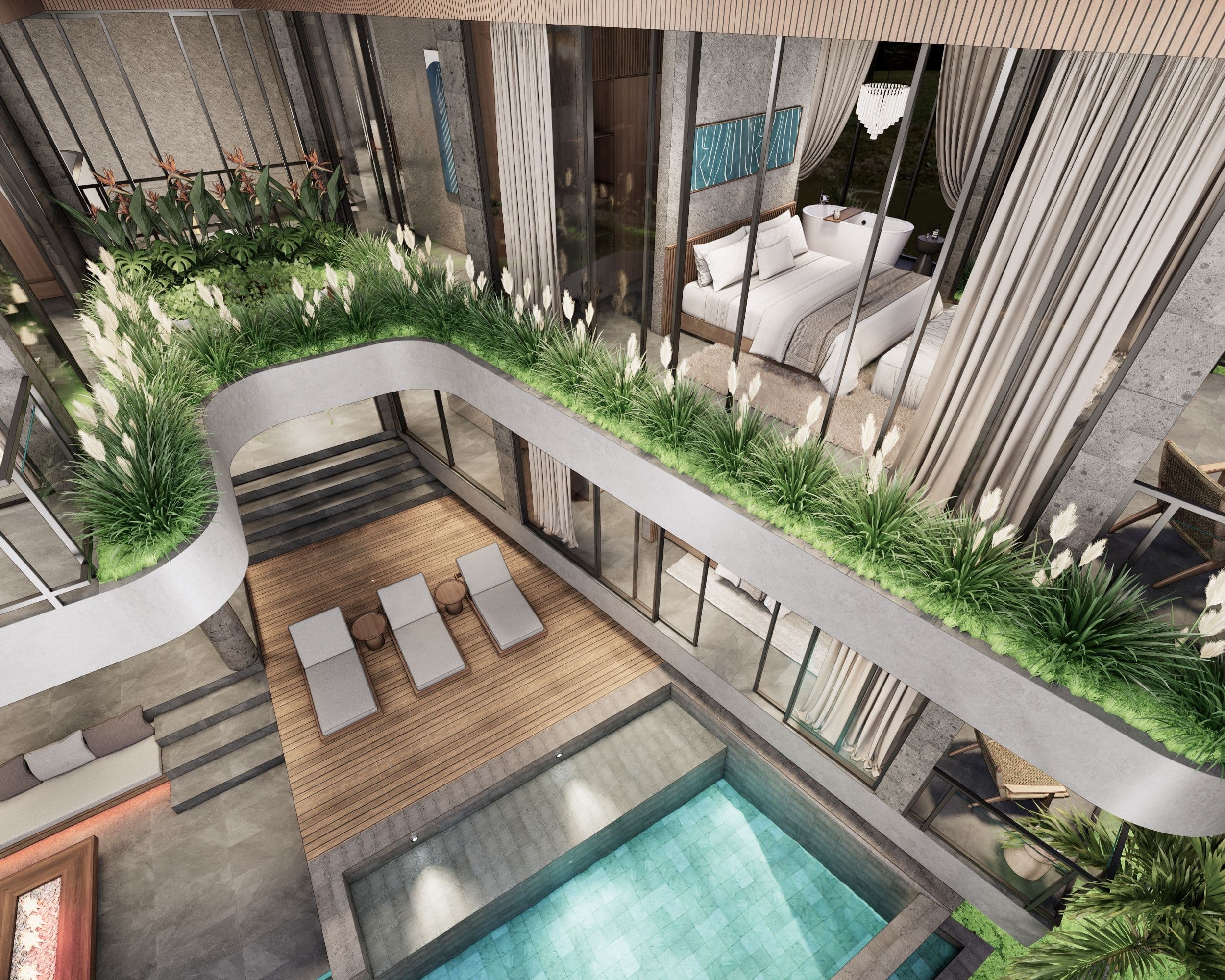 $369,000
2 bedroom luxury villa 5 minutes from the center of Ubud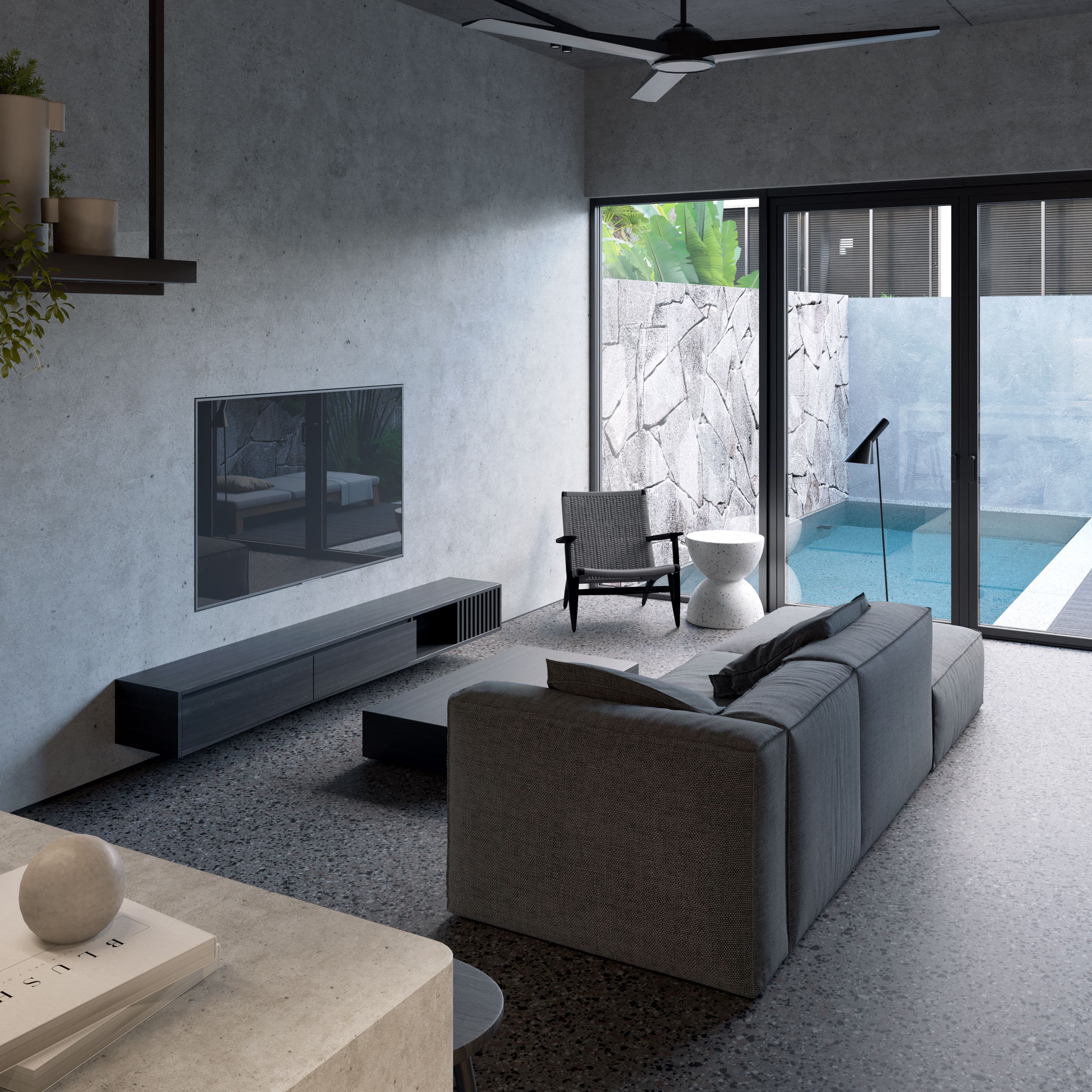 $238,000
2 bedroom villa in a private complex in Changgu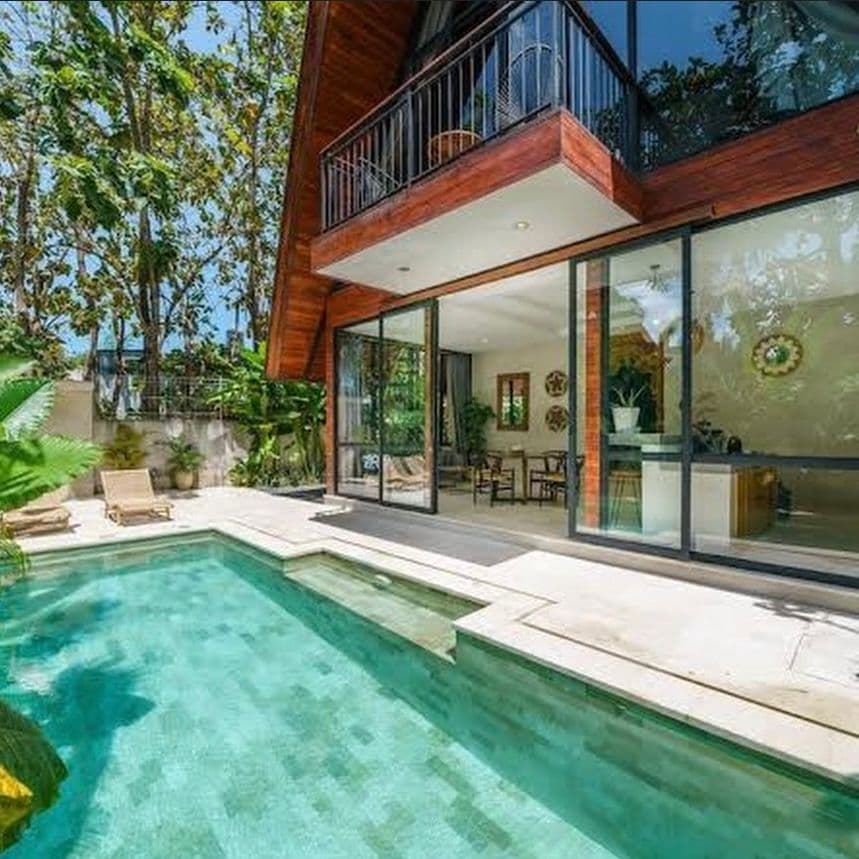 $300,000
Ready to move in 2 bedroom villa in Pererenan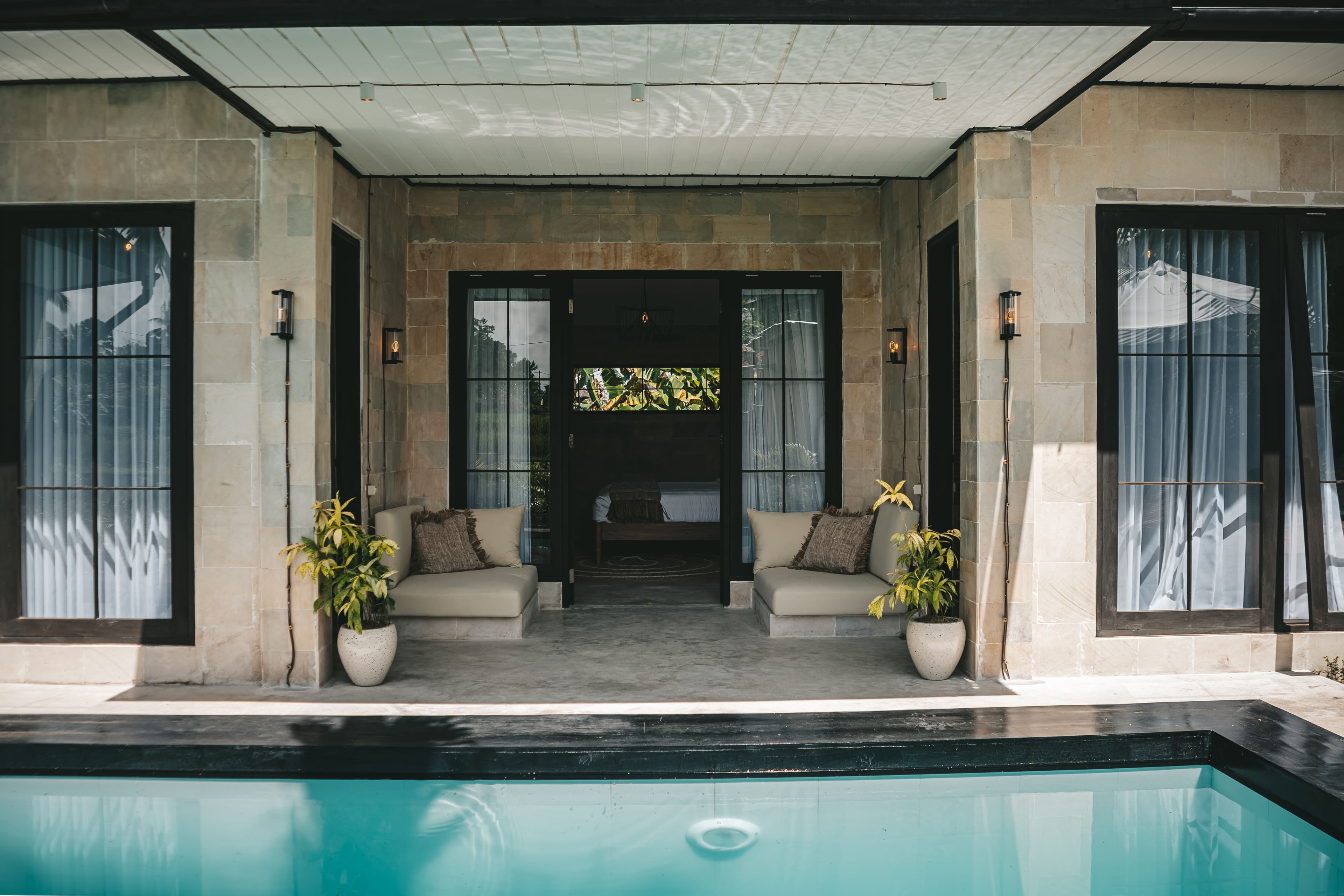 $265,000
2 Bedroom Villa in Ubud with excellent ROI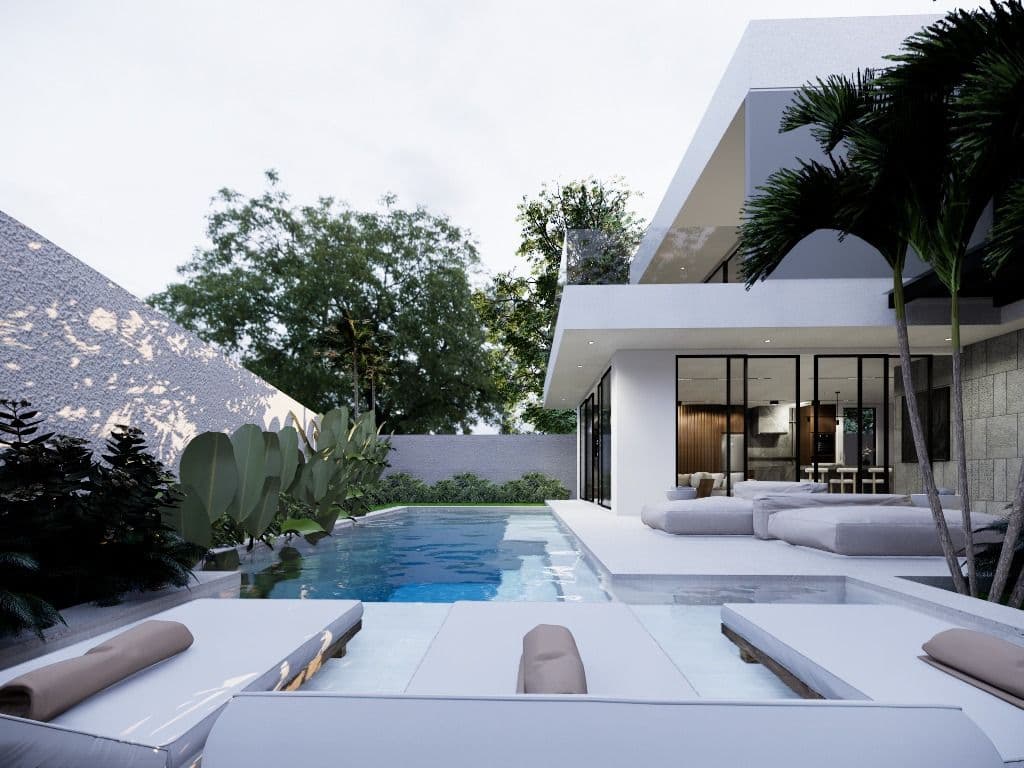 $595,000
3 bedroom villa in bright colors in Perenenan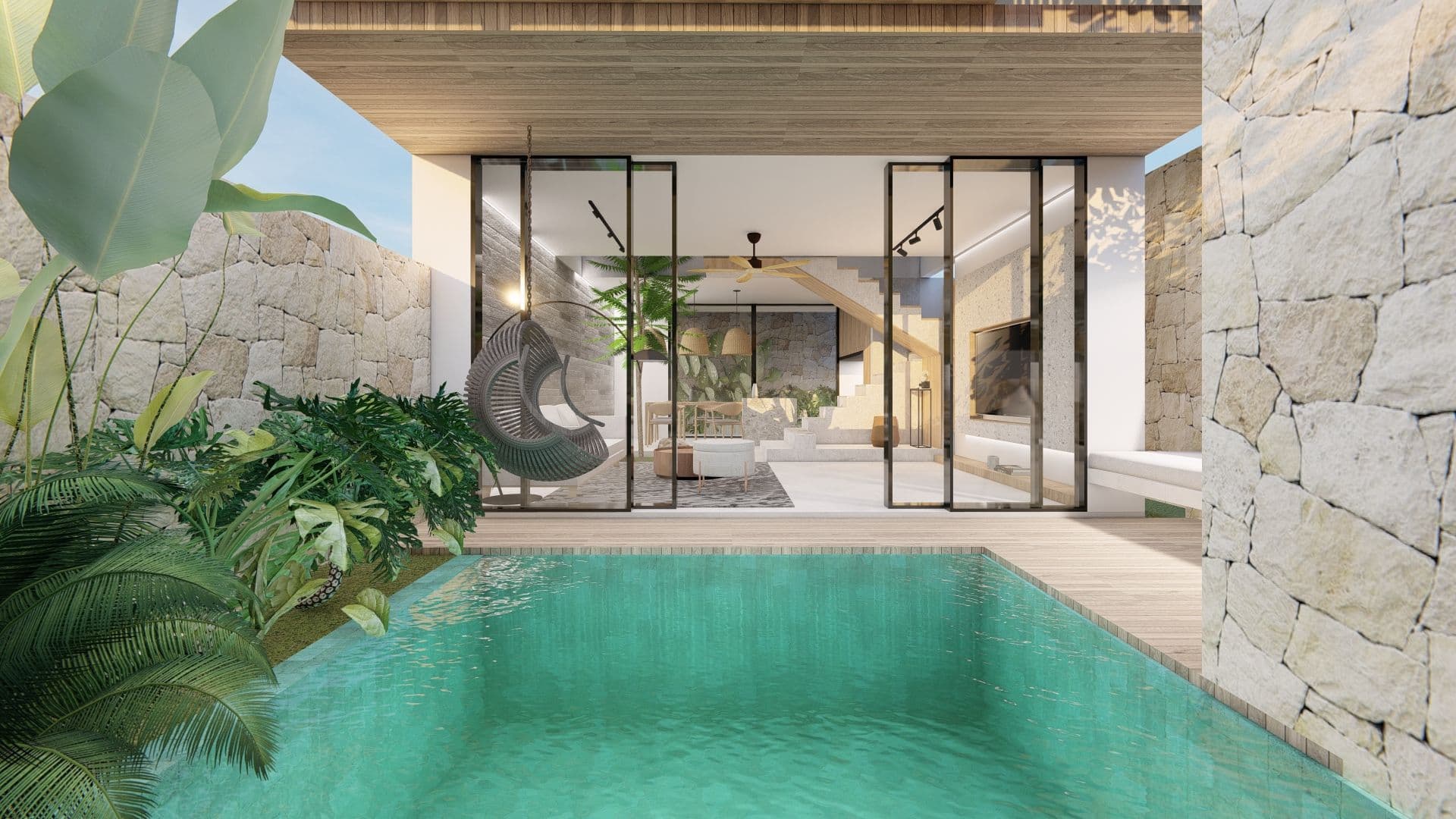 $230,000
Luxury 2 bedroom villa 500 meters from Pandava Beach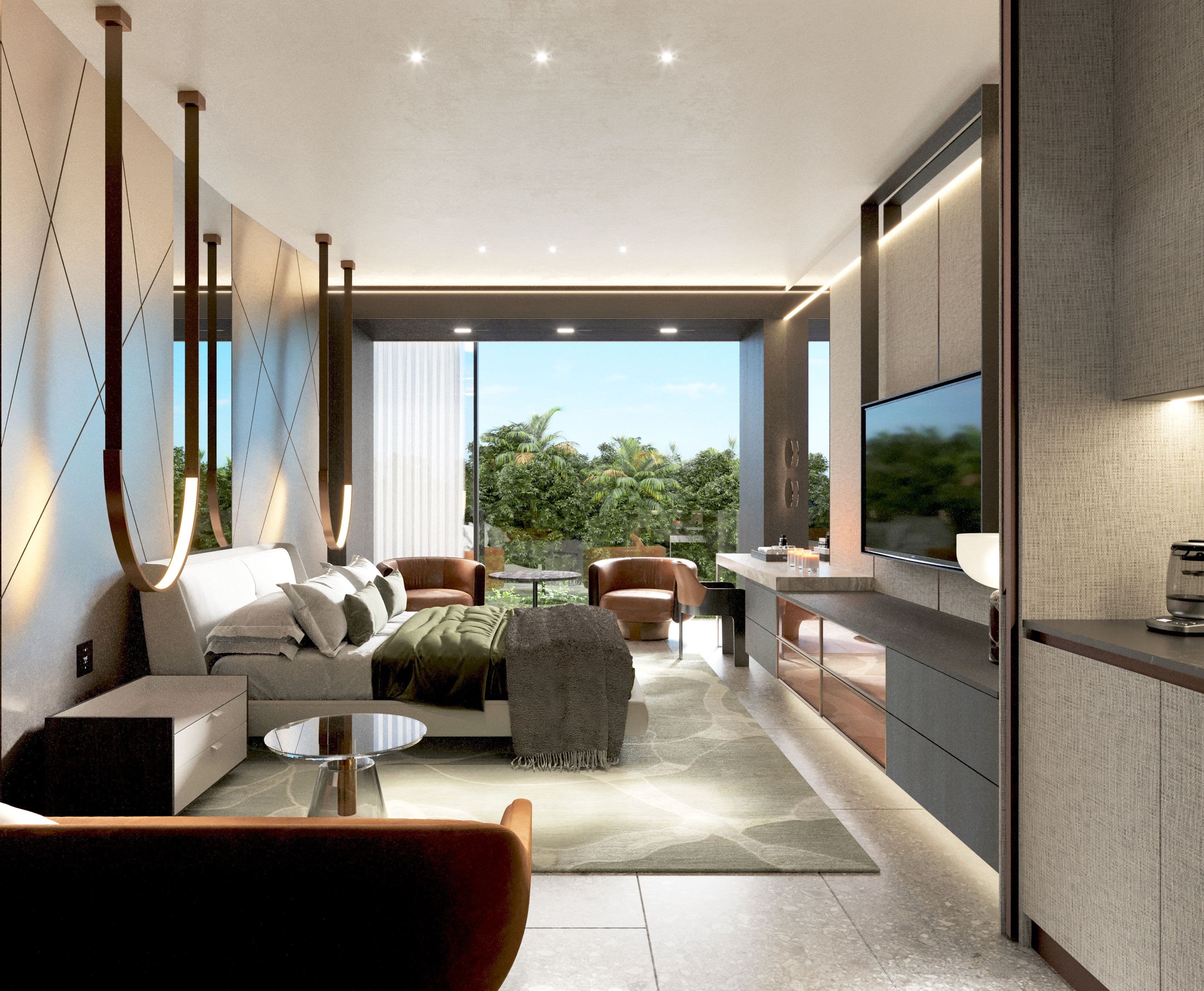 $250,000
Apartment complex in Seminyak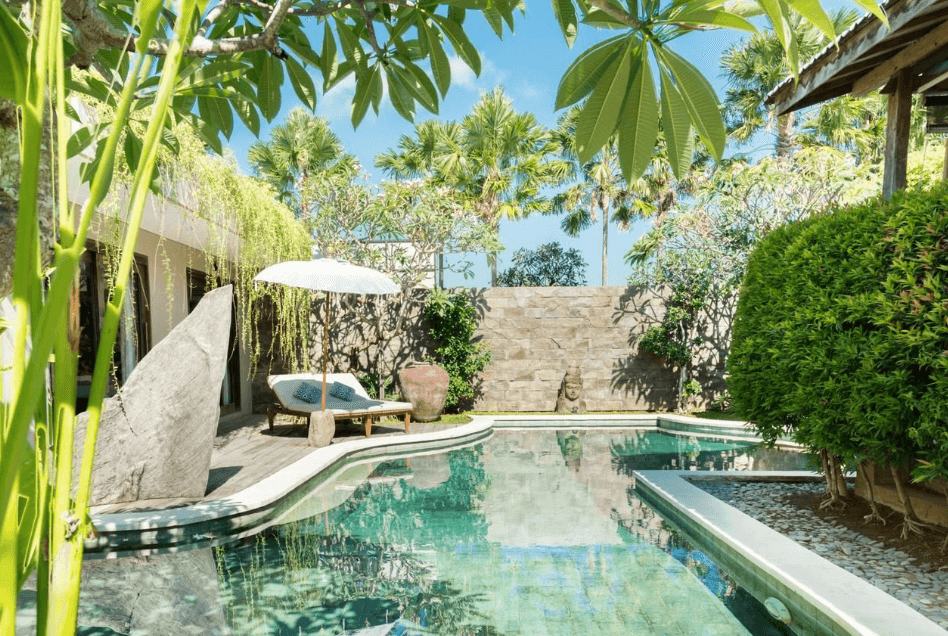 $1,300,000
Traditional Balinese style villa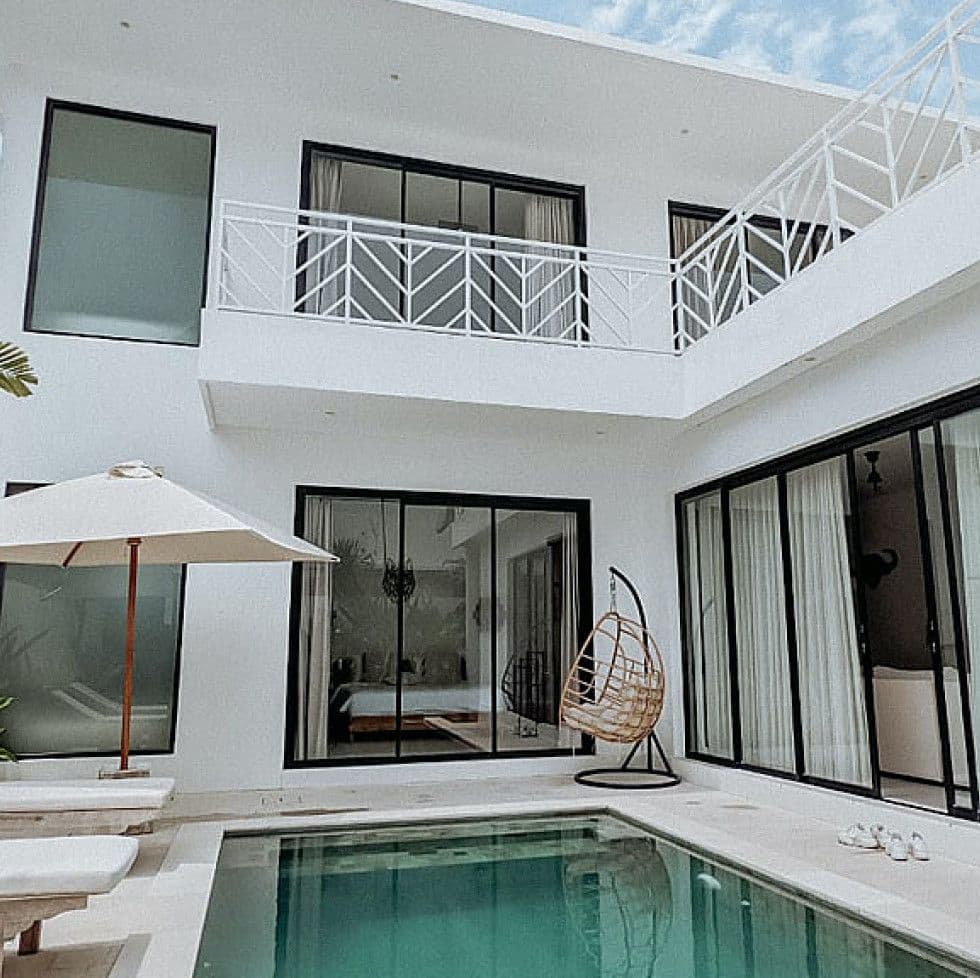 $260,000
Beautiful villa 2 bedroom in the center of Canggu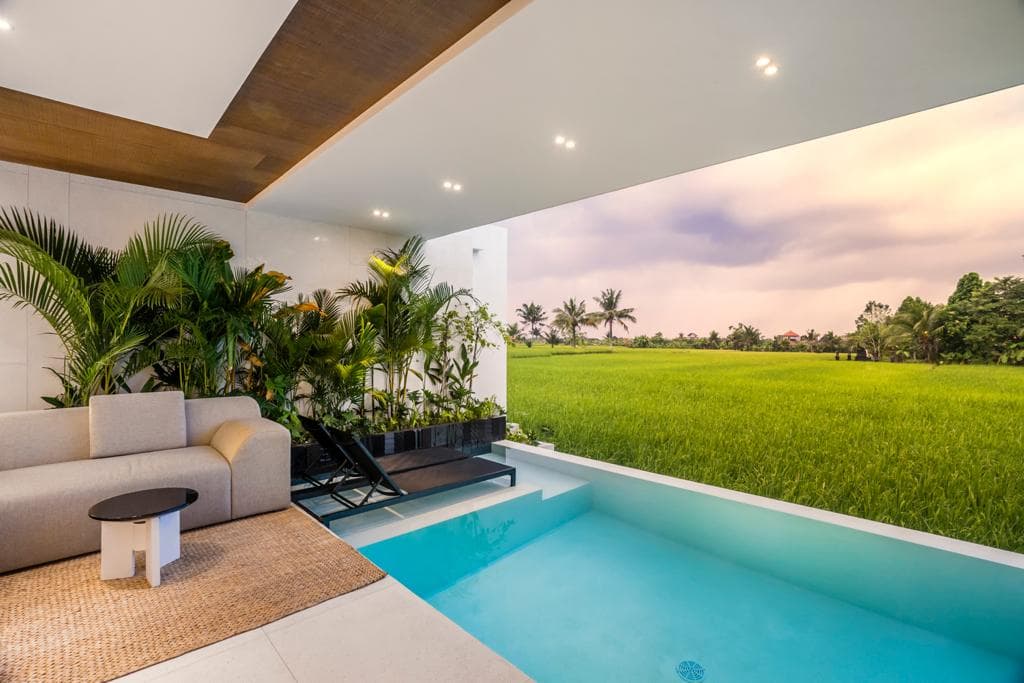 $219,000
2 Bedroom Villa in Light Colors in Ubud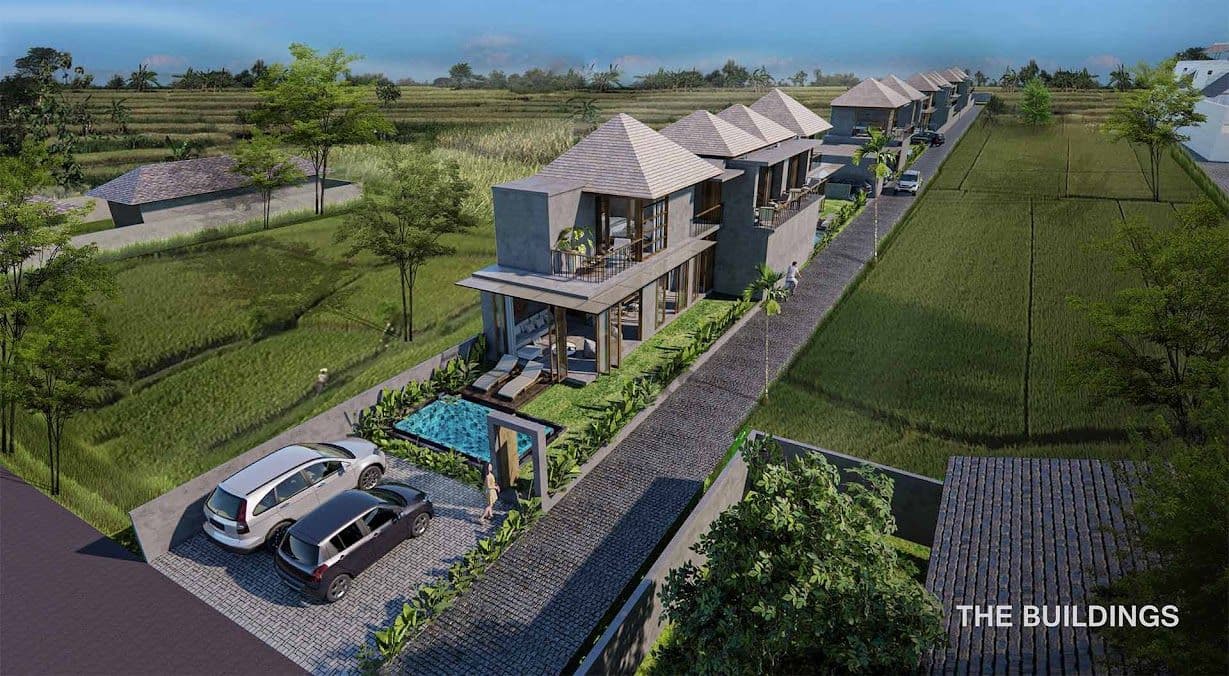 $190,000
Two and three bedroom townhouses in the dynamically developing area of Chemagi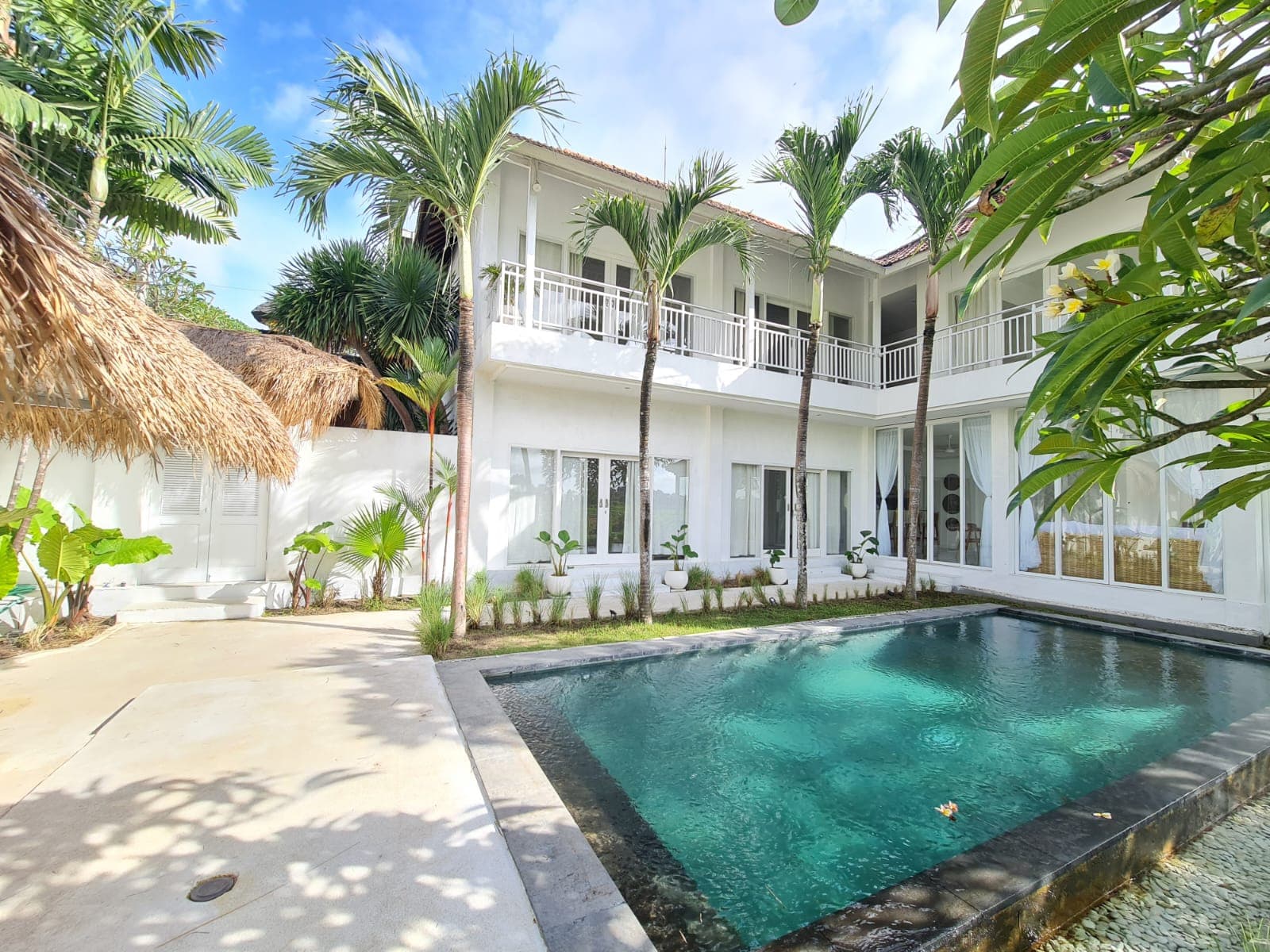 $315,000
Snow-white five-bedroom villa in Mengwi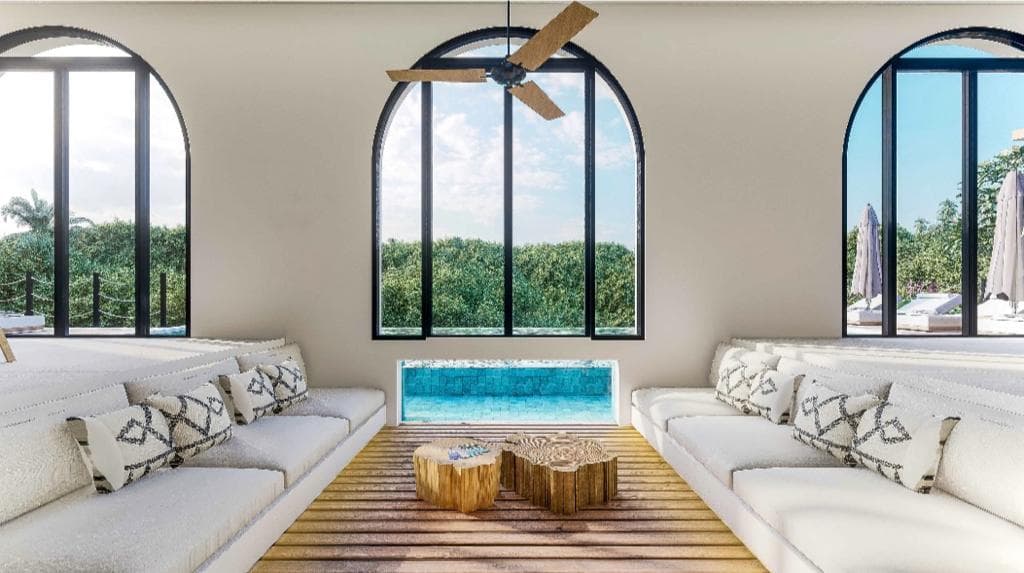 $364,000
3 bedroom villa on a spacious plot in Ubud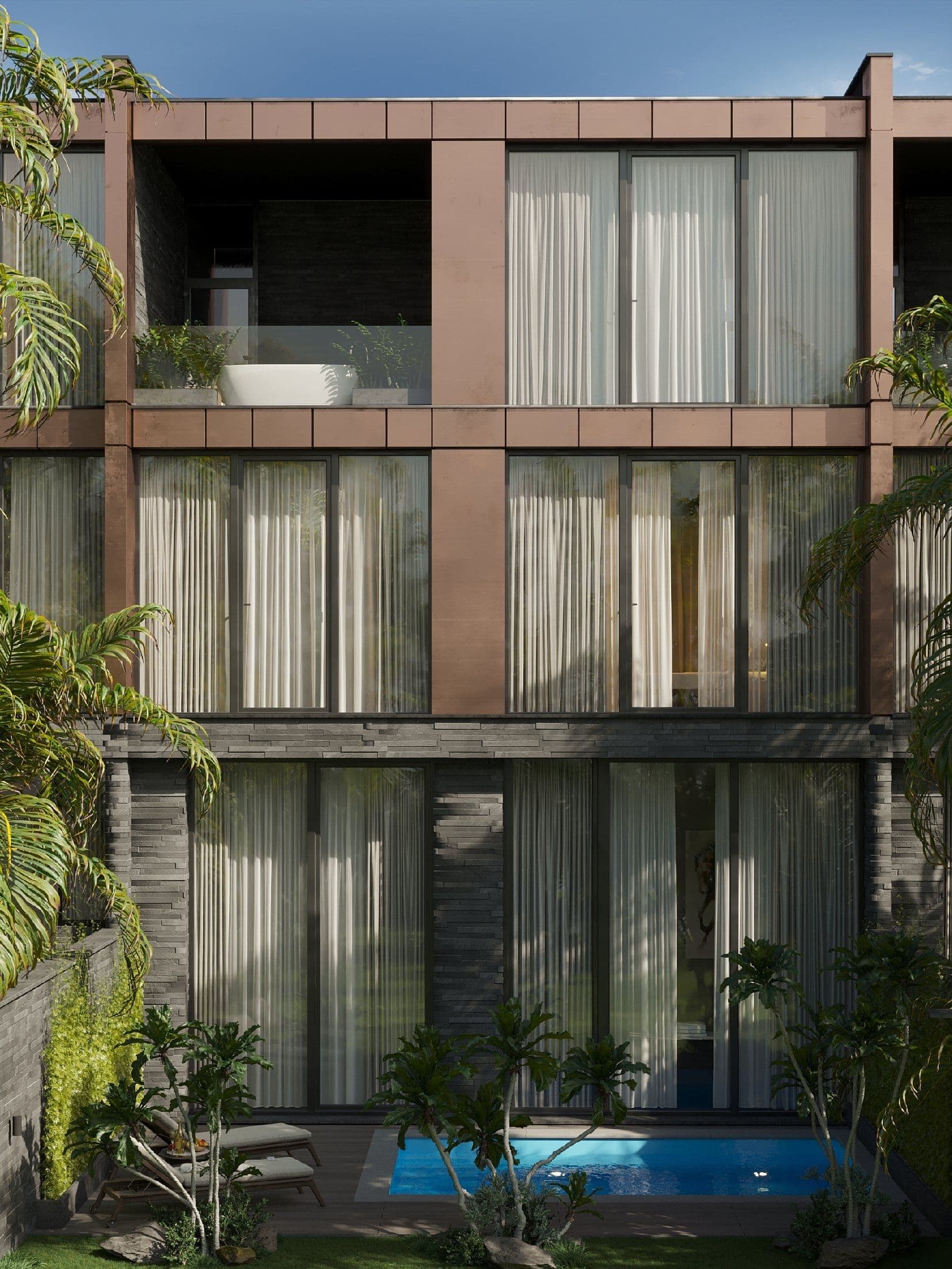 $500,000
Villa in Cemagi 70 meters from the beach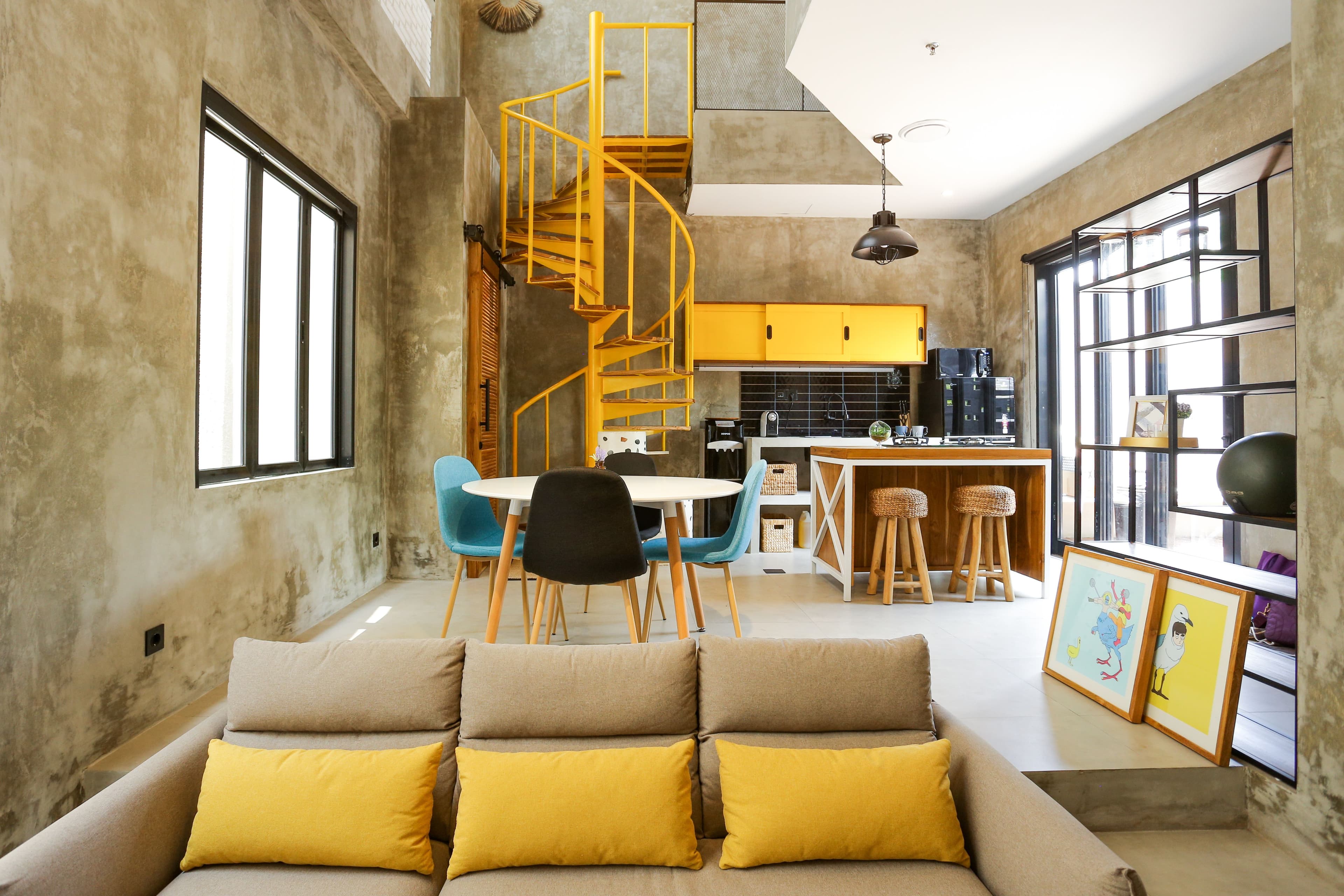 $120,500
Cozy Smart Mini House in Umalas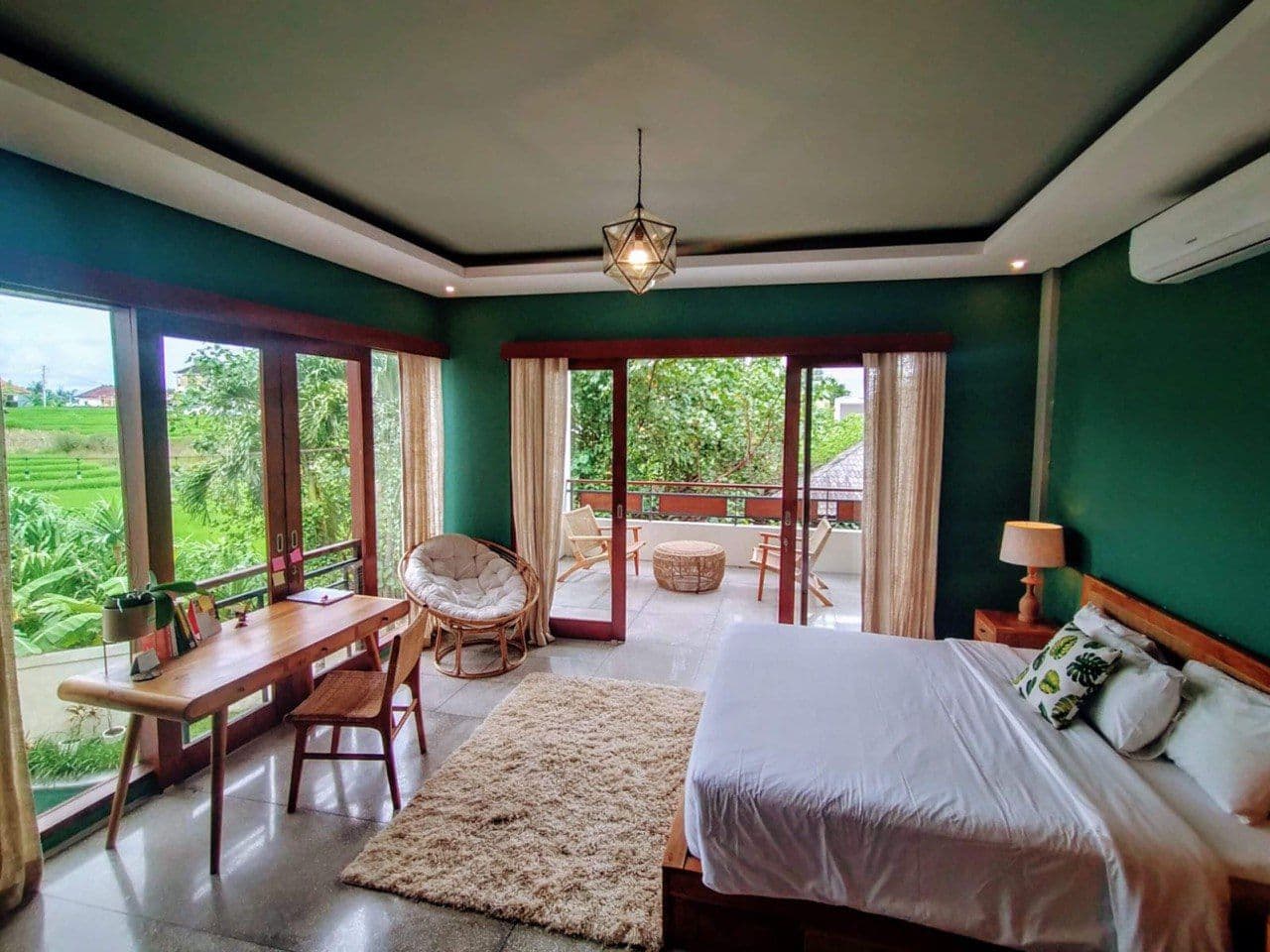 $260,900
Tropical 4 Bedroom Villa in Tumbak Bayuh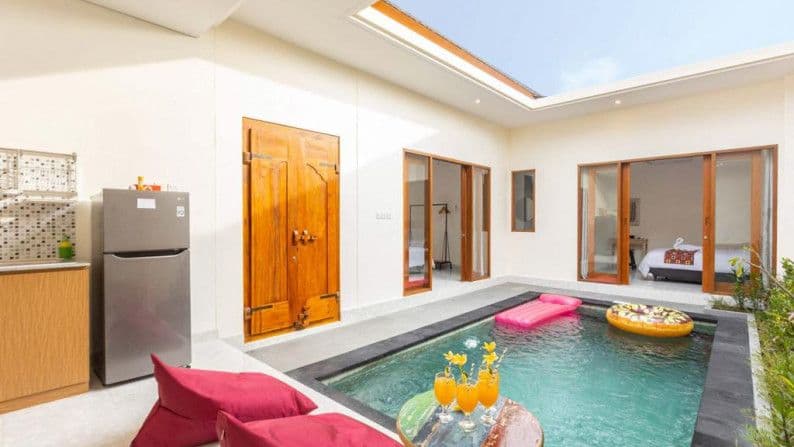 $209,452
Modern villa 5 bedroom in Kerobokan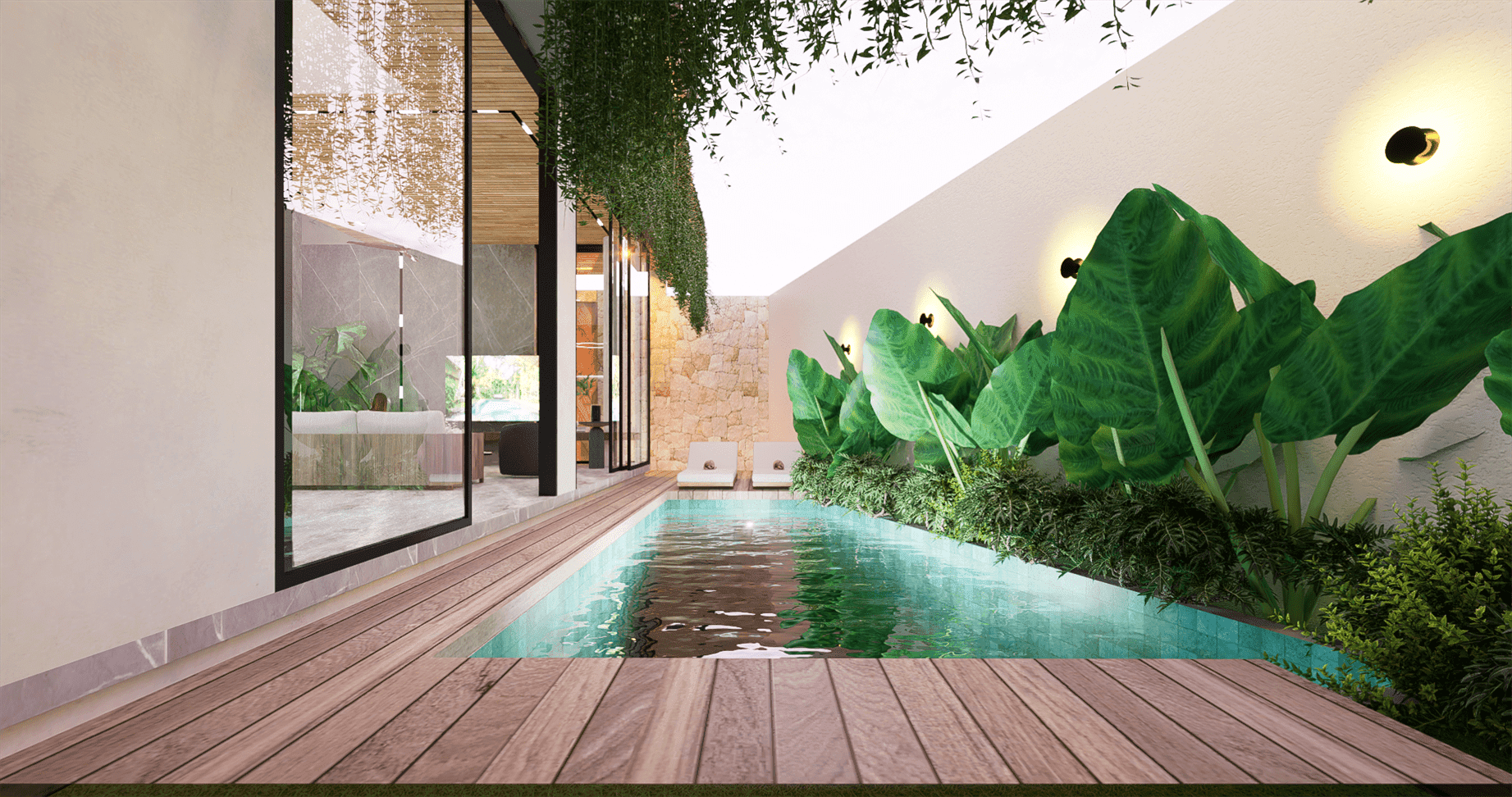 $335,000
3 bedroom off plan villa in Umalas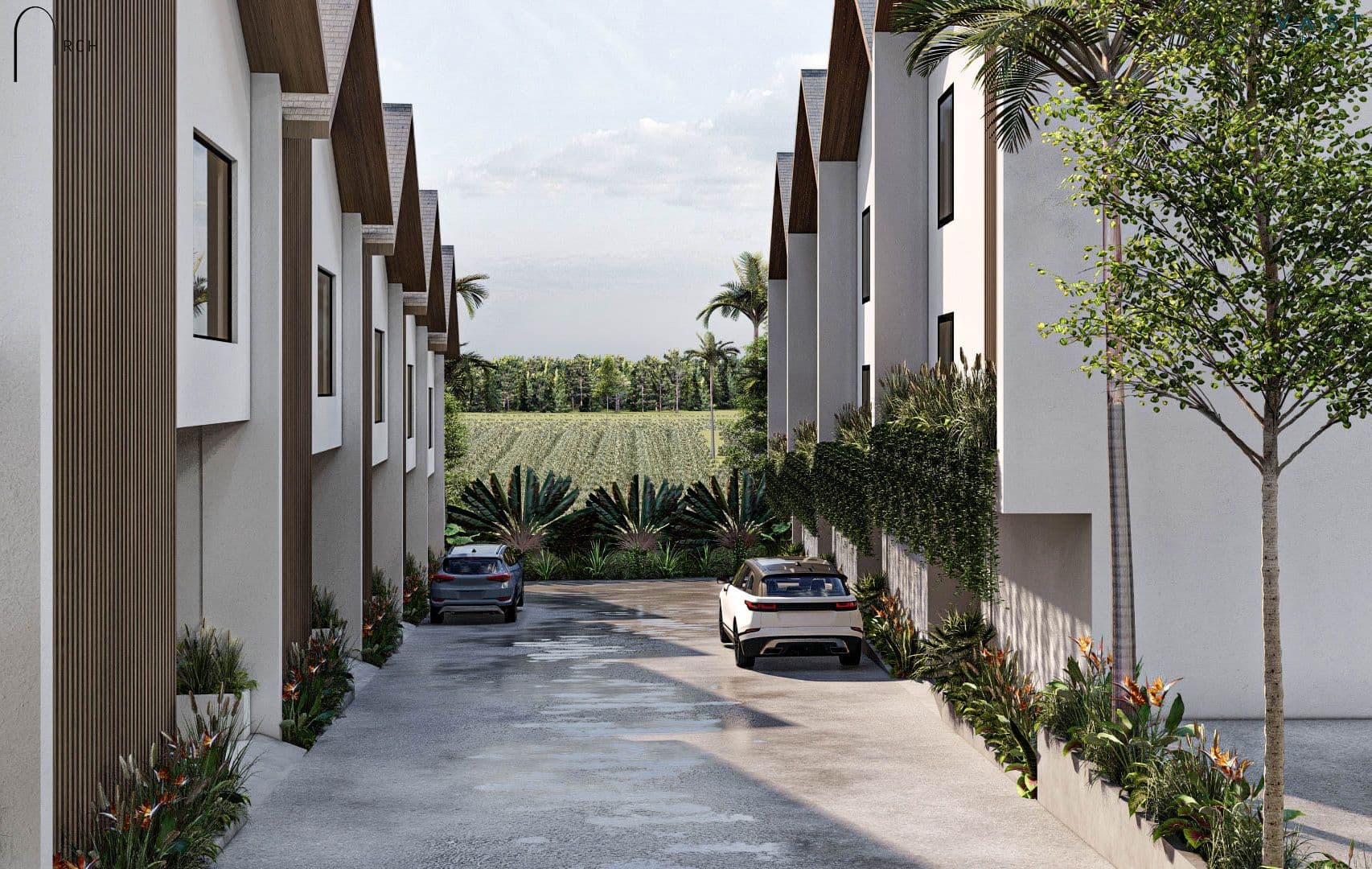 $220,000
Cozy 2 bedroom villa in Chemagi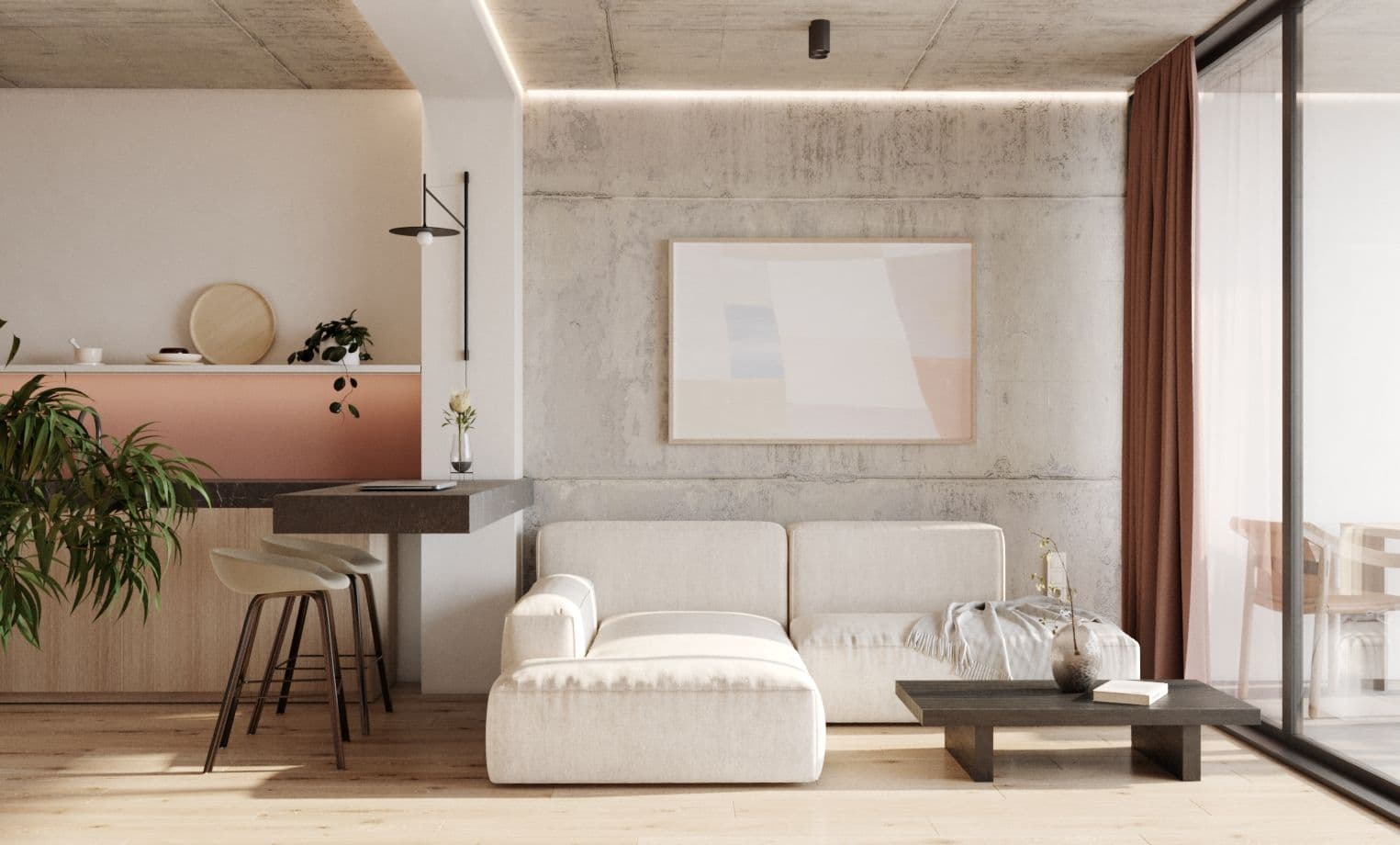 $120,000
Premium class apartments on Batu Bolong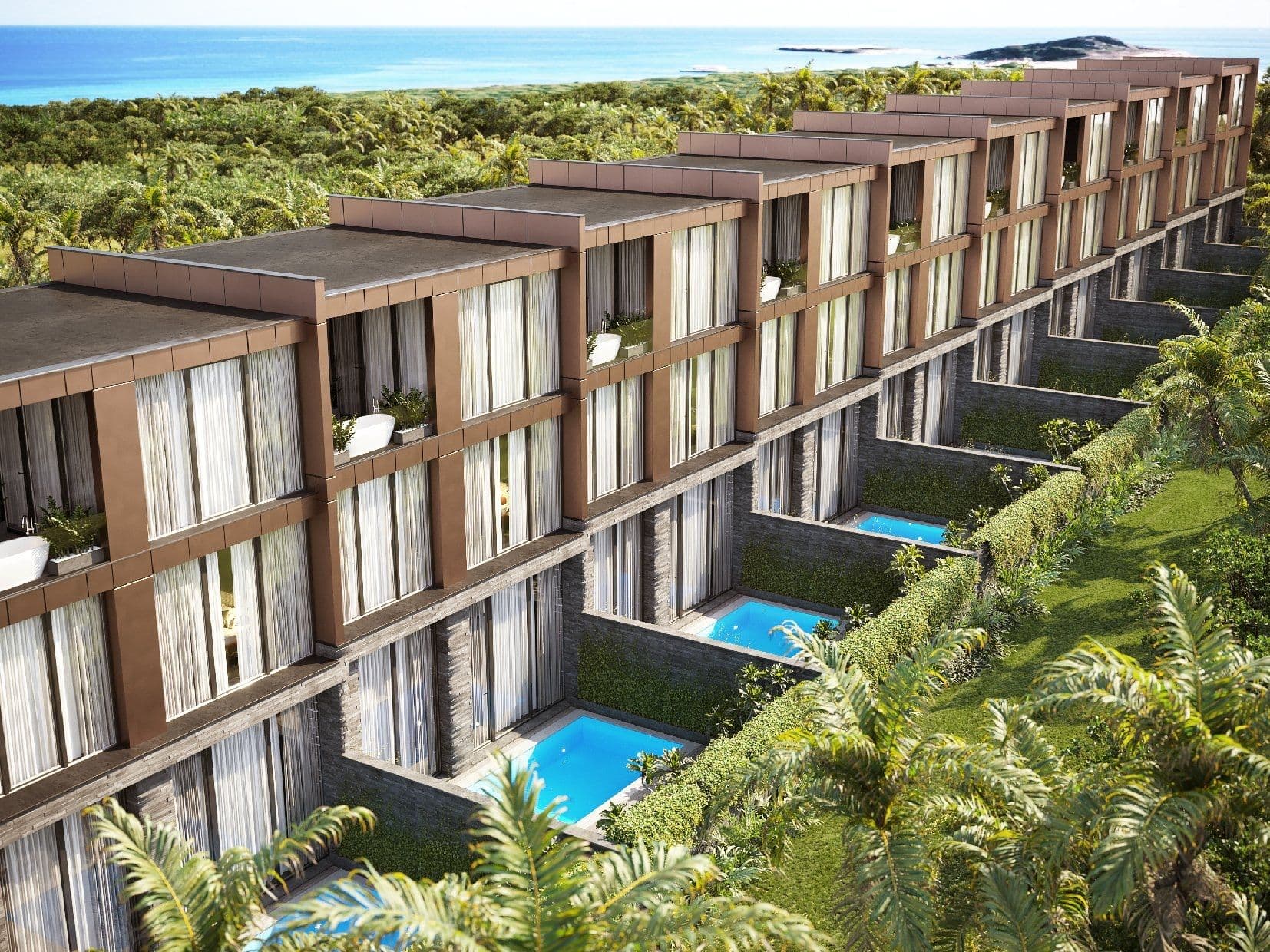 $400,000
Modern three-level villa in Cemagi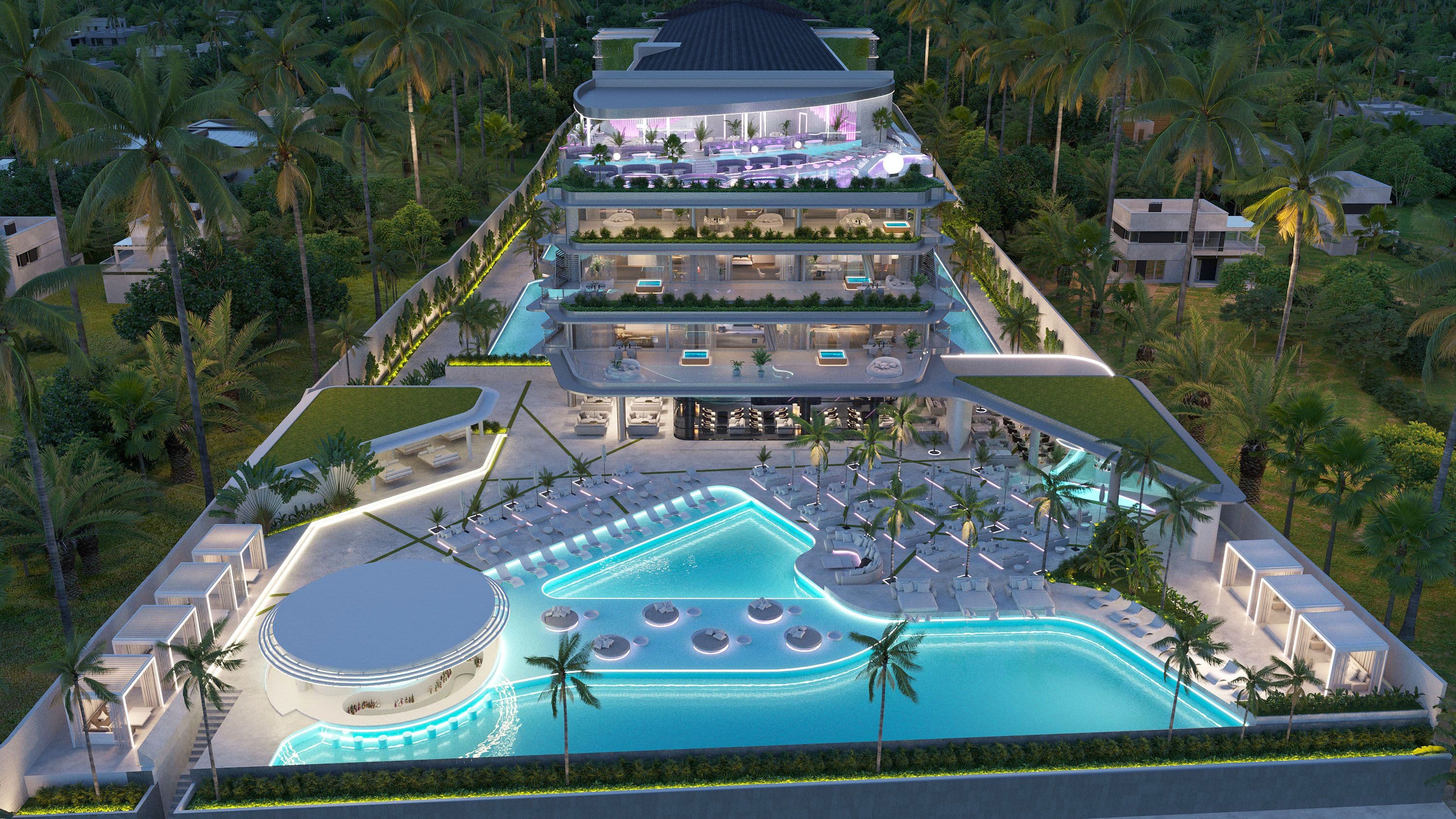 $420,000
Stunning oceanfront apartments in Sanur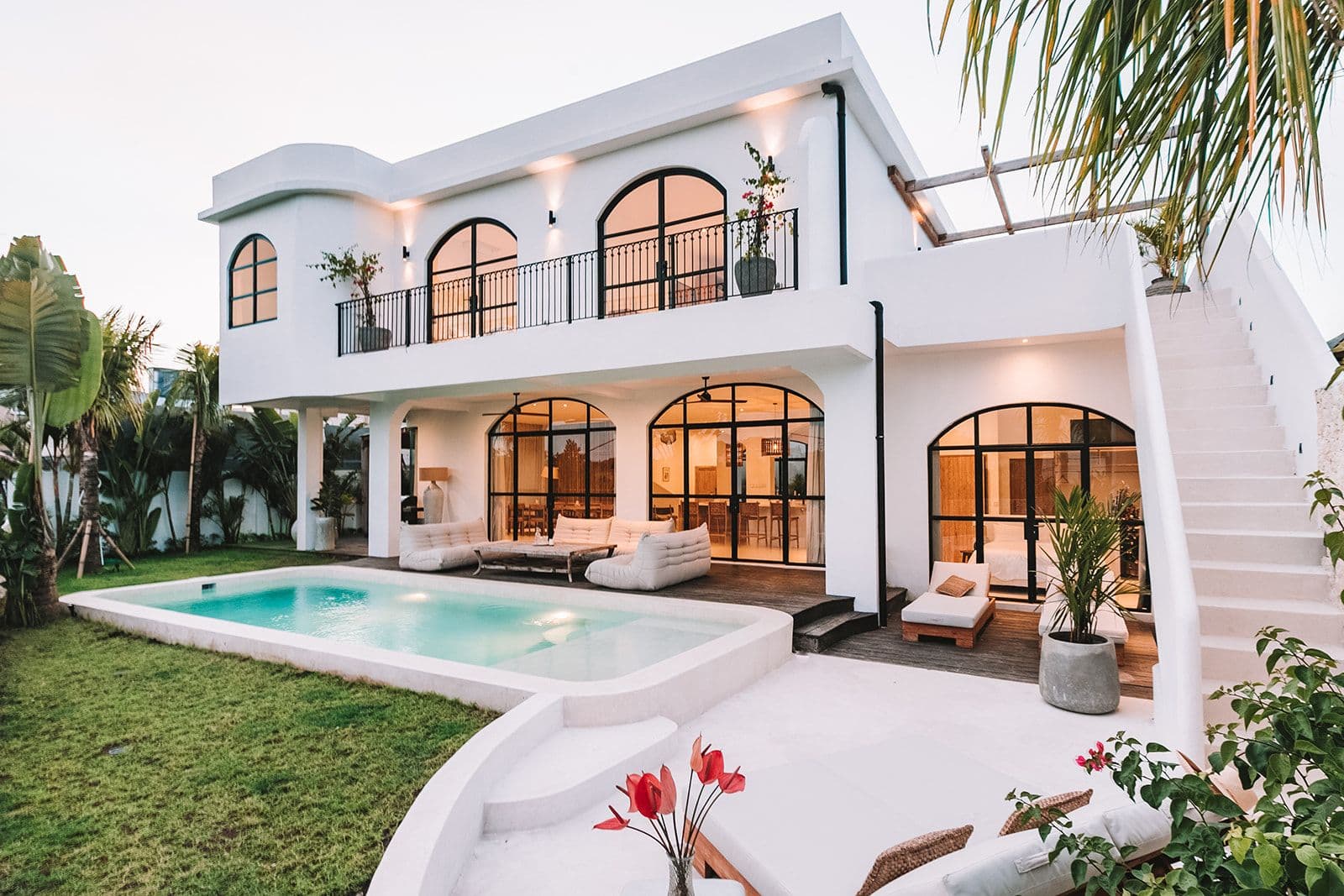 $850,000
Provence inspired 4 Bedroom Off-Plan Villa in Berawa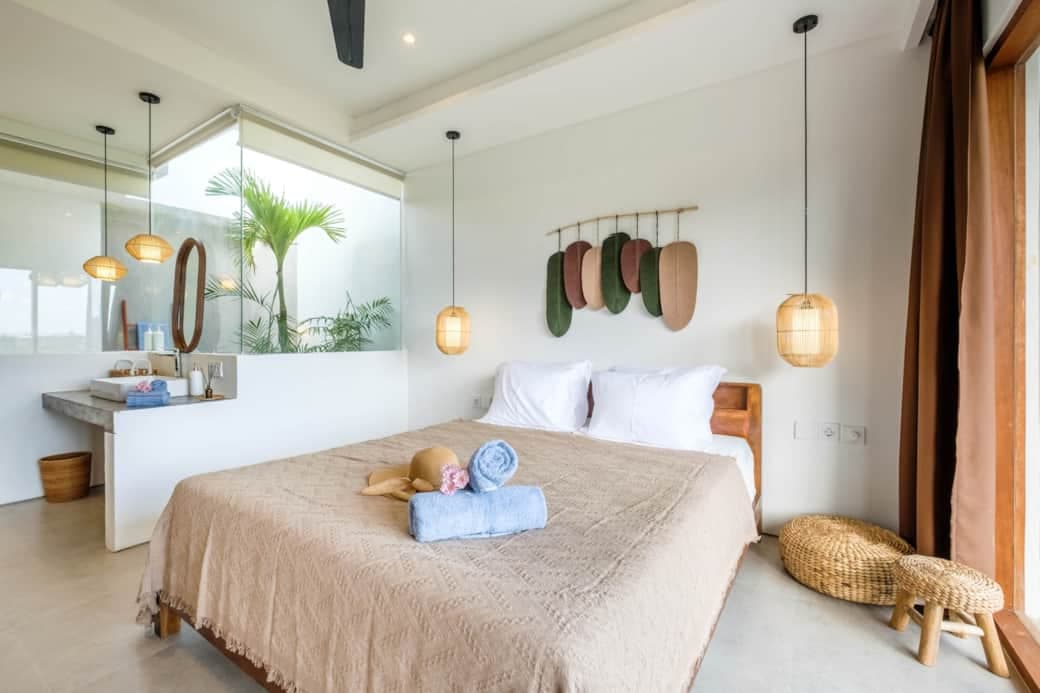 $272,000
Two bedroom Modern Villa in Berawa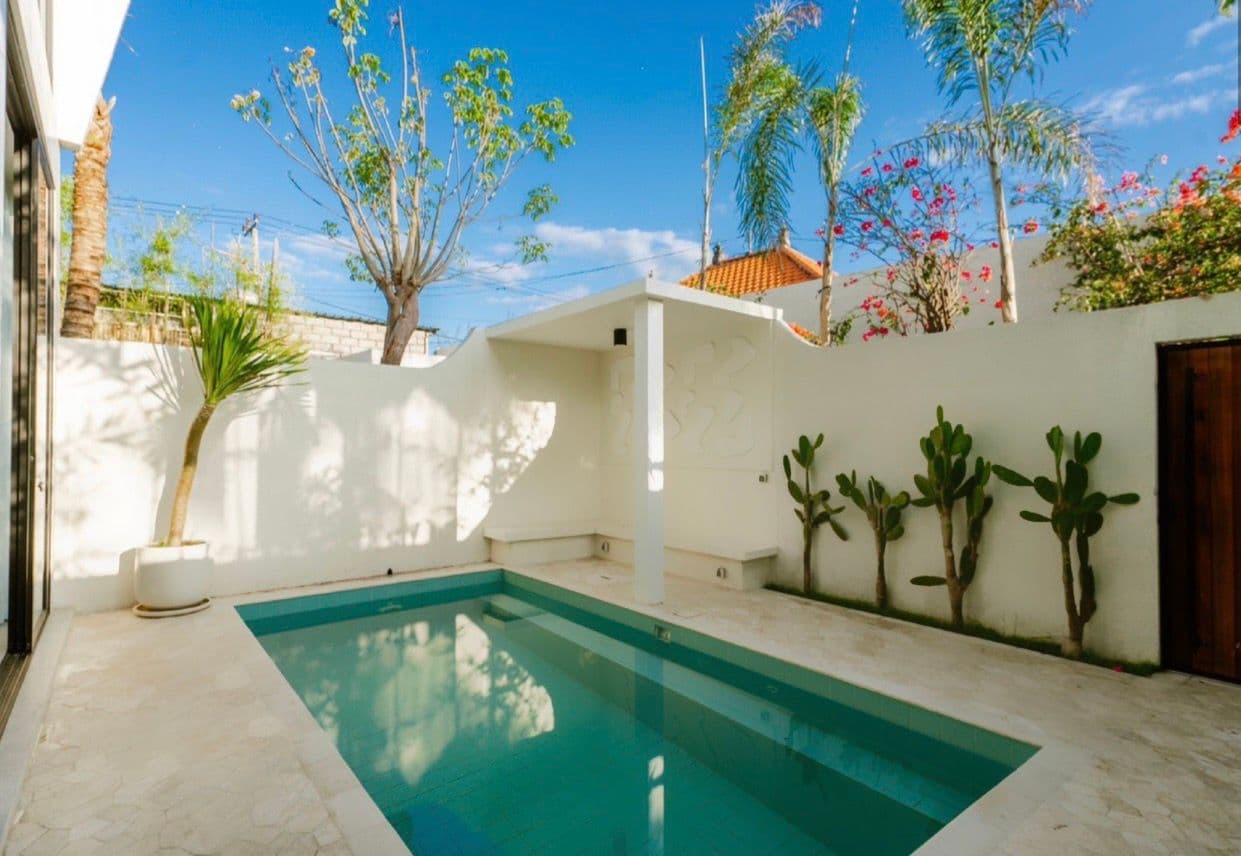 $330,000
3 bedroom villa in a quiet location of Canggu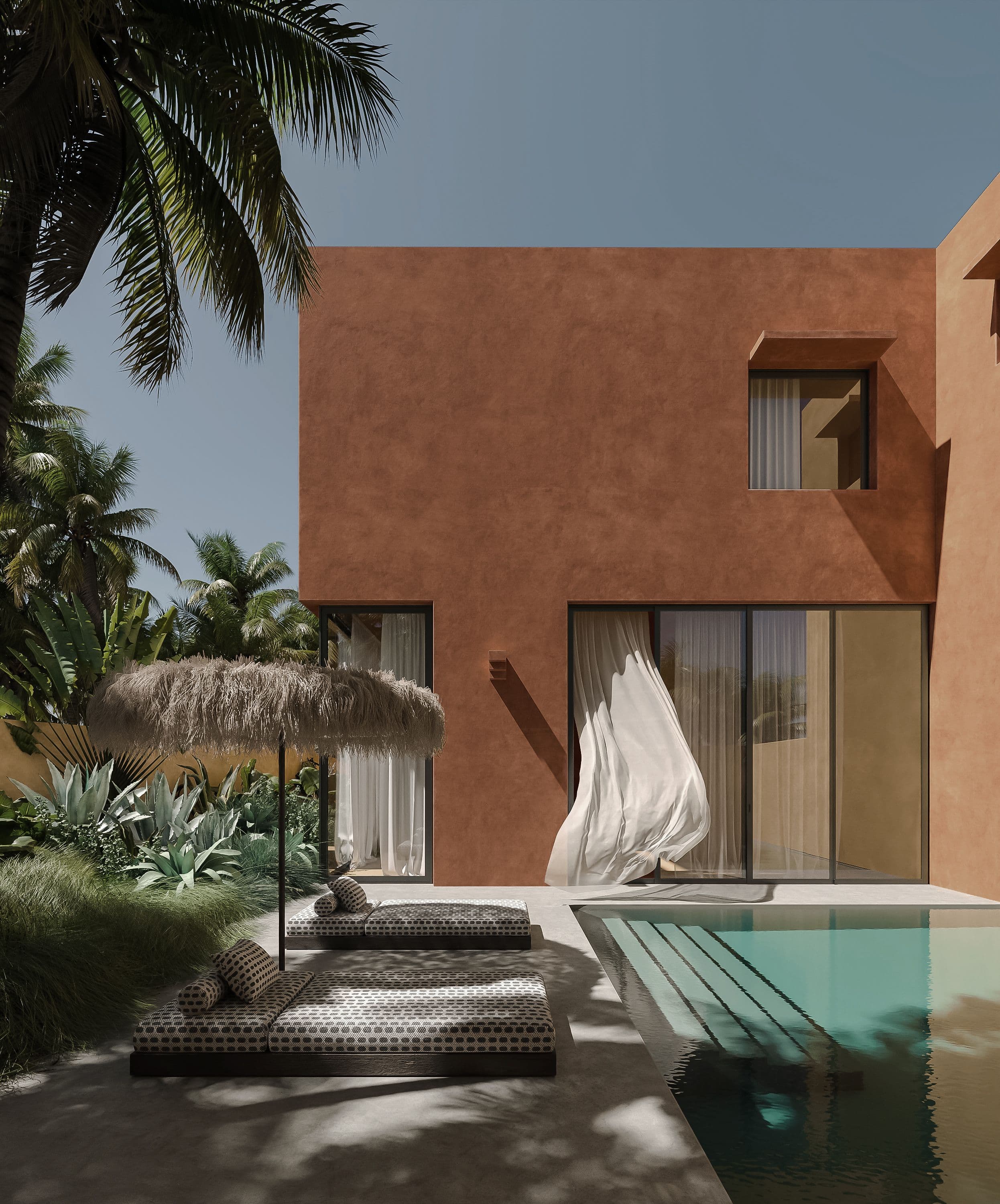 $560,000
Villa 800 meters from the beach in Pererenan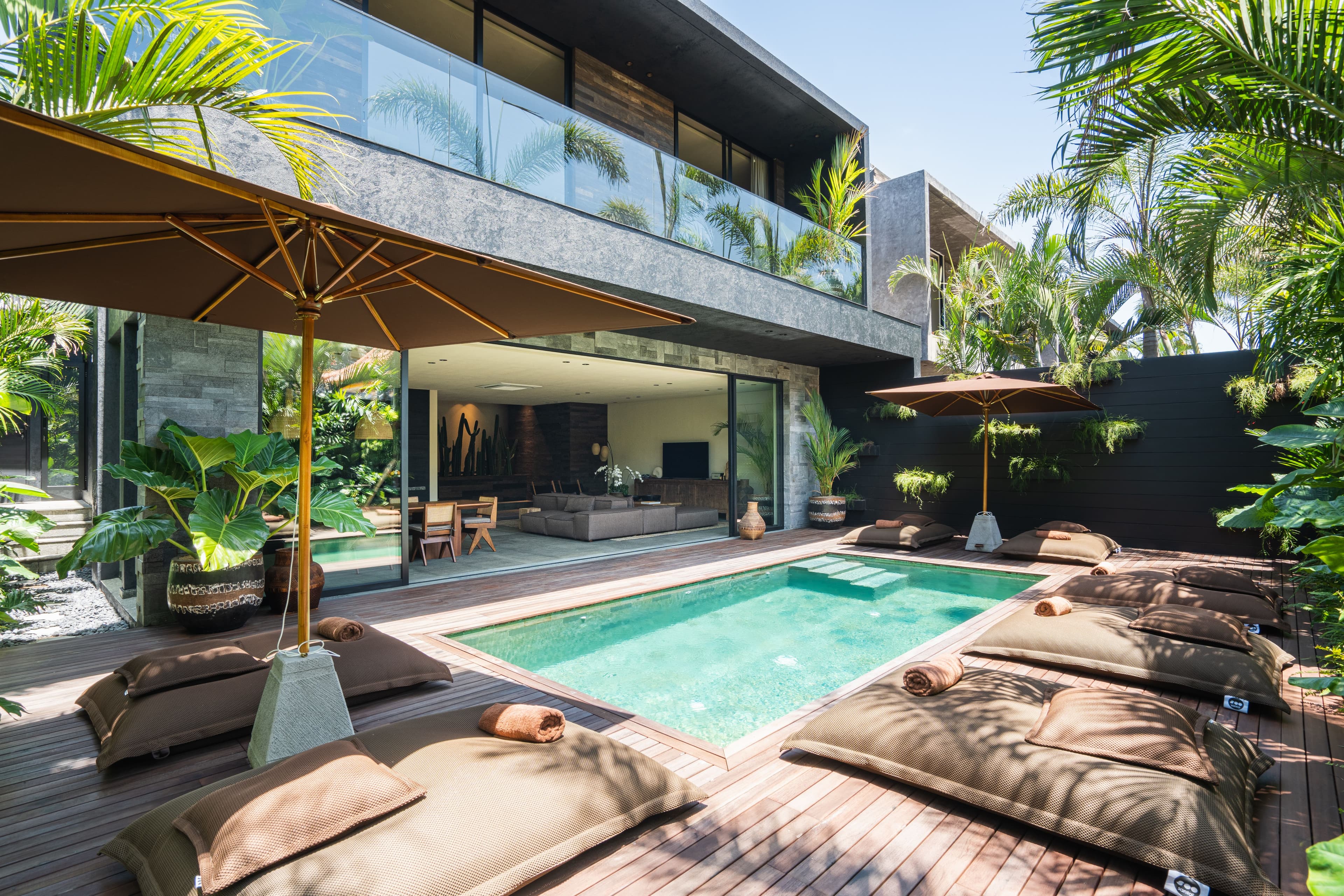 $895,000
Surrounded by greenery 4 bedroom villa in Changu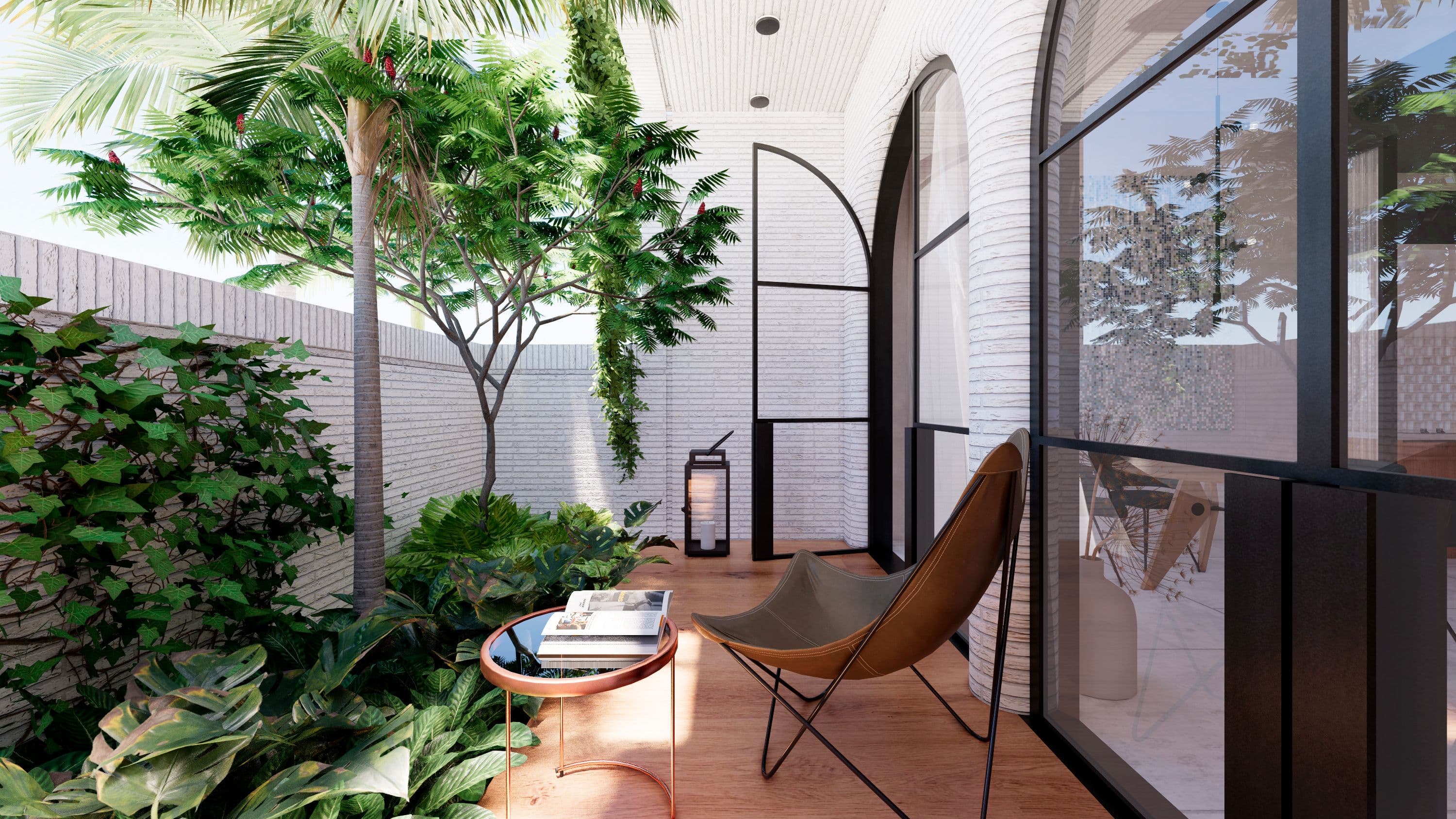 $75,000
Apartments in a family village in Ubud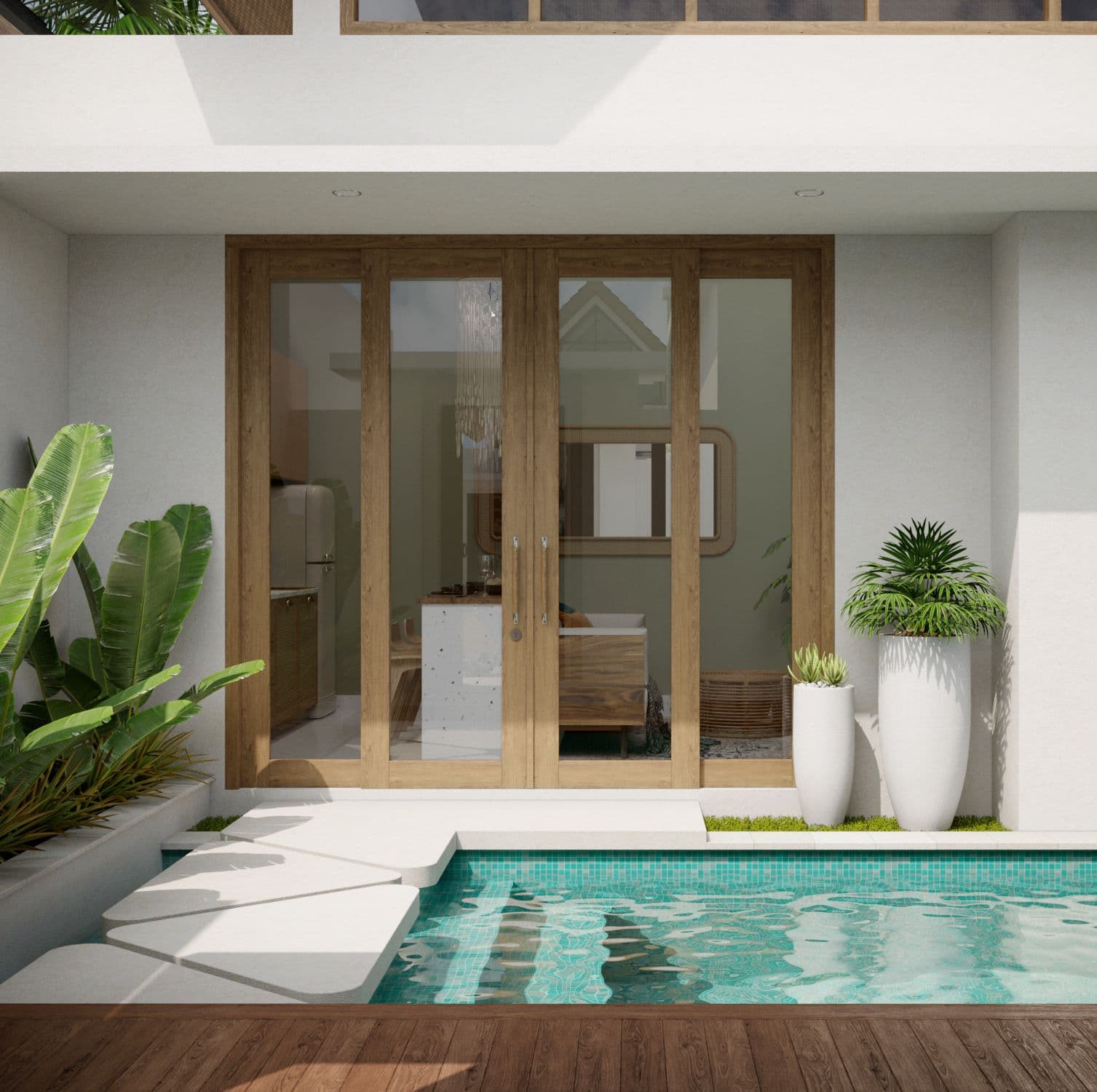 $110,000
2 Bedroom mediterranean Style Villa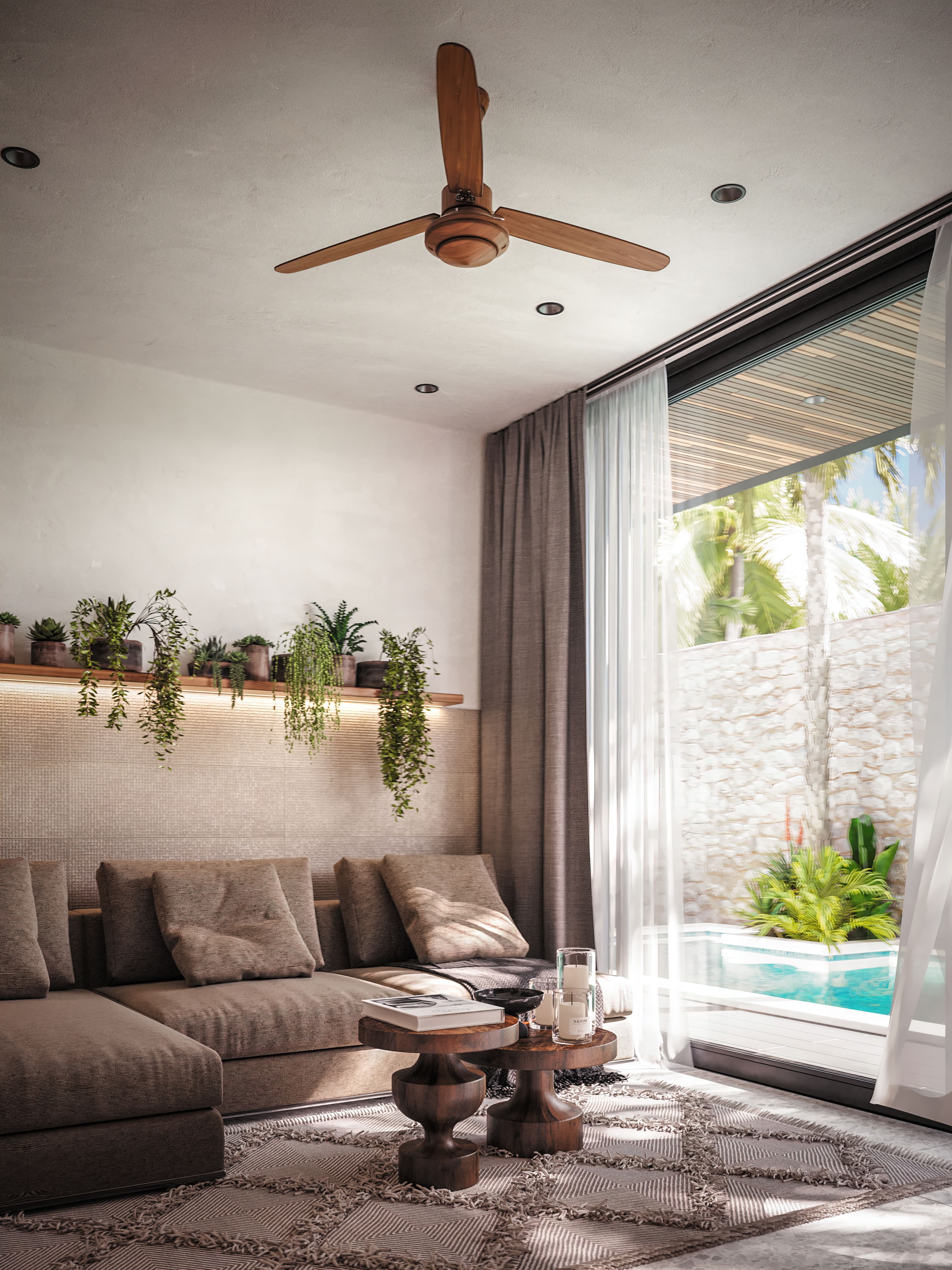 $145,000
Apartment 500 meters from Pandawa Beach
Villa size 80 sqm
Land size 100 sqm
2 floors
Interest-free installments
Fully furnished
Private area
Cinema under the stars
View the house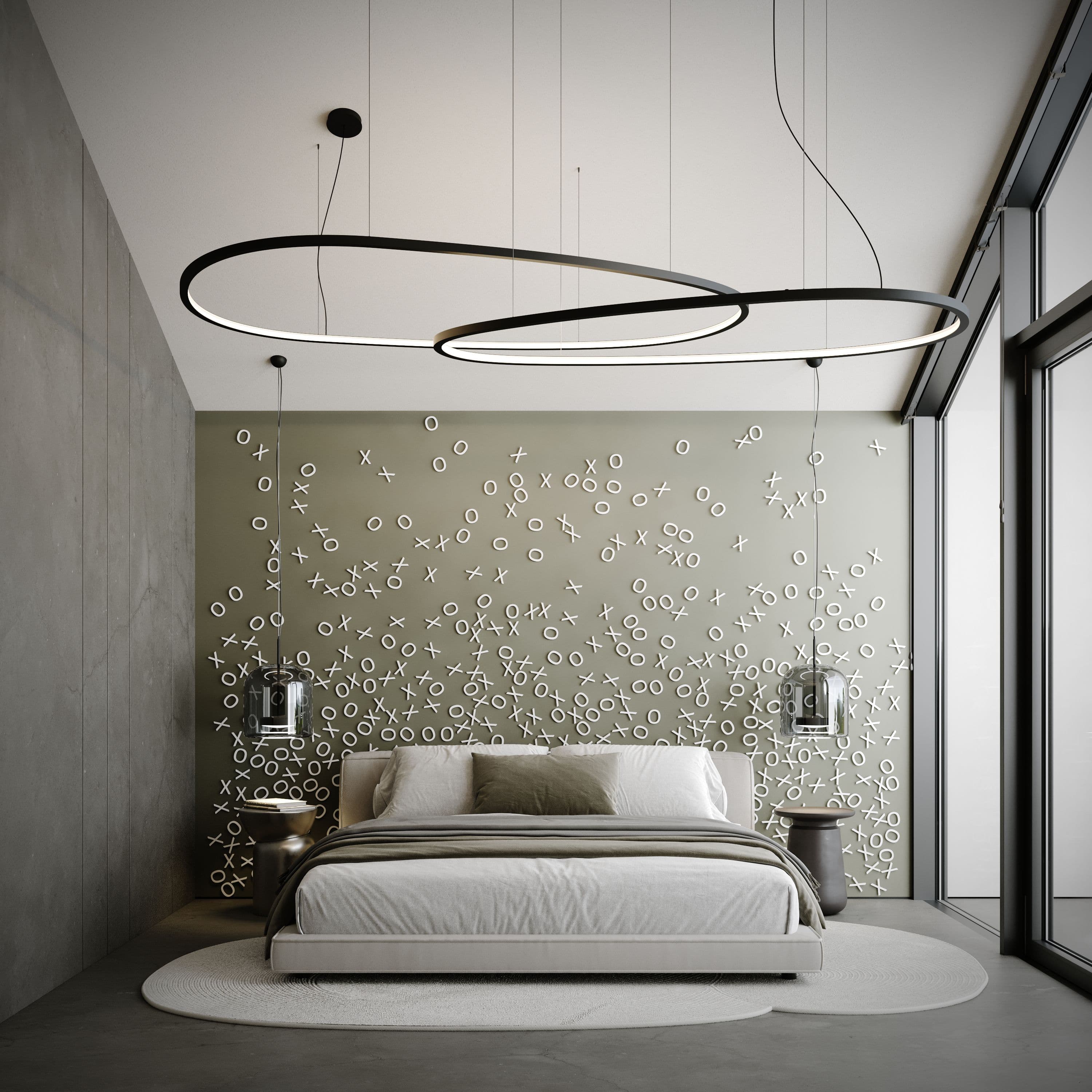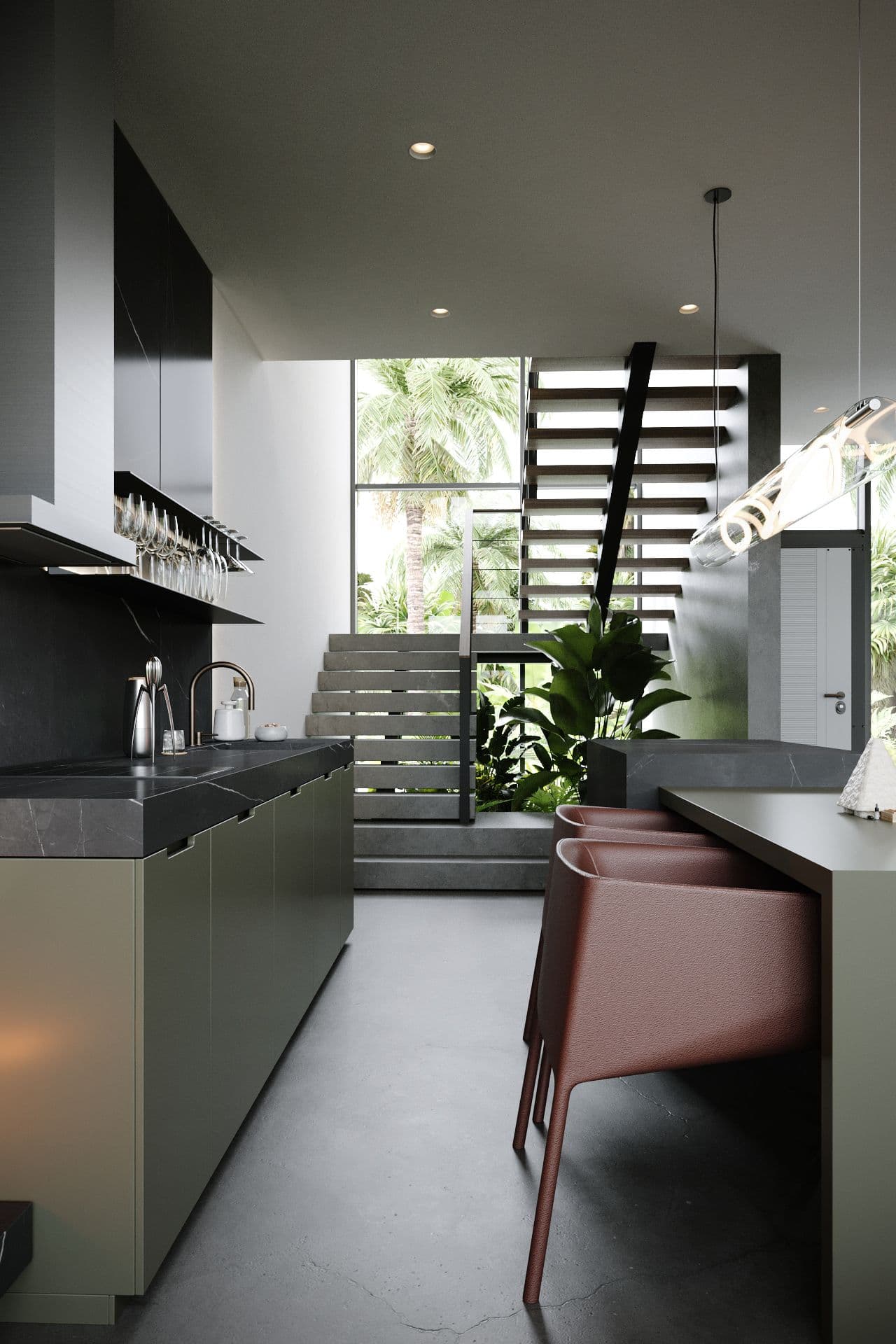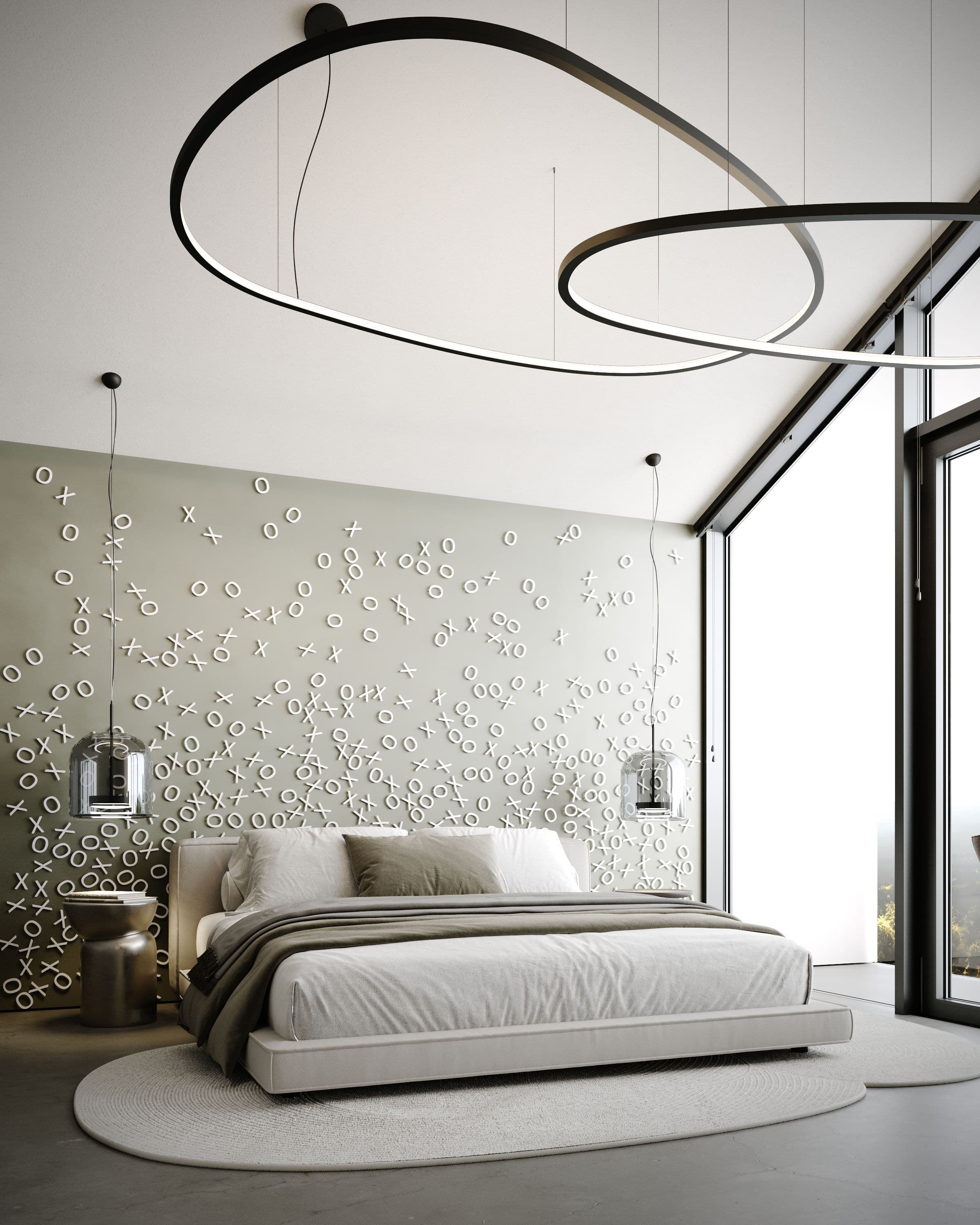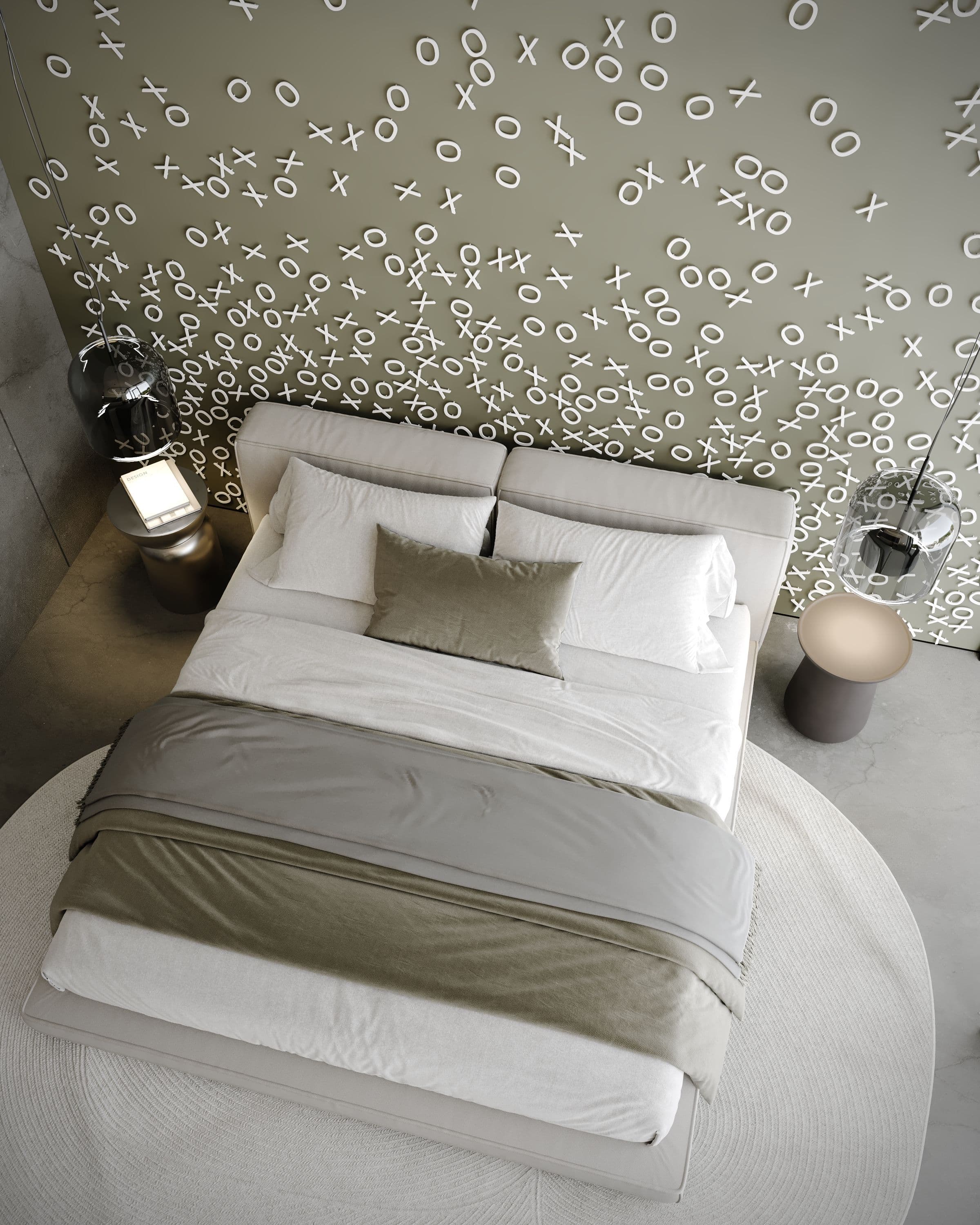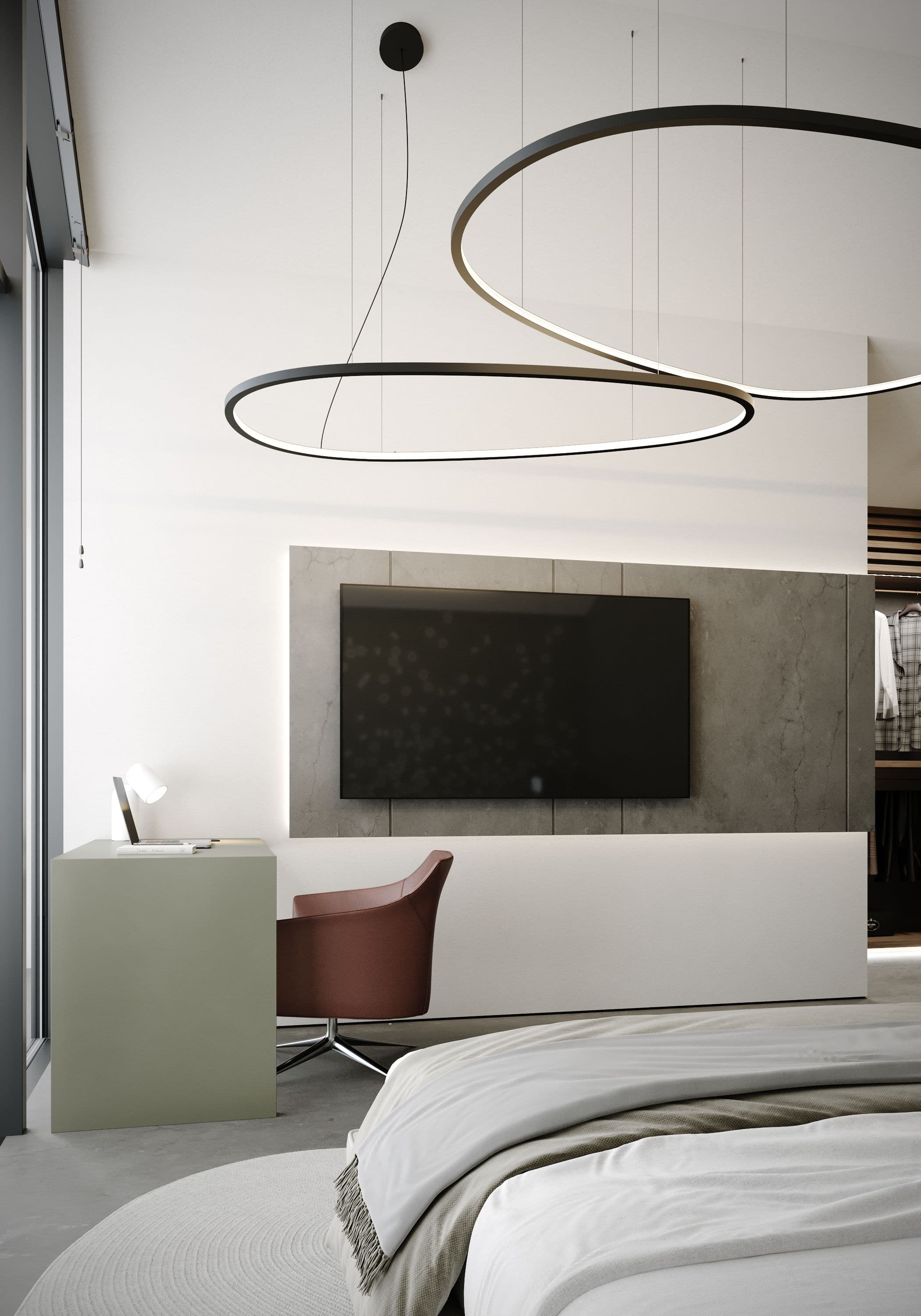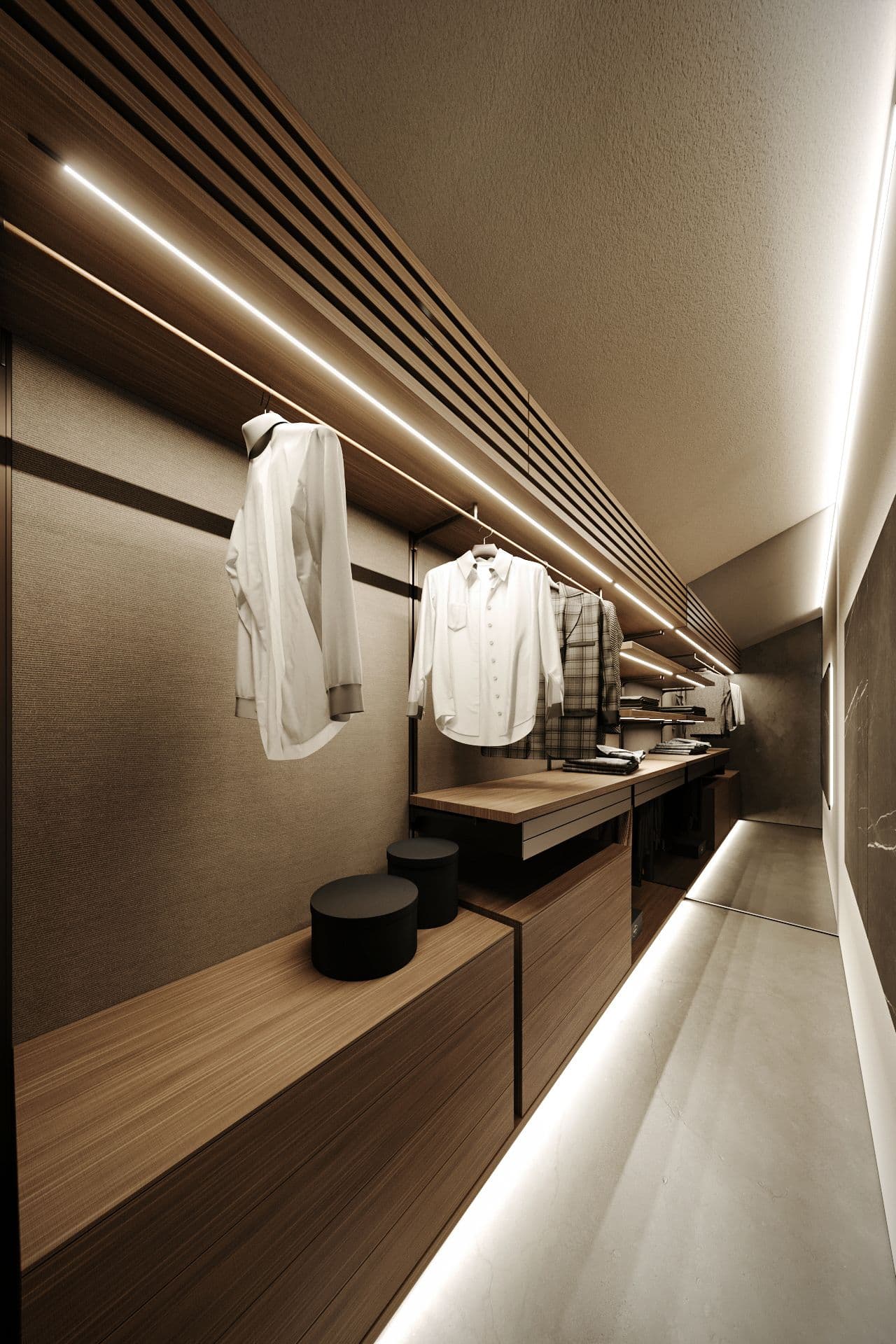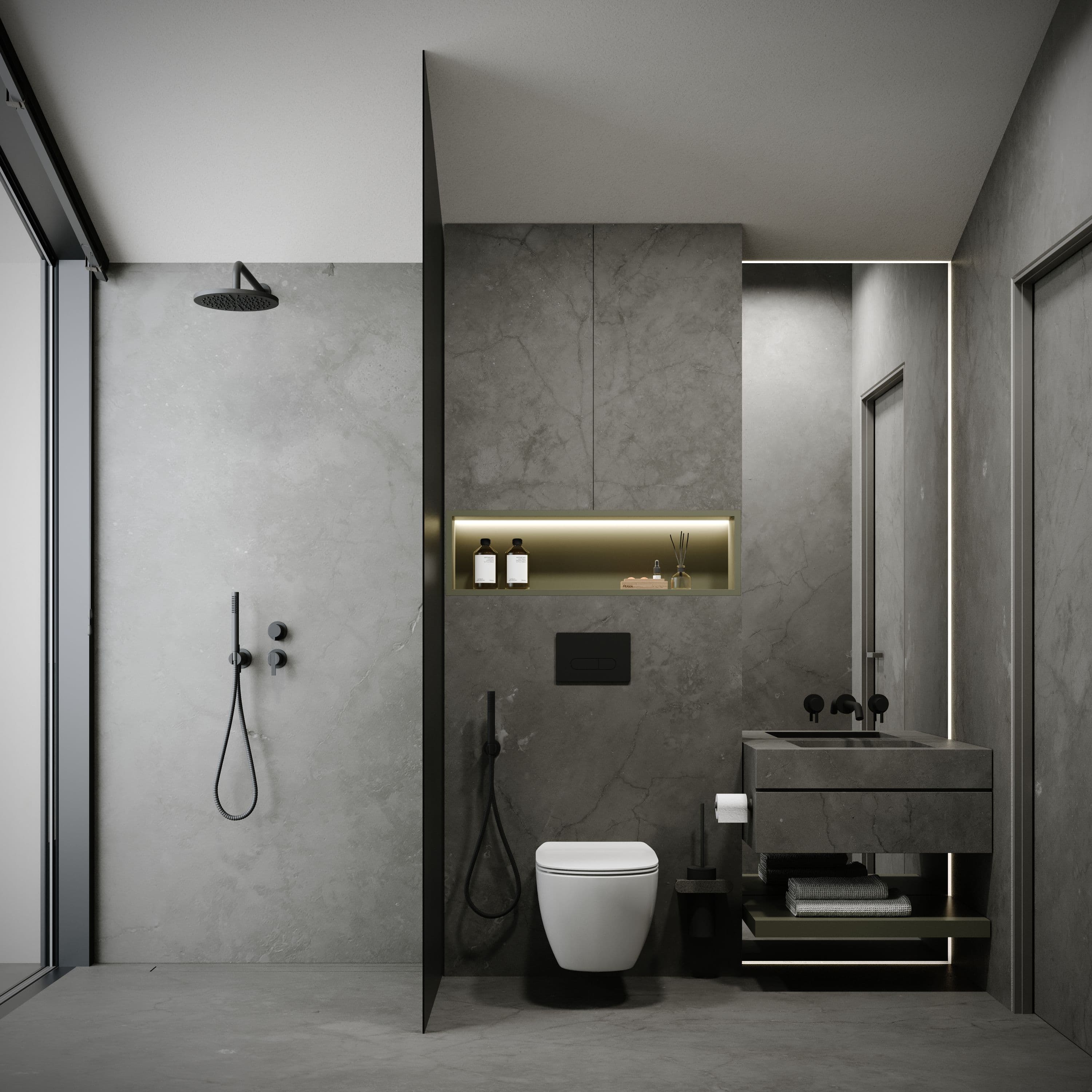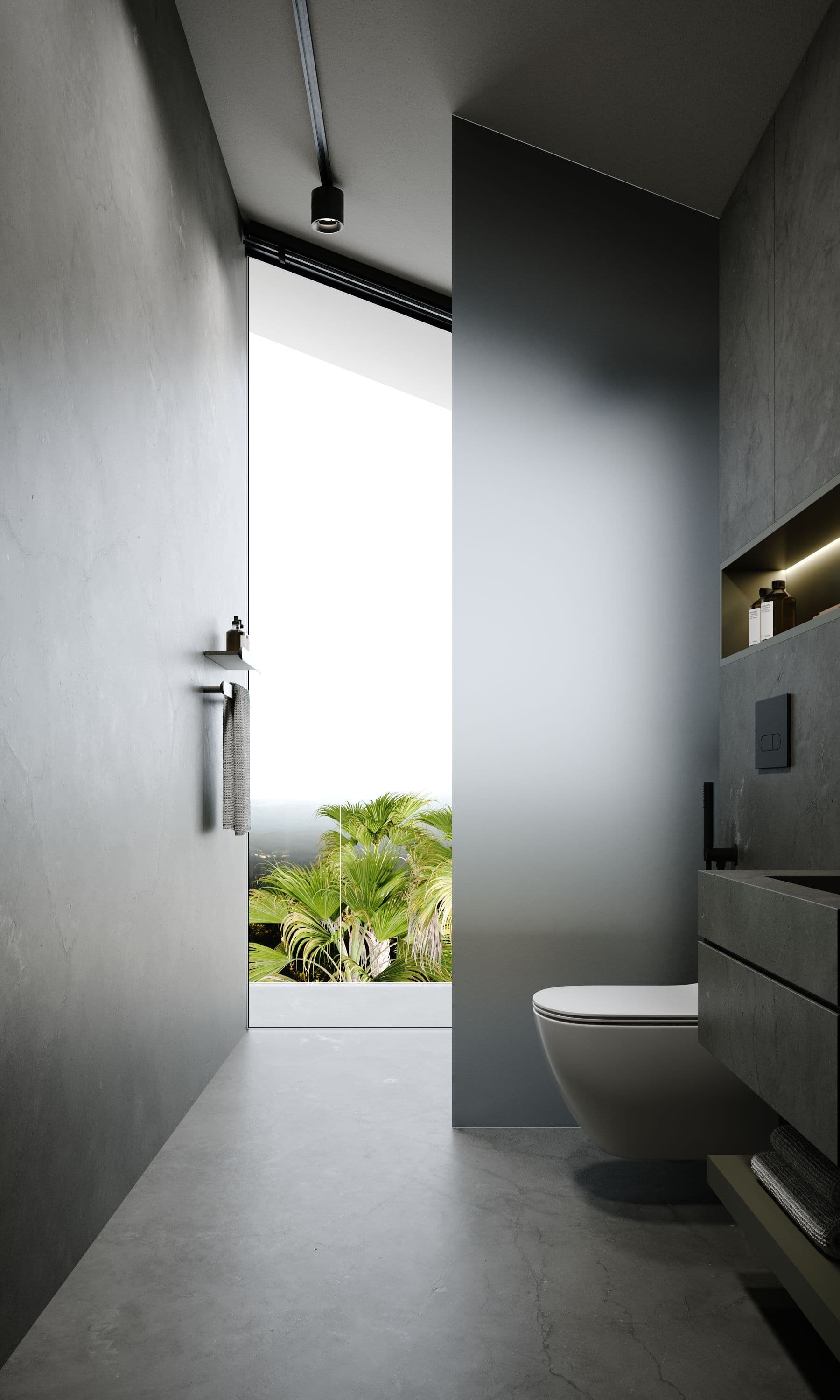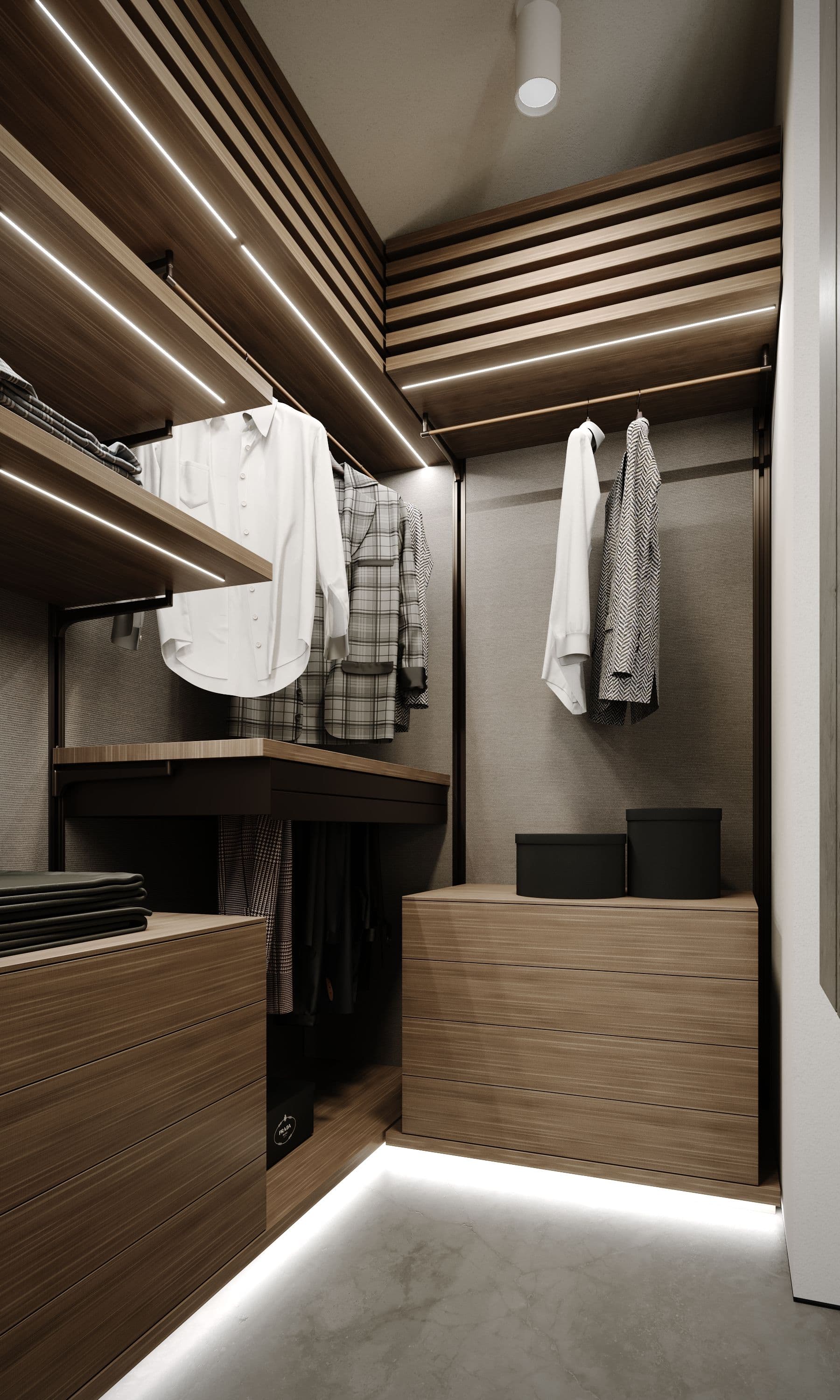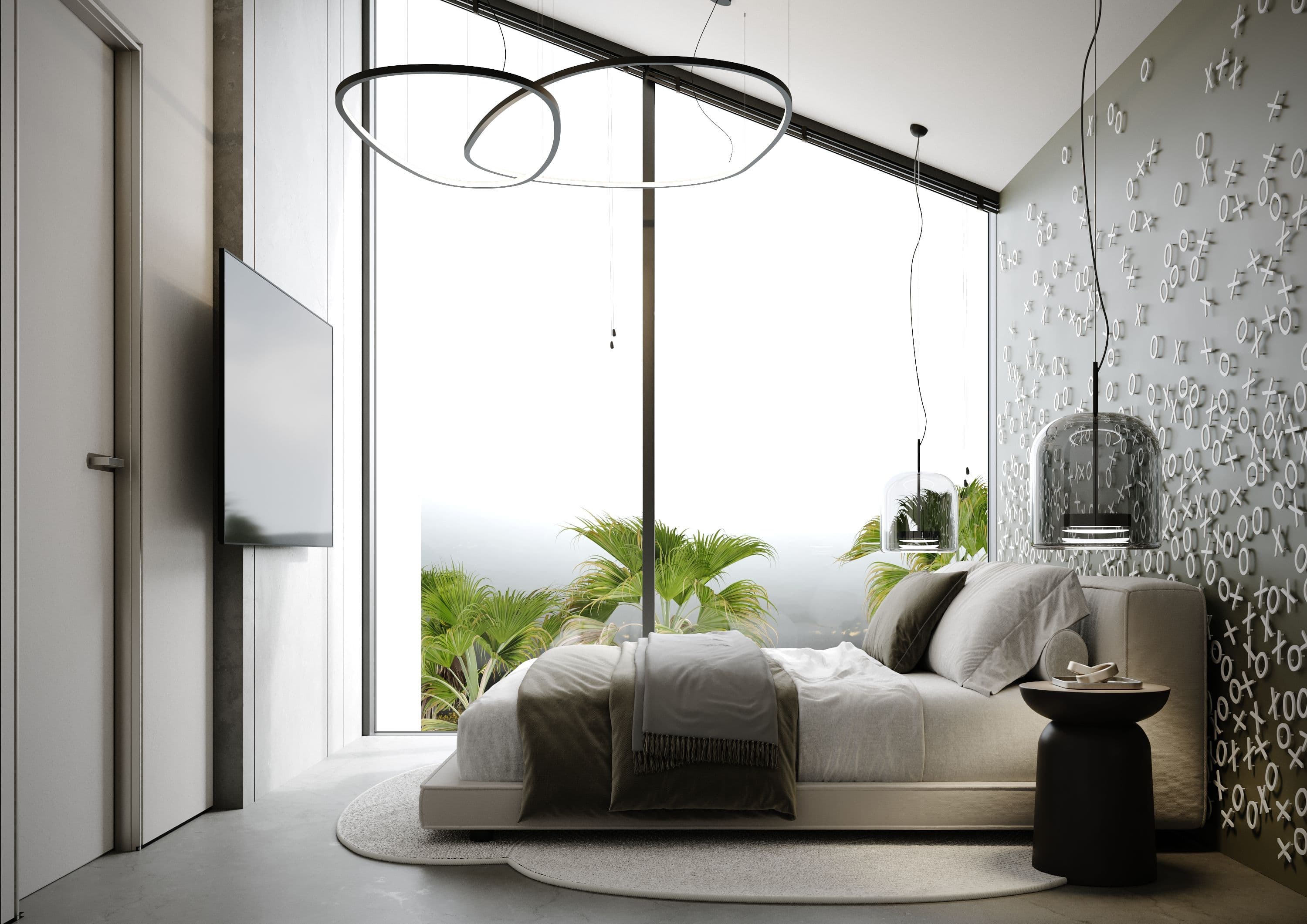 A unique project located on the most tourist street in Canggu - Batu Bolong. A complex combining apartments and one- and two-bedroom villas. The complex is equipped with a rooftop where you can have a snack at the bar or watch a movie on an open-air projector. Villa area 80 m2, plot area 100 m2, fully furnished, interest-free installments.

Location

Batu Bolong Beach 5 minutes
Finns Beach Club 7 minutes
Morabito Art Villa 7 minutes
Miss Fish Bali 7 minutes

Property features

Villa size 80 sqm
Land size 100 sqm
2 floors
Interest-free installments
Fully furnished
Private area
Cinema under the stars